Gujarat Fluorochemicals subsidiary to expand in Morocco
At a time when fluorspar consumers are pondering their limited sourcing options as restricted supply and high prices dominate the market, newcomer GFL GM Fluorspar SA in Morocco is expanding capacity to meet demand.
For a review of fluorspar supply and demand see our recent online articles:
GFL GM Fluorspar SA, a subsidiary of Gujarat Fluorochemicals Ltd (GFL), India, is to expand production capacity of acid grade fluorspar (acidspar) at its Taourirt operation in Morocco.
The mine and beneficiation plant have been operational since 2018 with a capacity of 40,000 tpa acidspar, which is now planned to be increased to 60,000 tpa, expected to be complete by Q2 2020.
The acidspar has very low content of arsenic, iron and phosphorous (see specification chart).
Owing to the strategic location of the mine in the north-east of Morocco, with a distance of only 95km north to the port of Nador and just seven days shipping time to the main ports, supply will be targeted to customers in Europe and the Mediterranean.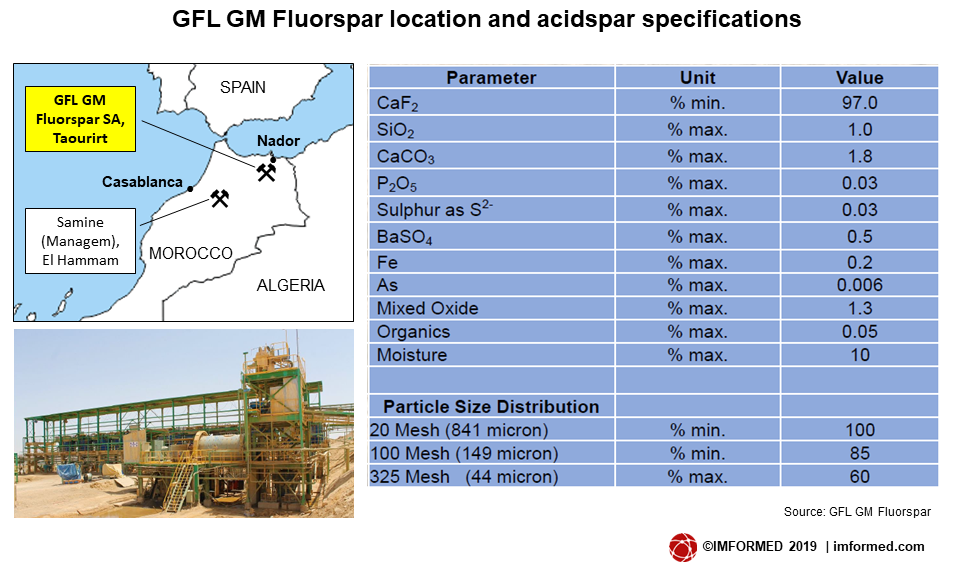 GFL has appointed XENOPS Chemicals GmbH & Co. KG, Germany, a specialist sourcing company focused on the fine chemical and life science industries worldwide, as principal marketing and sales agent.
"This capacity becomes available as the international market for acid grade fluorspar remains tight in a continuing squeeze between supply and demand." said Dr. Oliver Rhode, CEO, XENOPS (for a review of fluorspar supply and demand see Fluorspar supply: trade trends & new sources and Fluorspar markets: the cold, the hot, & the energetic).
GFL, part of the US$3bn INOX Group of Companies, is India's largest polytetrafluoroethylene (PTFE) producer with hi-tech state of the art technology plants at Dahej, Gujarat. With its backward integration including caustic soda, hydrofluoric acid and captive power, GFL is one of the world's most integrated PTFE producers, the company produces a range of fluorochemicals and fluoropolymers.
Key trends and outlook for the fluorspar market
Oliver Rhode, CEO, Xenops Chemicals GmbH & Co. KG, Germany
India: An emerging market for acid grade fluorspar
Bimlesh Jain, Executive President (Corporate), Gujarat Fluorochemicals Ltd, India
Moroccan fluorspar rejuvenates
GFL GM Fluorspar's open pit mine is located on the western slope of Jebel Tirremi, 10km north-west of Taourirt, Taourirt province, near the Fes-Oujda highway.
According to a USGS report published in 1980, the deposit hosts fluorite veins and massive replacement veins as much as two metres in diameter, hosted by Jurassic limestone and dolomite.
The Taourirt mine and plant started up in 2018. The plant was temporarily shutdown owing to some initial recovery issues, but with improvements to the processing was later brought back on stream.
Despite GFL's growing requirements for fluorspar as it increases production of its fluoroproducts, the company has decided to sell its captive fluorspar production to other quality conscious consumers in Europe and elsewhere.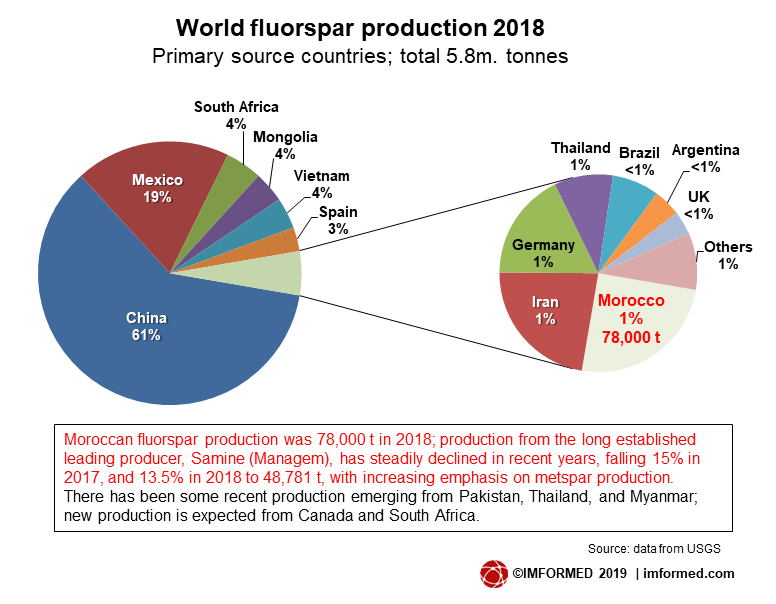 Morocco's primary fluorspar producer has historically been Samine, a wholly‐owned subsidiary of Managem, which since 1974 has operated the underground El Hammam Mine, in the north-central area of the country, 330km east of Casablanca (and 370km south-west of Taorirt). In 2015, Samine had a capacity of 80,000 tpa acidspar concentrate which was exported from Casablanca.
However, in recent years, the El Hammam Central Orebody reserves have been nearing depletion, and Samine was evaluating new mining methods to develop recently discovered ore bodies which present challenges of thinner dimensions and longer haulage distances.
In 2017, total reserves were recorded at just 379,800 tonnes, while production had declined 15% from 2016 to 56,395 tonnes.
In 2018, production dropped again, by 13.5% to 48,781 tonnes, and reserves were standing at just 318,000 tonnes (plus 161,000 tonnes resources).
Managem has pursued a development strategy for product diversification, and R&D efforts resulted in metallurgical grade fluorspar (metspar) being developed for the cement market. Some 27,400 tonnes was produced in 2017, accounting for almost 50% of production.
Elsewhere in Morocco, small scale fluorspar volumes maybe co-produced at barite and lead-zinc operations. In 2015, Office National des Hydrocarbures et des Mines (ONHYM), in partnership with Garrot Chaillac SA of France, was developing the fluorspar-lead-barium Zrahina deposit, located in the Western High Atlas region.
With Managem investment efforts appearing to be aimed more at its gold, silver, copper, and cobalt activities in Morocco and elsewhere in Africa, GFL GM Fluorspar may well assert itself as the country's leading acidspar producer.

Presentations include:
A new approach to mining fluorspar
Peter Robinson, Chairman, British Fluorspar UK Ltd, UK
Cost factor trends in fluorspar processing
Ashok Shinh, Ashok Shinh Consultancy Ltd, UK
The evolution of refrigerant gas and the role of Chemours in the market
John Zielinski, Executive Buyer Fluoroproducts, Chemours, USA
Trends in aluminium fluoride supply and demand
Adam Coggins, Analyst, Roskill, UK
HF and fluorine developments in Saxony and eastern Europe
Johannes Scheruhn, Managing Director, Scheruhn Industries, Germany

Over 100 companies already registered

Including: Alufluor, Arkema, Canada Fluorspar ,
Central Glass , Chemours, Chenco, Do-Fluoride Chemicals, Industries Chimiques du Fluor,Halopolymer, Lanxess, Masan Resources, Minersa, Solvay –

Full list here

For Registration, Sponsor & Exhibit enquiries, please contact
Ismene Clarke ismene@imformed.com | +44 (0)7905 771 494