Fluorspar supply for 2018 was reasonably tight, mainly owing to mine closures from environmental controls in China, and limited production from new and emerging producers in Canada and Asia.
This looks set to continue through 2019 and even 2020 unless new capacity in South Africa and Canada starts to materialise later this year, as the respective companies claim (see later).
All the key trends and developments in the entire fluorine raw material supply chain will be examined and discussed at IMFORMED's upcoming Fluorine Forum 2019, Prague, 21-23 October - see link for details, which builds on the success of last year's Fluorine Forum 2018 (see link for full report) held in Madrid, bringing together all the leading players.

"Excellent, good content and time allowed for presentations"
James Feorino Jr, Strategic Sourcing Manager, Arkema Inc., USA

"Roundtables a very good addition, excellent programme, venue, organisation, and mobile app."
Malcolm Crawford, Managing Director, Delta Minerals Ltd, UK
China remains the world's top fluorspar producer, accounting for around 60% of total world output of 5.8m tonnes in 2018, followed by Mexico, 19% (see accompanying charts).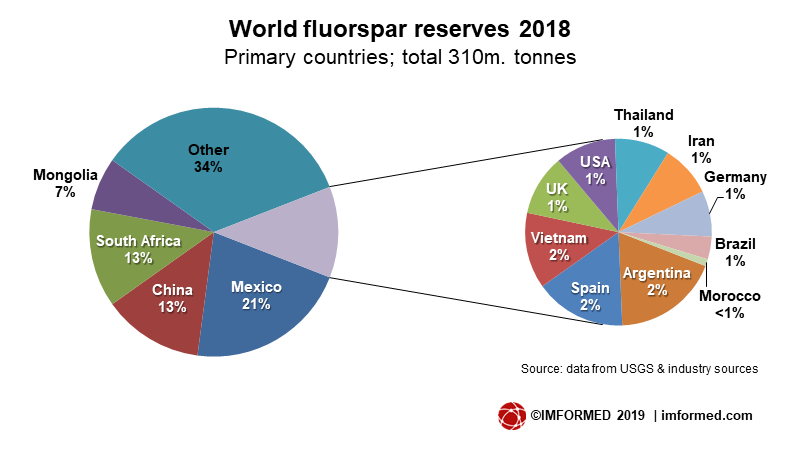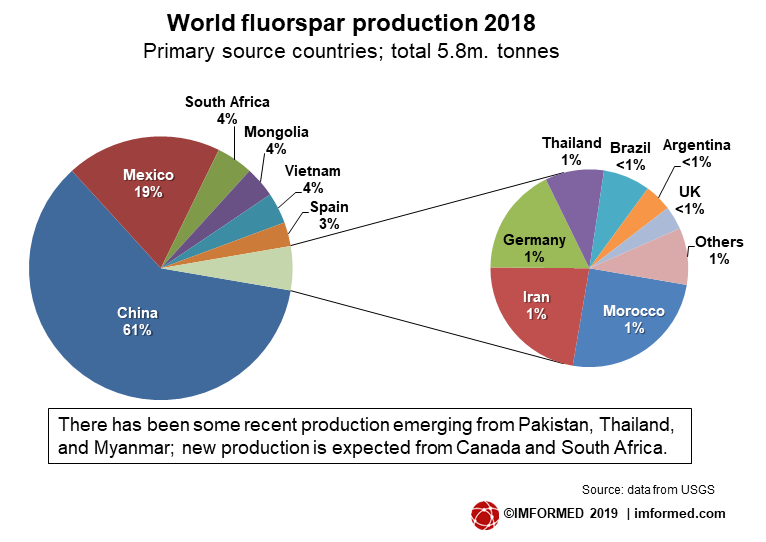 Key trends and outlook for the fluorspar market
Oliver Rhode, CEO, Xenops Chemicals GmbH & Co. KG, Germany
Trade & tariffs: Where we've been and where we might go
Ray Will, Director of Specialty & Inorganic Chemicals Consulting, IHS Markit, USA
The evolution of refrigerant gas and the role of Chemours in the market
John Zielinski, Executive Buyer Fluoroproducts, Chemours, USA
India: An emerging market for acid grade fluorspar
Bimlesh Jain, Executive President (Corporate), Gujarat Fluorochemicals Ltd, India
Global steel industry outlook
Diana Kinch, Editor-in-Chief, Steel Markets Daily, S&P Global Platts, UK
Cost factor trends in fluorspar processing
Ashok Shinh, Ashok Shinh Consultancy Ltd, UK
A new approach to mining fluorspar
Peter Robinson, Chairmain, British Fluorspar UK Ltd, UK
A comparison of High Bulk Density and Low Bulk Density aluminium fluoride
Evgeniy Torochkov, Head of Dept., PhosAgro Group, Russia

Early Bird Rates available for a limited period
However, China's hold on global export markets for fluorspar has declined significantly in recent years from the peaks of 2010-11. Indeed, for the first time, in 2017 and continued in 2018, China became a net importer of fluorspar: over 500,000 tonnes imported against just over 400,000 exported in 2018 – perhaps a reflection of the squeeze on domestic supply by environmental controls (see charts) as well as increased domestic demand from a growing fluorochemicals market. The trend is expected to continue in 2019.
China's sharp increase in metspar imports was sourced mainly from Mongolia, but also Myanmar; acidspar was imported from Mexico and South Africa.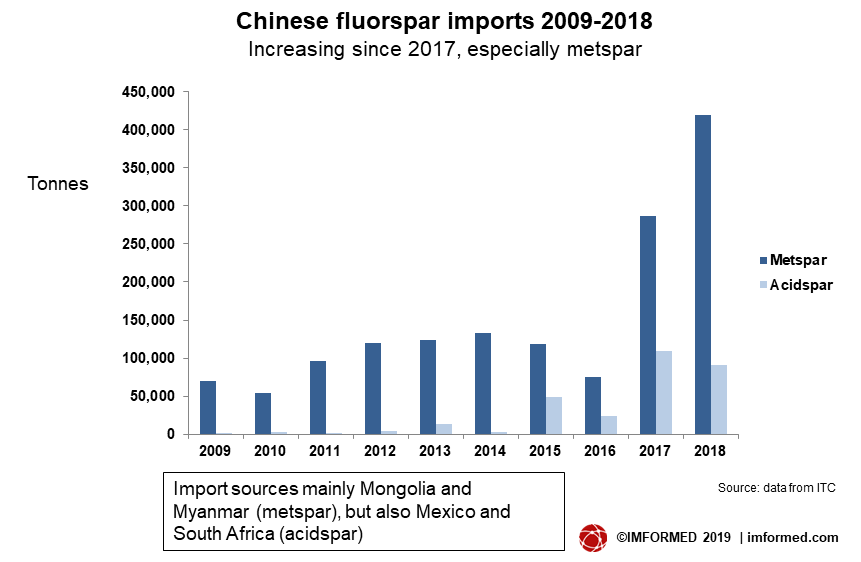 China's metspar export markets are mostly in Asia, and while China still exports acidspar to Europe, its share of exports to the US market has decreased markedly (see later).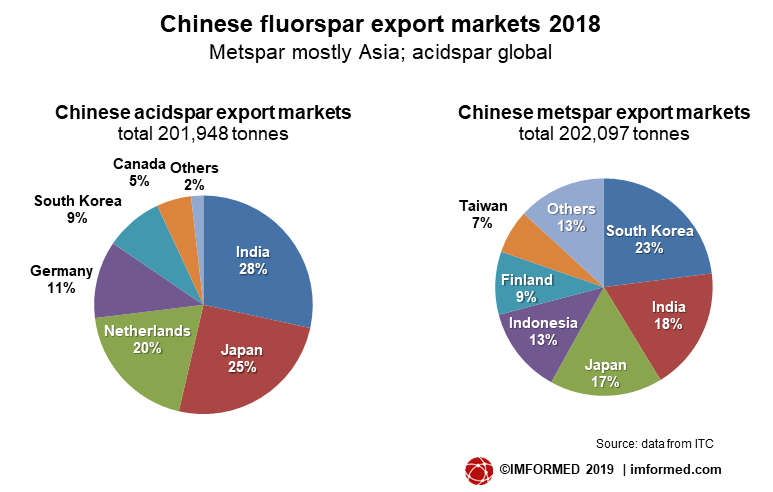 The tightness in global supply in 2018 resulted in sharp price increases for acidspar which peaked at over $500/t, this has carried over into 2019, with reports that metspar prices were also rising and even overtaking acidspar levels at up to $550/t.
Average Chinese export prices for both acidspar and metspar rose sharply in 2018, to US$400/t and US$300/t, respectively (see chart). These levels were surpassed in late 2018, and in 2019 the trend has continued and prices have risen to as much as US$550/t FOB.
US net import reliance on Chinese fluorspar has declined from a dominant 52% in 2009 to a mere 6% in 2018, being eclipsed by increasing imports from Mexico (at 69%), and most recently, although on a smaller scale, from Vietnam.
Although the US raised tariffs from 10% to 25% on US$200bn of Chinese products on "List 3" in May 2019 which includes many minerals, fluorspar (acidspar and metspar) was excluded, while aluminium fluoride and hydrofluoric acid remain on the list.
In contrast, there was certainly more of a risk from US President Trump's recent threats to impose 5% punitive tariffs on all goods imported from Mexico beginning 10 June 2019.
As it turned out, Trump backed off his plan, announcing on 7 June that the USA had reached an agreement with Mexico, and there will be a renegotiated United States-Mexico-Canada Agreement (USMCA). So US fluorspar consumers will feel somewhat relieved…..for now.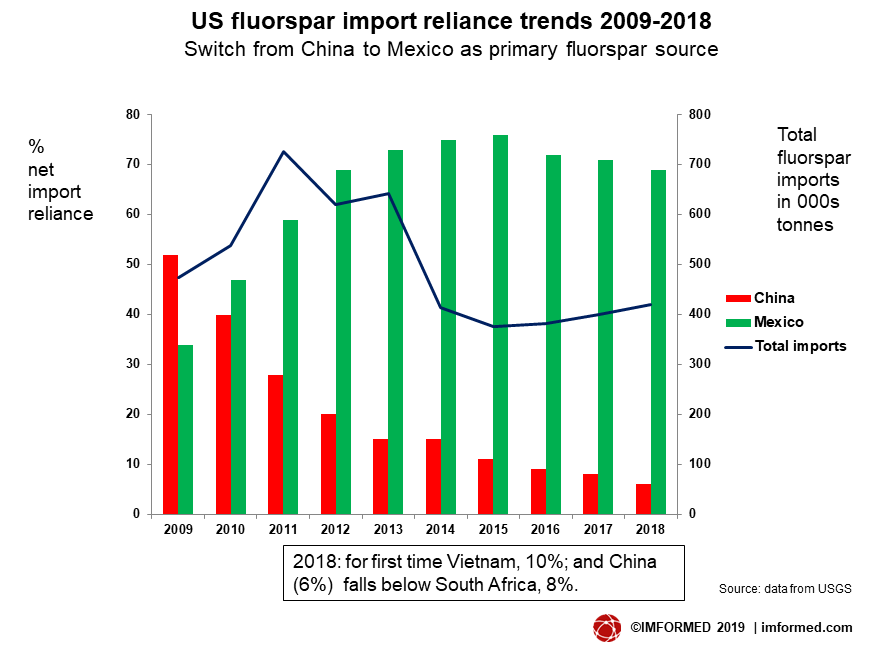 The leading world acidspar exporters are Mexico, Vietnam, South Africa and China; for metspar it is Mongolia, Mexico, and China.
Primary importers for acidspar are USA, Italy, India, and Germany; for metspar it is China, Russia, and Turkey.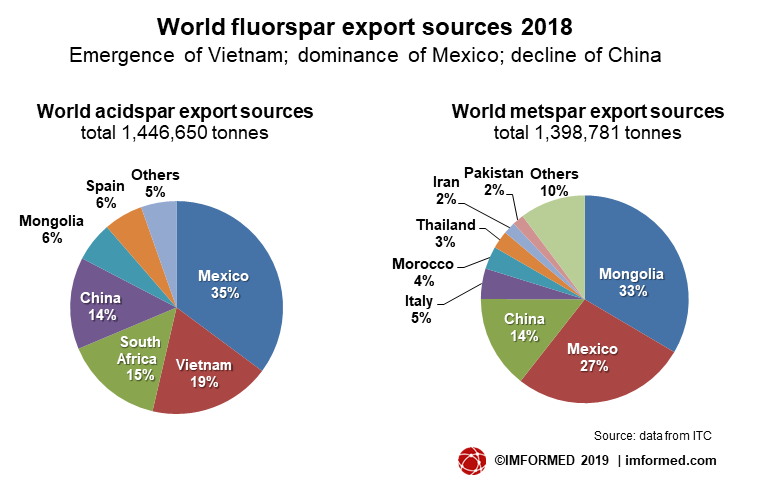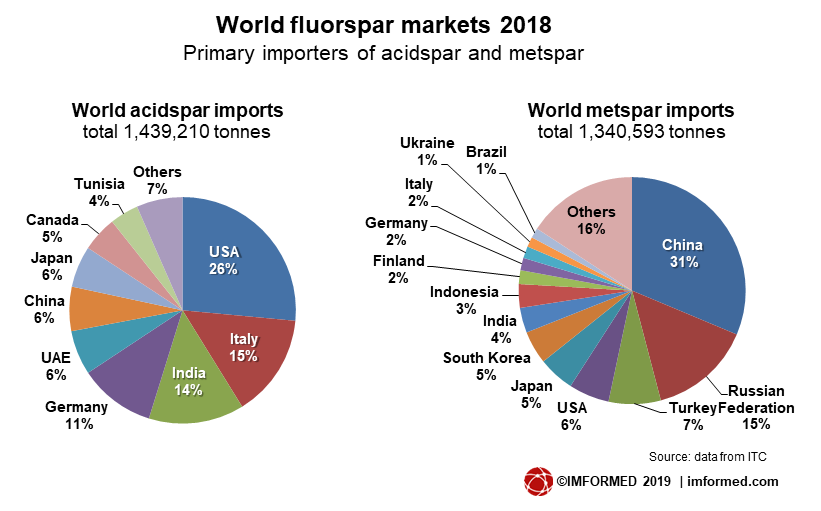 Coming soon? New sources from South Africa & Canada
Depleting high quality fluorspar reserves, high cost of acidspar production, and likely continued pressure and perhaps further capacity reductions in China, combined with continuing demand for fluorspar in chemical, steel and aluminium markets (see article next week) mean that there is a case for alternative and new fluorspar sources to come on line.
The two players way ahead of the pack are Sepfluor Ltd and Canada Fluorspar Inc. However, each has experienced some difficulty in bringing their respective operations on stream as per their envisaged schedules, which should have been by early 2019.
These are quite involved projects and it is perhaps not surprising that there are delays in ramping up to commercial production. However, prospects for progress are good for 2019.
In South Africa, construction of SepFluor's ZAR1.7 bn(US$122m) Nokeng Fluorspar Mine open pit mine and concentrator is now complete.
Phased commissioning, the final phase in project execution and the first phase of production at the Nokeng Mine plant is currently underway. The plant has been completed on budget, and will ramp up to full-scale commercial production (design capacity of 180,000 tpa acidspar, 30,000 tpa metspar) towards the end of July 2019.
IMFORMED is delighted to announce that the Welcome Reception for Fluorine Forum 2019, held on 21 October 2019, at the Alcron Hotel, Prague is sponsored by Sepfluor Ltd
The company has also completed a BFS and Market Study for its downstream anhydrous hydrogen fluoride (60,000 tpa capacity) and aluminium fluoride (60,000 tpa), with "positive outcomes" (for more details see Fluorspar renaissance rallies in South Africa).
Over on the east coast of Canada, Canada Fluorspar Inc. (CFI) completed a 4,700 tonne acidspar shipment to Houston in August 2018, and earlier this year sent bulk samples to Europe for testing.
CFI is ramping up production at its St Lawrence facility with a nominal target of full production capacity of 200,000 tpa and a mine life of 30 years. Recent reports indicated the operation was nearing 50% capacity utilisation. The Newfoundland fluorspar source has had a challenging history (see Fluorspar revival in Newfoundland).
CFI is planning a new location for the development of a shipping port on the western side of its mining property in St. Lawrence, on the Burin Peninsula. The original plan was to develop the marine facility at Blue Beach, but it now favours a location near Mine Cove in Little Lawn Harbour.
The port will export fluorspar concentrate and construction aggregate, CFI claims that there is potential for the company to export 2m. tpa aggregate.
The project, which would give a vital and dedicated deep water shipping facility close to the St. Lawrence AGS Fluorspar Mine, includes a waste rock crushing plant and aggregate stockpiles, a concentrate storage building, access and haul roads, a wharf accepting vessels up to 72,000 DWT (Panamax), a conveyor, a ship-loading system, and a rock-filled breakwater.
At present, fluorspar shipments leave from Marystown, which is a temporary arrangement involving 45km truck transportation from the mine site. The proposed new marine terminal site is just 0.5km from the mine.
The company has registered its proposed marine shipping terminal for environmental assessment with the provincial government, a decision is expected on 25 July.
Elsewhere…in Australia, South Africa, Sweden, USA
Australian Bauxite Ltd's wholly-owned subsidiary, ALCORE Ltd, has commenced chemical refining of its bauxite into aluminium fluoride, starting with removal of silicon and iron oxides to create a clear solution containing the aluminium fluoride that will be produced by a crystalliser-still stage.
This milestone was achieved successfully late June at the ALCORE Research Centre in Berkeley Vale, New South Wales. The next step is designing the optimum blend of bauxite and reagents for the recently completed ALCORE mini-production plant.
ALCORE's patent (pending) application technology is designed to refine raw bauxite to produce aluminium fluoride and valuable co-products, a 50,000 tpa plant is envisaged in its plans.
There has been no further advancement of the Doornhoek Fluorspar Project being developed by SA Fluorite (Pty) Ltd and ERG.
Located just south of Zeerust, North West province, close to the now closed Witkop fluorspar mine, the Doornhoek deposit has been drilled since 1977 but a complexity of rights, largely resolved by 2005, had historically delayed development.
Detailed environmental management programme and environmental impact assessments for Doornhoek have been accepted and approved by the Department of Mineral Resources but there has been little further progress.
In May, Tertiary Minerals PLC prepared and submitted a detailed appeal to the Swedish government against the decision by the Swedish Mining Inspectorate to reject Tertiary's Exploitation (Mine) Permit in its current form for its Storuman Fluorspar Project, Sweden.
Scoping Study level bench scale metallurgical testwork is progressing at SGS Lakefield in Canada with the aim of producing commercial grade acidspar and mica from Tertiary Minerals' MB Fluorspar Project, Nevada, USA. The Scoping Study is aiming for completion this year.
Incidentally, Tertiary Minerals was winner of the Bureau of Land Management's (BLM) 2017 Hardrock Small Operator Award, for its outstanding and innovative reclamation and sustainable mineral development work on the MB Project.
Having reviewed supply, a report on fluorspar markets outlook will follow soon.

Meanwhile, don't miss…