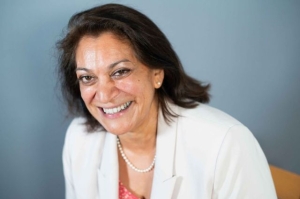 Bilingual in English and French, and in a sales and marketing oriented career spanning 30 years, Ismene spent 15 years developing and leading advertisement sales on
Industrial Minerals
magazine and its allied products before launching
IMFORMED
with
Mike O'Driscoll
in early 2015.
Ismene Clarke is Commercial Director of
IMFORMED
, the recently created independent organisation dedicated to providing networking forums and market research expertise for the global industrial minerals business.
Until April 2014 Ismene, with 15 years service, was the longest serving advertisement sales manager for Industrial Minerals (IM) magazine published by Metal Bulletin plc, a part of Euromoney Institutional Investor plc from late 2006.
Complementary to Ismene's advertisement sales role was her pivotal commercial influence and leadership across the IM series of international events including congresses, conferences and exhibitions in North America, Asia and Europe.
In later years Ismene, along with her long established editorial colleague and IMFORMED co-director, Mike O'Driscoll, was responsible for creating and commercialising forums on mineral logistics, the Chinese market, and oilfield minerals.
Outside the world of industrial minerals, Ismene's other half of her career was also in international sales spanning international property (UK and Switzerland), road haulage (UK and France), publishing (telecommunications, road transport, tobacco, city and financial) and shipping where she pioneered Internet web-based sales (SeaNet) in the late-1990s.
Ismene's commercial presence in serving the commercial and networking needs of the international industrial minerals community is second to none. Her name is recognised throughout the commercial industrial minerals world as the force behind achieving successful outcomes for potent high level networking events and marketing solutions.
She achieves this through her natural ability to connect with people on both personal and professional levels. Nothing is too small or inconvenient to ensure outstanding experience because, for Ismene, failure is not an option!
If it isn't fun then it's time to move on and that's what she and Mike have done to ensure they bring their undiluted experience and outstanding professionalism to the industrial minerals community through IMFORMED.
For 20 years she's also been the devoted wife of husband, Gerry, and proud mother of two teenage daughters, Zoë and Jasmin.
Full of life and fun loving, Ismene enjoys an active lifestyle. Once a keen and very competitive tennis player, swimmer and keep fit artist she has now turned to bike road racing and completed the UK's 2014 Ride 100 in appalling weather conditions to raise over £1,500 for charity. Something she had the time and energy to train for whilst on her obligatory career gap since leaving IM in April 2014.
Bilingual in English and French, born to Sri Lankan parents, and well travelled in her early years Ismene's easy social skills are applied in equal measure regardless of status or origin. If you're not sure whether or not you've met Ismene then you most assuredly haven't!