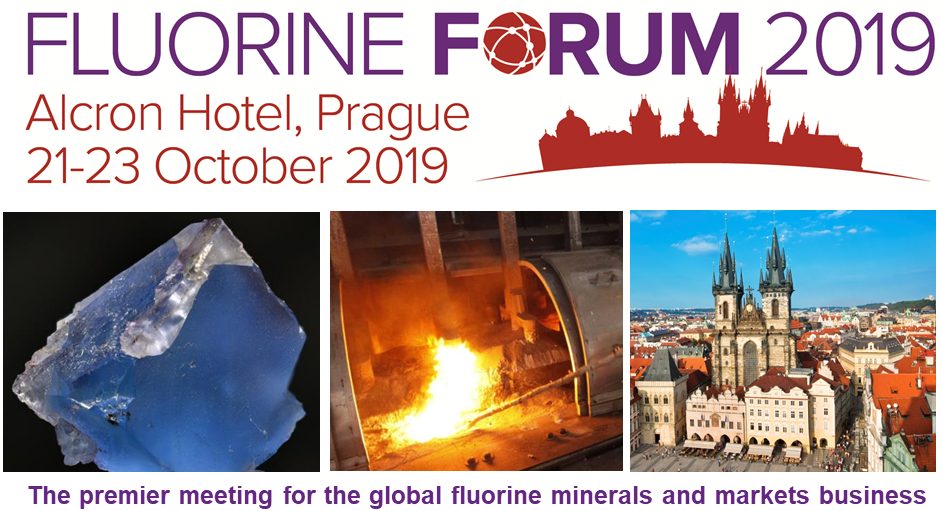 Intelligently programmed | Expertly moderated
Welcome Reception Sponsor                                                               Supporting Partners
Assure yourself of the real fluorine conference experience

Invaluable networking | Topical discussion | Memorable moments
Following the success of Fluorine Forum 2018 in Madrid, IMFORMED is delighted to announce:
Fluorine Forum 2019
21-23 October 2019, Alcron Hotel, Prague
          
This year's venue is in the atmospheric and centrally located art deco Alcron Hotel, Prague. Fluorine Forum 2019 will provide an invaluable and unrivalled networking and knowledge acquisition base for professionals in the fluorine minerals market
The conference will be essential to all those active or with an interest in the fluorine mineral supply chain, from developing and mining sources, through logistics and processing, to end use applications. Don't miss out, book now.
Confirmed speakers
Key trends and outlook for the fluorspar market
Oliver Rhode, CEO, Xenops Chemicals GmbH & Co. KG, Germany
Trends in aluminium fluoride supply and demand
Kerry Satterthwaite, Manager – Industrial Minerals & Chemicals, Roskill, UK
Changes in refrigerant use and its impact on the air conditioning and refrigeration markets
Andrea Voigt, Director General, European Partnership for Energy & the Environment, Belgium
Downstream markets for fluorochemicals, through to fluoropolymers and fluoroelastomers
Samantha Wietlisbach, Principal Analyst, Chemical, IHS Markit, Switzerland
HF and fluorine developments in Saxony and eastern Europe
Johannes Scheruhn, Managing Director, Scheruhn Industries, Germany
Progress on the Doornhoek fluorspar project
Allan Saad, Consulting Geologist, SA Fluorite Pty Ltd, South Africa
Programme to include
Keynote Discussion Panel
Featuring senior management from leading companies across fluorine supply chain (suppliers to buyers), discussing status and outlook of industry, moderated by Mike O'Driscoll.
Round Table Networking Session
Featuring themed round tables hosted by experts for informal networking and discussion across a range of key topics
Themed sessions structured mine to market
Supply
Regional production; exploration; emerging new sources; safety & sustainable development
Processing
New technology/equipment; grade developments; challenges in processing; case studies
Logistics
Innovations in handling; shipping trends; storage solutions; routes
Markets
Demand outlook by sector; market trends; new applications; influencing factors; competitive materials

What delegates said about Fluorine Forum 2018:
"Excellent venue and good location, good content and time allowed for presentations"
James Feorino Jr, Strategic Sourcing Manager, Arkema Inc., USA

"Good programme, excellent organisation with a lot of attention to detail; one of the best conference apps I've seen."
Freda Gordon, Director, Acuity Commodities, UK

"Good interaction between participants in programme and roundtables, knowledgeable and professional organisation."
Tony Fitzgerald, Director Sales & Marketing, Masan Resources, Vietnam

"Roundtables were a very good addition, excellent programme, venue, organisation, and mobile app."
Malcolm Crawford, Managing Director, Delta Minerals Ltd, UK