August 2019 is a milestone month for speciality industrial minerals supplier Lehmann&Voss&Co. which celebrated its 125th Anniversary at the Hamburg Fischauktionshalle on 16 August.
The First Mayor of the City of Hamburg, Dr. Peter Tschentscher, opened the festive evening in front of 600 guests. An eye-catcher at the event was the model of a 3D-printed racing sailboat made of carbon fibre reinforced high-performance polyamide by Lehmann&Voss&Co.
The Management Board of Lehmann&Voss&Co. in front of the 3D racing sailboat with the First Mayor of the City of Hamburg, from left to right: Aage Barfuss Soenke Thomsen, the First Mayor of the City of Hamburg Dr. Peter Tschentscher, Knut Breede, Dr. Thomas Oehmichen
The LEHVOSS Group, under the leadership of Lehmann&Voss&Co., is a group of companies which develops, produces and markets chemical and mineral specialities for a wide range of markets, including: chemicals, plastics, paint and coatings, pharmaceuticals, food and feed, beverages, rubber, lubricants, cellulose, refractory materials, and cosmetics.
To supply the above markets LEHVOSS handles industrial minerals including: basalt, bentonite, calcium carbonate, cenospheres, diatomite, fluorides, kaolin, magnesite, mica, perlite, rare earths, talc, wollastonite, and zircon
Under the trademark LUVOMAG® the group has developed a uniquely broad range of magnesia compounds and industrial minerals for many different applications and markets.
IMFORMED was honoured to have Lehmann&Voss&Co. as lead sponsor for MagForum 2018, held 17-20 June 2018, at the Grande Elysée Hotel, Hamburg, with 230 international attendees networking and discussing the key issues influencing the magnesia supply chain (for a review see Magnesia market summit: a Hamburg Humdinger; for a review of MagForum 2019 see Magnesia market meets in Bilbao).
LuV-ing it since 1894 for a range of minerals for niche markets
Lehmann&Voss&Co., Hamburg, was founded as a trading company in 1894. In its 125-year success story the owner-managed company has developed into a high-performing global organisation, relying on long-standing relationships with renowned, mainly foreign suppliers and with its own production sites in Europe, the USA and Asia.
The focus for many decades was initially on the German market. Starting in 1990, the company started to internationalise by offering products and services across Europe. Today LEHVOSS operates subsidiaries in Europe, USA, South Korea, and China.
Led by the executive management of Soenke Thomsen, Managing Partner and Spokesman, Knut Breede, Managing Partner, Dr. Thomas Oehmichen, Managing Partner, and Aage Barfuss, Managing Director, LEHVOSS (not counting equity holdings) employed 637 workers in 2018, earning €384m. in revenue.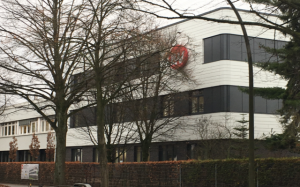 Earlier this year, the group strengthened its profile with a new brand message, "We LuV it.", and commissioned its new €4.5m. laboratory and pilot plant building now relocated at the Hamburg-Wandsbek site (right).
The facility is used for quality testing of raw materials and sales products, for the development of LEHVOS products and for formulation development based on our products in support for our customers.
Wollastonite supply from Wolkem India
In March 2019, Lehmann&Voss&Co. announced its distribution partnership with leading wollastonite producer Wolkem India Ltd.
With the acquisition of the business operations of the Osthoff Omega Group, Norderstedt, Germany effective 1 January 2019, Lehmann&Voss&Co. also acquired the distribution rights for wollastonite for Wolkem India Ltd.
The exclusive distribution partnership comprises the product groups KEMOLIT and FILLEX in Germany, Austria, Switzerland, the Czech Republic and Turkey.
Wollastonite has been used as a functional reinforcing filler for many years. Wolkem's wollastonite is well established in many technical applications, including: the plastics sector (eg. thermosets, engineering thermoplastics); for the friction sector (eg. brake pads); and in surface technology for powder or anti-corrosion coatings.
Claimed as the world's largest miner and producer of wollastonite, Wolkem is a 100% family-owned business established in 1972 in Rajasthan, north-west India, and employs over 2,000 staff.
The company is also India's leading miner and producer of calcium carbonate and produces other minerals including talc, lime, limestone, dolomite, and cenospheres. Wolkem has 20 mining and processing plants in six Indian states, producing over 100 mineral grades/products, exporting to over 20 countries.

Of the total resources of Indian wollastonite, about 88% (14.47m. tonnes) including 2.24 m. tonnes reserves are located in Rajasthan, and the remaining about 12% resources (1.99m. tonnes) in Gujarat. Major Rajasthan deposits of wollastonite are found in Ajmer, Dungarpur, Pali, Sirohi, and Udaipur districts.
According to the Indian Bureau of Mines, Indian production of wollastonite was 153,000 tonnes in 2017-18, a decrease of 8% compared to 166,000 tonnes in the preceding year.
Wolkem, mining in Udaipur and Pali, accounts for the majority of the Indian wollastonite production (92%), the other producer is Renu Atre, in Ajmer.
The bulk of the demand for wollastonite in India is for the ceramics market in the manufacture of floor and wall tiles. In ceramics, wollastonite decreases shrinkage and gas evolution during firing.
There are limited commercial sources of wollastonite, the world leader is China (530,000 tonnes in 2018), followed by India, then just the USA and Mexico as primary sources.
NYCO Minerals Inc., the US producer and world leader in surface modified wollastonite grades was acquired by Imerys in 2015 through its acquisition of S&B Industrial Minerals (see Imerys seals S&B acquisition: so what does it mean?).
In February this year, Imerys was forced to close the wollastonite plant in Willsboro, New York, owing to asbestos contamination. Imerys acknowledged the issue at a press conference in May, which unsurprisingly triggered a dramatic drop in the group's stock price, by as much as 15% to €40.02, nearing an all-time low.
In its H12019 results, Imerys recorded that the impact of the temporary shutdown of the wollastonite plant amounted to a loss of operating income of €9.0m. The plant resumed operations in early June.
Other speakers include:

Supply & demand of important industrial minerals in India
Dr. Pradeep Kumar Jain, Chief Mineral Economist, Indian Bureau of Mines, India
The climate & outlook for mineral project investment & development in India
John Evans, Managing Director, Tractus Asia Ltd, Thailand
Minerals for the electrification of India
Dr Richard Flook, Managing Director, Mosman Resources, Australia
Developing markets for Li-ion batteries in India & Asia
Alison Saxby, Director, Roskill Information Services, UK
Graphite developments, markets & India's mineral challenge
Shishir Poddar, Managing Director, Tirupati Graphite PLC, UK
Opportunities for Indian filler mineral suppliers in plastics, rubber, & coating markets
Samantha Wietlisbach, Principal Analyst Chemicals, IHS Markit, Switzerland
Refractory raw materials supply & demand in India
Hakimuddin Ali, Director Business Development & Strategy, India

For Registration, Sponsor & Exhibit enquiries, please contact