Mike O'Driscoll receives the Hal Williams Hardinge Award
At the Society of Mining, Metallurgy, & Exploration 2011 Annual Meeting & Exhibition in Denver, Mike O'Driscoll, then Editor of Industrial Minerals (IM), was presented with the prestigious 2011 Hal Williams Hardinge Award for services to the industry.
The award was presented at the SME Awards Dinner on 2 March by DeAnn Craig, president of SME's parent, the American Institute of Mining, Metallurgical, and Petroleum Engineers (AIME).
The citation reads:
"In recognition of Mr. O'Driscoll's efforts as editor of Industrial Minerals in supporting technical information exchange and the dissemination of technical and commercial information on industrial minerals throughout the world, and particularly his leadership in the exchange of information with the Chinese IM sector."
During the 75th Anniversary SME IM&A Division lunch on 1 March, where his award was officially recognised, Mike paid tribute to the North American industrial minerals community where he first cut his teeth in the industry being based in New York for two years (1988-90).  Grateful acknowledgement was also made to Gerry Clarke, former IM Editor (1983-87) and former Executive Director Metal Bulletin Plc, who started Mike on his industrial minerals career in 1987 as Assistant Editor IM.
Mike follows a long and distinguished line of previous recipients (see panel left). He is the fourth British recipient of the award, and its first as a serving editor of an industry publication.
Hal Williams Hardinge Award Roll of Honour
2023 J. Richard Kyle
2022 Bowen Li
2021 Srinivas Veeramasuneni
2020 Mark A. Herpfer
2019 Jessica E. Kogel
2018 Robert J. Pruett
2017 no award
2016 no award
2015 Bill Langer
2014 William Miles
2013 Sarkis Ampian
2012 Dennis Bryan
2011 Mike O'Driscoll
2010 Drew Meyer
2009 Ian Wilson
2008 Richard B. Berg
2007 Robert C. Freas
2006 Fred G. Heivilin
2005 Peter W. Harben
2004 A. Frank Alsobrook
2003 James M. Barker
2002 Nikhil C. Trivedi
2001 William F. Moll, Jr.
2000 John F. Burst
1999 C. Sheldon Thompson
1998 Ihor A. Kunasz
1997 George S. Austin
1996 James F. Westcott
1995 Lawrence F. Rooney
1994 Oscar M. Wicken
1993 Colin M. Bristow
1992 Keith G. Papke
1991 Immo H. Redeker
1990 Frank C. Appleyard
1989 James R. Dunn
1988 Donald D. Carr
1987 Richard H. Olson
1986 Frederick L. Kadey, Jr.
1985 James C. Bradbury
1984 Nelson Severinghaus, Jr.
1983 Stanley J. Lefond
1982 J. F. Havard
1981 Sam H. Patterson
1979 Walter D. Keller
1978 Robert L. Bates
1977 Thomas D. Murphy
1976 Haydn H. Murray
1975 Robert Gill Montgomery
1974 Elburt Franklin Osborn
1973 Kenneth Knight Landes
1972 Fredrick Christian Kruger
1971 John E. Lamar
1970 J. R. Simplot
1969 Charles F. Fogarty
1968 Norman J. Dunbeck
1967 Monson Fraser Goudge
1966 A. B. Cummins
1965 Horace Edgar Rose
1964 Louis Ware
1963 Joseph Lincoln Gillson
1962 Ian Campbell
1961 Raymond Bardeen Ladoo
1960 Samuel H. Dolbear
1959 Oliver Bowles
Hal Williams Hardinge Award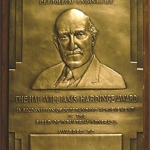 Established in 1958, this award recognises outstanding achievement which has benefited the field of industrial minerals and aggregates. The award is funded by the American Institute of Mining, Metallurgical, & Petroleum Engineers (AIME) and is administered by the Society of Mining, Metallurgy, & Exploration, an AIME Member Society.
The award was founded in memory of Hal Williams Hardinge, inventor, author, and president of Hardinge Co., manufacturer of mining and processing equipment, particularly grinding, classifying, and feeding devices.
The achievement so recognised may be accomplished through writing, teaching, research or administration, resulting in new uses, wider markets, improved management, or through wider dissemination of knowledge.