Plus: Proceedings & Wall Charts Available | The IMFORMED Crossword

To all our customers, sponsors, and supporters,
We hope you are staying safe and well in these challenging times.
Ensuring the health and safety of our attendees, exhibitors, partners & staff is our top priority.
IMFORMED continues to monitor the situation, assimilating advice, and assessing contingencies regarding the latest developments.
ROUND-UP OF ACTION TO DATE
On balance of evidence to date and feedback from the market we have decided that the right decision is to postpone the following Forums:
IMFORMED Rendezvous
Grand Hotel Huis ter Duin, Noordwijk (Amsterdam)
was 6-8 April 2020 NOW 12-14 APRIL 2021

Full Details Here
---
MagForum
Grand Hotel Huis ter Duin, Noordwijk (Amsterdam)
was 27-29 May 2020 NOW 28-30 JUNE 2021

Full Details Here
---
Oilfield Minerals & Markets Forum
Hilton Houston Post Oak, Houston
was 8-10 June 2020 NOW 25-27 MAY 2021

Full Details Here
---
China Refractory Minerals Forum
InterContinental Dalian
was 21-23 Sept. 2020 NOW 15-17 MARCH 2021 Full Details Here
---
Fluorine Forum
Pan Pacific Hotel, Hanoi, Vietnam
was 12-14 October 2020 NOW 18-21 OCTOBER 2021 Full Details Here
ANNOUNCING
Fluorine Forum 2020 ONLINE
Tuesday 13 October 2020 12.00-16.30 BST Full Details Here 

While we are aiming as much as possible to retain the excellent 2020 programmes of the above Forums for next year, we would very much appreciate expressions of interest to speak – please contact Mike O'Driscoll mike@imformed.com.
We will advise delegates as/when appropriate regarding any impact to our other events' dates and venues, which remain in place until further notice.
Need market intelligence? Past Forum Proceedings & Wall Charts available
All the presentations of our past Forums are available for sale per event as PDF downloads.
First class market information compiled by the world's leading experts covering:
Industrial Minerals & Markets Outlook
Mineral Recycling
Mineral Logistics
Magnesia Minerals & Markets
Fluorine Minerals & Markets
Oilfield Minerals & Markets
Chinese Refractory Minerals & Markets
Indian Minerals & markets
Our well received series of Wall Charts offer superb well informed insight to the key elements of the global industrial minerals business.
SOLD OUT! – A NEW EDITION IS BEING PREPARED FOR PUBLICATION 2020 – NEW MINERALS ADDED

To include: Alumina | Fused Alumina | Andalusite | Kyanite | Sillimanite | Bauxite | Chromite | Graphite | Dead Burned Magnesia | Fused Magnesia | Dolomite | Pyrophyllite | Silicon Carbide | Zircon

Why not place an advertisement? Ensure your refractory mineral supply profile remains visible. Advertisement places limited.
Enquiries for all above to Ismene Clarke 

ismene@imformed.com

| T: +44 (0)7905 771 494
---
The IMFORMED Crossword Puzzle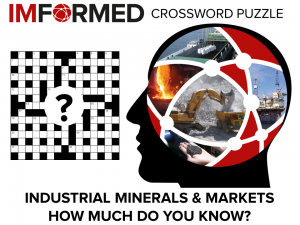 Test your knowledge of industrial minerals & markets
Got some time on your hands? Why not give it a try? Learn in your lockdown.
The competition has closed, but all entries receive a free PDF of our Mineral Market Matrix® Wall Chart.
Please do not hesitate to contact us with any questions or comments – Stay safe & well!