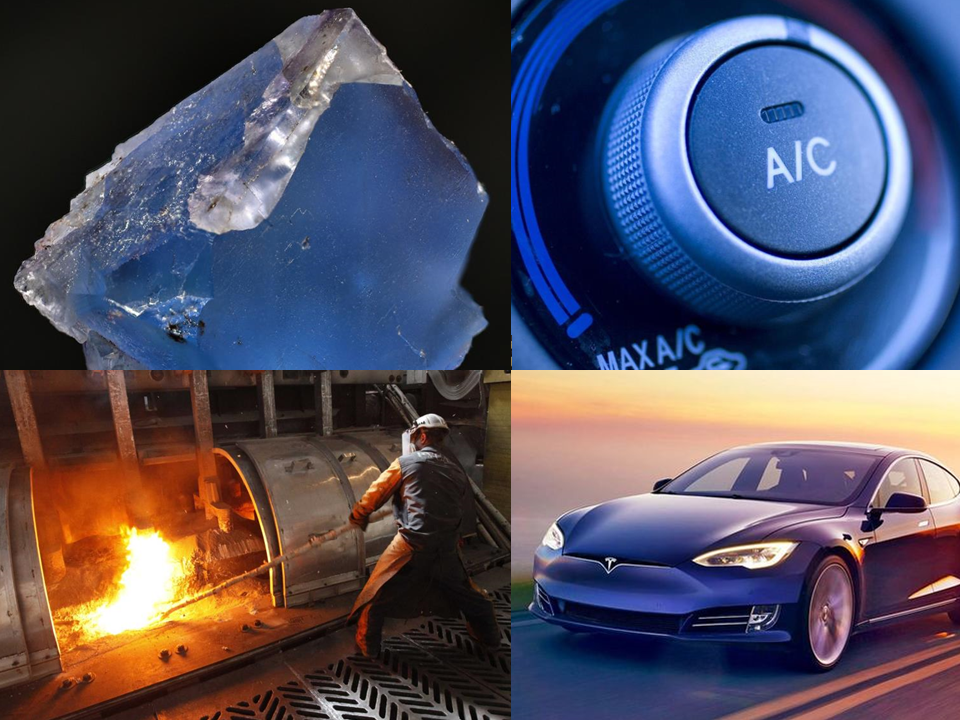 Fluorine is a vital element to some of our primary manufacturing industries – chemicals, steel, aluminium – and more recently, the soaring Li-ion battery market.
However, the main raw material feedstock, the mineral fluorspar, is only produced in a few countries, with one of the main sources facing cutbacks, and consumers keenly awaiting new sources to fully come on stream (see Fluorspar Supply: Trade Trends & New Sources).
But what of the consuming sectors? We now focus on the key markets for fluorine raw materials following our earlier report on the fluorspar supply sector.
All the key trends and developments in the entire fluorine raw material supply chain from source to market will be examined and discussed at IMFORMED's upcoming Fluorine Forum 2019, Prague, 21-23 October - see link for details, which builds on the success of last year's Fluorine Forum 2018 (see link for full report) held in Madrid, bringing together all the leading players.

"Excellent, good content and time allowed for presentations"
James Feorino Jr, Strategic Sourcing Manager, Arkema Inc., USA

"Roundtables a very good addition, excellent programme, venue, organisation, and mobile app."
Malcolm Crawford, Managing Director, Delta Minerals Ltd, UK
The two primary commercial grades of fluorspar produced and traded are acid grade or acidspar (+97% CaF2), and metallurgical grade, or metspar (60-96% CaF2; so-called "ceramic grade" can range 94-96% CaF2)
Acidspar, accounts for approximately 60-65% of total fluorspar production with the two main applications being: the manufacture of hydrofluoric acid (HF) – the primary source of all fluorochemicals; and in aluminium production – used to produce aluminium fluoride (ALF3) which acts as a flux to lower the bath temperature in the manufacture of aluminium.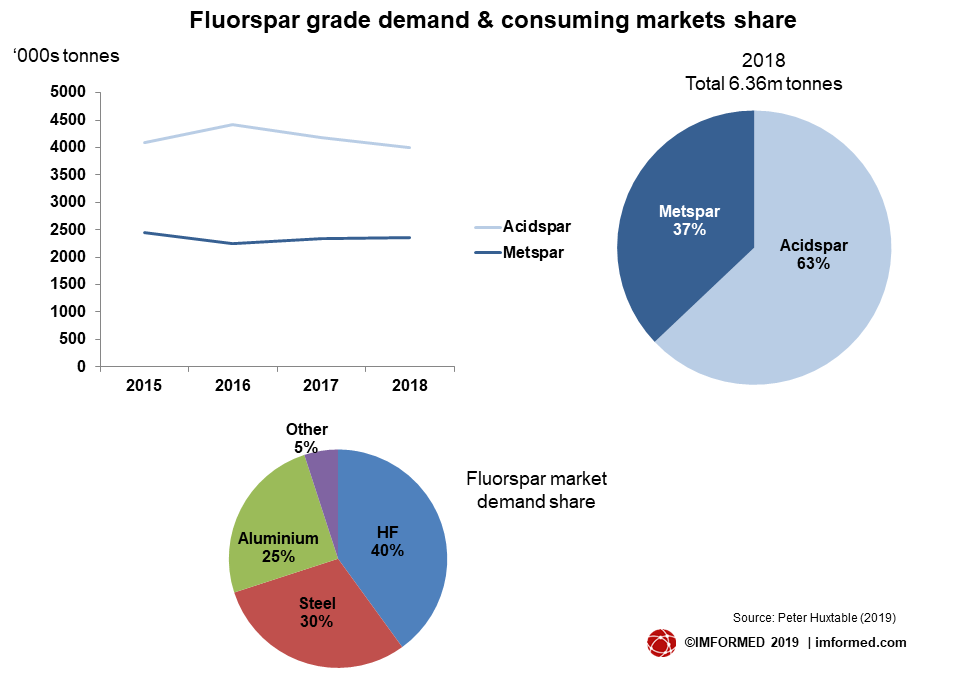 Fluorochemical markets range widely and include: fluorocarbons, eg. refrigerant gases, propellants; electrical and electronic appliances; metallurgical industry (extraction, manufacture and processing); Li-ion batteries; pharmaceuticals; polymers; and agrochemicals.
Metspar accounts for approximately 40-37% of the total fluorspar production with the main application in steel production – used as a flux to lower the melting temperature and increase the chemical reactivity to help the absorption and removal of sulphur, phosphorus, carbon and other impurities in the slag.
Another important metspar application is in cement, used as a flux to speed up the calcination process and enabling the kiln to operate at lower temperatures, thus saving energy.
Other fluorspar applications include welding, ceramics, and glass.
According to Peter Huxtable, consultant, UK, total fluorspar demand in 2018 was 6.36m tonnes, of which acidspar accounted for 3.99m tonnes (63%), and metspar 2.35m tonnes (37%) (see chart).
The main regional markets for acidspar are the USA, Italy, India, and Germany, reflecting the main centres of fluorochemical manufacturing; next ranked is the UAE with its significant and relatively recent aluminium production (see charts).
The main regional markets for metspar are China, Russia, Turkey, USA, Japan, and South Korea, reflecting the world's leading steelmakers.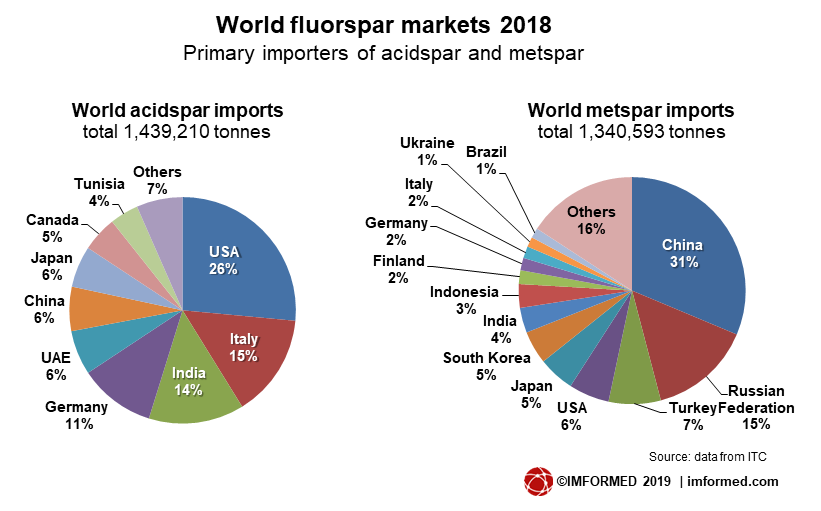 Fluorine raw material demand is dominated by the chemical industry with its requirement for hydrofluoric acid (HF) as a precursor to a wide range of chemical products. But steel and aluminium performance is also an important factor in fluorspar demand.
Key trends and outlook for the fluorspar market
Oliver Rhode, CEO, Xenops Chemicals GmbH & Co. KG, Germany
Trade & tariffs: Where we've been and where we might go
Ray Will, Director of Specialty & Inorganic Chemicals Consulting, IHS Markit, USA
Fluorochemicals – cold light of day for HFCs
The largest chemical sector application for HF is in the production of fluorocarbons. Overall, production of fluorocarbons is estimated to have consumed approximately 1m tonnes of HF in 2017, requiring >2m tonnes of acidspar.
HF overall worldwide demand remained steady at 1.2m tonnes in 2018, with China still supplying 45% of world output, North America, 25%, and Europe, 13%.
However, plant shutdowns in China owing to environmental pressures have reduced output and exports in recent years. In response, Japan has increased production.
The fluorocarbon market (HFCs hydrofluorocarbons; HCFCs hydrochlorofluorocarbons) is constantly in the environment control spotlight, with many countries, and especially the European Union and the USA, introducing restrictions on the use of certain HFCs and HCFCs due to their global warming potential (GWP) (see map).
Various alternatives are emerging for HFC substitution which comprise hydrofluoroolefins (HFO), but also could lead to some not-in-kind replacements, somewhat of a threat to future fluorine raw material demand.
Europe initiated the F-Gas Regulation in 2014 which aims to reduce F-gas emissions from high-GWP HFCs and other chemicals by two-thirds by 2030.
Restrictions on the use of HFCs were agreed by nearly 200 countries at the Montreal Protocol meeting in Kigali, Rwanda in October 2016, and the USA and the EU are aiming to reduce emissions by 10% of 2011-2013 levels by 2019, and 85% by 2036.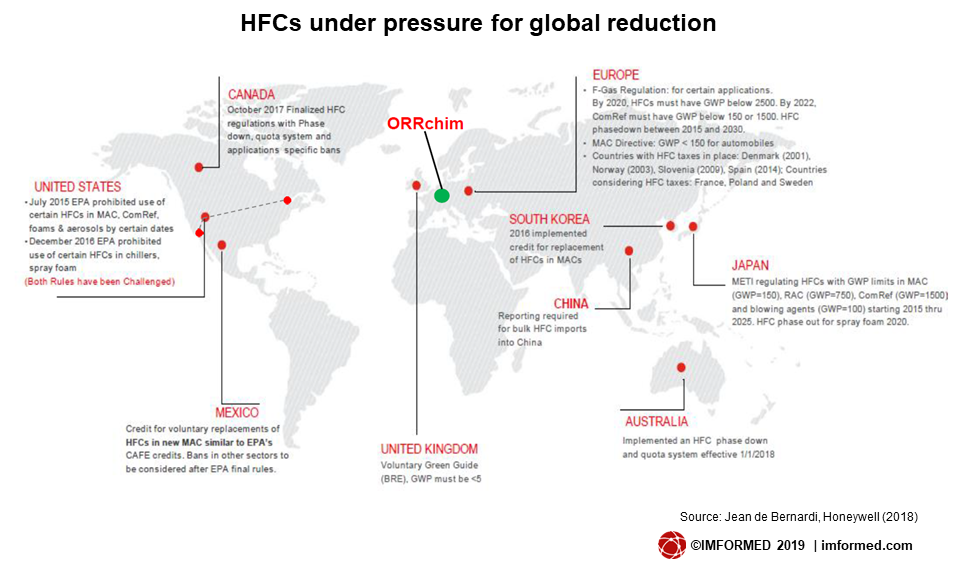 The use of the low-GWP hydrofluoroolefins refrigerant HFO-1234yf is the preferred replacement for HFC-134a used in car air conditioning by both the US Environmental Protection Agency (EPA) and the EU. Honeywell has developed the refrigerant brand Solstice® using HFO-1234yf.
US air conditioning and refrigeration equipment manufacturer Carrier has confirmed that HFO refrigerants will be the basis for most of its future European product applications.
For screw chillers and heat pumps, Carrier has chosen the HFO R1234ze to replace R134a, and has chosen the HFO R1233zd(E) as the preferred long-term refrigerant for centrifugal chillers.
The HFC phase out and gradual replacement with new variants has unfortunately prompted a trade in illegal refrigerants, and patent infringements on new grades. Refrigerant manufacturers claim that their own research has found that illegal gases are now making up more than 20% of the quota and exceeding the EU's HFC cap.
In June, Cooling Post reported on leading fluorspar and HF producer Mexichem launching its own campaign to warn the industry of the consequences of using or selling illegal refrigerants. Sarah Hughes, European Commercial Director, Mexichem Fluor UK said: "There has been ongoing reports that show the importation of illegal refrigerants is still rife across Europe, with many governments and official bodies turning a blind eye, rather than working together to stop this extremely damaging trade."
In July, leading French contractor, Axima Refrigeration France, announced a partnership with refrigerant manufacturer Chemours to evaluate the use and future adoption of Chemours low GWP Opteon XL refrigerants (which use HFO-1234yf).
The evolution of refrigerant gas and the role of Chemours in the market
John Zielinski, Executive Buyer Fluoroproducts, Chemours, USA
Changes in refrigerant use and its impact on the air conditioning and refrigeration markets
Andrea Voigt, Director General, European Partnership for Energy & the Environment, Belgium
India: An emerging market for acid grade fluorspar
Bimlesh Jain, Executive President (Corporate), Gujarat Fluorochemicals Ltd, India
Downstream markets for fluorochemicals, through to fluoropolymers and fluoroelastomers
Samantha Wietlisbach, Principal Analyst, Chemical, IHS Markit, Switzerland
HF and fluorine developments in Saxony and eastern Europe
Johannes Scheruhn, Managing Director, Scheruhn Industries, Germany
The air conditioning market appears in good health. Global sales of air conditioners rose to 141m. units in 2018, at a value of US$103bn., according to the Building Services Research and Information Association.
Economic and population growth, urbanisation and rising temperatures in countries such as Bangladesh, Brazil, Ghana, India, Indonesia, Kenya and Vietnam are the main drivers for increasing demand for cooling.
The European market is growing and accounts 7% by volume and almost 12% by value globally. The Asia Pacific region is the largest market with 56% of global value. China, Japan and South Korea remain the market leaders on the variable refrigerant flow (VRF) market.
As the Chinese government is increasing its targets against air pollution, building owners have started to pay attention to indoor air quality, with a consequent boost to China's AC research and development efforts.
Elsewhere in Asia, in July, Japan placed restrictions on the export to South Korea of three high-tech materials used in making chips and displays which has the potential to disrupt the South Korea's electronics industry.
One of the restricted materials is HF, used as an etching gas when making electronic chips and displays. South Korea imported about 44% of its HF from Japan in the first five months of the year. South Korean consumers have responded by stockpiling and seeking alternative HF suppliers.
Steel – Asian growth over western doldrums
While steelmaking will always be an important market for metspar, the steel market outlook is moderate at best, and right now in Europe is somewhat flat.
World crude steel production was 925.1m. tonnes in the first six months of 2019, up by 4.9% compared to the same period in 2018, mainly driven by China and India.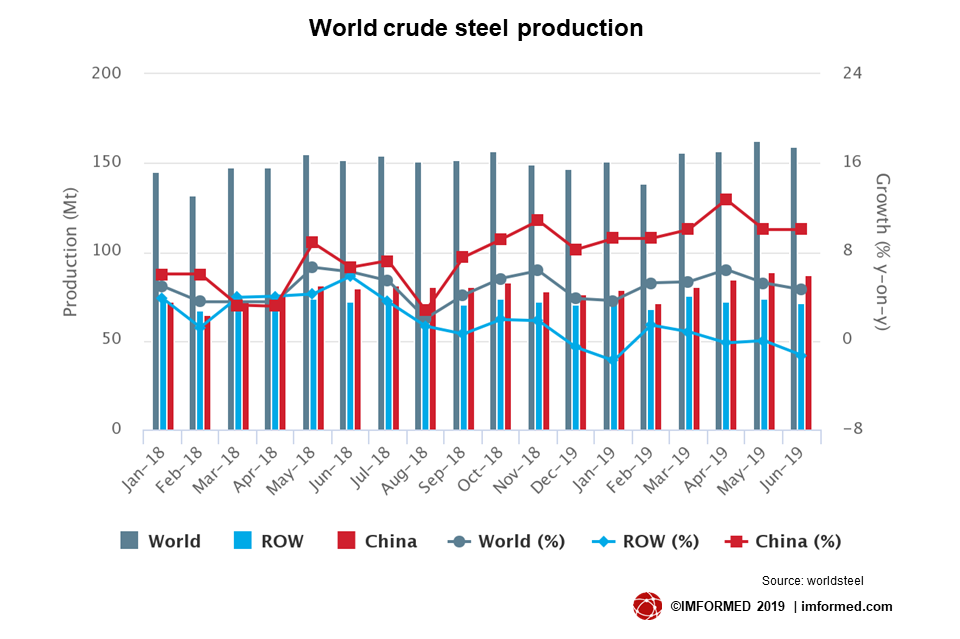 Asia produced 660.2m. tonnes of crude steel, an increase of 7.4% over the first half of 2018. China's crude steel production for June 2019 was 87.5m. tonnes, an increase of 10.0% compared to June 2018. India produced 9.3m. tonnes of crude steel in June 2019, an increase of 4.0% compared to June 2018.
The EU produced 84.7m. tonnes of crude steel in the first half of 2019, down by 2.5% compared to the same period of 2018.
North America's crude steel production in the first six months of 2019 was 60.m. tonnes, an increase of 1.4% compared to the first half of 2018.
The World Steel Association's latest forecast shows global steel demand will reach 1,735m. tonnes in 2019, an increase of 1.3% over 2018. In 2020, demand is projected to grow by 1.0% to reach 1,752m. tonnes.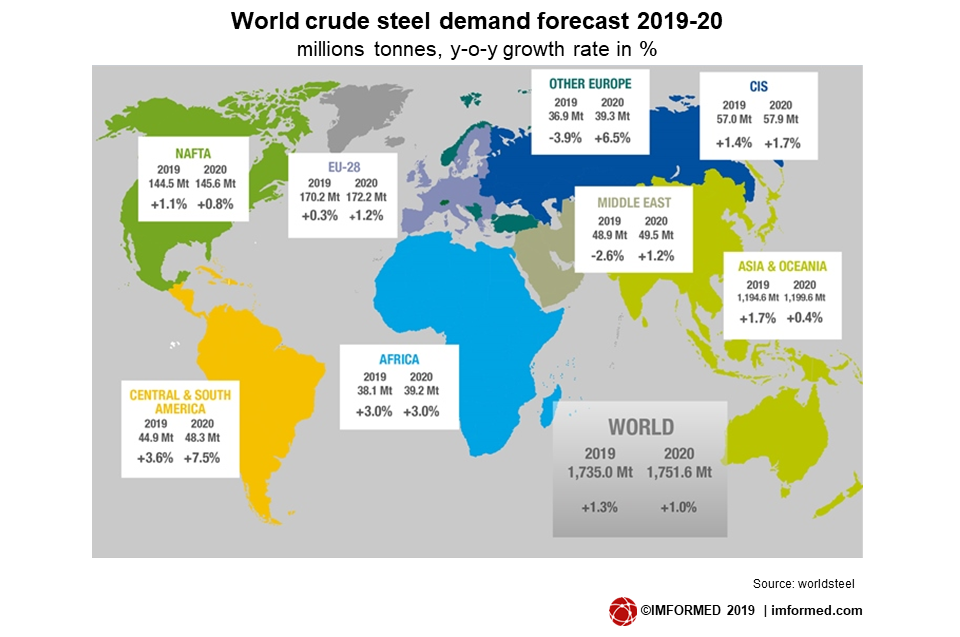 Global steel industry outlook
Diana Kinch, Editor-in-Chief, Steel Markets Daily, S&P Global Platts, UK
Aluminium – supply struggles to meet demand
Worldwide demand for aluminium fluoride (AlF3) remained essentially steady in 2018 at 1.1m. tonnes. China accounted for 65% of world AlF3 output.
Demand for AlF3 in aluminium smelting is likely to be maintained for the foreseeable future as aluminium production continues to undersupply demand.
From most reports, a tight market for aluminium is projected for the next few years as supply struggles to meet rising demand driven mainly by the automotive, aerospace, and construction markets.
As reported by World Bureau of Metal Statistics, the calculated market balance for global primary aluminium for January to May 2019 showed a deficit of 344,000 tonnes which follows a deficit of 993,000 tonnes for 2018.
Demand for primary aluminium for January to May 2019 was 25.82m. tonnes, 476,000 tonnes more than in the same five months of 2018. Global production rose in January to May 2019 by 2.2% to 25.48m. tonnes, compared with the first five months of 2018. Chinese output was estimated at 14.5m. tonnes and this currently accounts for about 57% of the world production total.
Although China's aluminium production growth is expected to slow down over the coming years, as the government's push for consolidation and stricter environmental regulations begin to bite, China will remain the driving force behind global aluminium production, accounting for over half of total output.
Trends in aluminium fluoride supply and demand
Adam Coggins, Analyst, Roskill, UK
A comparison of High Bulk Density and Low Bulk Density aluminium fluoride
Evgeniy Torochkov, Head of Dept., Research Institute for Fertilisers and Insectofugicides (NIUIF), PhosAgro Group, Russia
AMAG Austria Metall reported that it expects 2% growth in 2019 for global demand for primary aluminium. According to Fitch Solutions, aluminium consumption is forecast to increase from 62.9m tonnes in 2019, to 79.7m tonnes by 2028, averaging 2.8% annual growth.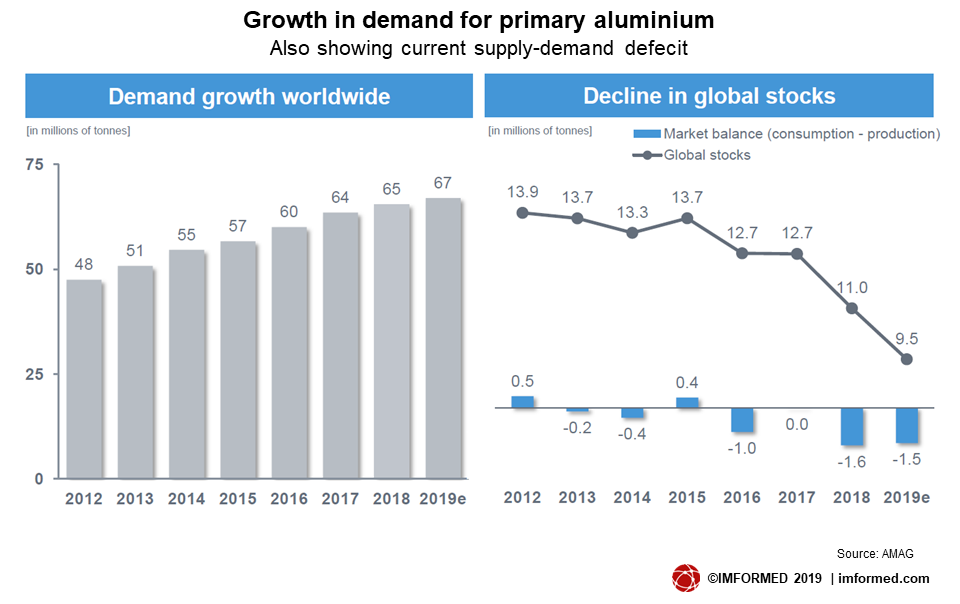 Li-ion batteries – a new growth market for fluorochemicals
Fluorine-based compounds are now being used in the emerging and fast growing Li-ion battery market: fluoropolymers in high performance binders and separator coatings, and fluorinated salts in the electrolyte.
Polyvinylidene fluoride (PVDF) is a highly non-reactive thermoplastic fluoropolymer produced by the polymerisation of vinylidene difluoride. PVDF is a speciality plastic used in applications requiring the highest purity, as well as resistance to solvents, acids and hydrocarbons.
PVDF is used in the binders of the Li-ion cell at low concentrations helping to achieve higher energy density and a longer battery life cycle.
In order to extend cycle life with a better interface between electrodes and separator as well as to achieve enhanced wettability and easy assembly, Li-ion cell separators can be coated with an additional layer of PVDF.
The use of fluorine in various compounds has become a key element in the electrolytes of Li-Ion batteries.
These include monofluoroethylene carbonate (F1EC) and difluoroethylene carbonate (F2EC) used as coating additives on the anode.
Owing to their excellent chemical/thermal stability and conductivity, lithium imide salts containing fluorine (ie. lithium bis(fluorosulfonyl)imide – LiFSI, lithium bis(trifluoromethanesulfonyl)imide -LiTFSI) are being developed and used as an additive or main lithium salt to improve performance and safety of Li-ion batteries' liquid electrolyte. They are used as a safer alternative to lithium hexafluorophosphate (LiPF6).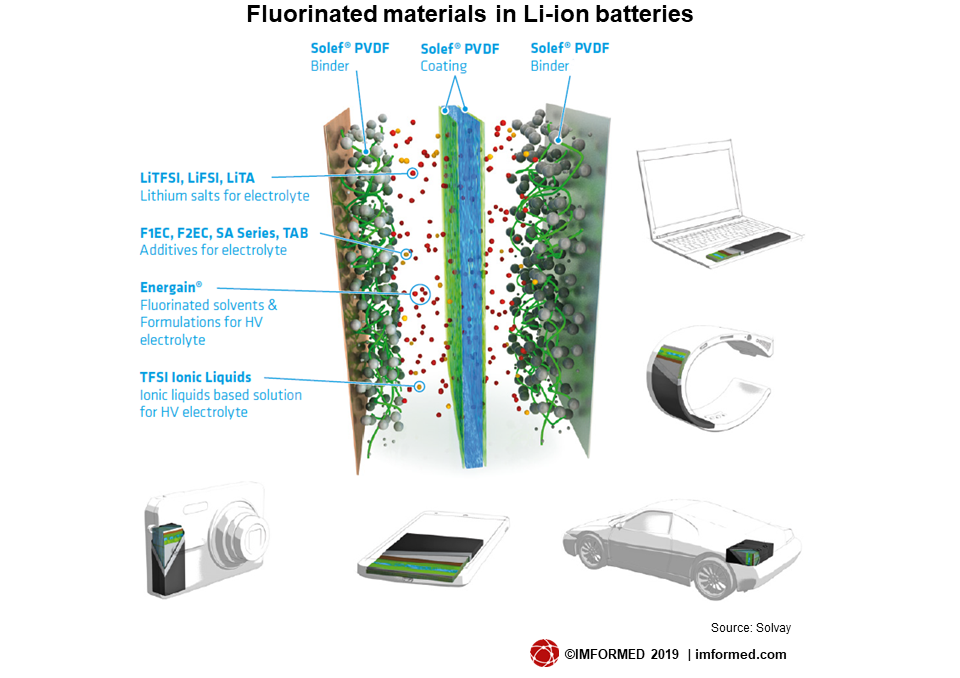 Don't miss…