Year of the Pig starting to live up to its name?
Shanxi outlook mixed and uncertain

China increasing bauxite imports

Haicheng mining halted | PRCO new supply

Ternamag starts DBM

The view from the West
Towards the end of 2018 we reviewed the outlook for China refractory minerals and considered what the impending Year of the Pig had to offer (see China's refractory mineral supply – a New World: review & outlook).
Despite a freeing up of some supply and lowering of prices during the early part of 2019, especially for magnesia, come the mid-year point and all is very different and, typically, uncertain. Indeed, the Year of the Pig seems very much set to live up to its name for the rest of 2019.
The pressure mounted in mid-July as China started a new round of central environmental inspections in six provincial-level regions and two centrally-administered state-owned enterprises (SOEs).
Eight teams were dispatched to the six provincial-level areas of Shanghai, Fujian, Hainan, Chongqing, Gansu and Qinghai, as well as the two SOEs – China Minmetals Corp. and China National Chemical Corp.
As of 15 July, the inspection teams had received a total of 809 reports and planned to oversee and "push the inspected units' accountability".
In June, the Ministry of Ecology & Environment publicly accused many companies of exceeding pollution limits, including subsidiaries of some the biggest state enterprises like China Baowu Steel Group and the Aluminium Corp. of China.
Moreover, with the upcoming all-important celebrations on 1 October 2019 for the 70th Anniversary of the founding of the People's Republic of China, the government is adamant to impose whatever industrial restrictions are necessary in order to maintain a clean air environment for the beginning of October.
This has resulted in not only more environment inspections and resulting plant closures, but another new ban on explosives use by miners – particularly impacting the magnesia industry in Liaoning province.
And if, as is widely anticipated, the government also later insists on what is becoming an annual routine of an industry shutdown or reduction in capacity use over the winter months, then this would effectively curb industrial output all the way through to end-March 2020.
Bauxite – Shanxi outlook mixed and uncertain
The refractory bauxite producing province of Shanxi is experiencing yet more uncertainty and challenges.
Of significance is the impending closure, owing to reserve exhaustion, of the Xiangwang Mine, Xiaoyi district, the only bauxite mine operating in the province and supplying vital raw bauxite ore.
Shanxi bauxite ore supply is already on the wane if not ceased completely, with some local calcination plants reportedly still awaiting deposit-paid deliveries for up to two months.
Some calcined bauxite plants are attempting to buy bauxite ore from other regions such as Fangshan county, Lin county, and Yangquan county.
The main talking point however, is whether a new bauxite mine will soon start up in Shanxi province, much discussed since 2018 (whatever happened to the proposed "refractory industrial park, with bauxite supply exclusively for refractories"? – see China minerals supply outlook: Shanghai showdown). This would greatly relieve supply issues and perhaps ease upward pressure on bauxite pricing.
Current refractory grade bauxite (85-86% Al2O3) prices range US$400-440/t FOB China; in Yangquan, prices increased recently by RMB20(US$3)/t, as news of the Xiangwang Mine closure spread.
Apparently, the bidding process for the new mine in Xiaoyi was issued in April, and the "winner" is to start production soon, though no date has been set. There is much confusion it seems.
Vincent Wong, Business Manager, Refractories Window, told IMFORMED: "We learnt that the new mine has been authorised, and is only waiting to start, but the question is when will it start in Xiaoyi? Some local participants said the new mine has started and ore output is very small scale, but others deny this. Many people said the original mine [Xiangwang] will stop soon, but some people don't think so."
So that's all clear then. What is clear is that there are continuing environmental inspections in the province, with some bauxite plants upgrading their equipment, a few reported in operation, while many are likely to remain closed. "I think there might be more that will be shut down in the second half of this year." said Wong.
In Henan province, although under less pressure from environmental protection regulations compared to Xiaoyi, Shanxi, the calcined bauxite and brown fused alumina (BFA) sector is not faring any better.
Suppliers have been hit by rising production costs owing to increased investment in environmental protection and a decreasing supply of high quality bauxite ore.
This has been compounded by increased logistics and purchasing costs, say from Shanxi or even overseas, as the usual sourcing routes break down.
Recent BFA plant closures have included plants in Dengfeng, Henan, Henan Province Yima Xinrui Fire-Proof Material Co. Ltd, Guizhou Kaiyang Sanhuan Abrasive Materials Co. Ltd, Shanxi Taiyue Abrasive Co. Ltd, and most white fused alumina plants in Xingyang, Henan.
China increasing bauxite imports
Above all, the biggest problem is the shortage of raw bauxite ore. Chinese BFA producers have been reported as importing raw material from overseas, such as Guinea.
This has also affected the aluminium industry of course. In June, alumina prices in northern China hovered around six-month highs as sudden environmental shutdowns in Shanxi province raised concerns about supply.
Xinfa Group, one of China's largest aluminium smelters, is closing all production lines at its 2.8m. tpa alumina refinery in Jiaokou, Shanxi amid an environmental dispute over red mud dumping.
In addition to simply not enough domestic supply, often the Chinese bauxite (mostly of diaspore variety) is not ideally suited to make smelter grade alumina, which is another reason why China is greatly increasing its bauxite imports.
In May 2019, China recorded a 135% increase in imports of alumina at 55,066 tonnes, and 27% increase in bauxite at 9m. tonnes, corresponding exports of the materials were 7,536 tonnes (down 91%) and 4,473 tonnes (up 9%), respectively.
Increasingly, China is relying on imports for its aluminium industry, and mainly from Australia and Guinea (see chart).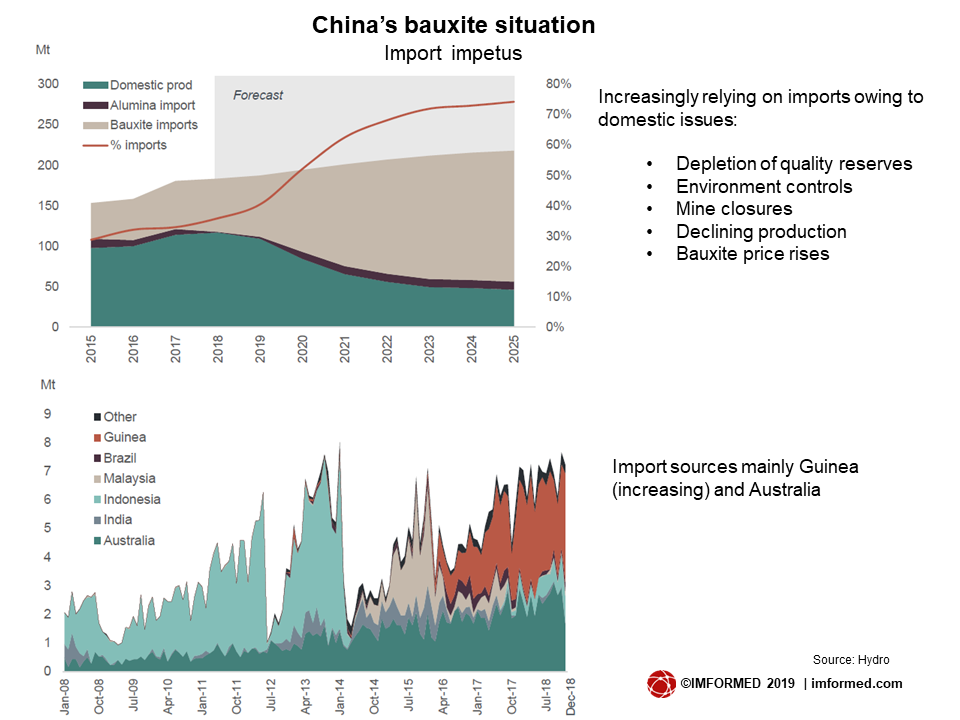 In July, Metro Mining Ltd, already supplying metallurgical bauxite to China from its Bauxite Hills Project near Weipa, Queensland, Australia, announced a contract with state-owned China Aluminium Corp. (Chalco) to deliver 420,000 wet metric tonnes of bauxite in the second half of this year, and has plans to double production to 6m.tpa.
Regarding non-metallurgical bauxite, Bosai Group, based in Chongqing, China, earlier this year announced a US$23m expansion plan for its Linden bauxite operations in Guyana operated by Bosai Minerals Group Guyana Inc. (BMGG).
This includes a new no.15 rotary kiln for 170,000 tpa RASC refractory grade bauxite (to eventually replace the old no.13 kiln) and a new no.16 drier and auxiliary facilities to produce 150,000 tpa chemical grade bauxite.
At present, BMGG produces 1.5m. tpa metallurgical grade bauxite, 300,000 tpa RASC calcined bauxite, 200,000 tpa chemical grade bauxite, and 200,000 tpa cement grade bauxite.
Magnesia in China – Haicheng mining halted | PRCO new supply
The main magnesite mine in Haicheng, Liaoning province appears to be facing a three month closure from 1 August to 31 October. Although, earlier reports indicated mining had already stopped in mid-June.
In any case, news of the mining halt has apparently slowed the downward trend in magnesia prices as consumers scurried around to order what they could before primary ore feed ceases to the magnesia plants.
According to Refractories Window, by June ex-works lump prices had dropped to US$220/t 90DBM, US$460/t 95DBM, US$550/t 95.6DBM, and US$640/t 97DBM (see chart).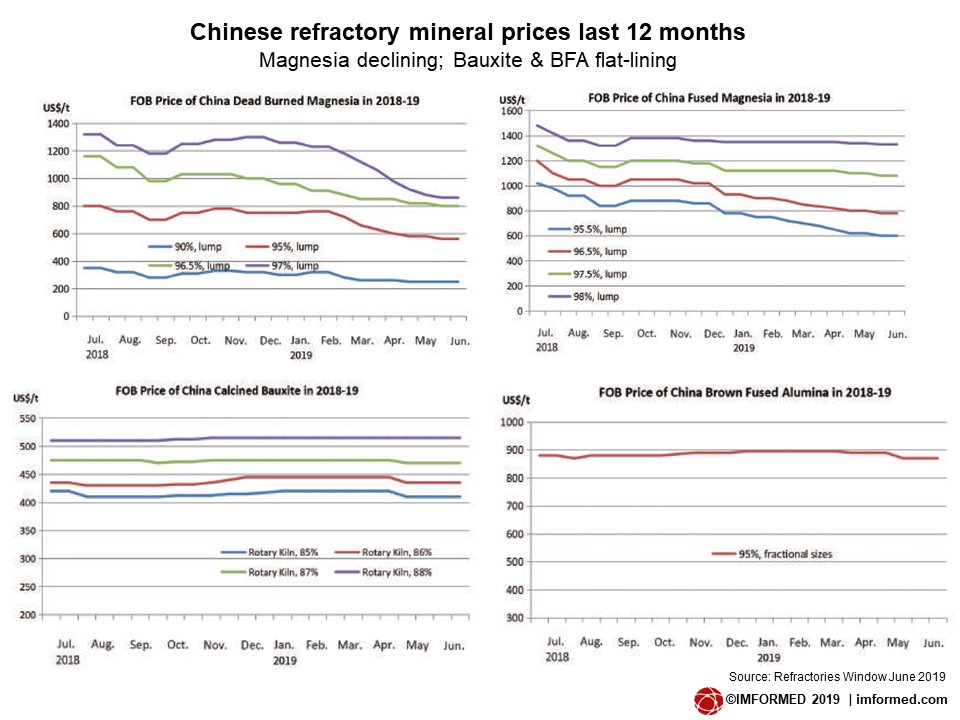 The Haicheng area is known for its high quality reserves, although lower quality material is still being mined in Dashiqiao, Liaoyang, Dandong, and Xiuyan.
The mine operator, Liaoning Magnesite Mining Co. (LMMC), is the entity representing the ongoing integration of the Liaoning magnesite supply sector which apparently now has up to 28 shareholders including a 51% holding by SASAC Haicheng (local provincial government).
The mining halt has come about in an effort for the local government to control its overproduction. However, observers might view the move as simply a way to firm up prices, and also with a dynamite ban apparently coming into play on the run up to 1 October it would seem some stoppage in mining was inevitable.
Elsewhere in China, Puyang Refractories Group Co. Ltd (PRCO) subsidiary Qinghai Punai Magnesite Material Co. has commenced pilot plant production of macrocrystalline fused magnesia and high purity magnesia.
Although yet to be confirmed, and unclear at present, the raw material feedstock for the Qinghai plant might be from either brine deposits in Qinghai, or the new PRCO operation in Tibet.
Another PRCO subsidiary, PRCO High Purity Magnesia Refractories Co. Ltd, is opening a new 1m. tpa mine in Tibet. The Kamaudo deposit in Rioche county, Changdu is some 50m tonnes reserves of high purity magnesite grading 47.6% MgO with low iron and silica. The site was first developed by Huayin Group in 2007 before it became part of PRCO.
PRCO also owns magnesite and magnesia producer Haicheng Linli Mining Co. Ltd, one of the shareholders in LMMC.
Magnesia in Greece – Ternamag starts DBM
Outside China, although only recently announced on its website, Greek magnesite producer Ternamag started its DBM plant in March 2019.
The new rotary kiln has a capacity of 60,000 tpa DBM (and CCM) products and can supply refractories and other industrial applications such as welding fluxes, leather tanning, friction materials, and heating elements.
The kiln is in full operation and Ternamag's new DBM brand is called "NOVAPYR" with grades of 88%, 90%, 92%, 94%, 95% and 96% MgO.
Feedstock for the new plant comes from Ternamag's underground magnesite mine on the island of Euboea, Greece.
Emanuel Tsontakis, Managing Director, Ternamag told IMFORMED: "In general, our DBM strategy is the same as with CCM, and is not based on what the Chinese do, and focuses equally, if not more, on the non-refractory applications market, which is by far more stable and allows for better margins."
The view from the West
It's a strange, if frustrating time for refractory mineral buyers. The outlook for Asia, especially India, and MENA is promising, while the developed markets the West (excepting Turkey and Eastern Europe) appear very slow with little or any growth (see chart).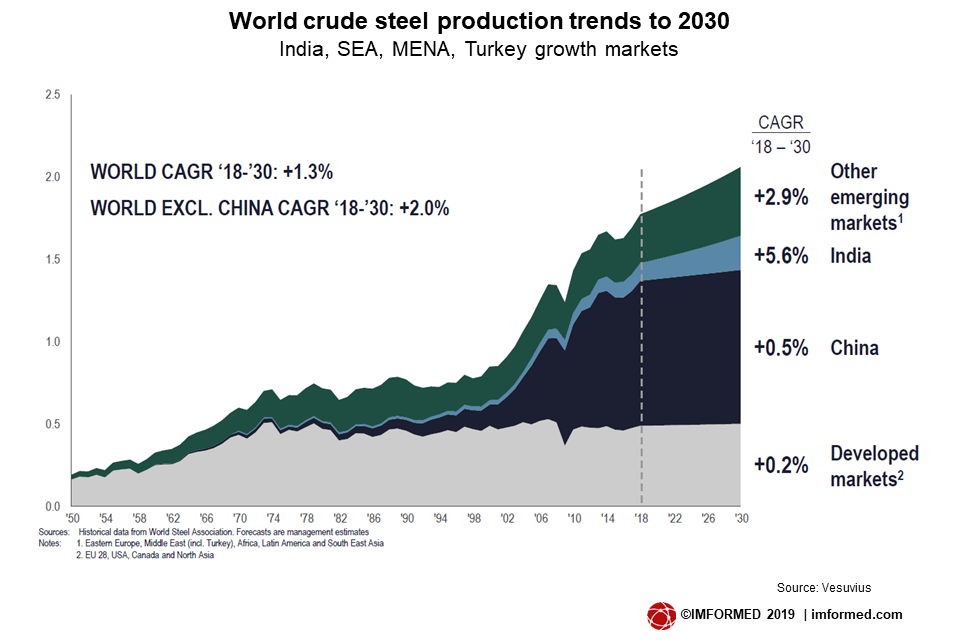 Full programme, including:

Refractory raw materials supply & demand in India
Hakimuddin Ali, Director Business Development, India
Overview of supply and demand of India's refractories
Sameer Nagpal, CEO-Refractories, Dalmia OCL Ltd, India
Influencing factors impacting India's refractories market
Anirbandip Dasgupta, Senior Executive Officer, Indian Refractory Makers Association, India
Refractory recycling market and products in India
Vatsal Dhandharia, Proprietor, Global Recycling, India
Graphite developments, markets & India's mineral challenge
Shishir Poddar, Managing Director, Tirupati Graphite PLC, UK
With refractory demand in Europe varying from flat to declining, refractory manufacturers are unsurprisingly putting the brakes on production until demand recovers.
Take Imerys for example, supplier of aluminosilicate materials and owner of refractory producer Calderys. At its recent H12019 investor presentation, Olivier Pirotte, CFO acknowledged that: "Iron and steel production has turned negative in Europe with production volumes worsening to minus 4.3% in Q2 from a decrease of 0.5% in Q1."
Conrad Keijzer, CEO, summed up with: "What happened in the iron and steel industry is that in the first quarter, the furnaces were all still running and actually there was an inventory build, basically across all of the major iron and steel manufacturers in Europe. In the second quarter, you saw several announcements of capacity being taken out of the market and that is explaining the lower production rates in the second quarter affecting our high-temperature materials business."
Imerys' High Temperature Materials and Solutions business segment's revenue totalled €1,037.0m. in the first half of 2019, a -1.2% year-on-year decrease on current basis.
World no. 2 refractory producer Vesuvius was somewhat more forthright with its take on the first half: "We have experienced challenging end markets in H1 2019 and we do not expect a recovery in H2 2019."  Vesuvius' Steel Division reported revenues of £614.9m in H1 2019, an increase of 0.6% compared to H1 2018.
With refractory producers having plenty of inventory of raw materials and end products (as much as 6-9 months worth), it is little wonder that they are refraining from purchasing any more raw materials.
The frustration for the procurement managers of Europe's refractory companies (and Chinese refractory mineral suppliers for that matter), is that they are not being permitted to take advantage of Chinese refractory raw material prices having come down to a relatively lower level (especially for magnesia) over the last 12 months.
They are extremely keen to snap up stocks at this time, however, this is cutting little ice further up the management chain as steel remains in the doldrums. The situation in North America, with a slightly better steel performance, is less severe.
As the summer wears on, and autumn and winter loom large, attitudes may start to change as the ramifications of the latest dynamite ban, ongoing environmental controls, Liaoning magnesite mining control (whether to influence prices or for pollution control), and the threat of another October to March industrial shutdown, start to coalesce and impact the market.
We may well see an end of year rush, or perhaps more conservatively, a canter, to secure raw material for 2020. And, if there is a near term recovery in refractory markets, although unlikely, the canter will turn into a gallop.
Mike O'Driscoll is presenting on

"China's magnesia demand and world magnesia production" 

If you are also attending these events, please drop by for a chat, would be great to catch up.