Fluorine Forum 2018 Review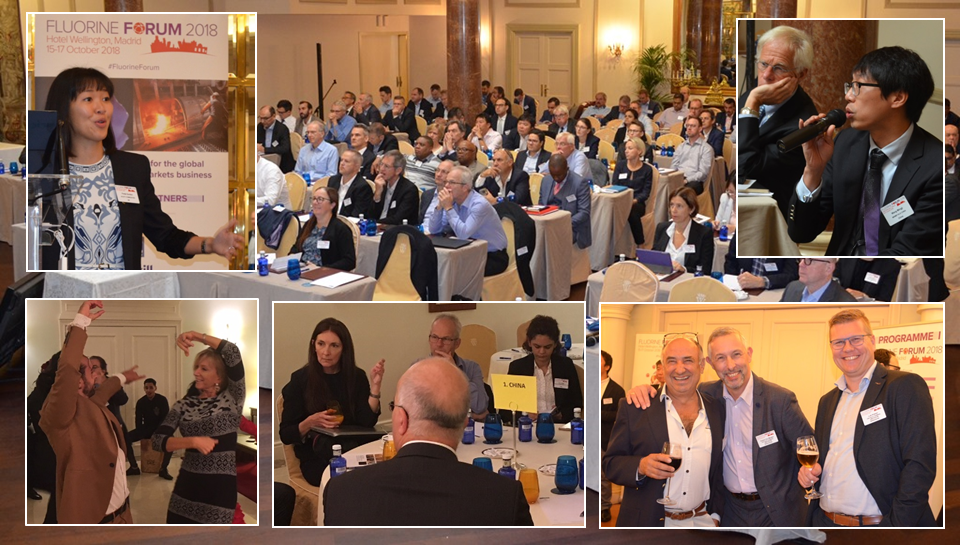 The beginning of the year's final quarter is always a busy time for the fluorspar market, as consumers seek to secure supply for the following year.
With prices at six-year highs and availability constrained, negotiations and discussion have been at a higher level of intensity.
All of which lent a considerable buzz to last week's gathering of the leading lights of the industry at IMFORMED's Fluorine Forum 2018, held at the Hotel Wellington, Madrid 15-17 October.

Over 100 international players across the spectrum of the fluorine supply chain met to discuss the latest issues and challenges facing the market and network with each other during two days of a stimulating programme of expert presentations, which also included IMFORMED's well received and attended panel and roundtable discussion sessions.
And what better way to kick off proceedings than with a packed Welcome Reception entertained by a traditional flamenco troupe!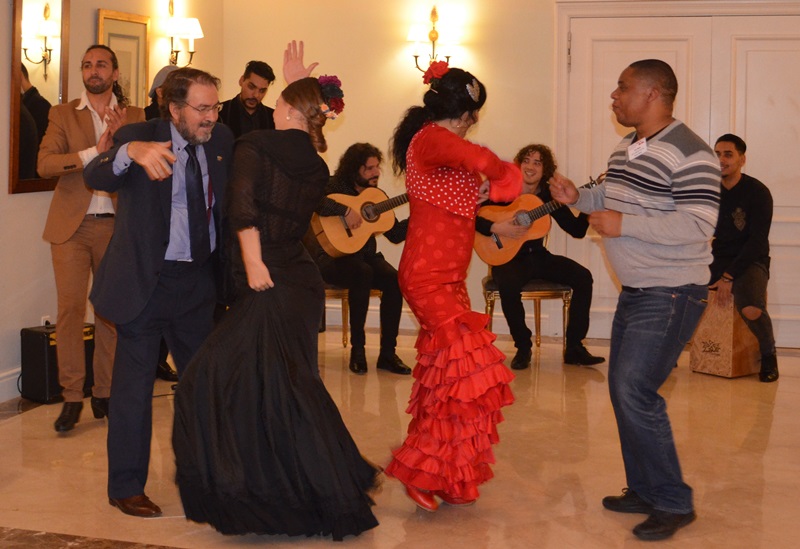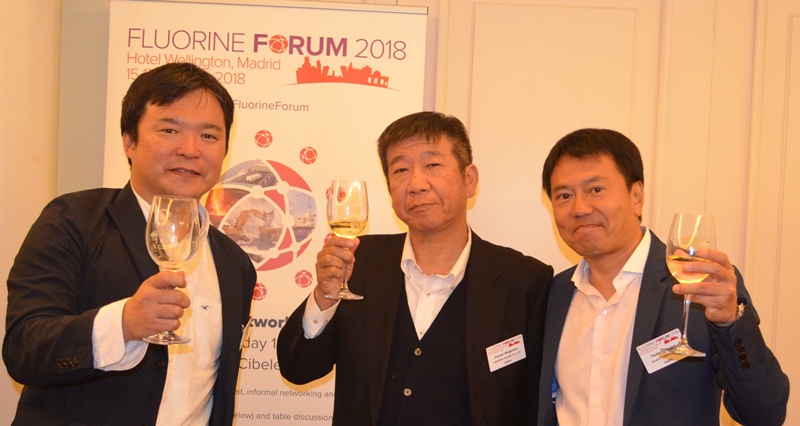 Excellent venue and good location, good content and time allowed for presentations
James Feorino Jr, Strategic Sourcing Manager, Arkema Inc., USA

Good programme, excellent organisation with a lot of attention to detail; one of the best conference apps I've seen.
Freda Gordon, Director, Acuity Commodities, UK

Good interaction between participants in programme and roundtables, knowledgeable and professional organisation.
Tony Fitzgerald, Director Sales & Marketing, Masan Resources, Vietnam

Roundtables were a very good addition, excellent programme, venue, organisation, and mobile app.
Malcolm Crawford, Managing Director, Delta Minerals Ltd, UK

For more feedback, pictures, and summary slide deck please go to: Fluorine Forum 2018
China's supply disruption changing trade patterns
Following an introduction by Ismene Clarke, Director, a market overview by Mike O'Driscoll, Director, IMFORMED, UK, set the scene, with reference to emerging new sources and a reality check on China.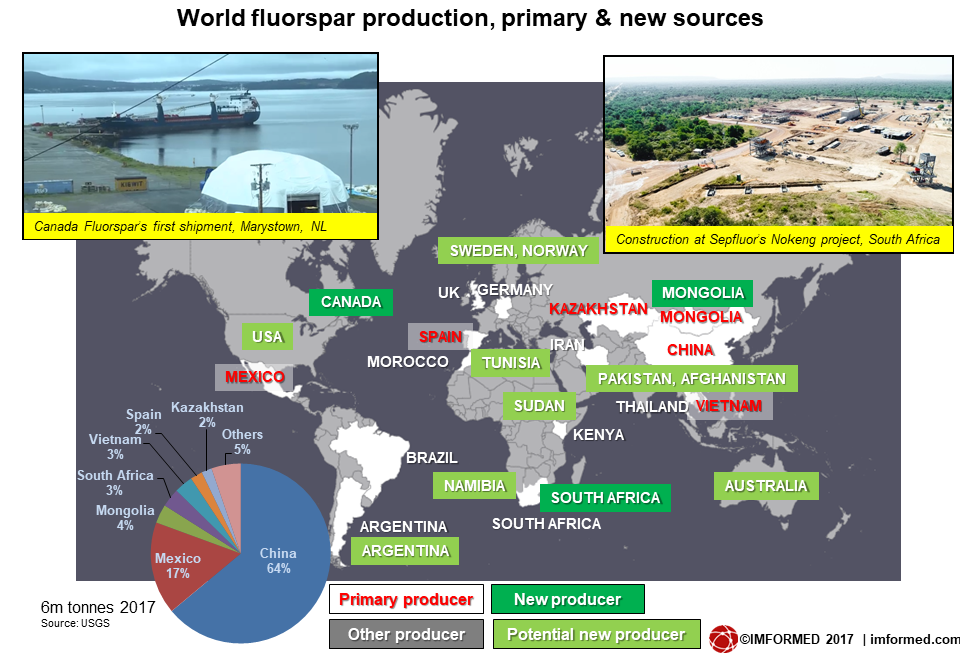 Kerry Satterthwaite, Division Manager Carbon & Chemicals, Roskill Information Services Ltd then led with "International trade developments in the fluorspar market".
Satterthwaite covered the fluorspar market in 2018, global trade , China's trade role in 2018 and its outlook, finishing off with a look at the influence of the emerging electric vehicle market.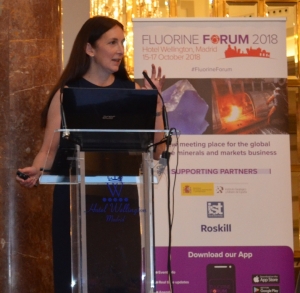 World fluorspar production was down 10% in 2017 to its lowest level in a decade, with acidspar output down 8% to 3.7m tonnes and metspar production down 12% to 2.0m tonnes.
Of significance in 2017 (and continuing into 2018), Chinese production was down by 13% with both acidspar and metspar affected by production shutdowns.
Being named by the Chinese government as a strategic mineral in 2017 has not seemed to protect fluorspar from the countrywide industry closures owing to environmental and mining controls.
Satterthwaite demonstrated how acidspar and HF prices had recovered, and how Mexican metspar exports, which increased 2017-18, could reach nearly 450,000 tonnes by the end of 2018.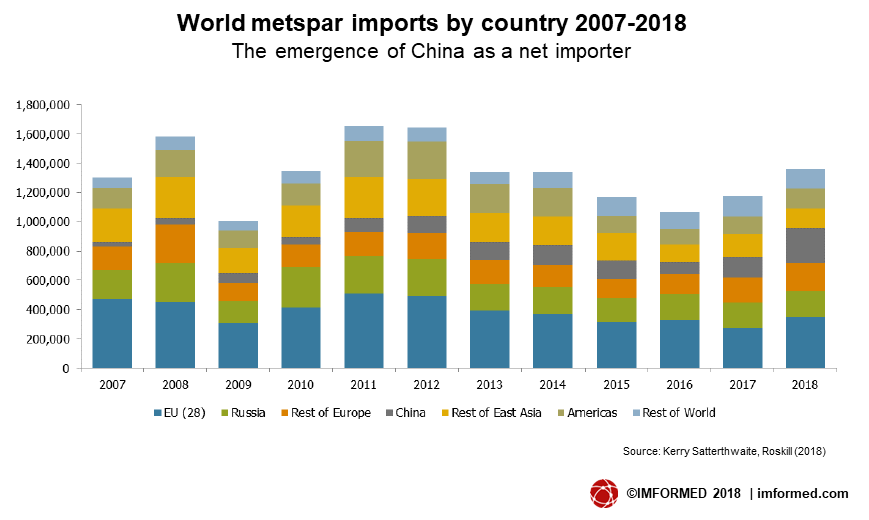 China's metspar exports are forecast to reach just over 200,000 tonnes, but significantly the country's metspar imports are projected at 233,000 tonnes.
With the evolution of China from fluorspar supplier to producer of value-added fluorine products, other countries have emerged to fill the gap left by declining Chinese exports.
As the Chinese government focuses on conserving natural resources, Satterthwaite questioned whether this will provide an opportunity for suppliers outside China.
Subsequent panel and roundtable discussions yielded that the answer is almost certainly "yes".
Logistics & shipping
"How the fluorine industry can use freight to its advantage" by Denny Sabah, Mining and Dry Bulk Analyst, Clarksons Platou Shipbroking, provided an excellent and very clear overview of how to properly analyse the freight market for fluorspar shippers.
Sabah covered freight rates, the current fundamentals of the freight market, and in underlining that "Knowledge is Power", he proceeded to explain how to know your rivals' freight business.
In the coming years, Sabah noted that commodity trade will double but fewer vessels are expected to be delivered compared to recent years, and fleet growth will be at a slower rate. This will result in demand outstripping supply of shipping.
"Kno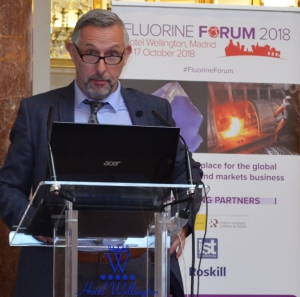 wledge gives you more confidence to take control of your own freight, rather than leaving it to third parties" said Sabah.
"Sustainable partnership in port handling" by Robert van Muiden, Business Development, OBA Bulk Terminal Amsterdam, outlined the mineral hub of the Port of Amsterdam, which includes handling fluorspar.
Having been appointed an official LME Port in 2018, Port of Amsterdam is introducing a new lock system in 2019 while OBA will complete a new 28,000m3 mineral storage facility at the end of Q1 2019, with future developments including hosting services such as screening/sieving, crushing, grinding, and blending/mixing.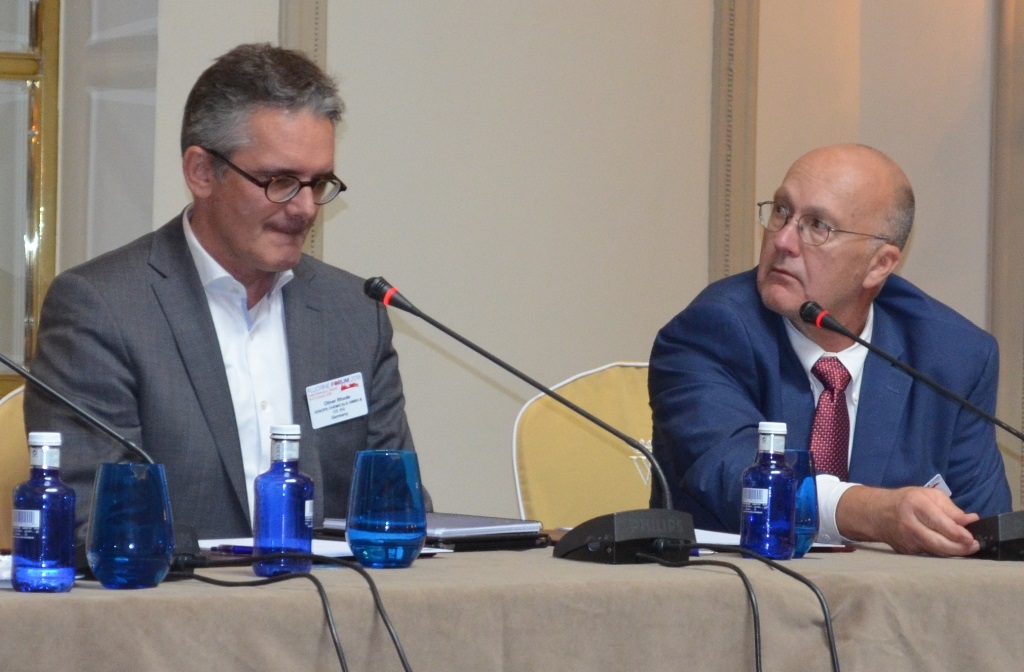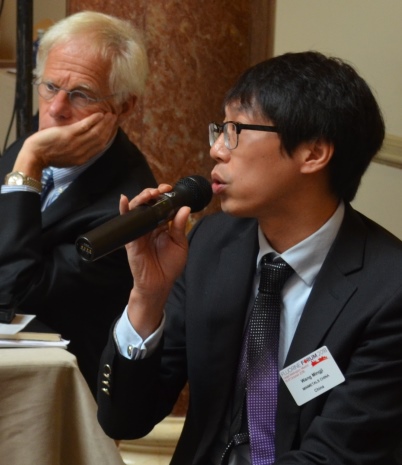 Oliver Rhode, XENOPS Chemicals GmbH & Co. KG (left) and Ray Will, I H S Markit (right) prompted insightful discussion during the Keynote Panel Discussion
Steel & fluorochemicals outlook
Alfonso Hidalgo de Calcerrada, Chief Economist, UNESID, presented "Steel market outlook" explaining how Spain's steel growth is losing momentum while there is positive growth and outlook elsewhere in the EU.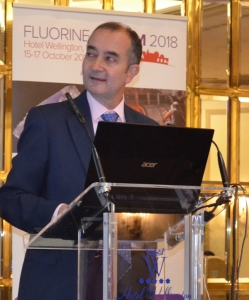 The construction sector was showing an optimistic outlook while the automotive sector had performed better than expected in 2018.
Hidalgo commented on the recent US steel import tariffs as likely to prompt an increase of steel imports into the EU.
The EU steel industry was described as a "steady regime" with "ongoing consolidation", and Germany and Italy the two leading producers.
"Developments in downstream fluorochemicals consumption" by Ray Will, IHS Markit Ltd, Director Chemical Consulting, Specialty and Inorganic Chemicals, was delivered with Will's usual enthusiastic and refreshing insight.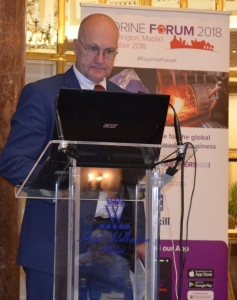 Will highlighted international and national climate policy, fluoro-refrigerants' regulatory impacts to fluoro-refrigerant consumption, fluoro-refrigerant growth through 2024, and global trends for downstream fluorochemicals
In his review of the effects of the Kigali Amendment to the Montreal Protocol and HFC phase down, Will noted that since the Kigali Amendment has been ratified by a minimum of 20 countries it will take effect as of 1 January 2019.
In fact, as of 5 October 2018 55 countries had ratified the Kigali Amendment, although notably missing are China, India, USA, Russia, and Japan.
For now, Will considered the impact of the Kigali Amendment as limited, although the impact of the Kyoto Protocol continues for the countries that ratified it (excluding USA, Canada), reducing HFC production and consumption.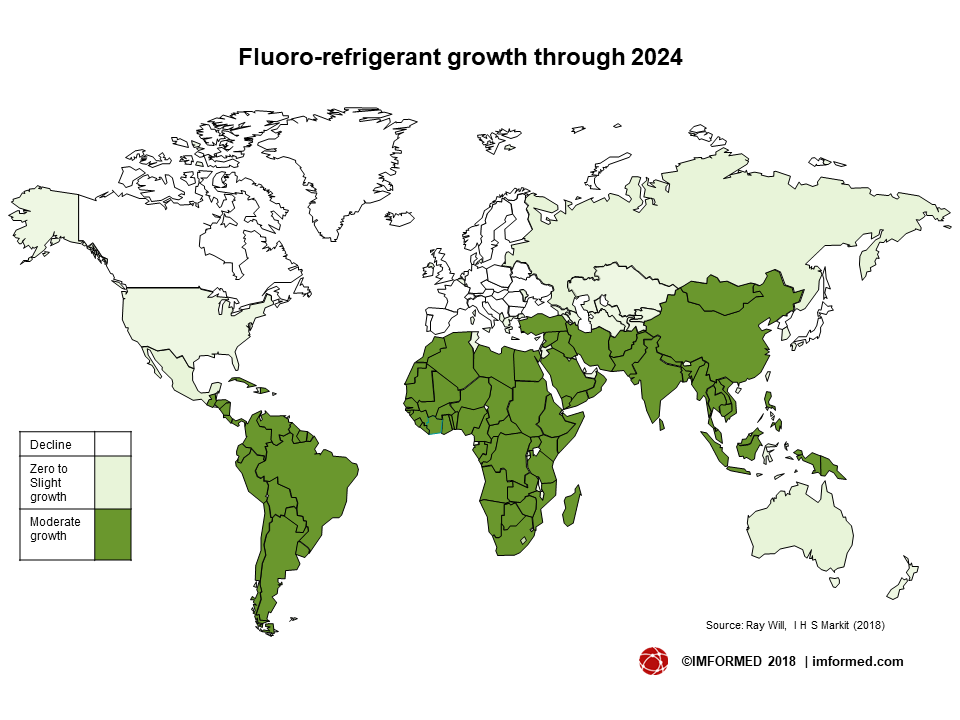 Will commented that the recent US trade import tariffs would hit US imports of fluorine, HF, aluminium fluoride, many other inorganic fluorochemicals, fluorocarbon refrigerants (HCFC-22, HCFC-141b, mixtures containing CFCs, mixtures containing HFCs), and many additional organic fluorochemicals.
In addition to the trade war, Will highlighted other trends impacting fluorochemical demand as including the warming planet and growing wealth.
He concluded that there was slight growth in global HFC production and consumption in the short term (though 2024); strong growth in the production and consumption of hydrofluoroolefins (HFOs), especially for mobile air conditioning and plastic foam blowing; moderate growth for fluorochemicals used for fluoroplastic and fluoroelastomer production; and moderate continuing growth for HF for downstream fluorochemicals production and direct uses.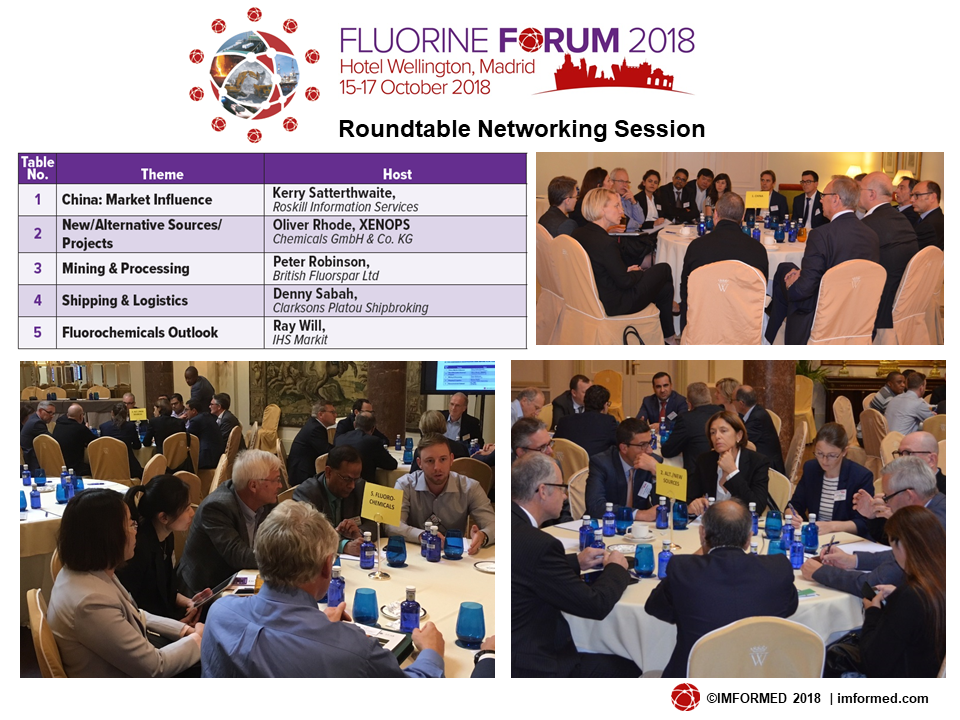 Alternative sources | AlF3 | Recycling
In "Small scale fluorspar processing: the next generation", Peter Robinson, Chairman, British Fluorspar Ltd, brought us back to basics with fluorspar geology, mining, and processing and urging that these needed to be fully understood.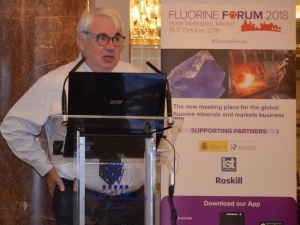 Robinson said: "There is not enough [fluorspar] mineral supply for demand. We need more mining capacity", before reminding that "fluorspar mining and processing is difficult."
Robinson argued that there was now room and opportunity for modern, small scale fluorspar processing operations which had demonstrable benefits over the more traditional large scale processing operations, such as lower capital expenditure, and a shorter manufacture, construction, and commissioning period.
Such small scale units would exploit smaller resources (min. 2.5m tonnes) and utilise modular and semi-mobile processing plants for fluorspar ores grading 35-50% CaF2, yielding acid grade production of 60,000 tpa and for ROM ore throughput of around 200,000 tpa.
Capital expenditure associated with these plants would be of the order of $10-$20m permitting more cost effective production of smaller scale vein structures, which were historically uneconomic.
"Low bulk density (LBD) aluminium fluoride: a sustainable choice" by Anna Lindström, Sales and Marketing Director, Alufluor AB, outlined the history and proce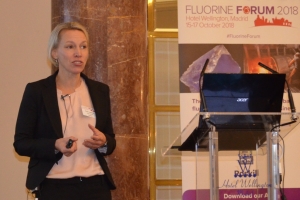 ssing of Alufluor's 24,000 tpa AlF3 operation, before describing the product's main attributes.
Alufluor's operation is notable as the first commercial large scale plant utilising FSA (H2SiF6) as a raw material.
Lindström explained the main challenges for LBD producers as availability, transport, and quality of FSA, and limited experience of using aluminium fluoride of LBD grade in the customer base.
Benefits of LBD AlF3 include that it is has zero solid waste and low emissions, is extremely consistent with low impurities, a high active content, excellent flowability, and no shipping restrictions with very cost competitive packaging solutions.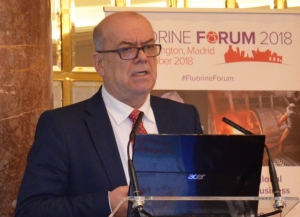 "Fluorine recovery in converting SPL wastes into reusable materials" by Massimo Maccagni, R&D Manager, Engitec Technologies SpA, Italy described an ongoing project recycling Na3AlF6/Al2O3 and AlF3 from spent pot liners (SPL) used in aluminium smelting.
The two main processes involved are caustic leaching and electrochemical treatment of leachate. A demonstration plant is operational and next steps include fluorine material quality testing.
Sulphuric acid | Flotation reagents | HF in HPQ processing
"Sulphuric acid as a cost factor in fluorspar processing: supply and demand trends" by Freda Gordon, Director, Acuity Commodities, explained the supply chain, demand and global trends for sulphuric acid – one of the key cost inputs in HF processing.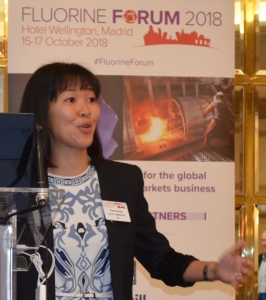 Gordon highlighted growth in sulphur-based acid supply expected to be strong while smelter acid supply will rise at a slower pace.
Gordon concluded that there was healthy demand and supply limitations in sulphur and acid markets, while the electric vehicle revolution would increase demand.
Alexej Michailovski, Global Lead Flotation, BASF Mining Solution, presented "Novel collectors for fluorspar flotation", underlining how improving the flotation reagents for fluorspar ore was an ongoing task.
The drivers for a new generation of flotation reagents include the rapid depletion of easily accessible high-grade fluorspar deposits, increasing demand for advanced beneficiation technologies in fluorspar ore processing, and the use of pure fatty acid-based collector systems to achieve desired selectivity and recovery reaching its limits.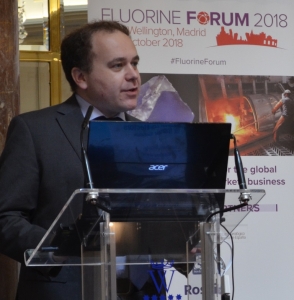 BASF has developed amphotheric (anionic + cationic) collectors which can provide selectivity for specific minerals or complex systems. DP-OMC-1033 was developed in 2016 and has shown promise in fluorspar application.
With successful cooperation with Delta Minerals Ltd, DP-OMC-1234 was developed in 2018, and has been tested by several fluorspar mines with strong positive feedback; two plant trials are planned for late 2018.
"Hydrofluoric acid utilisation in High Purity Quartz (HPQ) processing" by Dr. Sebastian Prinz, Business Development Director, Dorfner ANZAPLAN, showed how demand for HPQ was rising with the semiconductor and industrial electronics market growth.
"There will be a surging demand for high purity quartz as quartz ware is the base material in semiconductor handling" said Prinz.
However there are very few world HPQ suppliers, with the dominant ore supply coming from a single deposit, operated by Unimin Corp. at Spruce Pine, in North Carolina, USA. Naturally, there are several HPQ projects in the pipeline hoping to come to fruition.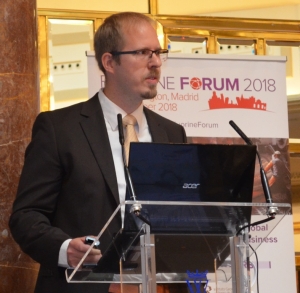 Significant amounts of HF acid are consumed in the acid leaching of the quartz raw material in order to remove impurities. Some 300-600kg HF acid (70%) per tonne of finished HPQ product are used. For 5-10,000 tpa HPQ production, around 1,500-3,000 tpa of HF acid is required.
"Considering the required amounts of hydrofluoric acid a nearby HF or acidspar supply would be beneficial." concluded Prinz.
Spain | South Africa | China
The conference's host country is a well-established producer of fluorspar and "Spain's fluorspar resources, production & markets" by Manuel Regueiro, Chief of External Affairs & Communication, Geological Survey of Spain, neatly and entertainingly placed this into context.
Regueiro provided and overview of fluorspar's history, supply and uses before focusing on Spain's resources and production.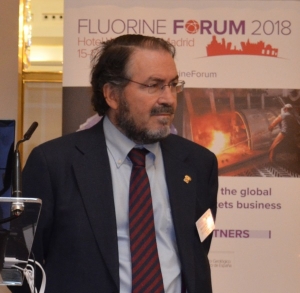 Spain has 262 occurrences of fluorspar in Asturias, Andalusia, Catalonia, Madrid, Aragón, Vizcaya, Segovia, Guadalajara, and Galicia, hosting in total 5m tonnes reserves (71.4% Asturias, 28% Andalusia, 9.4% Catalonia, 0.1% Aragón).
The country is Europe's leading producer and ranks sixth in the world. There are two producers: Minersa (the main producer) at Caravia & Rivadesella (Asturias) and Minera de Orgiva SL at Orgiva (Granada).
In 2017, 154,811 tonnes was produced, 5% down from 2016, with acidspar the main grade produced (>80%).
"Spain has a considerable fluorspar potential yet to explore for small-scale mining. Some fluorites , including Asturias and Andalusian fluorites, show occurrences of rare earths." said Regueiro.
"SepFluor's Nokeng Fluorspar Mine project development and objectives" by Kevin Dabinett, General Manager (below right) and Johan Brits, Project Director, (below left) Nokeng Mine, SepFluor, brought us up to date with the progress of one of the new producers about to hit the market very shortly.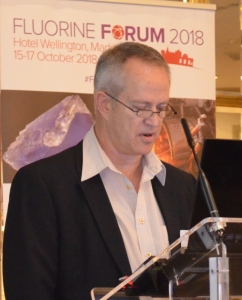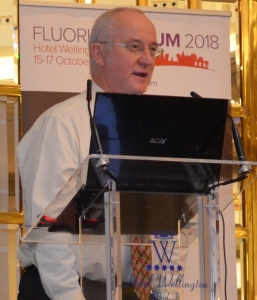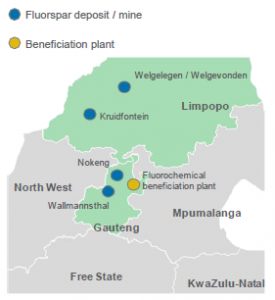 After outlining the project, its geology and mineralogy, Brits explained how Sepfluor was meeting the main challenges in maintaining consistent plant feed from two distinct orebodies, separation of intergrown fluorite from haematite, maximising recovery to a 97.2% CaF2 specification, and minimising iron to <1% FeO.
Other challenges include finalising complex funding arrangements, supply of utilities and materials, and local community expectations and demands.
Overall, the project is on track to achieve completion and handover by 7 February 2019; 180,000 tpa acidspar and 30,000 tpa metspar is planned for production.
Dabinett described the importance of "operational readiness" and achieving it through diligent preparation and advance planning for such a project as this.
Robert Wagner, CEO SepFluor, rounded off the talk by outlining the broader scope of the project which includes work on three other fluorspar deposits (development at Wallmannsthal, and exploration at Kruidfontein and Welgelegen/Welgevonden), and an integrated division, SepChem, producing high quality chemical products at low cost (AHF, CaSO4, AlF3, and metspar).
A BFS and market study was completed this year for the downstream AlF3 plant "with positive outcomes", and financing is envisaged to be concluded to enable construction to start in late 2019.
"China's fluorine market" by Usman Khan, CEO, CCM Information, provided a review of China's fluorspar and fluorochemical capacity, production, and trade.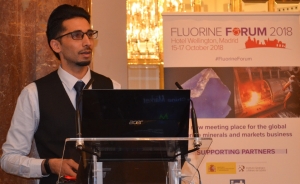 Khan reiterated that China's fluorochemical prices have increased since early 2017 due to tight supply under environmental pressure and larger downstream demands.
Khan considered that this trend would continue owing to limited raw material supplies; production restrictions out of more stringent environmental regulations and supply-side structural reforms; and requirement for the elimination of high ODP refrigerants.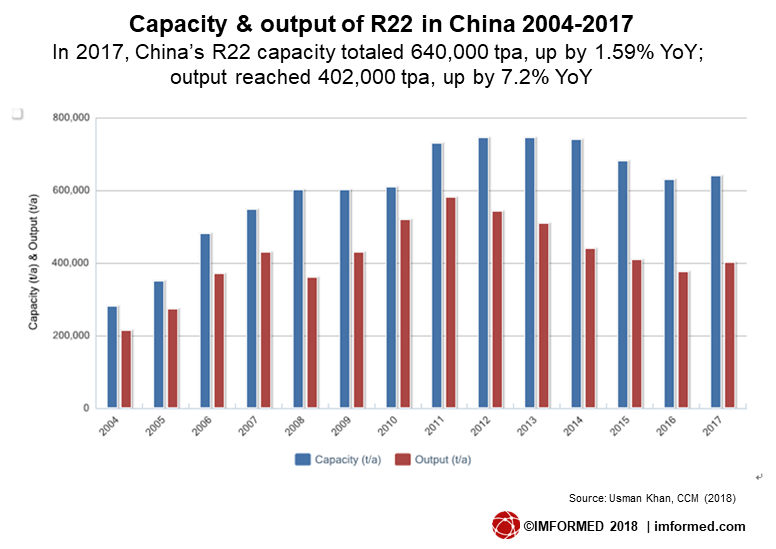 Thank you and see you in 2019!
Fluorine Forum 2018 was a stand-out success for both the industry and IMFORMED, we very much enjoyed facilitating such a vibrant and informative conference for the global fluorine business.
As ever we are indebted to the support and participation of our supporters, exhibitors, speakers, and delegates for making Fluorine Forum 2018 such a success.
We very much appreciate all the completed feedback forms and please continue to provide us with your thoughts and suggestions – especially regarding Fluorine Forum 2019 – watch this space for announcement of dates and venue!
Please do contact us if you would like to participate in Fluorine Forum 2019:
Sponsor & exhibit enquiries: Ismene Clarke T: +44 (0)7905 771 494 ismene@imformed.com
Presentation & programme enquiries: Mike O'Driscoll T: +44 (0)7985 986255 mike@imformed.com
For programme, feedback, attendees, and picture gallery, please go to:

Missed attending the conference?

A set of presentations (as PDF) maybe purchased – please contact:

Ismene Clarke, T: +44 (0)208 224 0425; M: +44 (0)7905 771 494; E: ismene@imformed.com