Industrial Minerals | Refractories | Li-ion Batteries | Construction Materials | Fertiliser | LIBS
Springtime in Dubrovnik? It must be time for IMFORMED's Mineral Recycling Forum 2023!
And indeed it was, with close to 100 international delegates attending from across the industrial mineral recycling supply chain.
Title Image Sun, Sea & Recycling: Another successful Mineral Recycling Forum concluded at the beautiful city of Dubrovnik, Croatia; insets clockwise from top: tearing out spent refractory bricks from a US steel ladle for recycling (courtesy HWI); innovative, lightweight limestone aggregate formed from CO2 capture and waste streams in the UK (courtesy MPA); Patrick Stahl, Director Sales & Product/Material Management, MIRECO, speaking on Day 2 (courtesy MIRECO).
Three days of incredible networking, stimulating presentations (reviewed below), and all things mineral recycling discussed under the Croatian sun took place at the Hilton Imperial Hotel, Dubrovnik, 28-30 March 2023.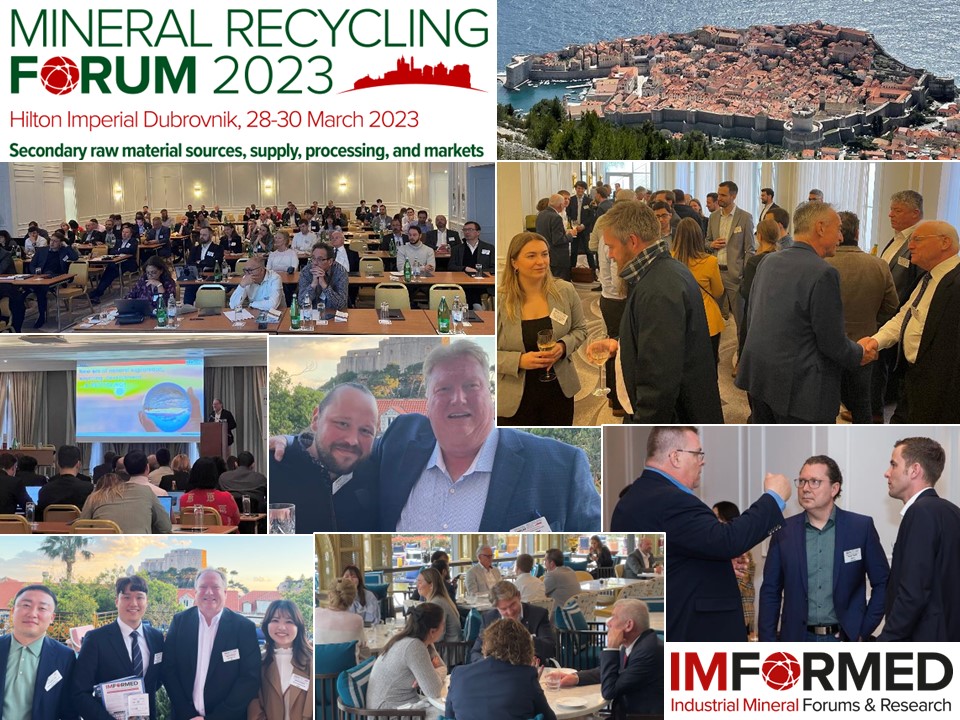 What our delegates thought:

Quite simply this conference was just superb, a huge congratulations to IMFORMED.
Emmanuel Laporte, Sales & Marketing Manager, Cofermin Rohstoffe GmbH & Co. KG, Germany

Exceptional event organisation in the fantastic city of Dubrovnik. The Forum provided a lot of food for thought on the development of mineral recycling.
Nenad Tenasic, CEO, MIRECO, Germany

Excellent programme, wide range of interesting topics. Great to have enough time for networking.
Jan Lampke, Expert for Pelletizing, Haver Engineering, Germany

Great to know other industries' viewpoint for recycling, beautiful place and hotel.
Serina Koyama, Sales Manager, Sojitz Corp., Japan

Thank you very much. I got to know a new world, and I was happy to know new people. I will definitely attend the next Forum.
Yongdon Joo, CEO, Korea Material Co. Ltd, South Korea

Missed attending the Forum? A full PDF set of presentations available for purchase.
Please contact Ismene Clarke T: +44 (0)7905 771 494 ismene@imformed.com
Now in its eighth year, this conference has clearly grown in stature and attendance, as the trend to increase mineral recycling rates, particularly in the field of refractory waste, gains considerable momentum.
This is now a mainstream sector of the mineral industry, with all players in the supply chain from primary mineral producers, processors, traders, logistics, mineral product manufacturers and consumers upgrading their respective roles to increase industrial minerals' sustainability across a range of market applications.
We very much look forward to welcoming the industry to join us at next year's event: Mineral Recycling Forum 2024, Hilton Imperial Hotel, Dubrovnik, 22-24 April 2024 – SAVE THE DATE – CALL FOR PAPERS – SPONSOR OPPORTUNITIES – EARLY BIRD RATES – BOOK NOW! Full Details Here
SAVE THE DATES | CALL FOR PAPERS


FORUM REVIEW
Introduction: Going where the minerals are greener
Mike O'Driscoll, Director, IMFORMED, UK
Mike O'Driscoll opened the conference with a review and reminder of why industrial minerals are so essential and need to be recycled, and are part of the context of a new era of mineral exploration, sourcing, development…and recycling.
In essence, tomorrow's "mining" will in large part be efficient and economic utilisation of today's industrial waste.
However, those looking to get more active in recycling face a number of decisions:
How to go about getting involved in this sector?
Whether to vertically integrate? Invest for an in-house business/plant?
How much and how far to invest?
Partner with an independent recycler?
Join forces with same-sector end-use players?
And crucially, what impact will this have on customers and markets?
Recent initiatives from the European Commission look hopeful to pave a away forward to enable increased mineral recycling.
On 1 February 2023, the EC revealed its "Green Deal Industrial Plan", first announced by EC President Ursula von der Leyen at the World Economic Forum, Davos, 17 January 2023, which includes much-needed provision for "European standardisation to fast-track secondary raw material production".
Back in September 2022, Thierry Breton, Commissioner for the Internal Market, EC, said that: "We are experiencing a global race for the supply and recycling of critical raw materials."
And at Davos, EC President Ursula von der Leyen warned: "The next decades will see the greatest industrial transformation of our times – maybe of any times."
This was followed in March 2023 by the EC's announcement of its Critical Raw Materials Act, including as a key feature: "Protecting the environment by improving circularity and sustainability of critical raw materials".
Key aspects of the CRM Act that will bolster the mineral recycling supply chain include:
Min. 15% of EU annual CRM consumption from recycling
Member States to adopt and implement national measures to improve the collection of CRM-rich waste and ensure its recycling into secondary CRM.
Member States and private operators to investigate the potential for recovery of CRM from extractive waste in current mining activities and from historical mining waste sites.
Products containing permanent magnets will need to meet circularity requirements and provide information on the recyclability and recycled content [suspect this may roll out to many other mineral-containing end products in future]
O'Driscoll concluded with a review of recent examples of primary mineral producers (ie. miners) upping their activity in recycling waste into useful mineral products to add to their portfolio – a trend that is anticipated to intensify across all minerals and markets.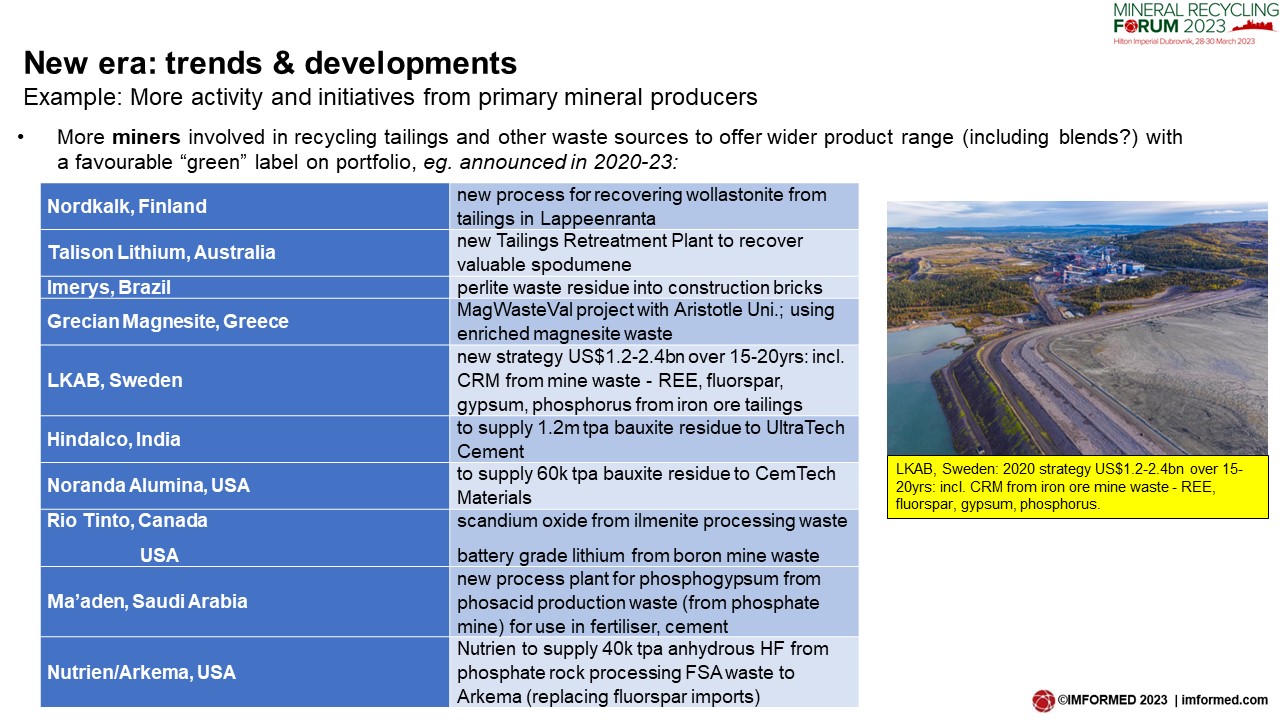 How is the minerals sector balancing Climate, Circularity, Criticality and Competitive business models in time of crisis?
Dr. Aurela Shtiza, Director Industrial Affairs & Raw Materials,

IMA-Europe

, Belgium
Shtiza reminded how much industrial minerals were a part of our everyday products and clarified the key terms of Climate, Circularity, Criticality and Competitiveness in the context of recycling, including critical subtleties and priorities.
She then highlighted examples of various innovative waste valorisation projects by the likes of Nordkalk, Omya, Lhoist, and Calcinor.
Key take-away messages were:
Critical & strategic minerals are not in stand-alone deposits. Geology determines where the raw materials occurs.
Mineral sector is an essential and enabling sector for many downstream applications.
EU Policies & competitiveness are driving different innovation paths within the minerals sector and along the value chain.
Administration, permitting and over regulations can hinder materials circularity and circular solutions.
There is a need for a close industrial corporation to exchange best practices and make industrial symbiosis innovation operational.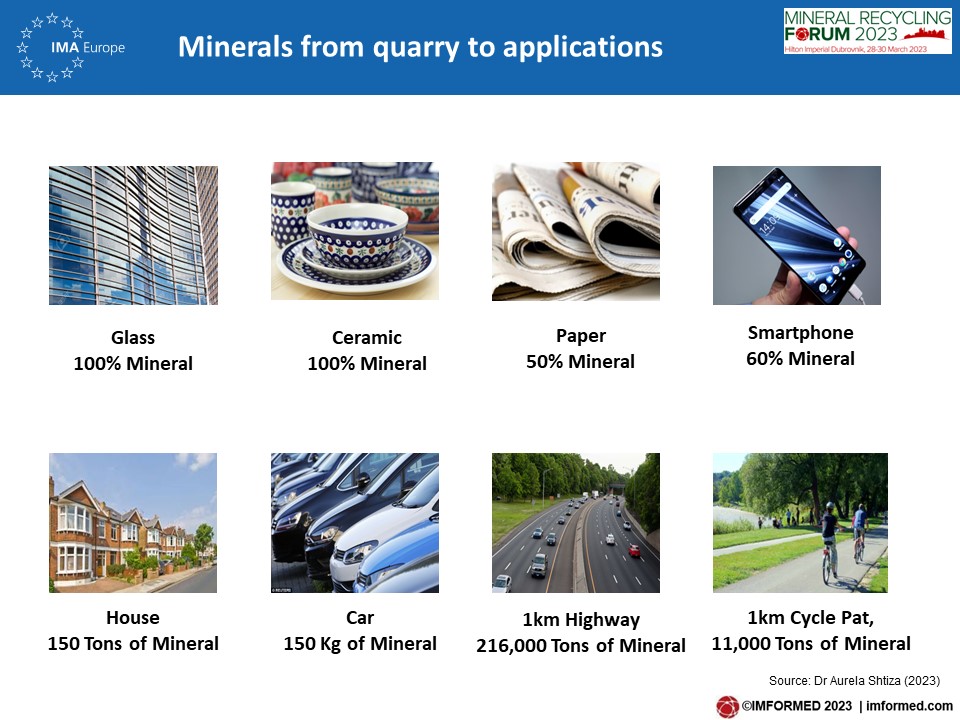 UK industrial mineral recycling: status and objectives
Colum McCague, Technical Manager,

Mineral Products Association

, UK
McCague introduced the Mineral Products Association as the UK trade association for the aggregates, asphalt, cement, concrete, dimension stone, lime, mortar and silica sand industries.
The concrete industry was highlighted where all the materials used to make concrete include or can include recycled materials or by-products from other industries. Permitted quantities depend on type and quality of materials and concrete application.
The cement industry of the UK accounts for only 1.5% of total UK emissions and uses secondary materials as clinker substitutes, such as blast furnace slag and fly ash – however, production of both of these materials are in decline in the UK.
Alternative sources for these are being sought, including the utilisation of calcined reclaimed clays and bricks, and old stockpiles of fly ash of which the UK hosts some 100m tonnes.
McCague also reviewed the UK's extensive use of recycling of aggregates such as innovative, lightweight aggregate being manufactured for use in blocks.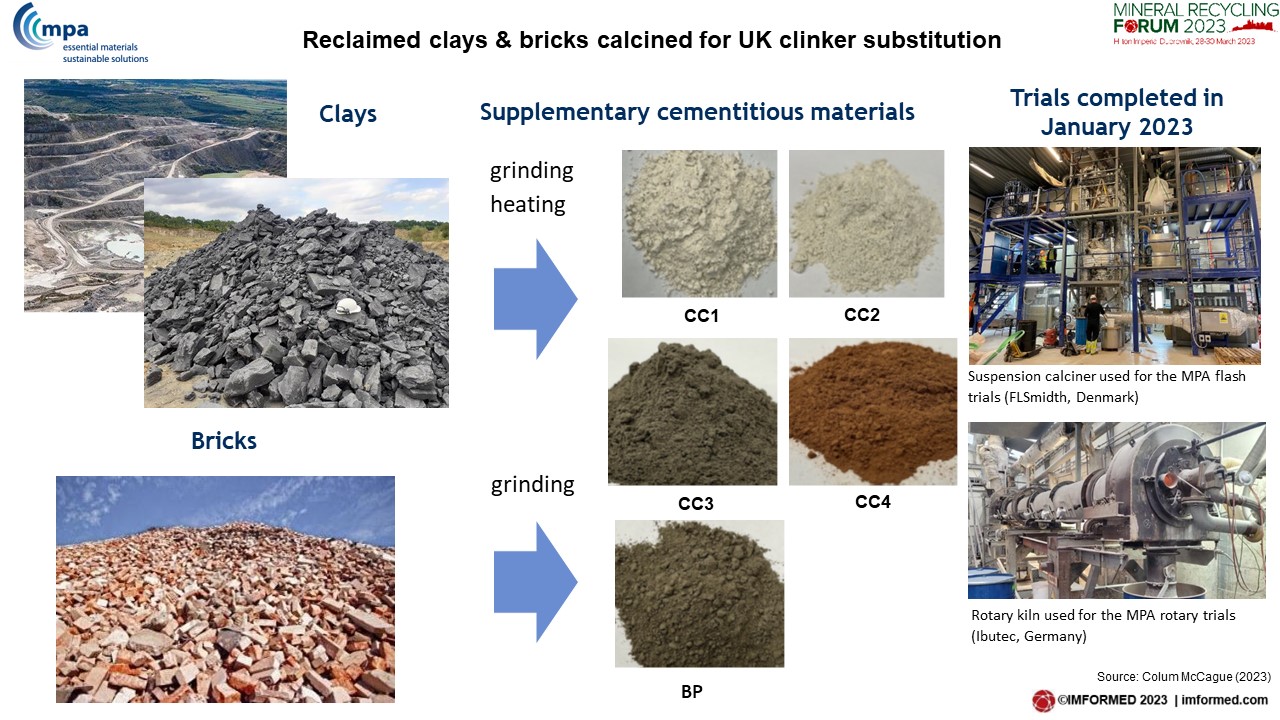 Closing the loop on the lithium-ion battery supply chain
Daisy Jennings-Gray, Senior Price Analyst (Lithium and Graphite),

Benchmark Mineral Intelligence

, UK
Jennings-Gray reiterated that recycling is critical in circularity, whether recycling battery scrap from manufacturing or dealing with end of life (EOL) batteries. It can help to alleviate supply constraints and reduce reliance on extraction of virgin materials – thus mitigating ESG impact.
There has been more activity across the supply chain, with policies looking to incentivise or mandate recycling, as well as supply chain partnerships and investment into recycling capacity – China, North America and Europe policies were reviewed.
For the next decade, most recyclable material will be composed of process scrap from cell production, with losses higher in the earlier years of production but will plateau out.
Some batteries may go onto secondary applications, but this pool is expected to fuel future recycling feedstock. Europe's scrap pool growth is expected at >40% yoy until 2030.
The role of recycling will be governed by feedstock availability:
LCO EOL batteries have been the dominant chemistry in the scrap pool historically and lately because of portable applications comprising most of the pool – and those favouring cobalt-rich chemistries. But other chemistries will become more dominant over time.
NCM chemistries are forecast to represent increasing proportions of the EOL scrap pool because of their desirable energy densities for transport applications
LFP batteries are set to see significant growth in the future pool
Important to consider the lag in the scrap pool – battery trends today will be tomorrow's recycling trends
Recycling technologies are shifting in response to the longer-term scrap pool mix. More hydrometallurgical processing will be used to meet EU lithium recovery targets (2027: 50% of lithium, 80% in 2031. Ni & Co 95%).
Jennings-Gray concluded with a review of obstacles to achieving a truly circular supply chain where recycled materials can alleviate supply constraints.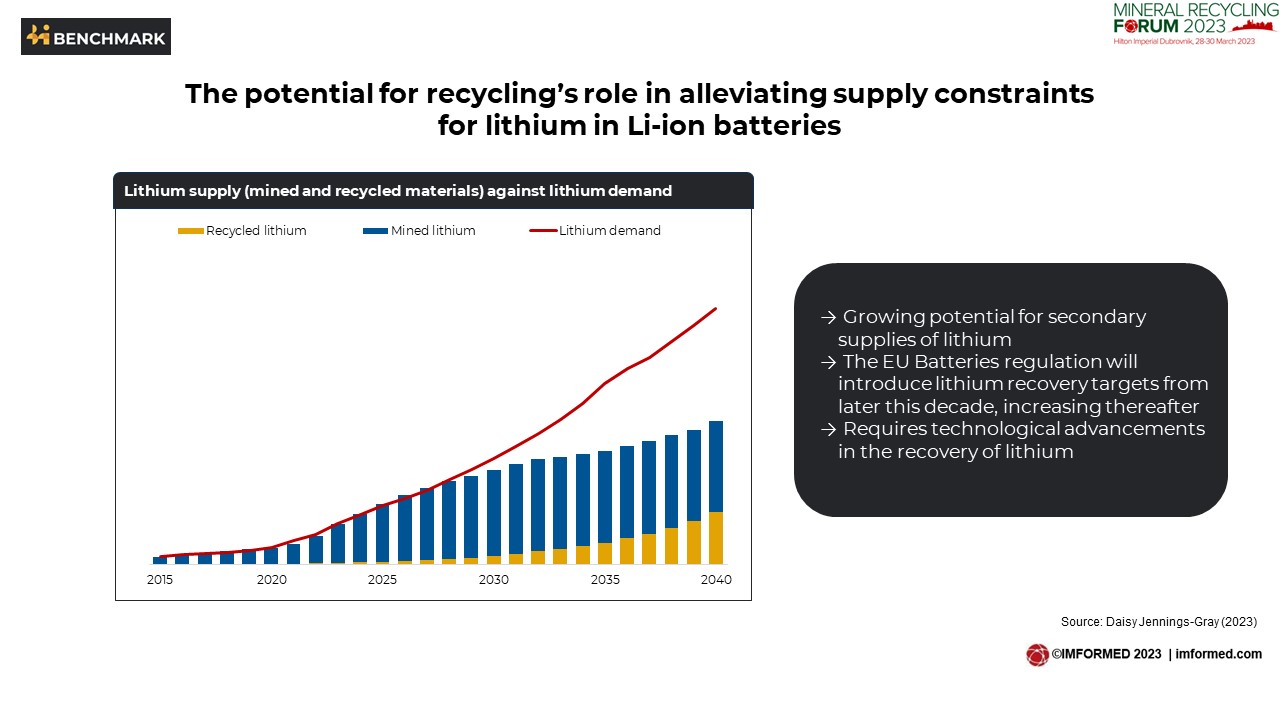 Salt recycling: When does it make sense?
Vladimir Sedivy, President,

Salt Partners Ltd

, Switzerland
Sedivy started by recapping on the water cycle, weathering, the rock cycle, and The Great Ocean Conveyer Belt, before outlining world salt consumption (at about 350m tpa) and the importance of salt quality and its influence on salt prices.
Salt Partners' project to determine the most economic technology out of a range of processing options was explained, including ALUSAL®, a flux salt recovery and recycling technology.
In conclusion, salt recycling can make sense under the following conditions:
Brine is available at high concentration, almost saturated
Solar concentration and crystallisation is feasible at the location
Thermal evaporation and crystallisation if steam and power are cheap
Membrane technologies if steam is expensive and power is cheap
Salt supplies are expensive
Brine dilution and discharge would make river water too saline
Brine cannot be re-used as brine, even after treatment
Brine doesn't contain impurities that may limit salt marketability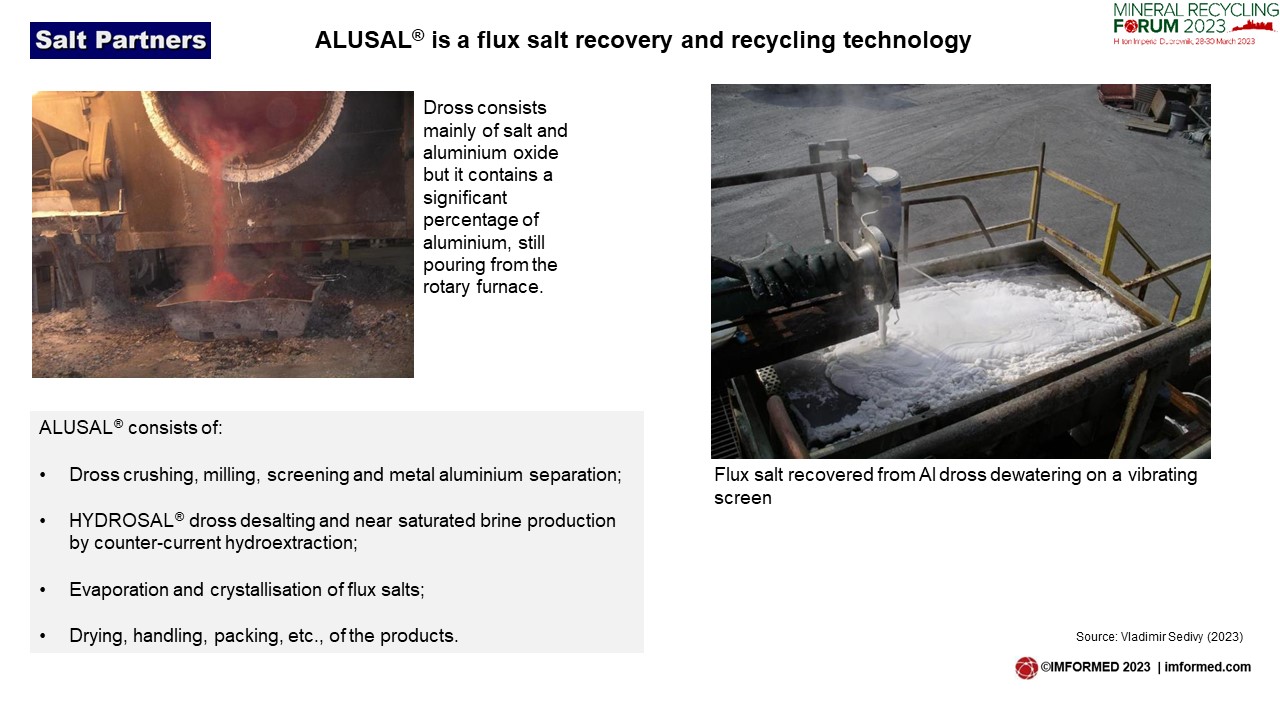 LIBS-based analytical techniques in mineral recycling
Dr. Lucas Zimmermann, Head of Project Management,

MIRECO

, Germany
Zimmermann shared his insights on the basics of Laser Induced Breakdown Spectroscopy (LIBS), fast lab analysis of heterogeneous materials, inline analytics of minerals on belt conveyors, LIBS in sensor based sorting (SBS) applications, finishing with an example of refractory sorting.
Benefits of LIBS include acquiring results within milliseconds, with some 1,000 measurements/s and up to 20,000 measurement points/s, as well as being precise, such as including quantitative measurements <0.1wt%.
Materials recycled successfully using LIBS include aluminium, titanium, steels, minerals, refractories, and construction materials.
A typical LIBS refractory sorting facility would employ just two staff for submission of sorting materials, achieve a throughput performance of 6 tph, with brick dimensions of 70x70x30 up to 350x220x180 mm, and parallel separation of 10 brick qualities.
Recent developments have included a mobile LIBS plant, essentially the downscaling of the existing system, and commissioning of such is expected in 2024 at MIRECO.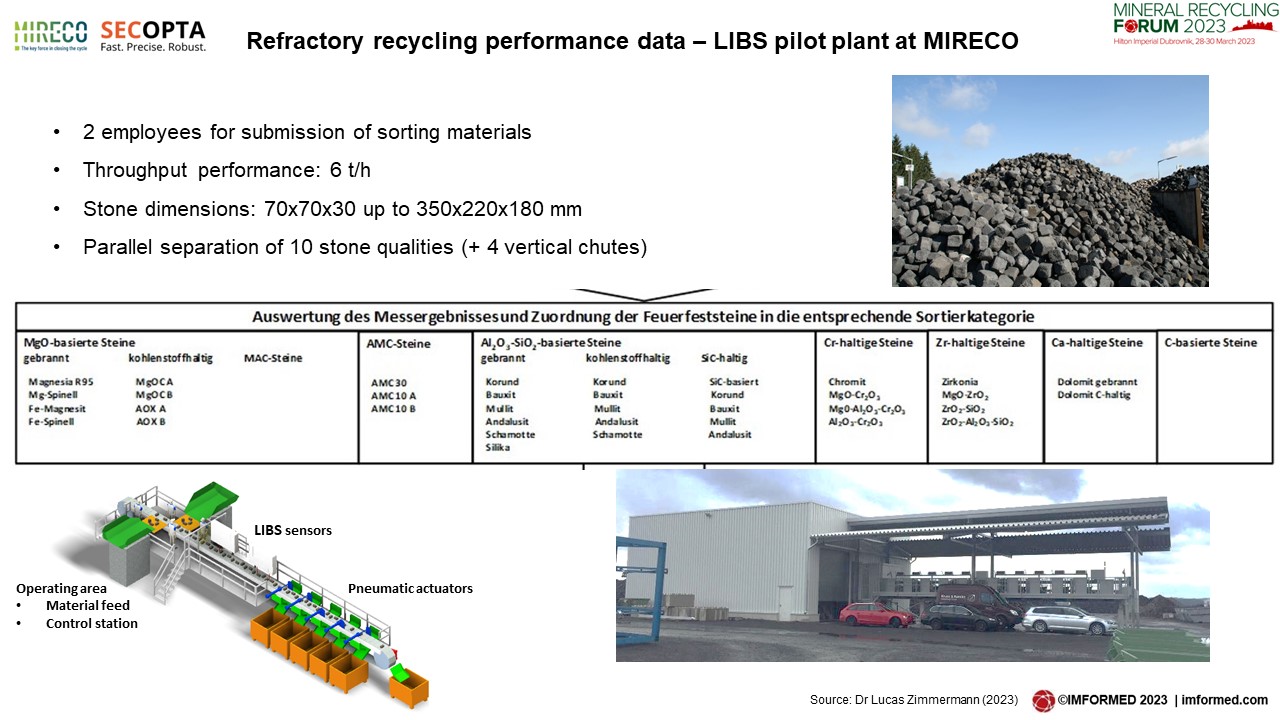 Recycling ammonium sulphates
Robert van Voorst, Managing Director,

Titan Salt

, Netherlands
Ammonium sulphate (AMS: (NH₄)₂ SO₄ ) was one of the first and most widely used nitrogen (N) fertilisers for crop production. It is now less common but especially valuable where both N and sulphur (S) are required. Its high solubility provides versatility for a number of agricultural applications.
Van Voorst outlined Titan Salt's project to recover AMS from an industrial liquid waste stream for Enva, a leading provider of recycling and resource recovery solutions in the UK and Republic of Ireland.
The project, a co-operation between SaltTech and Titan Salt, is to use a patented salt and water separation process called DyVar.
The project was described as a unique and innovative recovery process in line with circular economy objectives as well as reducing energy use and increasing the self-sufficiency of Ireland with regards to fertiliser.
Highlights of the project are:
Liquid waste to AMS fertiliser system
4,500 tonnes of fertiliser pallets a year
Located at ENVA's EPA licenced facility in Greenogue, Ireland
5 years of research and development
End of waste certified
5 million of total investment
Operational in Q4 2023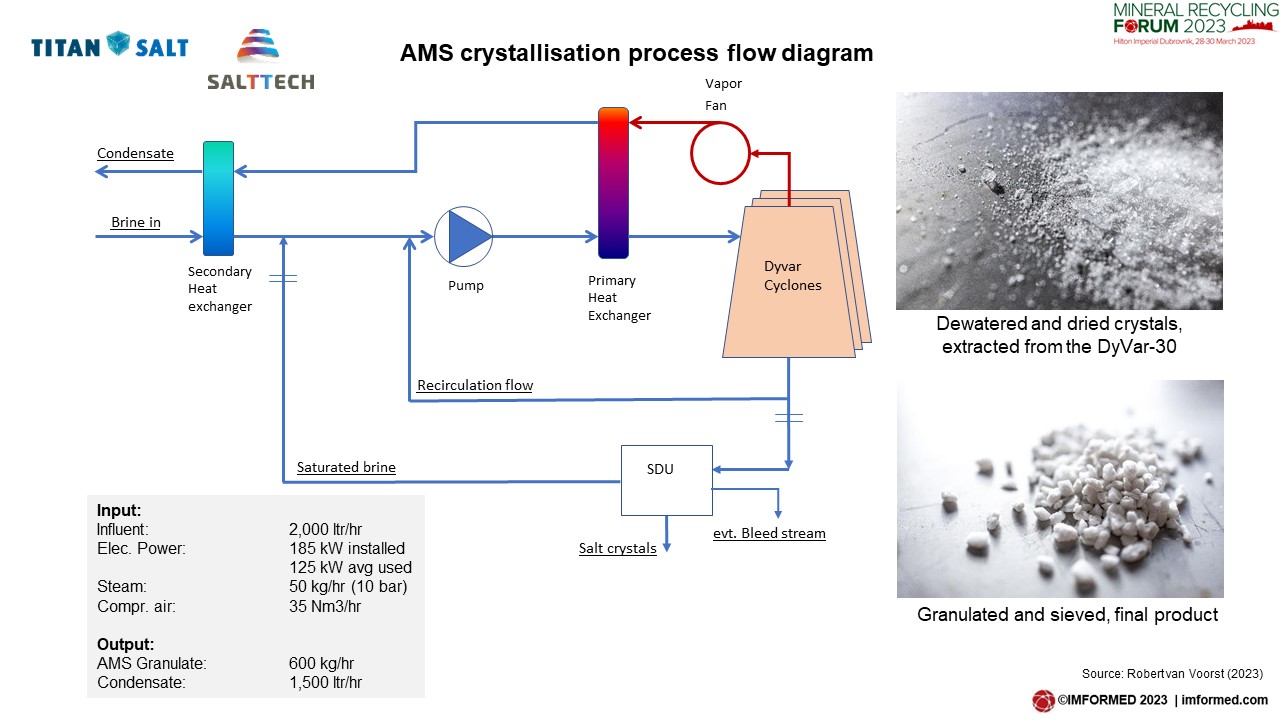 REFRACTORY RECYCLING
Circular raw materials developed from used refractories
Patrick Stahl, Director Sales & Product/Material Management,

MIRECO

& Barbara Zocratto, Sales & Market Development Manager,

RHI Magnesita
It was just one year on from the eve of Mineral Recycling Forum 2022 when RHI Magnesita and Horn & Co. Group first announced joining forces in refractory recycling, the joint venture has since been branded as MIRECO.
Patrick Stahl and Barbara Zocratto brought us up to date with MIRECO's European operations and mission to design circular solutions providing high quality and performance, while saving CO2 emissions.
MIRECO is fully integrated into RHI Magnesita's strategy and business models which includes its 2025 sustainability targets of increased use of secondary raw materials to 10%, reduction of CO2 emissions by 15%/tonne, and energy reduction by 5%/tonne.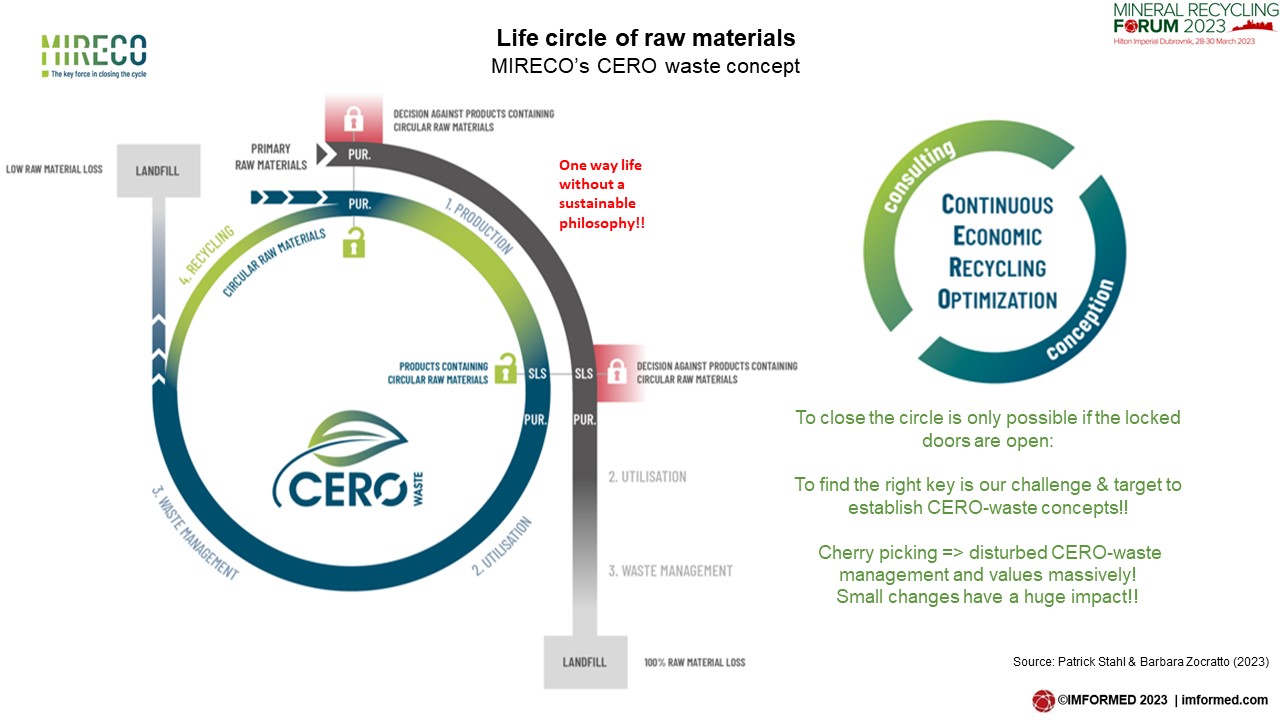 Sourcing a range of refractory waste from the steel, cement, glass, lime, petrochemical and other sectors, MIRECO's planned recycling volume for 2023 is 160,000 tonnes, and for 2026, 270,000 tonnes is targeted.
Approximately 40-45% of recycled materials will be metallurgical additives, and 55-60% critical raw materials for the refractory market.
MIRECO's Continuous Economic Recycling Optimisation (CERO) was introduced: "To establish CERO-waste solutions is a long-term process and must be developed together step by step" said Zocratto, before highlighting a range of refractory raw material recycled products by MIRECO.
Caught on Video! Experience Mineral Recycling Forum 2023 Courtesy of RHI Magnesita & MIRECO (© RHI Magnesita)
State of refractory recycling in North America
Rebecca Mohr, Strategic Marketing Manager-Recycled Materials, & Dave Hartwich, Director of Fired Shape Technology,

HarbisonWalker International

, USA
Rebecca Mohr and David Hartwich presented a very concise and frank overview of the status of refractory recycling in North America, which is clearly in its infancy and yet to really kickstart, but moves are afoot.
North America consumes about 6% of world refractories and 9% of sales, with almost 50% being consumed in steel production, and driven with new steel mills now coming on-line.
Total US refractory demand was estimated at 2.9m tpa, with forecast growth owing to the automobile industry, increased construction and infrastructure projects, and a growing oil and gas industry.
At present, refractory recycling is not a top priority for the North America steel industry, owing to:
Environmental drivers currently focused on regulations related to energy efficiency, water, and emissions.
Refractory users have not made the connection to refractory and impacts of minerals mining (Scope 3 emissions).
Landfilling of non-hazardous refractory is not considered a "good neighbour" issue, "it's just rock."
There are not yet incentives or regulations that encourage refractory recycling.
Refractory is ~1% of the overall cost stack.
"Refractory recycling is on-going in the US, but is primarily open-loop and often opportunistic. Independent contractors offer recycling and a variety of services, but there are fewer suppliers than in Europe." said Mohr.
Reference was made to the primary established US independent refractory recycler Glenn Hunter & Associates, which has been recycling refractories for over 30 years with a zero land-fill policy. The company has recycling plants at Delta, Ohio and Kendallville, Indiana.
Mohr outlined differences in US and EU drivers which leave the US behind in a closed-loop refractory recycling. That said, she added that mineral recycling in general is emerging as a "megatrend" within North America, driven by a range of factors such as government funding and supply chain disruption.
Momentum is apparently building among major North American refractory producers for closed-loop recycling, and Mohr urged that successful closed-loop recycling will require cross-industry collaboration. There are about 10 major US refractory producers, of which 5 account for 80% of demand, with HarbisonWalker International (HWI) regarded as the industry leader.
Hartwich outlined HWI's pedigree and activities in refractory recycling, becoming the first mover in recycling of chrome-alumina-based refractories. HWI is currently conducting plant trials for a closed-loop ladle brick recycling programme.
HWI is seeking strategic partnerships and collaboration for development of a closed-loop recycling ecosystem, which represents one of the initiatives behind the recent Platinum Equity acquisition and merger of HWI and Calderys.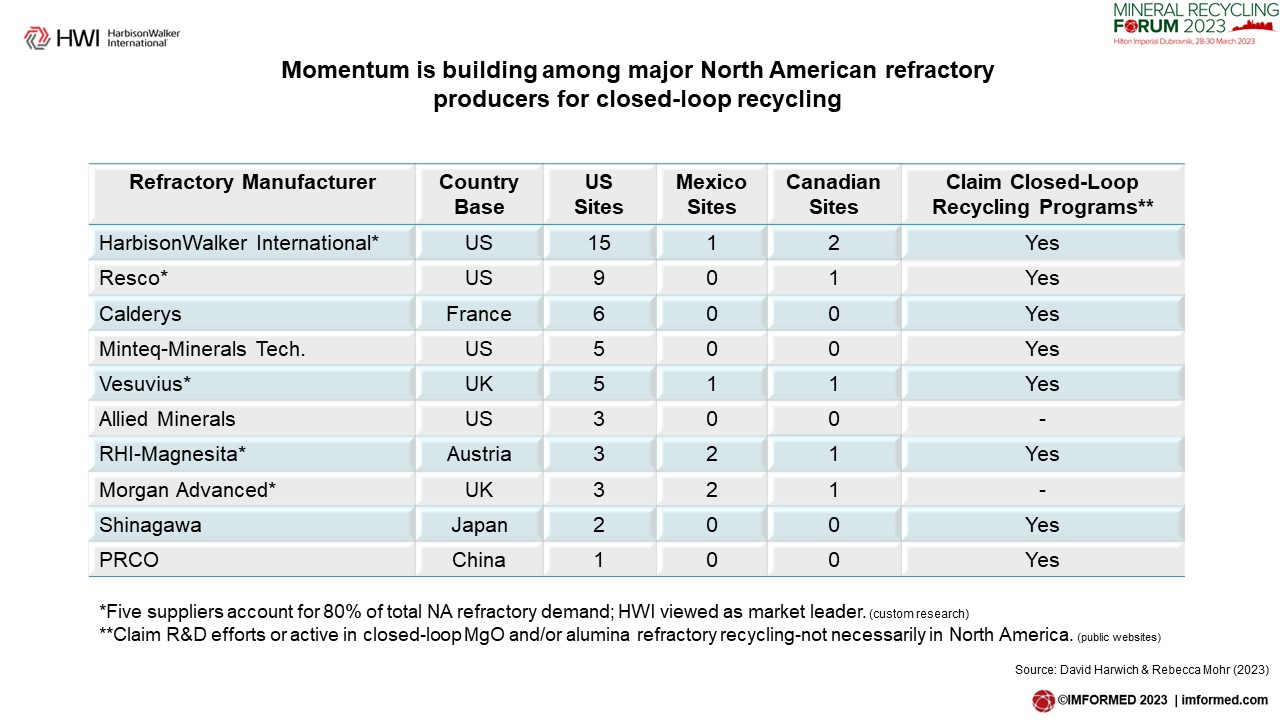 Refractory recycling developments in South Korea
Yongdon Joo, CEO,

Korea Material Co. Ltd

, South Korea
Presented by Yunsik Choi, Senior Research Engineer at Korea Material Co. Ltd, this presentation outlined the processing methods used and the main refractory materials recycled at the company (graphite, mullite bricks, ceramics), based in Pyeongtaek, Gyeonggi Province, north-west South Korea.
Korea Material is also active in recycling alumina parts and glass from semiconductors and screens, and recycling fused aluminas from shot blasting.
The company is also engaged with the Technology Research Institute in developing graphite recycling from the anodes of Li-ion batteries, and valuable metal extraction from sagger boxes used in cathode production.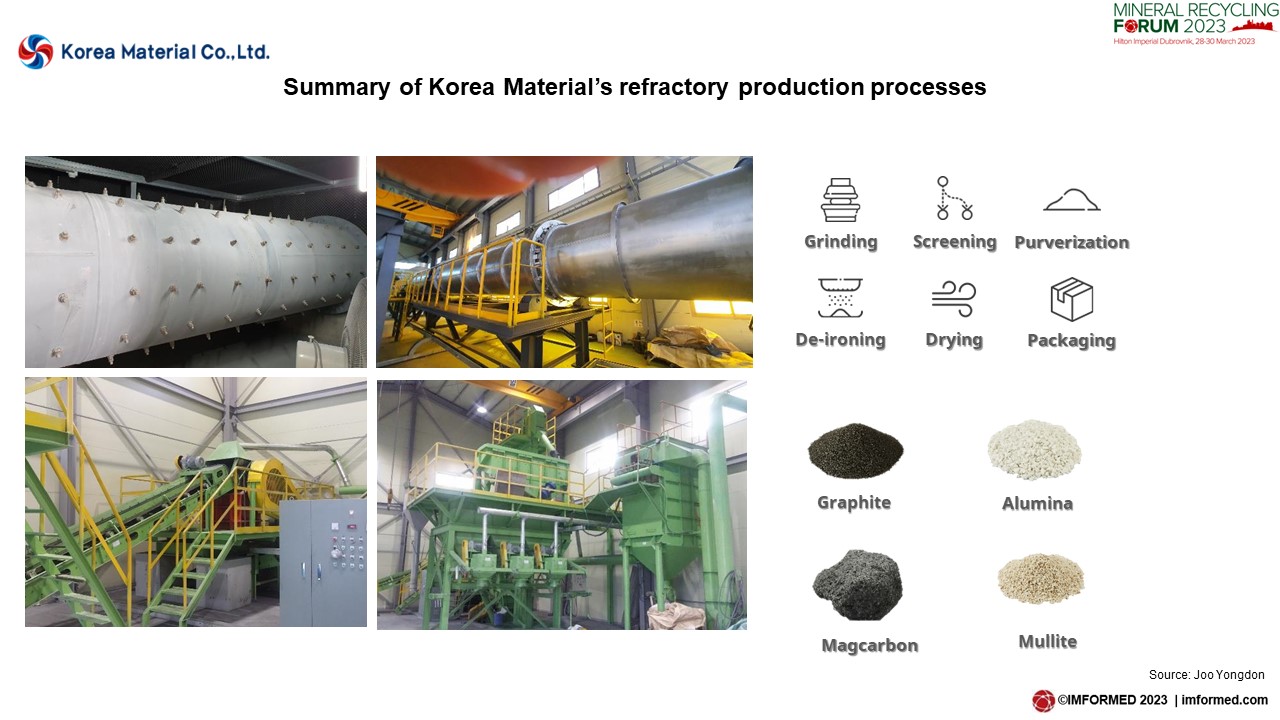 Recycling in refractories: innovative raw material solutions from waste & beyond
Vatsal Dhandharia, Proprietor,

Global Recycling

, India
Chaitanya Refractory Pvt Ltd is based in Kolkata, India, having a long experience in secondary refractory raw materials and recycling of used refractory products catering to almost all important refractory plants in India.
Global Recycling is a sister concern, which started expansion of the business worldwide. The company's plants near Kolkata are equipped with modern crushing, grinding and screening equipment, with some additional facilities for chemical processing and purification.
Vatsal Dhandharia outlined the key aspects of the world and Indian refractory markets, before focusing on refractory recycling in India, the main challenges, and the company's way forward in this sector.
India holds around 6.55% market share of the global refractory market in terms of value, and total Indian refractories production in FY22-23 is estimated at 1.6m tonnes.
In India, around 250,000 tpa of spent refractory materials are recycled in the different market sectors like iron and steel, glass, cement, ceramics, non-ferrous, petrochemical, etc. which means some 15% of recycled raw materials currently being used on average.
The target is to increase this to 25% by 2025, thus creating an additional scope of 150,000 tonnes over the next 2 years.
There is an expected increase in refractory recycling within India, as well as increased imports of secondary materials and refractory grogs.
However, key challenges to refractory recycling in India include:
only a limited quantity of recycled refractory is available
over dependence on the iron & steel industry; other end use segments like the power, cement, glass etc. contribute to around only 30% of the refractory consumption.
not enough high-grade refractories will always be available for recycling
too many contaminants, makes it difficult to recycle every refractory product
Chaitanya Refractory's vision is to develop various raw materials from wastes, and among other refractory materials, is focusing on white dense alumina (WDA) from ceramics waste, and forsterite-bonded fused alumina chrome (FBFAC) from chrome slag waste.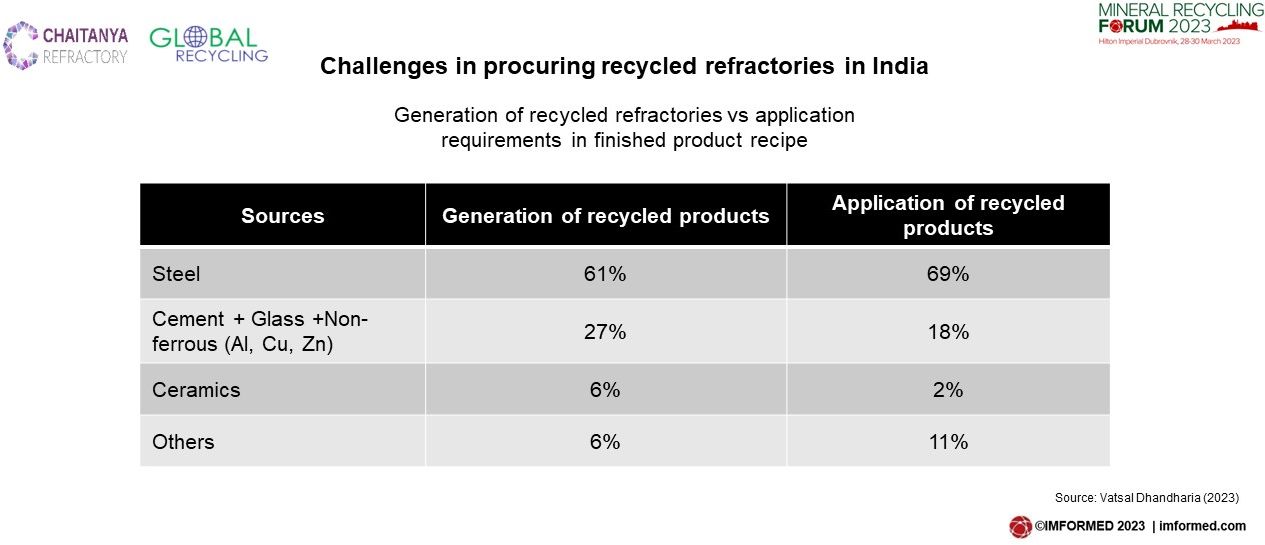 Refractory sorting using revolutionising classification equipment – ReSoURCE
Alexander Leitner, Recycling Technology & Innovation Specialist,

RHI Magnesita

&

ReSoURCE

Co-ordinator, Austria
Leitner underlined the motivations and also limitations for refractory recycling, and reviewed the target recycling processes for RHI Magnesita.
He then outlined the technical scope for Refractory Sorting Using Revolutionizing Classification Equipment – ReSoURCE, a consortium project funded by the European Commission as part of the EU Horizon Programme.
The 42-month project (June 2022-November 2025) has a total budget of €8.5m and comprises 9 members (4 academia, 5 industry).
The project will evaluate and develop a sensor-based process, looking at feedstock selection and characterisation, optimised crushing and cleaning, hopper design, sensor combination, AI-based data analysis, and product concepts.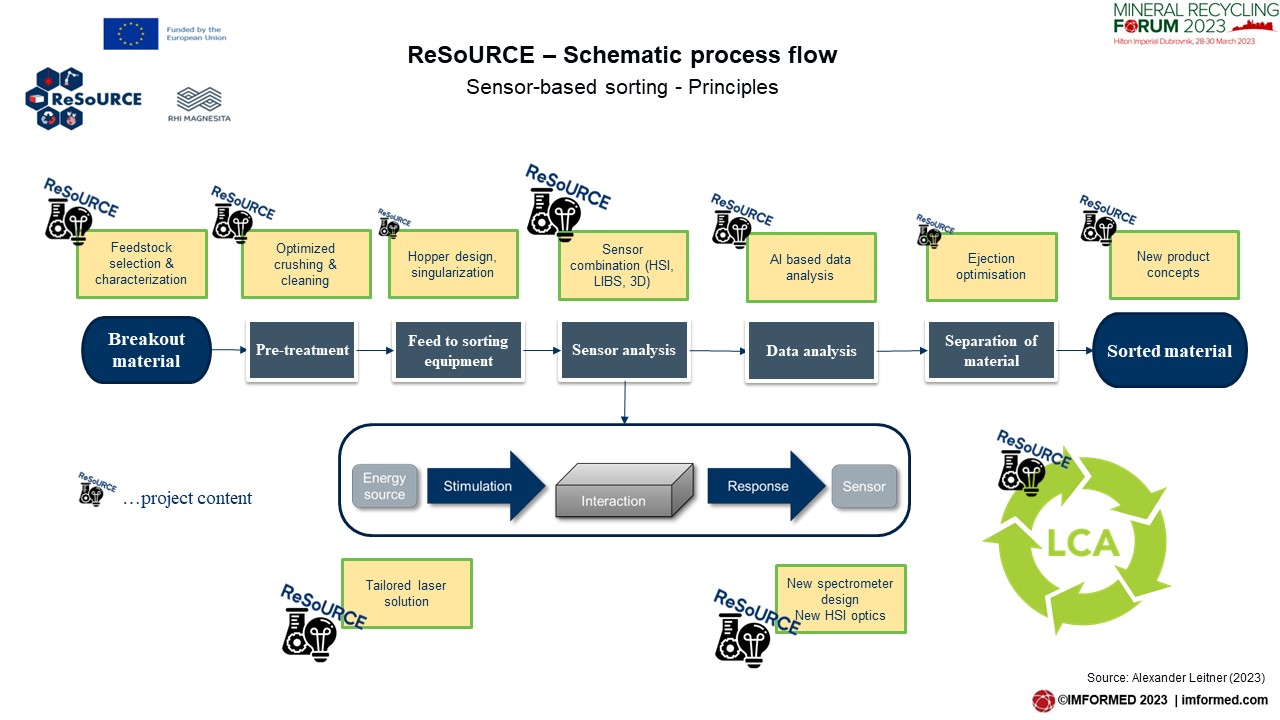 CESAREF solutions for EU Green Deal steelmaking challenges: recycling, reuse, hydrogen, & artificial intelligence
Andrea Salerno, Researcher,

CESAREF

/

Vesuvius Group

Plc, Italy
PhD student Andrea Salerno presented on the European industrial doctoral network CESAREF – Concerted European action on Sustainable Applications of REFractories.
This is a large, wide ranging €4.1m EC project running from November 2022 to October 2025, driven by the EU Green Deal with a focus on steelmaking challenges in recycling, reuse, hydrogen, and artificial intelligence.
The main work packages were described, which are efficient use of mineral resources and recycling, microstructure design for increased sustainability, energy efficiency and durability, and anticipation of hydrogen steelmaking.
Salerno outlined refractory waste from continuous casting, with a focus on the tundish, looking at recovery, recycling and disposal aspects of refractory materials.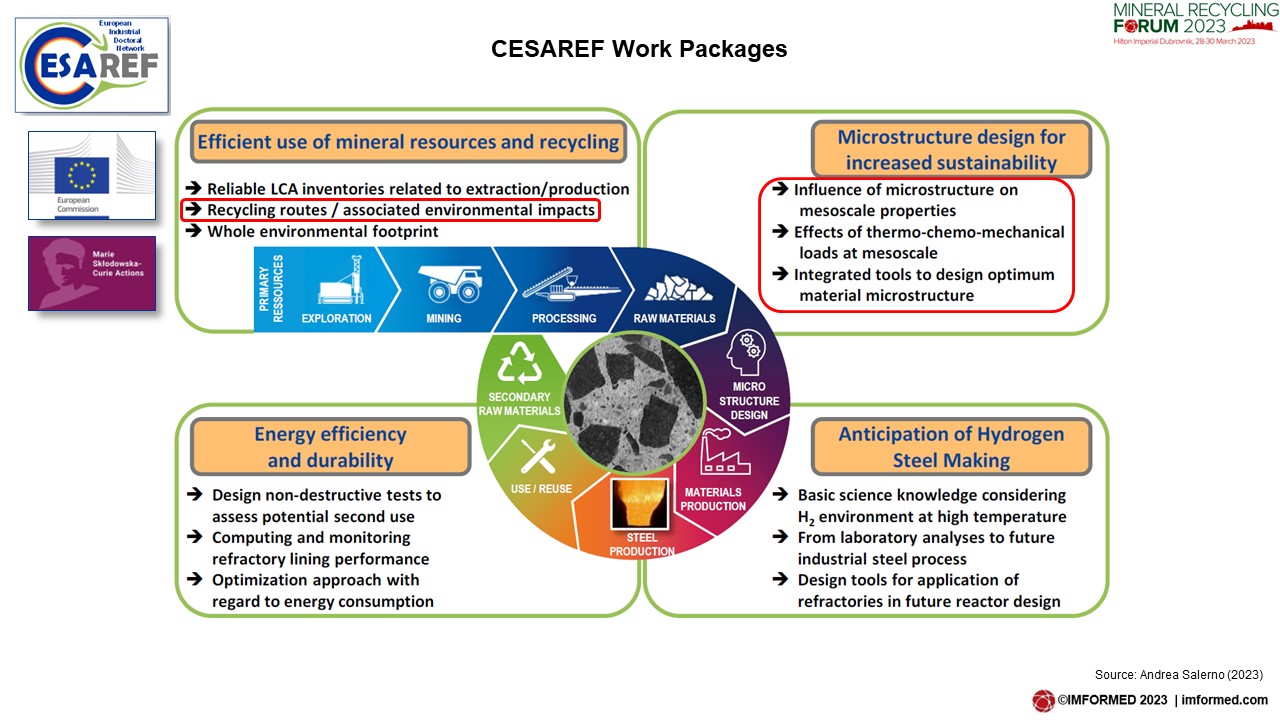 Thanks & hope to see you at Mineral Recycling Forum 2024!
We are indebted to the support and participation of our sponsors Almatis and Salt Partners, supporting partners, speakers, and delegates for making Mineral Recycling Forum 2023 such a success, and ensuring a fruitful and most enjoyable time was had by all.
We very much look forward to meeting you again and repeating the experience next year – though with increased flights availability at a slightly later date! Mineral Recycling Forum 2024, Dubrovnik, 22-24 April 2024 – Full Details Here.
Registration, Sponsor & Exhibit enquiries: Ismene Clarke T: +44 (0)7905 771 494 ismene@imformed.com
Presentation & programme enquiries: Mike O'Driscoll T: +44 (0)7985 986255 mike@imformed.com
Missed attending the Forum?

A full PDF set of presentations available for purchase.
Please contact Ismene Clarke T: +44 (0)7905 771 494 ismene@imformed.com
---
UNDER TWO WEEKS TO GO!
>220 DELEGATES REGISTERED!