Projects in Mongolia & Germany | Updates from USA, Canada, Italy, Kenya, Australia
World fluorspar production capacity remains tight, with few, if any, new production capacities ready to come on-stream any time soon. However, there are some very interesting projects in the pipeline.
Title Image Feeling their way underground: (left) Examining fluorite veins at KHD Fluorite's Maly deposit, Khentii, eastern Mongolia, about to start production (courtesy KHD); (right) mining in the Käfersteige mine, Pforzheim, south-west Germany, prior to its closure in 1996. Deutsche Flussspat are looking to bring it back into operation by 2030 (courtesy Geological State Office of Baden-Württemberg); (inset) Planned Li-ion battery manufacturing for EV in Europe has sparked interest in developing regional sources of fluorspar (courtesy EDF).
One of those nearing fruition is KHD Fluorite in Mongolia, while a longer term plan is being evaluated by Deutsche Flussspat GmbH to revive a fluorspar source in Germany.
Also in Germany, Fluorchemie was looking to bring its new Phoenix mine on stream later in 2023, however, although the company remains operative, recent insolvency filing has delayed the project – an update is reported here.
Bubbling under elsewhere are ongoing developments – actually, also revivals in their own way – in the USA, Canada, Italy, Kenya, and Australia.
It will be very interesting to see who gets past the finishing post first.
Join us on the Côte d'Azur and find out all about the latest trends & developments in global fluorspar supply & demand at
KHD Fluorite, Mongolia: about to start production
After successfully securing independent funding in early 2023, KHD Fluorite has been gearing up to start production from its two main fluorspar deposits in eastern Mongolia – Maly and Baruun Suuj – which are envisaged to produce 30,000 tpa and 60,000 tpa acidspar, respectively.
KHD Fluorite, based in Ulaanbaatar, is a mining and processing project of leading mining group Khuree Del LLC. Established in 2002, the group specialises in the exploration, development, and mining of fluorspar and other mineral deposits.
The primary focus is its mining operation on the Eastern Mongolian Fluorite Belt, and a fluorochemical beneficiation plant in Khentii province.
KHD is developing fluorspar mines in the Kherlen ophiolitic complex, in the Khentii and Dornod provinces of north-east Mongolia.
The Fluorite Belt has a number of known mineral occurrences in addition to fluorite, including base metals, molybdenum, tungsten, tin, gold, and gemstones.
The mineralisation is located within faults which rupture the boundary between the Pre-Palaeozoic basement and late Mesozoic volcanic tectonic depressions.
The project includes three fluorspar deposits, which are estimated to contain 20.5m tonnes of fluorspar grading an average of 30-40% CaF2: Delgerkhaan, Maly, and Baruun Suuj.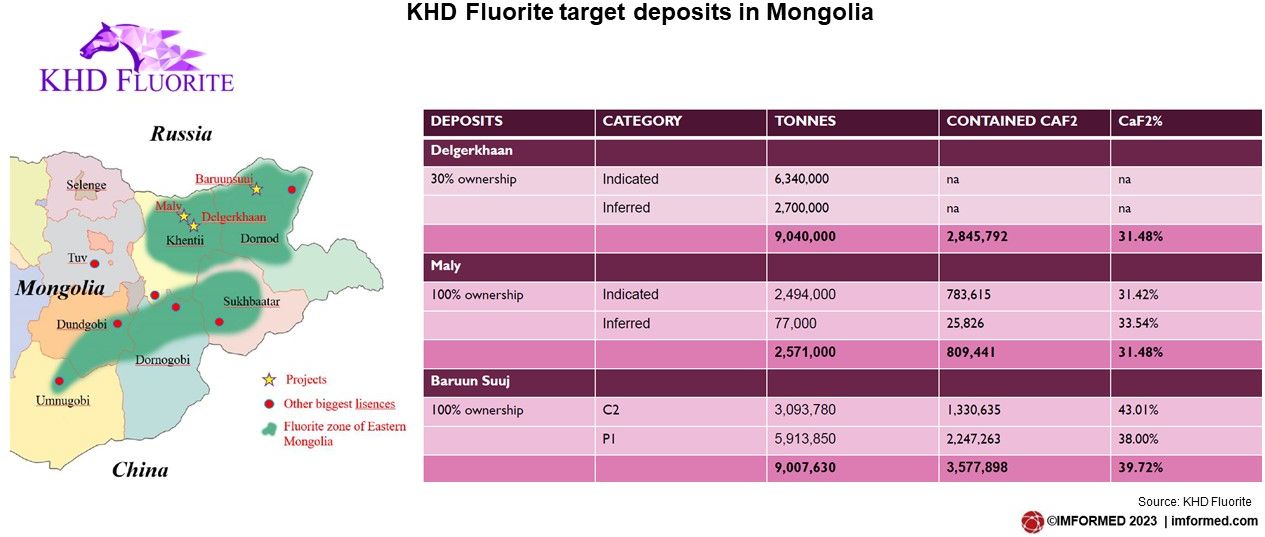 The Delgerkhaan deposit hosts 9,040,000 tonnes of fluorspar ore resource with a 34.5% CaF2 grade. KHD holds a 30% equity, has secured investment from Japan, and has obtained the necessary mining licenses and is moving forward with development.
The projected lifespan of the Delgerkhaan deposit is estimated to be 30 years, extracting 300,000 tpa ore and producing 80,000 tpa ≥97% CaF2 acidspar.
The Maly deposit complex in Khentii province has two mining licenses covering 91.39 hectares hosting an estimated resource of 2,571,000 tonnes of fluorspar with 33% CaF2.
The projected lifespan of the Maly deposit is estimated to be 25 years, extracting 100,000 tpa ore and producing 30,000 tpa ≥97% CaF2 acidspar.
Some 58,000 tonnes of ore (average grade 66.3% CaF2) was extracted at Maly between 1980 and 1982 by open pit, and 63,600 tonnes (average grade 66.3%CaF2) were extracted between 1987 and 1990 by underground mining.
KHD owns 100% of the mineral rights to the property, with high grade ore an essential asset, which has been approved and commissioned by all related government agencies and is ready to begin production.
An Environmental Impact Assessment and Feasibility Study was completed by Tianxin Engineering and Research Institute of China in 2021.
Most recently there has been some renovation of the mine shaft, resulting in extraction of about 1,000 tpm.
KHD Fluorite will be presenting on its projects and Mongolian fluorspar developments at

Fluorine Forum 2023, Cannes, 16-18 October

.
The Baruun Suuj deposit, located in Dashbalbar soum , Dornod province, has two mining licenses covering 563.73 hectares, and is estimated to contain a resource of 9,007,630 tonnes of fluorspar ores with 39.72% CaF2.
It was discovered in 1976 by the Mongolian Geological Expedition Unit of the Ministry of Geology of the USSR while carrying out exploration work on the Berkh region. Around 30,000 tonnes of ore (average grade 70% CaF2) was extracted between 2003 and 2005.
The projected lifespan of the Baruun Suuj deposit is estimated to be 60 years, with a projected extraction rate of 150,000 tpa ore and a production rate of 60,000 tpa ≥97% CaF2 acidspar.
KHD, which owns 100% of the mineral rights to the property, reports that the reserves are calculated based on Soviet Era exploration reports, with a high probability to contain much higher fluorspar deposit than reported.

The Delgerkhaan and Maly deposits are located in an accessible area in the Batnorov district of Khentii province, Mongolia. They are situated near Berkh city, Tumentsogt soum , and can be easily accessed by paved road within 20-30km .
The deposits are also located near railroads, with 273km to Baganuur railway station and 274km to Bor Undur railway station.
The deposits will be mined underground, and KHD is in negotiation with extraction operator Xinhai Mining Group.
KHD is working with Sachtleben Bergbau GmbH & Co. on the Processing Plant, and a feasibility study is under development with completion expected by June 2023.
The Maly deposit was to begin production in March, and the Baruun Suuj deposit is expected to start up in June.
The KHD project is expected to have a positive return on investment within the first five years of operation, of projected revenues of $263m, with an increase to $530m within the following five years.
The company is in negotiations with several major players in the industry regarding off-take agreements, including leading Chinese fluorspar consumers. KHD is also seeking opportunities to explore mutually beneficial partnerships and collaborations with other organisations and companies.
Confirmed Speakers*

Fluorspar market overview
Euston Witbooi, Research Analyst, Project Blue, South Africa

Fluorspar supply and fluorochemical market demand in China
Lingyun Li, Vice Chairman, Do-Fluoride Chemicals Co. Ltd, China

KHD Fluorite mining project & regional developments in Mongolia
Orgil Enkhbold, Board Member, KHD Fluorite, Mongolia

Mongolia's fluorspar sector prospects & objectives
Tsevegmed Sandiv, Vice Chairman, Mongolian Association of Fluorite Miners, Mongolia

Rejuvenating the Silius fluorspar mine, Sardinia, Italy
Umberto Gioia, Managing Director, Mineraria Gerrei Srl, Italy

Re-opening the Käfersteige Mine in Pforzheim, Germany
Simon Bodensteiner, Managing Director, Deutsche Flussspat GmbH, Germany

The potential for new fluorspar mines and developments in South Africa
Allan Saad, Director, Red Sands Mining and Exploration cc, South Africa

Australia: a new frontier for fluorspar supply from Tasmania
Joseph Gutnick, Director, Mazel Resources Pty Ltd, Australia

The PFAS Universal REACH Restriction & its impact on the EU fluoropolymers market
Nicolas Robin, Director Fluoropolymers Products Group, PlasticsEurope, Belgium

Fluorspar's role in electric vehicles and the energy transition
Simon Moores, CEO, Benchmark Mineral Intelligence, UK

Fluorine applications in batteries
Samantha Wietlisbach, Director Minerals Research and Analysis, S&P Global Commodity Insights, Switzerland

Revolutionising fluorochemical production: developing an HF-free fluorination process
Gabriele Pupo, CEO, Fluorok, UK

Fluorochemicals – key ingredients in OPTICALization of super-big data world
Dr Dexi Weng, Managing Director, Dexyan Global Poly Research Institute, USA

The overall situation of poly- or perfluoroalkyl substances (PFASs) and recycling of fluoropolymers
Bruno Ameduri, Senior Research Director, CNRS, Institut Charles Gerhardt, France

The state of mineral logistics: shipping market review
Robert van Muiden, Managing Owner, RoBuLog – Rotterdam Bulk Logistics, the Netherlands

* subject to change
Deutsche Flussspat, Germany: reviving Käfersteige fluorspar mine
It is certainly early days, but Deutsche Flussspat GmbH (DFG) has announced its intention to reactivate the Käfersteige fluorspar mine, Pforzheim, south-west Germany (near Stuttgart) "…and deliver the materials for the EV transformation."
Wholly owned by DFG, the Käfersteige mine was operated by Bayer AG until 1996, and has been described as "Europe's largest fluorspar deposit."
DFG is aiming to bring the mine back into production and supply some 40% of Germany's fluorspar demand, particularly for the transition towards e-mobility, ie. fluorochemicals used as components in Li-ion batteries (LIB) for EV (see below).
DFG acquired the rights to mine fluorspar from the Käfersteige deposit in 2022. A team of experienced experts was assembled to evaluate the technical, economic and environmental feasibility for reopening the mine.
Since the discovery of the deposit in 1920, almost 2m tonnes of fluorspar has been extracted from the Käfersteige mine. In 1996, a temporary global oversupply of fluorspar caused a decline in prices and led to the closure of the mine.
Fluorspar occurs in a vertical mineral vein proven to a depth of at least 500 metres and over a strike length of >1,200 metres, with a thickness of up to 30 metres.
By 2025, DFG plans to bring the mine "into the condition it was in when it closed in 1996", which will be followed by further investigations evaluating the potential of economic recovery of fluorspar from the mine.
Käfersteige is reported to host about 2m tonnes of fluorspar reserves, and DFG envisages it could produce 100,000 tpa after 2029.
On 15 May 2023, in its preparation of official application documents for planning approval including an environmental impact assessment for the first-phase examination work in the Käfersteige mine, DFG invited members of the public to comment on the planning as part of an early public participation process to run until 31 July 2023.
Simon Bodensteiner, Managing Director, Deutsche Flussspat GmbH, will be presenting "Re-opening the Käfersteige Mine in Pforzheim, Germany" at

Fluorine Forum 2023
Li-ion batteries for EV drives EU fluorspar source interest
It was recently reported that every battery in a Volkswagen ID.4, the company's first electric SUV, requires about 10kg of fluorspar.
The fluorochemical salt lithium hexafluorophosphate (LiPF6) is used as an electrolyte, and the fluoropolymer polyvinylidene fluoride (PVDF) is the electrode binder and separator of choice for LIB (as well as use in solar panel backsheets).
These fluoroproducts are derived from hydrofluoric acid which in turn is manufactured mostly from fluorspar as its main feedstock raw material.
And with the fast evolving EV LIB sector envisaging a raft of new manufacturing locations throughout Europe (see map), this has sharpened interest in developing fluorspar sources within the continent.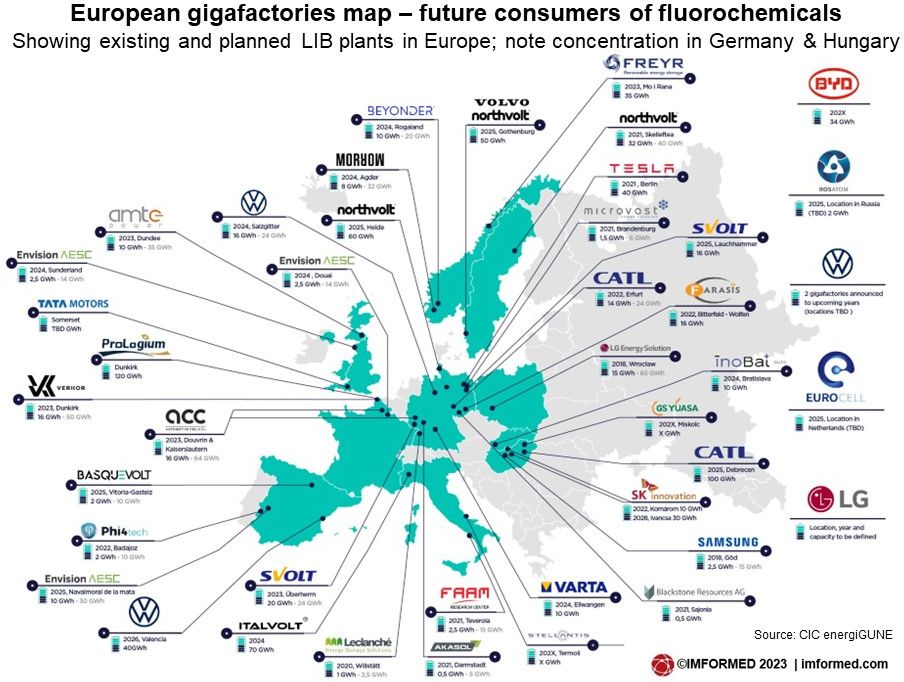 DFG has projected that EU demand for fluorspar concentrate could increase from 755,000 tpa in 2020 to 1.1m tpa by 2030, driven by EV LIB production.
In 2022, Germany was the world's third largest importer (after the USA and Italy) importing 100,000 tonnes of acid grade fluorspar (>97% CaF2), mostly from South Africa, Spain, and Vietnam (2018-2021 ranged between 135-170,000 tpa imports).
According to Project Blue, LIB account for only 3% of the total fluorine market at present, but demand is forecast to ramp up with electric vehicle uptake. Fluorine consumption is compounded by its use in processing graphite, another essential ingredient as the anode material in LIB. The upshot is that Project Blue forecasts battery demand to account for a staggering 20% share of the fluorine market by 2030.
Whether the current upbeat trend for future European LIB EV production is enough for the Käfersteige revival project remains to be seen.
As with all such fluorspar projects, whether greenfield or brownfield, the key to the project's success often hinges on the associated development and costs of suitable fluorspar processing design and plant, and/or the logistics of sending raw material elsewhere to be processed.
The outlook for fluorspar in the battery market will be covered at

Fluorine Forum 2023

Fluorspar market overview
Euston Witbooi, Research Analyst, Project Blue, South Africa
Fluorspar's role in electric vehicles and the energy transition
Simon Moores, CEO, Benchmark Mineral Intelligence, UK
Fluorine applications in batteries
Samantha Wietlisbach, Director Minerals Research and Analysis, S&P Global Commodity Insights, Switzerland
Fluorchemie update: business as usual, new owners & new Phoenix mine on horizon
Of course, DFG is not the only player in town.
There are several other explorers looking at critical mineral prospects hosting fluorspar in southern Germany and northern Czech Republic, eg. Saxony Minerals & Exploration AG has been looking to develop its Pohla project at Luchsbachtal, Saxony for tungsten and fluorspar.
However, the most significant fluorspar player in Germany will perhaps be Fluorchemie Group, the long established fluorspar and HF producer based in Dohna, Saxony, which is planning to open a new fluorspar mine, extend reserves, and also looking to establish its own LiPF6 plants.
Fluorchemie comprises the HF producing subsidiaries of Fluorchemie Dohna GmbH and Flurochemie Stulln GmbH; fluorspar processor Mitteldeutsche Fluorid GmbH, mine producer Erzgebirgische Fluss & Schwerspatwerke GmbH (EFS), and mine developer Phoenix Fluß und Schwerspart Bergwerk GmbH.
The underground EFS mine in Niederschlag, Saxony started in late 2013, and produces about 100,000 tpa fluorspar ore, from which 25,000 tpa fluorspar concentrate is processed at the Aue plant.
The "Phoenix" fluorspar mine project in Gehren, Thuringia, hosts 3-4m tonnes fluorspar reserves and has been envisaged to produce 120,000 tpa raw fluorspar, yielding 30,000 tpa fluorspar concentrate.
In 2021, Fluorchemie Group was acquired by Thanatos Chemical Industries GmbH and Fluorchemie Kronberg GmbH. But in April 2023, the company was forced to file for insolvency. IMFORMED was reassured by Thomas Leypold, CEO, Fluorchemie, that it remains business as usual and the company is still in operation.
A bidding process for new investors has been underway and will close on 2 June. After which there will be a period of due diligence by the prospective investor(s) which may last 2-3 months before a new owner is announced.
All required new equipment for the Phoenix mine has been ordered and installed, and production was due to start in September 2023, but owing to the insolvency filing this has now been delayed, perhaps until early 2024.
Initial operations will involve production of around 100 tpw fluorspar ore in order to evaluate the optimal mining method before full commercial production commences.
Fluorchemie is also conducting a drill programme at its existing assets to prove up further fluorspar reserves, as well as continuing involvement in the EC-funded "Mine.io" project – development of a novel mining digital ecosystem.
Other fluorspar supply developments
Ares Strategic Mining progress in Utah
In April, Ares Strategic Mining Inc. closed a loan of US$4,420,000 from the US Department of Agriculture (USDA) under its Business and Industry Guaranteed Loan Program (B&I).
Ares also announced that it had fully completed the purchase, and received title, of a 48-acre, industrially zoned manufacturing site for its upcoming fluorspar processing operation.
The site is located in Delta, Utah, near the company's Spor Mountain (Lost Sheep Mine) fluorspar project, and will host Ares' lump and flotation plants, and house a large tailings facility for the coming production.
Ares has already delivered its lump plant and associated structural steel to its new industrial site, and a firm has been secured for plant assembly.
A tailings dam will now be constructed, allowing also for storage of waste aggregate aimed at local businesses and construction projects.
James Walker, President and CEO of the Company said: "Ares has received significant government backing because of the strategic importance of the mineral to economic security of the United States, and the economic potential of the project."
When in operation, the mine and plant will represent the USA's sole producer of fluorspar.
Canada Fluorspar may learn fate end of May
By next week the market may learn more about the fate of beleaguered Canada Fluorspar Inc. (CFI).
In March 2023 a judge extended bankruptcy protection for CFI until May 31 to allow time to convert a binding letter of intent by the successful bidder into a formal sales agreement.
A new buyer has been apparently selected for the insolvent St. Lawrence fluorspar mine. Documents filed with the Supreme Court of Newfoundland and Labrador by Grant Thornton, the firm overseeing the insolvency process, show that the unidentified bidder intends to restart the mine.
However, according to local press reports, not all former employees are keen to return.
CFI went into receivership in late February 2022 after running out of cash. The company owes roughly C$95m to three secured creditors, nearly C$23m to unsecured creditors, and just under C$10m for capital leases of equipment and machinery (see Canada Fluorspar: new owner & restart on the cards?).
Mineraria Gerrei, Italy: on course for 2024
Mineraria Gerrei Srl is looking to revive the Silius fluorspar mine, in south-east Sardinia, Italy.
The Silius mine first saw activity in mining galena in the early 20th Century, and it was not until the 1950s when attention was diverted to fluorspar production.
Mineraria Silius SpA started fluorspar exploitation at two underground mines: Genna Tres Montis and Muscadroxiu.
Operations peaked in the 1980s with over 500 employees and 450,000 tpa mine output, claimed as the largest fluorspar mine in Europe at the time producing >100,000 tpa acidspar.
However, the Montreal Protocol in 1987 (banning of chlorofluorocarbons (CFCs)) dealt an almost fatal blow to the mine.
Since that time, intermittent operations continued on a smaller scale managed by a succession of entities and local government. The previous operator, Fluorite di Silius Spa, owned the mine from 2007 until its liquidation in 2017.
In late 2022, Mineraria Gerrei completed a first ever 3D survey of the mine. After some bureaucratic delays, mine rehabilitation work was underway in March 2023, and is expected to take around 18-20 months to complete.
The objective is to supply the market initially with 70,000 tpa acid grade. The mine has certified resources for 2.2m tonnes CaF2 and "relevant REE amounts".
Although later than scheduled, full operation is expected at the end of 2024. "We are on the launching pad." enthused Umberto Gioia, Managing Director, Mineraria Gerrei.
Umberto Gioia, Managing Director, Mineraria Gerrei Srl, will be presenting "Rejuvenating the Silius fluorspar mine, Sardinia, Italy" at

Fluorine Forum 2023, Cannes, 16-18 October

.
Kenya Fluorspar revival?
The Kenyan government started proceedings in March to garner expressions of interest inviting potential investors in its efforts to revive Kenya Fluorspar Co., in Kerio Valley, Elgeyo Marakwet county.
A task force appointed by Elgeyo Marakwet Governor Wesly Rotich proposed reopening the mine that was closed in 2016.
The 13-member committee unanimously agreed that Kenya Fluorspar be revived as the government works on a compensation plan for the numerous laid-off workers.
At its peak, Kenya Fluorspar used to export around 100,000 tpa, before scaling down in 2014 and finally closing in 2016. Although some material maybe stockpiled, since it appears that 10,000 tonnes was exported to Germany in 2022.
Formal invitations to a partnership to revive the operation were sent out to selected parties in early May.
Existing infrastructure on site was listed as:
Five "huge mining deposit sites"
A complete processing plant
Tailings storage facilities
Warehouse and stores
Explosives Magazine
Electricity on site plus Backup Generators
33kva power supply from the National Grid
An office Block
Metallurgical laboratory
Assorted machinery, compressors, welding machines, staff quarters and a canteen
Mine maintenance yard and weigh bridges
Australian prospects in Tasmania
In Australia, Mazel Resources Pty Ltd has conducted an exploration drill programme on the Moina fluorspar deposit near Lake Gairdner in north-west Tasmania.
The project is being led by Joseph Gutnick, described in the Australian press as "well known as a mining entrepreneur, a Jewish rabbi and a former president of the AFL's Melbourne Football Club".
Gutnick is developing a number of projects, including a proposed fluorspar, tungsten, tin and magnetite mine at Moina. Drilling at Moina in 2022 revealed "a rich mineral and metal deposit".
In a 2022 interview by ABC, Gutnick said: "By far it's the largest deposit in Australia and could develop into one of the largest deposits in the world with further drilling."
Before any full mining lease can be approved at Moina, Mazel will need to meet requirements from the local council and the Environmental Protection Authority. While the local area is picturesque it does have a long mining history, particularly in tin and tungsten.
Gutnick is also exploring a lithium and tin deposit at Avoca in the north-east, and has a gold mining lease at Bell Mountain near Moina.
The complex polymetallic ore deposit hosted by Cambrian acid volcanics and Ordovician sandstone at Moina has been examined before, by Comalco in the late 1970s-80s, and then by Minemakers Ltd in 2006-07.
As well as fine grained fluorite contained in "wrigglite" in skarn mineralisation, the deposit hosts magnetite, tungsten as scheelite, tin, various sulphides (zinc, bismuth, and molybdenum), minor gold, and garnet.
Past drilling by Comalco revealed a resource of 26.5m tonnes grading 18% CaF2, equating to 4.7m tonnes CaF2.
In their study Minemakers envisaged an open pit with a mining rate of 3m tpa ore yielding 0.4m tpa CaF2 (75% recovery) for 20 years.
The chief reason for the deposit's lack of development to date had been the complex nature of the mineralisation and its impact on developing a suitable and economic beneficiation process to produce acid grade fluorspar.
However, advances in processing technology and market interest may yet give this prospect another chance.
Joseph Gutnick, Director, Mazel Resources Pty Ltd, will be presenting "Australia: a new frontier for fluorspar supply from Tasmania" at 

Fluorine Forum 2023, Cannes, 16-18 October

.
Meanwhile, just 30km south-east of Moina, Elementos Ltd confirmed in March 2023 "significant" fluorite mineralisation detected from a 2022 drill programme at its Cleveland Tin Project.
The company is to continue to evaluate the fluorite mineralisation through field and laboratory programmes, including a downhole and ground-based geophysics programme planned for H2 2023 to further define extensions and targets.
Don't miss out! Book now!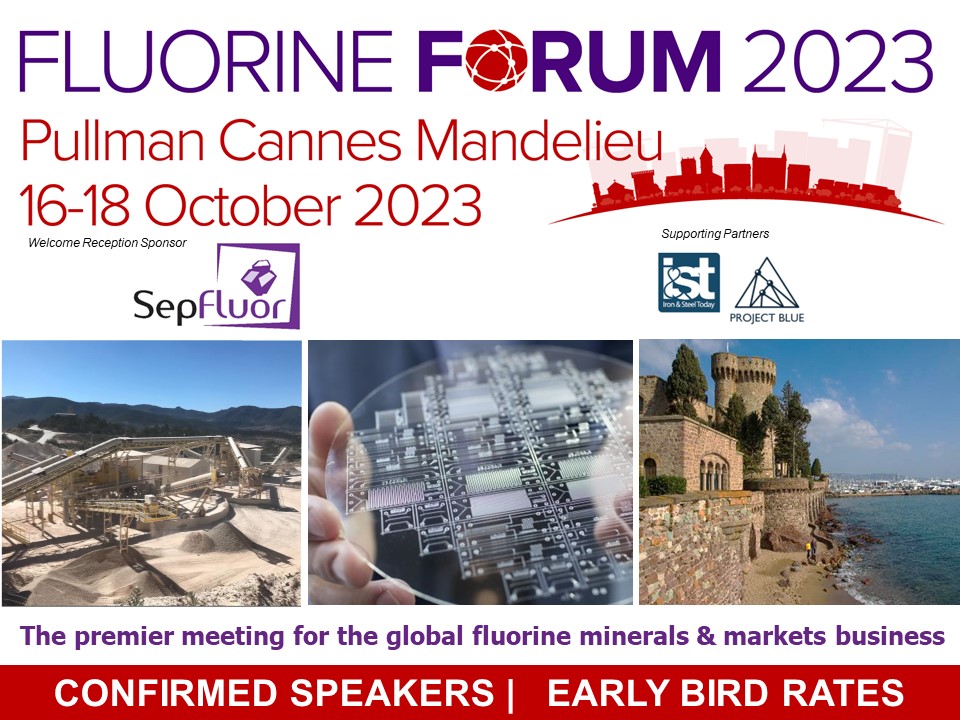 IMFORMED is delighted to announce as Welcome Reception Sponsor