IMFORMED interviews Anıl Sönmez, Chief Executive Officer, Almatis
Almatis is the market leader in speciality alumina products and solutions for the high performance refractory, ceramic, polishing and speciality markets.
In April 2023, IMFORMED interviewed Almatis CEO, Anıl Sönmez, to catch up with recent developments and to assess how the company has responded to recent challenges, and views the market outlook.
Title Image Almatis celebrated the official opening of its fully integrated tabular alumina facility in Falta, India, in November 2022; Anıl Sönmez, CEO, Almatis: "We have seen that India is taking a big leap forward, which will result in a larger market growth, and increase refractory material demand. Much of the growth in the region must have certificates to the 'Make in India' initiative, thus encouraging full domestic supply chains. The plant in Falta is Almatis' response to this call". Courtesy Almatis.
"Our mission is to be the partner of choice in high performance alumina-based products. Therefore we focus strongly on strategic values such as customer-centricity, innovative and sustainable products, operational and quality excellence, and employee health and safety. Proudly, in 2022 Almatis achieved record employee health and safety statistics." said Sönmez.
With over 1,000 employees worldwide, Almatis operates nine industrial sites and six application and development centres. Dedicated manufacturing facilities are located in each major market region to meet market demand (see panel below).
Specific global products are produced in every region to secure quality and ensure supply to global customers. Almatis' unique global operational network allows its customers to source the same product and product quality in each region of the world.
Sönmez commented: "It is our mission to maintain reliable supplies to customers in all major regions. In November 2021, we inaugurated our tabular alumina plant in India in line with our corporate philosophy of being close to our customers.
This was a significant milestone showing Almatis' commitment to being a reliable supplier and partner to the success of our customers in the region. In order to ensure the region's continued growth, we aim to provide extensive services to the Indian refractory and steel industry.
We are therefore proud to state that the market reacted strongly to this expansion and we operated nearly the entire 2022 year at full capacity."
Can you provide a brief description of the overall role/mission of Almatis?
We recently reviewed our Mission, Vision and Values to better reflect our fit-for-future position and eagerness to advance into to new markets. We re-stated our Mission to the "the partner in high performance alumina" and our Vision to "innovate alumina and beyond, for tomorrow."
We are committed to be the market leader for alumina-based products and solutions, starting with our determination to maintain our leadership position in tabular alumina, calcined alumina and high alumina cements.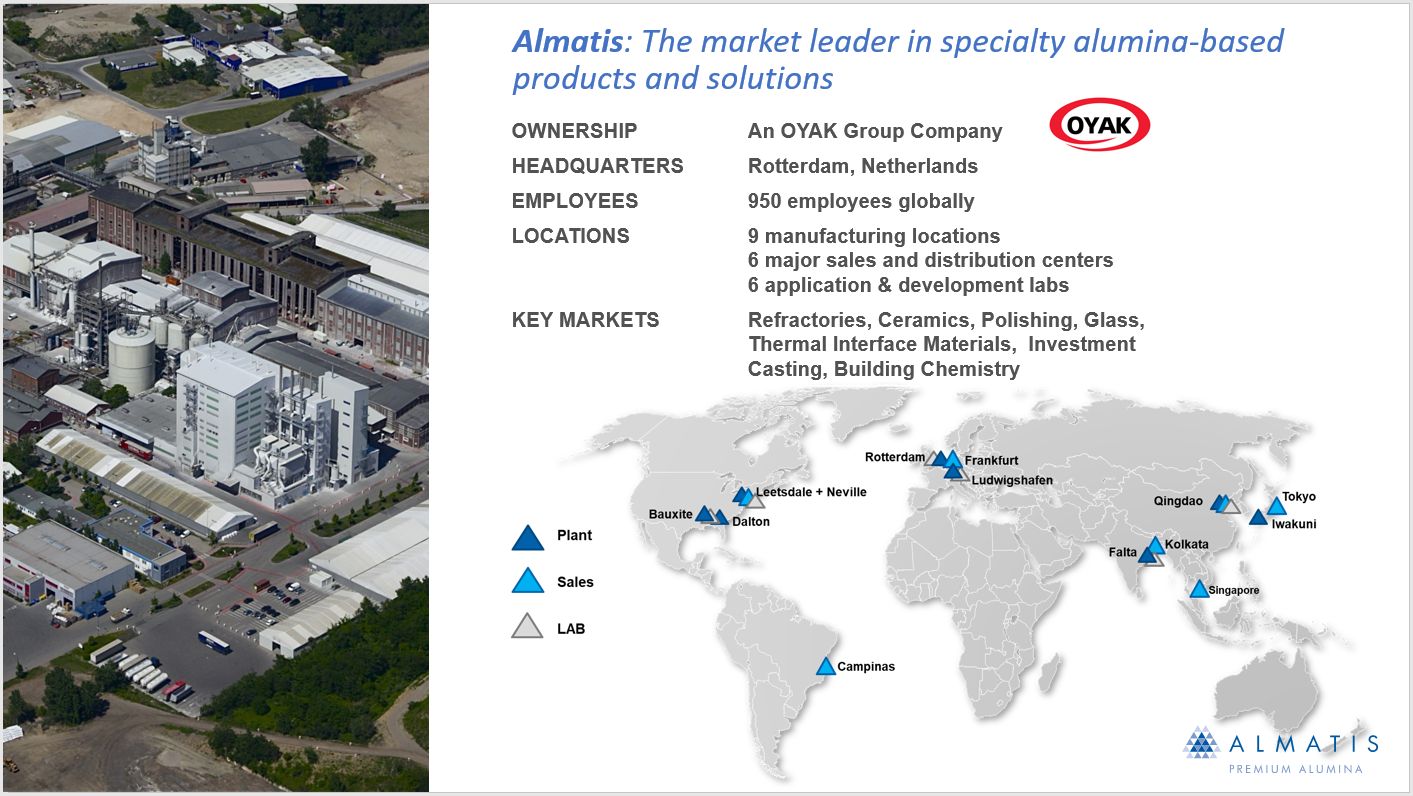 What should we look out for in the next five years?
The next five years may be somewhat of a mystery, however we should look into history to gain an advantaged look into the future.
The last five years have been truly incredible…2017 and 2018 were years of strong demand and most all raw material suppliers could not keep up with demand. This was followed in 2019 by a slowdown in demand and some regions hinted at recessionary conditions.
2020 started out with some recovery until the COVID pandemic stopped everyone and reminded us not only how precious and fragile life is, but also how critical our people are to our businesses.
2021 and 2022 had a recovery unlike anything we've witnessed and highlighted what happens to global supply chains when the economies all expand simultaneously and most companies have supply dependencies within China.
Altogether, at least 3.5 of the last five years have been under conditions where demand far exceeds supply and the other 1.5 years were the exact opposite.
We expect the next five years to be slightly less eventful than the last five years. We do not expect supply chain conditions to be anywhere near as drastic (and expensive) as they were.
However we are concerned that supply chains will again revert to their "old ways" and perhaps even overly so. Logistics rates drive much of global competitive and B2B behaviours, and to that end rates between North American and Europe need to be lower or else the "old ways" will be even more dominant than before.
Markets change over time, and we expect the steel and refractory markets in India and South East Asia to continue to grow, while the market in China remains stagnant. That will continue until construction and housing come into balance.
The European market is unfortunately shrinking for steel and refractories, but the ceramics market remains stable. North America and south America benefit slightly in steel and refractories, and further are benefitting in the ceramics market as manufacturing and subsidised "green" investments increase.
How does Almatis meet the three primary challenges of sustainability, recycling and energy transition?
Almatis has announced Mission NeutrAL as our sustainability program. Our mission is to deliver the lowest carbon footprint to our core markets and we have outlined a long term strategy to achieve it.
Mission NeutrAL has three main pillars: our Ambition (our mission), our Commitment (our targets) and our Transparency (regular reporting). Through these three pillars, we will achieve Success.
As part of Almatis Mission NeutrAL, we have focused on six material topics areas: Occupational health and safety, Energy and GHG Emissions, Environmental Performance, Employer Attractiveness, Supply Chain Management and Innovation and RandD.
We have already started communicating our verified Product Carbon Footprint to our European customers. Our tabular alumina has been verified at up to 2.5 times lower carbon footprint compared to competitive products in Europe. This is being expanded to our global operational portfolio and we should have 95% of our product carbon footprints completed by the end of 2023.
This transparent information exchange allows our customers to understand their Scope 3 carbon footprint and in almost all cases they have found that our values significantly reduce their calculated carbon footprint.
Mission NeutrAL also projects Scope 1, 2, and 3 reductions through use of green electricity, bio-fuels and evaluation of hydrogen conversion technologies.
We are actively pursuing these material topic areas to reduce our corporate and product carbon footprints, not just for our customers and markets, but also to benefit our 1,000 employees…so they also can be proud that the company and site they work for takes active care about sustainability and the environment.
I also want to mention that Almatis was recently awarded the Gold Medal by EcoVadis Sustainability Rating.
The innovative DNA ingrained in our more than a century-old history drives us to explore new markets and applications. Our global operational network is envisioned as a major player in the thermal conductivity industry, which promises to carry the next generation of technological advancements.
Our research and development teams are working on wide-ranging projects to examine the use of recycled materials in ceramic, polishing, specialities and refractory applications. There are many recycled products available on the market now, however many of them are not suitable to use as-is and require investments for refining.
We are working to understand how to use of different processing methods in order to utilise these materials. We have long incorporated a zero-waste approach into all of our alumina production processes and are actively recycling and re-using by-products as well as implementing closed circuit water cycles in our operations.
We are working on new aggregate materials to benefit the refractory industry. These new product developments are promising to not only help our customers save energy, but also the reduce their respective carbon footprints.
We have committed that 70% of our development portfolio will have a sustainable advantage over incumbent materials, which will lead to next generation products that not only perform better in their applications, but also perform better for the environment.
China & India: how do you see the market for aluminas evolving? Do you expect an increasing trend for western consumers to move away from reliance on Chinese supply?
It is evident that the refractory market in Asia will continue its steady growth mainly due to continuous need for steel. China has always been a growth driver, but this is changing and India is becoming the growth area for steel production.
The South East Asia market is also very interesting for growth prospects in the future years, and as supply is available from India, this may compete strongly with Chinese supplies in that region.
Following the Covid-19 pandemic, there was a significant raw material supply crisis, severe logistic congestions and a paradigm shift in the global philosophy of supply chain management.
This question closely relates to our outlook for the next five years, as many markets were strongly dependent on Chinese supplies. Regionalisation of material supply must now be embedded in all industries' strategic decision-making processes.
Normalisation in the global economy and geopolitical conflicts may eventually slow down the momentum, but the phenomenon is not likely to disappear in a foreseeable future. Decreased reliance on specific regions or countries for raw material sourcing is now a necessity, as history will inevitably repeat itself (again).
We have seen that India is taking a big leap forward, which will result in a larger market growth and increase refractory material demand. Much of the growth in the region must have certificates to the "Make in India" initiative, thus encouraging full domestic supply chains.
The tabular alumina plant in Falta is Almatis' response to this call, and it is fully equipped to meeting the increasing demands, as well as contributing to the development of the Indian economy and customers in the region.
At Almatis, we still believe that our global footprint is our strength. We have established operations in critical regions that are ready and able to supply customers with short lead times.
Our global operational footprint allowed us to deliver quality alumina products throughout the global crisis and will continue to allow reliable supply of material anywhere, anytime, every time, no matter what new challenges are faced in the industry.
The refractories market is one of the most important sectors: any recent/developing trends that are impacting demand for aluminas in this sector and how is Almatis responding?
A combination of increasing material and sustainability demands is driving remarkable changes in the steelmaking industry.
Almatis has been taking an active part in public sponsored projects jointly with other industry members to develop refractory solutions for sustainable steel production.
By utilising refractory solutions for Direct Reduced Iron (DRI) based steel production, carbon emissions can be reduced dramatically even today as an alternative to blast furnace route.
The continued development of hydrogen as a clean process will lead to an increase for alumina need even more than today.
We are also observing a shift from basic refractories to acidic refractories. Use of high alumina raw materials instead of magnesium oxide-based raw materials in these new processes has a great potential to reduce the CO2 footprint of refractory producers and the end users such as the glass and steel industry.
A gradual shift from bricks to monolithics in refractory linings also offers potential to reduce CO2 footprint.
All of these changes can be supported by Almatis' proven expertise in subject matter and its extensive product portfolio geared towards the refractory applications, while also addressing the needs of our industry partners product innovations.
How is the performance of Almatis' other markets, such as ceramics, polishing powders, flame retardants, building chemistry, glass?
The future is prone to great technological advancements in the thermal interface, electric vehicles and telecommunications markets, and with its global operational footprint, recently developed products and launched products for those markets in each region.
Almatis expects to participate in over-proportional growth in these fields as we are positioned to provide global products with regional supplies.
Our new ThermaFill series enables our customers to develop next-generation thermal interface materials with lower viscosities and higher thermal conductivity. In these applications, alumina still gives the best price/performance ratio.
Our new products launched in 2022 demonstrate our commitment to deliver innovative solutions. Almatis ThermaFill series for thermal interface applications, our TR150 crystalline silica-free calcined alumina series for industrial polishing, Extra low soda (XLS) and Ultra low soda (ULS) products for high-end technical ceramics, and the commissioning of our wet mills show our consistent and committed presence in strategic markets despite the challenges in the global economy.
---
If you enjoyed reading this article…

…and like the idea of an objective, well-written and researched article about your company or products…

Why not let IMFORMED's experience in writing and reach in markets assist your business going forward.

Perhaps you are pursuing new markets, launching new products and innovations, or just need some profile as you recharge or emerge onto the market?

Please feel free to discuss ideas, options, needs.

Contact: Mike O'Driscoll, Director, IMFORMED
mike@imformed.com
T: +44 (0)1372 450 652; M: +44 (0)7985 986255
;