Magnifin/Huber | Magnor (RHI Normag) | TIMAB/Mag. do Brasil | Brucite+ | Premier | FromMag | Delamin/Morgan
As we progress mid-way through the second quarter of 2021, magnesia markets are showing signs of recovery while there has already been a fair bit of change in the corporate landscape as players seek the optimum strategy to emerge successfully from this pandemic-hit period.
Here we highlight some of the main developments in the industry outside China.
And while we all can't wait to start travelling and meeting up in person again as soon as we are able, in the meantime IMFORMED remains determined to provide an alternative platform for magnesia market knowledge sharing, discussion, and networking. So please join us at our upcoming MagForum 2021 ONLINE 29-30 June – Early Bird Rates end Monday 17 May.
Title Picture: Big Brucite Country: The Kuldur brucite mine of Brucite+ which produces about 450,000 tpa of crude ore; the new Savkinsky deposit, claimed to host some 29m tonnes brucite reserves, is expected to come into production in early 2025. Courtesy Brucite+
Find out the latest trends & develoments with magnesia supply and demand at

RHI Magnesita to sell 50% stake in Magnifin to Huber
RHI Magnesita (RHIM) is to sell its 50% shareholding in Magnifin Magnesiaprodukte GmbH & Co. KG, the Austrian high grade magnesium hydroxide (MDH) producer, to its joint venture partner J.M. Huber Corp.
RHIM determined that Magnifin was not core to the Group's growth strategy and signed a sale and purchase agreement with Huber for a cash consideration of €100m. The disposal is subject to Foreign Investment Control approval in Austria and is expected to complete in the second half of 2021.
The sale strengthens Huber's MDH portfolio. The US group originally acquired its 50% ownership interest in Magnifin as part of the purchase of Martinswerk from Albemarle in 2016.
Located in Bergheim, Germany, Martinswerk became part of the Huber Engineered Materials (HEM) Fire Retardant Additives (FRA) strategic business unit (SBU), which produces a wide range of halogen-free products for flame retardant and smoke suppression applications and aluminium oxides.
Magnifin has been producing and selling premium MDH products since 1991, and also produces magnesium oxides, sodium silicates, and active silica.
Feedstock raw material is serpentine which is mined and refined 40km west from the Magnifin plant at Breitenau, Austria.
Processing the serpentine into magnesium oxide and silicic acid is carried out in the MgO unit. The MgO unit employs a closed hydrochloric acid recycle process whereby the hydrochloric acid is recovered and not released to the atmosphere. In 2005-2006 the capacity was doubled to 20,000 tpa MDH.
Magnifin® coated and uncoated MDH grades are used in a wide range of polymer applications, especially thermoplastic materials and elastomers requiring high processing temperatures in excess of 300°C.
Typical flame retardant applications include energy and LAN (local area network) data cables, automotive wire and cable, engineering thermoplastics (eg. connectors) and construction foils.
On 28 January 2020, Magnifin announced approval of preparatory work for the construction of a second production site to meet growing global demand for high purity, halogen-free MDH fire retardants.
According to Roskill, the global market for MDH in flame retardants was estimated at around 185,000 tpa in 2020.
Meanwhile, for Q1 2021, RHIM reported that "revenue momentum continued to improve" in both its Steel and Industrial Divisions as end markets strengthened, and especially in the cement and lime business "which experienced a solid Q1 maintenance season".
RHIM expects to see steady month-on-month improvement in refractory demand for the remainder of 2021. "Demand visibility is returning to more normal levels, with customers' order books now full until the third quarter of 2021."
Magnor Minerals (ex-RHI Normag) to close
Concerning the fate of another very recent RHIM divestment: having just received what was expected to be a new lease of life with its sale from RHI Magnesita to Callista in February 2021, Norwegian seawater magnesia producer, Magnor Minerals AS (formerly RHI Normag) now looks set to cease operations.
Norway's business newswire E24 reported 29 April 2021 that it had been informed by Magnor Minerals general manager Jan Petter Hestvik that all 50 of its employees at the Porsgrunn plant were to be laid off.
There is to be a controlled closure of the operation, which, if unsuccessful will then lead to filing for bankruptcy. The company had lost a total of NOK56m(US$6.7m) in five years up to and including 2019.
Earlier this year, as part of its planned divestment of non-core assets (along with Magnifin above), RHI Magnesita completed the sale of RHI Normag, Norway, and Premier Periclase Ltd (PPL), Republic of Ireland, to Munich-based Callista Private Equity GmbH (for full details see Speciality magnesia markets targeted by Callista with RHIM assets buy).
Apparently, according to general manager Jan Petter Hestvik, "It has proven to be demanding and the board sees no other alternative than closure." No doubt PPL is hoping for a better outcome as it pursues market opportunities under its recently gained "independence".
So, a European seawater magnesia operation potentially for sale? There are now very few seawater magnesia producers remaining worldwide.
Magnor Minerals has a production capacity of 70,000 tpa CCM and other products for a range of markets manufactured from seawater and feedstock dolomite sourced from Hammerfall in northern Norway.
Timab Magnesium acquires 100% of Magnesium do Brasil
In March 2021, having maintained a 50% equity share since 2013, TIMAB Magnesium, part of Groupe Roullier, accelerated its growth strategy with the 100% acquisition of CCM and DBM producer Magnesium do Brasil. Mateus Freire has been appointed as CEO of Magnesium do Brasil.
"This acquisition is fully consistent with our strategy of securing access to raw materials, geographic growth and the marketing of innovative and original products", said Gilles Le Jean, CEO of TIMAB Magnesium and Head of the Groupe Roullier Magnesia Division.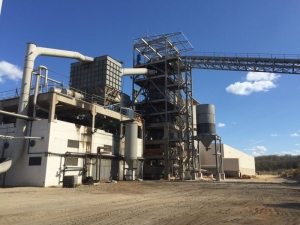 Headquartered in Fortaleza, Magnesium do Brasil operates a mine and processing plant at Jucas in Cearà state, Brazil, and has a production capacity of 90,000 tpa CCM.
In 2017, the company commissioned a new 30,000 tpa DBM vertical shaft kiln (see right) and 36,000 tpa refractory mixing plant at Jucas.
Groupe Roullier also owns magnesia and refractories producer Magnesitas Navarras, Spain.
Brucite+ progresses 29m tonne deposit exploration & plant upgrade
Russian Mining & Chemical LLC, branded as Brucite+ since early 2020, continues to carry out geological exploration at its Savkinsky brucite deposit in Russia's Far East as part of its multi-stage exploration and development project plan.
By March 2021, some 16,500 metres of geological exploration and 780 metres of hydrogeological wells were drilled, with 13,500 geological samples analysed.
Located in the Jewish Autonomous Region, of the Russian Far East, 110km south-west of Birobidzhan, a preliminary assessment of the resource base of the deposit showed that "geological reserves" of the deposit amounted to 29.4m tonnes of brucite.
Research is ongoing in preparation for the development of a feasibility study for temporary exploration, with production of the Savkinsky deposit anticipated in early 2025 (for more details see RMCC Russian brucite project progress: Asian magnesium hydroxide markets targeted).
Meanwhile, the company has been upgrading the processing complex of its Kuldur mine, which includes installation of modern crushing and sorting equipment, and introduction of X-ray transmission (XRT) beneficiation.
XRT separation is able to check product quality not only by the surface properties of the material, like XRF does, but also inside the sample. Tests have shown that using XRT separation it is possible to obtain high-quality brucite products with an MgO content of 64-66 %; CaO <1.5% ; SiO2 <1.5-2.0 %, even from low-grade products.
The new plant will operate in an experimental-industrial mode from October 2021, and will switch to industrial use from January 2022.
RMCC, established in 2002, is already producing about 450,000 tpa brucite ore from exploiting the Kuldur deposit, in the same region, hosting >8m. tonnes brucite.
The company is headquartered in Moscow, with a 180,000 tpa processing plant at Vyazma, Smolensk, which opened a new polymer laboratory in March 2021.
European marketing and distribution is facilitated by Europiren BV, Rotterdam, founded in 2013, which also has a research laboratory.
In early 2020, RMCC joined forces with Quimialmel to process its brucite at Castellón de la Plana, Spain.
Premier Magnesia plans $4.5M Epsom Salt expansion
Premier Magnesia LLC is planning to invest $5m in its Giles Chemical Division to expand two magnesium sulphate (Epsom Salt) facilities in Waynesville, North Carolina, according to local news reports late April 2021.
Premier is planning to spend $4.5m to expand its Lee Plant Road facility, and $500,000 on another existing facility on Commerce Street. The company is currently seeking economic incentives from Haywood County to move forward on the project.
Interestingly, the Giles Chemical story started in 1950 with John Giles mining olivine deposits in the North Carolina mountains for magnesium. This proved uneconomic, and he switched to manufacturing magnesium sulphate from seawater magnesium oxide sourced from Florida, and then sold to local tanneries.
Giles opened up the plant in Waynesville in 2003, and in 2007, Giles merged with Premier Magnesia, which has since supplied Giles with magnesia from its Gabbs, Nevada operation. Giles Chemical Division also operates a plant at Greendale, Indiana.
In other news in the US salt market, on 10 May 2021 K+S AG completed the sale of its Americas salt business to Stone Canyon Industries Holdings (SCIH), Mark Demetree and partners for US$3.12bn.
The K+S Americas operating unit mainly comprises K+S Chile, formerly known as the Chilean company SPL, acquired in 2006, as well as Morton Salt (USA) and K+S Windsor Salt (Canada), acquired in 2009.
German processing plant developments
Two further moves have materialised among Germany's magnesia processing sector following Possehl Erzkontor's acquisition of Mineralmahlwerke Hamm in October 2020 (see Mineral trader transformation: Possehl Erzkontor on mission to fully integrate by 2024).
In March 2021, FromMag Processing GmbH was established as a joint venture in Duisburg between Fromberger Group and Normag GmbH.
Fromberger, established 50 years ago, and Normag supplying industrial minerals since 2002, brings together a strong collaboration in expertise in trading and processing services.
Normag GmbH was initially established as a merger between Hong Kong Great Wall Trading Development Ltd's business in Europe and Germany's CITIC Europe Resources GmbH, aiming to develop magnesia trade before expanding to supply a range of refractory minerals.
Also, from 1 April 2021, FromMag Processing acquired refractory minerals processor Mineralmahlwerk Rhein Ruhr (MMRR), also based in Duisburg.
Delamin magnesia to Morgan Advanced Materials
On 1 March 2021, Delamin Ltd announced that Morgan Advanced Materials Plc had purchased the Delamin magnesium oxide business, including the Delamag™ brand.
The Delamag™ brand, though owned by Morgan, will continue to be managed by Phil Coates, who has established Hanbury House Consulting Ltd, following the sale of Delamin's magnesia business to Morgan.
The Delamag brand will sit with the Morgan Seals & Bearings division which has pedigree in production of high quality magnesium oxide materials.
Also presenting at MagForum 2021 ONLINE

Raw material vertical integration in RHI Magnesita & development of processes to reduce CO2 emissions
Thomas Froemmer, Vice President Mining Head of Raw Material Support & Andreas Drescher, Program Manager Carbon Reduction RHI Magnesita, Austria
Global trade and demand for dead burned and fused magnesia
Alison Saxby, Director Operations, Roskill Information Services Ltd, UK
Bel Mag Project: The future of the magnesium industry in the digital wave, Industry 4.0
Salvelino Nunes, Technical Manager, Buschle & Lepper SA, Brazil
The magnesia industry in transition to low-carbon energy utilisation
Vasili Nicoletopoulos, Managing Director, Natural Resources PC, Greece
Benchmarking magnesia production costs
Nicolás Gangutia, Managing Director, Ganmag, Spain
Review of magnesite industry in Liaoning, China
Shiying Jia, Director-Magnesia Research, Replus Business (UK) Ltd, UK
Refractory market trends, developments, & outlook
Ted Dickson, Consultant, TAK Industrial Mineral Consultancy, UK
Development of Dolofrit® refractory products
Oleksii Matviichuk, Senior Manager Market Development, Lhoist Western Europe, Belgium
CO2 sequestration using olivine
Pol Knops, CEO, Green Minerals, Netherlands
Synthetic MgO from non-magnesite sources by a HCl process route
David Konlechner, Owner, KON Chemical Solutions e.U, Austria