Refractory mineral processor MMW Hamm acquired by Possehl Erzkontor
World leading industrial mineral trading company Possehl Erzkontor GmbH & Co. KG is on a mission to transform itself through diversification and verticalisation into "an integrated end-to-end provider of raw material solutions" by 2024.
Title picture Trading up: Dead burned magnesia being loaded in big bags for export at Bayuquan port, Liaoning, China, one of Possehl Erzkontor's primary traded minerals; Inset pictures Destination MMW Hamm: processing plant and discharge of vessels in the heart of the Ruhr area, Germany. Courtesy Possehl Erzkontor, MMW Hamm
Despite the challenges of the Covid-19 pandemic on mineral supply chains and consuming markets, Possehl Erzkontor, headquartered in Lübeck, Germany, and handling almost 1m tpa minerals, has spent much of 2020 gearing up for perhaps its most dynamic transition since acquisition by CREMER in 2014.
In February, Possehl Erzkontor appointed a new CEO, Jan Weber; in July the company announced it was taking first steps of its newly launched "Road#2024PLUS" strategy process; and most recently, in October, Possehl significantly expanded its mineral processing capabilities with a majority stake in major German refractory mineral processor Mineralmahlwerk Hamm GmbH (MMW).
And for those industry analysts and media reporters having endured decades of finding little or no joy in news and comment flow from Lübeck, the company's April 2020 announcement "Possehl Erzkontor goes Social Media" will have shaken more than a few out of their lockdown languor. Welcome to the new Possehl Erzkontor.
MMW Hamm adds mineral processing & recycling capacity
This latest chapter in the long history of Possehl Erzkontor's industrial minerals business may also be viewed somewhat as a rebuilding exercise for the trading arm.
A highly respected global mineral trader since 1915 with offices and subsidiaries worldwide (see chart), when formerly part of the original and wider group L. Possehl & Co. mbH, the trading arm Possehl Erzkontor was originally associated with several mineral processing subsidiaries (more details later).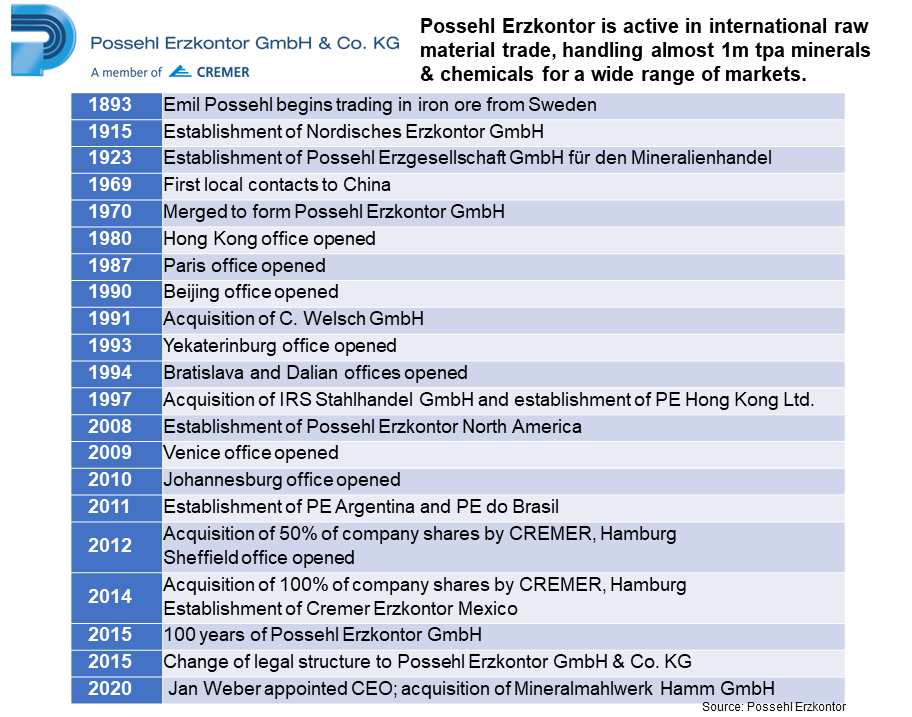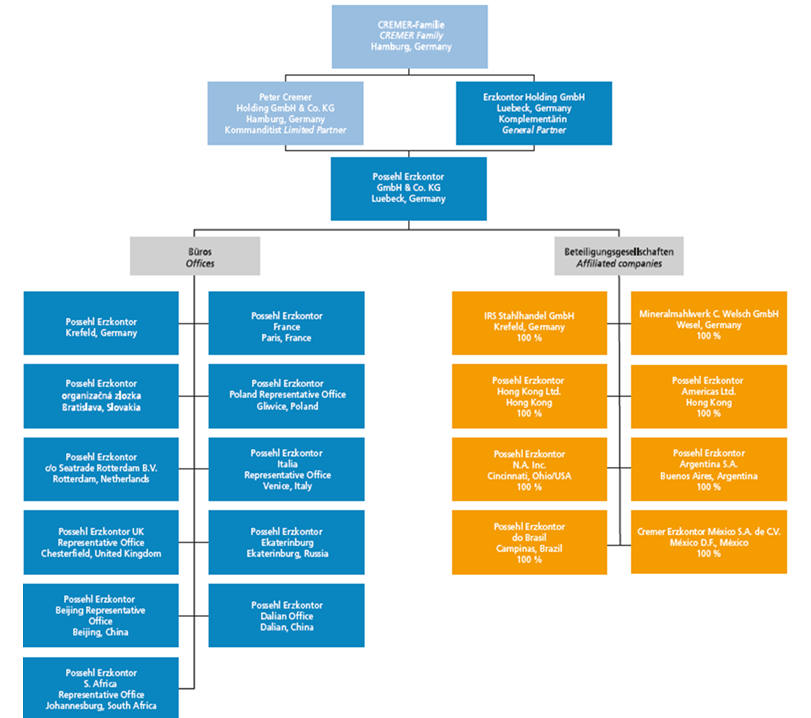 However, from 2007 culminating with the move to CREMER, Hamburg, 2012-2014, these assets were gradually divested, leaving Possehl Erzkontor with just one processing unit: Mineralmahlwerk C. Welsch GmbH, acquired in 1991.
Mineralmahlwerk C. Welsch is located near the Rhine port of Wesel, Germany, with nine production lines offering a processing capacity of 50,000 tpa handling a range of minerals including activated carbon, bauxite, chromite, graphite, iron oxide, magnetite, manganese ore, silicon carbide, and zircon sand.
Thus, alliances and partnerships with independent processors became the trend, such as with MMW Hamm, which also occasionally purchased raw material from Possehl Erzkontor.
A more recent example in May 2020 was with Arcillas Refractarias SA (ARCIRESA), Spain, signing a contract for a co-operation in Europe for calcined bauxite (Bauxstar90): imported raw from First Bauxite LLC's new operation in Guyana and calcined at ARCIRESA's plant near Oviedo, Asturias. First Bauxite commenced its first bulk shipments in July 2020 (see Guyana bauxite newcomer starts bulk shipments).
But late October 2020 saw Possehl Erzkontor significantly reinforce its processing capabilities by acquiring a majority share of MMW Hamm.
"We no longer want to just be a commodities trader for our customers, but also generate more value for them. By adding Mineralmahlwerk Hamm, we are broadening our portfolio and can now offer a full-service package from sourcing to financing, trade and logistics, right up to processing and distribution", said Jan Weber, CEO.
Established in 1961, MMW Hamm is focused on the production, processing and recycling of mineral raw materials, particularly dead burned magnesia, sourced worldwide utilising three primary crushers and seven processing lines to produce 180,000 tpa raw materials.
MMW Hamm is equipped with dryers, modern screening machines and ball mills and has a total operating area of 70,000 sq metres, of which 50,000 sq metres is used for the storage of minerals, and 20,000 sq metres of the storage areas is covered.
MMW Hamm is a leading supplier of processed refractory minerals for European markets. The main volume minerals processed at MMW Hamm are magnesite (dead burned magnesia, fused magnesia) and aluminosilicates (eg. bauxite, mullite, andalusite, flint clay), but also olivine, dunite, and cement. A mixing station is available to provide magnesia masses to the steel industry.
Most raw materials are delivered by barge via the Datteln-Hamm Canal. It takes about one and a half days for a barge to travel the approx. 300 km from Europe's key northern seaports to Hamm.
Possehl Erzkontor serves a range of industrial minerals markets, but is very strong in the refractories sector, so MMW Hamm appears a good fit.
The move gives Possehl Erzkontor an advantageous logistical platform among the steel and foundry refractory consumers of the important industrial Rhine/Ruhr region, as well as bolstering its market share in European refractory mineral supply, especially in magnesia.

"I am very pleased to have found a good successor for our family business in Possehl Erzkontor", said Stefan Frevel, former CEO and shareholder of MMW Hamm. "We are linked to the Lübeck trading company through a long and trustworthy collaboration. We are convinced that Erzkontor will continue the business following the vision of our family."
Not included in the deal is HAG Trading & Processing Co. for Minerals mbH, an independent family company set up in 2012 which processes some 100,000 tpa chrome ore.
The HAG plant, located adjacent to MMW, has a state-of-the-art fluidised bed dryer, as well as a modern screening machine with 20,000 sq metres raw material storage and 4,000 sq metres of covered storage space.
Stefan Frevel took over management of the MMW Hamm and the majority share in the company in 1998. The Frevel family will continue to manage HAG and develop its chromite business.
Key employees of MMW Hamm are expected to get important and essential roles in the group organisation.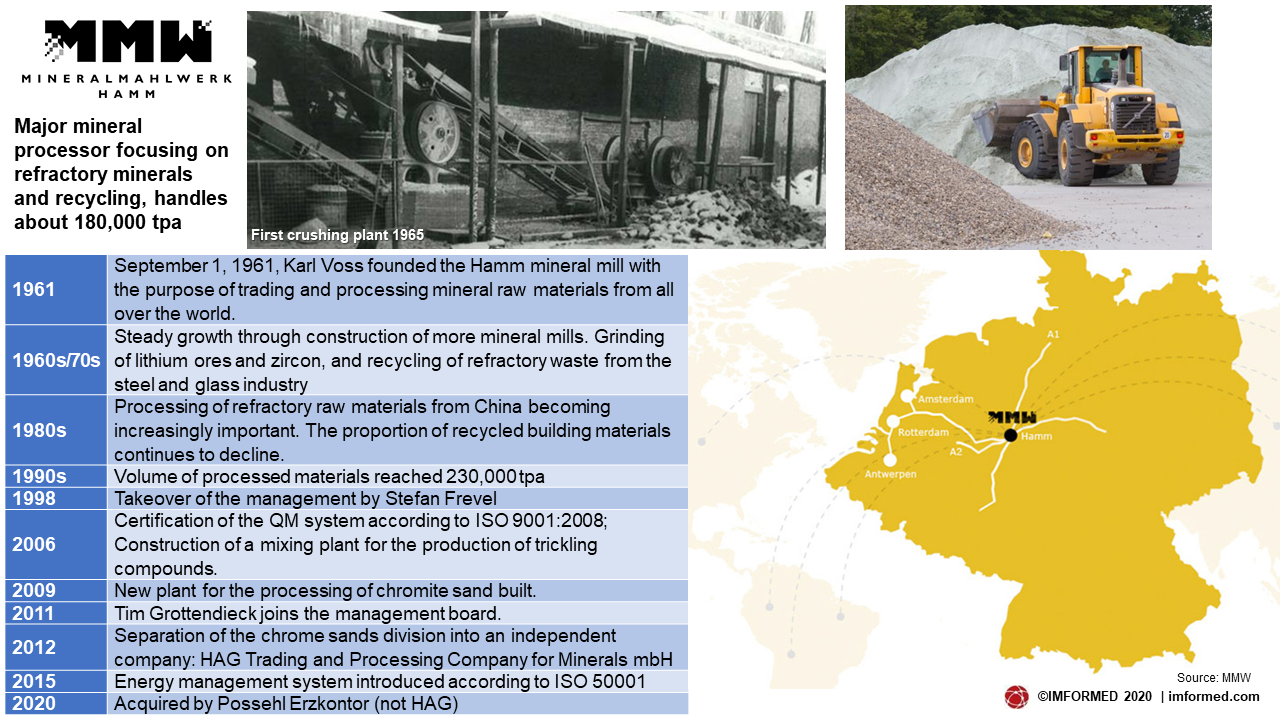 "Recycling in refractories will become a game changer in the future"
A key element of Possehl Erzkontor's new strategy is to increase its recycling activity. "MMW Hamm is also active in the processing and recycling of raw materials – a field that we are expanding in and wish to explore more strongly", said Weber.
MMW Hamm processes a range of recycled materials including spent refractories from the steel, glass, and foundry industries, iron ore, chamotte, magnesia, and silicon carbide.
Ellen Steger, Director Sales/Supply Chain Management, MMW Hamm said: "Recycling has grown in importance when talking about sustainability. We have seen years with sharp price increases for virgin raw material, and that is when recycling material becomes an important part of 'the bouquet of raw materials available'".
Weber commented: "We [Possehl Erzkontor] are already today running some recycling activities. In the new organisation which we announced lately after the strategy, one division will focus on Sustainability in different industries. Personally I believe recycling in the value chain of refractories (and other industries) will become a game changer in the future as certain rules and guidelines will be set to consider such value in a serious manner."

Possehl Erzkontor's new CEO & future strategy
In February 2020, Jan Weber was appointed the new CEO at Possehl Erzkontor GmbH & Co. KG, taking over from Anthony Cremer, who has joined the advisory board of CREMER. Erzkontor has been a part of the family company since 2012 (see chart).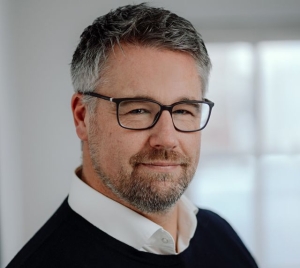 Weber brings both logistics and minerals experience to Erzkontor. He was formerly CEO and chairman of the logistics service provider Meyer & Meyer SE & Co. KG in Osnabrück. Prior to that, from 2000 he worked at Nordkalk Corp., Finland, a leading lime producer in Europe, eventually becoming Chief Operating Officer and member of the management board.
Working with the Erzkontor management team Weber has developed the future strategy of Possehl Erzkontor under the motto "ROAD#2024PLUS".
Weber explained: "We defined a strategy for the coming five years. Verticalization and diversification have been defined as focus areas in the strategy. This is in order to maintain and develop our position in the market, and as part of the CREMER portfolio. We will act within four divisions: Refractory & Steel, Industry, Sustainability, and Chemicals in four regions (Europe, North America, Latin America and Asia & Middle East) and be ready to grow our presence in interesting and growing markets."
In taking over MMW Hamm, Possehl Erzkontor has taken the first step along the way to become an integrated end-to-end provider for raw materials, a journey scheduled to be completed in 2024.
On the prospects of further expanding its processing assets, Weber said: "As verticalization is a 'must win battle' we will further evaluate opportunities and be ready to invest."
Possehl Erzkontor's processing full circle?
Those industry observers with long memories may be forgiven for thinking: "Hang on a minute, but didn't the Possehl Group once have a bunch of mineral processing companies?"
And the answer is "Yes they did"; but it must be remembered that this was when Possehl Erzkontor, the trading arm, was within the wider holding company L. Possehl & Co. mbH. By the time CREMER acquired Possehl Erzkontor in 2012 (50%), then 2014 (remaining 50%), only the Wesel facility remained, with stakes in the other processing assets divested.
Exceptions are the iron and steel waste recycling processor Possehl Kehrmann GmbH, Germany, which became PK Rohstoffe GmbH and remained with L. Possehl & Co., as did silica sand and quartz producer, Euroquarz, acquired in 2010.
Processing companies in which the Possehl Group had an interest up to 2011 included: Van Mannekus & Co. BV and MAF Magnesite BV,  both in the Netherlands; Steinsvik Olivin AS, Norway; and Tianjin Huade Mineral Product Co. Ltd, China (see chart).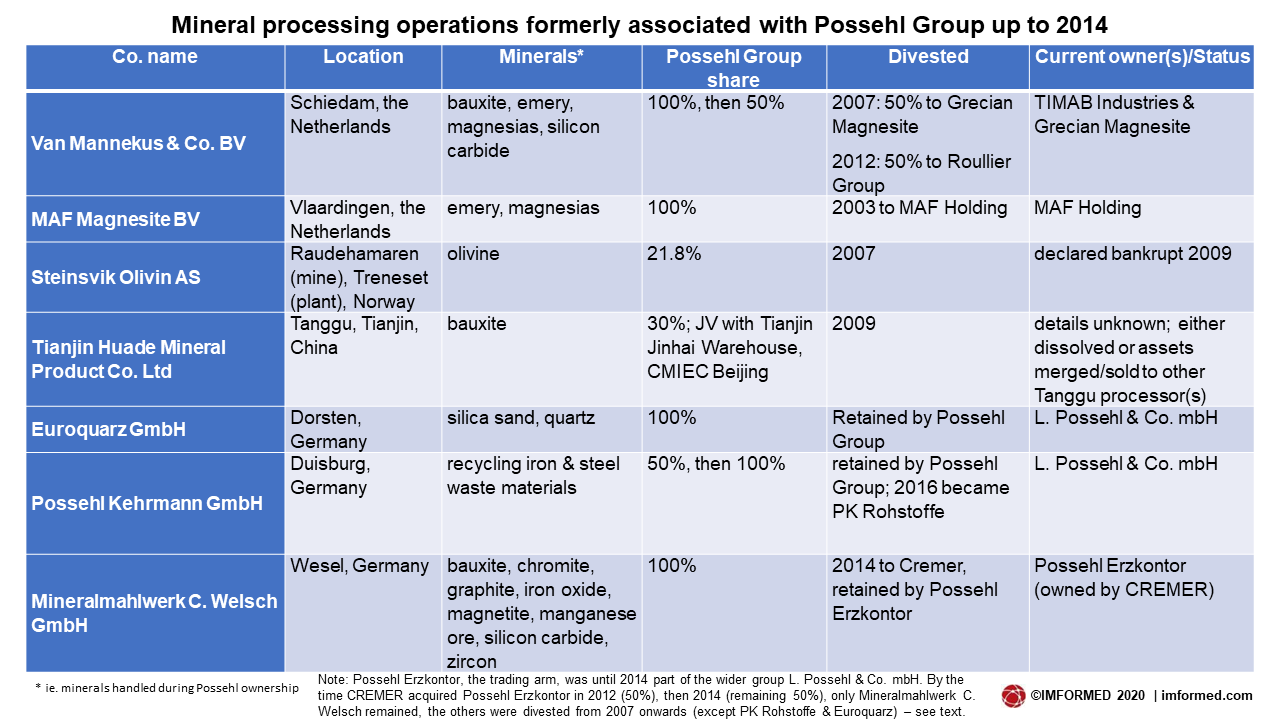 Survival strategies for mineral traders: have we reached another milestone?
What's clear is that under CREMER and a new CEO, Possehl Erzkontor is now rejuvenating, and perhaps unsurprisingly is finding the need to rebuild its processing capacity capability to meet its new strategy objectives.
On the MMW Hamm acquisition, Weber told IMFORMED: "The transaction is the first step to develop the value we are going to offer to our customers. The mineral markets as well as the structure and environment of the trading business has changed during past 3 to 5 years. Having manifested our role along the whole value chain the benefit for the customer will grow."
The role of traders in the industrial minerals supply chain always comes under review from time to time, and is most often prompted by a major sea change or event impacting the industry in general.
Perhaps the last such dramatic transition occurred in the early- to mid-1990s when a combination of the promise of large volumes of low cost minerals from China coincided with high value demands from western consumers and, crucially, an opening up of conducting more business inside China by western companies (followed by other mineral source countries in East Asia).
This included the hot trend of western mineral traders rushing to establish port-based operations to semi-process and add value to increasing volumes of exports (previously mostly in crude lump), as well as initiate partnerships and joint ventures at the mineral source(s) – ie. with the Chinese producers.
Not all succeeded, there were many challenges, but those that persevered reaped the rewards for many years to come.
At the same time, European traders in general realised they needed to up their game and start to provide a more integrated package to consumers that went beyond the traditional match-making between buyer and seller.
This involved expanding their functionality to include financing, logistics, warehousing, inspection, closer co-operation with end users, R&D, marketing and distribution, and where possible adding mineral processing capacity, either at point of loading or at discharge, or both.
Another ramification of this change was the dismantling and downsizing of the huge, multinational trading houses in the West – eg. F&S Group, Thyssen, Cometals, and Possehl – at the same time as the dissolution of China's large and unwieldy state-owned trading corporations.
What emerged was a range – and in China, a plethora! – of smaller and more streamlined outfits, swiftly adapting to market conditions (and though we have since seen a steady expansion of the likes of Cofermin and Traxys in recent years, these companies are still sleek enough to diversify on demand).
Right now, we are facing another of those critical transition periods. The 2020 Covid-19 pandemic and its impact on the Chinese mineral supply chain was perhaps the final straw for a business wracked by a series of impacts since late 2016 (well reported by IMFORMED on this website, eg. China's mineral supply to global markets: dominance, diversity & disruption, China minerals 2019: bauxite & magnesia mid-year report).
The last party is well and truly over and a new era is upon us (see New era of mineral exploration, sourcing & development dawns).
Chinese supply of many high quality industrial minerals is unlikely to recover to previous levels any time soon, especially for export, consumer confidence is low or twitchy at best, mineral sourcing alternatives to China is very much the trending option, and guess what? Chinese demand for industrial mineral imports is going to rapidly increase as its domestic markets develop and grow (magnesia, andalusite, graphite, bauxite, fluorspar already inbound).
On mineral sourcing, Ellen Steger commented: "China still plays an important role for sourcing minerals because of its huge resources. But being dependant on only one source is dangerous, as the past has taught us during times of shortages or non-availability. Furthermore, we would like to be an open-minded partner, especially when it comes to new products and new reserves for which we can add value or offer a wide range of services".
Which brings us to the role of the trader in today's market environment – is there a need?
Jan Weber: "We believe yes, but not in the same way as in earlier years. The world has got smaller and in most geographical areas partners are able to communicate with each other. That means 'traders' need to develop in order to secure sustainability. Possehl Erzkontor will for sure continue to trade big volumes which will be the majority of its turnover."
For mineral traders and consumers worldwide, it's now the time to adapt: while it will be prudent to nail down (and keenly monitor) any surviving reliable Chinese sources, securing diverse mineral sourcing options outside China should be the order of the day.
At the same time, there should be a healthy assessment of vertical integration with in-house processing facilities, and perhaps even intermediate/end product manufacturing (eg. alumina cements, monolithics), tracking growth market trends, and above all, investing in recycling and other functions, for a new role in the future Circular Economy.
---