RHI Magnesita sells PPL & RHI Normag to private equity firm; Normag renamed Magnor Minerals
It only seems very recently that RHI Magnesita (then RHI AG) was reinforcing its captive magnesia supply base with the acquisition of Premier Periclase Ltd (PPL), in the Republic of Ireland, and SMA Mineral Magnesia AS, in Norway, with the latter having a new fused magnesia plant built on site and becoming RHI Normag.
Title Picture On a new high: aerial view of Premier Periclase Ltd's seawater magnesia operation at Drogheda, Republic of Ireland, now owned by Callista Private Equity Courtesy PPL
In fact, it was just ten years ago in 2011 when both acquisitions were completed to assist RHI's mission to achieve 80% self-sufficiency in magnesia raw materials by mid-2012.
Fast-forward to 1 February 2021, and global refractories leader RHI Magnesita (RHIM) completes the sale of both assets to Munich-based Callista Private Equity GmbH.
Few details on the transaction were released by either party. In its brief statement RHIM said that it "explains the selling decision with its ongoing global network optimisation."
Callista added that the sale contributed to the execution of RHIM's 2025 Strategy, stating that as the new shareholder "Callista will pave the way for increasing the competitiveness as well as for a sustainable and successful expansion in the future…while the companies' management remains responsible for daily operational business."
Callista is to set the companies up as standalone entities with own business functions and a proprietary corporate identity. RHI Normag AS has been renamed Magnor Minerals AS, while Premier Periclase is to keep its name.
CERHA HEMPEL Rechtsanwälte GmbH, which advised RHIM on the sale, revealed that the buyer was found through a bidding process at the end of which Callista emerged as the best bidder. Closing took take place in early February 2021 after the successful demerger of the two target companies from the group network of RHIM and the carve-out of certain business divisions of RHI Normag AS.
IMFORMED has since learned that RHI Normag's 85,000 tpa fused magnesia plant was not included in the sale and has been dismantled. Since its start-up in 2012 the plant was beset with technical problems and experienced periods of mothballing and restarts with reduced capacity utilisation until RHIM announced its final closure in H1 2020 (see later).
Interestingly, what each party did state, was that PPL and RHI Normag (Magnor) "predominantly produce caustic calcined magnesia products for the fertilizer, animal feed, hydrometallurgical, pulp and paper, environmental and refractory industries."
While it is certainly true to the extent that PPL and Magnor possess capacity and capability for caustic calcined magnesia (CCM) production, both companies were predominantly active and well-known for their refractory magnesia supply of dead burned magnesia (DBM) and fused magnesia (FM), respectively.
CCM and magnesium hydroxide (MDH) grades for the so-called speciality (non-refractory) magnesia markets were not greatly developed by each company – it now seems that is all about to change.
Global trends in refractory minerals supply & demand

ALUMINA | ANDALUSITE | BAUXITE | CHROMITE | DOLOMITE | GRAPHITE | MAGNESIA | CHINA | INDIA | GLOBAL OUTLOOK | MINERAL SELECTION
Who is Callista?
Callista, in true private equity (PE) style, describes itself as "specialised on acquisitions of loss-making Group subsidiaries, consolidated non-core affiliated companies and business units facing 'special situations'. The company's success is based on post transaction restructuring focused on sustainable profitability."
Of note perhaps, is that this appears to be Callista's first foray into a raw material producing business, but not its first exposure to the refractories industry and RHI.
In June 2016, RHI sold leading US fused cast refractory producer Monofrax LLC to Callista, having deemed it a non-core business.
Elsewhere, Callista's focus has included picking up metallurgical, manufacturing and engineering assets such as Alupress Berlin GmbH, renamed Berlin Millhouse, specialised in processing aluminium die cast and forged parts for the automotive industry, and ArcelorMittal Ringmill SA, renamed Halo Steelrings, a manufacturer of seamless steel rings and gearboxes.
Together with PPL and Magnor Minerals (which had a combined 2020 revenue of €44m), Callista has now expanded its portfolio to 12 companies with a combined revenue of >€300m.
Generally, the model of PE groups is to strengthen and steer the acquired asset, then sell for a profit after a period, frequently after 4-5 years.
This is not the first time that a PE company has taken an interest in a magnesia producer. QMAG, Australia, was owned for eight years by Resource Capital Funds, USA, while Kümaş was owned by Gozde Girisim Sermayesi Yatirim Ortakligi AS, and over 50% of Magnesita before merging with RHI was owned by GP Investments, Gavea, and Rhone Group.
What does Callista get with PPL and Magnor Minerals?
Now that PPL and Magnor Minerals are no longer part of RHIM, albeit owned by Callista, they can now join, or rather re-join, the small global group of independent synthetic magnesia producers (ie. sourcing generally higher purity magnesia from seawater or brines, as opposed to "natural" sources such as magnesite, serpentinite, dolomite, brucite etc.).
Indeed, it is interesting to note that the remaining active seawater magnesia producers are all independent: PPL, Republic of Ireland; Magnor, Norway; Buschle & Lepper, Brazil; and Ube Material Industries, Japan.
Other major synthetic magnesia producers outside China include: Nedmag, the Netherlands; Manaseer Magnesia, Jordan; ICL Industrial Products Magnesia Division, Israel; Industrias Penoles, Mexico; Martin Marietta Magnesia Specialties, USA; Nikochem LLC, Russia
As far as Magnor Minerals is concerned, events have turned somewhat full circle, as it returns to its originally intended operation focusing on CCM (and MDH) production for non-refractory markets.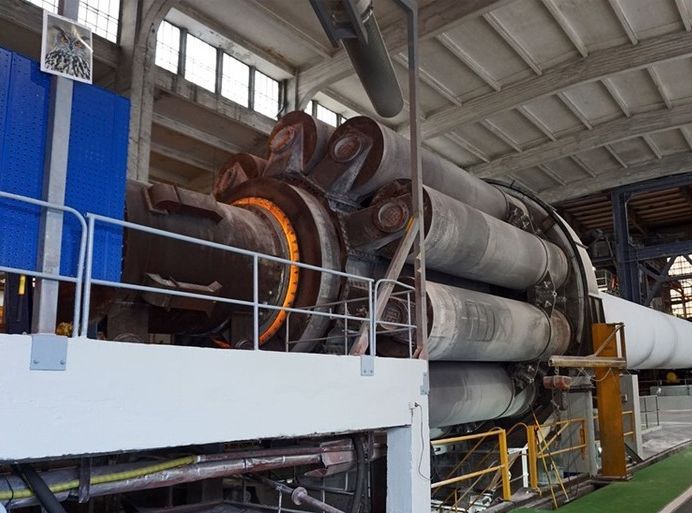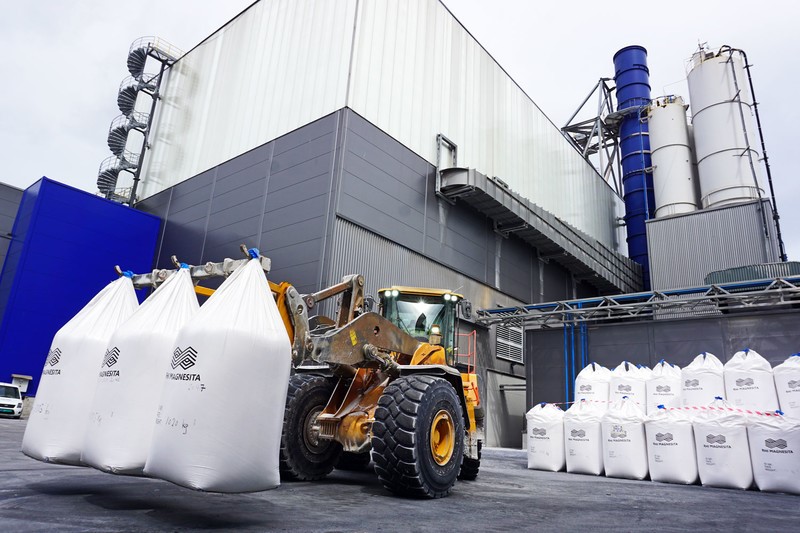 Magnor Minerals' rotary kiln (left) and CCM in bags ready for supplying Yara Porgrunn's fertiliser plant in 2020 (right) Courtesy Herøya Industrial Park website
Utilising seawater and dolomite sourced from third parties in Norway and Sweden, before being harnessed by RHI in 2011 as feedstock for its new FM plant, Magnor was formerly SMA Mineral Magnesia SA (subsidiary of SMA Mineral AB, Sweden), established at the former Norsk Hydro magnesium metal facility at Herøya industrial park in Porsgrunn in 2002, with a production capacity of 90,000 tpa CCM and MDH.
One of the key advantages of SMA's original seawater process is that it can use different qualities and types of raw materials, including marble, limestone, and dolomite or dolomitic limestone. Markets served included pulp and paper, agriculture, and chemicals.
From 2015, RHI Normag was producing CCM in excess of its FM needs, and started selling some 50,000 tpa to customers in Norway, Sweden, Germany and Hungary.
After the FM plant shut down in 2020, RHI Normag continued to produce magnesia to supply Yara Porsgrunn's fertilizer production at Herøya.
  
RHI Normag's 85,000 tpa fused magnesia plant started up at Porsgrunn in late 2012 to supply RHIM refractory plants with FM and reduce its reliance on imported Chinese FM. However, the plant was beset with technical problems, high costs, and experienced periods of mothballing and restarts with reduced capacity utilisation (around 30,000 tpa). In H1 2020, after a review of raw material inputs, RHIM concluded that its internal costs to produce FM were too high relative to Chinese-sourced "equivalent materials" triggering its decision to suspend FM production facilities in Porsgrunn, Norway (and Contagem, Brazil) and to enter into long term alternative supply arrangements. Courtesy RHI Normag
In a recent interview for the Herøya Industrial Park website, Jan Petter Hestvik, Managing Director (and Plant Manager), Magnor Minerals said: "We are now moving from being a raw material supplier internally in the RHI Magnesita Group, to becoming an independent factory unit that will develop new magnesium products and qualities. And we will work in an international market."
Magnor Minerals is now running production campaigns, and aims to "intensify" and increase production volume in 2021.
Over in County Louth, in the Republic of Ireland, in spite of some developments in CCM and MDH over the years, PPL has in the main been focused on high purity DBM production for the refractories market.
PPL was established in 1977 and formerly owned by construction materials group CRH Plc before the RHI buy in 2011.
Production capacity at the Drogheda seawater magnesia facility is in the order of 72,000 tpa DBM; 85,000 tpa CCM; and 140-160,000 MDH.
Two key DBM grades for refractory customers in Europe and Asia are SKLS and LC160, while limited markets for CCM/MDH in waste water treatment have been pursued in Ireland and the UK.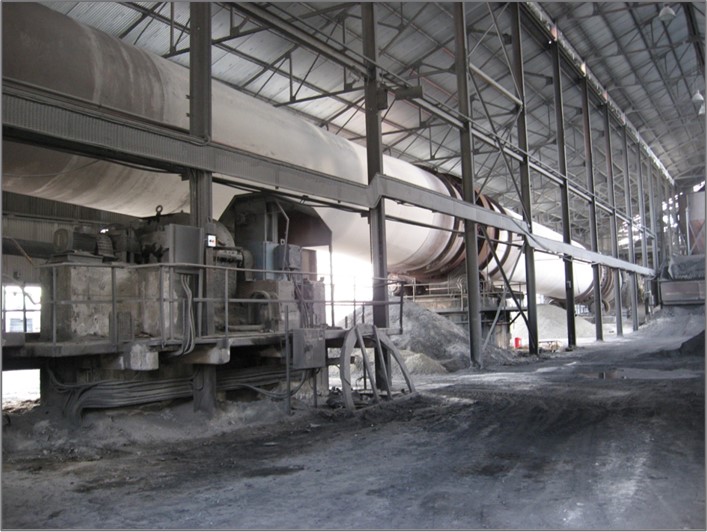 PPL's magnesium hydroxide thickening tanks (left) and rotary kiln (right). Courtesy PPL
Clearly, now with Callista behind them, PPL, like Magnor, is keen to explore the potential of the wider ranging, and often more lucrative, speciality magnesia markets.
Indeed, with PPL's high purity magnesia it is the mid to upper end of the specialities market that perhaps should be targeted, ie. environmental, chemicals, fillers, flame retardants, coatings, paper, food/pharma applications rather than say animal feed and fertiliser. That said, anyone familiar with developing speciality magnesia grades for high value applications knows just how long a road it can be with extensive R&D and specification and standards demands to be met.
PPL's important DBM production is expected to remain active, but we may see a change in plant utilisation emphasis to CCM/MDH grades.
This is not only an exciting time for PPL, but crucially no longer limits the company's sales performance to be governed solely by the highs and lows of the refractories market, primarily controlled by steel and cement production.
---
Mike O'Driscoll will be presenting a review of the magnesia business at

And coming up later in 2021