Report on NAIME's Magnesia & Refractory Webinar Dashiqiao 9 July 2020
Last week IMFORMED was delighted to be invited to present on world magnesia supply trends at a special conference and webinar organised by the Northeast Asian Industrial Minerals Exchange (NAIME), Beijing Easynai Information Technology Co. Ltd, and the Liaoning Magnesium Industry Development Group.
"2020 Global Magnesia Refractory & Industrial Internet Promotion Conference" took place 9-10 July at the Lihua Hotel, Dashiqiao, Liaoning, China.
The virtual and in-person conference was well chaired by Christopher Zhao, of ZNHCL, known to many as a past speaker on the Chinese magnesia industry at IMFORMED's MagForum conferences.
"Affected by the novel coronavirus epidemic, the development of global trade is facing unprecedented challenges. In order to give full play to the role of our centre as a professional magnesia industry platform, and help companies develop markets, our centre will join with Easynai and ZNHCL to hold the 2020 Global Magnesia Refractory Conference and Industrial Internet Promotion Conference." said NAIME.
The first day was devoted to eight speakers covering overseas magnesia supply, China's magnesia and refractory industry, the pandemic impact, related internet platform developments, and a new generation of environment friendly refractory bricks (see panel below).
The second day comprised a Bidding Session between Chinese steel producers and refractory manufacturers "in order to continue to help companies develop markets and maintain trade operations during the epidemic prevention and control period."
Webinar Day 1 Speakers 

World (ex-China) Magnesia Supply Trends
Mike O'Driscoll, Director, IMFORMED, UK
The Refractory Market in the Epidemic Situation
Xu Dianli, Consultant, China Refractories Association (and former President)
The Introduction of Luotai Intelligent System
Qiu Bingwei, CEO, Shenyang Luotai Intelligent System Co. Ltd, Chairman of Process Industry Automation Technology Innovation Strategic Alliance
The Construction and Operation of National Industrial Internet Identification Node
Zhang Xu, Director, Institute of Industrial Internet and Internet of Things, China Academy of Information and Communications
Interpretation of the Novel Coronavirus Epidemic and Industry Response Methods
Zhang Shile, Chairman of Shanghai Juzhai Network Information Technology Co. Ltd, Fudan University
Introduction to the Online Bidding of the Easynai Platform
Li Fengyue, Operations Manager, Easynai
Promoting Effect of the National Cross-border E-commerce Business Pilot on the Refractory Industry
Wang Liwen, General Manager Assistant, NAIME
Development and application of new magnesium carbon-free environmental protection materials
Sun Guang, Sun Guang Refractory R&D Studio
World magnesia supply trends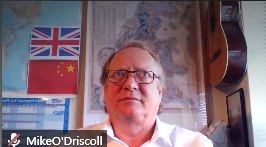 Mike O'Driscoll, Director, IMFORMED, highlighted the key trends and developments regarding refractory magnesia supply outside China. The context of magnesia in refractory minerals demand was examined, followed by a review of world magnesia supply sources and trade.
After refractory clays, magnesia is the second largest volume refractory mineral in demand, accounting for around 26% of all refractory mineral demand.
Most magnesia is derived from natural magnesite deposits, rather than synthetic sources (seawater, brines); and dead burned (DBM) and caustic calcined magnesia (CCM) production account for most (92%) magnesia produced, in roughly equal shares, with fused magnesia (FM) just 8%. More DBM (64%) is produced from synthetic sources.
Of note was the fact that several magnesia country sources serve mostly local markets or are captive producers; this is especially so with the relatively few producers of FM outside China.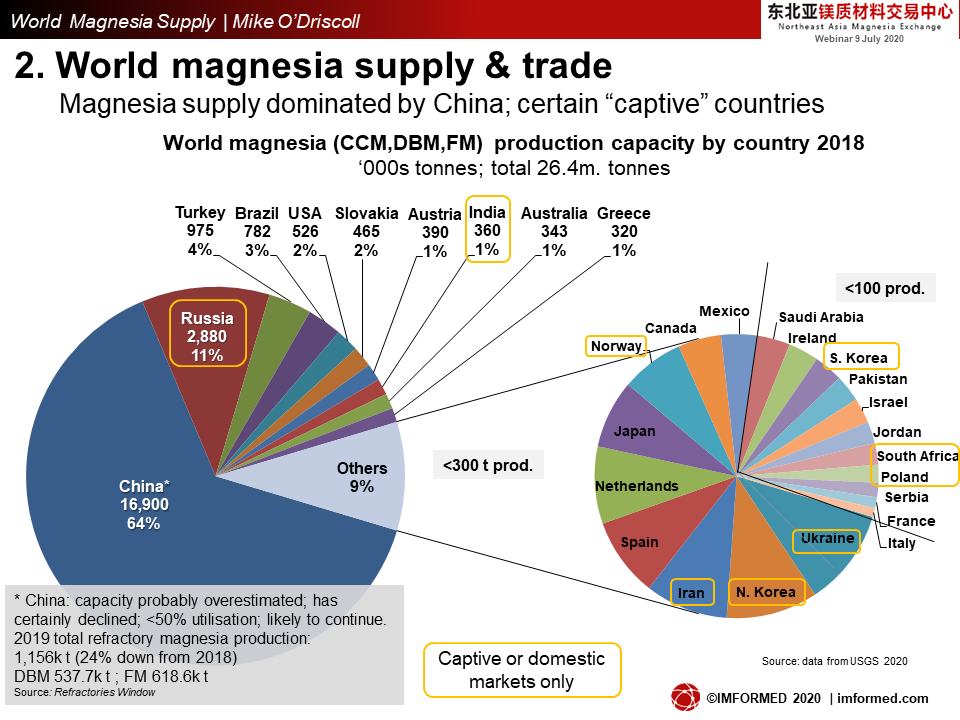 Overall, there are relatively few primary refractory DBM/FM producing companies outside China supplying world markets. Most are naturally sourced and integrated with refractories production or a refractory owner (with the exception of just three – incidentally, each of which is a synthetic magnesia producer).
Recent newcomers and potential new sources were highlighted in Greece, Saudi Arabia, Turkey, Serbia and Jordan.
A quick look at magnesia trade showed that 79% of world magnesia imports were within the top 25 steel producing countries, emphasising the importance of the steel market for magnesia.
Regarding key trends and developments, O'Driscoll covered:
The China factor stimulus: environmental controls; various bans; inconsistent quality/supply; COVID-19; domestic demand
Overall overseas response: new/alternative source development; expansions/restarts/new starts; M&A; vertical integration; new material evaluation; recycling
Spotlight on latest in: Refratechnik's vertical integration; Magnezit's large-scale investment programme; RHIM's dolomite push
Among his conclusions, O'Driscoll considered that while some recovery will emerge in China, uncertainty remains over future Chinese magnesia supply (inconsistent quality & availability), industry structure reforms, and its investment climate (particularly as trade war and geopolitical issues are riding high yet again).
Certainly, new or upgraded facilities to produce high quality magnesias will be vital for China's magnesia supply future, eg. such as recently undertaken at Haiming, Haimag, and PRCO (latter recently developed its high purity Tibet source for export to its new MgO-C brick plant in the USA; see Magnesia from the "Roof of the World" to Kentucky).
Meanwhile, magnesia producers outside China are strengthening resources, capabilities, and vertical integration for supply security. There is continuing interest in developing alternative sources outside China, even as captive sources.
At the same time on the consumer side, there are ongoing trends in the refractories industry to evaluate use of new and alternative materials and product formulations – increasing development of dolomite, synthetic minerals, and recycled materials.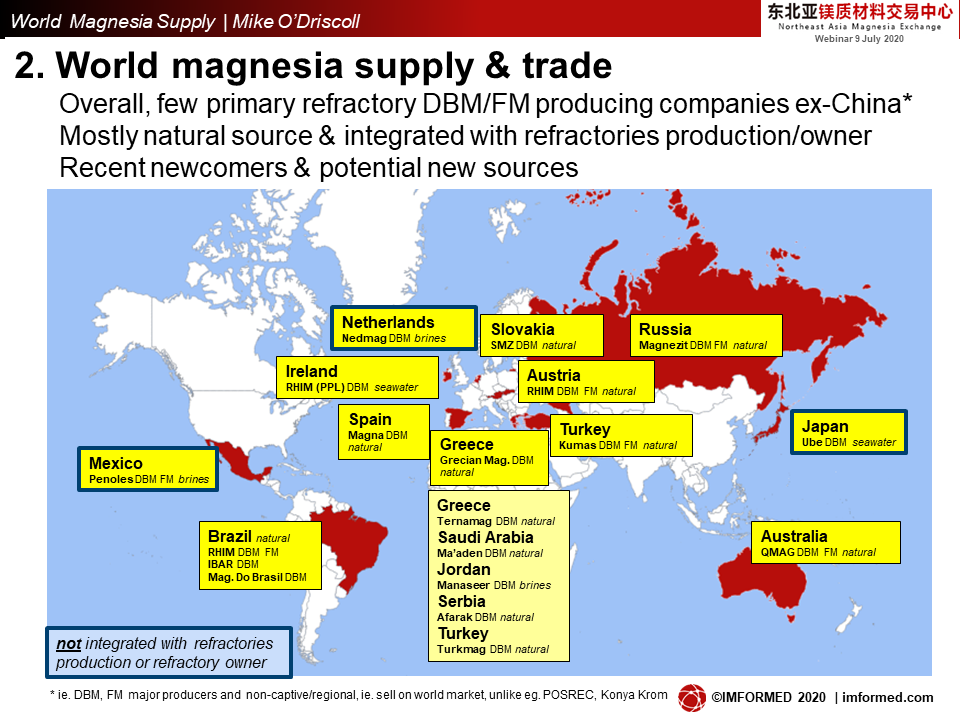 China's magnesia & refractory status: demand for high purity grades debated
Xu Dianli, Consultant, China Refractories Association (and former President), talked about China's refractory market amid the epidemic by reviewing the refractory industry in 2019, looking at demand changes owing to the epidemic, and concluding with several views on the current refractory market situation.
In 2019, China's output of refractory materials was 24.3m tonnes, a year-on-year increase of 3.65%. Compact shaped refractory products were 13.4m tonnes, up 1.05%; insulation and refractory products 589,900 tonnes, an increase of 8.87%; and monolithic refractory products 10.1m tonnes, an increase of 6.93%.
China's 2019 exports of refractory raw materials totalled 4.3m tonnes, down by 5.66% year-on-year, valued at US$1.920bn, a decrease of 16.25%; and refractory products 1.7m tonnes, down by 7.74%, and valued at US$1.6bn, a decrease of 14.50%..
The reason for the decline of export value was not only because of decreased export volume, but also because of the ongoing drop in product price.
Xu considered that the main domestic markets for refractories, such as steel, nonferrous metals, glass, were not greatly affected by the epidemic, and except for cement (which suffered a 24% decrease in Q1 2020), their output is increasing.
"China quickly resumed production after the epidemic, and economic operations in the second quarter have tended to grow steadily." said Xu.
In 2020, January to May saw China's total export volume of refractory raw materials increase (by 4.9%) to 1.8m tonnes over the same period in 2019, though at a value of US$732m, down 13.1%.
The export volume of refractory products was 635,700 tonnes, a decrease of 7.4%, at US$553m, a decrease of 20.2%.
Xu urged Chinese refractory companies to actively track changes in the international market. With the hoped-for gradual improvement of the epidemic situation in H2 2020, countries and regions such as Europe and Japan may have the possibility of increasing steel production and thus recovery in demand for refractories.
"Overcapacity is the main factor leading to chaos in the [Chinese] refractory market. This problem has been plaguing us for decades, causing refractory production companies to operate at a marginal level, and hindering the high-quality development of the refractory industry." said Xu.
Xu questioned whether the concern of the paucity of high grade magnesite ore was "alarmist", and asked: "How could there be no high-quality ore?", after the Ministry of Land and Resources announced in 2010 that China's proven magnesite reserves were 3.6bn tonnes, of which Liaoning accounted for 89.3%.
"At present, the main reason for the shortage of high-quality ore is the mining method that has only been exploited without stripping [ie. the overburden by much], mining more and stripping less, and mining the rich [ore] and discarding the poor [ore]." said Xu. In other words, there could be higher purity ore at greater depths below the surface.
The main challenge now for China's magnesia producers is to produce high purity magnesia with ≥98% MgO, and achieve "comprehensive utilisation" of resources, ie. upgrading low grade ore.
In pursuit of such high purity, only ores with very low Fe2O3, Al2O3 and CaO can be selected to remove SiO2 to achieve this goal, and for ore upgrading, high silica ore flotation is necessary.
In 2019, Yingkou Jiachen Group made a major breakthrough in magnesite beneficiation technology, and produced extremely high purity magnesia with MgO ≥98% and volume density greater than 3.40g/cm3 through beneficiation of low grade ore.
Interestingly, Xu then questioned the demand for such high purity magnesia. Indeed, he suggested that in China, except for refractories used on both sides of the trunnions and slag lines on steel converters, such products made of high purity magnesia are not necessary in other areas.
He also underlined that the higher the purity, the less the binding phase, thus the more unstable. Therefore it is not necessarily suitable for making many refractory products.
Xu concluded: "In short, I am not against beneficiation of magnesite. High purity magnesia does have a certain market demand, but the size must be determined according to the market demand."
Which then begs the question from an outside observer: How much incentive is there to develop high grade refractory magnesia in China? Especially if it means investing in deeper (and underground) mines and expensive flotation plants.
Will such development be limited to the few players already established? And once domestic demand for high grade magnesia is met, how much, if any, will be left available for overseas customers?
Carbon-free environment friendly magnesia refractory bricks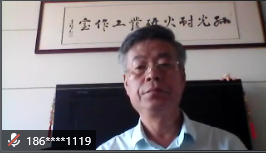 Sun Guang of Refractory R&D Studio, talked about the application of carbon-free environmentally friendly refractory bricks being developed and used in China.
This includes magnesia-alumina-spinel bricks in refining ladles using an environmentally friendly binder technology, replacing phenolic resin, to meet odour elimination issues raised by Shandong Environmental Protection.
The bricks use a magnesia high temperature composite ceramic binder employing as the main ingredient FM97 and graphite.
Sun also reviewed the use of new energy-saving and environment-friendly high purity magnesia calcium bricks used to produce stainless steel in AOD, GOR converters.
Interested in China, refractory minerals, & magnesia? Then don't miss:

CLICK ON FORUM TITLE FOR FULL DETAILS