Introduction to Mining Engineering's annual review of industrial minerals
IMFORMED is delighted and honoured to have been invited to write the introductory article "2020 Vision for Industrial Minerals" for Mining Engineering's latest annual review of industrial minerals.
The article, written by Mike O'Driscoll, Director, IMFORMED, has just been published in the July 2020 issue of Mining Engineering (ME; July 2020, Vol.72, No.7) – the monthly magazine for the Society of Mining, Metallurgy, & Exploration (SME).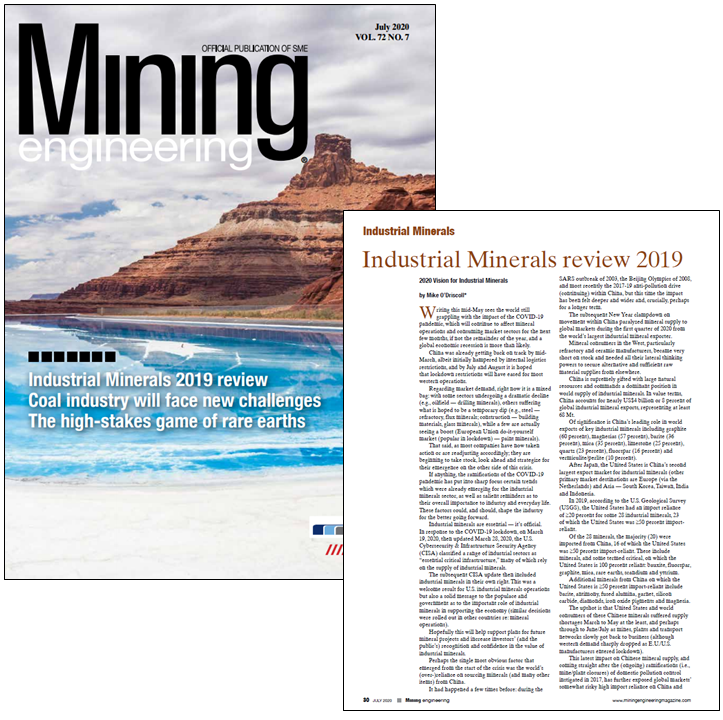 "2020 Vision for Industrial Minerals" reviews the key factors influencing the global industrial minerals market and how they might shape the near to medium future of the industry.  These include the impact of COVID-19, critical minerals security, overreliance on Chinese mineral sources, logistics, quest for alternative sources, and increased recycling of minerals.
In his July 2020 column, ME Editor William Gleason writes: "Mike O'Driscoll…points out that the importance of these minerals was put into a sharp focus by the spread of the COVID-19 virus and the lockdowns that followed…and the challenges being faced today could lead to needed changes, among them changes to the global supply chain and an eventual break from China."
Each year, ably supervised by Jim Norman, Executive Vice President, Tetra Tech Inc., ME reviews the previous year's industrial mineral sector spotlighting an A-Z of minerals authored by a range of independent contributors.
The SME's Industrial Minerals & Aggregates Division has a global membership and aims to "further the arts and sciences involved in the exploration, production, and use of industrial minerals".
Expert discussion on industrial minerals outlook

The industrial minerals sector has been rocked; first, by the US-China trade war, its ensuing political tensions, and then by the pandemic.
Join IMFORMED and Tractus Asia to learn about recent market developments, potential strategies to mitigate risk and take advantage of opportunities, with a focus on M&A.
WEDNESDAY 22 JULY 2020 | 22:00 SINGAPORE | 15:00 LONDON | 10:00 EST
Industrial Minerals: The Market and Fallout
Mike O'Driscoll, Director & Co-owner , IMFORMED Industrial Mineral Forums & Research

Opportunities and Strategies for Recovery
Richard Smith, Head of Corporate Finance, Tractus Asia

Moderator: John Evans, Managing Director , Tractus Asia