And the winner is…the Competition Tribunal of South Africa, plus consumers of andalusite for refractories: no mixed up envelopes in this drama.
The Appeal Court in South Africa today ruled in favour of the Competition Tribunal and dismissed the Appeal by Imerys and Andalusite Resources (Pty) Ltd to overturn the SA Competition Commission's initial 2015 decision to prohibit the merger of Imerys with Andalusite Resources.
Not a lot of details on the judgement have emerged at present, mainly owing to the amount of competitively sensitive information the judgment contains.
On 21 September 2016, the Tribunal announced that it had prohibited the proposed acquisition by Imerys South Africa (Pty) Ltd of Andalusite Resources (Pty) Ltd, which had been initially prohibited in April 2015 and went to tribunal in May 2015 (for background and more details on andalusite see Imerys merger with Andalusite Resources prohibited 21 Sept. 2016 ; Imerys move to buy Andalusite Resources quashed 20 April 2015).
Imerys then registered an Appeal which was scheduled to be heard on 15 December 2016, and now the result of that Appeal has been released.
This must surely finally quash Imerys' hopes of amalgamating one of the world's two independent producers of the refractory mineral andalusite.
It leaves the primary andalusite supply market still dominated by Imerys' operations (around 60%, see chart), but retaining independents Andalusite Resources in South Africa and Andalucita SA in Peru.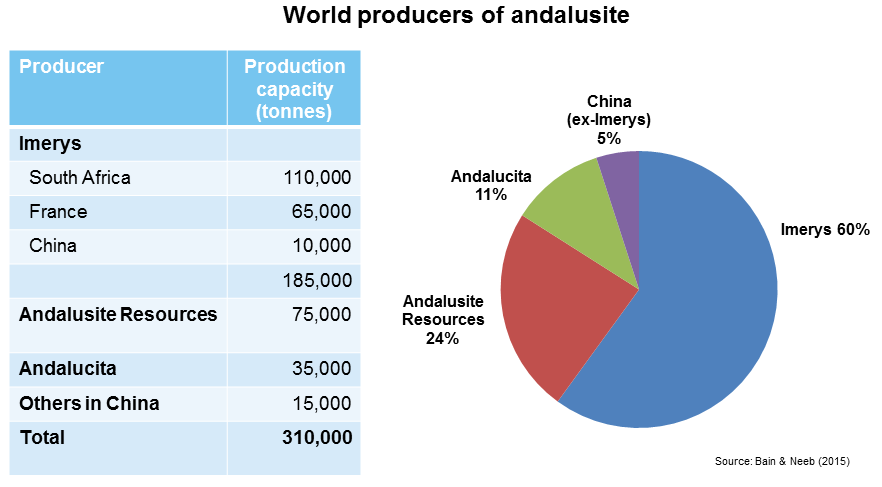 Refractory consumers' concerns
In a statement released today, the Commission said it had received numerous concerns from both producers and end-users of andalusite based refractories regarding the effects of the proposed merger.
In particular, producers and users were concerned that, as a result of the proposed merger, they would be deprived of competitive choice between Imerys and Andalusite Resources for andalusite, and that the merged entity would increase the price of andalusite locally or increase the amount it exported.
Consumers also emphasised that they cannot easily switch between andalusite-based refractories and refractories containing other raw materials (such as bauxite, which enjoyed capturing a limited market share) in their production processes and that switching would involve high costs.
The Tribunal rejected argument by the two companies that in the absence of the proposed merger the two companies would become capacity constrained and would accordingly raise their andalusite prices to export parity levels, with the result that the merger would not have any effect on their market power.
The Tribunal also raised concerns that the merger could be used to control availability of andalusite in the market. Andalusite Resources and Imerys are by far the largest suppliers of andalusite globally and the former has more than half of the SA market.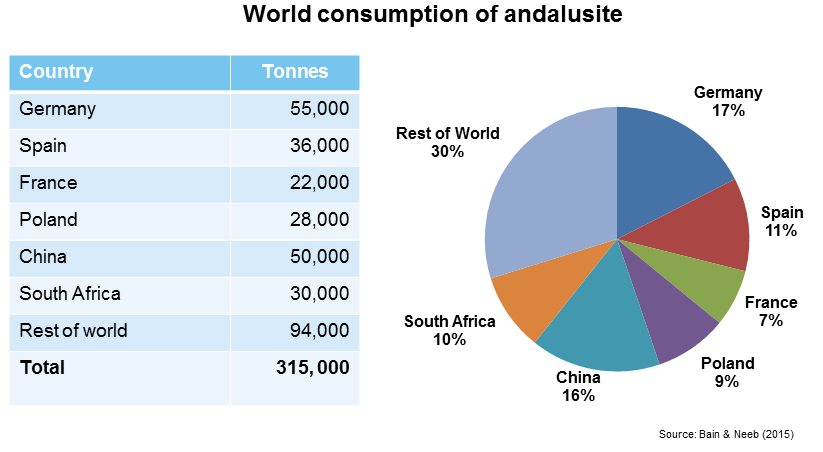 Apparently, the merging parties' own internal strategic documents revealed that Andalusite Resources had become a formidable competitor to Imerys in the mining and sale of andalusite in South Africa and that it had taken significant market share away from Imerys in recent years.
The documents further show that Imerys was very concerned about this, as well as overcapacity that existed in the mining and sale of andalusite and it devised strategies to limit that overcapacity. The acquisition of Andalusite Resources formed part of that strategy.
"Not only has Imerys reduced its andalusite production capacity by closing down its Krugerspost mine in South Africa, it has also closed its Yilong mine in China and now intends taking over its only competitor in South Africa, " the Tribunal said in its reasons.
The Tribunal concluded that the relevant counterfactual is the status quo, ie. a situation where at least one or both of Imerys and Andalusite Resources will not (permanently) be capacity constrained.
Imerys on an M&A roll
The Andalusite Resources acquisition dismissal has somewhat spoilt the M&A party which Imerys has been enjoying over the last year or so.
Having completed in early 2015 the acquisition of the massive and diverse portfolio of S&B Industrial Minerals (see Imerys seals S&B acquisition: so what does it mean? 6 March 2015), one may have thought that the Paris based group would have had its hands full for the next year or two picking over and sorting the gifts of the Greeks.
But no, we are talking IMERYS here! Into 2016 and by July next in line is speciality aluminas producers Alteo and Alufin, the transaction of which was completed in October after EC approval on condition of divestment of Alteo ARC's white fused alumina business in La Bâthie, France.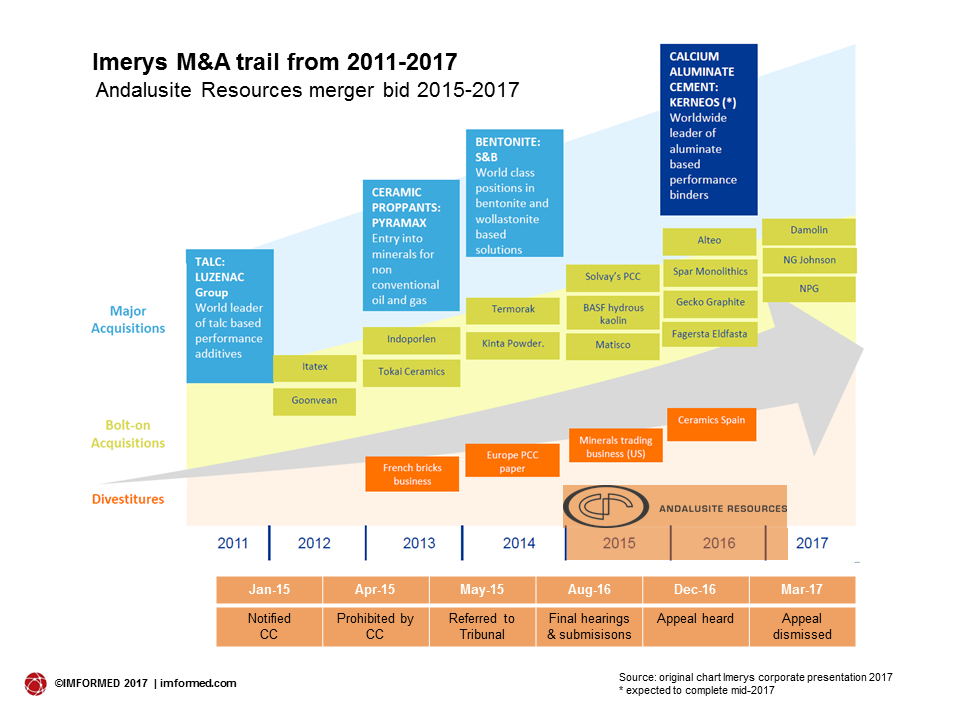 Then in December, less than two years since the S&B buy and while appealing against the SA Tribunal's decision on Andalusite Resources, Imerys makes another major acquisition, this time of calcium aluminate cement leader Kerneos.
The deal remains subject to relevant workers' council consultation, as well as regulatory authorities' approval and is expected to be completed by mid-2017.
The common thread here, including Andalusite Resources, is Imerys' strategy of targeting aluminosilicate related players (Kerneos' calcium aluminate cements are manufactured from sintering limestone and bauxite).
While the Kerneos buy is a nice fit and addition to Imerys' refractories arm, Calderys (which also picked up monolithics producer SPAR Inc. in September 2016), it also brings, or rather completes, for Imerys the rest of the Greek bauxite resources.
Just before the S&B acquisition by Imerys, S&B had divested its bauxite resources to Kerneos and Elmin (and with Kerneos having bought a 54% stake in Elmin in 2012). This left S&B, and consequently Imerys, with just the 300,000 tpa capacity underground bauxite mine and plant operated by Sardabauxiti, in Sardinia (see Imerys seals S&B acquisition: so what does it mean? 6 March 2015).
With the Kerneos buy, should all go well, Imerys will now have access to all the ex-S&B bauxite resources after all. And don't forget, Imerys still has the ex-MSL bauxite reserves in northern Brazil, and some andalusite claims in Peru for that matter.
Finally, in January 2017, Imerys complemented its diatomite assets (World Minerals acquired in 2005) by buying Danish unique diatomaceous earth "moler" producer Damolin. This will sit in Imerys' Filtration & Performance Additives business group.
Interested in refractory mineral and market trends?

Hear from Magnesita and Steuler-KCH on refractory recycling at

Hear about refractories in steel, cement, and DBM/FM supply outlook at

includes visit to ZM Ropczyce