SA Competition Commission found deal "significantly preventing competition"
The acquisition of Andalusite Resources (Pty) Ltd, which would have bolstered Imerys' already strong grip on the global andalusite supply sector, has been prohibited by South Africa's Competition Commission.
After examining the deal and considering the concerns of refractory manufacturers and end users of andalusite, the Commission concluded: "The merger would have created a monopoly in the South African andalusite market thereby limiting the choice of suppliers and significantly preventing competition."
In its statement of 17 April 2015, the Commission said: "The Commission is of the view that the merging parties have failed to provide evidence on how the proposed transaction would enable them to become more competitive globally given that they are currently the main players (particularly the Imerys group) in the global market for andalusite."
Speculation that Imerys was intending to buy Andalusite Resources has been around for a while and gathered traction in 2014, being confirmed to IMFORMED in November 2014.
Imerys already dominates world andalusite supply with operations in France and South Africa, the main sources of andalusite supply to refractory, ceramic, and foundry markets (see producers table and information capsule below).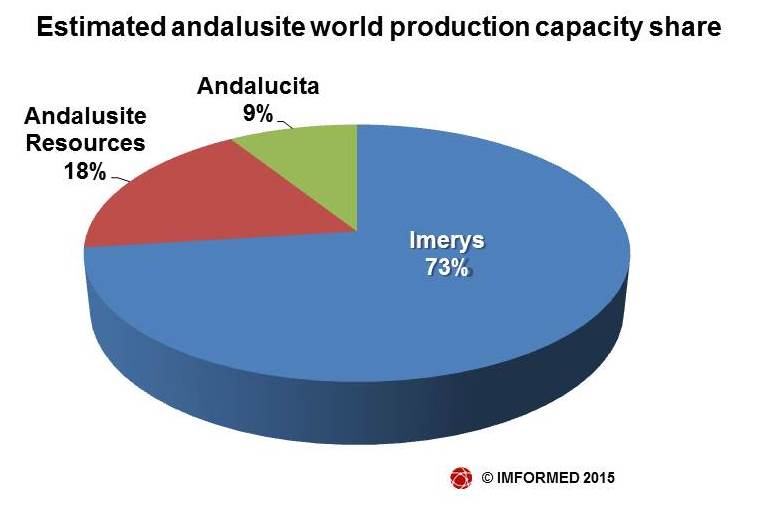 The French multinational minerals group also operates a smaller scale andalusite operation in China and has reserves in Peru.
Outside Imerys, there are just two notable producers of andalusite: Andalusite Resources, neighbour to Imerys' Thabazimbi operation in South Africa, and relative newcomer Andalucita SA in Peru.
So perhaps it is not surprising that the Competition Commission came to such a conclusion.
Learn the latest about andalusite and Andalusite Resources at IMFORMED's Foundry Minerals & Markets Forum 2015, 15 June 2015, Essen (the day before GIFA 2015 in neighbouring Dusseldorf). Colin Bain, Chairman, Andalusite Resources (Pty) Ltd, is to present on "Andalusite's role in the castings industry."
High entry barriers to andalusite supply market
The Commission found that the merging parties are close competitors and the proposed transaction would result in the removal of an effective competitor in the market for fine and medium grain size andalusite.
As some mineral developers over the years have discovered themselves – often too late – the Commission found that barriers to entry in the mining and supply of andalusite are relatively high.
This is because the capital requirements and regulatory requirements are significant, and a new entrant would require access to deposits – most of which are likely to have been already secured by Imerys.
Also noted by the Commission was that through Calderys South Africa (Pty) Ltd, Imerys also manufactures monolithic refractories, which use aluminosilicates, including andalusite, as a key input.
The Commission recorded: "The merged entity would have an incentive to engage in input foreclosure through Calderys, post-merger or through supplying export markets to the detriment of competition downstream."
In response to the concerns raised by andalusite users, the merging parties proposed a supply condition limited to two to three years for all grades of andalusite other than coarse grade.
The upshot was that customers remained of the view that the merger should not be allowed and that the proposed remedy would not address their concerns with the proposed transaction.
Recapturing refractory market share
Over the past decade, specific refractory applications have emerged and have been sought by aluminosilicate suppliers, such as andalusite producers, seeking to capture market share from bauxite, the refractory aluminosilicate workhorse.
Ironically, it was andalusite that was originally used for many of these refractory applications only to be ousted by cheap and abundant Chinese refractory bauxite in the 1990s – andalusite's market shrinking from some 500,000 tpa to around 250,000 tpa. So in some cases, but certainly not all, andalusite has been welcomed back.
This trend was mainly driven by past high prices and continued limited availability and quality inconsistency of refractory grade bauxite from China and Guyana (the only sources of refractory grade bauxite).
This development also sparked the emergence of alternative andalusite supply sources to Imerys – enter first Andalusite Resources (Pty) Ltd, South Africa in 2003, and, after many years in development, Andalucita SA, Peru, in 2009.
However, while refractory bauxite supply has been a concern to many consumers, supply has been sufficient in recent years, mainly owing to decreased demand from the economic downturn. So the promise of returning markets to andalusite has not been quite as buoyant as predicted.
Refractory market demand potential for andalusite saw both Imerys and Andalusite Resources initiate a series of production capacity expansions during 2010-2011 to take them through to 2016.
Estimated world production capacity of andalusite is about 433,000 tpa, while actual production is perhaps around 250-300,000 tpa.
World consumption of all sillimanite minerals in refractories is thought to be around 500,000 tpa, of which andalusite accounts for probably 50-60%.
Elsewhere, Australia-based Latin Resources Ltd is seeking joint venture partners for its Guadalupito andalusite/mineral sands project in northern Peru, which reportedly hosts a JORC inferred resource of some 1.3bn tonnes grading 5.7% heavy minerals.