Market Monitor: US "critical" industry list | SA mine shutdown | Refractories | Steel | Foundry | Cement | Glass | Oilfield
Right now it's hard to find anything but gloom and uncertainty for the near and possibly medium future for the industrial minerals industry.
The impact of the COVID-19 pandemic has and will continue to affect mineral operations and consuming market sectors for the next few months, if not the remainder of the year, and a global economic recession is more than likely.
What we can do is see how certain markets may or may not be impacted, which specific minerals are affected, and highlight some potential positive outcomes after the crisis has passed.
USA – "essential critical infrastructure" listed
On 19 March 2020, then updated on 28 March, the US Cybersecurity & Infrastructure Security Agency (CISA) classified a range of industrial sectors as "essential critical infrastructure", many of which rely on supply of industrial minerals (see chart).
While many countries are still debating such measures, the US list provides a useful guide as to the manufacturing sectors which need to keep operating and thus maintain supply and production of certain industrial minerals.
Certainly the "Critical Manufacturing" (and by extension the refractory, foundry, and metallurgy sectors – see below), "Commercial Facilities", and "Chemical" sectors cover most industrial minerals, plus more specifically the "Food & Agriculture", "Energy", and "Water & Wastewater" sectors.
On the recent CISA listing of industrial minerals as critical, Chris Greissing, Executive Vice President of Industrial Minerals Association-North America (IMA-NA) commented: "We were really happy to get CISA to include industrial minerals specifically in their latest guidance. It helps our companies now, and sets a precedent for any future issue that might arise in that our sector should be seen as a critical industry."
Since 2002, IMA-NA has been the representative voice of the industrial minerals industry in North America, advancing the interests of producers and processors of ball clay, barite, bentonite, borates, calcium carbonate, diatomite, feldspar, industrial sand, kaolin, magnesia, soda ash, talc and wollastonite.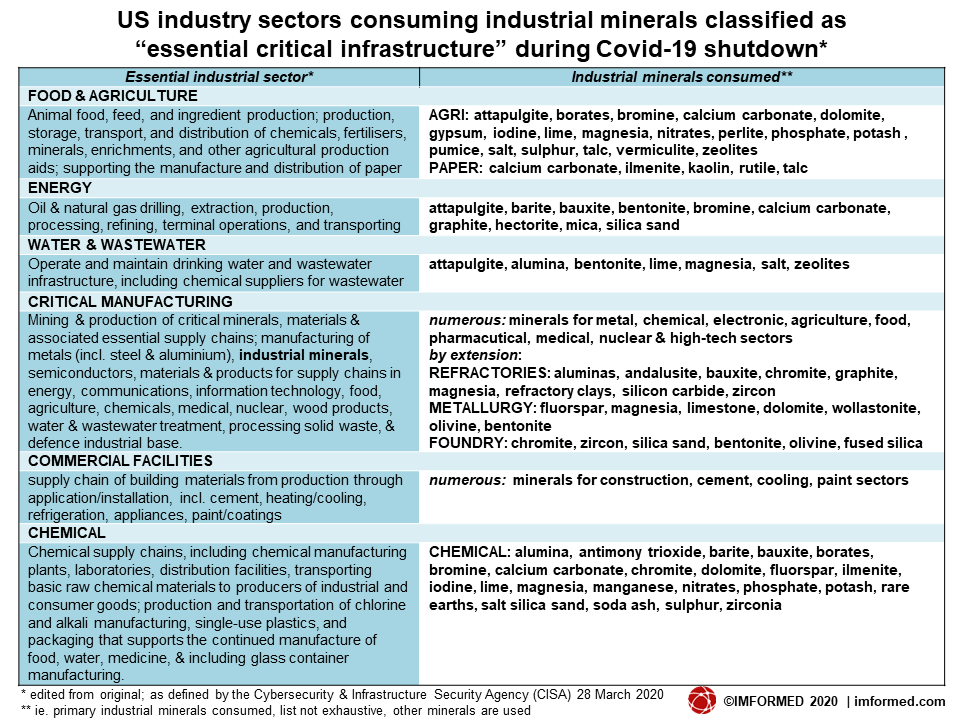 WHAT ARE INDUSTRIAL MINERALS?

Getting started? or just need a quick refresher? All the essentials are here.

"Industrial Minerals Basics: An Executive Primer" 
updated April 2020

A concise overview presentation for a quick but informed assessment of key elements of the industrial minerals business: why it is important and what makes it tick.

What are industrial minerals?

Why are they so important?

How is the market structured?

How is the market driven?


Which key factors influence success?

Approach to potential investment indicators
Africa – SA mine shutdown; Balama graphite mine closes
South Africa initiated a nationwide shutdown of its mines and furnaces from midnight 26 March to 16 April 2020. South Africa's mines employ 450,000 people and support a wide range of supply and services.
South Africa is a world leading producer and exporter of andalusite, chromite, diamonds, fluorspar, titanium minerals and zircon.
Minerals Council SA, whose members account for 90% of the country's mineral production, is in talks exploring what will be required to prevent the lockdown leading to permanent damage of the industry.
Mineral Resources & Energy Minister Gwede Mantashe acknowledged the importance of maintaining value-adding mining infrastructure, especially refineries and smelters, which cannot easily be switched on and off. These operations will continue to operate at reduced levels, using stockpiled ores or lower levels of mining production, while ensuring that due care is taken with preventative and monitoring measures to protect those staff.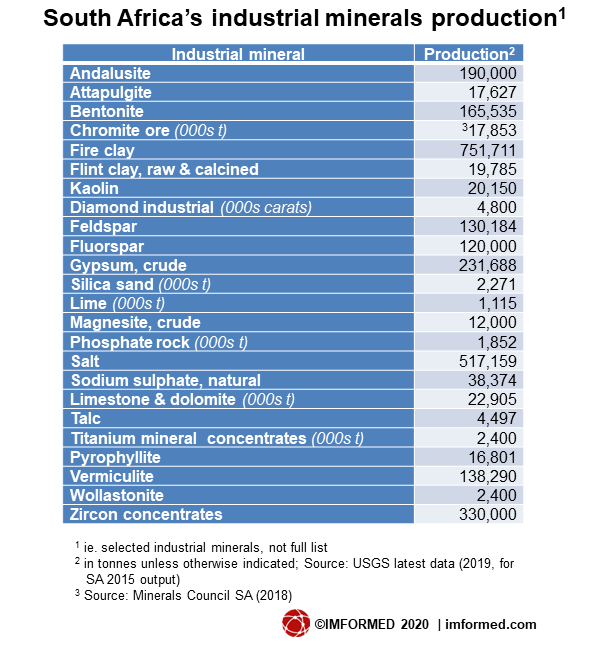 The government of Mozambique has enacted measures to manage Covid-19, including restrictions on international and domestic travel which forced Syrah Resources Ltd to temporarily suspend production at its Balama Graphite Operation from 28 March 2020.
Syrah is currently able to continue dispatch of finished product from Balama via the Port of Nacala, although it is possible that this may change.
Balama, located, in the Cabo Delgado province of northern Mozambique, began commercial production of flake graphite in January 2019, and produced 153,000 tonnes finished product in 2019.
The plant has a nameplate production capacity of 350,000 tpa graphite concentrate. The company underwent a restructure and production moderation in October 2019.
Market Round-up
Metallurgy & Foundry – steel output cutbacks
Europe's steel producers are cutting back production thus impacting demand for minerals used in refractories (eg. bauxite, magnesia, fused alumina, graphite), slag conditioners (eg. fluorspar, magnesia, limestone, dolomite, wollastonite, olivine), and iron ore pelletising additives (eg. bentonite, olivine).
ArcelorMittal, Tata Steel and ThyssenKrupp are all cutting production, with Spain, Italy, Germany, the Netherlands, and Poland leading the slowdown. More will be sure to follow.
Steel's two primary markets are automotive and construction: the former is already slowing down with manufacturing cutbacks announced by BMW, VW, Daimler, FiatChrysler, Opel and Ferrari; the construction sector, with already limited shutdowns taking place, is expected to follow suit soon.
One estimate predicts a drop in German auto sales of at least 11% to around 12.74m vehicles, described as "an optimistic scenario".
The severe dip in the auto market will hit hard the mineral suppliers to the foundry industry, with auto manufacturing being a key consumer (eg. chromite, zircon, silica sand, bentonite, olivine).
The aluminium sector is also expected to feel the impact from the auto decline, and this will affect suppliers of aluminium fluoride (manufactured from fluorspar).
Cement – expecting closures
Cement (limestone, gypsum, silica sand, clays) manufacturers in India, the world's second largest producer, and in Italy have been closing their plants.
As the construction industry worldwide adjusts to the situation more plants will most likely close.
As with other sectors that have heavy utilisation of calciners (eg. magnesia, lime, bauxite, dolime, kaolin, diatomite), keeping up with maintenance schedules will be a huge challenge with travel across borders severely restricted.
Glass – container glass continues in USA
Likewise, the auto and construction markets in turn use huge volumes of glass (limestone, soda ash, silica sand) and coatings (titanium dioxide, calcium carbonate, talc, mica, kaolin, mineral pigments).
Glass tableware manufacturers in France and the USA have closed plants.
There is one ray of light from the USA where container glass manufacturing for food, beverages, and pharmaceuticals has been deemed an "essential" industry, meaning that plants can continue to operate even if the country goes into lockdown.
Whether such recognition will be made for Europe's container glass industry remains to be seen. The sector has 160 glass manufacturing plants in the EU with 125,000 jobs operating in a circular economy business model with over 70% of all products sold in the EU destined for recycling to new food grade packaging.
PLEASE NOTE: POSTPONED IMFORMED FORUMS

After careful consideration of evidence to date, market feedback, and liaison with our hotels, sponsors, and partners, we have decided to postpone the following conferences to 2021 but remaining at the same venues (please click Forum titles for full details):

Please do not hesitate to contact us with any questions on the above. We will advise delegates as/when appropriate regarding any impact to our other events' dates and venues, which remain in place until further notice.

Registration, Sponsor & Exhibit enquiries: Ismene Clarke T: +44 (0)7905 771 494 ismene@imformed.com

Presentation & Programme enquiries: Mike O'Driscoll T: +44 (0)7985 986255 mike@imformed.com
Refractories – striving for "criticality"
Serving the above market sectors are the refractories manufacturers who will be keenly following their customers' decision making and performance during the crisis since it will have a direct impact on them.
Clearly with the steel, non-ferrous metal, cement, and glass plant shutdowns already underway and perhaps more on the horizon, the refractories sector will be feeling the pinch.
That said, it might be that some of these plants can possibly use the shutdowns to bring forward scheduled refractory maintenance programmes. However, whether the refractory products and engineers can travel to and access the plants is another matter.
During the first quarter of 2020, the world's primary source of refractory minerals, China, experienced severe disruption of supply owing to its Covid-19 lockdown, and is now starting to get back on stream (see China's mineral supply to global markets: dominance, diversity & disruption).
However, just as some 90% of staff are returning to work, fears are emerging of a "second wave" of the virus hitting China which is apparently already impacting recently re-started plants and supply chains.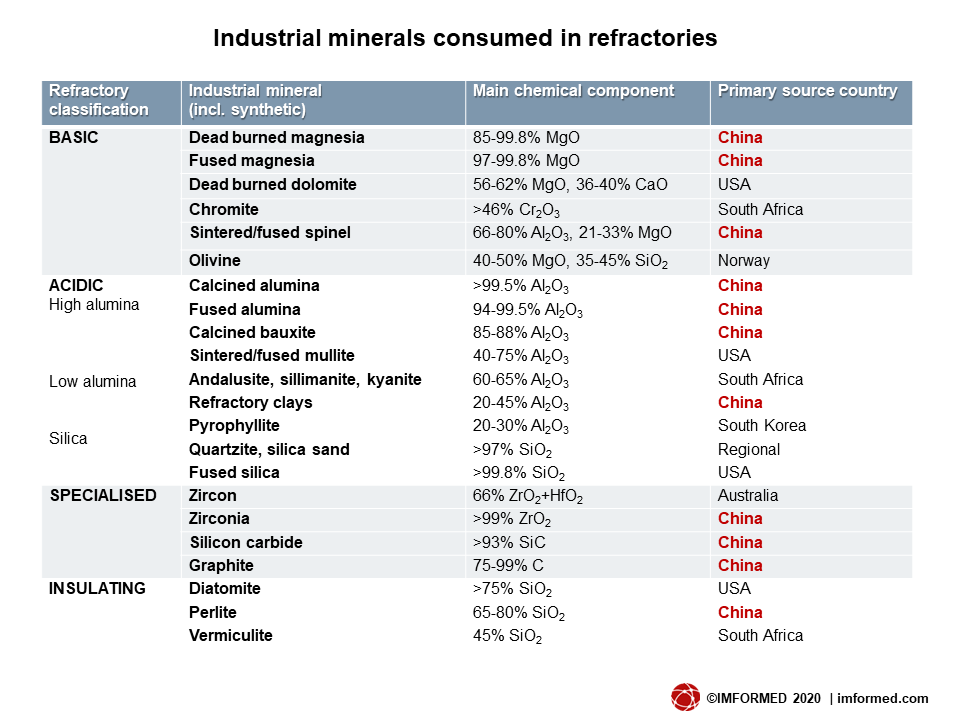 Now it is the turn of the rest of the world, with India, Europe, South Africa and parts of the USA in lockdown. Unsurprisingly, orders from these regions for Chinese supplies are drying up as plants close.
This may somewhat alleviate the outcome of the second virus wave on supply chains, but Chinese mineral suppliers will see little consolation in that.
Certain refractory suppliers are being able to maintain some operations.
Today, Monday 30 March, the Spanish government decided to further limit the number of businesses allowed to keep their activity going.
The country's leading magnesia and refractories producer, Magnesitas Navarras (MAGNA), has been awarded the status of "essential activity" which will enable continued operations during the current State of Emergency.
On 26 March, leading US refractory manufacturer HarbisonWalker International (HWI) announced that it had received written confirmation from Tom Wolf, Governor of the Commonwealth of Pennsylvania, that its application to continue business operations at physical locations had been accepted and approved.
On 19 March, the Pennsylvania government had ordered "non-life sustaining businesses" to close. HWI has been working to successfully ensure no interruptions in the critical supply chain of refractory products and services provided to customers.
What prompted HWI's application to state authorities was that companies listed in the business category of "Clay Product and Refractory Manufacturing" had been ordered on 19 March to close physical operations.
However, steel, aluminium, pulp and paper, cement, plastics, rubber, and chemicals manufacturers are permitted to remain open in the USA (see earlier). Thus HWI was able to demonstrate, and successfully, that refractory products and services supplying those industries are absolutely essential to their manufacturing processes.
Carol Jackson, Chairman and CEO of HWI, became president of the World Refractory Association (WRA) in January 2020, succeeding Stefan Borgas, CEO RHI Magnesita, who led the organisation since January 2018.
On 27 March 2020, the Brussels-based WRA published a statement calling that refractories should be recognised as a critical industry "that must continue to operate."
The statement continued: "In the context of COVID-19, our customers in the steel, aluminium, copper, glass, chemicals, energy, waste management and pulp and paper industries are directly responsible for supplying the primary materials used to produce desperately needed items such as hospital beds, ambulances, respirators, face masks, and other medical devices. Their production processes cannot occur without refractories, even in the short term."
Leading speciality aluminas producer Almatis  has also just received the requisite government approvals as a critical business in order to continue its operations in the Americas, Europe, China and Japan. Almatis supplies markets including refractories, ceramics, abrasives, glass, flame retardants, and building chemistry.
India's refractories industry is hoping its government will follow decison making in the USA and Spain. In a 30 March statement, the Indian Refractory Makers Association (IRMA) wanted to "gently remind" that refractory and refractory raw materials supply chain should be brought under the Essential Services Maintenance Act, 1981 and "allowed to function uninterruptedly" since they are essential inputs for iron and steel, thermal power, petrochemical, cement, non-ferrous metal, and glass plants. The latter sectors have been kept operational by the government during its three week lockdown from 26 March 2020.
"We must continuously produce and service refractories because they are critical components in almost all products' supply chains." said Parmod Sagar, Chairman, IRMA.
How other mineral product suppliers to certain industry sectors in different countries fair remains to be seen.
Ensure

your

refractory mineral supply profile remains visible

Place an advertisement on the new 2020 edition of IMFORMED's

Refractory Raw Material World Sources Wall Chart

Previous 2016 edition out of print | Extra minerals added | Primary world sources & production of key refractory minerals

Limited spaces, contact Ismene Clarke T: +44 (0)7905 771 494 ismene@imformed.com
Oilfield – oilfield service majors cut costs
The ramifications of the Coivd-19 outbreak has decimated the oilfield market, which was already struggling at the year's start, forcing oil prices to hit an 18-year low. At time of writing (30 March) oil prices had fallen to US$25.61/bbl Brent Crude and US$20.25/bbl WTI Crude.
This will directly impact the oilfield service companies supplying E&P drilling programmes with drilling fluids and additives, whose essential components include a wide range of industrial minerals (eg. bentonite, barite, calcium carbonate, graphite, silica sand, diatomite, potash, calcium chloride, borates).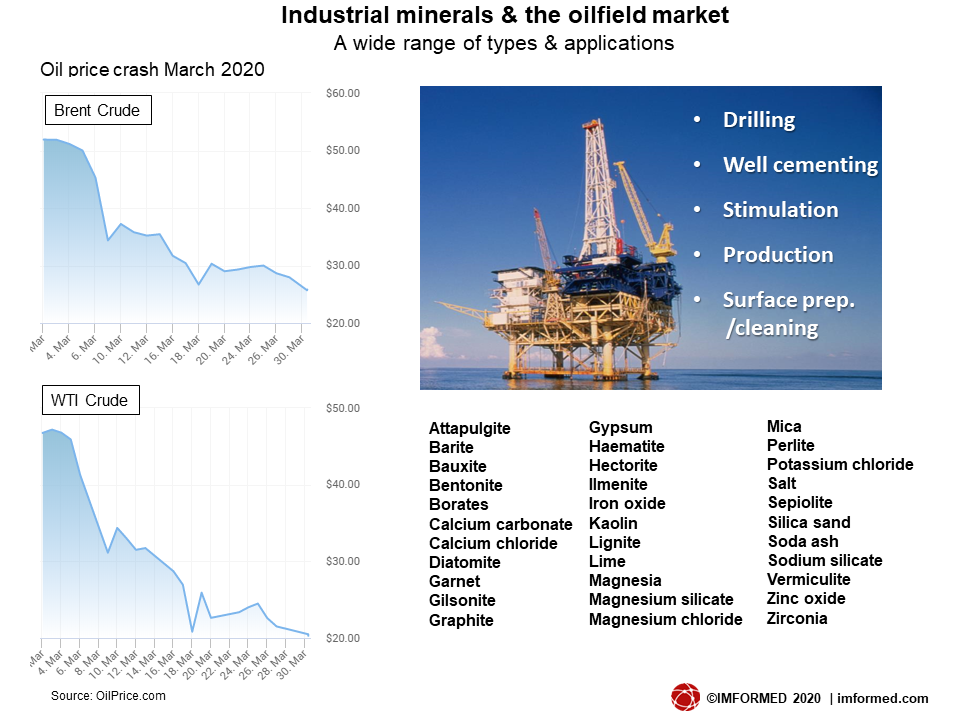 Taking the Texas oil and gas shale patch as an example, very recently the darling of the US shale play bonanza, the Federal Reserve Bank of Dallas's latest survey (of 161 energy firms during 11-19 March), showed its business activity index, measuring activity in the energy industry, plummeting to a -50.9 reading, down from -4.9 in Q4 2019.
According to the survey, the average price that a driller needs to simply cover operating expenses ranges from US$23 in the Eagle Ford to US$36 in other shale basins.
With WTI trading below $25 per barrel, the "average" shale driller is not even covering the cost of keeping shale wells online. A far cry from the US$55/bbl as the oft-quoted rule of thumb minimum for shale gas plays to keep operational. This is has prompted local headlines such as: "Is this the beginning of the end for Texas oil?"
Underlining the situation, the leading US multinational oilfield service providers are reported to be planning CAPEX and operational cutbacks:
Baker Hughes could reduce capital spending in 2020 by 20%-30% and may need to shut some manufacturing facilities in Italy due to the coronavirus.
Halliburton is accelerating its cost-cutting program and will significantly cut spending this year below its original $1.2bn budget, pointing to the $800m reduction in 2014 during the last downturn as a potential target. The company is testing scenarios including a 60-65% reduction in some areas of the oilfield services sector. Halliburton already has been idling equipment and laying off workers, recently announcing a two-month furlough of 3,500 workers.
Schlumberger says it is cutting 2020 capital spending by as much as 30% from 2019 levels because of the coronavirus. Its Q2 outlook for North America land operations anticipates a "rapid reduction" in rig counts and completions activity, with the rig count projected to potentially reach 2016 trough levels. Internationally, Schlumberger is planning for reduced activity due to customer budget cuts.
One sector that will maintain demand, and perhaps have even more pressure placed on it, is the logistics sector ensuring supplies that are available get through. Shipping activity is picking up.
CISA in the USA has classified "transportation functions, services that enable logistics operations, maritime transportation workers" as "critical", and the busy ports of Rotterdam and Amsterdam remain open, albeit with a reduced workforce.
However, tricky situations remain, such as some ports closed or unable to handle incoming vessels. In South Africa, for example, the main export terminals were closed to mineral exports from 26 March during the nationwide 21-day lockdown (see earlier).
Charterers may declare force majeure, but that is not always correct according to some shipowners' insurance companies.
Wrap up: stay calm & try to carry on
So, a tough few months ahead for most. Clearly, as outlined above, certain mineral sectors will achieve some semblance of continuity of their operations.
But once the decision making on damage control to the business passes, then companies can move to take stock and strategise for their emergence on the other side of this crisis.
It might be possible for some mineral producers to build up inventory in order to supply markets later this year or early next year.
Positive outcomes might seem distant, but they will come:
Urgent and collective clinical, political, and public response to the pandemic may turn the tide by June/July earliest – China is already getting back to work.
Obvious to those involved, but industrial minerals will be increasingly recognised more widely as imperative to manufacturing "critical" and "essential" industry and domestic products; may bode well for future investment and resource/mine planning applications.
Despite onset of recession, market demand for minerals will return.
The situation has forced an entire rethink and adaption of alternative options in supply chain logistics, sourcing, exploration, working practices, sustainable development, recycling, increased remote online/digital methods – and some most likely for the better. Indeed, the industry may go from temporarily adapting to permanently adopting these measures for more efficient working in the future.
Opportunities may emerge to restructure companies and offer mergers to salvage businesses.
Coming out the other side of this will be a need for all elements of industrial mineral market communities to engage and assess the damage, share knowledge, consider how to respond and move forward. To that end, IMFORMED shall continue to serve the industry with its Forums and other information provision. Watch this space for announcements and news.
All we can do is to stay calm, stay well, and try to carry on with future scenarios in mind.
PLEASE NOTE: POSTPONED IMFORMED FORUMS

After careful consideration of evidence to date, market feedback, and liaison with our hotels, sponsors, and partners, we have decided to postpone the following conferences to 2021 but remaining at the same venues (please click Forum titles for full details):

Please do not hesitate to contact us with any questions on the above. We will advise delegates as/when appropriate regarding any impact to our other events' dates and venues, which remain in place until further notice.

Registration, Sponsor & Exhibit enquiries: Ismene Clarke T: +44 (0)7905 771 494 ismene@imformed.com

Presentation & Programme enquiries: Mike O'Driscoll T: +44 (0)7985 986255 mike@imformed.com