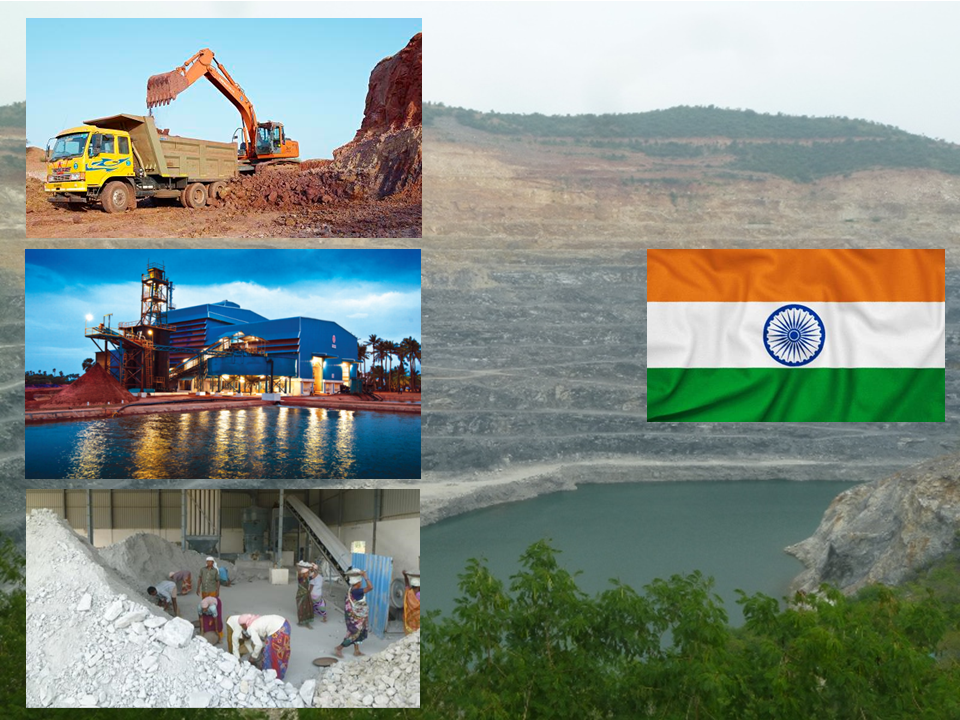 India has always been one of the world's great sources and markets for industrial minerals, but now looks set to significantly raise its profile.
Already the world's fifth largest manufacturer, India remains on track to be the world's fastest growing economy with IMF estimated GDP growth forecasts of 7.3% for FY2019 and 7.4% for FY2020.
Meanwhile, the fiscal average in GDP growth in the last five years has topped 7.5%, defining a new normal for the Indian economy.
This economic boom has naturally driven strong growth in primary mineral consuming market sectors such as construction, steel, foundry, cement, glass, ceramics, paper, paint and plastics. This has been reflected in recent activity by overseas manufacturers keen to establish subsidiaries and participate in joint ventures in India, eg. RHI Magnesita, Imerys, Vesuvius, Omya, Almatis.
At the start of 2019 India had overtaken Japan as the world's second largest steel producer, and by the end of the year is expected to become the world's second largest steel consumer.
IMFORMED's Indian Minerals & Markets Forum 2019, 18-20 November 2019, Mumbai will examine and discuss the current status and outlook for India's key industrial minerals and markets and bring together all the key players involved and those looking to acquire the latest knowledge in this fascinating growth market.

Plus delegates will have the excellent and exclusive opportunity following the conference on 21-22 November 2019 to visit the mineral operations of leading Indian industrial minerals group

Ashapura Minechem Ltd

in Gujarat.

EARLY BIRD RATES CLOSE MONDAY 7 OCTOBER – REGISTER NOW

Online registration here, or
However, despite having an abundance of mineral resources, some of which still enjoy strong export markets, there are certain domestic markets which have been caught out by their overreliance on Chinese mineral imports – now interrupted, and in some cases declining in availability, while fluctuating in price – which has forced an urgent reassessment of domestic and import options.
This has given rise to a new wave of mineral resource and product development in India (and other Asian countries) as the challenge grows for consumers keen to secure new and alternative sources of industrial mineral supply as their markets expand.
The mining and minerals sector in India is expected to witness a major upward transition in the next few years, boosted by a new National Mining Policy unveiled in February 2019 (to mixed reviews), and driven by nationwide reforms such as "Make in India" initiative (making India a global manufacturing hub), "Smart Cities Mission" (urban renewal and retrofitting), "Saubhagya scheme" (rural electrification), and a focus on building renewable energy projects under the National Electricity Policy.
Rising demand from infrastructure and transportation sector schemes such as housing for all by 2022, "Bharatmala Pariyojana scheme" (84,000km new highways by 2022), expansion of the railway network, and development of "Industrial Corridors" (eg. Amritsar-Delhi-Kolkata, Bengaluru-Mumbai, Visakhapatnam-Chennai ) will also help boost and facilitate mineral demand.
India's minerals: dominated by non-metallics
During 2017-18, India's mining and quarrying industry accounted for about 2.3 % of the GVA (gross value added) at current prices, and, according the latest data from the Indian Bureau of Mines (IBM), mineral production in India increased by 2.3% (as per index of mineral production base year 2011-12) compared to the previous year.
This increase was mainly owed to a rise in production of raw coal, lignite and natural gas among fuel minerals; copper concentrates, gold, iron ore, lead concentrates, zinc concentrates, manganese ore and tin concentrates, among metallic minerals; and phosphate, diamond, fluorspar, garnet, kyanite, sillimanite and limestone among non-metallic minerals.
The value of metallic minerals produced in 2017-18 was INR500bn(US$7bn), an increase of about 27% over the previous year. Non-metallic minerals' value was INR82bn(US$1bn), representing a decrease of 2%.
However, it should be noted that these figures do not account for "atomic minerals" (uranium, thorium, niobium, tantalum, beryllium, lithium, zirconium, titanium, rare earths), and, crucially, "minor minerals" (all other industrial minerals) as classified by the IBM.
The so-called "minor minerals" include many significant industrial minerals in which India is a world leading producer (eg. barite, bentonite, feldspar, kaolin, silica sand, talc), whose producers report production data directly to their respective state authorities and not to the IBM, thus India's large scale industrial minerals activity may appear somewhat "hidden" from certain official statistics.
A detailed examination of Indian mineral production and value clearly demonstrates that industrial minerals very much dominate India's mining industry and are integral to the country's economic ambitions (see table for summary of mineral production).
Presenting at Indian Minerals & Markets Forum 2019, Mumbai, 18-20 November we are delighted to welcome:
Supply and demand of important industrial minerals in India
By Dr. Pradeep Kumar Jain, Chief Mineral Economist, Indian Bureau of Mines, India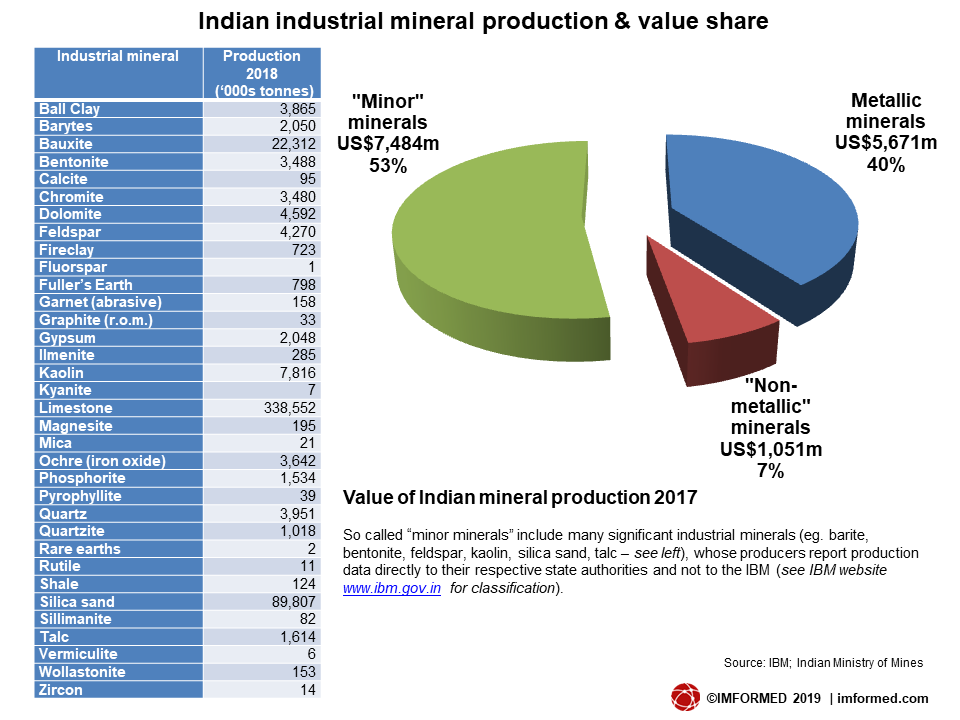 Investment: climate ripe although new mining policy questioned
With barely 20% of reserves mined, India presents a major opportunity for investors. The Geological Survey of India has earmarked 100 blocks for auctioning regional exploration.
100% FDI is allowed in the steel and mining sectors under the automatic route, and some US$13.83bn of FDI has been chanelled into the metallurgical and mining sectors since 2000.
On 28 February 2019, the Union Government approved the National Mineral Policy 2019, the key focus of which is on transparency, better regulations and enforcement, balanced growth and sustainability. The National Mineral Policy 2019 replaces the National Mineral Policy 2008.
Key features include:
• Encouraging the private sector to take up exploration
• Encouragement of merger and acquisition of mining entities
• Creation of dedicated "mineral corridors" to boost private sector mining areas
• Proposals to grant status of industry to mining activity to boost financing of mining for private sector and for acquisitions of mineral assets in other countries by private sector
• Long term import-export policy for minerals will help private sector in better planning and stability
The new policy has been described as both appropriate and timely. India's mining sector has suffered many challenges including illegal and inefficient mining, environmental and statutory process violations, and a lack of investment.
However, the policy has not altogether been received as satisfactory, with some claiming it does very little to reform the country's mineral sector.
Of high concern is a perceived lack a focus on the future of India's minerals security. Owing to little or no major exploration and discoveries of certain domestic minerals, there has not been any significant change to their inventory base for decades. Moreover, there has been little development in required mineral processing technology. Opportunity knocks for new mineral investors and developers?
Presenting at Indian Minerals & Markets Forum 2019, Mumbai, 18-20 November we are delighted to welcome:
The climate & outlook for mineral project investment & development in India
John Evans, Managing Director, Tractus Asia Ltd, Thailand
Risks, concerns, & impact of mineral legislation & India's mineral requirements to 2050
Anurag Ojha, Senior Manager (Mining), NMDC Ltd, India
Trading and investing in Indian industrial minerals
Ajay Kulshreshtha, AK Minerals Consultancy Services, India
Refractories: driven by steel growth
India is now the second largest crude steel producer in the world, generating an output of 106.5m tonnes in 2018, a growth of 3.7% year-on-year. Indian steel demand is set to grow by 7.1% in 2019 while globally, steel demand has been projected to grow by 1.3%. India is certainly one of the few bright spots for world steel growth.
As well as expanding, the Indian steel industry is producing higher grade steels which is demanding higher quality refractories and consequently higher quality refractory minerals. A major challenge is that much of India's refractory raw material requirements are imported.
Refractories production in India for FY 2018-19 was 1.2m. tonnes, representing a significant recovery and growth of 9% over the previous year, driven mostly by steel, but also by the country's growing cement and glass sectors.
Leading international refractory groups are present in India, eg. Krosaki Harima, RHI Magnesita, Vesuvius, and activity is increasing.
May 2019 saw Dalmia Seven, the Katni, Madhya Pradesh-based monolithics joint venture between Dalmia-OCL, India's fastest growing refractory company, and Seven Refractories of Slovenia come on stream.
Meanwhile, RHI Magnesita expects in November 2019 to complete the merger of its three arms in India to become the largest refractory company in the country: Orient Refractories, RHI Clasil, and RHI India will become a single entity, RHI Magnesita India.
Parmod Sagar, CEO, RHI Magnesita India, said: "RHI Magnesita remains upbeat on the prospects of the Indian economy despite the current [global] downturn. The current situation is a temporary phase, before steel and cement sector will show a steep rise."
Presenting at Indian Minerals & Markets Forum 2019, Mumbai, 18-20 November we are delighted to welcome:
New refractory developments
Ashapura Group, India
Refractory raw materials supply & demand in India
Hakimuddin Ali, Director Business Development & Strategy, Imerys, India
Overview of supply and demand of India's refractories
Sameer Nagpal, CEO-Refractories, Dalmia OCL Ltd, India
Influencing factors impacting India's refractories market
Anirbandip Dasgupta, Senior Executive Officer, Indian Refractory Makers Association, India
Secondary raw materials for refractory industry
Dr. Nilachala Sahoo, Director (Technical), Chaitanya Refractory Pvt Ltd/Global Recycling, India
Ceramics & Fillers: construction boom looms
Driven by the growing construction sector and a rise in exports, the Indian ceramic industry, which has the potential to be the largest producer in the world, is looking to double its turnover by 2021.
The industry produces around 2.5% of the total global output, in which Gujarat accounts for 70% of the total output.
With many new infrastructure projects in the pipeline, the construction sector is growing at an approximate rate of 7-8% per annum. The demand for industrial ceramic products such as ceramic tiles, sanitaryware and pipes required in construction applications are therefore expected to follow suit.
Planned infrastructure projects are also driving growth in India's plastics market and these are
supported by upcoming domestic capacity increases in plastics manufacturing. There are huge growth opportunities in India for plastics owing to lower per capita consumption as compared to the world average.
According to PlastIndia Foundation, the 2017-2022 13th Year Plan is showing an average of 8% GDP growth with a 10.4% growth in polymer consumption.
Presenting at Indian Minerals & Markets Forum 2019, Mumbai, 18-20 November we are delighted to welcome:
Wollastonite and its market outlook
Gaurang Singhal, Director, Wolkem India Ltd, India
Feldspar and quartz production and markets
Dr. B. Venkatachalam, Director, Gaangey Minerals Pvt. Ltd, Group, India
Ceramic raw materials and the importance of white clay
Jayesh Dave, General Manager, Radheshyam Minerals, India
Opportunities for Indian filler mineral suppliers in plastics rubber & coating markets
Samantha Wietlisbach, Principal Analyst Chemicals, IHS Markit, Switzerland
Processing: essential support to mineral development
Core to the successful development and expansion of India's mineral sector is the investment in and utilisation of modern processing technology.
Without the appropriate crushing and grinding equipment, calcination technologies, and beneficiation methods, India's minerals will be unable to meet the growing and increasingly sophisticated requirements of the expanding minerals consuming markets.
Presenting at Indian Minerals & Markets Forum 2019, Mumbai, 18-20 November we are delighted to welcome:
Future oriented processing technology for high-end industrial minerals & their applications
Dietmar Alber, Business Development Director, Minerals & Metals Division, Hosokawa Alpine AG, Germany
Water-free electrostatic processing of fine minerals
Kyle Flynn, Sales Engineer, ST Equipment & Technology, USA
Wet processing of industrial minerals in India and South East Asia
Dr. Arabinda Bandyopadhyay, Chief Technologist, CDE Asia Ltd, India
Future developments: electrification & battery markets
As well as meeting the demand of India's growing existing markets, mineral developers are also looking to the future mineral consuming markets in the region, in particular the new generation energy markets using lithium-ion batteries and solar power.
In January 2019, the government of India declared victory in rural electrification. According to widespread media reports, Prime Minister Modi's Saubhagya scheme (free or heavily subsidised connections, launched in 2017) had met its goal of electrifying all Indian households a few months before the official deadline of 31 March 2019.
While there remains debate over the precise numbers and the "household" definition, the electrification of some 214m. households is no mean feat.
The lithium-ion battery market is expected to grow exponentially in the next five years in India, driven by initiatives such as the National Electric Mobility Mission Plan 2020, with a projection of having 6-7m electric vehicles on Indian roads by 2020, and installation of 175 GW of renewable energy by 2022.
Presenting at Indian Minerals & Markets Forum 2019, Mumbai, 18-20 November we are delighted to have:
Minerals for the electrification of India
Dr Richard Flook, Managing Director, Mosman Resources, Australia
Li-ion battery market
Alison Saxby, Director, Roskill Holdings, UK
High purity quartz supply & demand
Murray Lines, Managing Director, Stratum Resources, Australia
Graphite developments, markets & India's mineral challenge
Shishir Poddar, Managing Director, Tirupati Graphite PLC, UK
The best route to understanding India's industrial minerals markets for today and tomorrow

EARLY BIRD RATES CLOSE MONDAY 7 OCTOBER – REGISTER NOW
Online registration here, or