Two weeks to go until Fluorine Forum 2019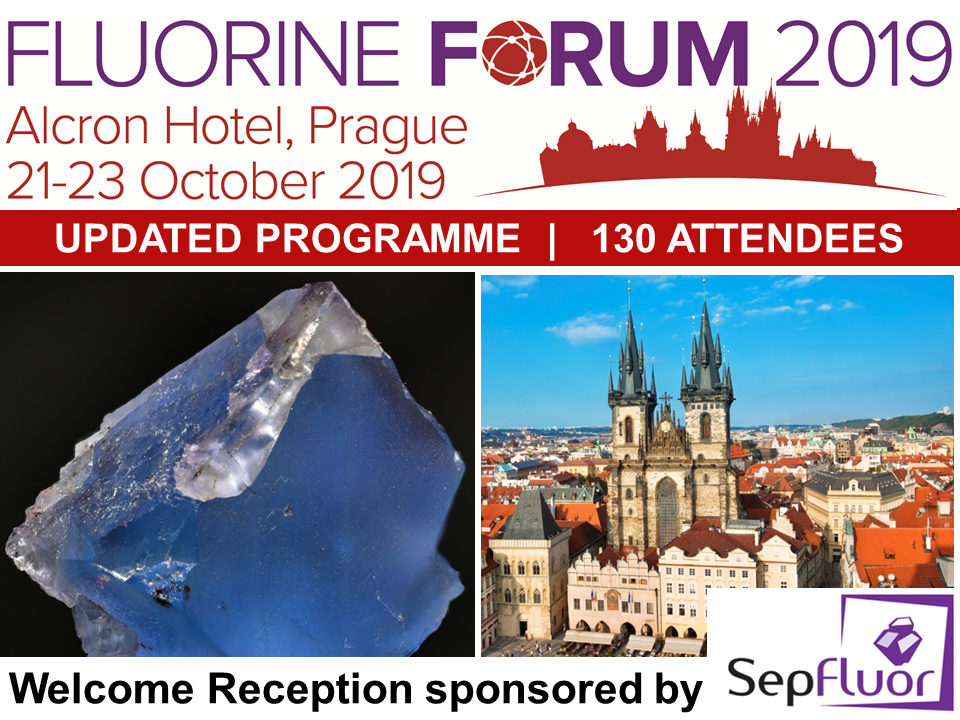 With just under two weeks until IMFORMED's Fluorine Forum 2019 at the Alcron Hotel, Prague, on 21-23 October, the great and the good of the global fluorine raw materials supply chain are readying themselves for two days of exceptional presentations, discussion, and networking.
In recent months the fluorine raw material supply market has had a several significant developments which are already raising questions and comments with regard to 2020 and beyond.
SepFluor Ltd in South Africa announced the official start-up of its Nokeng Fluorspar Mine and Plant Project in August and commenced loading its first 2,000 tonnes of acidspar on 24 September for European customers via Rotterdam.
The mine's concentrator is designed to produce around 180,000 tpa of acid grade fluorspar (97% CaF2) and 30,000 tpa of metallurgical grade fluorspar from run-of-mine fluorspar ore production of 630,000 tpa.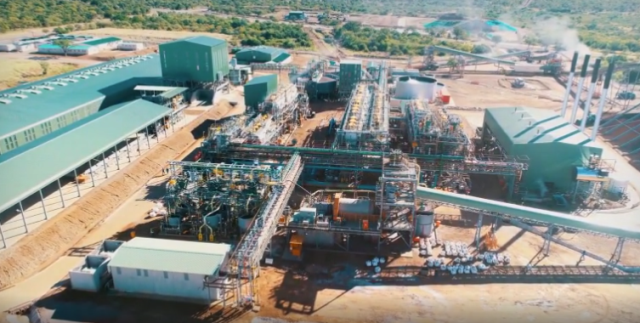 Canada Fluorspar Inc (CFI) now appears unlikely to reach its nameplate acidspar capacity of 200,000 tpa acidspar concentrate at St Lawrence, Newfoundland, before the end of the year owing to technical issues.
Meanwhile, GFL GM Fluorspar SA, a subsidiary of Gujarat Fluorochemicals Ltd (GFL), India, is to expand production capacity of acid grade fluorspar at its Taourirt operation in Morocco.
The mine and beneficiation plant have been operational since 2018 with a capacity of 40,000 tpa acidspar, which is now planned to be increased to 60,000 tpa, expected to be complete by Q2 2020 (see New fluorspar source for European markets).
Mongolian fluorspar production has experienced a rejuvenation in 2018 and 2019 with increased output taking up the slack from declining Chinese availability, but political changes in the country have complicated and hindered fluorspar investment and development.
Australian Bauxite Ltd's (ABX) wholly-owned subsidiary, ALCORE Ltd has achieved production of test samples of aluminium fluoride (AlF3) and several valuable co-products at its pilot plant in Berkeley Vale, New South Wales. Grades produced ranged 31.1-35.8% Al, 54.8-60.3% F.
This is an ongoing project by ABX to develop bauxite deposits in eastern Australia and Tasmania, which includes AlF3 production from low grade bauxite for aluminium smelters and Li-ion battery manufacturing.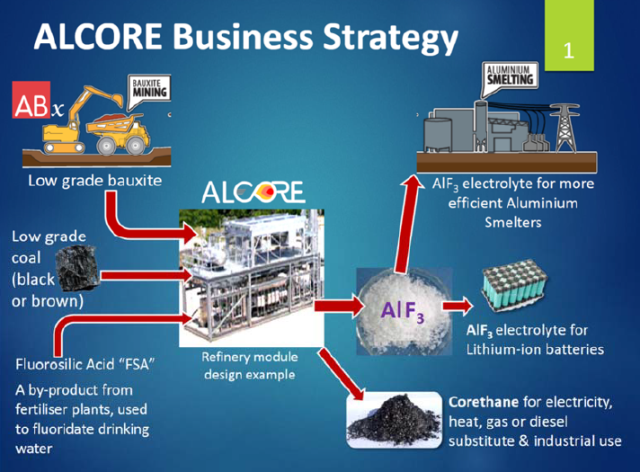 In early September, leading fluorspar and fluorochemicals group Mexichem announced a major restructuring and name change: Mexichem's corporate name has been changed to Orbia Advance Corp., headquartered in Boston, and Mexichem Fluor has become Koura Global.
Described as a "Human-Centered Business Transformation" the move reflects a year-long process to transform the company into a "future-fit, human-centered organisation… to address the challenges that define how people live and thrive today and in the future."
In addition to the fluorspar business, Orbia is a world leader in speciality products and innovative solutions across multiple sectors of industry and commerce, from agriculture and infrastructure to telecommunications, and healthcare.
Key among the leading discussion topics at Prague will be:
The changing role & performance of Chinese fluorspar supply & markets
Ramifications of the latest round of environmental inspections affecting Chinese fluorspar and HF production
Mongolia's fluorspar future & trade with China and the world
Which new world supply sources are emerging and when?
How the world market will absorb new supply
Is clarity on accurate world fluorspar consumption achievable?
Changing demands for F compounds in the cooling markets
How will growth in Li-ion, and maybe F-ion, batteries affect acidspar demand and price?
Influence of trade wars & recession-hit industries on demand
Impact of illegal HFC trade on EU emissions targets
FSA processing & technologies to consider as real alternatives
Programme update: enter New Chemical Products, Russia
Owing to a late speaker drop-out, the Fluorine Forum 2019 programme has been updated with a slight alteration on Day 2 in order to accommodate a new speaker on a most exciting topic for the market.
IMFORMED is delighted to welcome Bob Welch, Sales Director, New Chemical Products LLC, USA to present on "A new proven technology to recover Anhydrous HF from FSA".
Accompanying Bob will be Anton Mamaev, President, New Chemical Products, who will be participating in the Alternative Sources Roundtable.
Following the Welcome Reception, kindly sponsored by SepFluor Ltd, and featuring local musical entertainment, we have two full days of presentations and discussion:
OVERVIEWS
Key trends and outlook for the fluorspar market
Oliver Rhode, CEO, Xenops Chemicals GmbH & Co. KG, Germany
Trade & tariffs: Where we've been and where we might go
Ray Will, Director of Specialty & Inorganic Chemicals Consulting, IHS Markit, USA
MINING & PROCESSING
Cost factor trends in fluorspar processing
Ashok Shinh, Ashok Shinh Consultancy Ltd, UK
Fluorspar mining in Europe: mineral waste (tailings) management in a National Park
Peter Robinson, Chairman, British Fluorspar UK Ltd, UK
Fluorspar mining in the Czech Republic
Vít Kučera, Managing Director, Fluorit Teplice s.r.o., Czech Republic
SUPPLY: VIETNAM | CHINA
Nui Phao: Striving to be the best-in-class supplier
Craig Bradshaw , CEO, Masan Resources Group, Vietnam
The development of China's fluorspar industry
Usman Khan, CEO, Kcomber Inc., China
China's fluorspar market update
Liao Xinhua , Chairman, CNMIA Fluorspar Committee, China
MARKETS 1: REFRIGERANTS
The evolution of refrigerant gas and the role of Chemours in the market
John Zielinski, Executive Buyer Fluoroproducts, Chemours, USA
Changes in refrigerant use and its impact on the air conditioning and refrigeration markets
Andrea Voigt, Director General, European Partnership for Energy & the Environment, Belgium
MARKETS 2: HF & FSA DEVELOPMENTS
HF and fluorine developments in Saxony and eastern Europe
Johannes Scheruhn, General Manager, Scheruhn Minerals and Chemicals GmbH, Germany
HF from Fluorosilicic Acid (FSA): challenges and opportunities
Datta Umalkar, Technical Consultant, Chenco GmbH, Germany
A new proven technology to recover Anhydrous HF from FSA
Bob Welch, Sales Director, New Chemical Products LLC, USA
MARKETS 3: FLUOROCHEMICALS | ALUMINIUM FLUORIDE
India: An emerging market for acid grade fluorspar
Bimlesh Jain, Executive President (Corporate), Gujarat Fluorochemicals Ltd, India
Downstream markets for fluorochemicals, through to fluoropolymers & fluoroelastomers
Samantha Wietlisbach, Principal Analyst, Chemical, IHS Markit, Switzerland
Trends in aluminium fluoride supply and demand
Adam Coggins, Analyst, Roskill, UK

Plus, our acclaimed Roundtable Networking & Discussion session with table themes on China,
Alternative Sources, Processing Cost Factors, Aluminium Fluoride and Fluorochemicals.
Register online

here

, or
Contact Ismene ismene@imformed.com | T: +44 (0) 7905 771 494