Fluorine Forum 2020 ONLINE Review
IMFORMED's inaugural virtual event Fluorine Forum 2020 ONLINE took place last month and was hailed a great success by attendees keen to keep abreast of trends and developments in supply and demand for fluorine raw materials.
Key takeaways included:
Significant commercial interest in FSA-route plants in operation by 2022 as an alternative fluorine source
New US fluorspar mine expected to be producing acidspar by May 2021
Growing interest in fluorspar's input to EV lithium ion battery manufacturing
Covid-19 accelerating shift of trade patterns and demand slowdown
Although sadly not held at the originally planned venue in Hanoi, Vietnam (postponed to next year, see Fluorine Forum 2021), 75 attendees from across the global fluorine supply chain logged in on 13 October to participate in a most informative online live conference, comprising nine excellent presentations each sparking enthusiastic and extended discussion.
While most acknowledged that the virtual conference cannot fully replicate the in-person experience that IMFORMED usually provides, the online format was nevertheless deemed most valuable and informative.
"Thank you for organising and animating the Fluorine Forum, in spite of the challenging conditions. It was Itafos' first attendance, and was very insightful on the fluorine markets, projects, and technologies." Alex Benedetti, Commercial Director, Itafos, USA

"Thank you for your wonderful job! FF2020 was beautifully organised: interesting presentations and discussions. It was very convenient and compact with no technical problems." Evgeniy Torochkov, Head of Industrial Ecology, NIUIF (PhosAgro), Russia

"The online conference was very good. However, I prefer the old style and I'm already looking forward to Hanoi next year!" Oliver Rhode, CEO, Xenops Chemicals GmbH & Co KG, Germany

Missed attending the Forum?

A full set of PDF presentations plus access to live recording maybe purchased.

Please contact Ismene Clarke T: +44 (0)7905 771 494 ismene@imformed.com
After a Welcome Introduction by Ismene Clarke, Director, IMFORMED, the industry scene was set by Mike O'Driscoll, Director IMFORMED commenting on key influencing factors, and emerging potential new sources of fluorspar and alternative sources of fluorine feedstock material.
Thereafter followed eight presentations on key aspects shaping the future of the industry.
Rhode presented a fine overview of the market situation with global facts and figures, the status of China, influencing factors affecting the supply demand balance, and highlighting Xenops Chemicals' fluorspar activities.
Rhode said: "The trade pattern of fluorspar has changed dramatically. Covid-19 is accelerating the shift of trade patterns and the slowdown of demand, while most fluorspar mines are not running at nameplate capacity. The offtake volumes of 2020 will be postponed to 2021."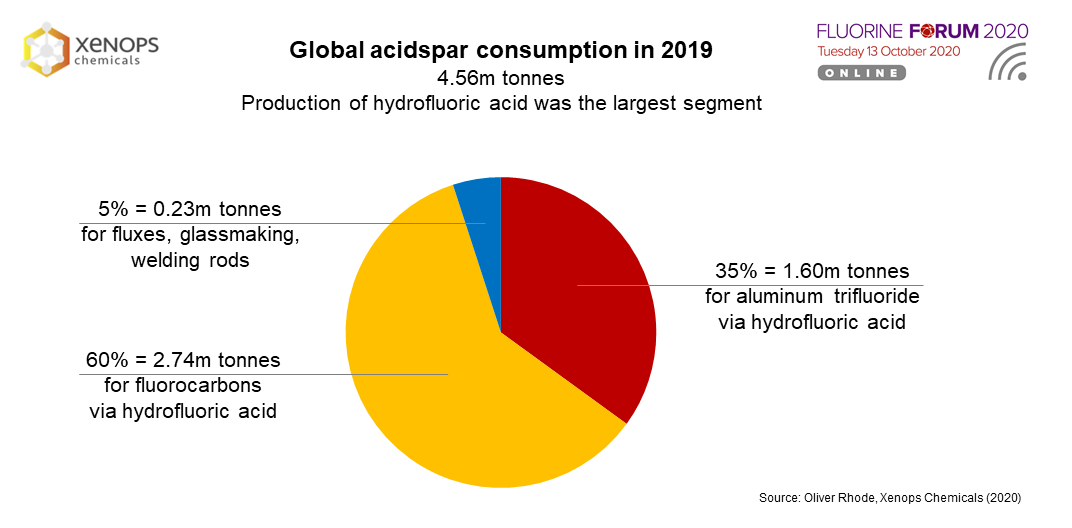 Fluorspar has a long term growth potential of about 2.4% p.a. CAGR, mainly driven by acidspar, the supply of which will depend mainly on Mexico, South Africa, Canada, and Vietnam.
Rhode touched on the emergence of fluorosilicic acid (FSA) as an alternative source, commenting that the economic advantage of the FSA route depends on the "price" of FSA, proximity to a phosphoric acid producer is required, and that the biggest opportunity for FSA is China.
Xenops is active in marketing and distributing fluorspar from two sources: Gujarat Fluorochemicals Ltd's subsidiary GM Fluorspar SA, at Taourirt, north-east Morocco, operational since 2018 with a capacity of 40,000 tpa acidspar (see New fluorspar source for European markets); and more recently, developing "a combination of mines" in Coahuila, Mexico, hosting high quality, low arsenic fluorspar reserves, mainly targeting the Americas and Asia.
COVID-19 impact on steel markets for fluorspar
Kerry Satterthwaite, Manager Industrial Minerals & Chemicals,

Roskill

, UK
Satterthwaite reminded that most metspar is consumed in the iron and steel industry, with smaller volumes used in cement production and other applications, and explained how all metspar applications have been hit by the demand slowdown this year.
Global crude steel production has been slowing for a number of years based on maturing rates of industrialisation in China and slowing Chinese output. Chinese steel production declined for the first time in 2015, before seeing some recovery to 2019, and falling in 2020 with reduced global demand amid COVID 19.
Satterthwaite said: "The fluorspar market was already disrupted by shifting supply structure, and the Covid-19 pandemic has again just accelerated what was happening already. China had a total fluorspar trade deficit of over 323,000 tonnes in 2019 and 227,000 tonnes by end-Sept 2020."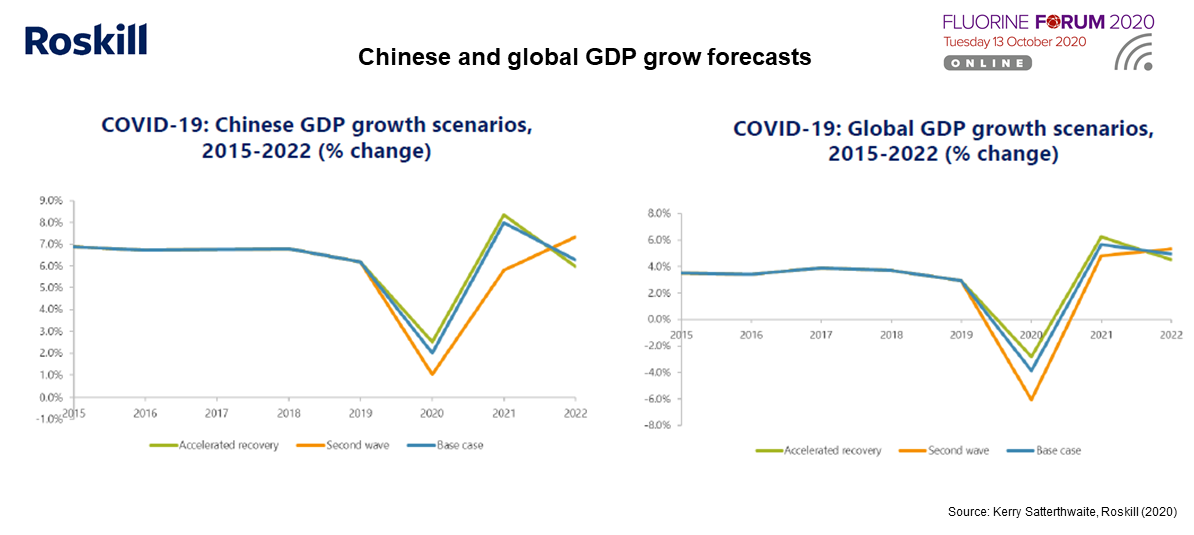 Roskill's new "base case" economic analysis forecasts a decline in global GDP of 3.9% this year before growth of 5.7% is achieved in 2021 followed by a 4.9% increase in 2022. This bisects our previous scenarios and is significantly more optimistic.
Satterthwaite concluded on a positive note: "The recent decline in steel production is not unprecedented and recovery should be quick, many sectors in developed economies are now recovering."
An update on the comparison between FSA and CaF2 raw material
Olivier Ruffiner, Business Manager Fluorine,

Buss ChemTech AG

, Switzerland
With the talk of the fluorine town very much focused on the June 2020 announcement of Arkema-Nutrien's FSA feedstock 40,000 tpa AHF plant project, this was a keenly awaited presentation which attracted much discussion (see Fluorine focus: new & alternative source developments Part 2 – FSA a game changer?).
Ruffiner reviewed some 60 years of fluorine technology development at Buss ChemTech (BCT) before outlining the company's proprietary Hybrid Route (using FSA & fluorspar) for HF production.
Ruffiner highlighted some key facts: "FSA is a by-product that is wasted if it is not recovered; environmental policies are getting more strict on the global fertiliser industry; and the cost of neutralization of FSA is high."
BCT has five FSA Route plants in operation in China (all at phosphate giant Guizhou Wengfu Group Co. Ltd):
20,000 tpa AHF Machangping (2008)
12,000 tpa AHF Lantian (2012)
20,000 tpa AHF Hubei (2013)
30,000 tpa AHF Yunnan (2018)
30,000 tpa AHF Guizhou ( 2020)
BCT is now active with the Nutrien/Arkema project in construction phase in the USA.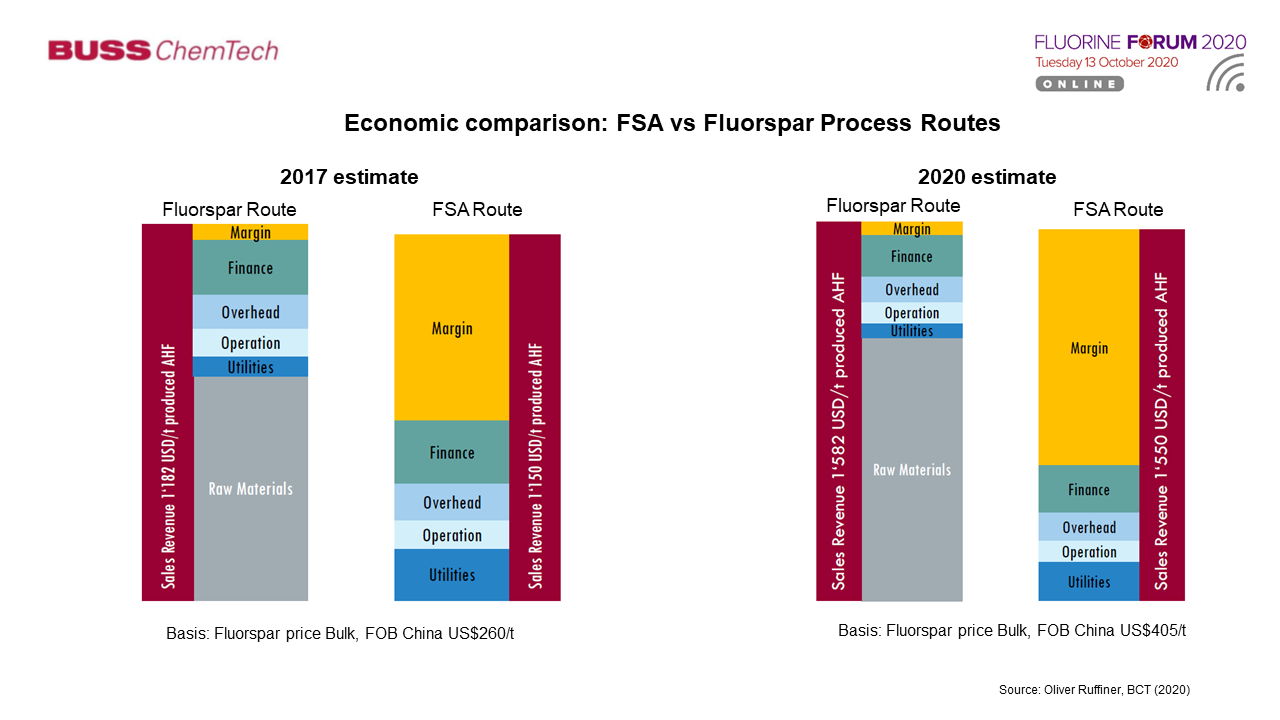 Ruffiner went on to explain how market developments since 2016 (as he presented in IMFORMED's inaugural Fluorine Forum 2017, San Luis Potosi) had impacted to change, for the positive, the economic comparison of costs to produce HF using the FSA route versus the traditional fluorspar route.
Primary influencing factors included:
Fluorspar being declared strategic and critical by the EU, US and China
Green Initiatives in China: older and smaller fluorspar mines closed permanently
China becomes a net fluorspar importer
Boom of electric vehicles worldwide
New battery factories under construction
HF consumers reducing their supply dependency on China
Fluorspar prices increased
While the future could well see the emergence of more FSA-to-AHF projects, sadly the industry will be without Oliver Ruffiner, who announced his moving on to new pastures. We wish him well, and look forward to maintaining rapport with Emre Sen, Sales Manager, BCT, whom Ruffiner kindly introduced live during the conference.
Fluorochemicals outlook
Samantha Wietlisbach, Director Minerals Research & Analysis,

IHS Markit

, Switzerland
Wietlisbach provided a very comprehensive review and forecast for downstream markets for fluorochemicals through fluoropolymers and fluoroelastomers.
Chinese and world HF supply and demand was examined first. China leads the world in HF capacity, production and consumption, with about 27% of HF production traded.
Only minor capacity increases are foreseen in China and possibly Africa leading up to 2024, plus the new US Arkema/Nutrien plant.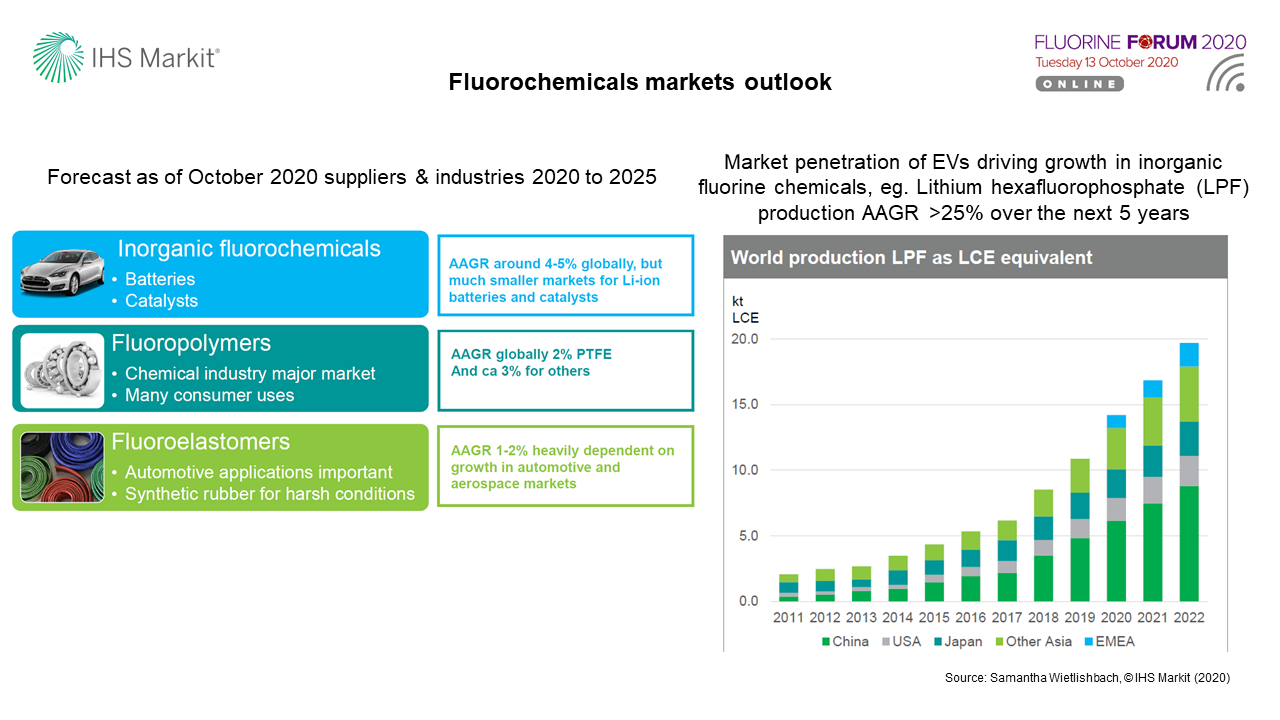 Fluorocarbons accounted for 60% of global HF demand in 2019, the largest end uses being refrigerants and polymer precursors. About 45% of fluorocarbons are used as polymer precursors, refrigeration and air conditioning, 40%, foam blowing, 10%, other uses include aerosol propellants and solvent cleaning.
Wietlisbach highlighted the growing EV battery market as having a positive impact on fluorochemical demand, such as polyvinylidene fluoride (PVDF) binders in electrodes and separators in lithium ion batteries (LIB), and lithium hexafluorophosphate production (used as LIB electrolyte) forecast to grow >25% over the next five years.
Rise of EV battery megafactories: what should fluorspar producers prepare for?
Caspar Rawles, Head of Price Assessments,

Benchmark Mineral Intelligence

, UK
Having drawn attention to the emerging EV market and its ramifications for increased demand for new generation battery raw materials, the scene was set for a more detailed focus on this growth sector.
Fluorspar's input to the EV battery supply chain can be broadly summed up as raw material feedstock to manufacture: LIB electrolytes eg. LiPF6; cathode, anode and separator bindings eg. PVDF; and for HF used in natural graphite processing leading to battery grade spherical graphite.
Rawles underlined that EVs are a key part of post-Covid policy-related stimulus efforts, and illustrated a range of ambitious global policy statements supporting EV adoption by 2030.
Moreover, with all major OEMs now backing EV adoption, this will see vehicle availability rise and costs fall.
There are now 175 EV battery megafactories worldwide with a capacity of 2,900GWh, compared to just 3 factories and 57GWh in 2015.
Although China dominates the "global battery arms race", Europe is rapidly becoming the second global battery hub with European governments accelerating the transition to electrification – a downstream supply chain is starting to develop, especially in Germany, Poland, Hungary, Sweden, and France.
North America was described as remaining "very Tesla-dependant".

Rawles showed how demand for key LIB raw materials such as lithium, graphite, and cobalt is forecast to rise significantly by 2029, and by as much as 5 to 13 times depending on the material.
The implication being that demand will therefore rise for all required materials to make LIB: "Do not make the mistake we have seen elsewhere in the raw material supply chain – prepare to supply the battery industry." cautioned Rawles.
Unsurprisingly, the presentation was met with a barrage of questions, which frequently requested information on just how much fluorspar would be required to either make an EV battery or equivalent to 1GWh. However, precise answers to this remain a work in progress and will undoubtedly feature in Fluorine Forum 2021.
Sensor-based sorting technology for fluorite: using fluorescence effects of fluorites for highly efficient and economic sorting
Michael Klug, Sales Manager,

Binder+Co AG

, Austria
Klug explained how Binder+Co. has successfully developed sensor based sorting for the mineral processing and environmental industry, employing chute, belt, and multiway variants.
The first UV filters were developed for glass recycling, and then for minerals which emit visible light when activated by UV light. Around 560 minerals, including fluorspar, are fluorescent, caused by activator elements (typical cations of metals), crystal structural defects, and organic impurities.
Klug showed UV sensor sorting of samples of fluorspar sourced from Turkey and Mexico and explained process routes using the MINEXX UV.
Using a UV sensor system is claimed to offer low maintenance costs compared to other sensor based solutions, and key benefits of saving energy, water, CO2 emissions, and chemicals per tonne of fluorspar produced.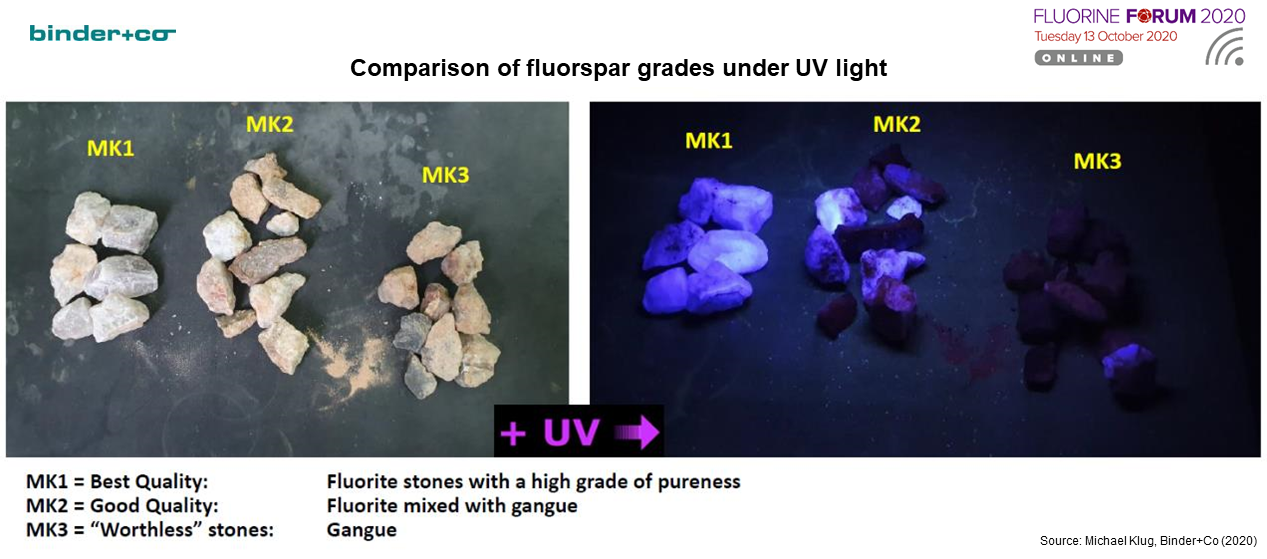 Latest developments in recovering AHF from FSA in DUHF project
Bob Welch, Sales Director,

New Chemical Products LLC

, USA
Recovering HF or AHF from depleted uranium hexafluoride waste from uranium processing is another alternative source of fluorine that has attracted much R&D in recent years.
At Fluorine Forum 2019 in Prague (see Fluorspar market outlook: Pitch-perfect in Prague), Welch introduced the Forum to New Chemical Products' (NCP) projects in this field with only limited insight as to the process involved. This time around he was able to share much more information on the NewChem Process for FSA-to-AHF Conversion.
The NewChem process design contains two "separable" stages. This permits the physical separation of the first stage (FSA conversion to a non-hazardous crystalline intermediate, ammonium bifluoride, ABF) from the second stage (crystalline intermediate ABF to AHF).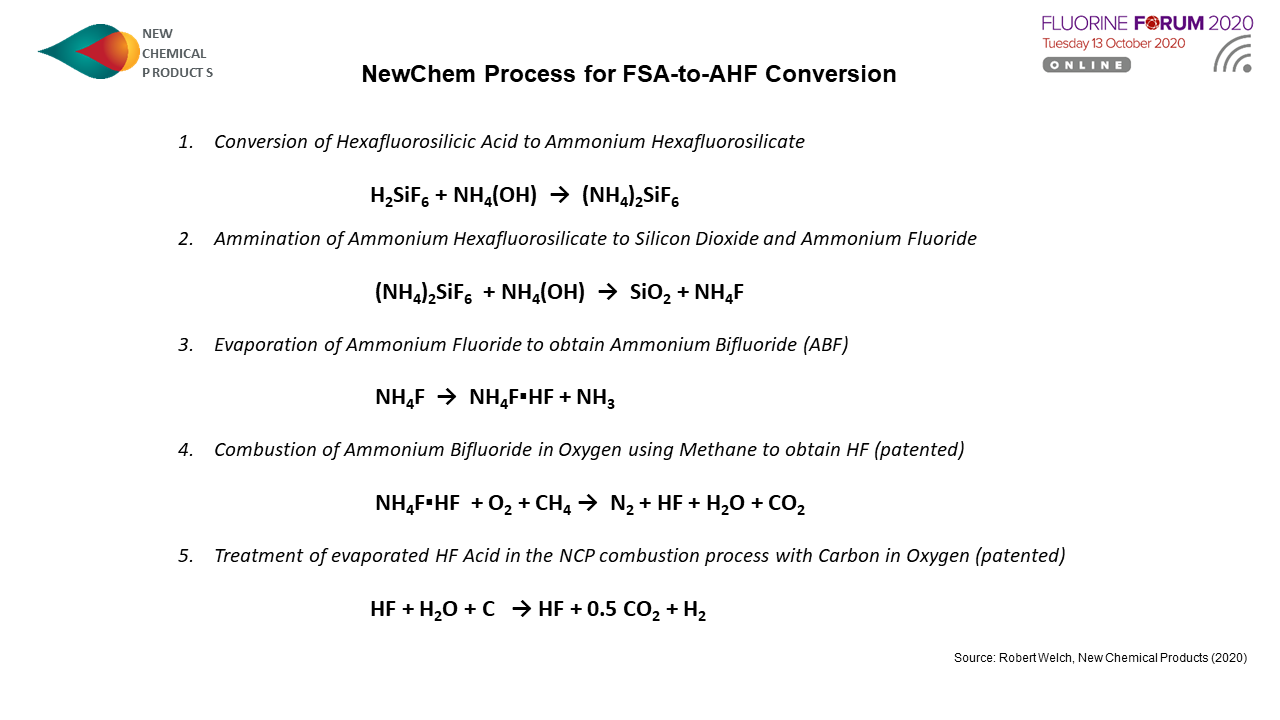 Moreover, Welch reported that all tests were completed in July 2020, a final report was submitted to FSA and AHF clients for evaluation, and a joint decision has been made to move forward to design a full scale plant.
A project design and estimate for a full-scale 10,000 tpa "split" plant (ie. FSA-ABF, ABF-AHF) costing US$20.5m was prepared for a phosphoric acid producer in collaboration with an AHF end-user, both in Russia. Discussions are now in progress for approval: capital approval is expected in Q2 2021 with an estimated construction start in Q2 2021, and operational in Q3 2022.
Interest in NCP's process has also spread to the USA, where NCP has prepared a plant design and construction estimate for a 40,000 FSA-to-AHF plant. If approved, the US phosphoric acid producer will build Plant A (FSA-ABF), and an AHF producer will build Plant B (ABF-AHF) under the provisions of a joint venture agreement. The estimated capital expenditure is US$61m not including plant engineering and financing costs, agreement is expected to be finalised by Q3 2021.
Welch explained several benefits with the NCP 2-step process, including, crucially, removing the previous limitation to do everything at one site. Transportation of ABF to a "Plant B" elsewhere for the second process stage eliminates the need to transport highly hazardous AHF from the FSA location to the AHF manufacturing/distribution site, or alternatively, to the final AHF end user site.
The estimated COGS (cost of goods sold) from the two projects also piqued interest: the Russian plant, US$380/t AHF (excluding FSA cost and transportation, labour and plant overheads); the US plant, US$335/t AHF (excluding FSA cost and rail transportation).
Lost Sheep Fluorspar Project
James Walker, CEO,

Ares Strategic Mining

, Canada
There are several potential fluorspar prospects in North America (see Fluorine focus: new & alternative source developments Part 1) but Ares Strategic Mining is looking to become the USA's sole producer of high grade fluorspar by 2021.
Walker highlighted the USA's 100% dependence on fluorspar imports, mainly from Mexico, Vietnam, South Africa, and China, before outlining how Ares has consolidated a 586ha land package covering the entire Spor Mountain District, 72km north-west of Delta, Utah, hosting "uniformly high grades, averaging 87% fluorspar". The 2020 drilling programme confirmed "high-grade fluorspar".
"No fluorspar deposits of comparable size and grade have been identified in North America. We have near-term production potential on fully permitted land at the Lost Sheep Mine." said Walker.
The fluorspar mineralisation occurs as rising intrusive bodies forming breccias hosted in limestone. Mineralised breccia pipes are typically steeply plunging and elliptical. The clusters of mineralised pipes in short distances suggest the possibility that the pipes may be interconnected. The Lost Sheep product is claimed to contain no sulphides or arsenic.
Ares has already developed a future customer base with committed orders exceeding US$10m, in discussions with major offtake partners, currently supplying small shipments of metspar to steel producers, and existing metspar customers have also now requested acidspar.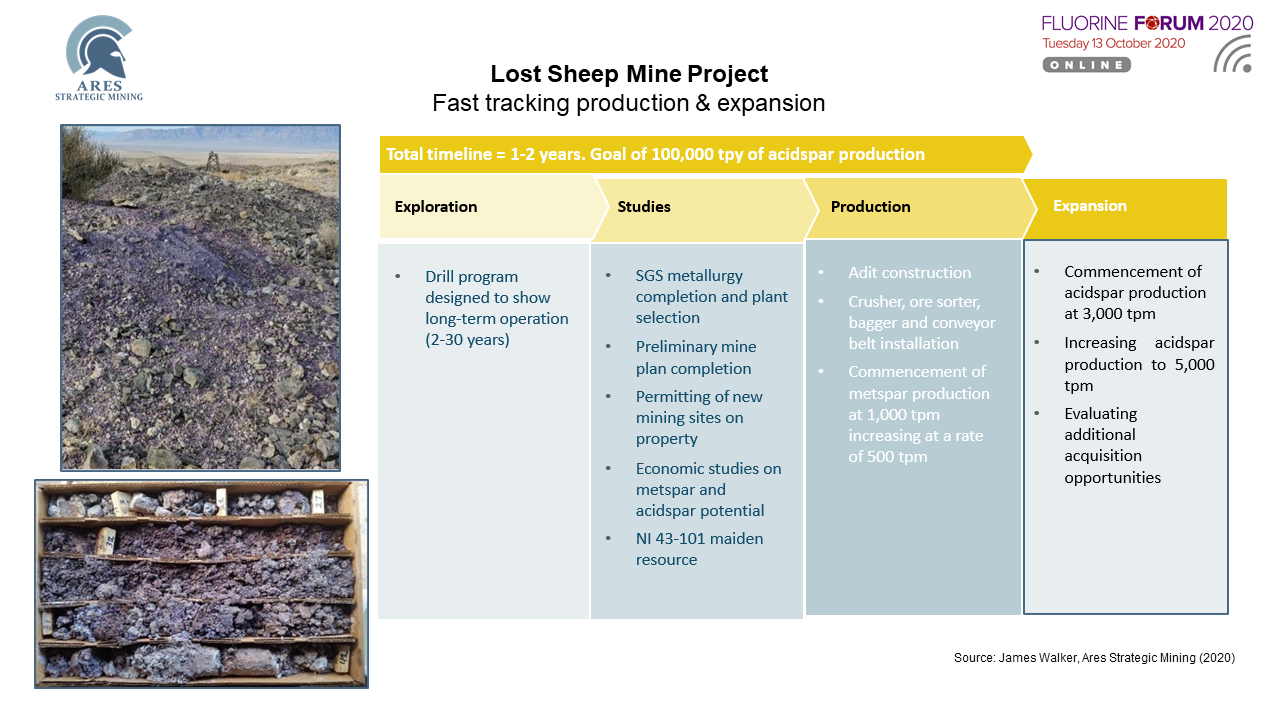 For metspar production, past producing areas are currently permitted for mining, which includes the development of an underground operation at the Little Giant Pit, and a newly discovered pipe north of the Purple Pit. Existing stockpiles may also be sourced for processing. Ares has a re-start capital requirement of about US$3-5m, with a three month lead time, and envisages capability to produce 3,000 tpm metspar.
The company is also evaluating the potential to expand the operation to produce acidspar "within months" of re-starting the metspar operation. An estimated US$6m is required, and includes installation of a flotation circuit at the processing facility to initiate a first phase of 5,000 tpm acidspar, then a second phase to 10,000 tpm.
At present, Ares is finalising the mine plan. "I would estimate that by May 2021 we will producing acidspar at good quantities. Estimated mine life will likely be about 40 years." said Walker.
A special thank you, and see you again in 2021!
Under these especially challenging conditions for home and business at this time, we are indebted to the support and participation of all of our partners, speakers, and delegates for making Fluorine Forum 2020 ONLINE such a success.
We very much appreciate all the completed feedback forms and please continue to provide us with your thoughts and suggestions.
We look forward to meeting you again – hopefully in person at Fluorine Forum 2021, Hanoi, 18-21 October 2021.
Registration, Sponsor & Exhibit enquiries: Ismene Clarke T: +44 (0)7905 771 494 ismene@imformed.com
Presentation & programme enquiries: Mike O'Driscoll T: +44 (0)7985 986255 mike@imformed.com
Missed attending the Forum?

A full set of PDF presentations plus access to live recording maybe purchased.

Please contact Ismene Clarke T: +44 (0)7905 771 494 ismene@imformed.com