Review of China Refractory Minerals Forum 2021 ONLINE
As we head towards the Chinese New Year of the Tiger (1 February 2022), it is timely to review some of the key issues influencing the supply of Chinese refractory raw materials to global markets.
Title Image Peak Magnesite: PRCO's Kamado high purity, and high altitude (4,200 metres), magnesite deposit, north-east Tibet, hosting >50m tonnes reserves of magnesite grading 47.6% MgO with low iron and silica, supplies new CCM, DCM, and FM plants in Qinghai and Liaoning. Courtesy PRCO (main & ladle inset); Refmin China (loading inset).
China has dominated this supply chain for nearly half a century – but for how much longer?
This was very much top of the agenda across the presentations and discussion at the recent IMFORMED Chinese Refractory Minerals Forum 2021 ONLINE, which took place 3 November 2021.
Although some mineral prices have since stabilised, and in certain cases have slightly softened as some plants resumed production at the year's end, there remains concern over the long term.
Ongoing issues include inconsistent availability of high quality grades impacted by environmental controls, government imposed national and provincial shutdowns, logistical issues, energy shortages, increasing domestic demand, and internal structural reforms – not to mention continuing outbreaks of Covid-19 strains.
A high profile panel of speakers provided an excellent online platform for discussion and dissemination of the latest information in the China refractory minerals market, the highlights of which are reviewed below.
Naturally, we hope that we can bring to fruition our originally planned in-person event China Refractory Minerals Forum 2022, Dalian, 12-14 September 2022, with a visit to Haimag's magnesia operations in Liaoning (details here).

Complimentary registration for Speakers
Please contact: Mike O'Driscoll mike@imformed.com
What delegates thought about China Refractory Minerals Forum 2021 ONLINE

It's really a fantastic conference, especially for me and I learnt a lot from other speakers and those questions raised during the Forum. I look forward to the Forum in China.
Michael Zhang, Assistant to President, RHI Magnesita, China

As always, the selection of speakers, the presentation content and the level of detail is superb. I "participated, learnt, and enjoyed"!
Jenny Warburton, General Manager China and Global Materials, HarbisonWalker International, USA

Many thanks for the conference. The programme was excellent.
Ted Dickson, Consultant, TAK Industrial Mineral Consultancy, UK

Excellent programme and organisation. This is a good Forum, I will attend again.
James Ying, Agent, Nedmag, Netherlands

Missed attending the Forum? A full PDF set of presentations plus access to live recording available for purchase.
Please contact Ismene Clarke T: +44 (0)7905 771 494 ismene@imformed.com
Overview: the heat is on
Mike O'Driscoll, Director, IMFORMED, introduced the Forum with an overview of the range of refractory minerals and how China dominates their world trade.
Attention was drawn to past (and ignored) warning signs of impending "perfect storms" of Chinese mineral supply restrictions and high prices, concluding that we are now amid "Perfect Storm #2" which is likely to carry through 2022.
Key impacting factors such as the energy and shipping crises which hit China in late 2021 were examined along with ramifications in western refractory markets.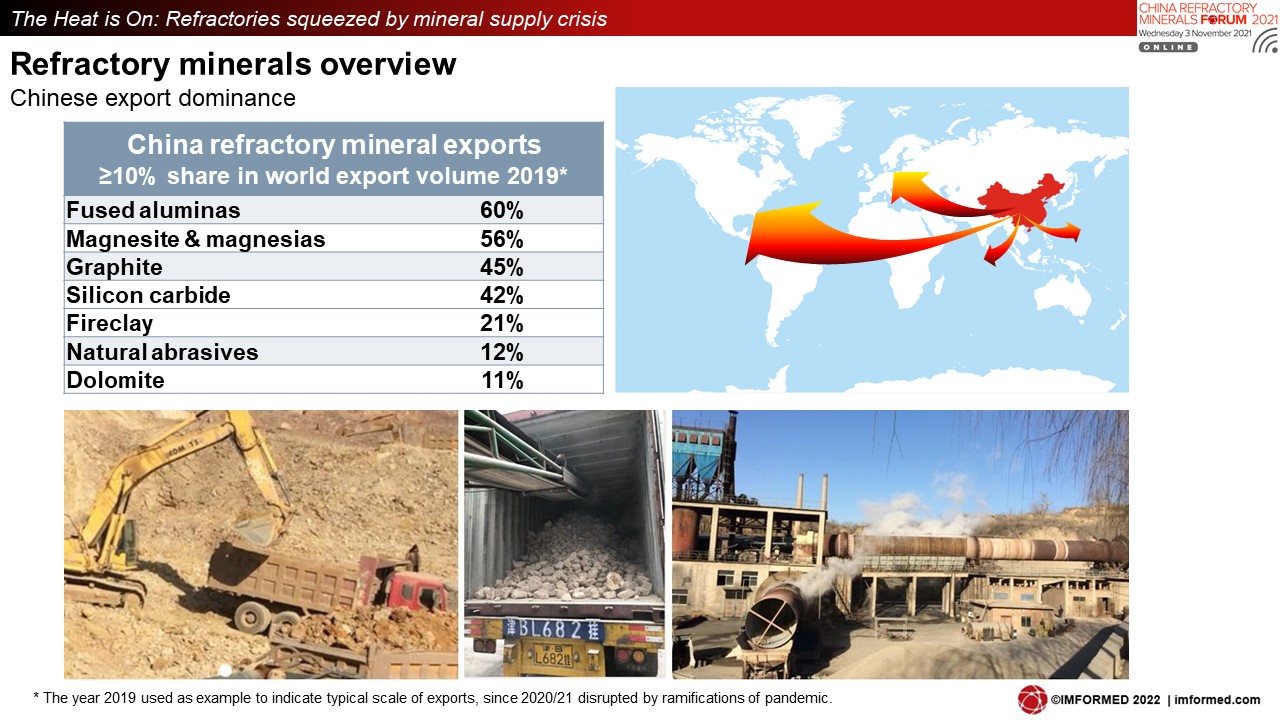 O'Driscoll concluded with a range of outlook points, including:
many refractory mineral traders and consumers will/should spend this next period evaluating, or re-evaluating, alternative mineral sources to China elsewhere in the world
plus, take a serious view on using recycled refractory material
with suppliers and users co-operating on both technical and investment aspects (of both new primary mineral and recycling projects)
Does this latest chapter signal an end-game for Chinese mineral supply to export markets? That's probably too much at this stage, but certainly it's created cause for concern.
Mike O'Driscoll will be presenting "Riding the Tiger: Refractory raw material supply outlook" at UNITECR 2022, 15-18 March, Chicago –

details here
China raw materials & refractory market movement
Chen Feng, Sales Director China Refractory Producers and Qing Miao, Market Manager Refractory Producers & Investment Casting, Imerys, China, provided insight on the current status of China's refractory raw materials, reflections from the market and customers, and some projections for the future.
Feng described the situation as "skyrocketing" re. prices and supply disruption, created in 2021 by a combination of uneven industrial recovery, relative weak demand growth, and strong supply constraints. Moreover, some of this was foreseeable.
Price increases were illustrated with a look at bauxite, zircon, alumina, fused alumina and magnesia, while the ramifications of the "butterfly effect" on the market prompted by China's more recent energy shortage were also examined.
Feng spotlighted a range of new demands required by the future refractories industry, driven by achieving "carbon peak" and "carbon neutralisation", including more use of hydrogen metallurgy, EAF, heat efficiency, recycled refractories, and synthetic materials (see below).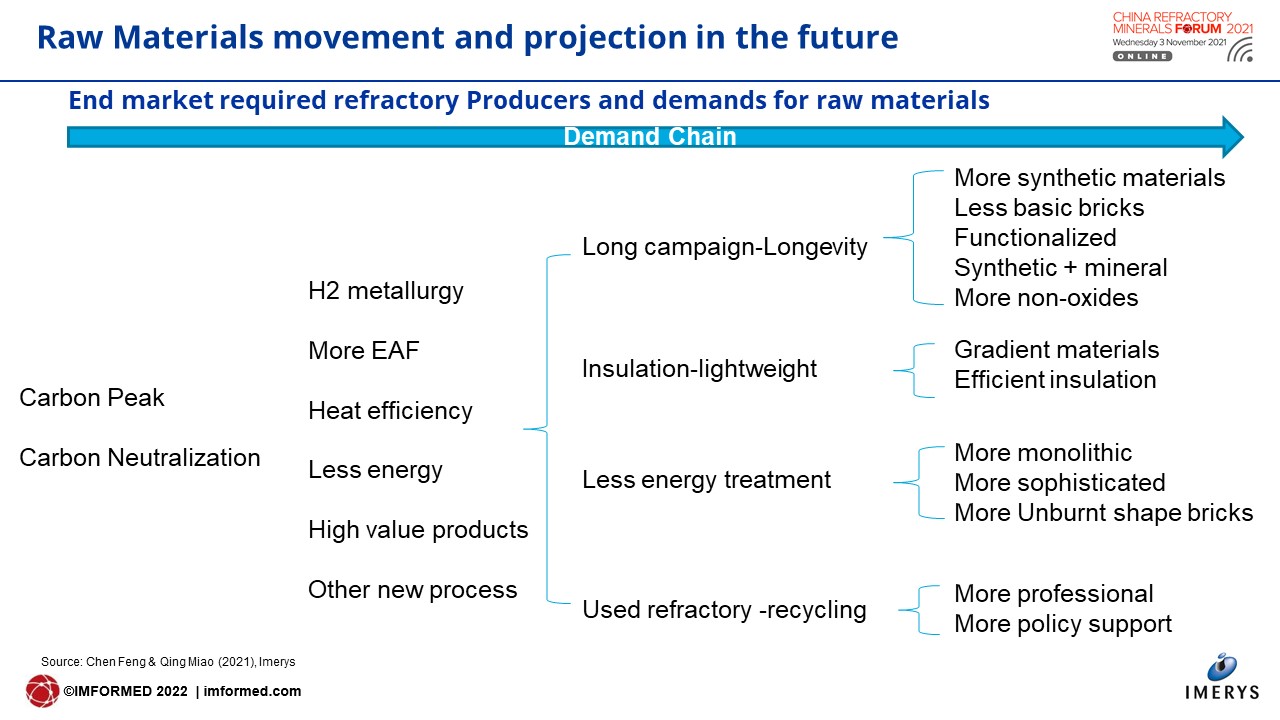 Imerys innovations in developing MagArmour and AluArmour products were explained before Feng concluded that raw materials and refractories will not be cheaper in the short term, China would export more finished goods, and refractory product design will focus on longer in service life, being safer, more environmental, less energy consumed, and more recyclable.
Overview of strategy & markets | "Green mining" in China
Marco Olszewsky, President APAC & China, RHI Magnesita, China, began by reviewing the salient features of RHI Magnesita and its role in the global refractories industry, before focusing on the group's activities in China.
RHIM operates four refractory plants and one refractory dolomite mine in China (see chart), the latter receiving a Green Mining Award in 2020. In the China and East Asia region RHIM employs 4,000, earns >€500m in revenue (2020), and ships some 1m tonnes of products.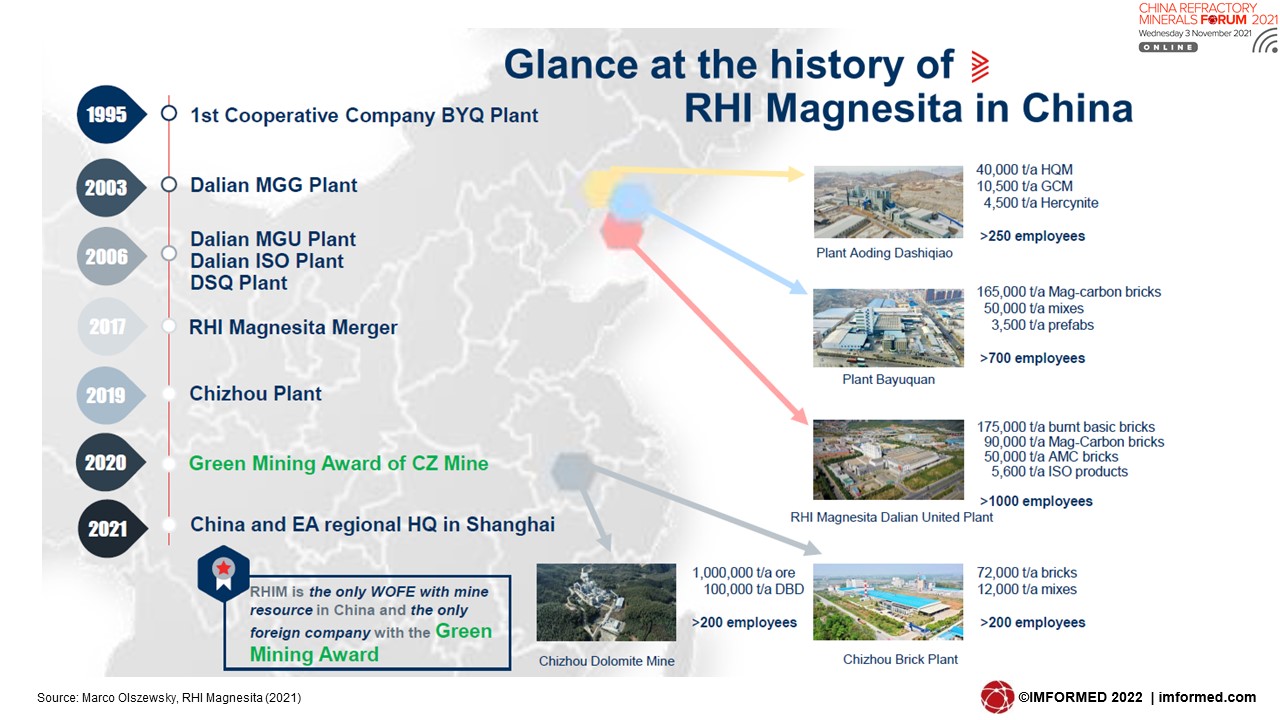 Olszewsky emphasised RHIM's commitment to digitisation and automation in its Chinese plants, describing some "game changing" projects, including the world's largest water model laboratory.
Sustainability targets for 2025 were also highlighted including CO2 emission reduction by 15%/tonne, energy reduction by 5%/tonne, and an increase of secondary raw materials to 10%.
The rest of the presentation focused on the transformation of RHIM's dolomite operation at Qingyang County, Chizhou City, Anhui province, to become a "Whole Green Value Chain", through the employment of green initiatives at both the two open pits and sinter plant sites.
The RHIM Chizhou Plant has "deep dived in recycling" by using recycled material instead of primary dead burned dolomite; the carbon footprint of the final product can be reduced by up to 14%.
RHI Magnesita, plus Refratechnik, DEREF, and Saint-Gobain will also be presenting at Mineral Recycling Forum 2022, Dubrovnik, 28-30 March |

Early Bird Rate ends 14 February!

Recycling refractories: developments & outlook
Sabrina Salmen, Senior Executive Recycling, RHI Magnesita, Netherlands
Sustainable refractory concepts
Dr Helge Jansen, Managing Director, Refratechnik Steel, Germany
Recycling ceramics: new approaches to respond to growing demand
Bruno Dorier, Director, Valoref Saint-Gobain, France
Recycling progress & projects for the refractory & steel industry
Serena Fasolini, General Manager, DEREF, Italy
Refractories: Essential & growing industries
In his presentation, Heiki Miki, Managing Executive Officer & Division Director – Overseas Business, Shinagawa Refractories Co. Ltd, Japan, provided a fine overview of refractories' critical role in the daily operations of almost every sector of manufacturing.
Miki used an examination of the steel industry in Japan and globally to illustrate refractories' largest primary market. By 2050, steel use is projected to increase by around 20% compared to present levels in order to meet the needs of our growing population. The housing and construction sector is the largest consumer of steel today, using more than 50% of steel produced.
Highlighted was Shinagawa's mantra "Proximity: Key to Success for Shinagawa": with regards to space, time, and relationship. To that end, the group has embarked on a "Sky is the Limit: Shaping the Future of Refractories" mission to expand services and collaborate on a global scale (see chart).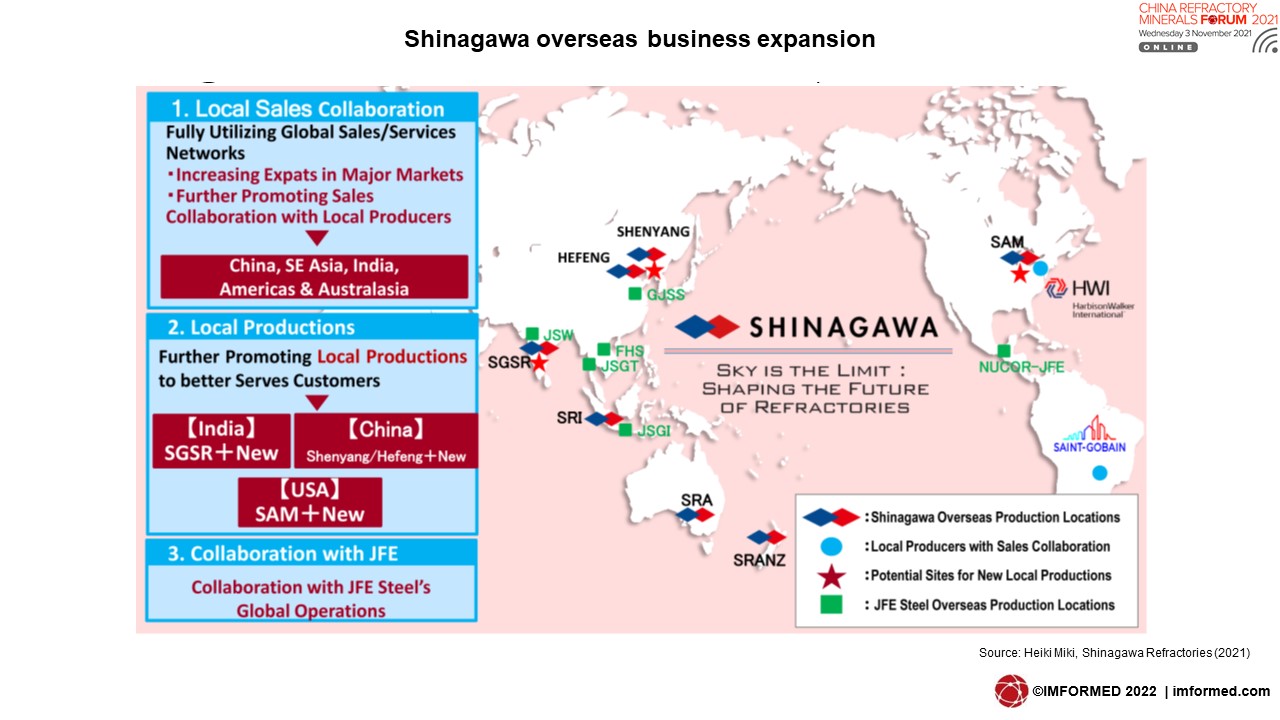 Miki underlined that "Maintaining stable supply chains of raw materials are essential to properly serve our customers' industries".
Key challenges include extremely high dependency on just one country, China (exemplified by Japanese import sourcing of key refractory minerals); impact of environmental regulations; and logistics vulnerability exposed by covid-19.
Miki urged that actions were required which Shinagawa's "Proximity" initiative should help facilitate: securing multiple suppliers in multiple countries; establishing a stable global supply chain; increasing usage of recycled materials; and developing new products with locally available raw materials.
High purity magnesia supply to new US refractory plant
Bill Porter, General Manager, PRCO America Inc., USA, shared the rationale and development of a high purity Tibetan magnesia source to supply overseas refractory markets, notably PRCO's new magnesia-carbon brick plant at Mayfield, Kentucky.
PRCO is actually exploiting three high purity magnesia sources for domestic and overseas markets: Kamado Magnesite Mine (highest grade magnesite), Tibet, western China; Xinjiang Harlehat Magnesite Mine, western China; and Haicheng Linli Magnesite Mine, Liaoning, eastern China.
The integrated raw materials-refractories group has been most active in the last few years. From 2017-2020 PRCO launched CCM, DBM, and FM production at Xiangchen, Tibet; from 2018-2020, PRCO launched CCM, DBM, and FM production at Minhe, Qinghai province; and since 2018 has developed magnesias and fused aluminas output at Haicheng, Liaoning.
The Kamado microcrystalline magnesite is extremely pure (47.67% MgO) and is used to produce 60,000 tpa FM in a one-step process, and 60,000 tpa large crystal FM in a two-step process (see chart and Magnesia from the "Roof of the World" to Kentucky).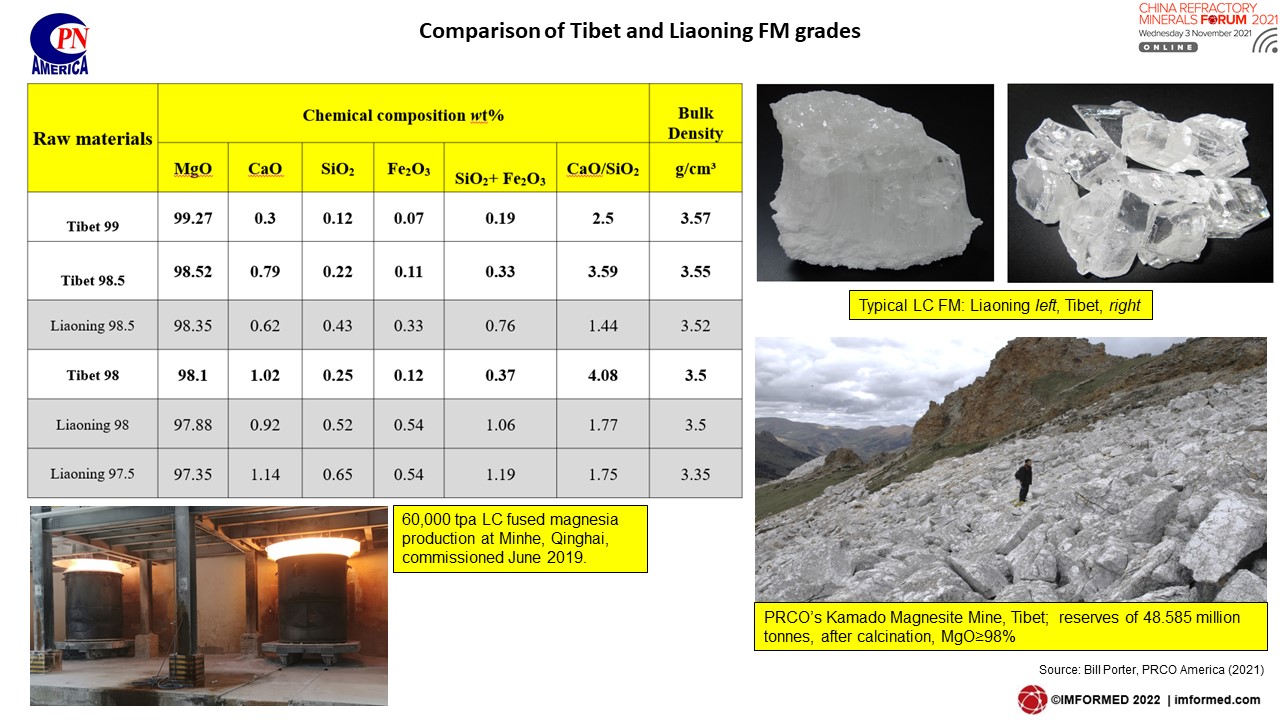 Refractory mineral market dynamics, trends & outlook
Charles Compson, Marketing Director & Hans-Leo Gross, Global Product Line Manager Aggregates, Almatis GmbH, Germany, presented on Almatis's operational global footprint, including its Asian facilities in China, Japan, and Indonesia, before going onto the leading refractory market trends.
Again, steel was a major focus and in particular developments in China. China dominates global crude steel production with published volumes of about 1.06bn tonnes in 2021, though actual production may be higher.
China is generally expected to reach a peak in crude steel production in the next five years or so, as a transition occurs between production technology, carbon emission reductions and scrap utilisation.
Attention was drawn to increasing use of EAF in steelmaking, which is expected to have an impact on refractory minerals, such as a demand reduction of tapping clays and BOF basic refractories.
Compson highlighted a significant opportunity for increase in Chinese adoption of EAF production and scrap recycling; China current EAF usage is 9.2%, compared to EU28 (42.4%), and North America (69.9%).
Trends in higher quality steel required in the automotive sector will see demand in ladle refractories, and thus for increased functional refractory usage, higher-alumina containing refractories and increased usage of white aggregates.
More synthetic alumina based castables or bricks will be used in ladle side walls for both, Al- and Si-killed steel. For the Chinese market, Almatis has developed T66 Tabular Alumina – high density tabular for improved performance in purging plug and slide gate applications; and ES-Y 88 – reactive alumina as an environmentally friendly and healthy replacement for chrome oxide in purging plug applications.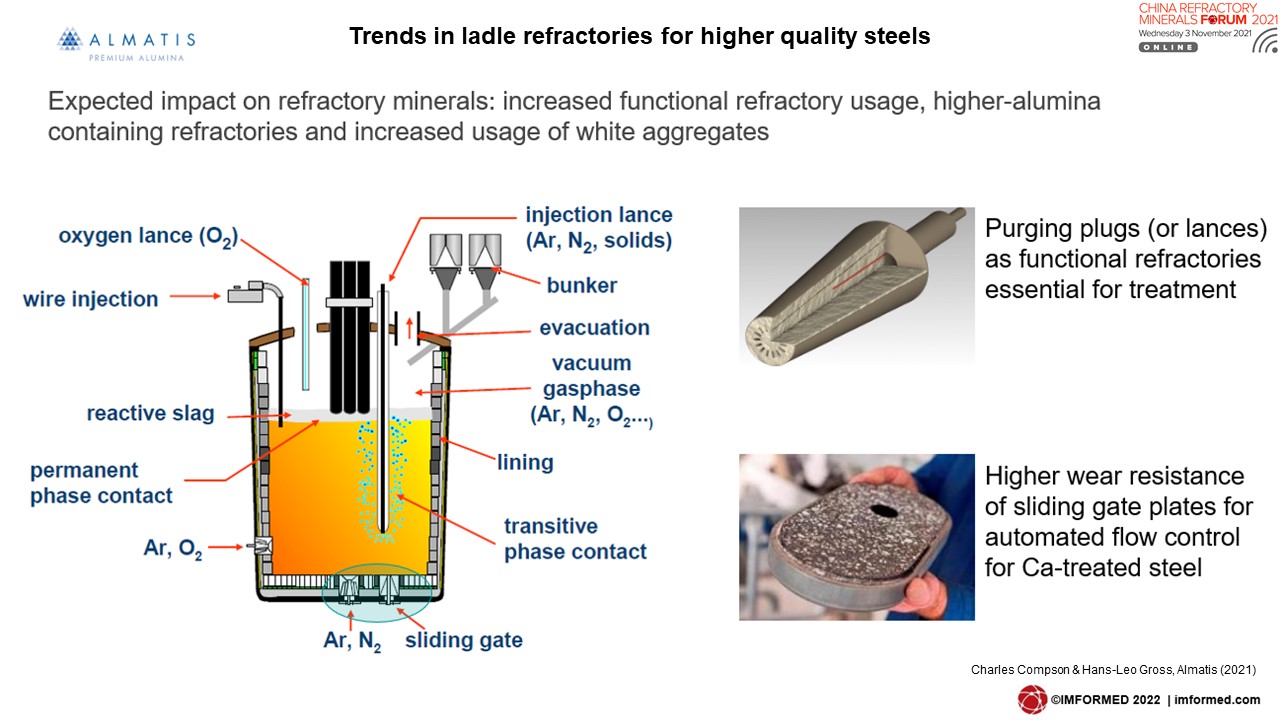 China's magnesia supply crisis in climate push
Shiying Jia, Director, China Magnesia Research, Replus Business (UK) Ltd, UK, presented on one of the leading refractory minerals, magnesia, by examining: the refractory industry in China, magnesia demand and supply, and internal and external influencing forces.
China's refractory production reached 24.78m tonnes in 2020, and rose 1.94% year on year, with 89% of total capacity contributed by eight regions, led by Henan (32%), Liaoning (21%), and Shandong (12%).
Jia went on to analyse China's largest magnesia producing region in Liaoning province, which is split between Haicheng, Anshan district and Dashiqiao, Yingkou district, the former having more magnesite resources while the latter hosts more processing companies (and is closer to the key ports of Bayuquan and Yingkou).
In 2020, Liaoning magnesia production met 60% of domestic demand and 40% of international demand. For the first eight months of 2021, China produced 790,000 tonnes DBM and CCM, up 34.28%, and produced 419,700 tonnes FM, up 61.26%, compared with the same period of 2020.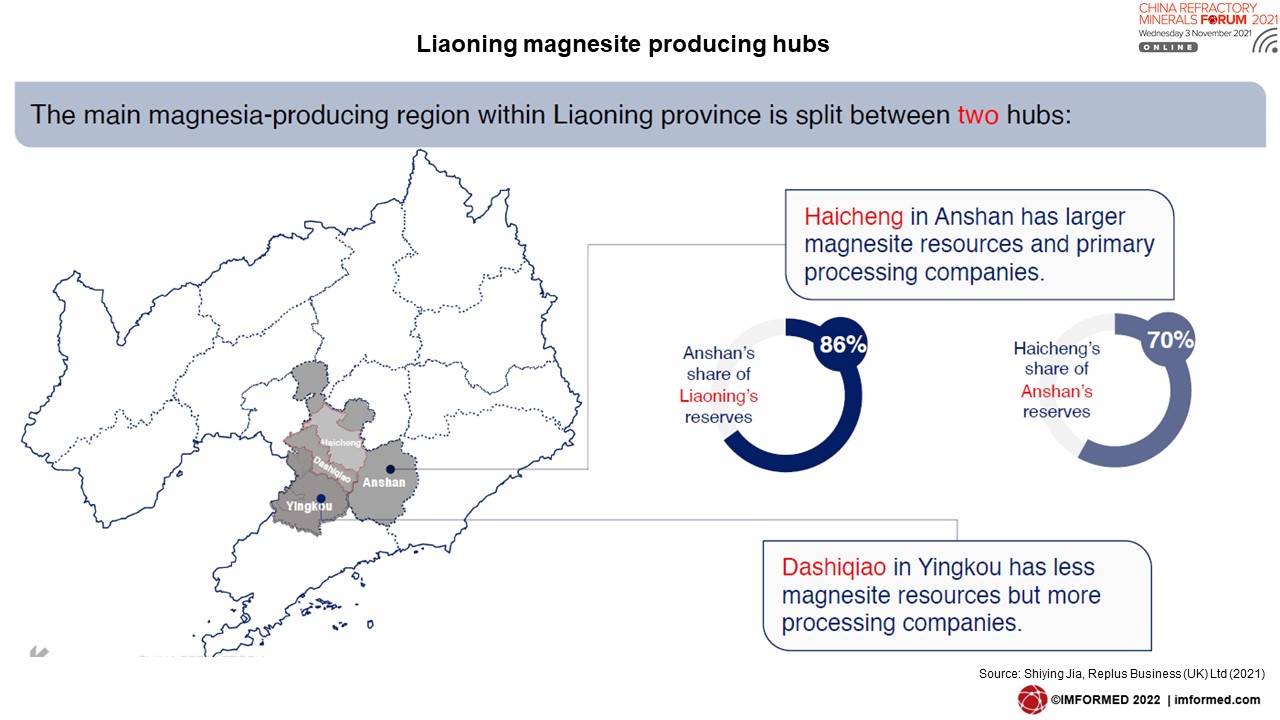 Jia emphasised that "Supply side structural reform, SSSR, is a key component of China's economic policy agenda. The motivation for reform is the view that the supply side of China's economy is out of balance with the demand side and requires adjustment."
The five components of SSSR are:
Cutting excess industrial capacity
Destocking property inventory
Corporate deleveraging
Lowering corporate costs
Improving "weak" links
During 2020-21, further industry consolidation, environmental controls, higher coal costs, and the power crisis in the climate push all contributed to pushing magnesia prices to a two-year high.
Jia concluded that magnesia pricing from China may keep increasing because of the national winter plan and energy shortage.
Announcing MagForum 2022 bringing together the world's magnesia market – CALL FOR PAPERS contact Mike O'Driscoll mike@imformed.com

For a review of MagForum 2021 ONLINE please go to

Magnesia markets outlook
China – Europe logistics: Why is the supply chain failing?
James Devlin, Managing Director, China Mineral Processing Sales Europe, UK, talked about one of the most significant and ongoing issues regarding trade of Chinese minerals – the supply chain logistics aspect, pretty much what could be termed the "jugular vein" of global mineral trade.
He reviewed the chief causes and symptoms in historical trends, the pandemic, container price boom, mismatch of vessels and cargo, and the collapse of port efficiency.
The upshot has been a massive increase in lead times for vessels to reach western destinations, with increased voyage times, huge queues of vessels at load and discharge ports, and capacity induced port delays for both containers and conventional cargo. Not to mention skyrocketing freight prices.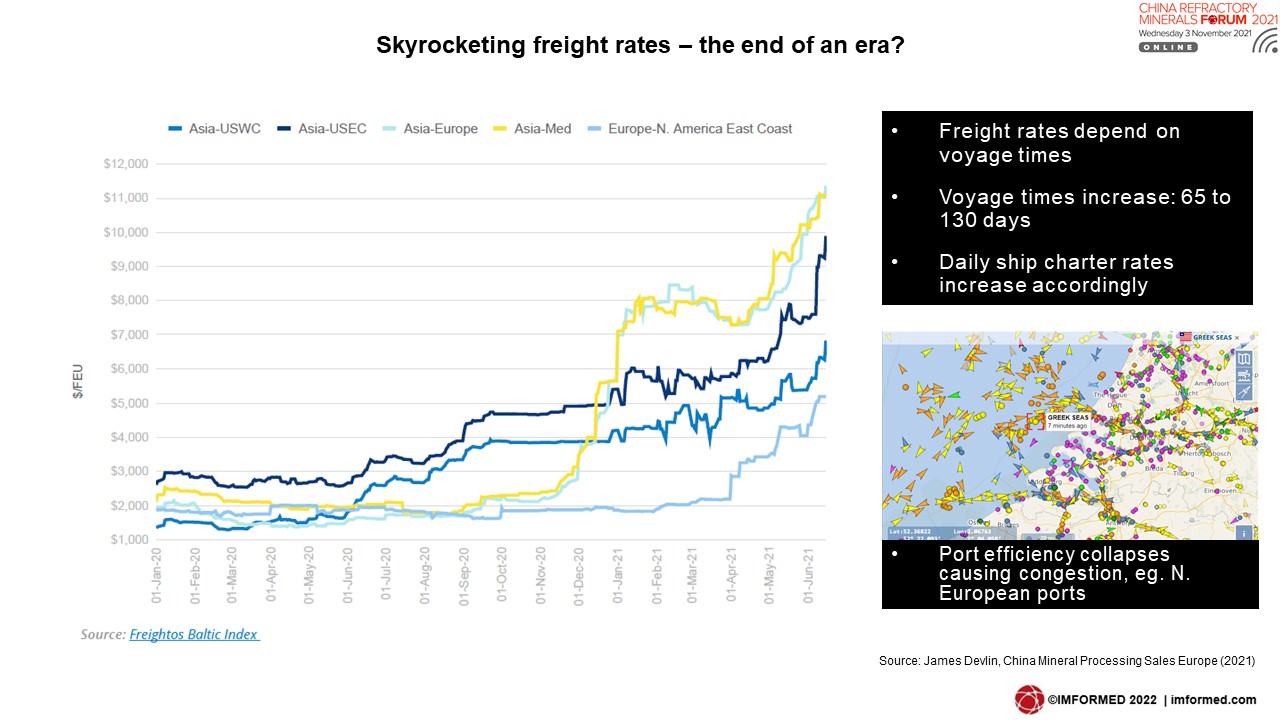 Devlin said: "It will get worse before it gets better, expect this to last for the next six months. A serious shortage of products will persist for months in destination markets as a tsunami of cargo remains to be shipped."
Devlin opined whether it might be the end of an era: with small parcel packed cargo rates remaining high and negating low processing costs in China, customers diversifying supply chains both geographically (away from China), structurally, and politically, and anticipating the supply of energy intensive fused mineral products from China to diminish.
Thank you and hope to see you in 2022!
As we are amid China's national winter shutdown (till mid-end March 2022), and with both the Chinese Spring Festival Holiday (31 January-6 February) and XXIV Winter Olympic Games (4-20 February) looming large, it's going to take a few more months until we can accurately assess just what shape China's mineral industry will be in to serve world markets.
It was a most stimulating day of discussion, albeit online, and we cannot wait to return to in-person events in 2022.
Under these challenging conditions for home and business at this time, we are indebted to the support and participation of our sponsors Haimag and Imerys Refractories, Abrasives & Construction, and all our partners, speakers, and delegates for making China Refractory Minerals Forum 2021 ONLINE such a success, and ensuring a fruitful and convivial time was had by all.
We are grateful for all the completed feedback surveys and please continue to provide us with your thoughts and suggestions.
We very much look forward to meeting you again, hopefully in person next time, at one of our 2022 Forums:
Registration, Sponsor & Exhibit enquiries: Ismene Clarke T: +44 (0)7905 771 494 ismene@imformed.com
Presentation & programme enquiries: Mike O'Driscoll T: +44 (0)7985 986255 mike@imformed.com
Missed attending the Forum? A full PDF set of presentations plus access to live recording available for purchase.
Please contact Ismene Clarke T: +44 (0)7905 771 494 ismene@imformed.com
Announcing for 2022