Supply & Demand | China | CO2 Reduction | Sensor Sorting | Process Costs | Digitisation | Dolomite | Synthetic MgO | Trading | Chemical Markets
In what has proved to be another most challenging year for magnesia minerals supply and markets, we review the highlights and key take-aways of IMFORMED's MagForum 2021 ONLINE which took place 29-30 June 2021.
Leading players from the global magnesia market attended the two-day Forum listening to and networking with a high profile panel of expert speakers presenting on a range of key topics, with views on how the industry should evolve.
Like all our delegates, we can't wait to return to providing our usual high quality in-person Forums in 2022. To that end, we have announced our schedule of Forums for 2022 (see here for full listing) which includes MagForum 2022, 7-9 June 2022, Grand Hotel Huis ter Duin (Noordwijk), Amsterdam, with a Field Trip to Nedmag, Veendam on 10 June (details here).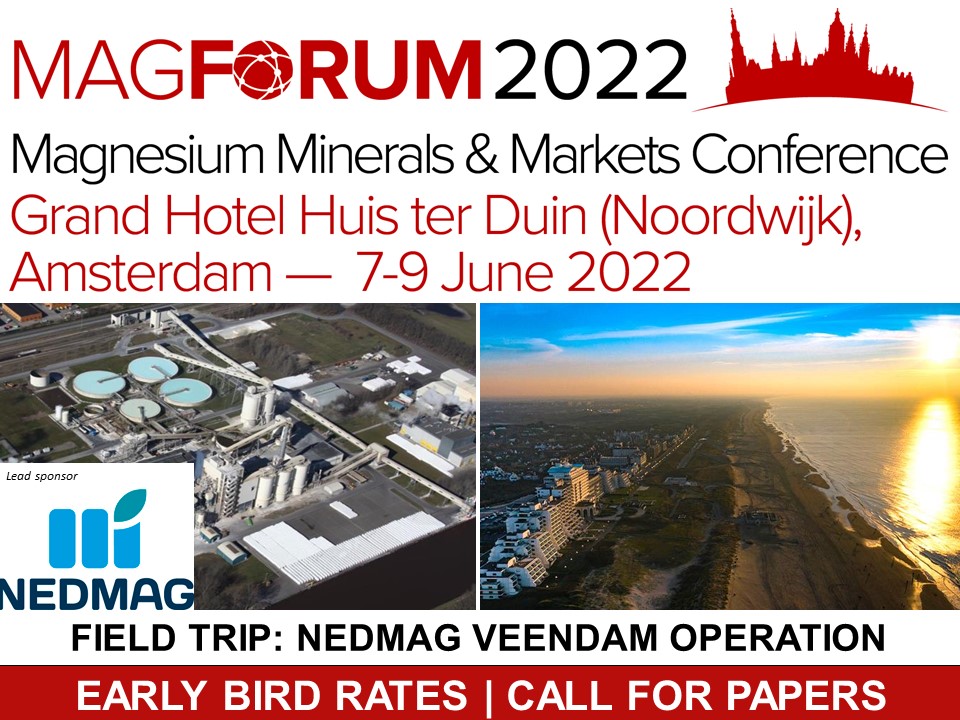 What delegates thought about MagForum 2021 ONLINE

The topics are good and interesting. MagForum is always providing good information.
Sidney Deretti, Commercial Manager, Buschle & Lepper, Brazil

Thank you for the good seminar. It was a very meaningful time for me to understand the magnesia latest situation and trends.
Yusuke Toda, Manager, Non-Ferrous Metals & Minerals Dept. Sojitz Corp., Japan

A well-organised and professional MagForum. Very much appreciated.
Alex Medendorp, Director Sales & Marketing, Nedmag BV, the Netherlands

Online forums are perfect for the current situation, and definitely this one has been very well organised.
Nines Dominguez, Senior Consultant, Ganmag Magnesite Solutions, Spain

The topics this time have been excellent and covered a wide range of interests for everybody.
Dr Ian Wilson, Consultant, UK

Thank you for your excellent forum.
Kazuaki Hamada, Director, Ube Materials, Japan

Missed attending the Forum? A full PDF set of presentations plus access to live recording maybe purchased.

Please contact Ismene Clarke T: +44 (0)7905 771 494 ismene@imformed.com
Magnesia Markets: Setting the Scene
Mike O'Driscoll, Director, IMFORMED, UK
Mike O'Driscoll set the scene with a brief overview of the world of magnesia, featuring its diversity in sources, grades and markets.
In particular he highlighted the shrinking group of independent magnesia producers outside ownership of larger, generally refractory groups worldwide. Fused magnesia capacity outside China has also shrunk considerably.
O'Driscoll outlined several key trends influencing the magnesia market outlook (see chart) and reviewed the key corporate mergers and acquisitions taking place since MagForum 2019.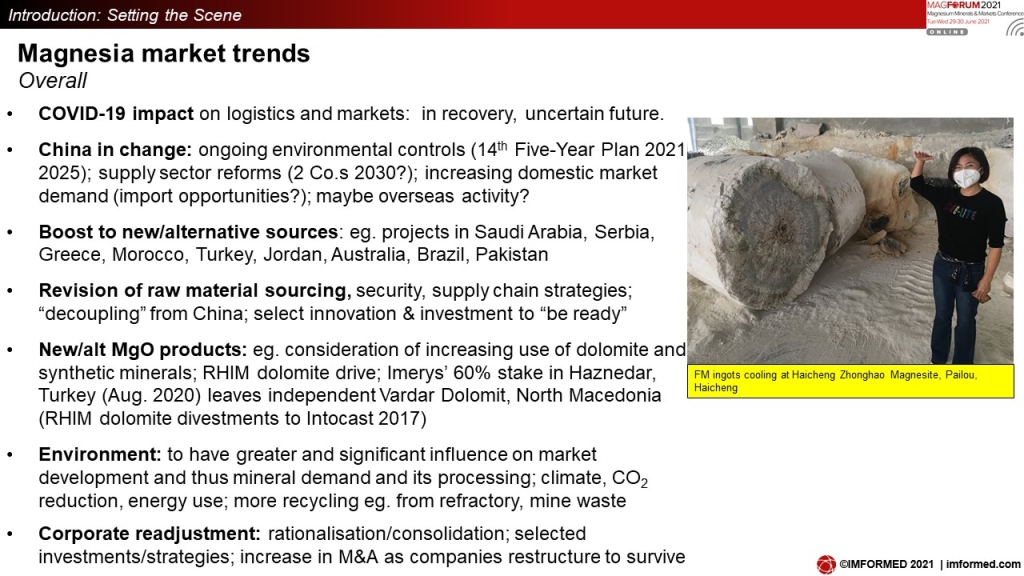 ---

We'll be there! Please drop by our stand for chat
Raw material vertical integration in RHI Magnesita & development of processes to reduce CO2 emissions
Thomas Froemmer, Vice President Mining Head of Raw Material Support & Andreas Drescher, Program Manager, Carbon Reduction RHI Magnesita, Austria
Reduction of CO2 emissions is now a primary objective for all magnesia (and end product) producers. Thomas Froemmer and Andreas Drescher reviewed and updated the audience with the latest developments at RHIM's dolomite operations at Hochfilzen, Austria and Chizhou, China, and magnesite operation at Brumado, Brazil.
Some 50% wt of magnesite ore is released as CO2 when raw magnesite (MgCO3) is processed into magnesium oxide (MgO). Global RHI Magnesita CO2 emissions in 2020 were estimated at 4.2m tonnes.
Thus there is a need to capture and utilise these carbon emissions, and to that end RHI Magnesita is focusing on three pillars through to 2025 (see also chart):
Initiatives to reduce CO2 emissions in existing facilities -15% until 2025
New technologies on CO2 – focus on capturing and usage
New Business Models to generate value with our customers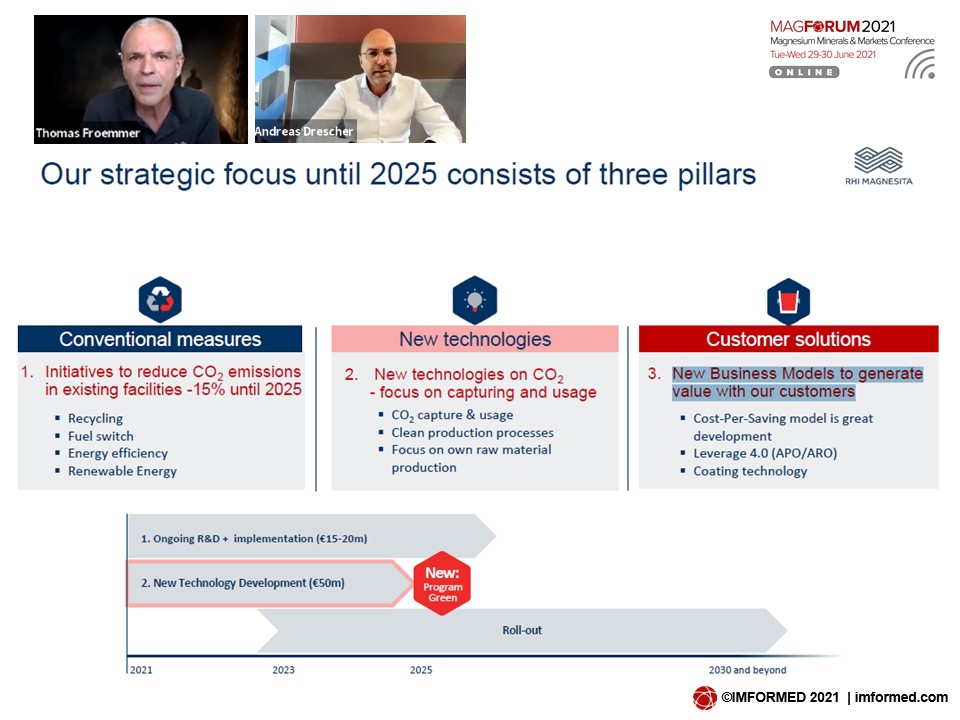 The magnesia industry in transition to low-carbon energy utilisation
Vasili Nicoletopoulos, Managing Director, Natural Resources PC, Greece
Vasili Nicoletopoulos, in some detail, wrapped up all the elements of this important topic by covering: policy effects, commercial/financial tools, technological solutions, and concluding with some general remarks.
Among his conclusions, Nicoletopoulos considered the most cost-effective renewables are wind and solar – but should be complemented with batteries, ideal for remote mines.
In the medium to longer-term, but even earlier in some cases, "green" hydrogen could replace hydrocarbons, while Low-Carbon Energy Utilisation will lead to much increased electrification.
Finally, novel, lower-energy methods for producing MgO may emerge as well.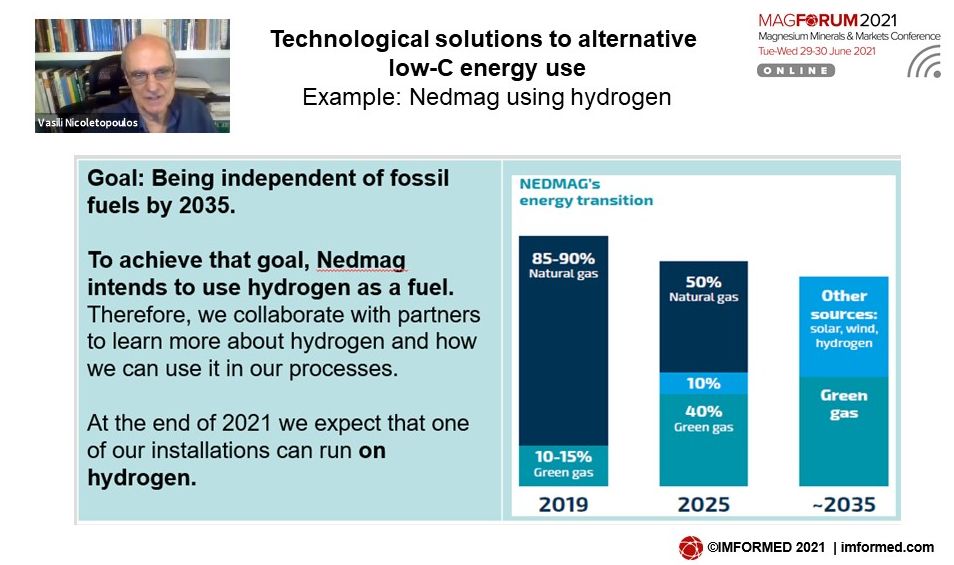 How to go green & be profitable? Environmental & profitability benefits in processing using Sensor Based Sorting
Jens-Michael Bergmann, Area Sales Manager & Carolina Vargas, Area Sales Engineer, TOMRA Sorting GmbH, Germany
Jens-Michael Bergmann and Carolina Vargas outlined that green technologies were now the biggest challenge in mining with pressure to operate sustainably, with resource scarcity and decreasing productivity, keeping up with demand, and operating profitably.
Sensor based sorting (SBS) was explained as a coarse particle separation technology applied in mining for the dry separation of bulk materials. Particles are individually detected by a sensor technique, and individually ejected by an amplified pneumatic process.
Bergmann and Vargas demonstrated how SBS employed in magnesite production – using both optical and X-ray transmission (XRT) sorting techniques – would yield environmental and profitability benefits, by saving >50% of energy, reducing the amount of water used by 3-4m3/t, and increasing recovery by up to 25%.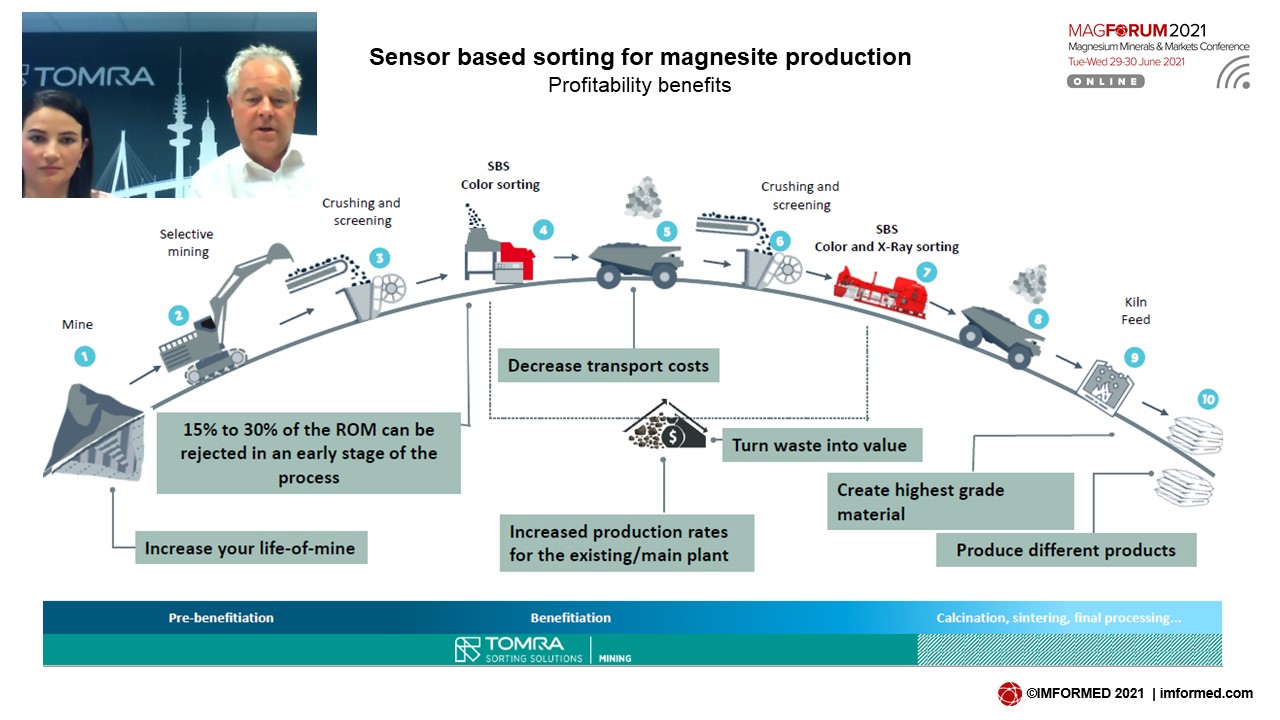 CO2 sequestration using olivine (dunite, serpentine etc.)
Pol Knops, CEO, Green Minerals, Netherlands
In his presentation Pol Knops covered climate change, negative emissions, solutions for achieving negative emissions, mineralisation, CO2 credits, market assessment, and new opportunities.
Knops reviewed a range of mineralisation projects and the companies active in supporting them, focusing on the Green Minerals project utilising olivine which has the potential to supply products to the concrete, paper, and polymer markets.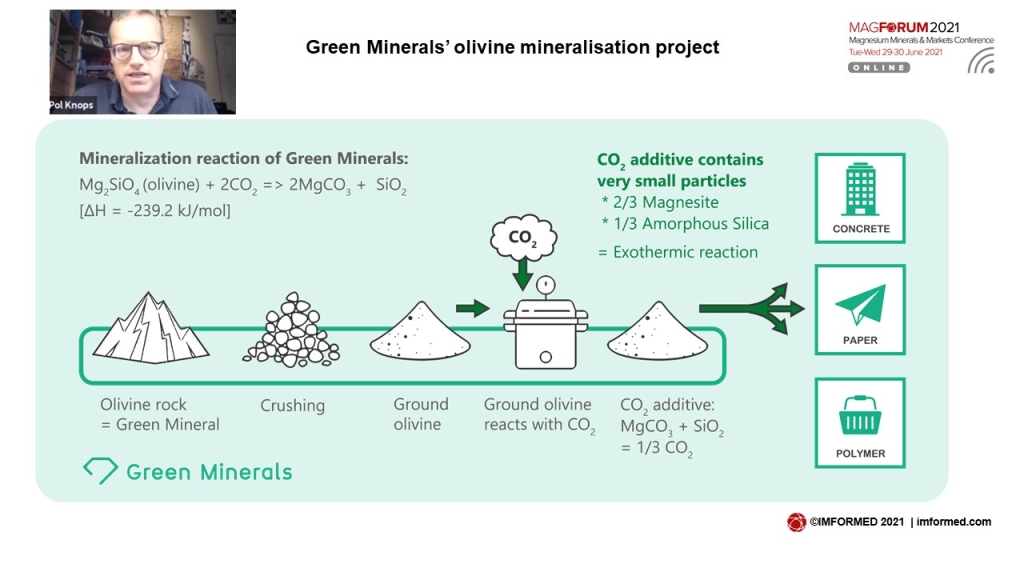 BeL Mag Project: The future of the magnesium industry in the digital wave, Industry 4.0
Salvelino Nunes, Technical Manager, Buschle & Lepper SA, Brazil
Salvelino Nunes, after introducing the BeL Mag project, highlighted managing the digital transformation, certifications and quality standards, products and markets, and the status of the commercial project.
The company was a pioneer in extracting magnesium from seawater in Brazil, and for more than 47 years has been supplying high grade magnesia to world markets such as food, pharmaceuticals, rubber, and polymers.
New business models in the Internet age are disrupting entire markets and adopting digital technologies is considered essential for competitiveness in the magnesium industry. Advanced manufacturing now involves the integration of physical and digital technologies.
Nunes went on explain how B&L is undergoing a major digital transformation in its magnesia production facility.
Real data from the plant floor is captured by multiple sensors and transmitted to Big Data Computerisation through connectivity, visibility, transparency, predictive capacity, and adaptability.
Key properties in magnesium extraction are monitored such as salinity, magnesium content, impurities, solids content, flow, pressure, and temperature.
In effect, the plant will be "in the hands of the management" said Nunes.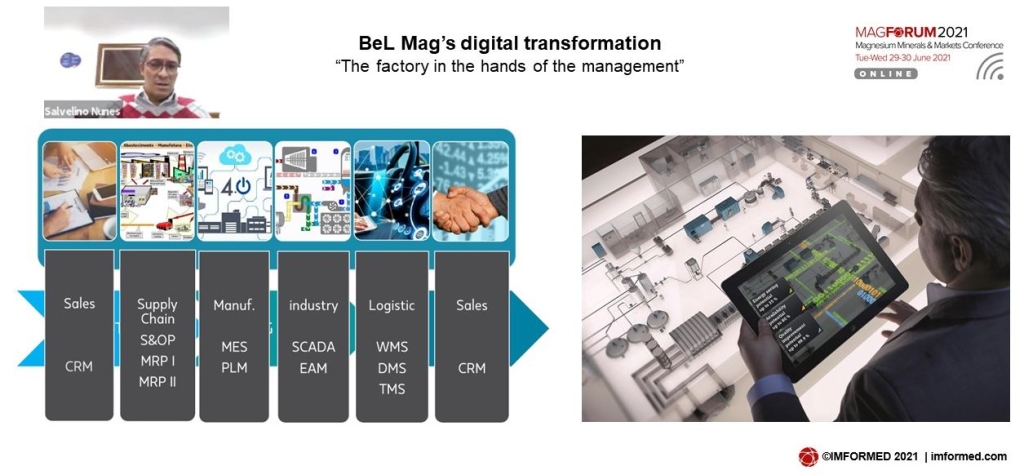 Benchmarking magnesia production costs
Nicolás Gangutia, Managing Director, Ganmag, Spain
Underpinning the entire magnesia production process are of course the various costs for each stage. Here Nicolás Gangutia took us through understanding the main elements of these costs: OPEX cost, raw material, energy, environment, CO2, and total costs.
A comparison of production costs between high grade and low grade Chinese macrocrystalline magnesite was demonstrated before explaining how Ganmag can help reduce kiln feed costs by:
selling as much production as possible, from high grades to very low grades.
selling or reusing as much as possible by products from beneficiation, pre-beneficiation and mine waste: use flotation for recovering by-products; complete shaft kilns with rotary or MHF kilns; find markets for by-products.
improving and updating beneficiations systems.
Gangutia noted that European companies are taking action for their CO2 emissions by changing to low fossil carbon fuels such as natural gas, biomass, and green hydrogen.
However, he identified the critical problem in the long term was the chemical reaction in the magnesia process in producing CO2.
"The possibilities are: 1. reduce or stop low grade production in Europe. 2. Become industrial CO2 producers where MgO will be a by-product." concluded Gangutia.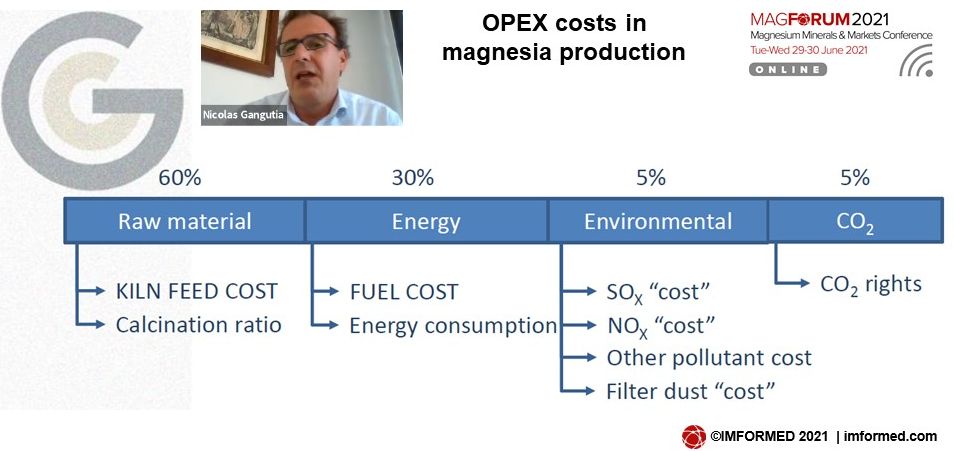 Evolution in the role of trading and processing magnesia
Jan Weber, CEO, Possehl Erzkontor GmbH & Co. KG, Germany
"Why evolution?" asked Jan Weber: "[Because] Our business is being disrupted. Digital solutions are taking over control. Sustainability requires a new way of thinking."
Weber emphasised that in order to be successful, the company needed to go beyond just trading in magnesia and other minerals. In addition to its strategy ROAD#2024PLUS, which mainly focuses on verticalisation and diversification, Possehl Erzkontor feels the need to transform further (for more details see Mineral trader transformation: Possehl Erzkontor on mission to fully integrate by 2024).
Two strands of transformation are being followed:
Exploitation to reposition today's business to maximise its resilience, using IT system based digitisation, process innovation and strategy;
Exploration to create the future with a separate growth engine, by fostering business model innovation and technical development – the latter is the new investment called "pektogram", described as "becoming the central node for digital competence-driven change in the raw materials industry."
The vision of pektogram is "a fully digital and data driven ecosystem that enables sustainable value creation for raw material sourcing." Essentially, a digital system to simplify and greatly speed up communication of mineral supply data between source and customer.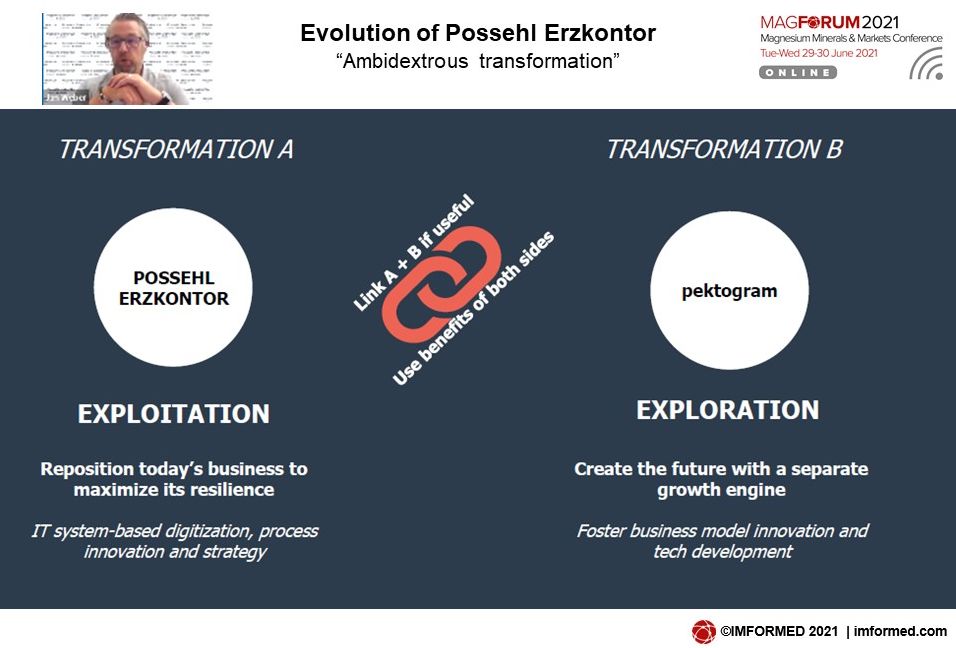 Global trade and demand for dead burned and fused magnesia
Alison Saxby, Managing Director, Roskill Information Services Ltd, UK
Alison Saxby covered global magnesite supply, magnesia trade – main trade patterns and changes over the last five years, with a focus on China, followed by a look at demand markets.
World nameplate capacity for magnesia is estimated at 26.1m tpa in 2020. China, with an estimated capacity of 18.6m tpa, accounts for 71% of the global total, with Russia, Turkey and Brazil together accounting for 11%. Trends in overall magnesia production closely reflect those in Chinese output.
DBM trade represents around 20% of total DBM global capacity because of the high level of integration in the industry, and also the lower level of capacity utilisation in China.
Unlike other forms of magnesia, FM exports decreased by around 30% in 2019 overall and again in 2020. Chinese exports of FM rose by 2.5% to 375kt in 2020, due to higher shipments to South Korea (+11%), Russia (+9%) and the Netherlands (+24%).
There has been growth in Chinese DBM exports driven by Asian refractory demand and this will continue. Global refractory demand is forecast to grow at 0.7% between 2020 and 2030. Refractory magnesia demand is forecast to increase by a CAGR of 1.2% to 2030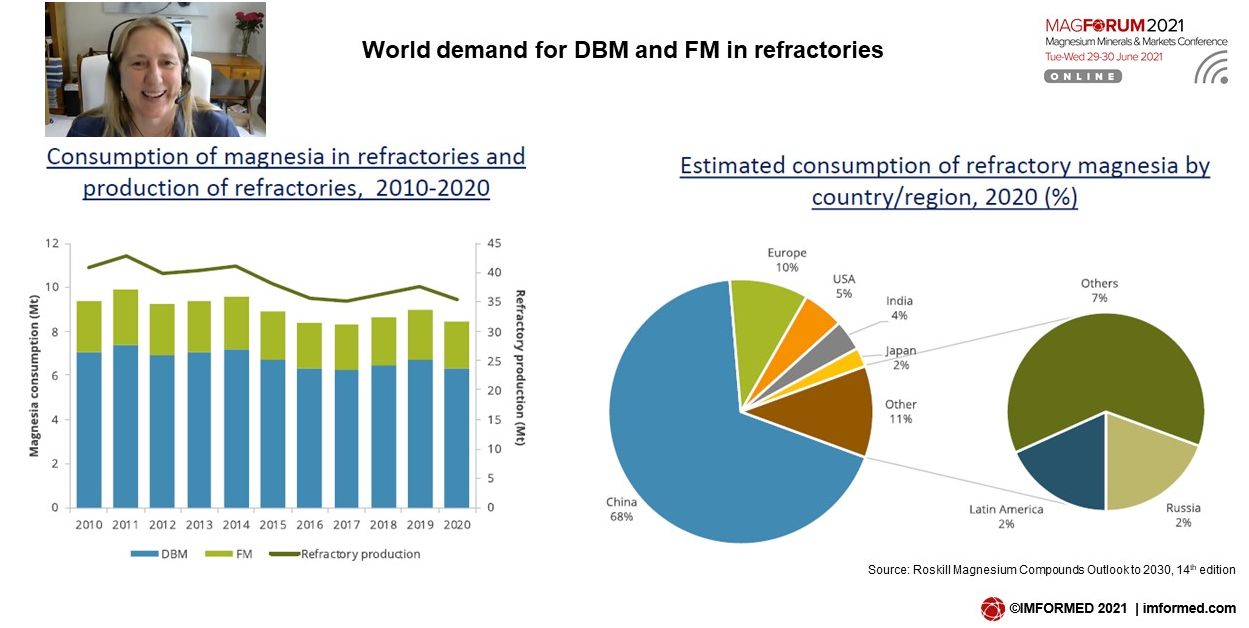 How Chinese magnesia production can emerge stronger: Liaoning provincial policy response to reforms
Shiying Jia, Director-Magnesia Research, Replus Business (UK) Ltd, UK
In perhaps one of the most anticipated presentations of the Forum, Shiying Jia comprehensively examined China's main producing regions, the recent changes, and how Chinese magnesia production will emerge the stronger.
Jia covered the period 2017-2020 in assessing the "challenging of the new norm", and identified the annual key stages chronologically as "Commencing", "Implementing", "Falling" (demand), and "Solving", describing actions and consequences for each year.
The four key areas envisioned for strengthening China's magnesia industry are consolidation, sustainability, innovation and standardisation. These are to be helped driven forward by China's new infrastructure plan: a RMB17.5 trillion (US$2.51 trillion) investment for the next five-year period until 2025.
The planned outlook for the Liaoning magnesia industry is as follows:
By 2022: the minimum mining capacity must achieve 300,000 tpa; new open pit magnesite
mines prohibited; overcapacity will be strictly controlled with capacity replacement ratio; total control is applicable to all magnesite ore (MgCO3) mining (rich and poor ore)
By 2025: Green mining transformation; promoting industry clusters; integration of mining enterprise to mining groups in the city and country; 80% production capacity by the top five mining enterprises.
By 2030: only 2-3 mining groups in the province; eco-friendly development pattern; gross industrial output value will go beyond RMB100bn.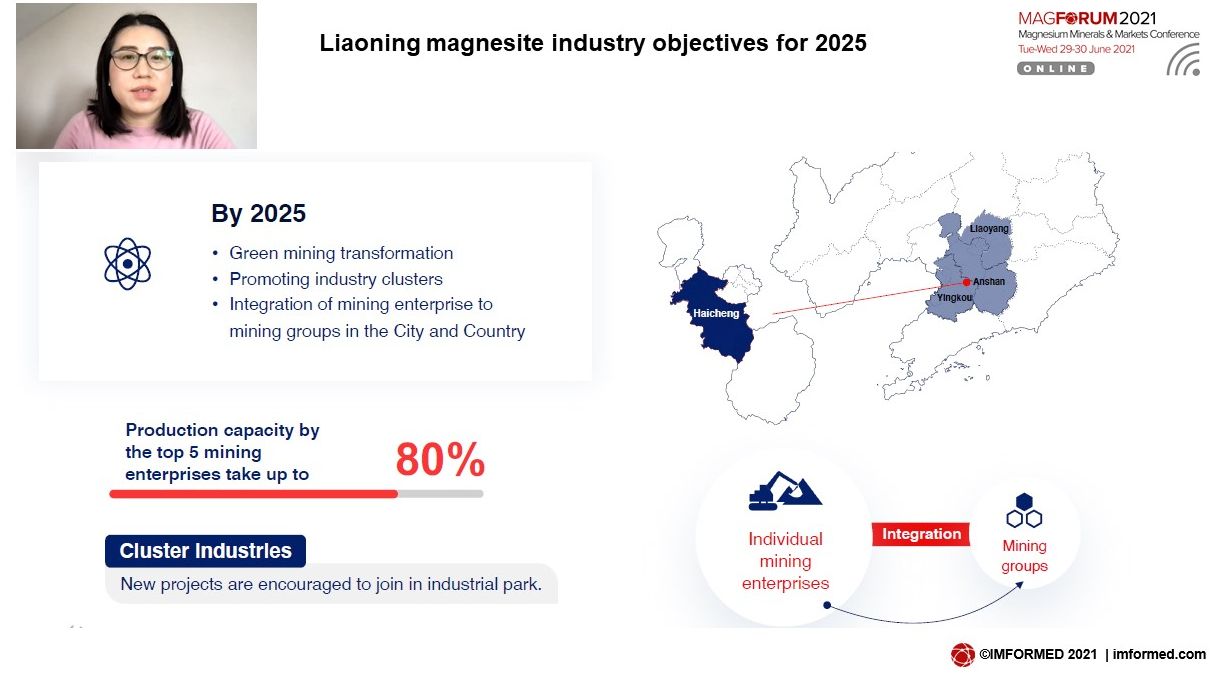 Refractory market trends, developments, & outlook
Ted Dickson, Consultant, TAK Industrial Mineral Consultancy, UK
Ted Dickson began by taking stock of the last year or so, reviewing the impact of the pandemic on the refractories market.
Refractories markets were already relatively low before the pandemic and a poor performance in some regions was only made worse in 2020, with significant declines. Hopefully we will return to some sort of normal or at least a "new normal" in 2022.
There have been signs of significant recovery in first quarter of 2021 and strong sales were possibly enhanced because of the need to rebuild stocks and line idled vessels before bringing them back on line.
The total refractories market in 2019 was estimated to be about 34-35m tonnes, which then fell by as much as 20-25% in 2020 in Europe and North America, but actually increased slightly in China.
The longer term outlook is for modest growth, particularly in steel and cement, but accompanied by a slow reduction in unit consumption of refractories.
However, there are other factors creeping in that could influence longer term demand: the move to higher qualities of refractories, for longer working life; cleaner steels; harsher conditions eg. alternative fuels use in cement manufacture.
Other factors will be an increase in recycling of refractories; reducing carbon footprint of steelmaking through new processes; and potential cement replacement for CO2 reduction.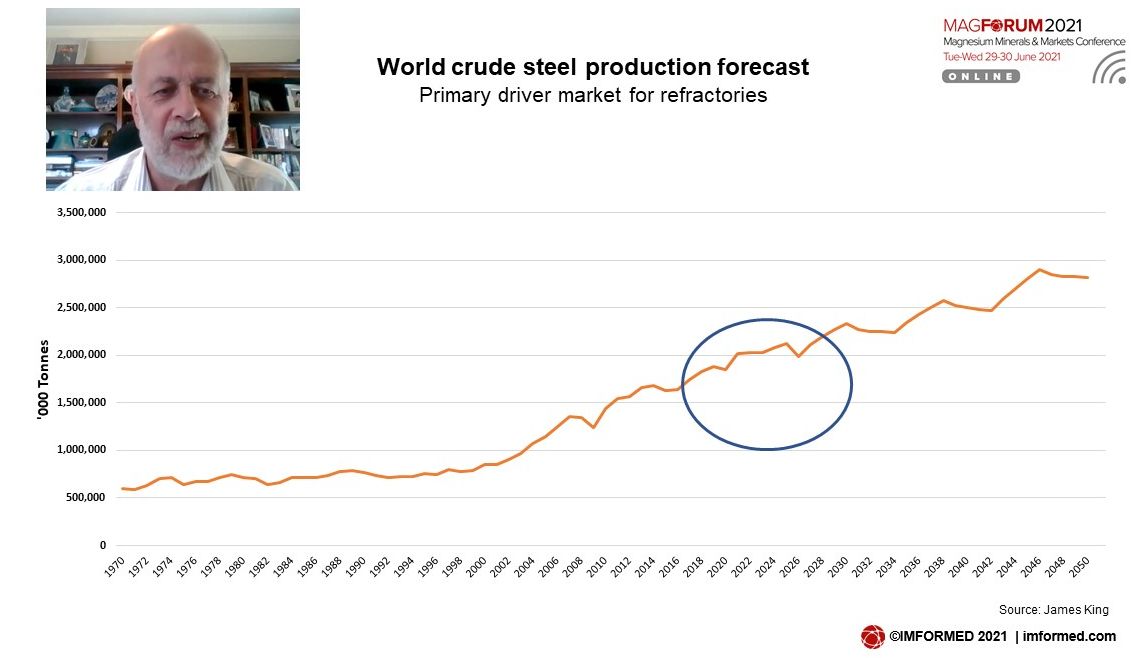 Development of dolomite-based refractory products
Alain Cauchie, NBD Specialist Steel, Lhoist Western Europe, Belgium
In 2014, Lhoist acquired Steetley Dolomite Ltd which allowed the Belgian group to supply dolime to customers in the UK steel industry and unshaped dolomite refractories worldwide. The dolime raw material was sourced from the Whitwell mine in Derbyshire, UK.
Alain Cauchie provided a review of the development and expansion into new markets for the dolomite-based refractories Doloram® and Dolofrit®.
Cauchie explained how Dolofrit® products are fettling materials used as a complementary solution to gunning materials in EAF linings, with Lhoist producing >40,000 tonnes during 2019-20 and sold to 22 countries.
Through an examination of properties and performance, Cauchie demonstrated how high magnesia refractories are not the only solution for high performing hot repair material, dolomite-based products can also be used.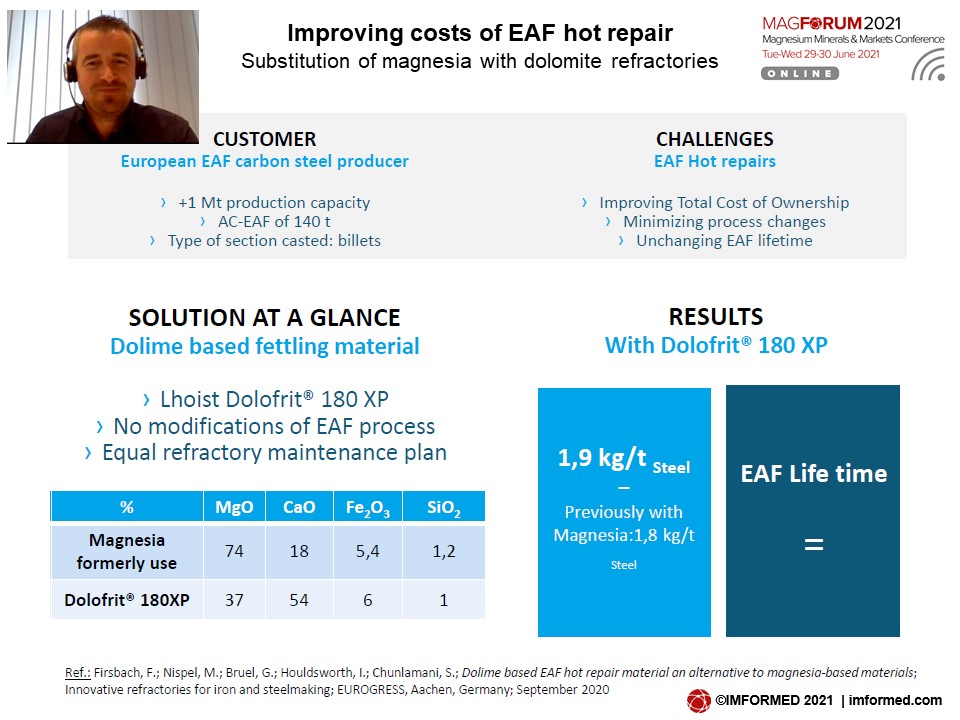 Flame retardants & magnesium chemical markets outlook
Samantha Wietlisbach, Director, Minerals Research & Analysis, IHS Markit, Switzerland
Samantha Wietlisbach began with a very clear explanation of magnesia resources and how their respective grades supply the different parts of the chemicals market sector.
Some 86% of magnesium chemicals are derived from magnesite, with the remainder from seawater, brines, kieserite, brucite, by-products, and others.
Wietlisbach focused on magnesium sulphate and magnesium hydroxide outlining their main sources, market applications, and general pricing trends, before concentrating on the flame retardants market.
The flame retardants market is estimated at about 2m tpa, with magnesium hydroxide accounting for <5%. Flame retardant markets declined by 6-7% on average globally over 2020.
Attention was drawn to the recently growing market in retrofitting ships with scrubber systems (to remove sulphur content from emissions) using magnesia powder and magnesium hydroxide slurry.
Scrubber uptake has been strong and will likely grow further still, but delays in scrubber installations over 2020 and into 2021 have had a significant impact.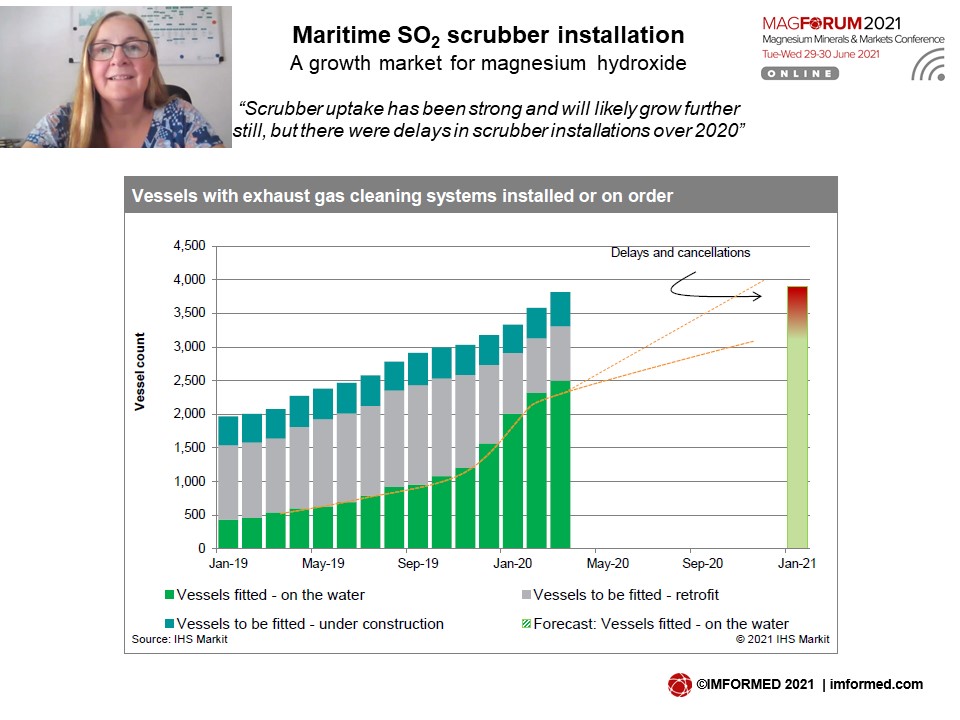 Synthetic MgO from non-magnesite sources by a HCl process route
David Konlechner, Owner, KON Chemical Solutions e.U, Austria
In this presentation, David Konlechner offered a possible answer to the CO2 challenge under discussion for much of this Forum.
It was explained that working with chlorides is a long-known process, and using HCl as a leaching agent is a logical step to CO2-free MgO production using non-magnesite sources.
Konlechner went on to outline a range of possible process steps to yield magnesia using HCl and silica-based ores such as serpentine. The process would produce magnesia and a silica by-product.
In the laboratory, the HCl leach process was demonstrated to produce 98% MgO, generated by spray roasting. After washing and recalcination >99.87% purity was achieved.
KON Chemical Solutions and Tenova are now aiming at the pilot plant level, to provide pre-commercial demonstration, fine tuning the process to reduce risk and CAPEX, and make available sample material to support market entry for a special product.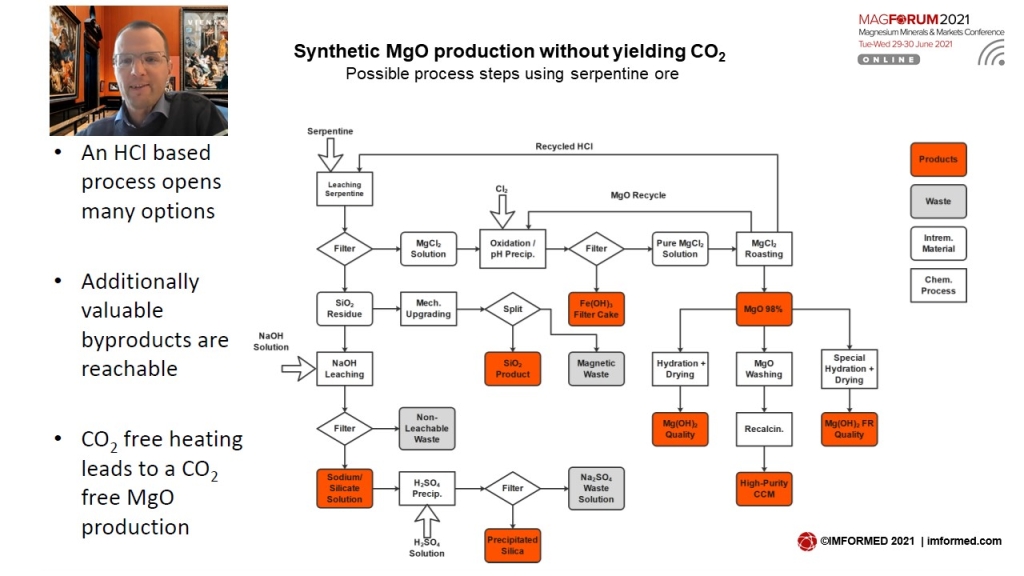 Thank you and "see" you again soon!
Under these challenging conditions for home and business at this time, we are indebted to the support and participation of our sponsors Nedmag, RHI Magnesita, TOMRA, and Possehl Erzkontor, and all our partners, speakers, and delegates for making MagForum 2021 ONLINE such a success, and ensuring a fruitful and convivial time was had by all.
We are grateful for all the completed feedback surveys and please continue to provide us with your thoughts and suggestions.
We very much look forward to meeting you again at another of our Forums, and of course, hopefully in person as soon as possible.
Registration, Sponsor & Exhibit enquiries: Ismene Clarke T: +44 (0)7905 771 494 ismene@imformed.com
Presentation & programme enquiries: Mike O'Driscoll T: +44 (0)7985 986255 mike@imformed.com
Missed attending the Forum? A full PDF set of presentations plus access to live recording maybe purchased.

Please contact Ismene Clarke T: +44 (0)7905 771 494 ismene@imformed.com
---
Coming up…