COVID-19: Ensuring the health and safety of our attendees is our top priority. This Congress is planned to be in-person, unless circumstances dictate an online version prevails. ALL attendees must read and agree to our Covid Advisory & Agreement – available to download on the Registration webpage.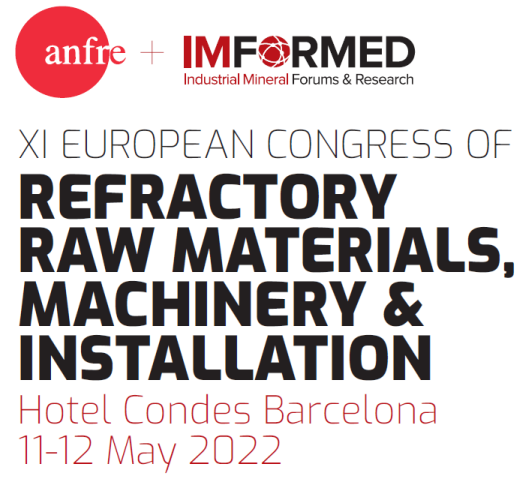 Gold Sponsors

Silver Sponsors
Supporting Partners
       
We are delighted to announce the XI European Congress of Refractory Raw Materials, Machinery & Installation, to be held at the Hotel Condes, Barcelona, 11-12 May 2022.
Co-organised by ANFRE, Spain (National Association of Manufacturers of Refractories, Materials and Related Services) and IMFORMED, this will be a stimulating conference focusing on key aspects of the refractory raw materials industry and enabling an excellent networking platform.
MINERAL DEVELOPMENTS | SUPPLY TRENDS | LOGISTICS | PROCESSING | ENERGY
Confirmed Speakers
The heat is on: Refractory raw material supply trends & outlook
Mike O'Driscoll, Director, IMFORMED, UK
Fired Bauxite Aggregate: A European innovative sintered aggregate alternative to BFA for refractory applications
Fernando Lopez, Managing Director, ARCIRESA, Spain
AMR Andalusite: From financially distressed to world class company
Reinhardt van Rooyen, Sales and Marketing Executive, ARM Andalusite, South Africa
Refractory raw materials: current environment & solutions through distribution
Adrian Garcia, Business Development Manager Material Technologies, & Jacobo López Riobóo, Operations Manager IMCD Iberia, IMCD Group, Spain
Picobello andalusite: a potential new source
Isti de Ujfalussy, President, Picobello Andalucita SL, Spain
The importance of Elkem Microsilica in refractory castables
Jose Ramon Luna, Global Marketing Manager, Elkem, Spain
Carbonxide M1: innovative technology to improve refractory products
David Martinez, Technical Sales, Keiron Chemicals SL, Spain
Influence of refractory aggregates on mineralogical phase developement and castable properties using an improved 50 grade CAC
Ingrid Mikanovic, Laboratory Manager, Calucem, Germany
A new source of high grade Brazilian bauxite and a wide range of aluminous aggregates
Marcio Lario, Business Development, Bautek Minerais Industrias Ltda, Brazil
The conference will start with a networking dinner on the evening of Wednesday 11 May at the wonderful El Cangrejo Loco, Port Olímpic, followed by the conference at the Hotel Condes, Barcelona, on Thursday 12 May.

Registration, Exhibit, & Sponsorship Enquiries

Programme, Speaker Enquiries

Mike O'Driscoll mike@imformed.com | +44 (0)7985 986 255