Leading industrial minerals distributor Cofermin Group has strengthened its magnesia offering amid its expanding mineral portfolio by establishing a new division to specifically focus on magnesia material supply and markets.
The new arm, called IMagine, was launched in July 2021, and will focus not just on refractory grade magnesias, but across the whole spectrum of magnesia raw materials (eg. caustic calcined, sulphate, hydroxide, synthetic) and non-refractory markets, often referred to as "industrial" or "speciality" markets, ranging from animal feed, fertiliser, environment, cement, fillers, flame retardants, to various speciality applications.
Title image Blue Sky Thinking: as part of its portfolio of diverse magnesia sourcing, IMagine has recently signed a strategic alliance with emerging speciality high purity magnesia producer EcoMag Ltd, Australia; shown here is EcoMag's site for its new 80,000 tpa plant at Karratha, Western Australia, expected on stream late 2023. Courtesy EcoMag.
Beside the traditional strong China business IMagine is also very much active in and evaluating magnesia sources outside China, which, as exemplified by previous reports by IMFORMED and the ongoing inconsistency in supply availability from China, is a strategically smart move at present and no doubt welcomed by the market.
IMagine is just the latest step in Cofermin's strategic objective as it continues to evolve to meet new market demand (for more details see Cofermin evolves: talkin' 'bout a new generation and M!NERALS now one of Europe's largest industrial mineral suppliers).
Hear first hand from Andreas Pabst, Managing Director, Cofermin Group & Sally Wulf, Sales & Marketing Manager, IMagine as they present on
"Changing times require a new approach to magnesia sourcing & trading"
at MagForum 2022, Noordwijk (Amsterdam), 7-9 June
IMagine's evolution & role explained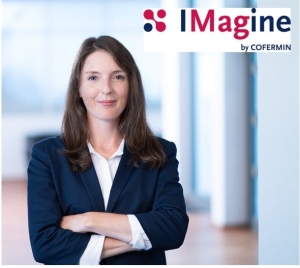 IMFORMED caught up with Sally Wulf, Sales & Marketing Manager (left), to provide some background and colour to the new Cofermin division:
1. What was the rationale behind the formation of IMagine? And why join and become part of COFERMIN Group?
The Cofermin Group has built up successful activities in magnesia raw materials in the refractories industry over the years. However, as magnesia is much more than the refractories sector, there was the possibility and potential here to expand the current business and stand it on its own feet.
Cofermin's willingness and interest in pursuing this initiative fitted in with our plans to embark on a new adventure in a modern company with open-minded experts. The company philosophy of concentrating expert knowledge in individual companies allows a focus on the multitude of qualities and applications.
Working in a corporate environment characterised by flat hierarchies, short decision-making processes and a hands-on mentality is simply encouraging. The company has recognised that economic success is largely linked to people.
The resulting motivation is lived and experienced daily in the Cofermin Group. In addition, with the group's extensive experience in the world of raw materials, this offers a platform that guarantees IMagine a high level of support and synergies to our daily business. Personally, I feel that this is expressed in the free way of working and the common understanding of all players achieving the group's goals.
2. What is IMagine's key focus?
As you can see on our homepage, our primary focus is on magnesium. This mineral comes in an unbelievable range of different varieties. All magnesia-based raw materials, both of natural and synthetic origin, differ not only in production and procurement, but also in the applications, each of which demand that their own requirements are met.
This becomes even more exciting when you can use these different qualities to generate special blends for specific applications. Generally, our business is based on technical skills and customised solutions.
We look forward to contributing our knowledge in this area and working with customers on new solutions or optimising existing processes by adapting products.
3. What is the typical annual volume you plan to handle?
Our business is not characterised by high volumes – incidentally this also applies for Cofermin Group in general. Generally, volumes are determined by the demands that the market and the customers place on us, and since we focus a lot on niches…
Traditionally, the bigger volumes are handled more in the natural raw materials; in the synthetic ones, rather smaller units are traded. In general, our business is based on technical sales and customer-oriented solutions, which also take place in market niches. After our positive start in 2021, we expect to move about 20-30,000 tonnes this year.
4. What are the main products that you handle and their sources?
In addition to our personal network, we also benefit greatly from Cofermin's groundwork in the field of magnesia raw materials in the past – although we bring a new level of understanding and expertise to the table when it comes to distribution, marketing and sales of magnesia.
Today, we can already supply our customers in large part with the sources available worldwide. Besides the classic qualities of natural magnesias from China, we also deal in specialities from South America and Turkey, for example. But products from Europe, the Middle East and North America are also part of the current and future portfolio.
Additionally, we are very pleased to be able to represent a very exceptional magnesia quality on an exclusive basis in Europe and other countries, from emerging speciality magnesia producer EcoMag Ltd in Australia.
In particular, EcoMag's product purity, as well as the low carbon footprint strategy, are special features which will open up many new opportunities in the market and which give EcoMag and IMagine competitive advantages in very specialised niche applications.
High purity magnesia sourced from Australia – EcoMag

In April 2022, IMagine and EcoMag Ltd, of Australia, signed a conditional letter of intent "as an important step towards a full strategic alliance between the two companies".

EcoMag was established in 2015 to produce a range of speciality chemicals derived from high purity magnesium, such as 99% pure hydrated magnesium carbonate, and high purity magnesium oxides for high value speciality markets such as food and cosmetics.

These are sourced using a proprietary magnesium precipitation process to harvest waste streams from sea-salt and potash producers, and other brine sources; targeted sources to date include the Beyondie sulphate of potash project (Kalium Lakes); Dampier Salt (Rio Tinto (68%; Marubeni Corp. (22%); Sojitz (10%); and Shark Bay Salt (Mitsui & Co.).

Over the last few years, EcoMag has been developing, refining and demonstrating this process, first at laboratory scale, then at larger scale via operation of pilot plants in South Korea and in Australia at Dampier, Western Australia, adjacent to Australia's largest solar salt operation ("EcoMag synthetic magnesia products" was presented by Dr Tam Tran, Chief Technology Officer, EcoMag at MagForum 2019 Bilbao – see Magnesia market meets in Bilbao).

On 8 April 2022, EcoMag was awarded a A$2m grant by the government to help fund construction of its 80,000 tpa commercial scale plant at Karratha, Western Australia.

Tony Crimmins, CEO, EcoMag Ltd (right) commented to IMFORMED on the IMagine tie-up:

"Europe and especially Germany is the main user of the high purity magnesium that we produce and therefore it is logical that we deal with a German distributor. Sales will be in the UK/EU where IMagine is well-placed to serve.

It is a straight distributor agreement for Europe, UK, China and Turkey. IMagine has the customer contacts and is delighted that we have a low CO2 footprint which is becoming more important when clients purchase mineral commodities.

We have building and infrastructure on site in Karratha, Western Australia (see title image top), and ordering equipment and gathering management to finalise construction on-site.

We will be manufacturing by the end of 2023. There is a lot of interest in our products and how they are made. The company has all its approvals from Government and other symbiotic industries nearby."
5. What are the key attributes of IMagine?
Our customers can rely on our expertise in magnesia raw materials. IMagine, our related agents and Cofermin all together have decades of experience in procurement and in how to deliver economically sensible solutions in the expected quality.
For us, success is defined by a satisfied supplier AND customer. We are happy to engage in new and further developments with our partners and to work out joint solutions for issues relevant to raw materials.
This of course also includes certifications beyond ISO 9001-2015, such as feed certifications according to QS. And when our business requires further standards in the future, we will address this and obtain them accordingly.
Reliability, expertise, solution-oriented thinking, are just some of the qualities which distinguish us, particularly in the field of magnesia.
Our globally diversified sourcing helps us especially in times of crisis like today. We can successfully counter or smoothen out many turbulences in logistics, failures, postponements and shortages of goods with flexibility and by using the full range of our available sources and principals to the advantage of our clients. And of course we secure the products' availability by using our local stocks to satisfy our customers' requirements.
6. How has the Covid-19 pandemic & the Russia/Ukraine conflict impacted the business?
Of course, Covid-19 has also affected our business, as we started operations during the pandemic. Travel has been replaced by video-conferencing and the logistical challenges created by the global shortages in raw materials and transport naturally affect us.
But Covid-19 is not over. At the moment, for example, what keeps us busy are the slowdowns in supply chains owing to shipping route and port congestions, in addition to the associated difficulties and the severe production restrictions generated by the Covid control measures in China.
It remains to be seen how the conflict currently taking place between Ukraine and Russia will affect the magnesia raw materials sector.
Besides the soaring energy costs worldwide, which affect all producers, materials from the region are often used in Europe. Here it is important to keep a close eye on developments. We think that the market-related distortions will continue for a long time. We must be prepared for this.
7. Any other macro trends you think will have an impact, whether good or bad, on IMagine's business and strategy going forward?
We believe that the topic of CO2-reduction, resource-saving production and recycling will concern us more and more in the world of raw materials.
Here we work with our international partners on solutions that also include the issue of sustainability, for example in the form of secondary raw materials or in the already mentioned partnership with technology leaders like EcoMag
There are many ideas that we are pursuing and believe that creativity and reliability lead to interesting approaches worth pursuing. And in this, IMagine fits in well with the wider Cofermin Group, as Cofermin already has long experience in working with various recycling raw materials and finding applications as well as establishing relevant marketing and distribution.
8. What are your objectives?
IMagine has had a strong start. We are proud that we have already been able to implement much of what we set out to do.
More exciting, however, is the future that we want to shape. We are continuing this path with the same means that have brought us to this point today. Our goal is to make a stable contribution to the supply of European magnesia consumers. Cofermin is an indispensable partner for many industries. For the magnesia raw materials, it is important to reach this status too.
We enjoy our daily work within the Cofermin Group and this is also our motto for our business friends. Besides the hard facts, such as price, quality and reliability, we are very much a people-based business.
Only together can things be moved. We believe in this in our daily dealings with our business partners and customers. IMagine, what comes next…
Hear first hand from Andreas Pabst, Managing Director, Cofermin Group & Sally Wulf, Sales & Marketing Manager, IMagine as they present on

"Changing times require a new approach to magnesia sourcing & trading"
---
If you enjoyed reading this article…
Like the idea of an objective, well-written and researched article about your company or products?
Perhaps you are pursuing new markets, launching new products and innovations, or just need some profile as you recharge or emerge onto the market?
Let IMFORMED's experience in writing and reach in markets assist your business going forward.
Please feel free to discuss ideas, options, needs.
Contact: Mike O'Driscoll, Director, IMFORMED
mike@imformed.com
T: +44 (0)1372 450 652; M: +44 (0)7985 986255