Review of Fluorine Forum 2021 ONLINE
The global fluorine raw materials supply chain is undergoing a period of some challenge.
In addition to the widespread disruption caused by the pandemic and ongoing logistical issues, compounded by the Russia-Ukraine conflict, the fluorspar market is witnessing increased demand from traditional and fast evolving sectors, especially in Li-ion batteries and electronics, but at the same time is hampered by drawbacks in production capacity.
Title Image Green Pastures for Fluorspar: Fluorspar demand is expected to soar for lithium ion battery and electronic applications; pictured here is the polymetallic Nui Phao operation of Masan High-Tech Materials, in north-west Vietnam, a leading global integrated supplier of high-tech advanced materials including fluorspar; in 2021 tungsten production hit a record high at Nui Phao; the site will host a visit for delegates from IMFORMED's Fluorine Forum 2022, held in Hanoi, 11-14 October 2022. Courtesy Masan High-Tech Materials.
Recent newcomer Canada Fluorspar Inc. which has been ramping up production capacity since 2019, entered interim receivership in February 2022, halted production, and is seeking a new owner by July 2022.
Koura Global (formerly Mexichem) the world's largest producer of fluorspar, in March 2022 declared force majeure against some of its supply contracts owing to safety concerns involving "geological issues" in a section of its Las Cuevas mine in Mexico.
While in December 2021, Samine in Morocco closed its fluorspar mine, which had been declining in output for some years.
Chinese supply, at one time dominating the world, remains in decline while its domestic market demand continues to grow, and seeks external supply sources.
However, new sources of supply are starting to emerge: from Mongolia, the USA, and via processing fluorosilicic acid (FSA) yielded from phosphate production.
Some of the above topics were brought to light towards to the end of last year when IMFORMED organised Fluorspar Fluorine 2021 ONLINE, bringing together a virtual meeting of the key players in the fluorine supply and demand business, to listen to leading experts highlight trends and developments shaping the market outlook.
We now review these presentations as we lead up towards finally meeting in person again for the first time since 2019, and finding out where the market is trending at Fluorine Forum 2022, Hanoi, 11-13 October 2022 – with a visit to the Nui Phao operation of Masan High-Tech Materials on Friday 14 October 2022 – full details here (Early Bird Rate Ends 17 June 2022!).

What delegates thought about Fluorine Forum 2021 ONLINE:

Thank you for the web conference on Fluorspar last Wednesday. I think it was very professionally held. Good job.
Fernando Arevalo, Commercial Director, Minersa Group, Spain

Thanks for running a great conference.
Mark Cooksey, CEO, ALCORE, Australia

Congratulations on Fluorine Forum 2021! It really was professionally done. From my perspective, it was a great success
Bob Syvret, Principal/Owner, Fluorine Chemistry and Technology LLC, USA

Good conference today, thank you
Anna Carson, Director, Britannia Refined Metals, UK
Reducing AlF3 import reliance for aluminium smelting
Dr Mark Cooksey, CEO, ALCORE Ltd, Australia
Owing to limited developed fluorspar resources, Australia is the largest aluminium producing region in the world without local AlF3 supply.
Cooksey reminded that Australian aluminium smelters are 100% reliant on imports of aluminium fluoride (AlF3) and that supply disruptions could lead to the end of aluminium smelting in Australia.
AlF3 is essential for aluminium smelting, because it is part of the electrolyte ('bath') that is the solvent for alumina. The bath is a Na-Al-F compound and must be maintained at a target composition to maximise efficiency.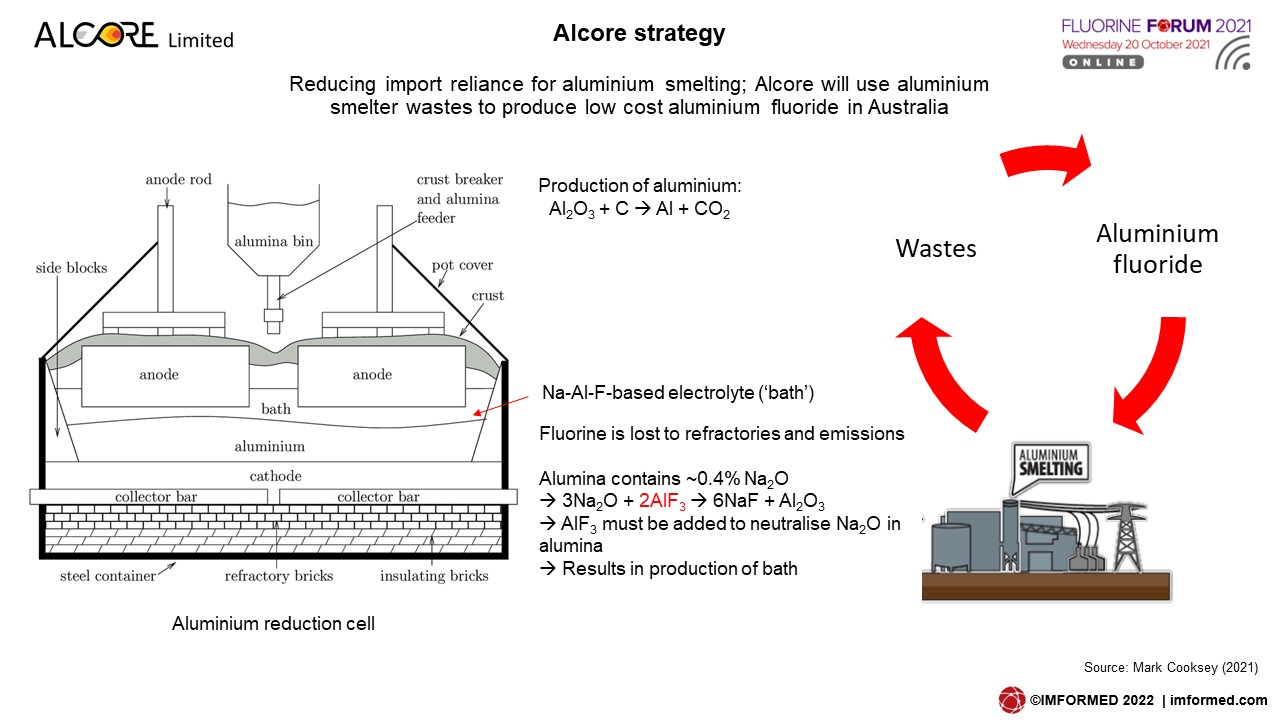 Alcore, a start-up company is developing a new process for producing aluminium fluoride from waste materials to reduce Australian import reliance.
A first Alcore plant is planned for Bell Bay industrial area in northern Tasmania, with an initial capacity 10,000 tpa AlF3 to supply about 35% of Australia/NZ demand.
This could expand to 30,000-60,000 tpy, subject to demand, low-cost feedstock sources, and/or additional locations.
Initial production can use alumina trihydrate for good returns and lower risk, and bauxite and dross show promise as lower-cost feedstocks to substantially increase profitability.
UPDATE: highlights since October 2021

Phase 3 2021-22: Commenced pilot plant programme 10g/hr bath, NSW
Rigorous scale-up to reduce technical risk
Phase 4 2022-24: First AlF3 plant planned for Bell Bay, Tasmania, near existing hydro-powered aluminium smelter. Planned production 1,300 tpa AlF3 stage 1; 20,000 tpa AlF3 stage 2.
Potential for plants in other major aluminium smelting regions
Potential expansion into other markets, including fluorine chemicals
Steel production outlook in a world of low carbon
James F. King, Steel Industry Consultant, UK
King noted major changes in the industry's structure since 2000: Chinese producers were 7 of the top 10 companies in 2020 (only 1 in 2000); world production more than doubled between 2000 and 2020, and so did the size of companies, but the share of the top 10 was little changed.
On world production, after the global financial crisis in 2009, there was rapid growth to 2015, led by China. This is continuing. Steel production is forecast to grow in line with GDP to 2030, then more slowly than GDP to 2050.
Regarding market demand, the major industrial countries (USA, Japan, Germany and other countries of Europe) are showing declining consumption per unit of GDP. China, South Korea, India and Vietnam are showing increasing consumption of steel as industrialisation spreads.
Metallurgical-grade fluorspar (metspar) is used primarily as a fluxing agent by the steel industry. King estimated that in 2019 2.86m tonnes fluorspar was used in steel.
Specific metspar consumption per tonne steel varies according to the type of steel produced. King's estimate of the specific consumption per tonne in 2020 was:
EAF steel, incl. stainless 1.8kg/t
Stainless steel 15.3kg/t
BOF steel 0.9kg/t
Other steel 2.6kg/t
Total crude steel 1.5kg/t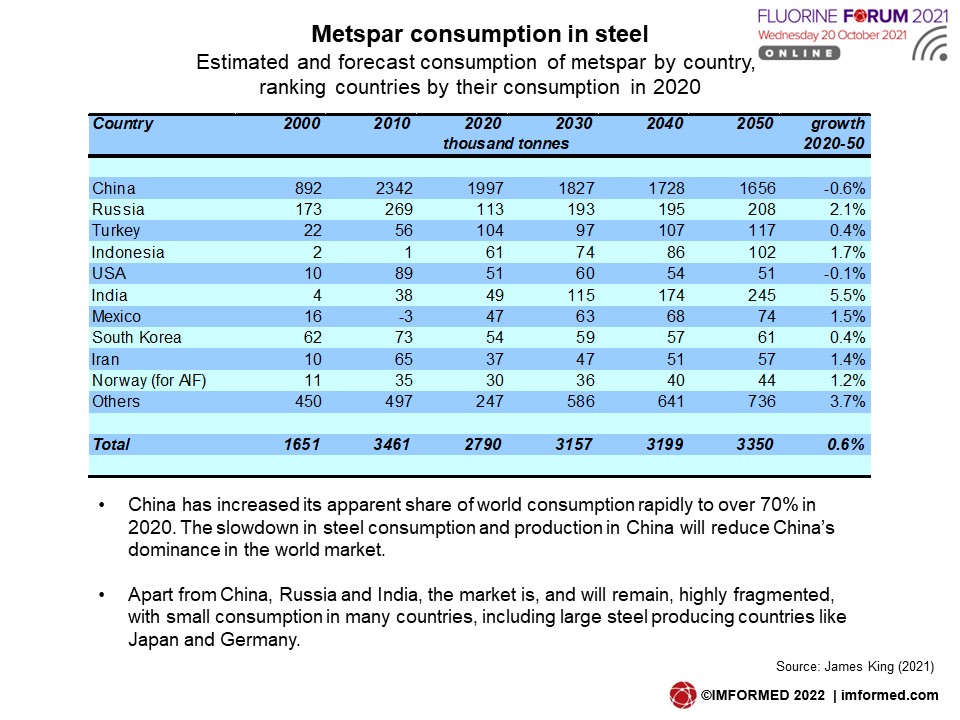 The impact on the consumption of metspar of the forecast trends in steel will be:
Negative: consumption of metspar per tonne is forecast to continue to fall for each type of steel, partly because the industry may seek alternative materials that do not contain fluorine for environmental reasons and partly because of a perceived shortage of metspar.
Positive: growth of EAF steel at the expense of BOF steel.
Negative: increased use of DRI for EAF steel seems to reduce the need for metspar
Positive: growth of stainless steel as a share of total steel
On balance, the prospects in the base case forecasts are for a slow increase in the consumption of metspar in the long term from the level of 2020.
If the steel industry makes a radical change to reduce CO2:
Positive: a higher share of EAF steel, with faster growth of metspar consumption.
European HFC refrigerants market and F-gas alternatives
Barbara Gschrey, General Manager, Öko-Recherche, Germany
In her presentation, Gschrey covered the EU HFC market and quota mechanism, market impacts, and F-gas alternatives.
The timetable for reducing the EU's HFC consumption was explained, targeting a reduction of 79% from 2015 to 2030.
The EU quota quantity stipulates the allowed HFC quantities to be placed on the EU market each year, measured in tonnes of CO2e – "GWP-weighted process", ie. the higher the GWP of the HFC, the higher the quota required. This is applicable to all producers and importers placing 100 tonnes CO2e or more of HFCs (virgin gases in bulk) on the market in a calendar year.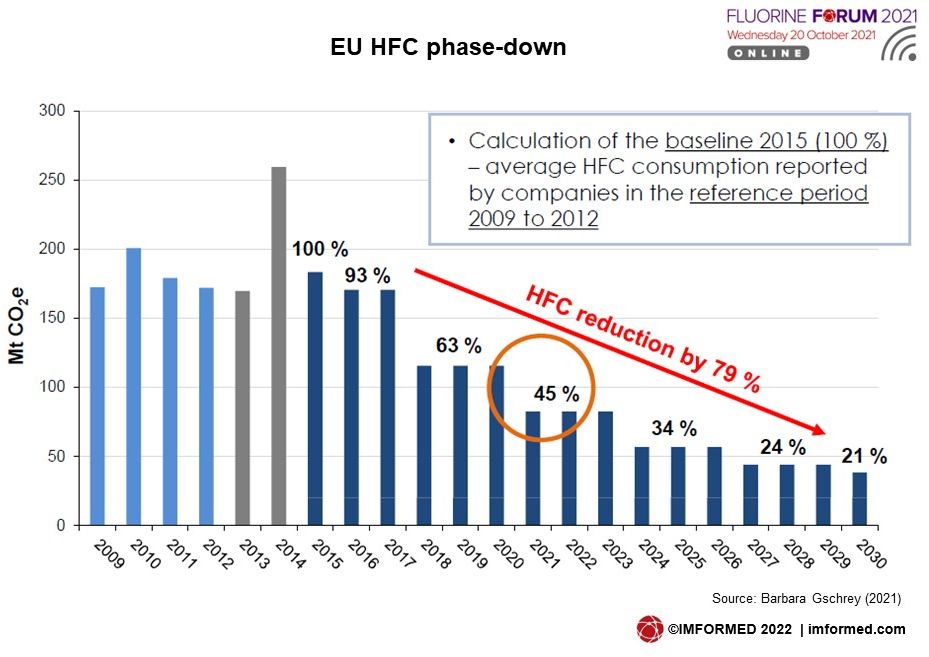 Exemptions include: imports for destruction, feedstock use, exports, military use, semiconductor industry, metered dose inhalers (as of 2018), recycled and reclaimed HFCs, HFOs, natural refrigerants (ammonia, CO2, hydrocarbons).
Looking forward, Gschrey emphasised that the EU HFC phase-down opens up export opportunities for new technologies based on low-GWP refrigerants; new technologies can lay the ground for complying with future F-gas restrictions.
There has been strong market reaction to the phase-down since 2017, with price increases for conventional HFC refrigerants but also for low-GWP blends containing HFCs, plus some HFC shortages.
Fluorocarbon products as critical enablers in the production of semiconductor materials and IC devices
Dr Robert Syvret, Chief Scientist, Electronic Fluorocarbons LLC, USA
Syvret took the audience through the importance of semiconductor materials, key process steps used in building an IC device using fluorocarbon compounds, and fluorocarbon products for today's electronics applications.
The main drivers of the semiconductor boom were outlined, and was the fabrication of an IC/Chip which involves a complicated sequence of key processing steps repeated over and over hundreds of times (>500).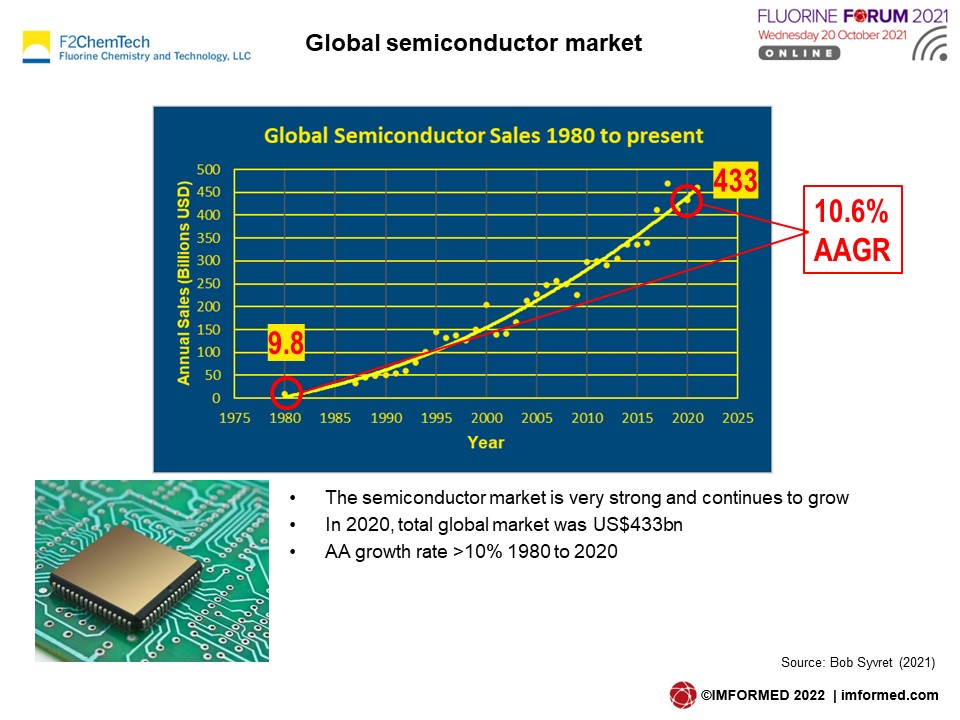 Fluorine compounds play a prominent role in all steps, including:
Reactive Ion Etching (RIE) – high reactivity of fluorine radical species
Deposition precursors – fluorine provides volatility for CVD processes
Plasma chamber cleaning – reactivity of fluorine radical species
Fluoropolymer materials – inertness of fluoropolymer materials
Extensive new research and development is ongoing to provide new fluorocarbon gas etchants that provide more efficient etching with less environmental impact, eg. Atomic Layer Etching (ALE) and new fluorocarbon gas compositions with different heteroatoms (eg. S).
Hydrofluoric acid and downstream market outlook
Samantha Wietlisbach, Director Minerals Research, S&P Global, Switzerland
Wietlisbach provided an overview of the HF market, with a focus on fluorocarbons and fluoropolymers, and some direct applications of HF in light vehicles and electromobility, metal pickling, and electronics. Comment was also made on the changes in corporate vertical integration of the supply chain since 2020.
Fluorspar trade was discussed, with Mongolia, Mexico, South Africa, Vietnam and Canada being the major world exporters in recent years, and USA, South Korea and Japan the major world importers. South Korea was forecast to be the largest global importer of HF in 2021.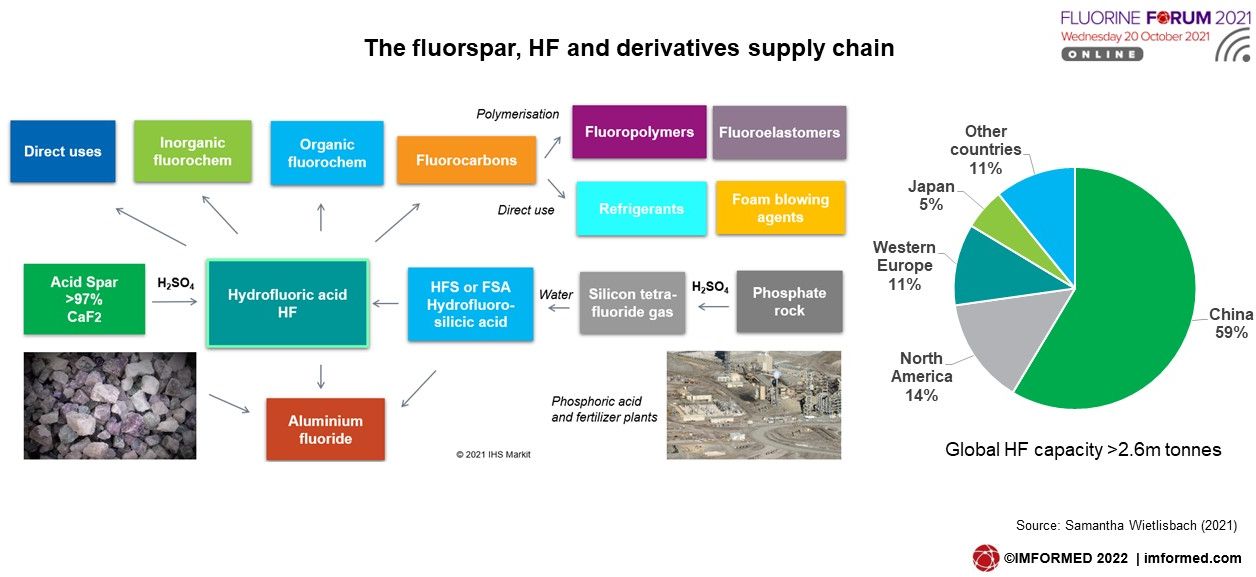 China leads the world in HF capacity, production and consumption, two new plants opened since 2020; 25-30% of HF production is traded. New capacity has emerged from Arkema, USA, but this was sourced from phosphoric acid by-product FSA.
The outlook for HF growth is expected to be about around 3-4% AAGR globally, with fluorocarbons remaining the major end use. For fluoropolymers globally 4% AAGR for PVDF, and about 3% for others, automotive the main industry market. For HF direct uses, the China market is by far the largest market, with metal pickling the largest use for electronic grades in China.
Supply chain resilience in the Acidspar-HF-Lithium Ion Battery chain
Kerry Satterthwaite, Director Business Intelligence, Koura Global (formerly Division Manager Strategic Minerals, Roskill), UK
Following an outline of the importance of graphite to the lithium ion battery supply chain, Satterthwaite explained why fluoropolymers also hold a significant niche role in this market.
The sharp reduction in the availability of Chinese fluorspar has precipitated some interesting structural changes in the market. China is by far the largest consumer of both acidspar and metspar, and declining domestic supply has led to soaring imports, particularly of metspar from neighbouring Mongolia. China is now importing significant quantities of acidspar (but not HF) from Mexico.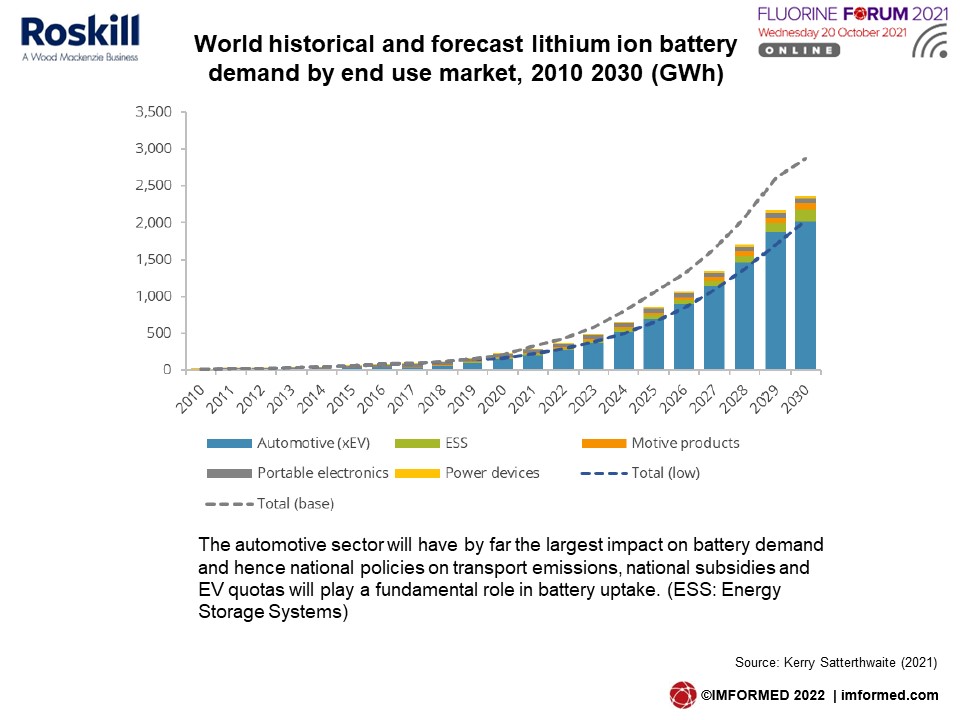 Strong growth in the electronics sector for HF is expected to be eclipsed by spectacular growth from lithium ion battery electrolyte salts, which is anticipated to grow to represent the third largest HF market. The battery market will also drive very strong growth in the use of HF in natural graphite purification (though graphite processors outside China are evolving non-HF processing methods).
Roskill's baseline 2021 outlook for lithium ion battery demand expected the total market for lithium ion batteries to reach 2,368 GWh by 2030 growing at an average rate of 26.3% per annum (slightly below that of the last decade as the industry matures).
Lost Sheep Mine: High grade source supplying the US market
James Walker, Chief Executive Officer, Ares Strategic Mining, Canada
Walker started by reminding that the USA has classified fluorspar as both a strategic and critical metal, and the country is reliant on imports with no domestic mine production.
US aluminium and steel producers, refrigeration manufacturers, and cement producers, import all their required fluorspar from Mexico and Vietnam.
Ares Strategic Mining's acquired fluorspar claims in Utah are to be fast tracked through the US mining permitting process and the developing Lost Sheep project is envisaged to produce fluorspar at a lower cost than any imported fluorspar.
Ares has a consolidated 2,100 acre land package covering the entire Spor Mountain District, near Delta, Utah, with technical studies confirming grades at Lost Sheep averaging approximately 75% CaF2, higher than grades from Mexico and Vietnam.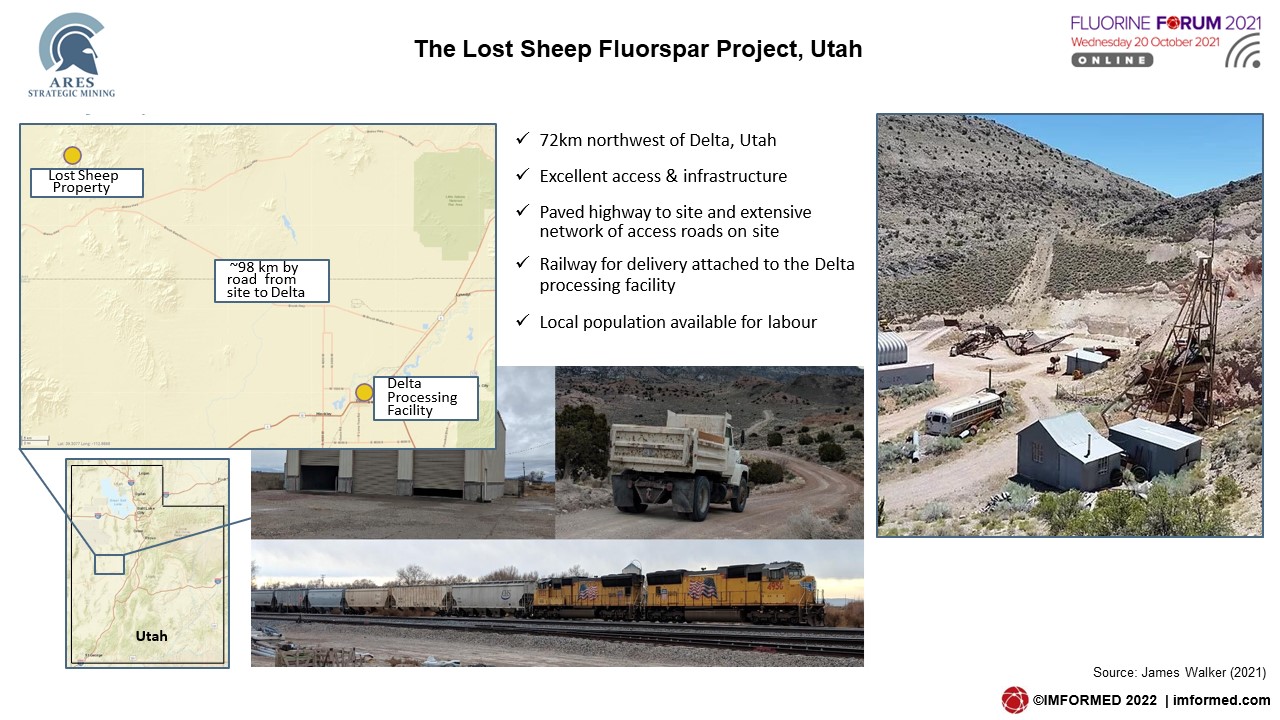 The company has achieved 99.9% CaF2 grades; a 93% CaF2 product with 92% recovery. High grade metspar and acidspar products all meet high industry standards.
There is potential to directly ship metspar with no further processing from Lost Sheep, and to expand the operation to produce 5,000 tpm acidspar within months of re-starting the metspar operation.
Walker also highlighted another 4,800ha fluorspar property Ares is working on 200km north-west of Fort Nelson, north British Columbia, where it owns 100% of mineral claims.
UPDATE: highlights since October 2021

shipped all infrastructure for Lumps Plant to USA, where it will be integrated with recently arrived three-storey Lumps Plant at Delta site, Utah.
Ares' strategic partner in Asia, the Mujim Group, has committed to provide labour and expertise for the installation and optimisation of the plant.
Completed exploration project which has identified >160 drill targets
Signed agreement to develop the Campbell Croster Fluorspar Project, Kentucky
Fluorspar mining trends & outlook post-Covid
Peter Robinson, Chairman, Fluorsid British Fluorspar, UK
An overview of the growth and activities of Fluorsid was presented first, highlighting the commitment of the group to integration of the production cycle from mining raw material, chemical processing and marketing.
Robinson also underlined Fluorsid's growth in fluorspar mining activities to improve security of supply and cost of mined raw material going forward.
During the pandemic, Fluorsid British Fluorspar (FLUORSID BFL) maintained continuing mining and mineral processing operations to ensure continuity of raw material supply to its chemical plants; a core fluorspar production of 25,000 tpa was maintained using ore mined from the underground mine at Milldam.
The pandemic provided the opportunity to undertake underground mine development to prepare for optimising post-pandemic production, including preparation of plans for modernising sustainable mining practice within the mine.
FLUORSID BFL is developing plans to increase production from the UK operation to 50,000 tpa to meet the expected increased demand of good quality fluorspar from sustainable European mines.
Robinson anticipated that post-pandemic demand is set to increase and exceed previous demand with strong recovery in traditional fluorochemical demand, new applications for fluorspar products in EVs, and reduced internal supply within China which is seeking Western sources of supply.
Robinson considered that there was a need for more fluorspar production capacity, noting that it takes about eight years to explore, plan, and develop a new fluorspar mining operation, and that there are no new planned fluorspar mines likely to come into production over the next two to three years.
The future for fluorspar mining should see increased processing of tailings and use of small, flexible, and potentially mobile modular processing plants to exploit complex small fluorspar resources.
Thank you and hope to see you in Hanoi in October!
Fluorine Forum 2021 ONLINE was a most stimulating day of discussion, albeit virtual.
Under these challenging conditions for home and business at this time, we are indebted to the support and participation of our partners, speakers, and delegates for making Fluorine Forum 2021 ONLINE such a success, and ensuring a fruitful and convivial time was had by all.
We are grateful for all the completed feedback surveys and please continue to provide us with your thoughts and suggestions.
Since March this year we have been delighted to return to in-person events in 2022.
Therefore, we very much look forward to meeting you again, hopefully in person next time, at Fluorine Forum 2022, Hanoi, 11-14 October 2022.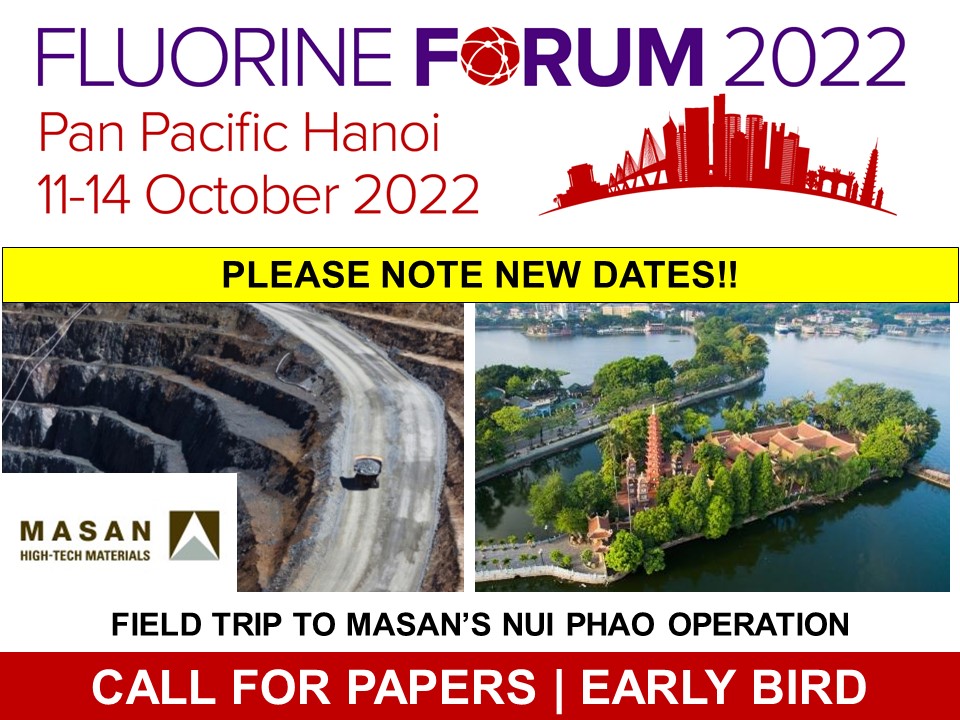 Registration, Sponsor & Exhibit enquiries: Ismene Clarke T: +44 (0)7905 771 494 ismene@imformed.com
Presentation & programme enquiries: Mike O'Driscoll T: +44 (0)7985 986255 mike@imformed.com
Missed attending the Forum? A full PDF set of presentations plus access to live recording available for purchase.
Please contact Ismene Clarke T: +44 (0)7905 771 494 ismene@imformed.com