Cofermin's evolution 2: Expanding beyond a Chinese minerals focus
Securing Chinese industrial minerals supply for world markets has been a vital and growing role for mineral traders and distributors since the 1980s. And it has never been easy.
Today, ongoing issues with primary ore availability, environmental controls, government reforms, process costs, logistics, and most recently the impact of the Covid-19 pandemic have made the job even harder.
While market demand for these minerals remains consistent, the number of players active in supplying them has shrunk over the years in the face of low margins and the above adverse factors.
Earlier this year we reported on the latest stage of evolution of global mineral distributor Cofermin Group, as it entered a new era of management in January 2021 (see Cofermin evolves: talkin' 'bout a new generation).
In this follow-up article we focus on the management and role of Cofermin's M!INERALS division. A relatively recent player (founded 2015), which initially concentrated on Chinese bauxite and fused alumina.
Seven years on, M!NERALS has not only grown and survived as one of Europe's leading Chinese mineral suppliers, but has now expanded both its mineral and geographic horizons.
Cofermin's fourth dimension is born
In 2015, Robin Steger and Andre Vollers joined forces with Cofermin and together they formed the subsidiary company M!NERALS. At that stage it was the fourth expansion of this kind for the Cofermin Group.
The primary purpose behind it was to strengthen the Group's business in the classic Chinese industrial minerals. This step proved to be very successful and M!NERALS has effectively grown and developed beyond this.
Originally, Robin and Andre's target was to distribute around 30,000 tpa of selected industrial minerals. This plan largely revolved around different bauxite and fused alumina grades.
Today M!NERALS has managed to exceed this target by some distance and has become one of the largest industrial mineral suppliers in Europe.
M!NERALS covers the whole range of acidic to basic minerals, including: bauxite, brown and white fused alumina, fireclays, magnesia-based minerals, graphite, silicon carbide, and fluorspar, supplying industries from refractory and abrasive to welding and foundry suppliers.
Streamlining the key
Robin Steger and Andre Vollers have worked hard on M!NERALS' noteworthy expansion, but they have also kept a very strong emphasis on staying lean and efficient.
The M!NERALS team remains lean, processes are streamlined, and everyone is hands-on. The two co-founders are involved first hand in much of the sales and procurement, doing what they do best and what they love and care about.
This lean and agile set-up has also helped M!NERALS stay on top during the difficult economic circumstances brought on by the Covid-19 pandemic.
About two years ago, Konstantin Moog joined the M!NERALS team, making the transition from the stainless steel trading sector. He initially joined as sales and procurement support for the core products.
Later, Konstantin was able to leverage his gathered expertise in mid- to high-range aluminas to focus and expand on M!NERALS' business in low-grade alumina minerals such as calcined kaolin, flint clay, and mullites, among others.
Since 2019, Konstantin has established 20 different grades alone of so-called chamottes, and today M!NERALS sources them from four continents.
M!NERALS' recently established chamotte portfolio covers ranges from 25%-70% Al2O3 and includes speciality qualities such as acidic and lightweight chamottes, which are increasingly hard to come by these days.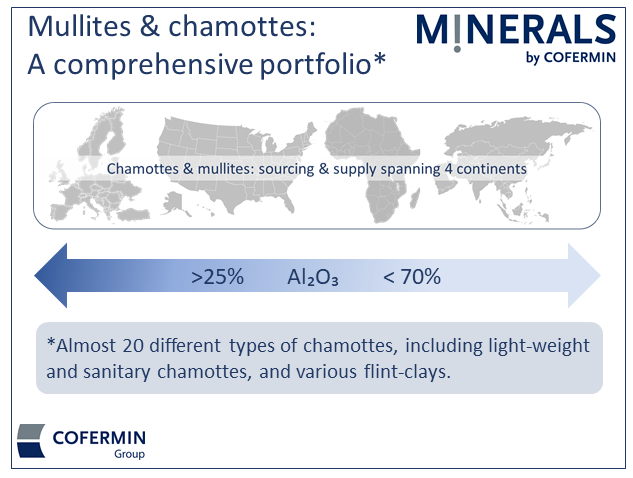 Outlook: Brazilian bauxite beckons
What's ahead for M!NERALS? Certainly, apart from strengthening and growing its core business, it is to cement its wide chamotte and clay portfolio in the market.
Furthermore, M!NERALS is the agent and distributor for the fast-growing Brazilian bauxite producer BAUTEK (to be covered in a separate article very soon), which offers many customers in different industries an attractive strategic option to the traditional bauxite supply partners.
M!NERALS' long-standing expertise in this particular mineral enables it to always find the best solution (technical and economic) for both supplier and customer.
IMFORMED plans to post follow-up articles focusing on the individual divisions and activities of Cofermin
---
If you enjoyed reading this article…

Like the idea of an objective, well-written and researched article about your company or products?

Perhaps you are pursuing new markets, launching new products and innovations, or just need some profile as you recharge or emerge onto the market?

Let IMFORMED's experience in writing and reach in markets assist your business going forward.

Please feel free to discuss ideas, options, needs.

Contact: Mike O'Driscoll, Director, IMFORMED
mike@imformed.com
T: +44 (0)1372 450 652; M: +44 (0)7985 986255