China Crisis Deepens | Refra-Horn Recycling JV | Cofermin Magnesia Arm | Alumina Issues
Last week's 64th International Refractories Colloquium held in Aachen, organised by the European Centre for Refractories gGmbH (ECREF) was a somewhat surreal experience: a mix of euphoria and novelty in finally reconnecting with each other again face to face (or mask to mask!) – was it as long as 18 months ago when we were last doing this? Long may it continue.
The collective excitement was somewhat tempered, or in some quarters increased, by the prevailing climate of raw material supply and logistical challenges, especially from China, which having dogged the industry all year, significantly intensified just prior to the conference.
In his opening address, Ulf Frohneberg, Head of BU Refractory Linings, Steuler-KCH Materials GmbH, and President of Deutsche Feuerfest Industrie eV, pointed to the challenges facing the industry including the availability of raw materials and the start of decarbonisation in the industry.
Frohneberg warned that the industry remained "…far away from any reliable plan" and urged "Let's stay in the driver's seat and cross-fertilise our ideas".
China crisis challenges supply lines…again!
Above all else, China and logistics issues dominated the talk at the conference.
For how long and for how many times are refractory mineral traders and consumers alike going to put up with interruptions in raw material availability and shipments from China? Surely it's time to take a strategic decision to seriously evaluate alternative options in mineral sourcing?
Yes, OK, this author has banged on about this theme over the last few years in various articles and presentations, but despite the clear warnings from several earlier supply squeezes in China, each of which worse than the previous, it is astonishing how unprepared the market is when the next curve ball from China is pitched.
And what a curve ball was played in the lead-up to ICR Aachen! With little or no warning, the last weekend of September saw widespread power supply cuts to industries and homes across most of the country's high-energy use provinces, and at a peak time of production as we approach the annual winter factory slow/shut down during October-March.
The severe rationing, and in parts total cut in power supply is having an immediate and disastrous impact on mineral processing (especially crushing and grinding, calcining, fusing) and likewise in the mineral consumer sectors such as refractories, ceramics, cement, glass, and steel.
This significantly further compounds pressure on China's industrial mineral supply capacity, already burdened with demand from growing domestic markets, upgrading with anti-pollution equipment, and the threat of closure from government inspections – not to mention depleting reserves of high quality ore and resurfacing of Covid-19 hotspots throughout the year which has impacted mineral production centres and ports.

The primary reasons for the power squeeze include a shortage of coal supply (remember, China has stopped importing from Australia), reinforced emissions standards, and strong demand from domestic industries recovering from the pandemic slowdown of 2020/21; coal prices have been pushed to record highs (see chart) and triggered tight supply.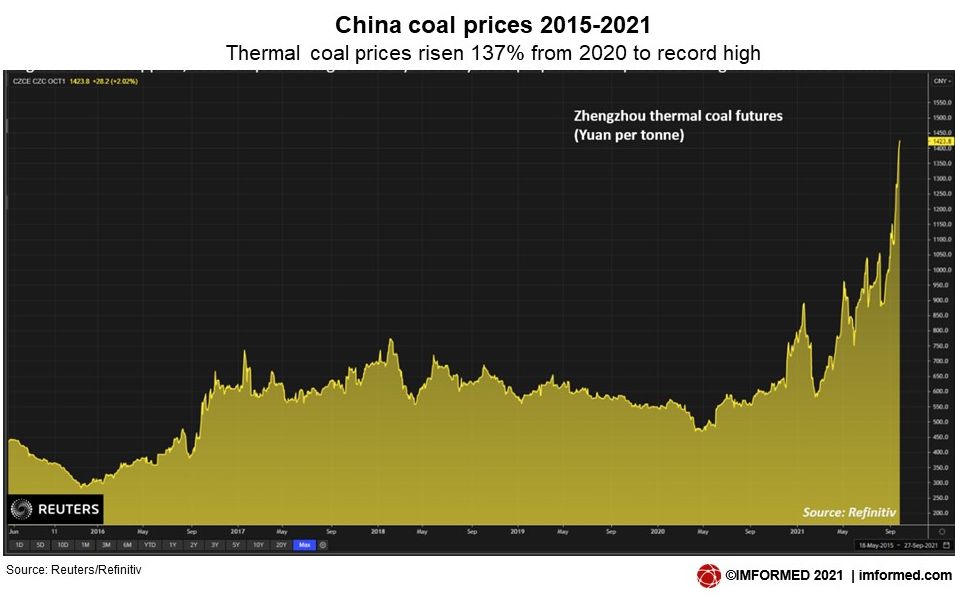 But in addition, with exquisite bad timing, China's energy situation was also impacted by the National Development and Reform Commission (NDRC) updating measures of its existing Dual Control Policy (DCP) on 16 September. However, the timing and misinterpretation of the measures by provinces has worsened the situation.
The DCP has been in place for some time, initiated by the NDRC to curb China's energy consumption and energy intensity. In March 2021, the NDRC released the outline of its 14th Five-Year Plan (2021-2025), which proposed to further reduce China's energy intensity by 13.5% by the end of 2025.
But in August and September, clearly without any regard to the prevailing market situation described above, the NDRC upped the pressure by issuing "red alerts" to certain provinces, and "improvement plans" to energy intensive sectors such as chemicals, steel, non-ferrous metals, and non-metallic minerals, forcing a nationwide "rectification" of energy use.
Example: Fused alumina sector suffers power cuts

As an example, the fused alumina industry in Sanmenxia Corundum Park, Henan has been severely impacted, and some 70% of Henan production capacity is already affected, according to sources.

On 29 September, the local power supplier Sanmenxia Vientiane Industrial Co. Ltd was forced to increase prices by RMB0.06/kWh, representing the fourth, and largest, energy price increase since the start of the year.

Sanmenxia Vientiane's power output is limited, and apparently cannot operate continuously and "normally", therefore leaving fused alumina producers in the park with insufficient power and interrupted production.

The upshot is that the energy consumption cost of BFA will increase by RMB300/t, and for WFA by about RMB130/t. The energy price rise unsurprisingly has already led to sharp increases in BFA/WFA prices which are nearing the $800-$1,000/t FOB level.

Under these conditions of rising energy and raw material feedstock (bauxite) prices, some fused alumina producers may choose to temporarily suspend production once they have secured pre-orders, for which they are imploring customers to place as urgently as possible.

Elsewhere, in Liaoning's magnesia industry, magnesia prices are increasing. Reported ex-works prices include: DBM, MgO≥95% RMB2,700/t; DBM, MgO≥97% RMB3,000/t; FM, MgO≥97% RMB3,950/t.

It was reported that many (80%) fused magnesia (FM) plants with high electricity consumption were closed. After the Golden Holiday the provincial office is to hold meetings to discuss the next step policy of electricity control for the FM plants.

In Gansu, one of the main silicon carbide producing centres, adjustments to coal and electricity prices are expected to increase the cost of SiC by RMB300/t. The price of raw anthracite and imported petroleum coke has increased by RMB200-300/t since August, and the price of raw materials is still rising continuously.
On top of all this, the logistics situation appears to be worsening, with continuing port congestion and delays in loading and discharge (both in China and Europe), lack of vessel/hold availability, limited stevedore capabilities, and soaring freight prices.
Many mineral consumers are avoiding expensive container freight (20ft container Jan. 2020 about US$400-500, now about US$8,000-10,000) and moving their big bags to bulk vessels to transport in break-bulk mode, though prices here are rising too, around US$175/t, and there's talk of it nearing the US$200/t level if things do not improve.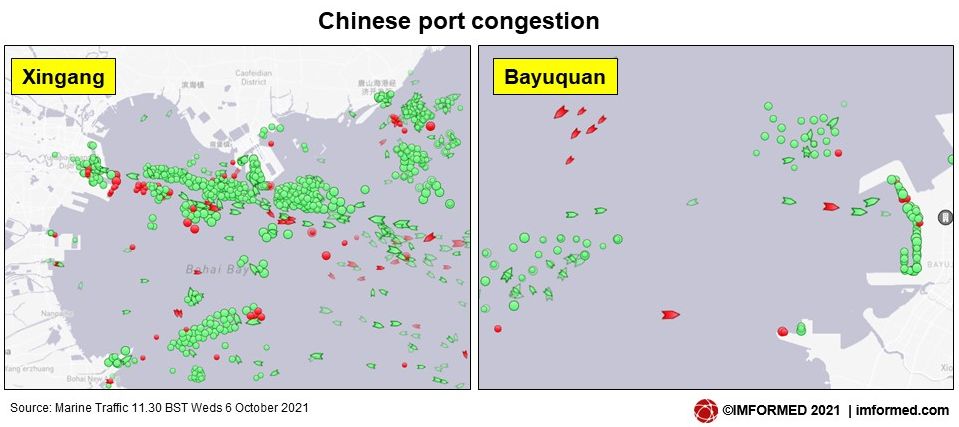 Moreover, with so many individual loads of contrasting mineral types, the break-bulk holds were described by one trader as now resembling a real "cocktail" of shipments. These are proving most challenging, and costly, with longer times to load and discharge, poor bag qualities, and with increased risk of breakages and contamination during voyage.
With continuing port congestion and stevedoring challenges, the time now taken for from a vessel's arrival at its first Chinese load-port until discharge completed in north Europe port, is about 120 days, compared to the normal around 60 days.
And here's the real rub, prospects for "breathing again" may not materialise until June/July 2022. Why? A perfect storm of events to maintain the pressure on China's mineral supply chain through Q1 2022 (see table below):

So, it's looking like April-May 2022 being the first period following the above events, when the industry might be able to ascertain a damage report and start to claw back to some semblance of normality in starting to balance China mineral supply with demand. But it's anyone's guess when things might get back to normal.
One trader summed up the outlook: "My guess is that the tsunami of problems will lead to very large [mineral] price increases in 2022 for those who can get material, and leave many customers short of deliveries. In my nearly 40 years in the commodity business, I've never seen this situation before, so it's difficult to predict the next 6-9 months."
Indeed, it is likely, and perhaps arguably imperative, that many traders and consumers will/should spend this period evaluating, or re-evaluating, alternative mineral sources to China elsewhere in the world. Which is precisely why the likes of Bautek Minerais Industriais Ltda, in Brazil (see New dawn for Brazilian bauxite) and First Bauxite, in Guyana (see Guyana bauxite newcomer starts bulk shipments) are busy ramping up to get in on the action.
By then, we shall be well into the Chinese Year of the Tiger: as a spirit animal, the meaning for the Tiger is said to be willpower, courage, and personal strength – attributes which will be sorely required for all those in this business!
Hear it from the experts…

Refractory mineral market dynamics, trends & outlook
Charles Compson, Marketing Director & Hans-Leo Gross, Global Product Line Manager Aggregates, Almatis GmbH, Germany
High purity magnesia supply
Puyang Refractory Co. Ltd, China
Refractories: Essential and Growing Industries
Heiki Miki, Managing Executive Officer & Division Director – Overseas Business, Shinagawa Refractories Co. Ltd, Japan
Overview of strategy & markets | "Green mining" in China
Marco Olszewsky, President APAC & China, RHI Magnesita, China
China's magnesia supply crisis in climate push
Shiying Jia, Director, China Magnesia Research, Replus Business (UK) Ltd, UK
China – Europe logistics: Why is the supply chain failing?
James Devlin, Managing Director, China Mineral Processing Sales Europe , UK
China raw materials & refractory market movement
Chen Feng, Sales Director China Refractory Producers & Qing Miao – Market Manager Refractory Producers & Investment Casting, Imerys, China
Refra-Horn refractory recycling JV
On a more positive note, and indeed a hot topic for future alternative raw material supply, was the announcement during the conference that Refratechnik Steel GmbH has entered a joint venture to produce refractories using recycled material with Horn & Co. Minerals & Products Management GmbH.
The JV is called Refratechnik Horn Produktions GmbH, with Refra as the majority shareholder, which is to further expand and operate the Horn Group's mag-carbon brick plant in Hünsborn, near Siegen.
The move brings together the expertise of two internationally respected German companies in the refractory business: Refra's expertise in product development, production, and application in steelworks, and Horn's specialist know-how in recycling and preparation of raw materials.
This marks the latest step taken by Refra to secure refractory raw material supply, following its acquisition of leading magnesia producer, QMAG, in early 2020 (see Magnesia supply sector consolidates further).
As was made clear in his excellent presentation "Alternative Raw Materials for Refractories Made in Europe – Reducing the Carbon Footprint", Prof. Dr. Helge Jansen, Managing Director, Refratechnik Steel GmbH, explained that the rationale behind the initiative is to reduce dependency on primary raw materials, especially from China, and create a "Made in Germany" brand using recycled material.
Hünsborn's central location in Germany will help ensure a reliable supply and short delivery times for customers in Europe.
For many years Horn has been pioneering refractory waste recycling and is one of the main refractory recyclers in Europe, also having invested in laser sorting technology at its Siegen plant (visited by delegates as part of the Horn Field Trip at IMFORMED's Mineral Recycling Forum 2018, for a review see here).
Horn initially started a MgO-C brick plant at Hünsborn in 2017 using recycled magnesia in co-operation with KCH-Steuler, however this project only lasted a short time.
The new JV intends to revive the Hünsborn plant and ramp up to a 20,000 tpa MgO-C brick capacity in 2022, with the potential to double this in 2026; the bricks will be for ladles and EAF. A second hydraulic 2,000 tonne press is under construction at the site and will be operational by Q2 2022.
At least 25% of the raw material used will be recycled refractory material from Horn, with the remainder being DBM and FM sourced from QMAG in Australia. Helge demonstrated that such a recycled component offers annual savings in total CO2 emissions of 7,924 tonnes.
Want to learn more about this initiative and the refractory recycling market?

Helge Jansen, Managing Director, Refratechnik Steel GmbH will be speaking at IMFORMED's

Listen to expert speakers on the latest trends & developments in industrial minerals recycling | Network with leading players in the recycling supply chain
Cofermin launches IMagine for magnesia sourcing & supply
Leading industrial minerals distributor Cofermin Group has strengthened its magnesia offering amid its expanding mineral portfolio by establishing a new division to specifically focus on magnesia material supply and markets.
The new arm is called IMagine, which will focus not just on refractory grade magnesias, but across the whole spectrum of magnesia raw materials (eg. caustic calcined, sulphate, hydroxide, synthetic) and non-refractory markets, often referred to as "industrial" or "speciality" markets, ranging from animal feed, environment, cement, fillers, flame retardants, to food and pharmaceuticals.
As explained to IMFORMED by Sally Wulf, Sales & Marketing Manager, IMagine is very much active in and evaluating magnesia sources outside China, which, as exemplified by the above report will be a strategically smart move at present and no doubt welcomed by the market.
IMagine is just the latest step in Cofermin's recent restructuring as it evolves to meet new market demand (for more details see Cofermin evolves: talkin' 'bout a new generation and M!NERALS now one of Europe's largest industrial mineral suppliers).
Interested in all things magnesia? Don't miss…
Alumina under pressure: Alteo | Almatis
Other Aachen talking points included the alumina sector and specifically announcements made during the conference by Alteo and Almatis.
In response to rising energy prices, Alteo announced a "temporary energy surcharge" to cope with the increased electricity and gas prices, effective 4 October on all its alumina shipments.
The energy price rises were described as having a very strong impact on alumina production, unpredictable in scale, and very sudden. This announcement follows an earlier price rise announcement in July, effective 1 September 2021.
Alteo was acquired in January 2021 by United Mining Supply (UMS), of Guinea. Alteo maintains that it is "actively pursuing its transformation plan focusing on speciality aluminas" and that initially planned investments in production capacity are to continue, ie. a three-fold fine grinding capacity increase in Busan, South Korea, by the end of 2021, and a 50% increase at Gardanne, France in Q1 2022.
On 27 September, Alcoa declared force majeure to Almatis GmbH, under its alumina feedstock supply agreement, following another, this time indefinite, strike by workers at Alcoa's San Ciprian, Spain aluminium smelter and alumina refinery.
The strike may have an impact on Almatis' ability to procure sufficient feedstock to maintain supplies at current market demand levels and thus Almatis considered that it may face potential shortages after the middle of November for tabular alumina, BSA-96 sintered aggregate, and spinels sourced from its European operations.
Almatis is evaluating all possible options in the market to secure alternative feedstock volumes and reduce supply deficits caused by an extended strike.