First Bauxite high grade alternative source for non-met. markets
PLUS: Australian Bauxite progress | China bauxite latest
Early July saw First Bauxite LLC load the first bulk ocean vessel of its Guyanese raw high grade non-metallurgical bauxite for overseas markets in refractories, cement, abrasives, and water treatment.
Although it has taken some 10 years to get here, First Bauxite's timing of its mine and export facilities coming to fruition just when consumers are keenly seeking alternative non-met. bauxite sources to China appears most favourable.
First Bauxite is now shipping bauxite in ocean vessels from its recently constructed wharf at Sand Hills on the Demerara River, about 21km east of the company's Bonasika bauxite mine. Until now, bulk vessels had to receive raw material barged down the Demerara River to Georgetown for transloading.
The first bulk shipment (pictured above) was 6,500 tonnes bound for Savannah, USA, which was followed by another shipment of 9,500 tonnes to western Europe.
John Karson, VP Sales and Marketing, First Bauxite told IMFORMED: "As customers increase their volumes, many may switch from container shipments to larger bulk shipments. However, containers to India and China are still very good value."
"We do bulk in containers and may start doing bags because customers want different sizing to trial. We still have to barge materials to Georgetown when doing containers, so if someone wants 50-100 tonnes of a specific size, we have to find a way to segregate, so supersacks is a natural option. For right now it is bulk ships and loose bulk in containers." said Karson.
First Bauxite, previously publicly traded, and now a privately owned US enterprise, owns the mining subsidiary, Guyana Industrial Minerals Inc. (GINMIN), which opened its mine at Bonasika early 2019.
In November 2019, a new wash plant started up raising production to 30,000 tpm raw ore. Since then shipments have been made to North and South America, China, India, Europe including Ukraine, and Africa.
The single product line raw bauxite contains 63% Al2O3, and on calcining yields 93% Al2O3, with low iron and impurity levels. Clearly a high grade bauxite and ideal for refractories (see below).
Some calcining has been conducted in the USA to achieve high density (3.45 g/cm3), low porosity products, and as feed for brown fused alumina manufacture.
Similar testing is being conducted in China and India. "India is a very hot market as the reliance on Chinese [raw material] is diminishing and there seems to be a need for higher grades or the ability to upgrade lesser grades of bauxite." said Karson.
In Spain, First Bauxite has an agreement with refractory minerals processor Arcillas Refractarias SA (ARCIRESA), Oviedo, to calcine the bauxite (branded as Bauxstar90) for distribution throughout Europe. ARCIRESA has capacity to produce some 45,000 tpa calcined bauxite.
On 5 March 2020 ARCIRESA and Possehl Erzkontor GmbH & Co. KG signed a contract for Possehl to distribute run of kiln material to European markets and purchase for sizing in its processing plant Mineralmahlwerk C. Welsch GmbH in Wesel, Germany.
Perhaps unsurprisingly, there is apparent interest from several other players for Bonasika bauxite distribution rights in other parts of the world, however, to date these have not been pursued.
Redirected to refractory market focus
It has taken some 10 years of exploration, permitting, evaluations, construction and mining to get the Bonasika mine in Guyana fully operational.
During that time, First Bauxite has been funded by Resource Capital Funds, Denver, and managed by a succession of different executive teams, the latest of which includes the relatively recent appointments of Thibault Van Stratum, Executive Board Chair, as acting CEO (formerly CEO Asia, Sibelco) and John Karson, as Vice President Sales & Marketing (formerly Sales Manager, FX Minerals Inc.).
Initial business plans by First Bauxite focused heavily on developing high strength ceramic proppants from the Bonasika material, lured no doubt by the buoyant US hydraulic fracturing market prevailing at the time (mid- to late-2000s).
This included a proposed calcination plant near the Port of South Louisiana, USA to receive the beneficiated ore from Guyana.
While the material has been successfully tested as ceramic proppant feedstock (and that remains a market option) changing market dynamics and good sense (outside China, only Guyana hosts high grade refractory bauxite), saw a redirected focus in 2017 on producing for the refractories market.
Ideally, First Bauxite would probably like to have its own calcination plant, and that may still be on the cards further down the road. However, it soon became apparent to prioritise development of the mine and wash plant in order to export high grade raw ore into the market as soon as possible, with the option of developing partnerships with third party processors for calcination of the product.
This has already been enacted with ARCIRESA in Spain, and there are no doubt more possibilities in the USA, particularly with steel furnaces restarting and prospects for some recovery in the US refractory market.
There are clearly any number of idled kilns available in the decimated US ceramic proppant sector, but there also exist several well established refractory material processors operating calciners such as Imerys High Temperature Materials & Solutions, Andersonville, Georgia, and Mineral Manufacturing Corp., Eufaula, Alabama.
Bonasika bauxite
The First Bauxite Bonasika properties are located between the Essequibo River and Demerara River, approx. 70km south-west of the capital Georgetown, Guyana (see map below).
The Bonasika mining licenses extend across more than 18,940 acres within a 25-30 km wide arcuate belt and comprise five deposits in relatively close proximity namely Bonasika 1, 2, 5, 6, and 7, which form a cluster known as the Essequibo Group in the northerly part of Guyana's Coastal Plain Bauxite Belt.

The bauxite is mainly composed of gibbsite and minor boehmite with kaolinite, anatase, siderite, and pyrite.
The Bonasika 6 and 7 deposits are estimated to contain proven and probable ore reserves of 9.7m tonnes of raw bauxite, grading 57.5-59% Al2O3.
Small-scale production, using contract mining and ore beneficiation, commenced in Q1 2018 and 1,000 tonnes of bauxite ore was shipped to a Chinese customer in June 2018, followed by 4,100 tonnes to a European customer in October 2018.
The company has since delineated approximately 13m tonnes of raw bauxite for open pit mining at Bonasika 6 and 7 over the next 15 years. Scoping studies are underway to form the basis of further exploration and increased resources of high quality bauxite ore.
Mining is currently active in the Bonasika 7 pit targeting near surface ore which is hauled by truck to the Bonasika Processing Plant. The operation has a production capacity of 350,000 tpa raw washed ore.
A ceremony to officially open the mine commercially took place on 20 February 2020 in the presence of Prime Minister, Moses Nagamootoo, Minister of Natural Resources, Raphael Trotman, GGMC Commissioner, Newell Dennison, and Minister of Finance, Winston Jordan.
First Bauxite has already invested over US$100m in the project, and, according to local news reports, is set to inject over US$387m into the local economy over the next 15 years; this includes a projected US$50m that will be indirect payments to the government.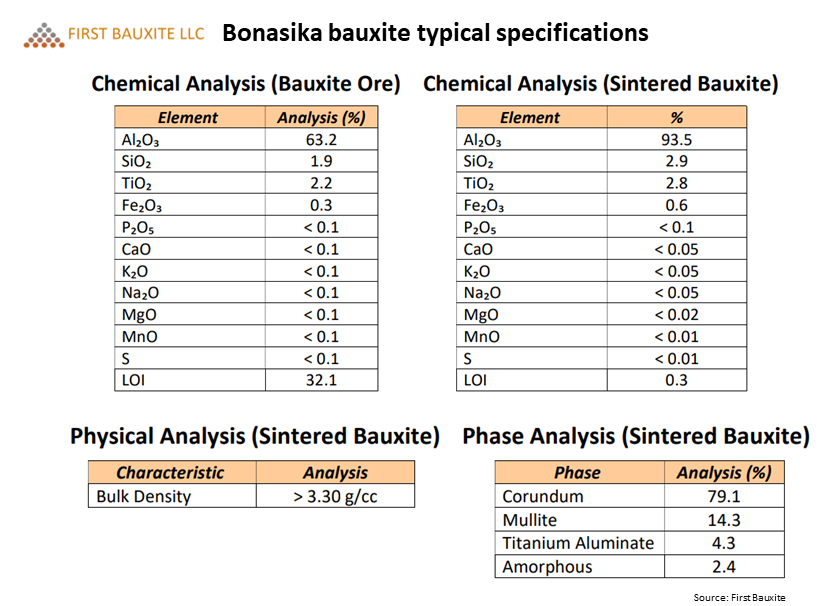 Market demand
Commercially developed deposits of non-metallurgical grades of bauxite outside China are relatively rare, and even more so for those hosting refractory grade.
In fact, outside the Chinese bauxite-rich provinces of Shanxi, Guizhou, and Henan – the main producing centres in China – until now the only other refractory bauxite source was the Linden, Guyana operations owned by China's Bosai Minerals Group (see below).
With Chinese bauxite supply facing concerns of interrupted or unpredictable availability in volume and quality, consumers are naturally evaluating alternative sources.
While First Bauxite has broken ground in Guyana to meet this demand, there are emerging players also developing in Australia (see below) and Brazil.
Karson commented: "There is high interest across the globe as the Bonasika raw ore tests out at 63.2% alumina. When fully sintered, this translates to over 93% alumina with low silica, low iron, low alkalis, and other low impurities like S and P. It is approximately 80% corundum with a mullite phase, has high density (3.35-3.45+ g/cm3) with low porosity. This is an excellent refractory material with some suggesting it as a substitute in recipes that call for higher grade alumina."
While refractories is a primary market, there are other outlets such as feed for aluminium sulphate for water treatment, slag conditioning, welding flux, ladle sand, BFA feed, abrasives, highway friction products, ultra high strength proppants, calcium aluminates and speciality cement feed, and as a flame retardant/fire-proofing material.
"Acceptance has been superb despite the Corona virus negating nearly all marketing activities." said Karson.

Bosai Minerals investing in Guyana
Bosai Minerals Group, headquartered in Chongqing, China, acquired the Linden bauxite operations in 2006, which are operated by subsidiary Bosai Minerals Group (Guyana) Inc. (BMGG).
Bosai states that it has about 200m tonnes "best quality" bauxite reserves with high alumina and low iron with annual production capacities of 1.5m tonnes Metallurgical Grade Bauxite (MAZ), 300,000 tonnes Refractory "A" Grade Super Calcined Bauxite (RASC), 200,000 tonnes Sized Chemical Grade Bauxite (SCGB), and 200,000 tonnes Cement Grade Bauxite (CBG).
However, production of RASC has normally been around 200,000 tpa. Output for 2019 was 175,560 tonnes RASC, 176,332 tonnes SCGB, 100,000 CGB, and 1.4m tonnes MAZ.
In late 2019, BMGG commenced preparatory work for the installation of a new #15 kiln and a #16 rotary drier. The #15 kiln is required to be operational before the planned 12 month shutdown of the ageing #13 kiln (#14 kiln is still operational).
Kiln #15 represents a reported investment of about $US20m and will produce 170,000 tpa RASC. The #16 drier and its auxiliary facilities is expected to cost $US3m will produce 150,000 tpa SCGB. Completion of the upgrades was scheduled for mid-2020.
BMGG has not been immune to the frequent worker issues which seemed to have plagued Guyana's bauxite industry over the decades, and has been involved in a long-running dispute over workers' salaries which is set for arbitration.
More dramatically, in February 2020, RUSAL's subsidiary Bauxite Company of Guyana Inc. (BCGI) fired 326 workers and announced the suspension of its operations, as protesting workers continued to obstruct traffic on the Berbice River. BCGI produced mostly metallurgical grade, and also smaller volumes of cement, chemical, and proppant grades.
Australian Bauxite progress
Australian Bauxite Ltd is progressing with development and production of non-met. bauxite deposits in Australia.
In late July, Australian Bauxite announced production of its next cargo of 35,000 tonnes of cement grade bauxite from its Bald Hill mine near Campbell Town, northern Tasmania. Ship loading at Bell Bay port commences on 8 August.
This part of the bauxite project was accelerated so as to use the transport and port infrastructure during a period of under-utilisation, to benefit from low fuel prices and to allow the cement grade customer to take advantage of shipping opportunities.
During the COVID-19 pandemic the company has been able to secure sales contracts for fertiliser grade bauxite and cement grade bauxite totalling more than A$2.5m.
New orders have been received for fertiliser grade bauxite as agricultural fertiliser demand rises as droughts break; earlier in the year the company fulfilled an urgent order of 778 tonnes of fertiliser grade bauxite from the Bald Hill mine as part of an on-going supply contract to Impact Fertilisers in Hobart, Tasmania.
Australian Bauxite has 11 bauxite tenements in Queensland, New South Wales and Tasmania amounting to 662 km2, and hosting cement, fertiliser, and refractory grade bauxite.
The company is progressing with its Binjour Project in Queensland to produce met. grade bauxite in co-operation with Chinese and Indian customers.
While in New South Wales, the company has decided on a strategy to selectively exploit layers of its Penrose bauxite deposit for different non-met. customers.
Penrose is located 90km inland of Port Kembla and hosts a bottom layer grading 55% Al2O3 with very low iron content, suitable for refractory bauxite applications. Australian Bauxite is currently seeking "a primary customer-partner".

Chinese bauxite quality down, but so is overseas demand
While China has in the main recovered from Covid-19's initial and widespread impact, with logistics and refractory markets getting back to normal as steel growth revives, the domestic bauxite supply sector remains challenged.
Problems for the bauxite industry in Shanxi province, one of the traditional leading production centres, were already ongoing with restrictions in mining of raw bauxite limiting ore availability.
As a result, all available raw bauxite is being used up and to compound matters quality is declining, with ore reported as becoming lower in alumina and higher in iron and alkalies.
"At the moment, there is another round of tight supply in Shanxi, and it is very difficult to find up to 86% Al2O3 material, even 85% is not easy. Also, Shanxi bauxite is getting higher and higher in alkalies." commented a leading Chinese bauxite trader.
As IMFORMED commented in 2018 (see China's refractory mineral supply – a New World: review & outlook), Guizhou province has emerged as a slightly stronger bauxite supply base survivor to Shanxi and Henan, with its higher Al2O3 content and lower alkalies.
"We do believe in the future Guizhou bauxite will have more market share because Guizhou bauxite does not have that much higher K2O+NA2O than Shanxi now. Some players in Henan and Shanxi have already bought ores from Guizhou to calcine." said the trader.
Perhaps some relief may be in sight in Shanxi. It was reported in June that Xiaoyi Huaqing Aluminum Industry Co. Ltd is planning to start a new bauxite mining operation, envisaging 100,000 tonnes raw ore produced in the first month, rising to 200,000 tpm. The target output is 1m tpa high grade 70%min. Al2O3 bauxite for refractory manufacturers.
Prices for Chinese calcined refractory bauxite, bulk FOB per tonne have been quoted as: 85% Al2O3, $375-390; 86%, $390-400; 87%, $400-420; and 88%, $420-450.
However, while Chinese traders may bemoan the paucity of good quality Chinese refractory bauxite availability, the dramatic drop in demand from overseas refractory customers as their end use customers undertook shutdowns from the pandemic during March-June, has surely provided some kind of short-term breathing space. This is why prices have dropped considerably and exports have been down by some 30%.
Although European and US steelmakers are just restarting furnaces, recovery in refractory mineral demand is likely to be slow at best for the rest of the year.
Should bauxite supply shortages from China persist, and western refractory market recovery maintains a steady course, then prices may stabilise and start to rise before the year end.
Certainly, such a situation would also favour the likes of new players such as First Bauxite, keen to offer a high grade alternative to China, albeit uncalcined, but with consistent availability and quality.
A NEW EDITION IS BEING PREPARED FOR PUBLICATION 2020 – NEW MINERALS ADDED

Alumina | Fused Alumina | Andalusite | Kyanite | Sillimanite | Bauxite | Chromite | Graphite | Dead Burned Magnesia | Fused Magnesia | Dolomite | Pyrophyllite | Silicon Carbide | Zircon

Is

your

company on the map?

Ensure your refractory mineral supply profile is visible with an advertisement. Spaces limited (see below).

Enquiries to Ismene Clarke ismene@imformed.com | T: +44 (0)7905 771 494