Review of Mineral Recycling Forum 2020, Aachen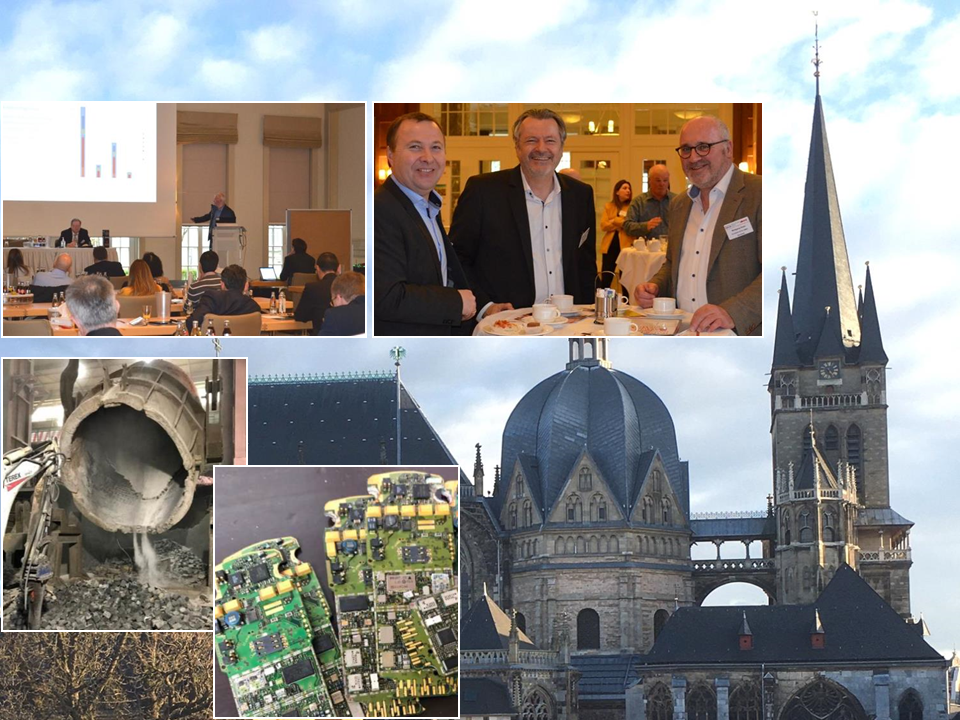 Last week's IMFORMED Mineral Recycling Forum 2020 in Aachen, Germany squeaked in under the wire before the EU lockdown response to the Covid-19 virus outbreak.
With sensible precautionary measures in place and a communal enthusiasm to look out for one another while actively participating in the conference, some 40 hardy delegates networked and listened to expert presentations on the latest trends and developments in mineral recycling.
Despite over 50% of delegate cancellations, the consequently more intimate gathering around a revised 1-day programme engendered lively debate and numerous questions to presenters.
We are particularly appreciative of all who attended, and also the absent speakers who still sent in their presentations for distribution to delegates.
Good programme and variety of subjects, and good long coffee breaks for networking; excellent mobile app and easy to use.
Alban Cagniart, Commercial Development, Minéraux Kolleé, France

A pity that the current situation forced this event to be shortened and kept off a lot of attendees. Nevertheless, it was worth coming, thank you for the good organisation.
Werner Odreitz, Managing Director, REF Minerals GmbH, Germany

A good and comprehensive programme, nicely located venue, and brilliant organisation
Andreas Henssen, Product Manager Classifiers, Neuman & Esser Process Technology GmbH, Germany

Excellent programme, venue, and organisation.
Kristian Yerygin, Chief Commercial Officer, Recycling Solutions, Ukraine

Good programme, excellent venue, and mobile app is simple and useful.
David Maza, R&D Process Manager, Sidenor, Spain

If you would like to purchase a PDF set of the Mineral Recycling Forum 2020 presentations, please contact Ismene ismene@imformed.com | T: +44 (0)7905 771 494
Overview & minerals in the Circular Economy
Mike O'Driscoll, Director, IMFORMED, UK opened proceedings with an overview of the role and future of mineral recycling in the industrial minerals supply chain.
According to European Commission (EC) research, global raw material extraction has grown 14 times from 6bn tonnes in 1900 to 84bn tonnes in 2015, with the sharpest increase in industrial minerals at 45 times.
Global resource extraction was projected to increase 119% from 2015 to 2050, to 184bn tonnes in total, including an estimated increase in industrial minerals extraction of 168%.
Several key drivers for mineral recycling were outlined including resource conservation and not least the overreliance on imports (especially of critical minerals) from China – sharply placed in world focus with today's supply chain disruption impacting western consumers (see China's mineral supply to global markets: dominance, diversity & disruption).
With a reminder of how important industrial minerals are to global industrial manufacturing and everyday products, O'Driscoll urged that industrial waste resources will emerge as the new alternative "mineral resource" and eventually become the "new normal" supply chain option for mineral consumers.
Not only will more recycling processors emerge, but also we may begin to see more primary mineral mining producers involve themselves with recycling tailings and other waste sources to offer a wider range of products with very much a "green" tinge to their portfolio.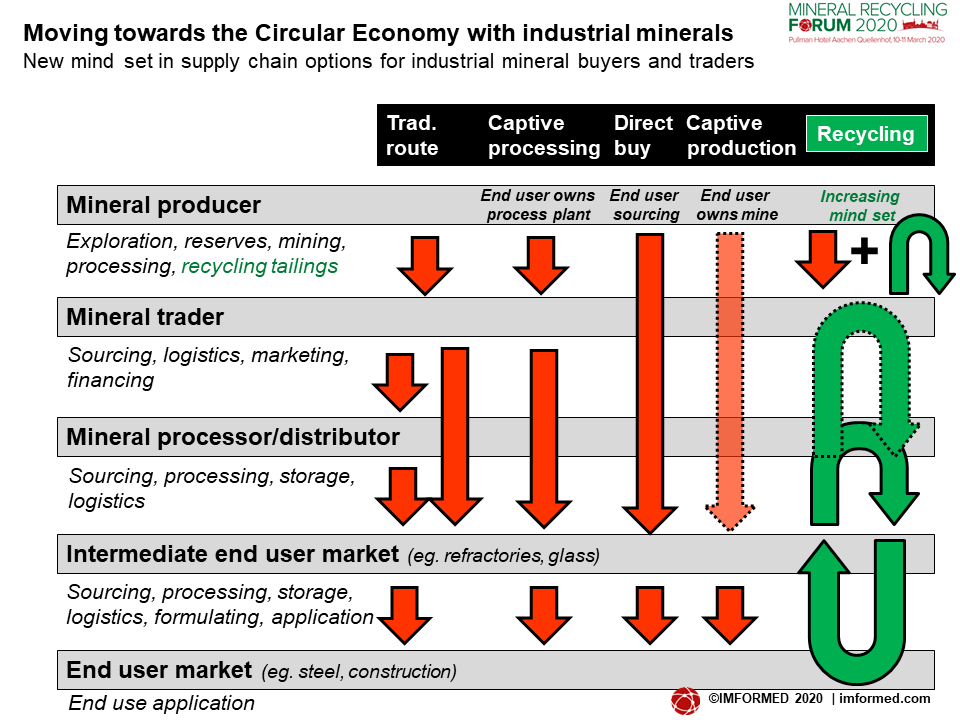 Key among the evolving new supply chain incorporating more recycling will be a drive to change product formulations to permit easier end of life recyclability, better harmonisation of waste legislation to help logistics, increasing economic alliances between waste sources and recyclers, and investment in suitable processing and accurate sorting technology.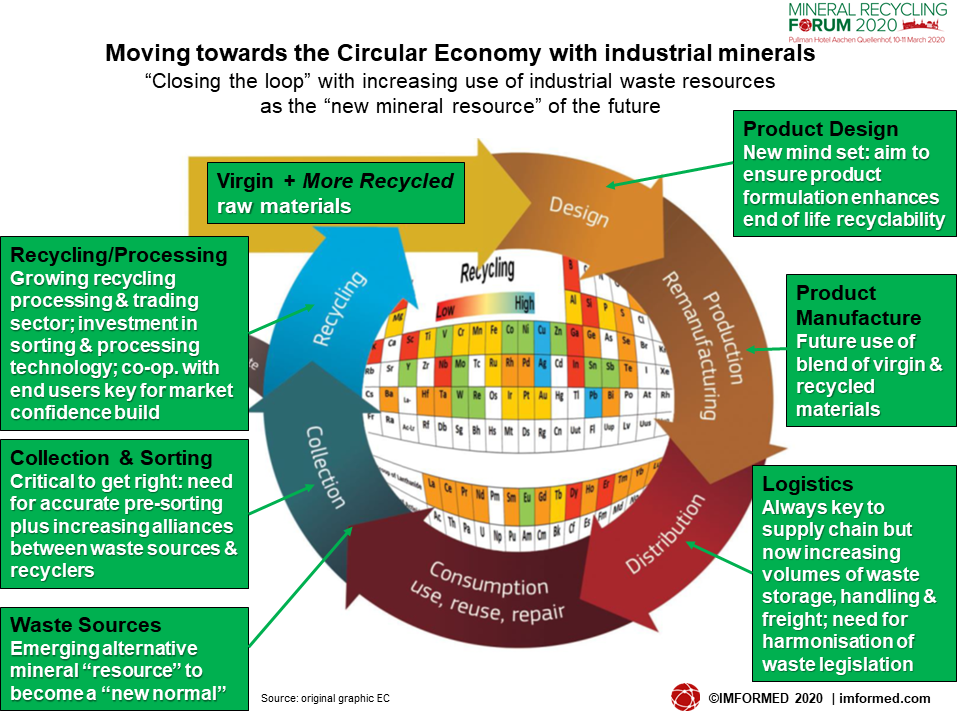 "The new Circular Economy action plan & the minerals sector" by Francesca Girardi, Policy Adviser Industrial Affairs, IMA-Europe, Belgium, looked at how minerals were enablers of multiple value chains, outlined the EC's new Circular Economy action plan – the policy framework, implications for the mineral sector, and circular business models – and bottlenecks to achieve circularity and opportunities of the new Action Plan.
The Circular Business Models explained by Girardi generated much interest as delegates sought to "classify" within the models some of their own recycling activities or future activities (see charts below).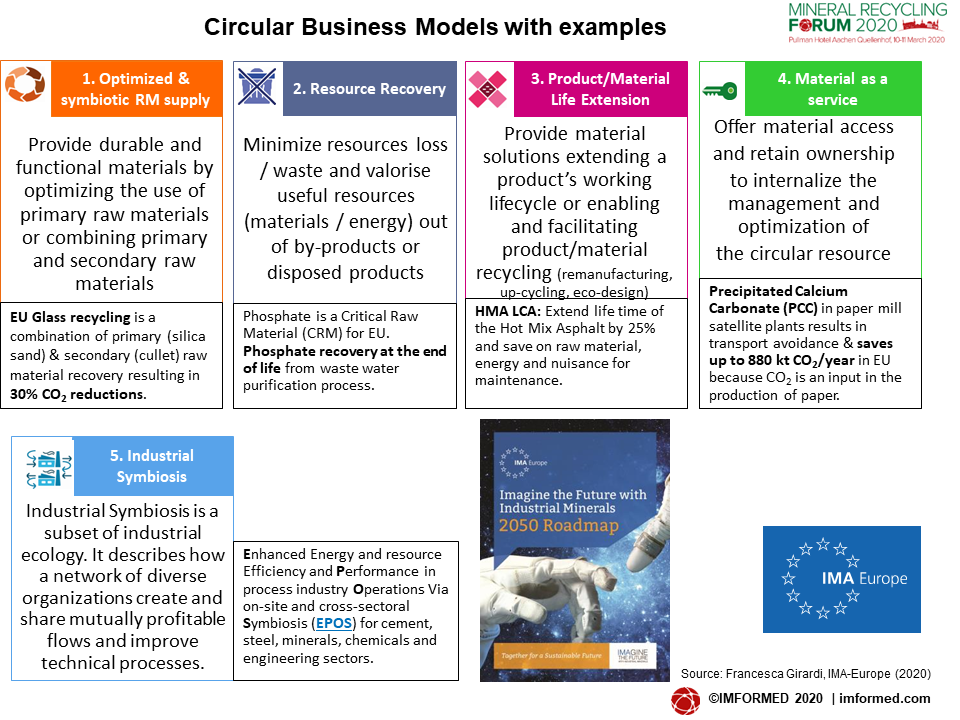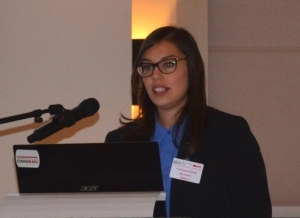 Girardi concluded with four main takeaways:
Minerals produced in Europe and for Europe still do matter. Despite the extensive recycling of multiple applications, EU citizens still need about 200m tpa of minerals. A "Not In My Backyard" attitude results in loss of EU value chains.
Raw materials (primary and secondary) are and will remain essential to Europe's growth and transition to a decarbonised economy and energy supply
Technical and economic challenges of a Circular Economy model require a specific tailored value chain approach
The Circular Economy Plan, when developed keeping in mind EU industry competitiveness, can solve some of the issues businesses encounter when moving to circular business models
LKAB recycling projects | Air classification in recycling
"Tomorrow's resources" by David Högnelid, Chief Marketing & Communications Officer, Special Products Division, LKAB, Sweden, outlined how LKAB has increased its recycled mineral portfolio with innovation projects .
LKAB is Europe's leading iron ore producer, but also supplies over 30 industrial minerals and prides itself as one of the most innovative, resource-efficient and responsible mining and mineral companies in the world.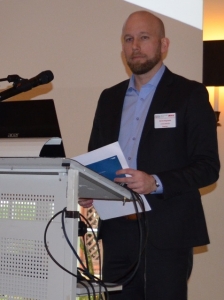 Högnelid started by outlining the importance of industrial minerals and focused on the supply risk and strategic economic importance of critical minerals.
LKAB's route to a sustainable future was highlighted with the examples of the company's ongoing projects:
HYBRIT (fossil fuel-free process for steel making by 2035)
ReeMAP (processing tailings from iron ore production to produce apatite concentrate yielding phosphorus, rare earth elements and gypsum)
GGBS (Ground Granulated Blast Furnace Slag, a high quality, low CO2 material made from steelmaking slag)
SMMART (Swedish Magnetite Microwave Asphalt Road Technology: a CO2-free microwave-based process for heating asphalt and adding magnetite to the asphalt mix).
Högnelid focused on the ReeMap project which from iron ore tailings will supply a low energy produced, high purity phosphorus to ease European supply security (relying on single European source).
The project also aims to establish a European source for rare earth elements, from mine waste from existing mining operations, for use in smartphones, computers, and generators of wind power plants.
Gypsum for use in manufacturing cement and plasterboard will also come from the ReeMAP project.
Live audience poll on mineral recycling

Högnelid presented a live audience poll with three straightforward questions.

Do customers prefer recycled minerals over virgin, given they have equal performance?
Close to 75% answered they would prefer recycled minerals.

Pricing for recycled minerals, on a like for like basis, compared with virgin minerals are: lower, same, or higher?
Surprisingly, >50% said pricing was lower. Högnelid commented: "The industrial minerals market is fragmented, with numerous products and applications, which this exemplifies."

To what extent do you consider that demand & pricing of recycled & sustainable minerals can be influenced by:
1. Policy & Regulations
2. Market awareness
3. Traceability, Certification & Labelling

Forum attendees foremost believed that policy and regulations could support an increase in demand and value, and thereby help more recycling projects come to fruition.

On the poll results Högnelid commented: "I also believe we need to make it easy for businesses and individuals to make the better choice, to choose sustainable materials, as an example recycled, low emission and ethically produced materials.

To make this happen, I believe the industry will need to increase transparency, define common standards around what is sustainable and agree on ways to verify and trace this. If we include more stakeholders in the process, we can create a broadly accepted certification and labelling methodology as an example".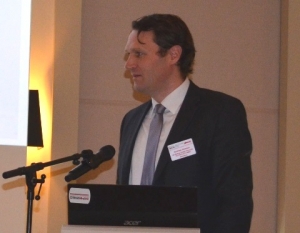 "The use of air classification technology for recycling of minerals" by Andreas Henssen, Product Manager Classifiers, Neuman & Esser Process Technology GmbH, Germany, began with a quite excellent and concise explanation of the principles of air classification.
Henssen highlighted the challenges of fine particles and agglomeration in the process before focusing on the attributes of the Guide Ring Classifier (GRC).
The GRC can be used for improved recycling of waste dusts emitted during combustion processes (eg. biomass combustion), metallurgical processes (eg. blast furnaces, sinter plants), and mineral processes (eg. cement, lime kilns).
Refractory waste valorisation | Using recycled material in refractories
Aintzane Soto Larzabal, R&D Process Researcher, Sidenor, Spain presented "Valorisation of refractory wastes: latest developments & progress", sharing recent work by Spain's market leader in European special long and cold steel finished products.
Sidenor consumed in 2019 around 11,000 tonnes of refractories, used in continuous casting (41%), ladles (35%), and EAF (24%).
Using the 4R Model (Reduce, Reuse, Remanufacture, Recycle) Sidenor has been highly active in systematic and integral valorisation of refractory waste for some years now, having succeeded in valorising MgO-C and alumina refractories, and now working on similar for isostatics and continuing casting tundish masses.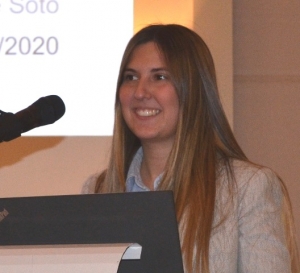 Soto outlined Sidenor's refractory waste sorting and reuse procedures before relating progress in the latest projects Life5REFRACT and RFCS E-CO-LADLEBRICK.
Life5REFRACT aims to seek high value added refractory products incorporating a significant amount of recycled refractory, using MgO-C bricks and tundish masses and alumina based isostatics.
RFCS E-CO-LADLEBRICK's objective is reduction of the volume of MgO-C waste by means of monitoring the ladle refractory consumption in order to optimise ladle life.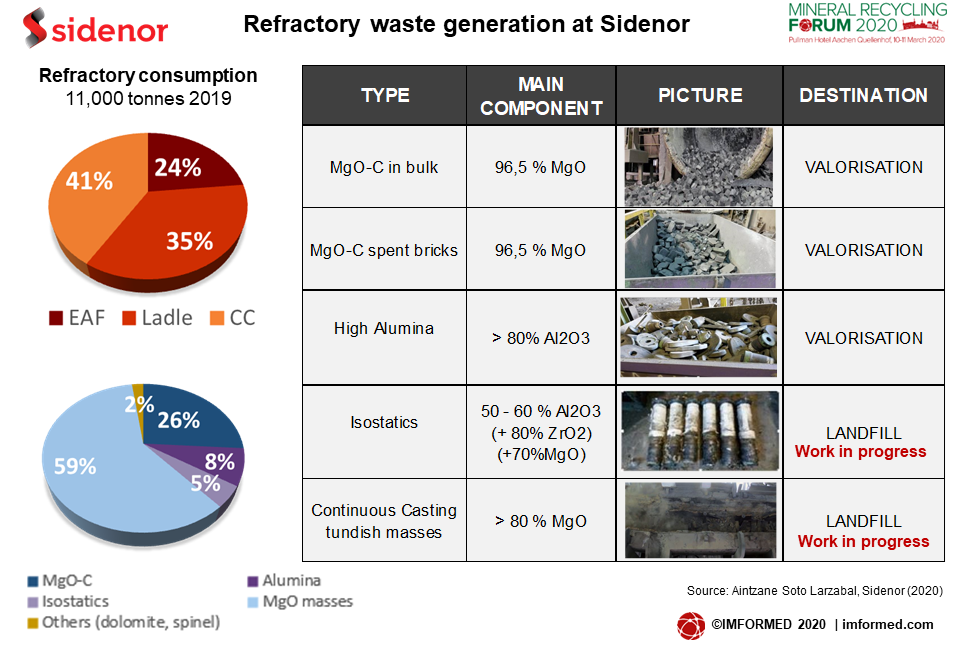 The work developed during the last eight years has allowed Sidenor to increase the refractory waste recoverable fraction, and thus, increase valorisation.
New remanufacture applications have been identified for the different kinds of refractory waste, providing alternatives with significant profit.
A highly innovative and important milestone has also been achieved: the valorisation of MgO masses from tundish.
"Refractories made from recycled materials: challenges in making the grade" by Dr Christian Dannert, Head of R&D & Johannes Kasper, Research Associate, Forschungsgemeinschaft Feuerfest eV, Germany, first explained the main elements of the European Centre for Refractories and then focused on meeting the challenges of using recycled raw material in refractories.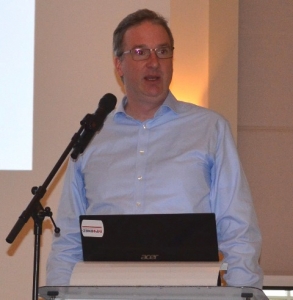 Dannert identified two key areas requiring attention: the production/installation stage, and the usage stage.
In the production/installation stage for example, to find out how impurities from recycled raw materials influence the flowability of a castable, we need to understand the change of surface charges of refractory particles with or without impurities.
Armed with this, additives can then be tailormade that guarantee the right viscosity.
In the usage stage, for example, it was found that the failure of refractories in a steelmaking ladle during preheating could be predicted, owing to high-alumina castables with differently shaped coarse fractions.
Products from CO2 capture using slag & MgO minerals
"CO2 uptake by steel slags and olivine and possible uses" was presented by Pol Knops, CEO, Green Minerals, the Netherlands (co-authored by Simon Etzold, Research Assistant, Faculty of Georesources & Materials Engineering, RWTH Aachen University, Germany).
Knops very much emphasised the priority on developing saleable products derived from waste and outlined the landscape of CO2 utilisation and specific mineralisation.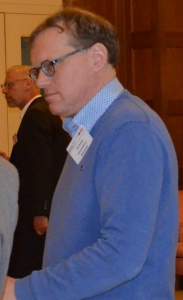 The CO2MIN Project scope was highlighted, the minimisation of the CO2 emitted by the German cement industry by capturing of CO2 by using mineral resources (olivine) and waste materials (steel slag). The main goals are to sequester CO2 and drive economic use of the formed products in cement and concrete production.
Key aspects include the exploration of the most promising carbonation techniques, pilot-scale demonstration and key cost drivers, Life Cycle Assessment: quantitative analysis of the impact on climate change, and a potential roadmap to full commercial exploitation.
Various peridotite samples have been sourced by project partners from olivine, dunite, and basalt deposits throughout Europe to use in the carbonation process (see map).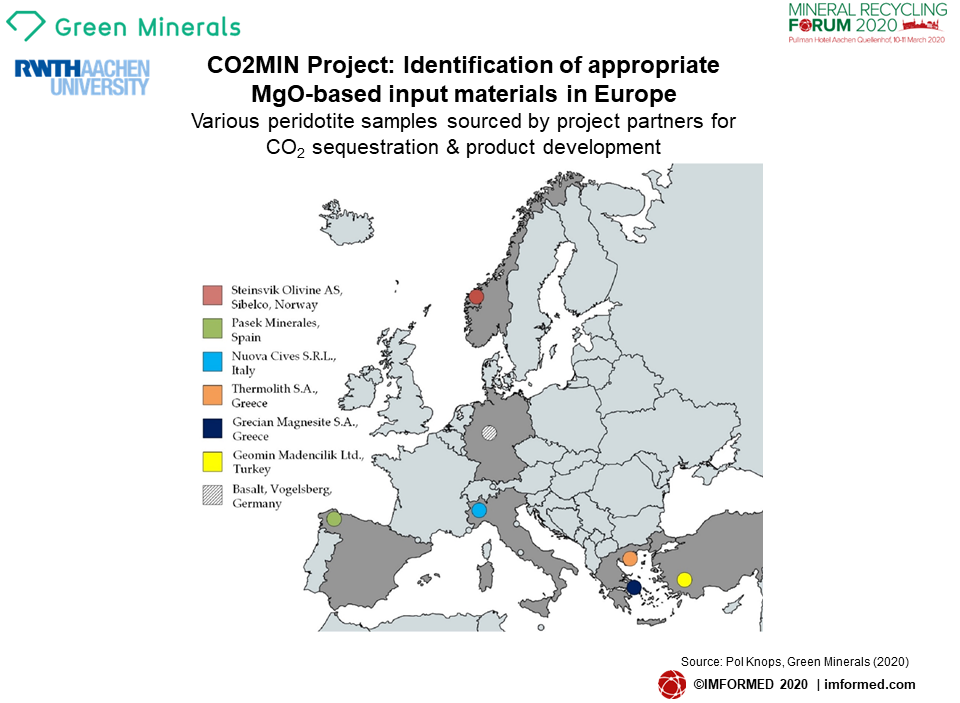 The carbonation product was described as consisting of unreacted olivine, magnesite and amorphous silica. Its processing is very complex owing to the small grain sizes and trials are being conducted in deagglomeration, classification, flotation, density sorting, and flocculation.
The carbonate products have a wide range of applications in the low temperature range, including: cement substitution, paper, polishing pastes, thermal insulation materials, fillers for elastomeric materials, pharmaceuticals, and "grip chalk" for sports equipment.
The by-product amorphous silica could be used as a possible replacement of raw materials for high temperature applications, such as microsilica in refractory castables.
Recycled salt tailings yield high purity magnesia product
"Recycling waste streams from potash and salt producers: challenges & lessons learned… is a new legal framework required?" an excellent presentation by Tony Crimmins, CEO, EcoMag, Australia, demonstrated how the company has developed, not without challenges, a process which precipitates hydrated magnesium carbonate (HMC) directly from salt brines to produce an ultra high purity product in a single step under ambient temperature and pressure conditions.
"The real beauty of this HMC is its flexibility as a feedstock to create an array of magnesium oxides, hydroxides, and organics with made-to-order particle size and shape, surface area per gram, and chemical reactivity." said Crimmins.
Market applications are wide-ranging including industrial, construction, environmental, agricultural, food and pharma, and flame retardant markets.
EcoMag has entered into a joint venture with Australian potash producer Kalium Lakes Ltd to precipitate HMC from the brines left over after Kalium has extracted the sulphate of potash at its Beyondie, Western Australia operation.
The joint venture is initially looking to produce 40-80,000 tpa HMC, potentially expanding to 240,000 tpa HMC or more over time.
"We've just completed a feasibility study evaluating the production of up to five different materials from Kalium's bitterns. We expect to start construction early next year and be in operation the year after." said Crimmins.
Salt producers such as Kalium discharge hypersaline brines which are toxic for marine life, EcoMag's process offers to dilute and re-balance the bitterns. The process removes 99% of the magnesium, and if this stream is recycled back to the saltworks, the remaining sodium chloride can be potentially recovered.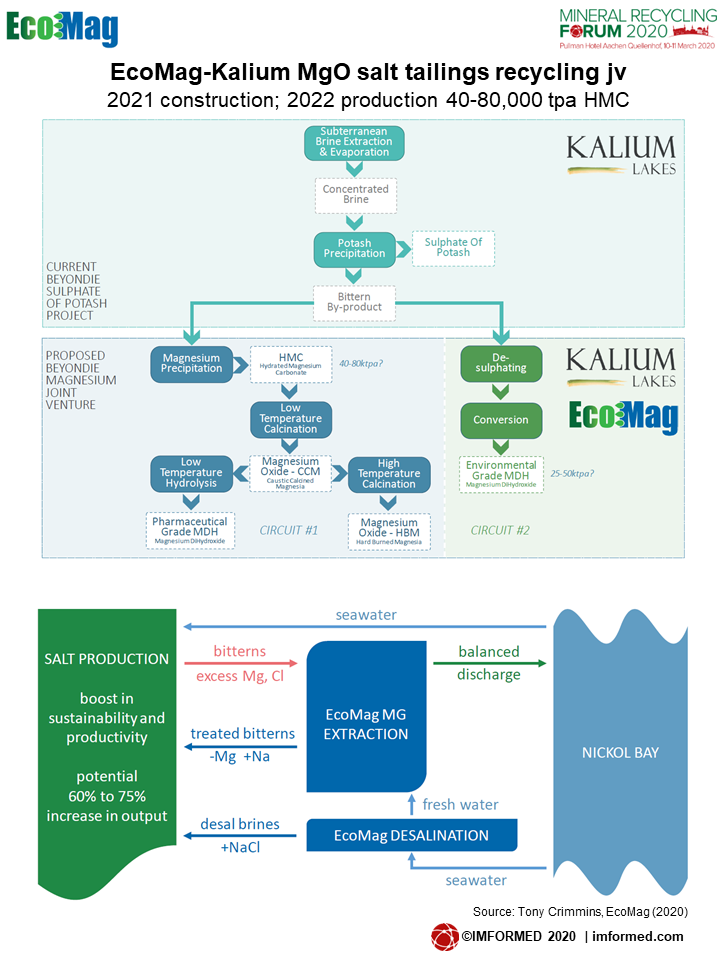 Crimmins acknowledged "We've learned some hard lessons that anyone contemplating secondary raw materials processing should be aware of." These include:
corporate inertia, be very patient
legal inertia around the question of who owns the waste and what their obligations are
environmental regulators operating under an outmoded mandate
In closing, Crimmins urged that perhaps the industry should be advocating for new legislation such as:
requiring that business goals include increasing reducing environmental impact and/or sustainability, and that the goals be resourced, even included in management KPIs?
requiring companies to act with regard to tailings, rather than store them indefinitely, perhaps imposing a clean-up levy if tailings continue to mount up after a defined period of time?
limiting ownership rights to tailings/waste that have been discarded or has not been exploited for an extended (defined) period of time?
require companies to improve environmental outcomes if it becomes economic to do so?
sunset clauses limiting how long an environmental approval may be relied upon to remain unchanged?
Recycling critical minerals from smart phones
"Automated inverse production of end-of-life electronics provides novel secondary raw materials" by Dr Cord Fricke-Begemann, Head of Materials Analysis, Fraunhofer Institute for Laser Technology (ILT), Germany, illustrated, with some excellent video clips, how laser technology can be utilised in Waste Electrical and Electronic Equipment (WEEE) recycling.
With 1.75bn end-of-life mobile phones (MPH) emerging each year worldwide, the recycling potential of critical minerals from the various components is vast.
In particular, Fricke-Begemann talked about how inline laser measurements of raw materials can monitor raw material composition, by material identification and sorting to provide better secondary raw materials, with well-defined compositions.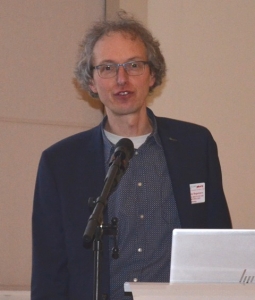 Secondary raw materials could be yielded using novel "inverse production technology" by measuring/analysis of end of life products to a selective dismantling and sorting stage; new return channels to the production line opened, at nearly constant entropy; and set-up of a data space of inverse production as the key to sustainable recycling.
Fricke-Begemann then introduced the ADIR Project, funded by EU Horizon 2020 and co-ordinated by the Fraunhofer Institute for Laser Technology ILT, and devoted to "Next generation urban mining" – specifically, the automated disassembly, separation and recovery of valuable materials from electronic equipment.
The project was completed at the end of 2019, and among its accomplishments was the ADIR Demonstrator – a smart phone and PCB (printed circuit board) disassembly pilot plant comprising seven units, claimed as "the world's first automated inverse production line for manufacturer-independent selective disassembly of EOL electronics".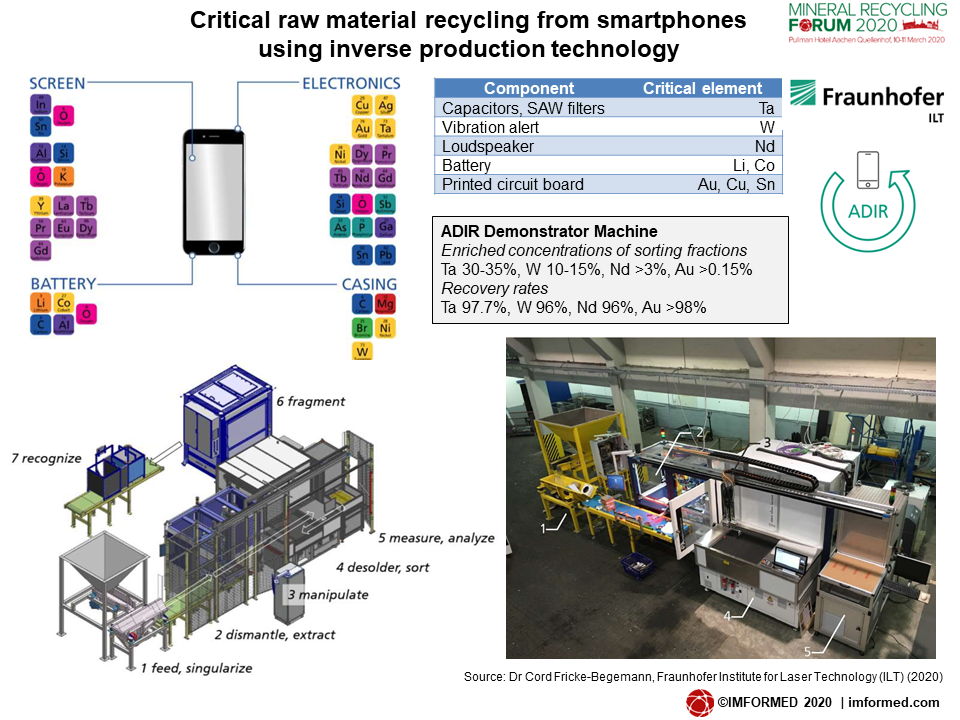 Absent speaker presentation abstracts
Scenarios for mineral recycling and process/operation design for sustainable performance in Brazil
Renato Ciminelli, Mercado Mneral Consulting, Brazil
Mineral recycling as a routine objective and as an industrial culture is very recent in Brazil. The impacts of the dam disasters in 2015 and 2019 are moving the mining industry from its conservative and comfortable position with respect to innovation and radical change. Among recent initiatives is INCT Acqua – The National Institute of Science and Technology on Mineral Resources, Water, and Biodiversity, which has addressed process and operation design for sustainable performance including reduction in the generation of minerals residues and more recyclable rejects. Recently, the author was invited by the government of Minas Gerais to run the New Mining programme – building a legacy against new disasters in mining. A specific scientific and technological platform was created to induce and support the mining industries for recycling. The author evaluated the difficulties to transform mining industries for recycling and achieved successful results in companies that became benchmarking.
Reclamation & repurposing tailings as a source of low-risk supply for industrial mineral processing
J. Michael Sullivan President & CEO, BAIE Minerals Inc., Canada
BAIE Minerals Inc. (BMI) is undertaking to repurpose the former asbestos mine in Baie Verte Newfoundland, Canada. Hydrometallurgical processing of "world scale" tailings deposit (50m tonnes @ 39% MgO/36% SiO2) to extract commercial grades of magnesia and precipitated amorphous silica for domestic and international markets. Phase 1 for magnesia boards, agrimarkets, Phase 2 Mg metal.
Utilisation possibilities of mine tailings with geopolymer technology
Tarja Niemelin, Product Development Manager, Betolar, Finland
Focus on new sustainable materials for the construction industry using geopolymer research and development, patents granted. Sourcing as raw material fly ash, slags, and mine tailings. Technology provides an optimised formula for customer's application. Applications include soil stabilisation
road construction, backfilling, gravel, crushed stone replacement, pavements, garden stones, infrastructure.
Recovery of spherical graphite from spent lithium ion batteries
Anna Vanderbruggen, Research Geoscientist, Helmholtz Institute Freiberg, Germany
Some 15-20%wt. of Li-ion batteries (LIB) is spherical graphite, priced at US$9-10,000/t, 90% of which is produced in China, and most ends up in process waste. BooMeRang Project demonstrates it is possible to recover spherical graphite from black mass using flotation following pyrolysis and attritioning of LIB (98% recover, 79% grade). Post-treatment leaching can yield anode grade graphite (96% recovery, 92% grade). Flotation tailings maybe further hydrometallurgical treated to recover Li, Co, Ni, Mn.
A special thank you, and see you again in 2021!
Under these especially challenging conditions for home and business at this time, we are indebted to the support and participation of all of our partners, speakers, and delegates for persevering with Mineral Recycling Forum 2020 and ensuring a fruitful and convivial time was had by all.
We very much appreciate all the completed feedback forms and please continue to provide us with your thoughts and suggestions.
We look forward to meeting you again at another of our Forums. Mineral Recycling Forum 2021 will take place in February 2021 – watch this space for details.
Registration, Sponsor & Exhibit enquiries: Ismene Clarke T: +44 (0)7905 771 494 ismene@imformed.com
Presentation & programme enquiries: Mike O'Driscoll T: +44 (0)7985 986255 mike@imformed.com
Missed attending the Forum? A full PDF set of presentations maybe purchased.
Please contact Ismene Clarke T: +44 (0)7905 771 494 ismene@imformed.com