Impact of COVID-19 | Threat of alternatives to fluorspar
Organised by Roskill | panel participation by IMFORMED
25 June 2020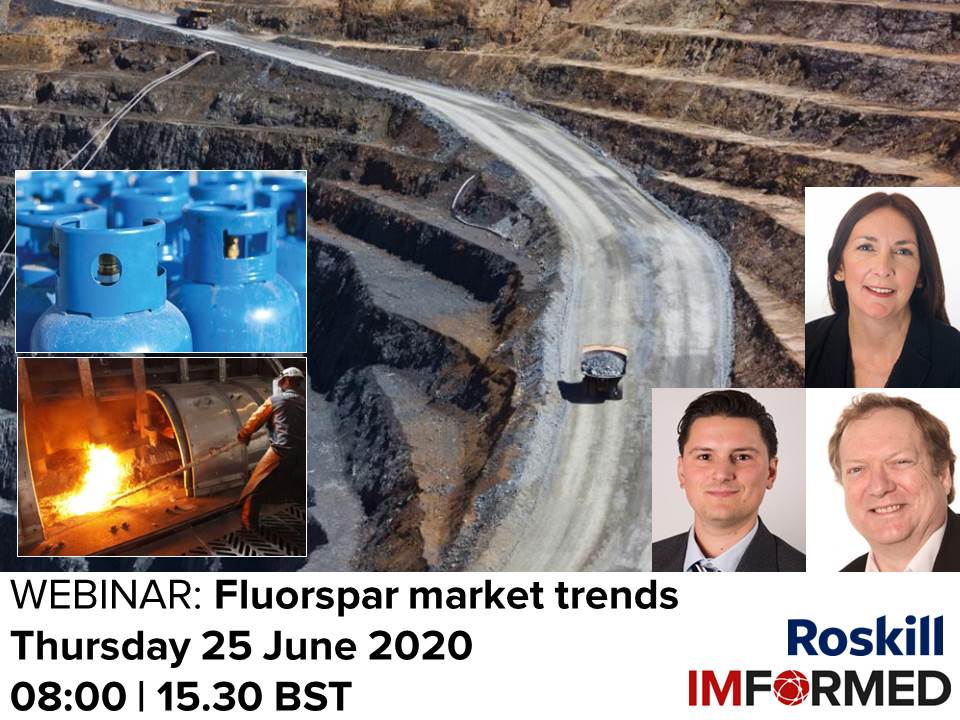 Roskill

will present its latest views and insights on the fluorspar industry and the entire F-supply chain, examining the challenges caused by COVID-19 given the impact the pandemic is having globally, and what the future may have in store based on Roskill's in-house macroeconomic outlook.
The webinar will also host a panel with special guest Mike O'Driscoll of IMFORMED, and Adam Coggins and Kerry Satterthwaite, Fluorspar Analysts at Roskill, with a deeper look at the fundamentals of the acidspar and metspar markets in light of the global economy, and how supply chains may be reshaped to reduce risk from future pandemics or similar events.
Agenda
1. Presentation: Covid-19 impact on fluorspar market by Kerry Satterthwaite
2. Q&A session (4 topics already raised by participants to be discussed by panel;

1 extra question

to be invited live per topic, moderated by Kerry):
A. New/alternative fluorine sources
B. China a net importer?
C. Covid-19 impact on Li-ion battery market for fluorspar
D. North America & FSA evolution
3. Presentation: Latest on IMFORMED Fluorine Forums in Amsterdam 2020, Hanoi 2021 by Mike O'Driscoll
4. Wrap-up by Kerry Satterthwaite
REGISTER FOR FREE NOW
To submit questions in advance, please contact Kerry Satterthwaite:

kerry@roskill.com
---
Check out these recent IMFORMED articles:
PLEASE NOTE
We are pleased to announce that we aim to run 

Fluorine Forum REVISED

 this year: