New sources of salt are being developed to meet the rising demand for salt worldwide. Some 330m tonnes of salt is consumed globally, with the primary markets being the chloralkali and deicing sectors.
The Asia-Pacific region is seeing significant market demand growth estimated at 35% over the next decade. However, the region has been beset by shortages in salt supply this year and has bolstered prospects for a raft of salt projects in Western Australia (see below).
Title Image Sun, sea & salt in the Pilbara: The salt ponds of Shark Bay Salt Pty Ltd, owned by Mitsui & Co. Ltd, which operates two solar salt mines at Shark Bay and Onslow, Western Australia, producing about 4m tpa. Inset: Salt harvesting at one of Dampier Salt's operations; the Rio Tinto (68%) subsidiary exports >5m tpa from mines at Dampier, Onslow, and Port Hedland. At least three other solar salt projects are looking to come to fruition in the Pilbara. Courtesy Todd Kennedy, Mitsui & Co.; Rio Tinto.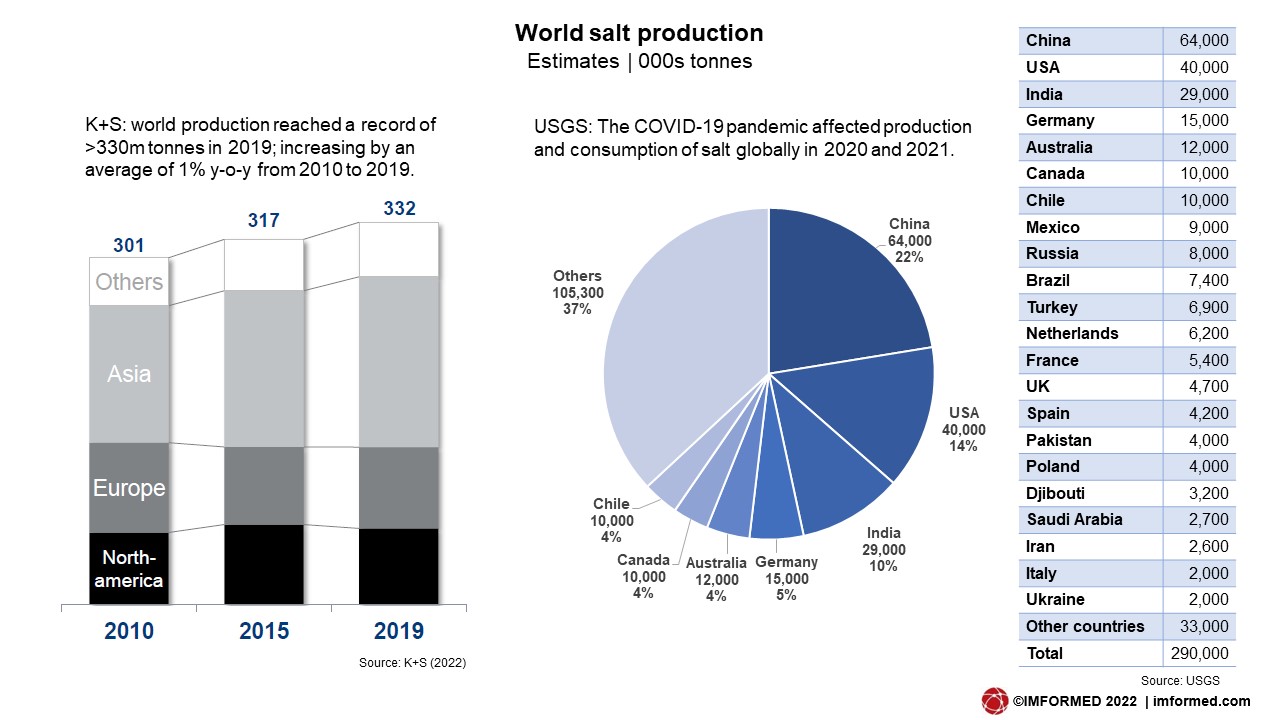 In spite of its relatively low value (rock and solar salt ranges US$50-120/t) salt trade is significant with around 50m tpa exported by >50 countries, although just over 40% is accounted for by India, Chile, and Mexico (see chart).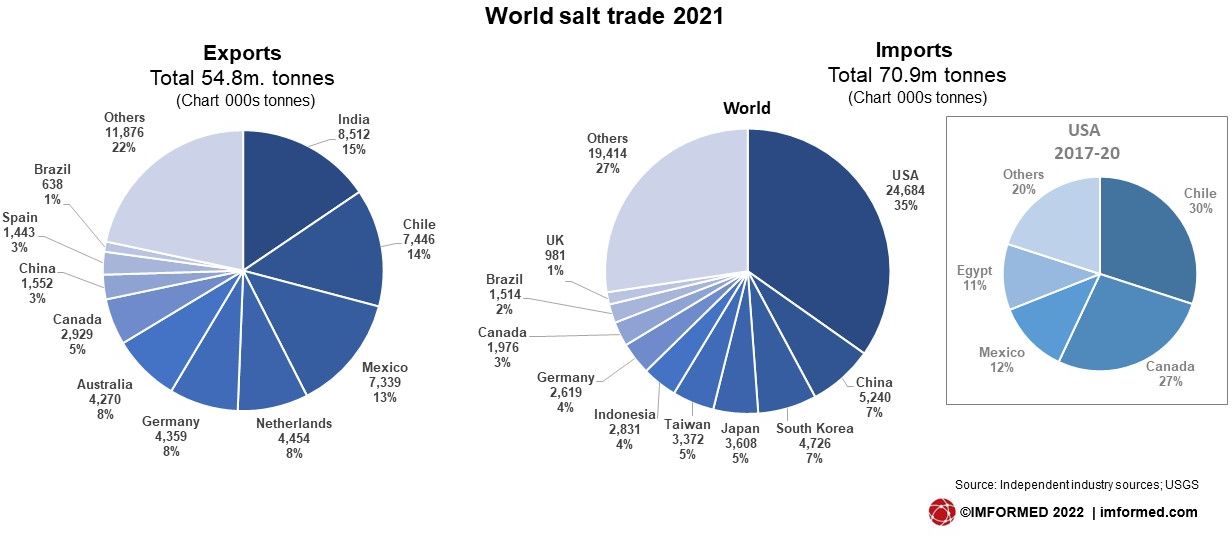 Logistics and market proximity to consuming markets are of paramount importance in the salt industry, hence the intense interest in development of a new rock salt source in Newfoundland for the eastern US/Canada markets reliant on imports, and Western Australian projects to serve Asia-Pacific markets (see below).
IMFORMED is launching a new conference to provide an international networking and knowledge sharing hub for this industry to discuss the latest trends and developments in salt supply and demand: Salt Forum 2022, Grand Elysée Hamburg, 15-17 November 2022.

The Forum will also incorporate a Salt Industry Training Seminar on Tuesday 15 November, supervised by world renown salt specialist Vladimir Sedivy, President,

Salt Partners Ltd

.

EARLY BIRD ENDS SOON – BOOK NOW!
Asian salt shortages: India output down | Philippines short
Not helping has been the decline in output from India this year, the world's largest salt exporter and third leading producer at around 30m tpa salt (see chart) which will impact consumers in the Middle East and Asia.
India salt supply is expected to drop by 30% in 2022, owing to an extended monsoon season which has delayed onset of the solar salt harvest season in Gujarat, the country's largest salt-producing state responsible for almost 90% of domestic production.
Thoothukudi district in Tamil Nadu state, south India, the second largest salt producing region at 2.5m tpa, has also been affected by untimely rains that have caused stagnation of rainwater in the salt pans.
The annual strong westerly summer wind which substantially increases salt production in Thoothukudi was absent this year. Intermittent rains in July and August compounded the problem to the extent that salt production has been halved, to 1.25m tonnes for 2022.
Consequently, salt prices in India have reportedly more than doubled from around US$12.5/t to US$25-38/t.
In the Philippines, a row has erupted within the government regarding the funding and development of much needed domestic salt production, claimed as neglected.
About 90% of domestic demand (around 600,000 tpa) must be met with imports. The country is in the world's top 20 importers of salt. During 2017-2022, annual imports of salt to the Philippines ranged 500,000-700,000 tpa.
Newfoundland mine project targets import-reliant N. American deicing market
Atlas Salt Inc. is active in two salt projects on western Newfoundland: mainly its 100%-owned Great Atlantic Salt Project, and the Fischell's Brook salt dome.
The Great Atlantic Salt Project, located at the Bay St George Sub-Basin, is at feasibility stage, and features what is claimed as the shallowest salt deposit in North America currently being developed for mining.
Atlas states "This planned state-of-the-art 'Salt Factory' would be a 'disrupter', the first new underground salt mine in North America in more than 20 years".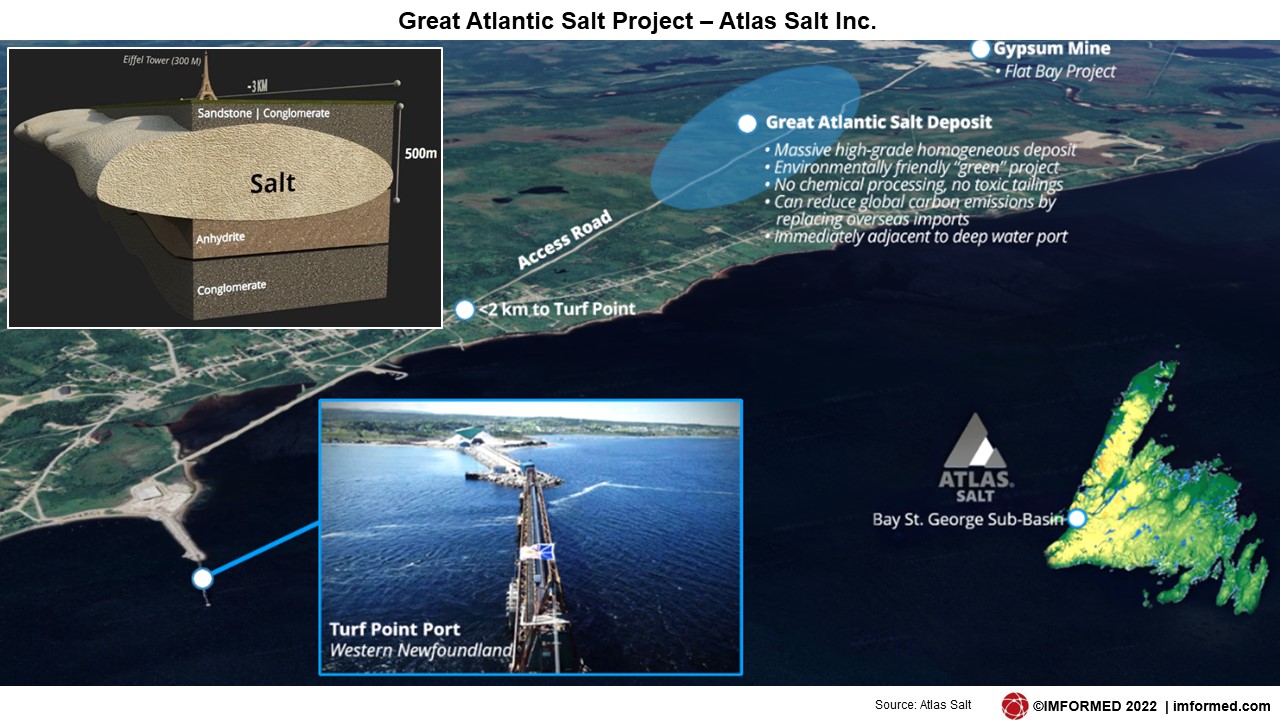 Certainly, amid the prevailing climate of (somewhat belated) government initiatives to fast-track development of domestic raw material supply chains to ease net import reliance, this project could serve the domestic salt sector well.
Located near a deep water port, Great Atlantic is strategically positioned to serve the important eastern North America road salt market which relies on significant volumes of overseas imports to meet annual demand.
According to Atlas, North America faces an annual road salt production shortfall of 7-10m tonnes, which is at present met by imports from Chile and North Africa.
In 2021, salt imports into the USA included some 5m tonnes from Chile and 1.4m tonnes from Egypt, the countries accounting for 30% and 11% of US salt imports during 2017-20, respectively (see chart). Morocco also exports salt for deicing to north-east USA.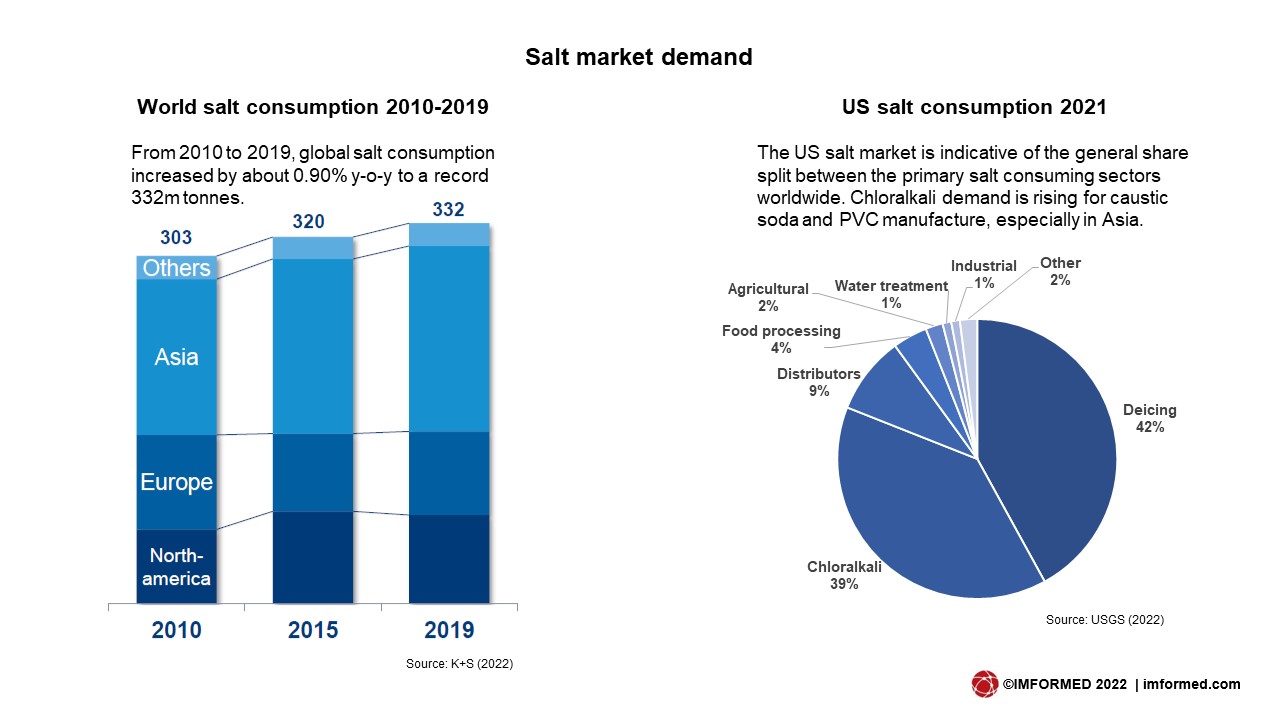 The homogeneous deposit hosts a NI-43-101 independently verified Inferred Resource of 908m tonnes grading 96.9% salt using a 95% NaCl cut-off grade. Resource modelling indicates a "tremendous continuity" of the salt resource with an average gross thickness of 200 metres.
Distance to the top of the salt formation varies from 190-400 metres, making Great Atlantic the shallowest deposit of all rock salt deposits in North America.
Atlas Salt envisions an environmentally friendly, low-cost operation, producing an initial 2m tpa (subject to BFS), using the latest technologies in underground salt mining.
Under evaluation is an inclined ramp as opposed to vertical shaft access, subject to final geotechnical assessments. Simple physical processing – mine, crush, screen and load – is expected.
Meanwhile, to unlock the value of its Fischell's Brook Salt Dome, and the concept of a "Clean Energy Hub" along the prolific Bay St. George Basin, Atlas is in the process of completing a "spinout" that will involve a share distribution to Atlas shareholders.
Don't miss…

Patrick Laracy, CEO Atlas Salt, Canada

"The North American salt market"

Saddam Elsharef, President, Saddam Minerals Co.,

"Egypt on Rising global demand for Egyptian deicing salt"
Australian solar salt players eye expanding Asia-Pacific market
Over the next decade, salt demand from East Asian markets such as China, Japan, South Korea, and Taiwan is expected to increase significantly, and outstrip current supply sources in the region.
The Asian salt market has been estimated at 160m tpa salt (US$6.5bn), and is expected to see a major increase by some 35% to >50m tpa over the next ten years.
There are several projects in Australia looking to take advantage of this opportunity, clustered around the north-east coast of Western Australia (the Pilbara), and near existing salt producers (see map).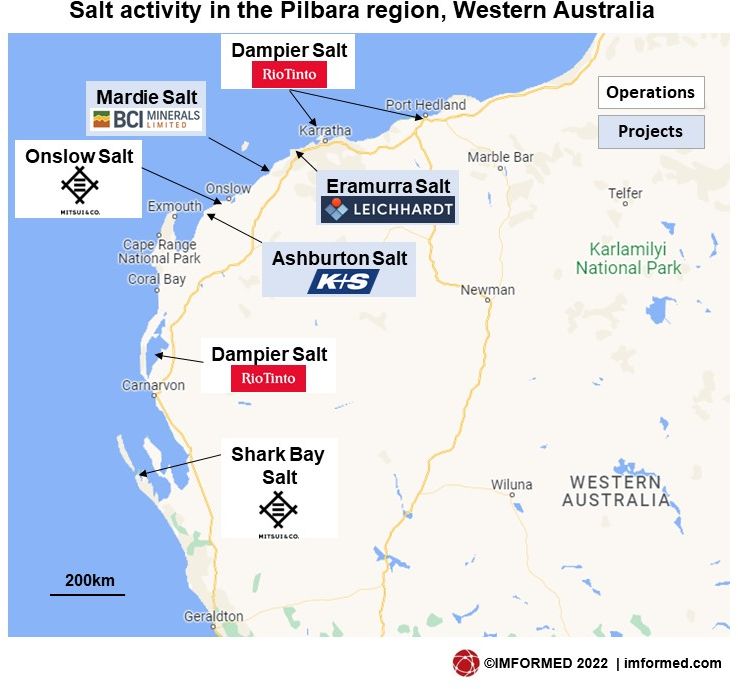 Leichhardt's Eramurra Solar Salt Project, 55km west of Karratha near Cape Preston, Western Australia is aiming at production of 4.2m tpa of high grade chemical salt, targeted to Asia-Pacific chemical markets starting in 2027.
An advanced scoping study was completed in Q3 2021, and exploration licences have been granted and preliminary field test work completed, while BFS target completion is anticipated in April 2023.
In 2023, a four-month construction of salt ponds is planned. The ponds will receive seawater and build up salt reserves ready for harvest in 2025. This process is expected to take 18 months. The company "has a very positive outlook" to its first salt shipment projected for 2027.
Leichhardt, based in Perth, anticipates developing a new multi-user, multi-commodity port at Cape Preston East with the support of the Northern Australia Infrastructure Facility (NAIF). Currently, the export infrastructure is planned to include a 1,500 metre trestle jetty and use a trans-shipping model of loading for ocean-going vessels offshore.
BCI Minerals Ltd, also based in Perth, is developing the Mardie Salt & Potash Project, a potential Tier 1 solar evaporation operation located on the West Pilbara coast, Western Australia.
Mardie has been designed to produce 5.35m tpa of high purity salt (>99.5% NaCl) and 140,000 tpa of sulphate of potash (SOP; >52% K2O) using seawater and a production process driven mainly by solar and wind energy.
The facility will comprise 9 evaporation ponds, 42 salt and 20 SOP crystallisers, a salt wash plant, and the SOP process plant.
A Final Investment Decision (FID) on the project was made in October 2021 and main construction commenced in Q1 2022. Installation of six pumps with 3,000 L/s seawater capacity is scheduled for Q3 2022 and their commissioning anticipated in December 2022.
Salt plant construction is planned for 2023-24, with the first salt shipment now envisaged for H2 2025 (initially hoped to be end-2024) after having to implement project design adjustments to improve its long-term resilience to extreme weather events.
The project is to build and use its own export terminal to ship salt to key Asian markets, utilising a 12,000 tonne self-propelled transhipment vessel to reach vessels up to 160kt anchored 28km offshore.
BCI has already signed MoUs with "well over a dozen" potential Asian customers which it hopes will translate to offtake agreements. Mardie's salt output is targeted at China (35%), Japan (15%), S. Korea (10%), Taiwan (10%), with rest to South East Asia customers.
BCI's other assets include shareholdings in Agrimin Ltd (15%; developing the Mackay Potash Project, Western Australia) and Highfield Resources Ltd (7.23%; developing the Muga Potash Mine, Spain, with potentially 500,000 tpa salt as by-product; mine construction commenced late June 2022, production envisaged late 2024).
Salt industry experts 

Salt Partners Ltd

, Switzerland, were awarded the contract to supply the proprietary HYDROSAL® salt purification technology for the salt wash plant at the Mardie Salt Project.

As part of Salt Forum 2022, Vladimir Sedivy, President, Salt Partners, will be conducting a Salt Industry Training Seminar on Tuesday 15 November as well as presenting "Solar salt for the chlor-alkali market" at the Forum.

The Seminar will provide a comprehensive and professional introduction and overview of the salt industry. All key topics will be covered but interested participants are invited to request specific aspects to be included.
In 2016, K+S Salt Australia started the planning process for the Ashburton Salt Project: the construction of a 4.5m tpa solar salt facility near Onslow, Western Australia, with a view to serving Asian markets.
K+S Salt Australia is currently working with BG&E Resources on the final feasibility study for the project and working through approvals.
In December 2021 an Environmental Scoping Document was approved, which included an increase in the nominal annual salt production capacity for the Ashburton Salt Project from 4.5m tpa to 4.7m tpa.
However, despite being Europe's leading salt producer (9m tpa production capacity), in November 2021 K+S announced that it would "place its strategic focus on its core business with potash and magnesium products." In 2020, K+S sold its Americas salt business for US$3.2bn to Kissner (Stone Canyon – now the largest salt producer in the world with production capacity of >29m tpa). Where this leaves the future of the Ashburton Salt Project remains to be seen.
CONFIRMED SPEAKERS*

Salt market trends & outlook
Stefan Schlag, Salt Market Information, Switzerland
Solar salt for the chlor-alkali market
Vladimir Sedivy, President, Salt Partners Ltd, Switzerland
Growth market insight & developments
Euston Witbooi, Research Analyst, Project Blue, South Africa
NEOM desalination plant development & progress
Nils van der Plas, Executive Advisor, NEOM, the Netherlands
North American salt market
Patrick Laracy, CEO, Atlas Salt Inc., Canada
Rising global demand for Egyptian deicing salt
Saddam Elsharef, President, Saddam Minerals Co., Egypt
Automation roadmap of salt handling in ports & terminals
Alexander Koschinsky, Sr. Consultant, HPC Hamburg Port Consulting & Bernd Mann, CEO, iSam AG, Germany
Salt recovery from oil drilling fluids
Kerstin Hirsch, Business Development Manager, SEP Salt & Evaporation Plants Ltd, Switzerland
Turkish lake salt production and markets
Ahmet Solak, Key Account Manager, Koyuncu Salt, Turkey
Salt processing developments
Titan Salt, Netherlands
Developments in fossil fuel free drying of salt using low temperature fluidized bed technology
Maarten Holtkamp, Sales Director, TEMA Process BV, Netherlands

* subject to change

EARLY BIRD RATES END SOON

Contact Ismene Clarke ismene@imformed.com | +44 (0)7905 771 494