Fluorine Forum 2022 Review | Seen & Heard in Hanoi
All good things come to those who wait. And for Fluorine Forum to take place in Hanoi, Vietnam we had to wait three years, but we got there – and it was definitely worth waiting for!
What an occasion it was: record attendance, excellent presentations, fantastic networking, wonderful location, and the icing on the cake was the superbly organised and unforgettable visit to the operations of Masan High-Tech Materials at Nui Phao.
Title image Room with a view: the open pit mine of  Nui Phao Mining Co. (NPMC) which produces 3.8m tpa of polymetallic ores containing tungsten, copper, bismuth and fluorspar, the latter yielding a concentrate of 97% CaF2.
Many delegates also took the opportunity to stay on and visit the delightful sights of Vietnam.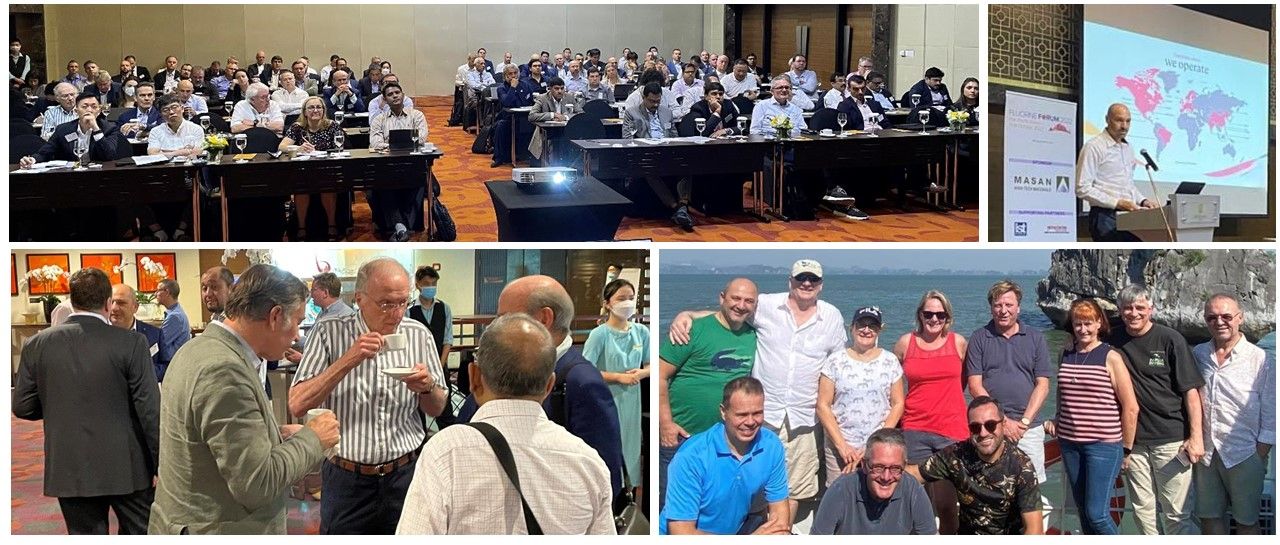 This one will be hard to surpass, but we shall endeavour to continue bringing a high quality conference to the fluorine market each year, and to that end we announce this year's event: Fluorine Forum 2023, 16-18 October 2023, at the Pullman Cannes Mandelieu Royal Casino, Mandelieu La Napoule, near Cannes, south France – full details here.

Fluorine Forum 2022 kicked off in style with a Welcome Reception that could only be described as a Vietnamese extravaganza, sponsored by Masan High-Tech Materials. The very special venue was the Imperial Citadel of Thăng Long, a UNESCO World Heritage Site, in the centre of Hanoi.
Delegates were treated to a range of cultural sideshows demonstrating Vietnamese art and crafts, while the main event featured Vietnamese folk songs and dance on stage before a sumptuous buffet dinner. Certainly, a night to remember! – particularly for those called up on stage to celebrate their birthdays that month (see below, top right).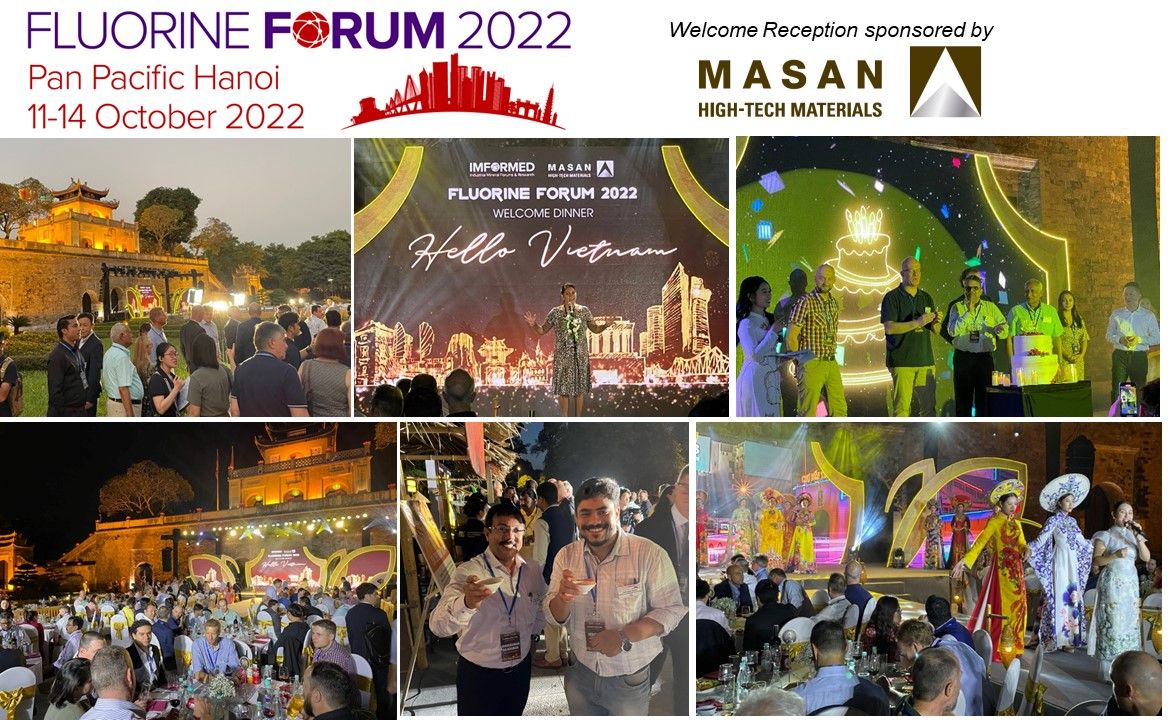 FLUORSPAR MARKET OVERVIEWS
Fluorspar market: Supply & Market Highlights
Mike O'Driscoll, Director, IMFORMED, UK
O'Driscoll briefly reviewed world fluorspar production and trade noting increased supply during 2020-21 from Mexico, Mongolia, South Africa, and Pakistan.
Acidspar exports increased from most sources with the exception of China, while India had seen a rise in imports. Metspar exports increased from China and Pakistan. Metspar imports, mainly from Mexico, into the USA increased markedly in H1 2022by 400% and 240% in Q122 and Q222, respectively.
Supply highlights included Canada Fluorspar in receivership; Koura Global declaring force majeure on contracts owing to geotechnical issues at its Las Cuevas mine; closure of SAMINE's El Hammam mine, Morocco; Ares Strategic Mining's ongoing development of the Lost Sheep Fluorspar Project, Utah; and Mineraria Gerrai planning to restart fluorspar production in Sardinia.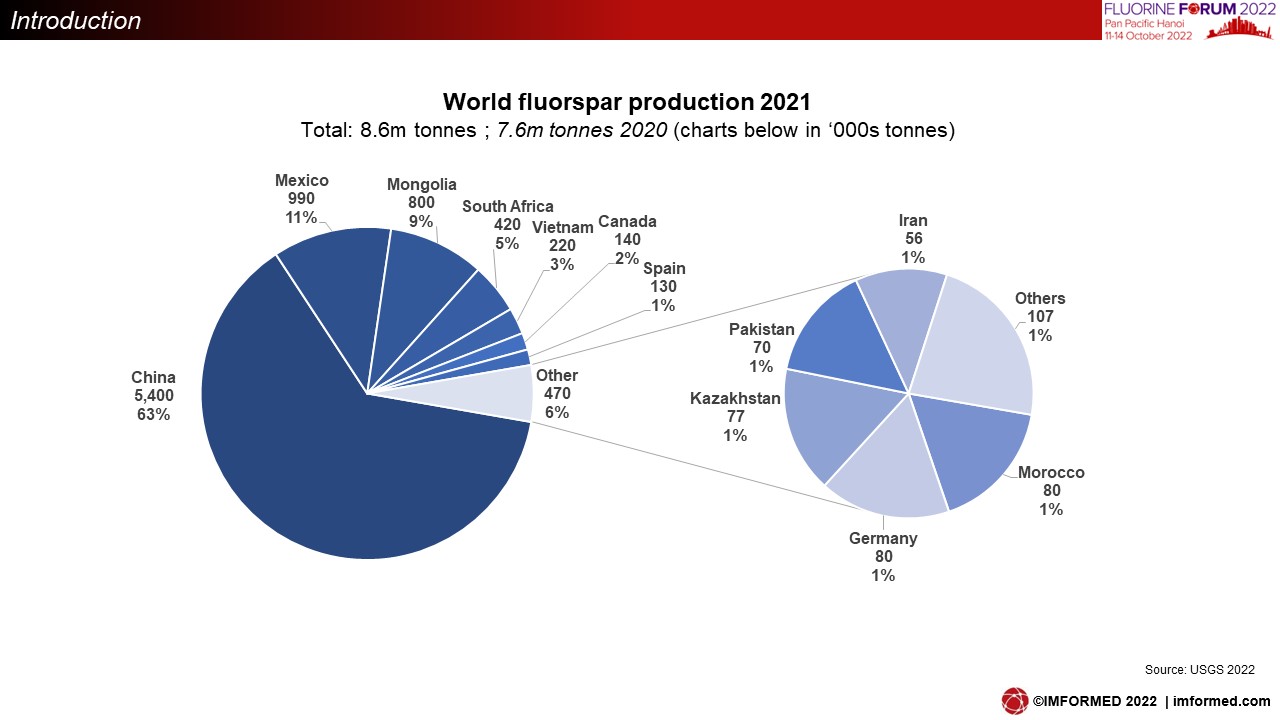 Acidspar market: the view from Vietnam
William Parry-Jones, Head of Sales & Marketing Vietnam/Tungsten Raw Materials, Masan High-Tech Materials Corp., Vietnam
Parry-Jones began with an overview of the Masan Group and in particular its evolution since fluorspar production commenced in 2014 at the flagship Nui Phao polymetallic mine and plant, Thai Nguyen province, north-west of Hanoi.
Most recently, in July 2022, Masan announced investment into Nyobolt Series B – Nyobolt is commercialising lithium-ion batteries unique niobium and tungsten-based anode systems.
A closer look was taken at the Nui Phao operation run by Nui Phao Mining Co. (NPMC) which produces 3.8m tpa of polymetallic ores containing tungsten, copper, fluorite, bismuth, yielding a concentrate of 97% CaF2.
The mine has a life of 10 years, and plant production capacity is 220-250,000 dry tpa acidspar. There is an exploration program in progress to quantify targets to extend the Life of Mine beyond 2032.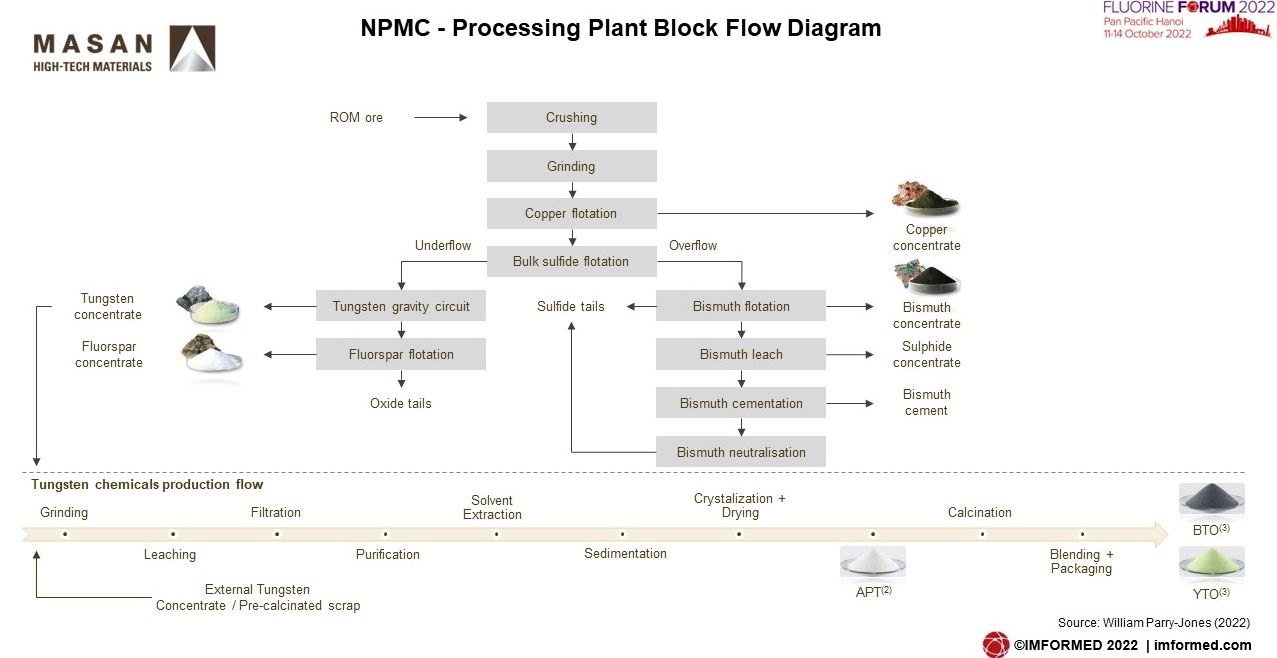 Global fluorspar supply: what is changing in the industry?
Euston Witbooi, Research Analyst,

Project Blue

, South Africa
Witbooi covered fluorspar demand and long term outlook, the drivers of acidspar versus metspar demand, the metspar and acidspar supply landscape, the outlook for supply, ramp-ups, shortages and requirements over the energy transition period, concluding with Project Blue's view on challenges and risks.
On key supply trends, Witbooi remarked that ESG had gained hugely in importance; there is increasing downstream integration, eg. Koura going downstream in its joint venture with Foosung Tech in South Korea to produce lithium hexafluorophosphate for lithium-ion batteries; and increasing production outside China, from South Africa, Mexico and other "non-traditional sources" to step into the export market deficit.
Looking ahead, demand growth from the lithium-ion battery industry post 2030 will depend on technology choices – particularly in the processing of spherical graphite for anode manufacture (using HF).
Research into recycling and recycling improvements is continuing at pace in many sectors including aluminium, batteries and direct uses of HF. This may affect future demand volumes with more fluorine remaining in circulation
Environmental and social activism prohibiting development of primary mining projects and/or expansions. This could lead to an increase in alternative sources of fluorine such as FSA.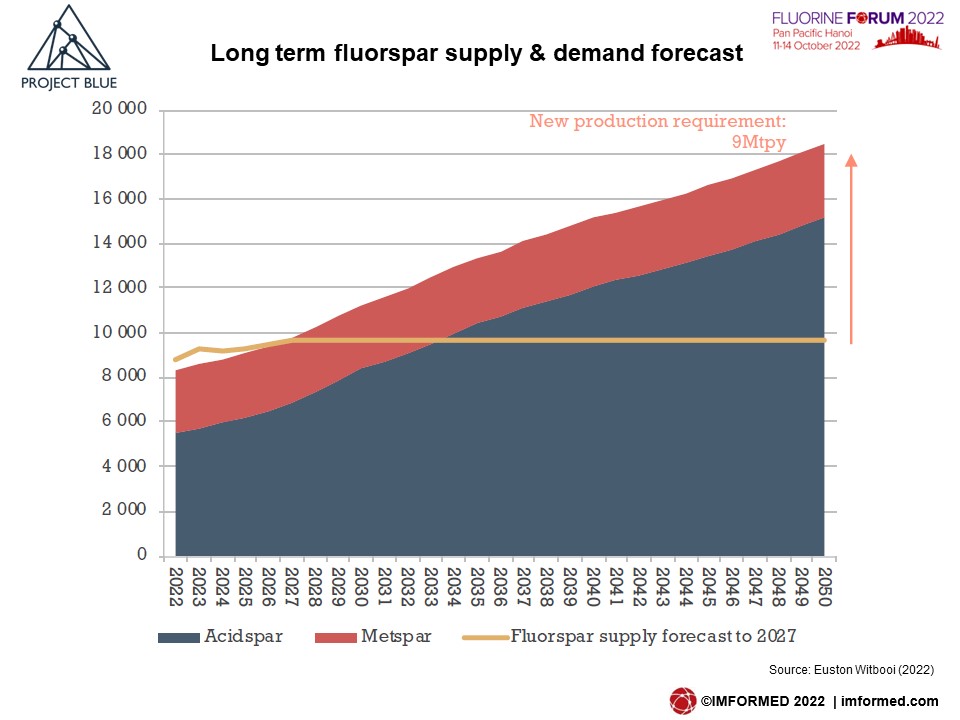 MINING & PROCESSING
Sustainable mining at the world's largest developed fluorspar source
Wiekus Coetzer, Global Head of Mining,

Koura Global

, Mexico
Coetzer outlined the Koura Global portfolio of businesses before focusing on the group's four pillar approach to the increasingly important ESG aspects: community engagement; ESG disclosure; sustainable operations; sustainable solutions.
Koura aims at full recovery of its reserves as part of its sustainable solutions pledge. This involves tailings reprocessing, which forms part of the plant feed, and the processing of lower quality reserves through improved classification processes with new plants and technologies.
Unsurprisingly, the key question the audience wanted answers on was the state of play regarding the mine problems that caused Koura to declare force majeure on supply contacts in early 2022.
Coetzer confirmed that the interruption to operations was owing to subsidence issues at Las Cuevas Mine, which had been detected and were being addressed, and would be "back to normal soon".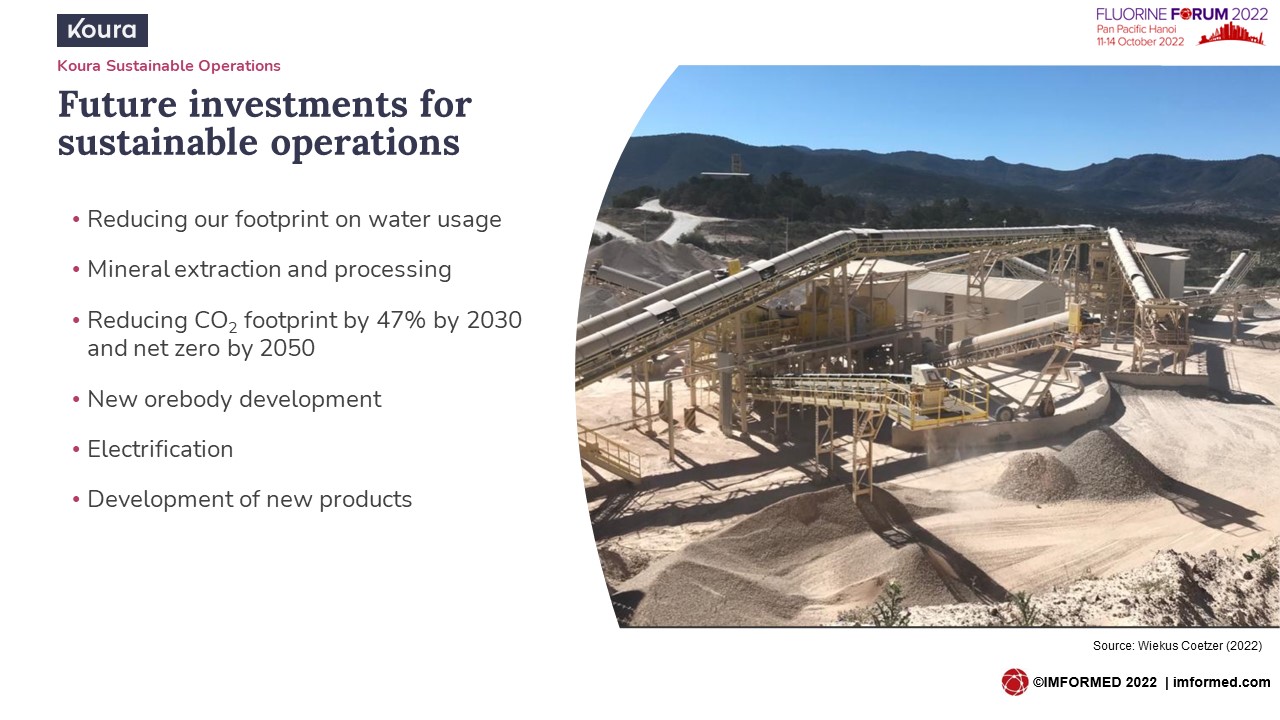 The role of make-up water, gangue mineralogy & electrokinetic potential in fluorite flotation
Johan Brits, Project Executive,

SepFluor Ltd

, South Africa
Brits provided a very comprehensive review of the problems and findings in processing fluorspar at the SepFluor plant in Nokeng, Gauteng, South Africa.
Problems included: high suspended solids in make up water; recovery with different waters; unidentified deleterious minerals; and the change high reagent consumption.
Results were presented from work on flotation, mineralogy, Zeta potentials, and conditioning.
It was found that high suspended solids result in significantly lower recovery, while clean water is not required when conditioning at a high solids concentration.
Electrostatic attractions exist between fluorite and the main gangue resulting in heterocoagulation of the components. Conditioning at high solids concentration break these bonds and it is also more effective than high dosages of dispersant and depressant in the rougher stage.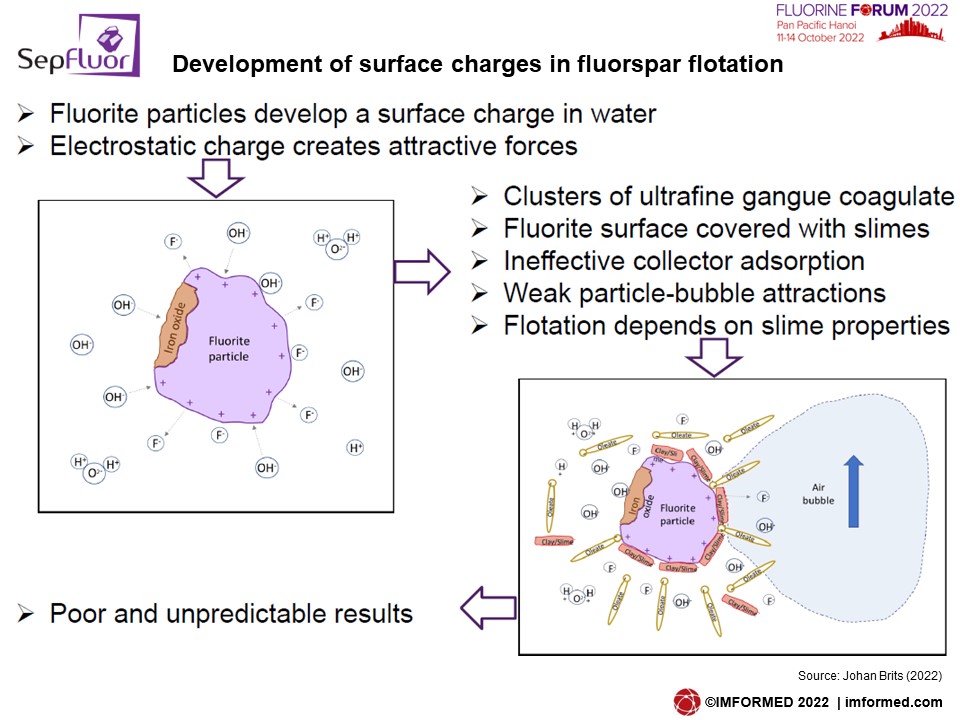 REGIONAL SUPPLY: PAKISTAN | EUROPE
Pakistan: Fluorspar and Gateway to Critical Minerals
Shahid Hamid Jafri, CEO,

Perfect Associates Ltd

, Pakistan
Jafri highlighted the overall mineral resources of Pakistan before concentrating on its fluorspar resources. The two provinces of Baluchistan and Khyber Pakhtunkhwa (KPK) have "huge" deposits of fluorspar.
In the Kalat district of Baluchistan the largest deposit of >1m tonnes is located in Dilband and in its vicinity in the Kirthar fold belt. The richest and most continuous veins are along fractures several hundred feet long that are visible on aerial photographs. The veins yield an acid grade fluorspar (from 80-97% CaF2 minimum, and 0.1% sulphur maximum).
The fluorspar of the Loralai area occurs as veins and as disseminated grains along faults and fractures which is hosted by the Jurassic Loralai limestone forming the anticlinal core. Chemical analysis shows CaF2 varies from 80-95%. Recently, 60% of production is coming from the Loralai area in Baluchistan.
Jafri also underlined that Pakistan is a pivotal gateway for the rich mineral resources of Afghanistan to world markets.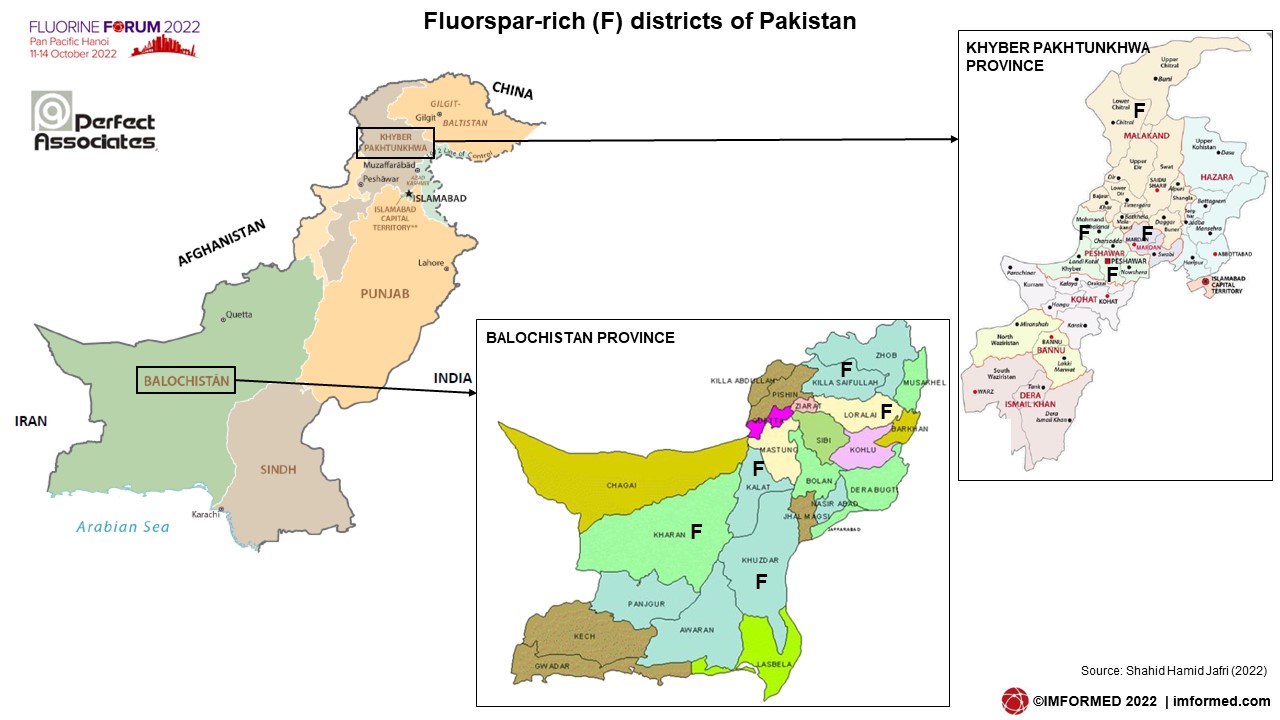 Fluorspar & Lithium: a new UK resource opportunity
Peter Robinson, Managing Director, Fluorspar Ventures Ltd, UK
Robinson introduced Fluorspar Ventures as combining decades of experience in fluorspar mining and land regeneration with emerging lithium technology and experience "for the delivery of new mineral production for the Renewables Mineral Supply Chain in the UK".
The project is located in Weardale in the north-east of England in the historic mining districts of County Durham and Northumberland. Geologically it is located in the North Pennine Orefield.
The main elements of the project are:
Traditional fluorspar mining
Brownfield land regeneration
Contaminated mine water treatment
Lithium brine extraction
The project is under development with first fluorspar production anticipated during 2024.
Polymetallic (fluorite, silica, galena, sphalerite) hydrothermal veins are hosted within three subvertical fault zone sets that criss-cross the Alston Block.
Significant underground workings (mining from 1700s ceased in 2000) still exist in Weardale where fluorspar mineralisation is left in-situ, providing an opportunity to re-develop historic mines and capture fluorspar value.
Also targeted, is the reprocessing of waste dumps to extract fluorspar and other minerals, creating value and leaving a de-contaminated restoration material.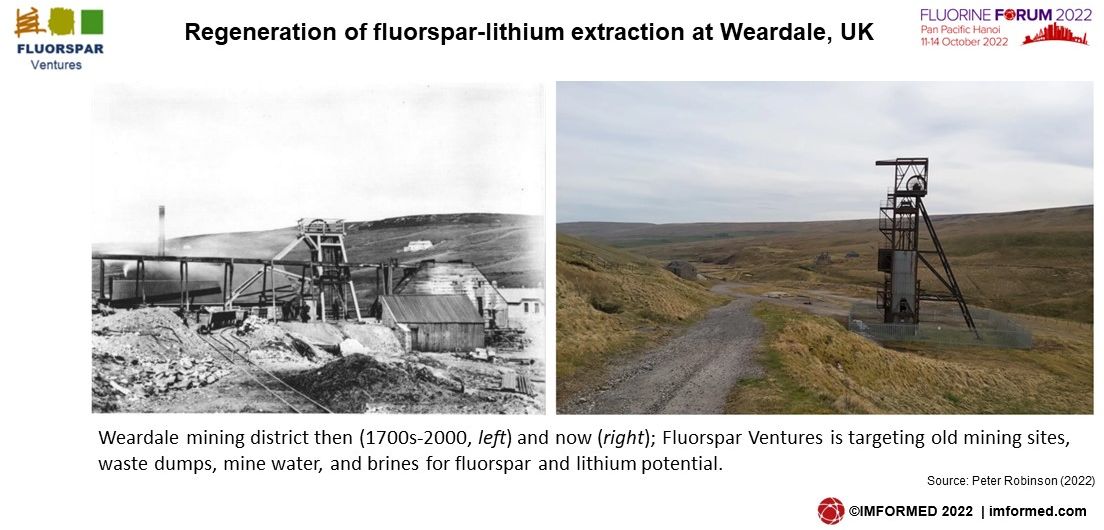 ROUNDTABLE BREAKOUT SESSION
Informal networking & discussion | Hosted & themed Roundtables: Exploration/Mining/Supply | Mongolia | Processing/FSA | Fluorochemicals | Li-ion batteries/EV

MARKETS 1: FLUOROCHEMICALS
Future of refrigerant gases, and its impact on the fluorine industry
John D. Zielinski, Executive Buyer,

Chemours

, USA
Zielinski's initial seemingly scary deep dive into refrigerant gas nomenclature turned into a concise and understandable explanation for products such as R-134a, R-404A – ie. what exactly makes up the numbers and letters in these important fluorine-bearing refrigerant gases.
Next up was an understanding of global warming potential (GWP): this was developed to allow comparison of different gases by measuring how much energy 1 tonne of gas will absorb over 100 years, relative to 1 tonne of carbon dioxide (CO2). Therefore by definition CO2 has a GWP = 1.
Looking at the refrigerant gas technology timeline since the 1900s, and how this has more recently been driven by regulatory trends (Montreal Protocol, Kigali Amendment, EU F-gas directives), Zielinski demonstrated how HFOs (hydrofluoroolefins) are now the future of thermal management and illustrated how HFC phase-down works.
Key impacts of the overall global HFC phase-down were considered to be somewhat positive for the fluorine refrigerant market:
HFC reduction targets can be achieved without the reduction in the volume of refrigerant gases.
Retrofits will increase the production of refrigerant gases in an entire system, charges are removed and replaced with a lower GWP alternative.
New equipment will need entirely new charges of low GWP refrigerants leading to increased demand as the phase-down progresses.
Mega trends and growth leading to overall increased demand.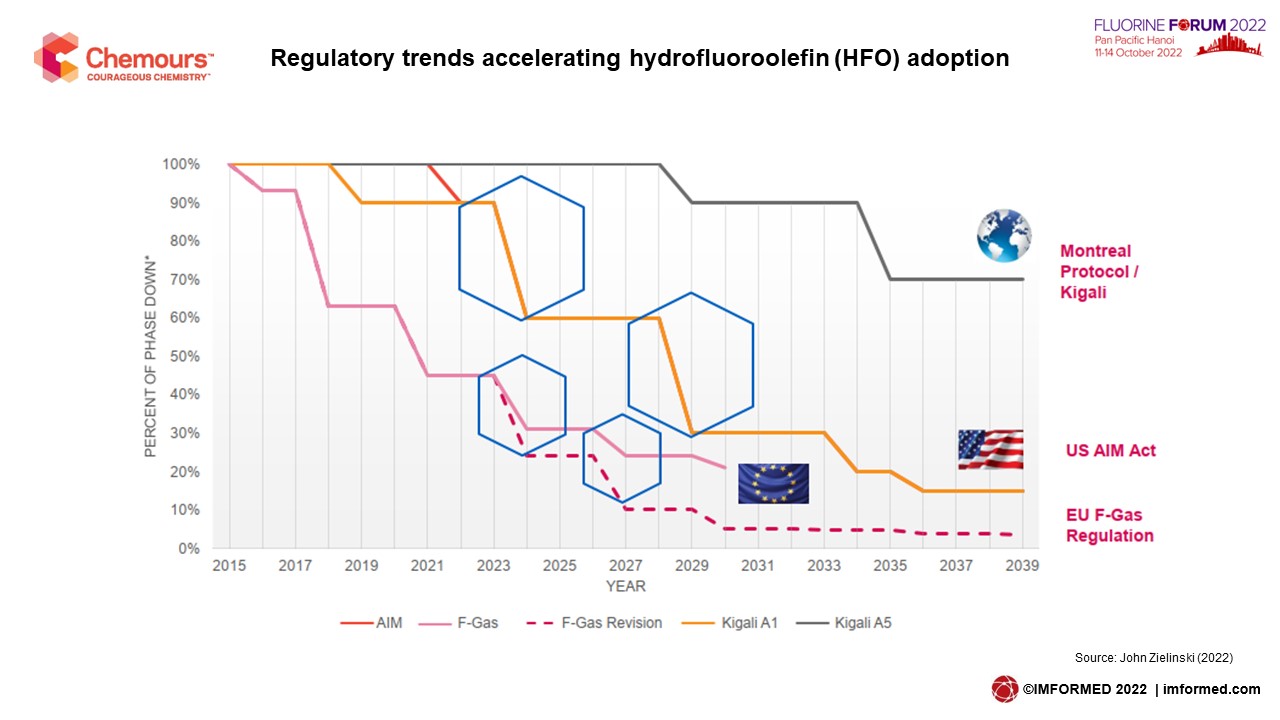 Hydrofluoric acid: fundamental precursor for organic & inorganic fluorochemicals review & outlook
Samantha Wietlisbach, Director Minerals Research and Analysis,

S&P Global Commodity Insights

, Switzerland
Hydrofluoric acid (HF) is really the key to production of many important fluorochemicals, which are used as refrigerants and starting materials for fluoropolymers, such as those essential in solar panel production and the manufacture of lithium-ion batteries (LIB).
Wietlisbach's usual comprehensive review covered fluorspar and HF trade, electronic grade trade Asia, China HF in depth, electronic HF grade new capacity, HF demand in electronic speciality gases, lithium-ion battery materials, and fluoropolymers used in photovoltaic materials and lithium-ion battery separators.
In summary, Wietlisbach said that there had been some change in the fluorspar supply dynamics in the first half of 2022, and world HF imports were back up at 2018 levels in 2022.
HF consumption in China will see major changes over the next five years as LiPF6 use in LiB will increase from 6% to 13% of total HF demand.
The more mature fluorocarbons market will grow at a more sedate level, losing share of the HF market from 71% to 65% over the next five years, where the most growth will be in PVDF (polyvinylidene fluoride). This is set to become a more important player in the push to carbon net zero with its applications in PV back sheets and battery separators.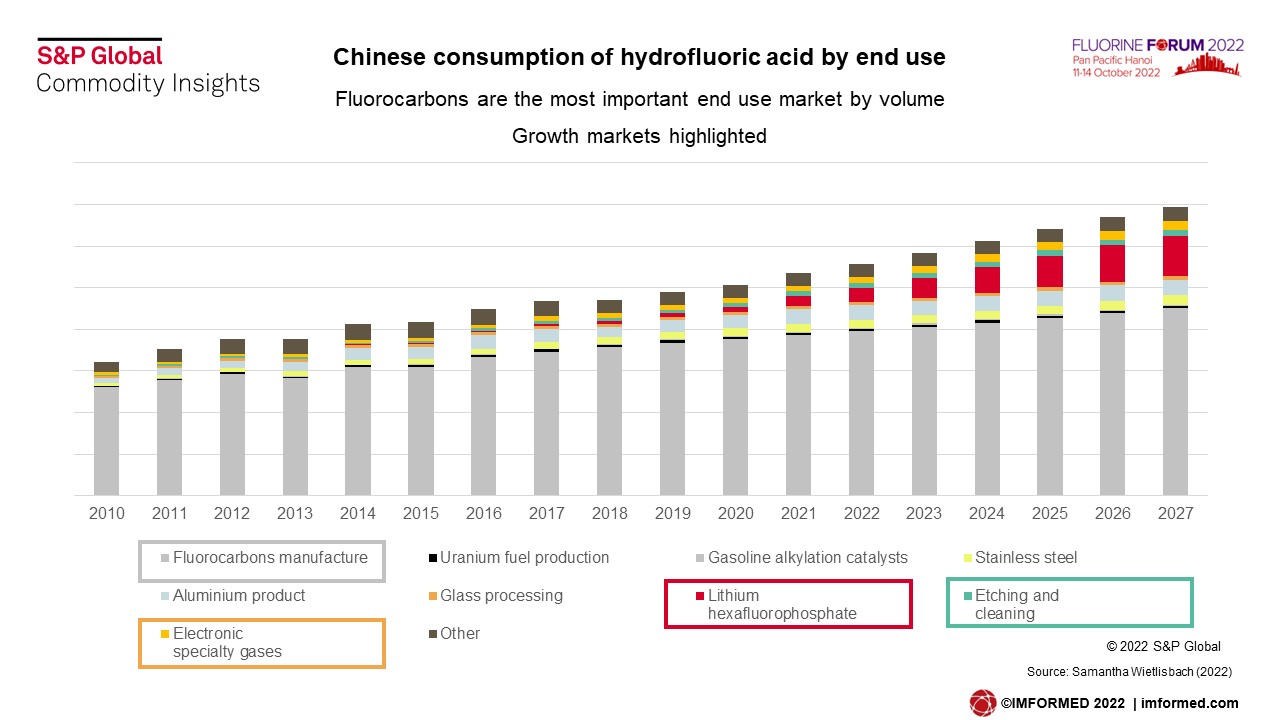 Fluorine technologies: diversification opportunities
Emre Sen, Sales Manager-Fluorine Technologies,

Buss ChemTech AG

, Switzerland
Sen outlined the history and portfolio of Buss ChemTech's fluorine technologies. The company has 56 reference fluorine plants in service worldwide with a total combined production capacity of >800,000 tpa.
The process routes for HF/AHF production from both fluorspar and via the FSA by-product stream from the production of phosphoric acid were explained and compared. Eight FSA to AHF plants using Buss ChemTech technology will be in operation by 2023.
Sen highlighted the growth markets for electrical grade HF in semiconductors and LiPF6 in LIB, and showed how Buss ChemTech provides recently developed processing technology for these grades whether starting from fluorspar, aluminium trihydrate, or phosphate producer.
MARKETS 2: EV BATTERIES | ALUMINIUM
The unknown raw material disconnect: impact of e-mobility on fluorspar demand
Oliver Rhode, CEO,

XENOPS Chemicals GmbH & Co. KG

, Germany
Rhode's presentation focused on critical raw materials for LiB, the Chinese dominance, supply and demand forecast, Li-salt and electrolyte, the European perspective, and outlook.
Rhode started by remarking that the annual raw material consumption of a typical 30GWh LiB factory had been widely documented, but that there was little if any reference to the fluorine input.
The status and future developments of LIB main components were described, followed by the importance of fluorspar derived materials used in LIB, ie. in the:
Electrolyte: Li salts as LiPF6, LiFSI etc.
Separator: PVDF as coating
Cathode: PVDF as binder
Anode: HF for purification of graphite
Focusing on the LiPF6 electrolyte, Rhode said that, presently, LiPF6 is the best choice for use in electrolytes as it offers optimal cost and performance, although he acknowledged that LiFSI (Lithium bis(fluorosulfonyl)imide) is the next generation lithium salt that is most likely to partially replace LiPF6.
China is the main producer of LiPF6 in the world, accounting for approx. 70% production, and in 2021, there were 24 LiFSI projects under construction in China.
Rhode noted that the EU (and also the USA) was aiming to become net zero carbon and self-sufficient in LIB production. "Just building battery plants is not enough to be independent. Otherwise, we will have to import key materials from China" he said.
There has been a massive increase of planned EU LIB production capacity of 30% since July 2022, totalling 1.9 TWh.
Factoring in this, and other forecasts of LIB demand, Rhode concluded that the global additional demand for acidspar for LiPF6 in LIB will be around 1m tpa minimum; and estimated that a typical 30GWh LiB factory may require 7,500 tpa fluorspar.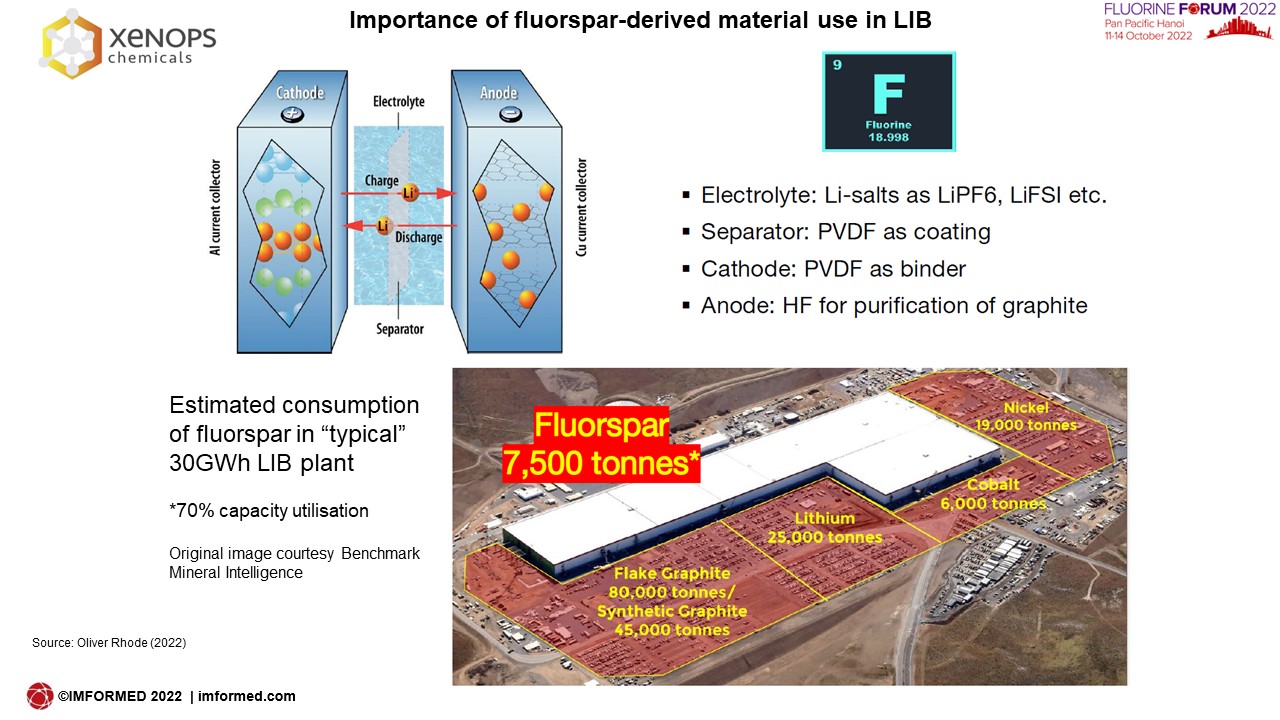 The role of fluorine in battery systems: Beyond electrolytes
Chris Potgieter, Director,

BFluor Chemicals (Pty) Ltd

, South Africa
Potgieter's presentation considered a shift from liquid electrolytes (LiPF6) to solid state electrolytes employing fluoropolymers as the next trend to look out for.
He also considered the possibility of fluorine-ion batteries (FIB) replacing LIB, ie. shuttling other ions than Li+, and that FIB imparts 7 to 10x higher energy density.
F- outperforms Li+, Na+, Ca+, Mg+ and Al+ with their low reduction potentials, whereas fluorine has the strongest oxidation potential on the other side of the electromotive force (EMF), small molecule size and light weight.
FIB was already a CalTech patent in 2015, followed by Toyota/Kyoto University's announcement in 2020, and then by several other research institutes.
Low bulk density aluminium fluoride: a sustainable choice
Hanna Sjoberg, CEO, & Jesper Holmquist, Commercial Director,

Alufluor AB

, Sweden
Alufluor is a producer of low bulk density aluminium fluoride, which started in 1973 situated in Helsingborg, Sweden, and was the first plant built with this technology; it is joint venture between Yara and Rio Tinto.
The main product is smelter grade aluminium fluoride with an active content of 97.5%, and there is also a high purity quality with 99.5% active content, used in the production of high quality optical lenses, and some other applications.
Sjoberg emphasised the sustainability of Alufluor's AlF3 product, which is an extremely consistent product with low impurities, and crucially, based on a circular economy with zero solid waste and low emissions.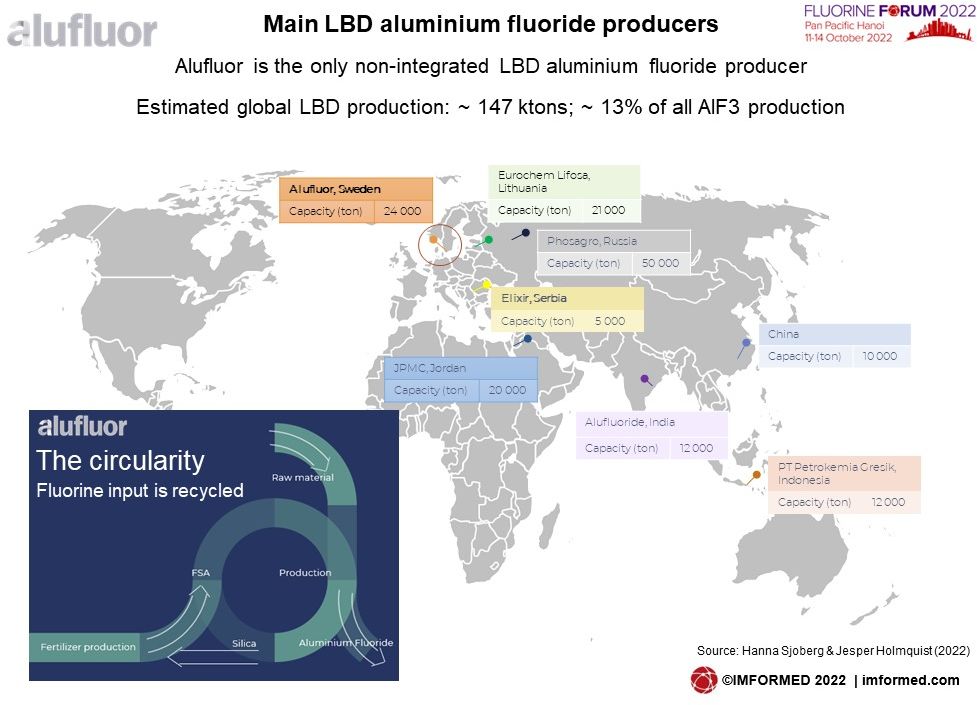 Key to the "circularity" of the operation is the feedstock fluorine component which is recycled from by-product waste fluorosilicic acid (FSA) sourced from phosphate fertiliser producer Yara. The process yields low-bulk density (LBD) AlF3, whereas if using raw fluorspar feedstock a high bulk density (HBD) grade is produced.
Most AlF3 production is HBD grade, and there are few LBD producers worldwide. All are integrated and Alufluor is the only non-integrated producer (purchasing the FSA externally).
Although LBD requires more storage space than HBD, Alufluor's LBD grades have a very good particle size distribution which imparts excellent flowability. This has resulted in some smelters switching from HBD to LBD grades, with the improved flowability beneficial in their pneumatic transportation or feeding systems.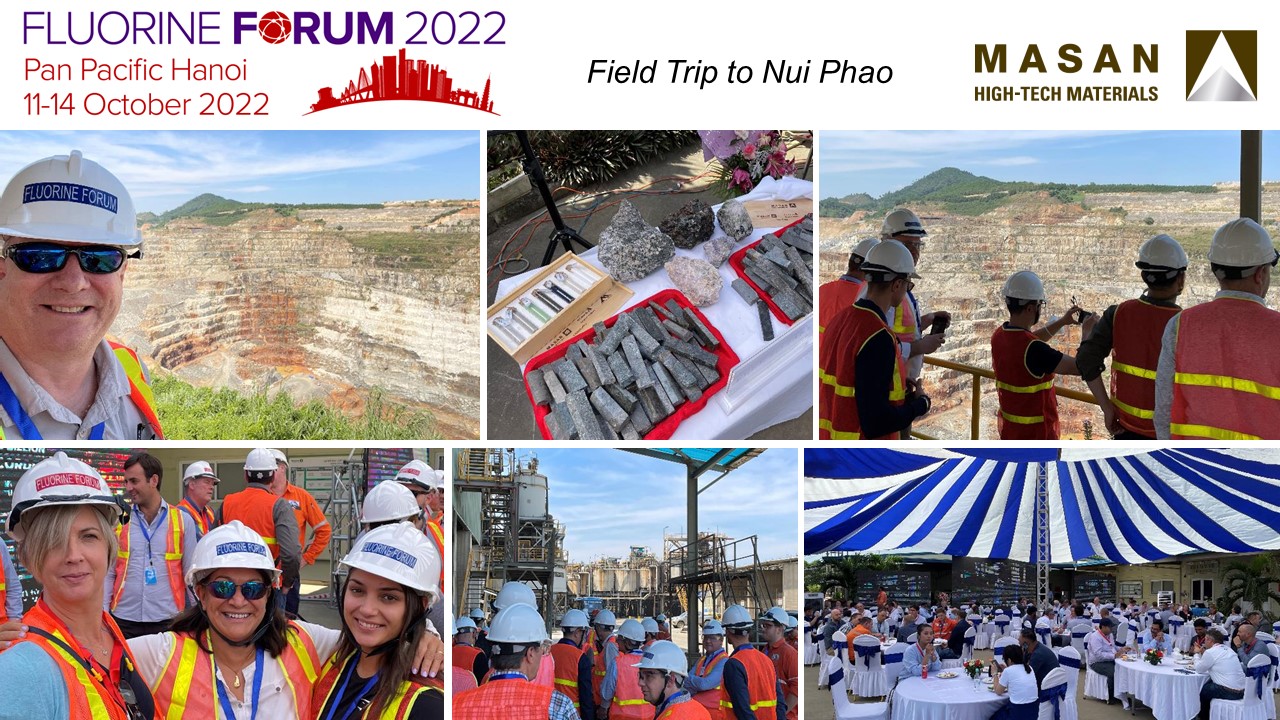 Thanks & hope to see you at Fluorine Forum 2023 Cannes!
We are indebted to the support and participation our lead sponsor and field trip host Masan High-Tech Materials, our partners, speakers, and delegates for making Fluorine Forum 2022 such a success, and ensuring a fruitful and most enjoyable time was had by all.
We very much look forward to meeting you again and repeating the experience, but this time back in Europe on the Côte d'Azur!
Please join us at Fluorine Forum 2023, at the Pullman Cannes Mandelieu Royal Casino, Mandelieu La Napoule, near Cannes, south France, 16-18 October 2023. Book now for Early Bird Rates & Call for Papers! Full details here.
Registration, Sponsor & Exhibit enquiries: Ismene Clarke T: +44 (0)7905 771 494 ismene@imformed.com
Presentation & programme enquiries: Mike O'Driscoll T: +44 (0)7985 986255 mike@imformed.com
Missed attending the Forum? A full PDF set of presentations available for purchase.
Please contact Ismene Clarke T: +44 (0)7905 771 494

ismene@imformed.com
Remembering Malcolm Crawford, world-renowned expert in fluorspar and great friend to the industry, who sadly passed just two weeks following his attendance at Fluorine Forum 2022.

Read full tribute here

.