Mineral Recycling Forum 2019 Confirmed Programme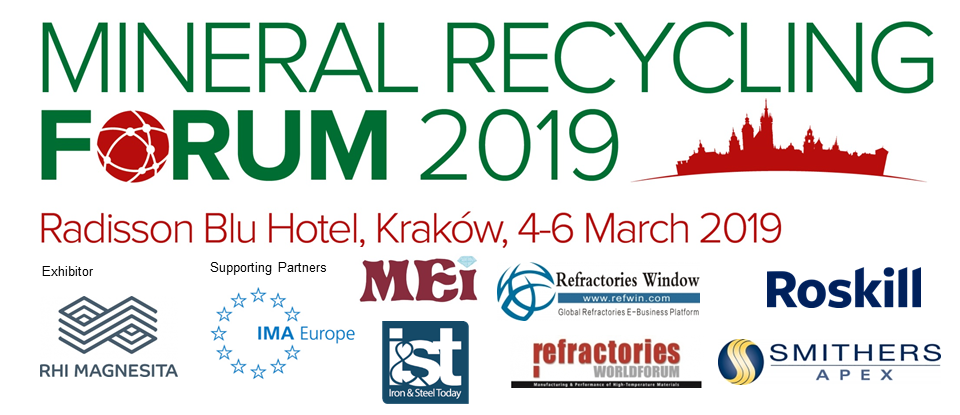 Mineral Recycling Forum 2019, Krakow, 4-6 March 2019 is bringing together the leading players to network and discuss the supply chain of recycling industrial minerals, from sourcing, supply, processing, logistics to end use applications and demand outlook.
Find out how the European Commission and IMA-Europe projects the industrial minerals industry's role in the planned Circular Economy.
Can the strategy and innovative developments from the likes of Vito and Lixivia chime with your company's aspirations for waste solutions and market opportunities?
See how the likes of RHI Magnesita, Vesuvius, and Sidenor are already stepping up recycling of refractory minerals and steel waste.
Other sources of recycled minerals and processing from chemical, mining, and energy waste are also examined.
Attending companies include:

Alcoa | ALFRAN | ArcelorMittal | Calderys | Carborundum Universal | Cofermin | Global Recycling | HarbisonWalker | Harsco | Horn & Co. | Lhoist | LKAB | Midegasa | PK Rohstoffe | Port of Amsterdam | Port of Rotterdam | Possehl | Quarzwerke | RUSAL | Traxys | TRB | TYMO

Programme*
MONDAY 4 March 2019
17.00 REGISTRATION Radisson Blu Hotel.
18.00 Welcome Reception at the Malecon Restaurant, a few minutes walk from the Radisson Blu Hotel.
TUESDAY 5 March 2019
07.30 REGISTRATION
KEYNOTE OVERVIEWS


08.45 Introduction
Ismene Clarke, Director & Mike O'Driscoll, Director, IMFORMED, UK
09.00 Competitive manufacturing industries in Europe: circular economy and access to raw materials
Maria Nyberg, Policy Officer, European Commission, Directorate-General for Internal Market, Industry, Entrepreneurship and SMEs , C.2 Resource Efficiency and Raw Materials, Belgium
09.30 Recycling as a way of developing new business models for the minerals sector: regulatory bottlenecks and opportunities
Francesca Girardi, Industrial Affairs Advisor, IMA-Europe, Belgium
10.00 COFFEE
STRATEGY & DEVELOPMENT
11.00 Strategy for companies aiming to participate in mineral recycling and the Circular Economy
Bart Mantels, Program Manager Sustainable Materials Management, VITO NV, Belgium
11.30 Decoupling geology from geography: connecting market and minerals with hydrometallurgical processing of waste
Mark Tilley, Vice President Business Development, Lixivia Inc., USA
12.00 LUNCH
REFRACTORY RECYCLING & STEEL WASTE REDUCTION
14.00 The driving force of recycling in the refractory industry
Paul Glaubitz, General Manager Recycling, RHI Magnesita, the Netherlands
14.30 From best practices to excellence in refractory waste management
David Maza, R&D – Process Manager, Sidenor, Spain
15.00 Laser contour scanner monitoring of ladle refractories performance as contribution to waste reduction in the steel industry
Vasyl Moskovchuk, Deputy General Manager, Vesuvius GmbH, Austria
15.30 Panel discussion & Round-up
16.00 COFFEE & CLOSE OF DAY 1
WEDNESDAY 6 March 2019
INDUSTRIAL & MINING WASTE RECYCLING
09.00 Opportunities and challenges in the use of bauxite residue (red mud)
Ken Evans, Independent Consultant, UK & George Banvolgyi, Technical Director, Bán-Völgy Ltd Partnership, Hungary
09.30 Recycling waste from the power and metallurgy industries
Prof. Krzysztof Galos, Director, Mineral and Energy Economy Research Institute, Polish Academy of
Sciences, Poland
10.00 Utilisation of mining and processing waste
Jarosław Szlugaj, Mineral and Energy Economy Research Institute, Polish Academy of Sciences, Poland
10.30 COFFEE
CHEMICAL WASTE & SLAG RECYCLING
11.15 Recovery of magnesia and chromia from chemical waste
Duane Runciman, Wastes Ecotech Srl, Romania
11.45 Trends & outlook for the ferrous and nonferrous slag markets
Daniel Rogers, Head of Market Reports and Consultancy, Smithers, UK
12.15 LUNCH & CLOSE OF CONFERENCE
* subject to change
Contact Ismene: ismene@imformed.com | T: +44 (0)7905 771 494