IMFORMED Rendezvous, 8-10 2019, Paris – Confirmed Programme
All you need to know, all you need to meet, all in one place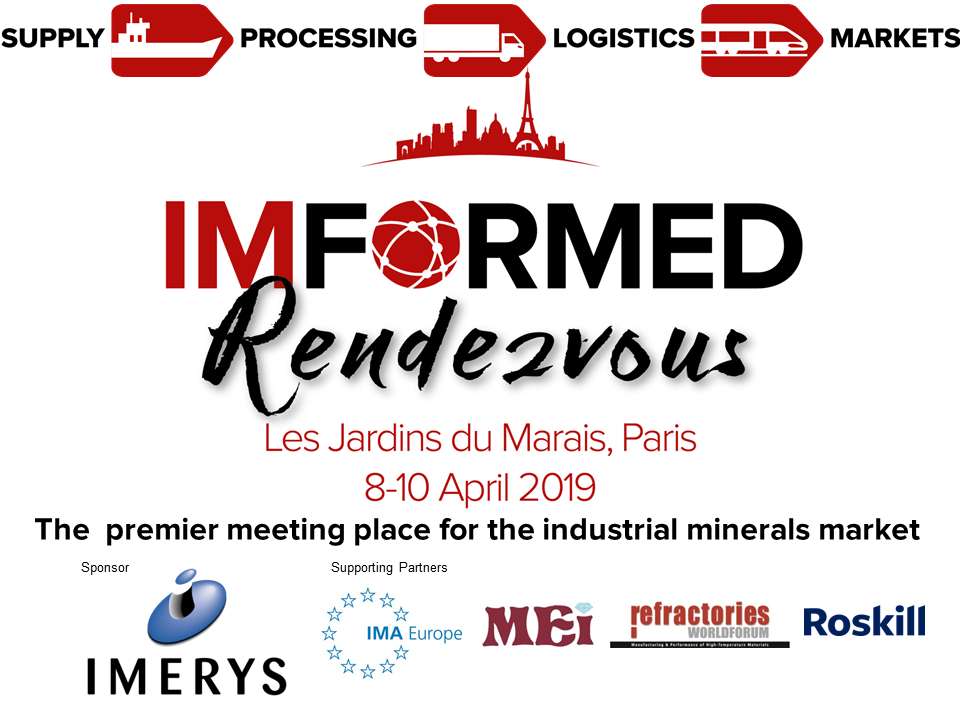 Bringing together and making connections for established players seeking new horizons, and newcomers evaluating the industrial minerals space.

FULL CONFERENCE DETAILS HERE
Trying to get ahead in the industrial minerals market? What are the future challenges and new market opportunities?

Considering a move into industrial minerals? What should you know? What makes the business tick?
Find out by meeting the experts and leading players at the IMFORMED Rendezvous
A superb programme of key topics & varied formats covers supply, processing, logistics & markets

PROGRAMME* 
MONDAY 8 April 2019
16.30 Registration
18.00 Welcome Reception
TUESDAY 9 April 2019
KEYNOTES 1: The status & future of the industrial minerals industry
08.30 Introduction
Ismene Clarke, Director & Mike O'Driscoll, Director, IMFORMED, UK
08.45 Mineral innovations for extreme environments
Imerys SA, France
09.15 The consumer's viewpoint: taking innovation to 1,200°C and beyond
Gustav Franco, Chief Sales Officer, RHI Magnesita, Austria
09.45 Trends, challenges, and issues for the industry
Catherine Delfaux, President, IMA-Europe & Provençale SA, France
10.15 COFFEE
KEYNOTES 2: Outlook for financing, next generation markets, processing
11.15 The investment and financing climate in industrial minerals: challenges & opportunities
Ryan Bennett, Partner, Head of Technical, Resource Capital Funds, USA
11.45 Critical, strategic and industrial – the minerals leading the next production revolution
Dr Richard Flook, Managing Director, Mosman Resources Ltd, Australia
12.15 Industrial mineral processing evolution and trends
Dietmar Alber, Business Development Director, Minerals & Metals Division, Hosokawa Alpine AG, Germany
12.45 LUNCH
14.30 OPTIONAL INFORMAL CONCURRENT ROUNDTABLES & BRIEFINGS
THEMED & HOSTED ROUNDTABLES

Delegates can take coffee in a relaxed, informal roundtable networking and discussion session, to share and gain insightful knowledge from their peers as well as getting to know each other. Roundtables are themed (as indicated) and discussion led by designated Table Host.
BREAK-OUT BRIEFINGS ON BASICS

In a series of concise and informal briefings by experts, the basic fundamentals of the industrial minerals business are explained and discussed; ideal for those requiring a refresher and particularly for new players considering entering the industrial minerals space.
Financing & Investment
Ryan Bennett, Partner, Head of Technical, Resource Capital Funds, USA
Industrial mineral market basics: an executive primer
Mike O'Driscoll, Director, IMFORMED, UK

China
Alison Saxby, Director, Roskill Holdings, UK
Industrial mineral resource exploration and evaluation
Anton Geldenhuys, Principal Resource Consultant, CSA Global Pty Ltd, South Africa

Recycling
Dr Aurela Shtiza, Policy Director, IMA-Europe, Belgium
Reporting industrial mineral exploration results and resources according to the JORC Code
Dr Andrew Scogings, Executive Consultant, Snowden, Australia

All you ever need to know about industrial mineral logistics
Clive Kessell, Director, Coastalwise, UK

Common Incoterms mistakes and the risks to a mineral purchase
John Newcaster, Director Southwest Region, The Cumberland Group, USA

16.30 CLOSE OF DAY 1
19.00 Reception at Eléphant Paname sponsored by  
The Art & Dance Centre in the heart of Paris, a historical building from the time of Napoleon III offering a unique and warm ambiance, dedicated to emotion and beauty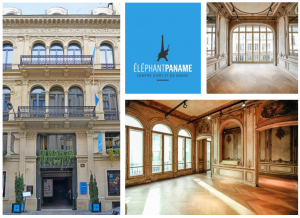 WEDNESDAY 10 April 2019
TRADING & LOGISTICS
09.00 The evolving role of the industrial minerals trader for tomorrow's markets
Alex Aizpurua, Raw Materials Business Unit Director, Midegasa, Spain
09.30 Mineral logistics developments & innovations
Dave Chanet, Commercial Manager, Control Union, Belgium
10.00 COFFEE
MINERAL MARKETS 1: Refractories | Glass | Ceramics
11.00 Aluminosilicates and the refractories market
Imerys High Temperature Materials & Solutions, France
11.30 Glass mineral demand evolution and outlook
Tim Smith, Raw Materials Manager, NSG Pilkington, UK
12.00 Trends in raw materials consumption in the ceramics industry
Brendan Clifford, Co-Chief Executive Officer, Mota Ceramic Solutions, Portugal
12.30 LUNCH
MINERAL MARKETS 2: Batteries | Plastics | Paper
14.00 Battery evolution & supply chain – what does it mean for industrial minerals?
Simon Moores, Managing Director, Benchmark Mineral Intelligence, UK
14.30 Calcium carbonate fillers and the outlook for plastics and coatings markets
Samantha Wietlisbach, Principal Analyst Chemicals, IHS Markit, Switzerland
15.00 Mineral demand outlook for global paper & packaging markets
Dr Ian Wilson, Consultant, UK
15.30 CLOSE OF CONFERENCE
*subject to change
DON'T WAIT, REGISTER NOW!
Contact Ismene
LIMITED EXHIBIT & SPONSORSHIP OPPORTUNITIES STILL AVAILABLE