The Middle East remains a powerhouse of oil and gas production and thus a major market for oilfield minerals used in drilling fluids, stimulation and cementing applications.
The region is a major importer of key oilfield minerals such as barite and bentonite used in drilling fluids, and is anticipated to be a potential growth market for proppants as development of unconventional resources gets underway.
Although there are changes afoot in the global energy market (see below), the Middle East share in global oil production in 2016 has been at its highest level for 40 years.
Imports of barite have increased markedly from 2011 to 2015: with Saudi Arabian imports rising from 334,874 tonnes to 912,202 tonnes, Kuwait from 16,972 tonnes to 158,203 tonnes, and Oman from 13,534 tonnes to 73,510 tonnes (see chart).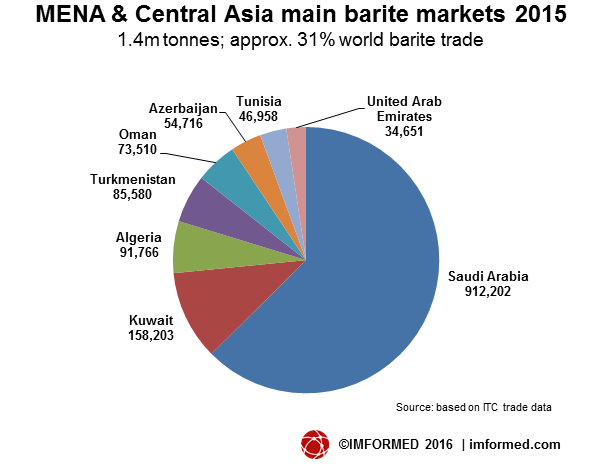 There is understood to be some limited developments in frac sand processing in Saudi Arabia, but regarding ceramic proppants there are no regional sources.
With Saudi Aramco's ongoing shale gas exploration programme and Abu Dhabi National Oil Co.'s (ADNOC) 2030 strategy including planned gas developments, any future demand market for proppants is likely to be met by imports.
All the latest trends and developments in oilfield mineral demand in the Middle East and Asia will be discussed at Oilfield Minerals & Markets Forum Dubai 2017, 15-17 January 2017, Habtoor Grand Resort, Dubai.

Programme
OVERVIEWS
Review and outlook for the Middle East oil and gas sector
Mark Watts, Oil & Gas Editor, MEED, UAE
Supply chain management: Procurement is the low oil price panacea
Sam Achampong, Regional Director, Chartered Institute of Procurement & Supply, Middle East & North Africa (MENA), UAE
Middle East unconventional gas production: potential and progress
Robin Mills, Chief Executive Officer, Qamar Energy, UAE
Review of current hydraulic fracturing activity in Middle East/Central Asia
Pickard Trepess, Managing Director, FRAC PT FZE, UAE
CERAMIC PROPPANTS
Chinese ceramic proppants for the Middle East market
Viviana Trevino, President, Changqing Proppant Corp., China
Ceramic proppant production and its export potential in South Asian countries
Jayantibhai Bhatt, Bhuvaneshwari Mineral Consultancy, India
FRAC SAND | PROCESSING
Frac sand resources & supply in the Middle East & India: a regional review
Murray Lines, Managing Director, Stratum Resources Ltd, Australia
Developments in oilfield mineral processing
ST Equipment & Technologies LLC, USA
DRILLING FLUIDS | BARITE
Oilfield drilling fluids outlook in the Middle East
Abdul Seedat, Commercial Director, International Drilling Fluids and Engineering Services (IDEC) Ltd, UAE
Indian barite supply and demand in Middle East & India
Rajmohan Reddy, Managing Director, IBC Ltd, India
Iran barite resources: geology, economy, and outlook
Dr Alireza Ganji, Industrial Minerals Specialist, Iran
INDIA | CLAYS
Supply and demand of oilfield minerals in India and trade with the Middle East
Yaswanth Vattikunta, Managing Director, Garuda Drilling Mud chemicals Pvt Ltd, India
Bentonite in drilling fluids in the Indian and Middle East oilfields
Rohan Khandelwal, Regional Manager, Star Bentonite Exports, Dubai
Development and supply of clay grades for drilling fluids
Tolsa SA, Spain
Click here for Programme timings
Natural gas revolution forecast
November 2016 has seen the release of two major forecast reports on the oil and gas market which pretty much are in agreement with each other: oil and gas demand is to continue to 2040, but with major growth in gas and renewables.
The 2016 OPEC World Oil Outlook (WOO) was launched by His Excellency Mohammad Sanusi Barkindo during the Abu Dhabi International Petroleum Exhibition and Conference (ADIPEC) 2016 on 8 November 2016.
Key takeaways included forecast total primary energy demand set to increase by 40% to 2040 with combined, oil and gas expected to supply around 53% of the global energy demand by 2040.
There is projected a major shift towards gas and renewables at the expense of coal. The majority of demand growth is expected to come from natural gas, at some 2.1% p.a. growth to 2040.
OPEC anticipates supply from unconventional gas resources "…to rise and play an increasingly important role in meeting global demand requirements".
Then on 16 November, the International Energy Agency (IEA) launched its World Energy Outlook 2016, revealing that renewables and natural gas are "the big winners in the race to meet energy demand growth until 2040."
The IEA sees global oil demand continuing to grow until 2040, mostly because of the lack of easy alternatives to oil in road freight, aviation and petrochemicals.
In the longer-term, investment in oil and gas will be essential to meet demand and replace declining production.
The IEA predicts "a second natural gas revolution" with a 30% rise in LNG, and doubling of trade in LNG supporting an expanded role for natural gas in the global mix (see chart).
As well as focusing on specific oilfield mineral developments, Oilfield Minerals & Markets Forum Dubai 2017 will cover the broader issues and influences on the oil and gas market which will directly impact demand outlook for industrial minerals used in the sector.