The BIG picture for oilfield mineral demand
Have we reached the bottom of the oil price decline and tentative recovery is on the way? Perhaps.
Oil prices have consistently risen in the last few weeks and while there remains caution in the market, there are signs that perhaps the corner has been turned and there are prospects for some optimism.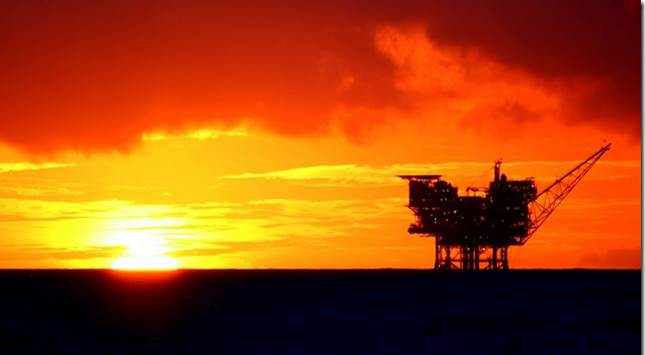 Certainly that is the hope of the oilfield mineral supply sector, whose livelihood hinges on the performance of oil and gas drilling activity. This is the central theme of IMFORMED's upcoming Oilfield Minerals & Markets Forum Houston 2016, 5-7 June 2016, Houston.
A range of industrial minerals perform vital functions within drilling fluids such as weighting agents (eg. barite, calcium carbonate), viscosifiers (bentonite, hectorite), pH control (lime, soda ash), lost circulation materials (diatomite, mica), and as additives in well cementing (calcium chloride, zeolite), not to mention frac sand (silica sand) and ceramic proppants (bauxite, kaolin) in hydraulic fracturing.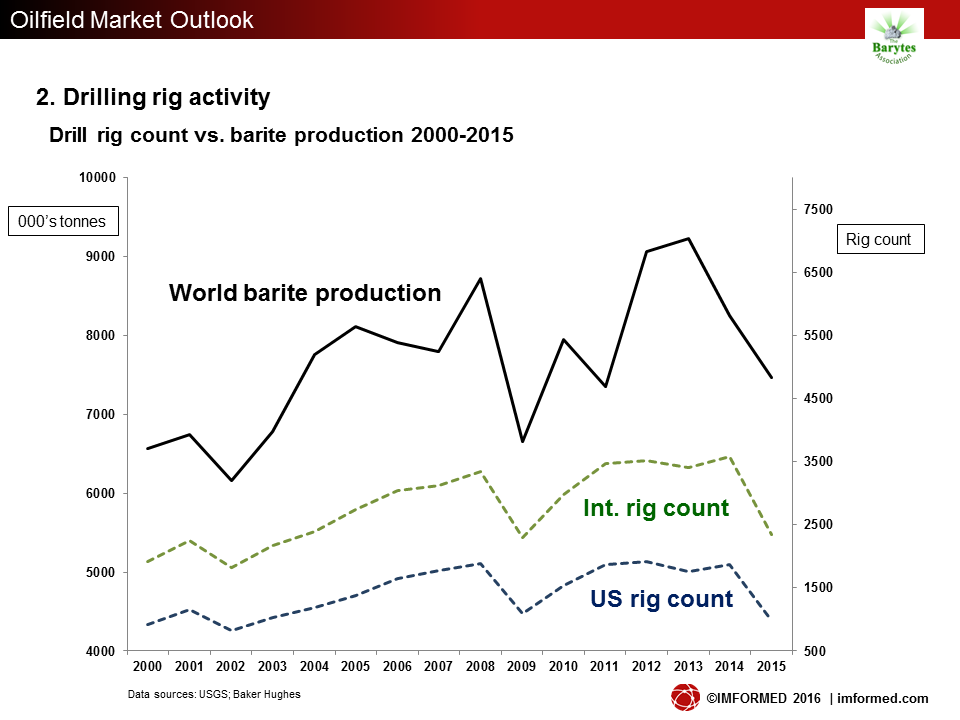 This industry has always been cyclical in character, and has suffered and recovered from troughs in demand for many years. However, it is expected that recovery from this particular crisis may take longer than has been the case in previous events.
In February 2016, the US Dept. of Energy's EIA forecast a return to market balance in the second half of 2017.
In April 2016, the IEA favoured a more optimistic view with oil markets and prices expected to rebalance at the turn of this year, or by 2017 at the latest.
Long term oil and gas demand
However long the road to recovery on this occasion (with the price level attainment of $50-55/bbl recognised to be the trigger for most drilling operations to resume economically), global demand for energy, and in particular oil and gas, appears to be well assured at least until 2035-40.
BP's Energy Outlook to 2035, released in February 2016, among other issues underlined the world's increasing energy demand to keep up with GDP growth, a rise of 34% by 2035.
Crucially, for oilfield mineral outlook, fossil fuels will remain the dominant source of energy; accounting for 60% of energy growth and almost 80% of total energy supply in 2035.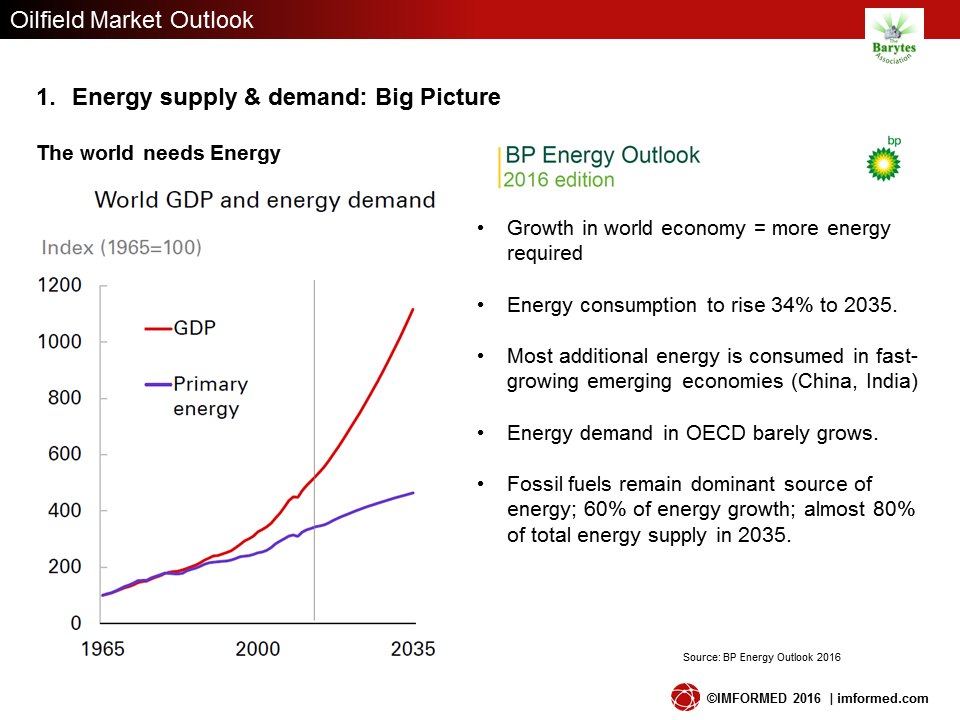 Interestingly, regarding the fuel mix gas is the fastest growing fossil fuel (1.8% p.a.), while oil grows steadily (0.9% p.a.), although the trend decline in its share continues.
In its May 2016 global energy forecast, the EIA stated that fossil fuels would continue to supply more than 75% of world energy use in 2040, and world energy consumption is projected to increase by 48% over the next three decades.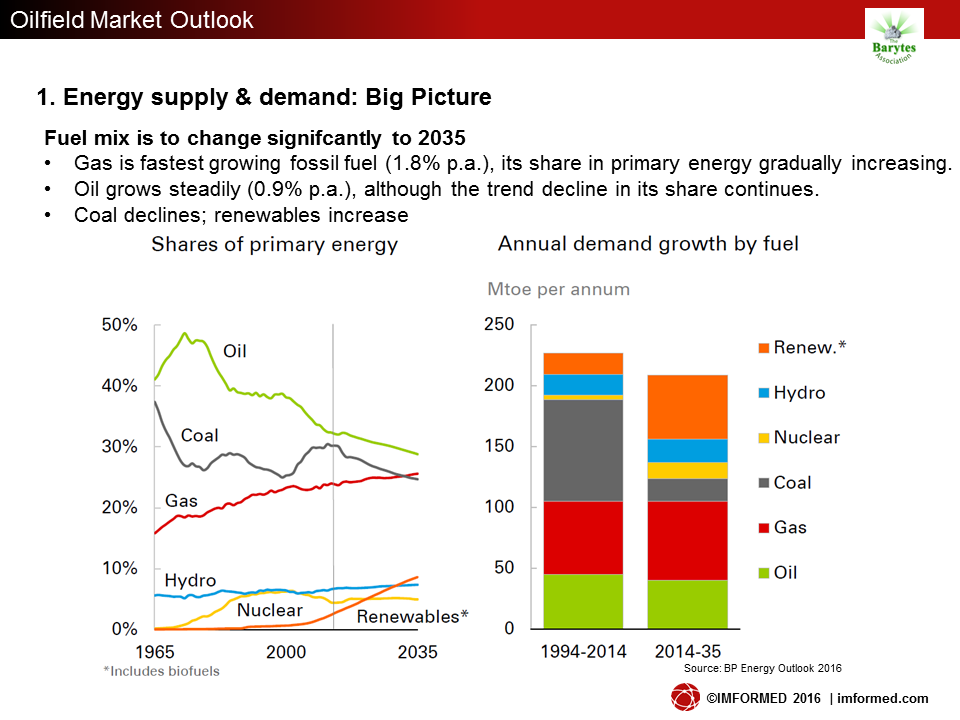 Common to most forecasts has been the increasing role played by the Asia Pacific region, particularly regarding India and China, as an increasing energy consumer.
In India, new infrastructure, an expanding middle class, and 600m. new electricity consumers will require a large rise in energy supply.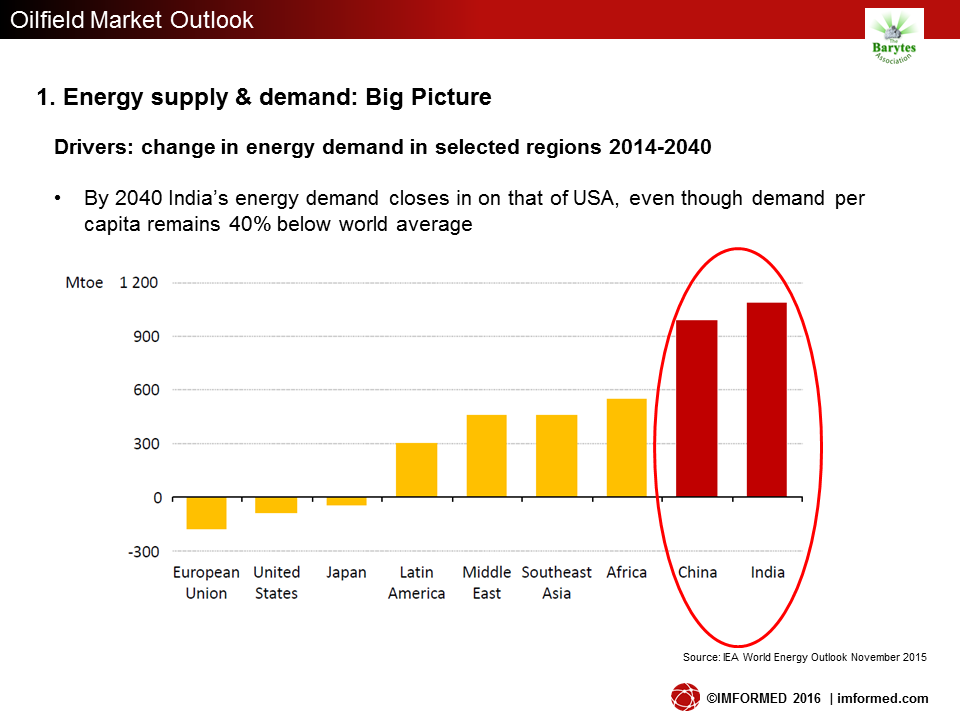 Shale gas supply growth outside N. America
Of significance for the proppant supply market, is not only the forecast global increase in supply and demand for gas, and especially in China, but the increasing share of natural gas that will be supplied by shale gas.
The BP Outlook estimates a 5.6% growth in shale gas to 2035, representing nearly 25% of total global gas supply. Global trading in LNG is to rise to 15% of total gas trade, and 40% of this increase is expected in just the next five years.
While US shale gas output is expected to grow about 4% p.a. and dominate the industry with a two thirds share, of great interest is the projection of shale gas output expansion outside North America.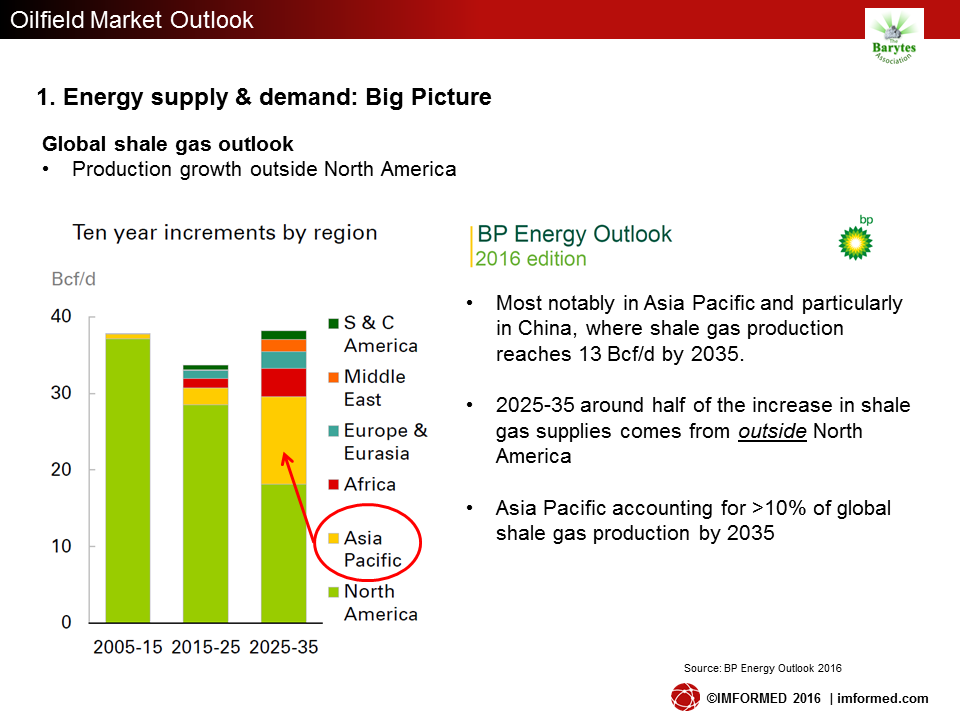 BP suggests that by 2025-35 around half of the increase in shale gas supplies will come from outside North America, with Asia Pacific accounting for >10% of global shale gas production by 2035.
BP appears quite bullish about China's contribution to this, where shale gas production is expected to reach 13 Bcf/d by 2035, stating that "By 2035, China will be the largest contributor to growth in shale gas production."
In March 2016, BP and China National Petroleum Corp. signed a production sharing contract for shale gas exploration, development and production in the Neijiang-Dazu block in the Sichuan Basin, China.
Declining costs to drill shale gas wells and continued investment in domestic production has allowed China to increase its shale gas development.
Certainly, China has abundant bauxite-based (and some kaolin-based) ceramic proppant supply capacity, and should shale gas take off in China, then perhaps the low cost ceramic proppant exports from China to overseas markets (especially the USA) may weaken as domestic demand rises.
This may provide a window of opportunity in the future for proppant developers outside China. These could include Ashapura International Ltd, whose new 60,000 tpa ceramic proppant plant in Kutch, Gujarat, India was expected to start commercial production at the end of April 2016.
Also eyeing the prospect of shale gas development in India is Australian LWP Technologies Ltd's 60:40 joint venture with Hallmark Minerals Pvt Ltd.
Hallmark has a 12,000 tpa bauxite ceramic proppant plant in Pune, Maharashtra, India, which LWP is looking to convert to using its developed fly ash ceramic proppant technology and produce 20,000 tpa.
Middle East proppant prospects
Not to be overlooked are shale gas prospects in North Africa and the Middle East, and in particular Algeria and Saudi Arabia. Oman and Saudi Arabia are key growth markets, and are expected to account for nearly 67% of MENA fracturing capacity in 2018.
Saudi Aramco has embarked on a US$10bn shale programme since 2013, driven by a quest for gas to replace oil for high electricity demand, and is focusing on three main shale gas plays in Saudi Arabia: Qusaibia Hot Shale, Tuwaiq Mountain, Ghawar, and Jafurah Basin, Ghawar.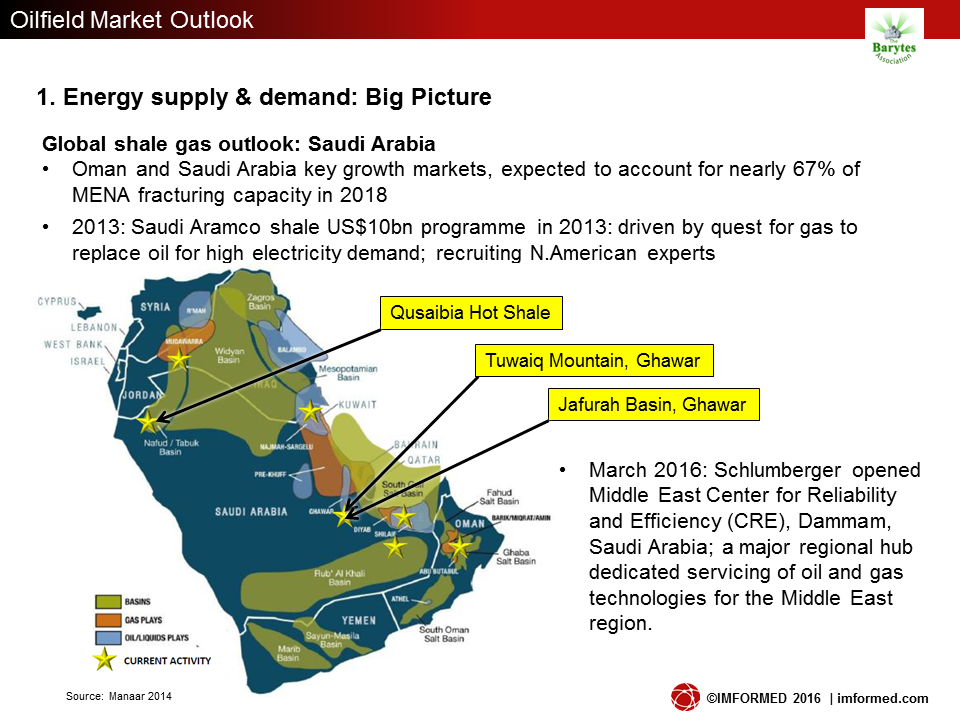 Aramco is presently investigating technologies to overcome the challenges involved with hydraulic fracturing in the desert, and experimenting with local silica sand and researching water management (one of the key issues in fracking operations for MENA and China).
There are no ceramic proppant producers in the region, and although the country has abundant silica sand resources, the strength of the sand is insufficient to withstand closure stress in most of the gas reservoirs. (ie. in deep formations with closure stress greater than 10,000 psi).
Reported in Journal of Petroleum Technology, January 2016, a short-term solution for Aramco is to integrate the local sand in a pillar fracturing technique. The pillar fracturing creates aggregated and competent sand piles. Among the sand piles are open channels to allow hydrocarbons to flow freely into the wellbore.
A longer term solution is to develop new materials to coat the sand grains so that the actual strength of each individual sand grain is significantly increased.
Outlook
While it seems the long term demand is assured for oilfield minerals, the short term outlook is less certain.
Leaders of the main oilfield service companies are of the view that Q2 2016 will remain a challenging period, and perhaps even worsen.
However, H2 2016 may see some stabilisation, with US rig activity bottoming out mid-year but not starting any meaningful recovery until 2017.
There will also be a time lag, perhaps 3-4 months, between oil price recovery and a response in rig activity, and even longer until any serious rise in E&P spending.
This article contained a selection of slides from a recent presentation "Oilfield Market Outlook: the BIG picture for oilfield mineral demand" by Mike O'Driscoll for the Barytes Association 24th General Assembly, Girona, 12 May 2016.
Contact Ismene