Halliburton idles Nevada plant; starts new source in Kazakhstan
It's been a busy month for the barite sector, despite the prevailing dark clouds of the oilfield industry.
Halliburton's Q1 2016 operational update last Friday made bleak reading and their executives were pulling no punches.
"Life has changed in the energy industry, especially in North America" said Dave Lesar, Chairman and CEO.
"There is no doubt this is one of the most challenging markets the industry has ever experienced, as we face a more than 30% decline in global drilling and completion spend for the second straight year. Further, we expect to see an additional 50% decline in North America spend in 2016, following last year's 40% decline." said Jeff Miller, President.
These statements, combined with the backdrop of the beleaguered acquisition bid for Baker Hughes by Halliburton – facing as it does opposition from the US Justice Dept. and the EC – frankly underline the dire state of the oilfield industry for suppliers.
Drilling activity and thus demand for drilling minerals such as barite and bentonite is suffering: but is the end in sight? From the peak in the fourth quarter of 2014 (1931 September 2014), the US oil and gas rig count has declined by almost 80%, setting a new record low (431 on 25 April 2016; was 932 same day 2015).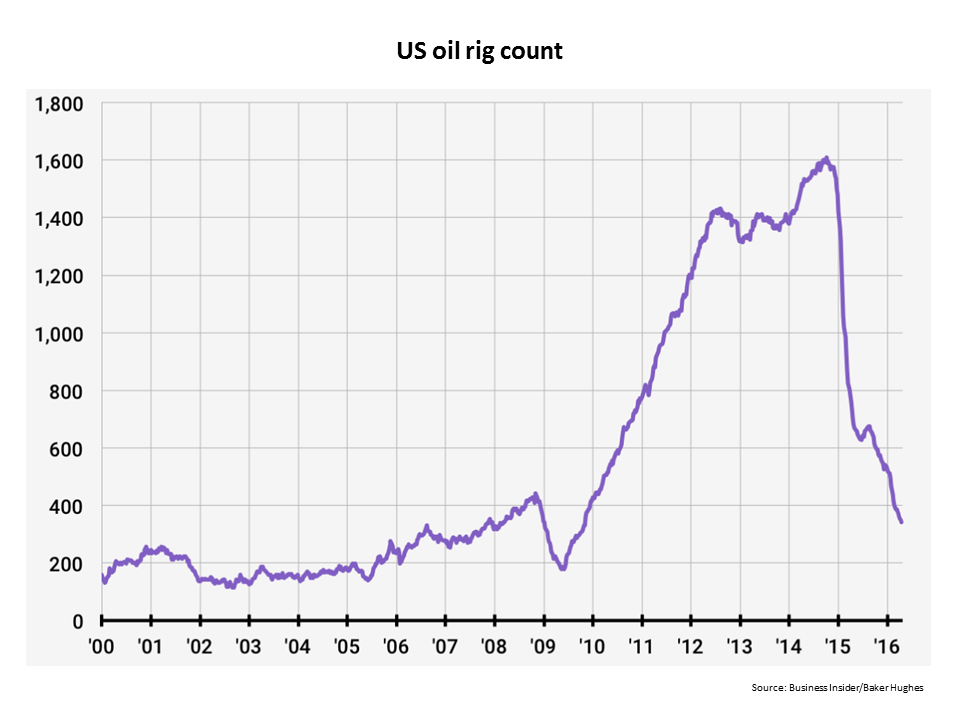 Learn first hand from the major players how oilfield mineral demand is to play out

Oilfield mineral consumption trends
Chris Bosch, Senior Category Manager of Mined Products, Halliburton Baroid, USA

Drilling and drilling fluid developments
Brian Teutsch, Product Line Director, Drilling & Completion Fluids, Baker Hughes Inc., USA
Dunphy plant idled
Halliburton nevertheless believes "we will see the landing point for the US rig count during the second quarter of 2016.", according to Miller.
Well that cannot come soon enough for barite suppliers. However, it is already too late for Halliburton's own recently built 600,000 tpa state-of-the-art barite plant in Dunphy, Nevada operated by its Baroid Drilling Fluids division.
In late 2015, it was understood that Baroid's Rossi Mine, about 48km from Dunphy, was idled, and this has now been followed by the closure of the Dunphy plant in early April 2016.
Completed in 2014, the plant probably represents the world's largest barytes processing plant.
The plant consists of two 85-inch Williams Crusher Mill Systems, capable of producing 50 tph. Additionally, there is an innovative, automated packaging system capable of packaging approximately 800 tpd of bagged material.
Halliburton's much reduced barite consumption for the time being is likely to be met by blending imports of barite with Nevada stock. Baroid operates other barite plants at Corpus Christi and LaRose, Texas, and at Lake Charles, Louisiana.
On balance, until 2015, perhaps around 20% of Halliburton's North American barite demand was met by barite sourced from Nevada. Import sources have included China, India, Morocco, and Mexico.
Halliburton barite j-v opens in Kazakhstan
Of course Halliburton serves oilfield markets beyond North America, which have not been hit as badly.
"The international markets continue to hold up better than North America, but they are certainly not immune to the macro challenges." said Miller.
Perhaps reflecting the international oilfields' more robust standing, Halliburton has started up its barite mine and processing plant joint venture in Karazhal, about 160km south of Astana, in the Karaganda region of central Kazakhstan.
Halliburton has for some time been developing a j-v with Global Chemicals Industries, involved in barite supply to the Central Asia region since 2011.
The KZT4.5bn(US$13.3m) plant, operated by subsidiary Karazhal Operating, has a processing capacity of 100,000 tpa 4.2 SG barite, with provision to double capacity if required.
The plant was designed and built by The Mouat Co. Inc., shipped in 15 modules and includes a 64-inch fluid bed roller mill system.
Kazakhstan holds about 11% of the global barite reserves, but previously represented only 1.4% of barite production. The Karazhal mine is exploiting the Bestobe deposit by open pit which is expected to yield over 10m tonnes of barite ore.
About 70% of barite produced at Karazhal will be exported to Azerbaijan, Russia, Turkmenistan, and Uzbekistan, and also to North Sea oilfields in Norway and Denmark.
The remaining 30% will supply the domestic market, to such companies as Halliburton, Karachaganak Petroleum Operating BV, Tengizchevroil, CNPC, and others.
APMDC barite tender grinds into action
Elsewhere, in India, Andhra Pradesh Mining Development Corp. (APMDC) has finally initiated its delayed tender to sell 4.2 SG and 4.1 SG barite in two tranches.
On 11 April 2016, APMDC announced its intention to tender the sale of 600,000 tonnes of 4.20 SG barite (A Grade) and 200,000 tonnes of 4.10 SG barite (B Grade) on Ex-Mangampet barite mine/stockyard basis for export and/or captive consumption for oil well drilling in India or overseas for buyers registered in India for a period of one year.
Also for sale is 150,000 tonnes of 4.20 SG barite (A Grade) and 100,000 tonnes of 4.10 SG barite (B Grade) on FOB basis to buyers registered in foreign countries for a period of one year.
Indian Bidders are to quote for a minimum quantity of 100,000 tonnes of 4.20 SG barite at a Reserve Price of INR5,000(US$74.8) and 40,000 tonnes of 4.10 SG barite at a Reserve Price of INR4,000(US$59.8)/t.
International bidders are to quote the FOB price for a minimum quantity of 50,000 tonnes of 4.20 SG barite and 25,000 tonnes of 4.10 SG barite.
The last date for submission of Technical Bids is 4 May 2016, announcement of the Technically Qualified Bidders 6 May 2016, and the "e-tender cum e-auction" takes place 16.00-1900 on
9 May 2016.
Hear from the Indian barite producers how they plan to supply the oilfield market

The role of APMDC in the international barytes market
Ch. Venkaiah Chowdary, Vice Chairman & Managing Director, Andhra Pradesh Mineral Development Corp., India

India's barite industry and outlook
K. Rajamohan Reddy, Managing Director, IBC Ltd, India