LWP/Ashapura fly ash proppants JV: a future supply for the Middle East?
Described as a "quantum leap" for LWP Technologies Ltd, the Australian ceramic proppant developer has just announced a joint venture with Indian ceramic proppant producer Hallmark Minerals (I) Pvt Ltd.
The JV agreement calls for LWP's recently developed proppant manufacturing technology to be utilised to produce unique fly ash-based proppants in the Hallmark manufacturing facility at Pune, Maharashtra, India.
The move marks a major milestone for LWP as its first commercialisation transaction for its fly ash proppant manufacturing technology. LWP's 3,000 tpa proppant pilot plant is in the final stages of completion at Clontarf, near Brisbane.
In his presentation at IMFORMED's Oilfield Minerals & Markets Forum Houston 2015, 29 May, Ziggy Konig, Chairman of LWP, announced that the pilot plant's first production target date was the end of July 2016. At the same time, Konig broke news of the name change of the company from Coretrack Ltd to LWP Technologies Ltd.
Konig also alluded to LWP undertaking due diligence on a "dormant plant" to assess feasibility of changing its feedstock to fly ash and commencing manufacture – that plant was Hallmark's Pune facility.
Expansion opportunities in India
Under the terms of the new JV, a new company will be formed which will be co-owned by LWP (60%) and Hallmark (40%).
The JV Company will own the manufacturing plant while LWP will receive US$1m for the technology license for the state of Maharashtra in India, and 10% of gross revenues in royalties for the technology license.
Hallmark's Pune plant, completed in 2004, has a production capacity of about 12,000 tpa proppants operating primarily on a batch processing basis, and using a mixture of local bauxite and clays as feedstock. This will be now modified to accept fly ash.
There have been plans to expand capacity to 25,000 tpa, and in November 2014, Canadian developer Prime Meridian Resources expressed an interest in buying a 55% stake in Hallmark.
It is the JV partners' intention to increase existing capacity via automation to a 24/7 operation and investigate additional opportunities for expansion in Maharashtra province, including the major cities of Mumbai and Nagpur.
In a company statement, LWP Chairman Siegfried Konig said "The Hallmark manufacturing facility has a replacement value in excess of US$15 million and the Joint Venture will allow us to enter the market more rapidly than would otherwise be the case and prove our technology down-hole in a much shorter period of time."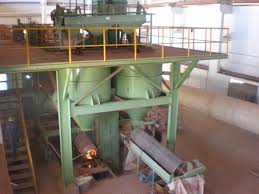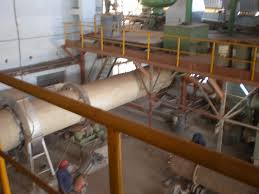 Hallmark's 12,000 tpa plant at Pune, which will switch from a bauxite/clay to fly ash raw material feedstock. Courtesy Hallmark
Fly ash proppants
LWP's ceramic proppant is "majority manufactured from fly-ash", a by‐product of coal fired power stations. Some bauxite is also consumed in the mix.
Such use of fly ash as recycled raw material, which has long been researched and developed for use in other sectors such as cement, fillers, and metal casting, provides advantages in its widespread availability, its ultra-light weight, and its proven ability to withstand very high pressures in deep wells.
The key saving in utilising fly ash in ceramic proppant manufacture is the negation of any mining, processing, or purchasing costs for more traditional ceramic proppant feedstock raw material, usually bauxite and/or kaolin as used by the likes of Carbo Ceramics, Saint-Gobain, Curimbaba, and Imerys.
LWP's mission has always been to be a provider of licensed technology rather than a proppant producer. In his Houston presentation, Konig extolled upon the notion of siting satellite proppant plants using LWP technology at or near coal-fired power stations.
"Shale oil and gas reserves are often located near coal resources and coal fired power plants. For example, overlaying the maps [of US shale plays and power plants] identifies the potential feedstock in the US." said Konig.
Traditional ceramic proppant manufacturing involves mixing and granulation then calcination at temperatures around 1,800°C. LWP's method involves just milling and a single calcination process to about 1,250°C.
Compared to using US and Chinese light and intermediate density ceramic proppants, LWP has indicated that savings of US$0.5m-1.0m could be achieved by using a LWP lightweight fly ash proppant, typically 20/40, bulk density 1.37 g/cm3, and priced at $0.18/lb.
Of course, pilot plant production is one thing, translating consistent high quality production to a full scale commercial plant is quite another, and LWP's progress in India (and Australia) will be followed with interest.
Should commercial scale production of LWP's ceramic proppant come to fruition (either in Australia or India), then this would represent the world's only plant producing ceramic proppants based on fly ash feedstock raw material.
Until the end of January 2015, that title was held by Oxane Materials' Van Buren plant in Arkansas, USA. However, the company abruptly ceased operations in the New Year and closed the plant.
Ashapura starting up in November 2015
The LWP-Hallmark JV will not be the only game in town. IMFORMED's Oilfield Minerals & Markets Forum Houston 2015 also witnessed India's leading industrial minerals group, Ashapura International Ltd, break the news about its plans to develop a ceramic proppant plant later this year.
Ashapura has developed a new high strength proppant, approved for use by state-owned oil giant Oil and Natural Gas Corp. (ONGC), and is planning to commission a new 60,000 tpa ceramic proppant plant in Kutch, Gujarat, in November 2015.
Primary energy demand in India is to increase threefold by 2035 to 1,516m tonnes of oil equivalent from 563m tonnes of oil equivalent in 2012. New policies in coal bed methane and shale gas exploration have been initiated as well as new licensing to encourage investment across the oil and gas sector in India.
Indian proppant installed capacity is about 10,000 tpa, and demand for ceramic proppant in 2013 was around 7,000 tonnes. An increase in horizontal wells is expected to push ceramic proppant demand to 11,500 tonnes by 2020, representing an annual increase of almost 8%.
In June 2015, ONGC continued its shale gas exploration programme by undertaking multi-stage hydraulic fracturing treatments to find more shale gas in Assam and Tripura. According to local press reports, ONGC has so far drilled 190 wells in Tripura and more than 50% are gas-bearing.
Shah said: "With a high quality and large volume captive bauxite reserve suitable for proppant application, and expertise in bauxite calcination, Ashapura has seen an opportunity gap for good performance proppants at a reasonable price."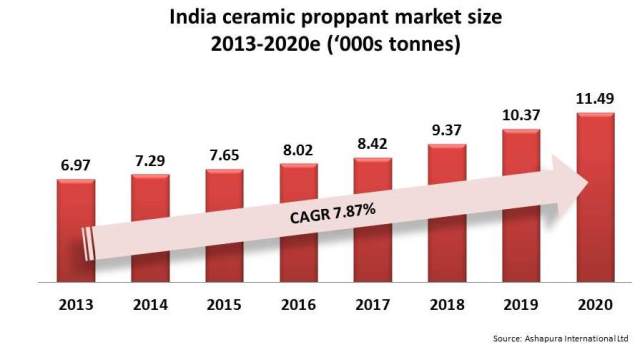 A possible market outlet in the Middle East?
The combined envisaged ceramic proppant production capacity of the Hallmark and Ashapura projects clearly looks to outstrip anticipated demand in India, at least for the near future.
Additional market demand for the new plants, should they come to fruition, is likely to come from across the Indian Ocean in Saudi Arabia and the Gulf states, where hydraulic fracturing operations are expected to expand. Significantly, there is no regional producer of ceramic proppants.
Frac sand demand on the Arabian Peninsula should be met by local resources, but ceramic proppant supply, in today's market, would have to rely on imports from the USA, China, Brazil, and Russia.
The prospect of two new ceramic proppant sources emerging in India, however, bolstered by the long-established trading and cultural relations between the two regions, might appear to be just the ticket, and right on time. Watch this space!

IMFORMED is pleased to announce its Oilfield Minerals & Markets Forum Houston 2016, 5-7 June 2016, at The Houstonian Hotel, Houston.

Sponsorship and exhibition enquiries: Ismene Clarke ismene@imformed.com

Presentation and programme enquiries: Mike O'Driscoll mike@imformed.com

More details to be announced very soon.