Overview, structure, & trends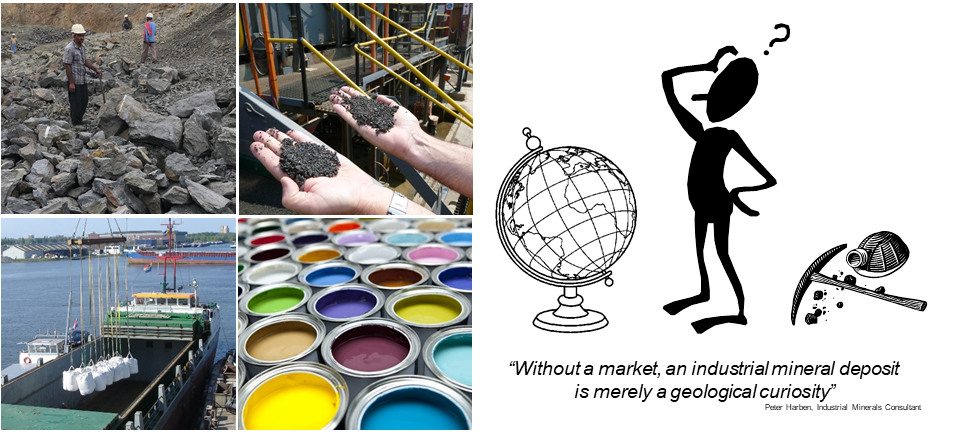 The industrial minerals market is not always an easy one to understand. Minerals and rocks exploited for their non-metallurgical value represent a vital but frequently poorly understood sector of the global minerals industry – often (and rather unfairly) labelled as "unglamorous" and even "the Third World of the mining industry"!
But without industrial minerals and their derivatives most manufacturing industries would cease to operate and most of the products we use and rely on everyday could not be made.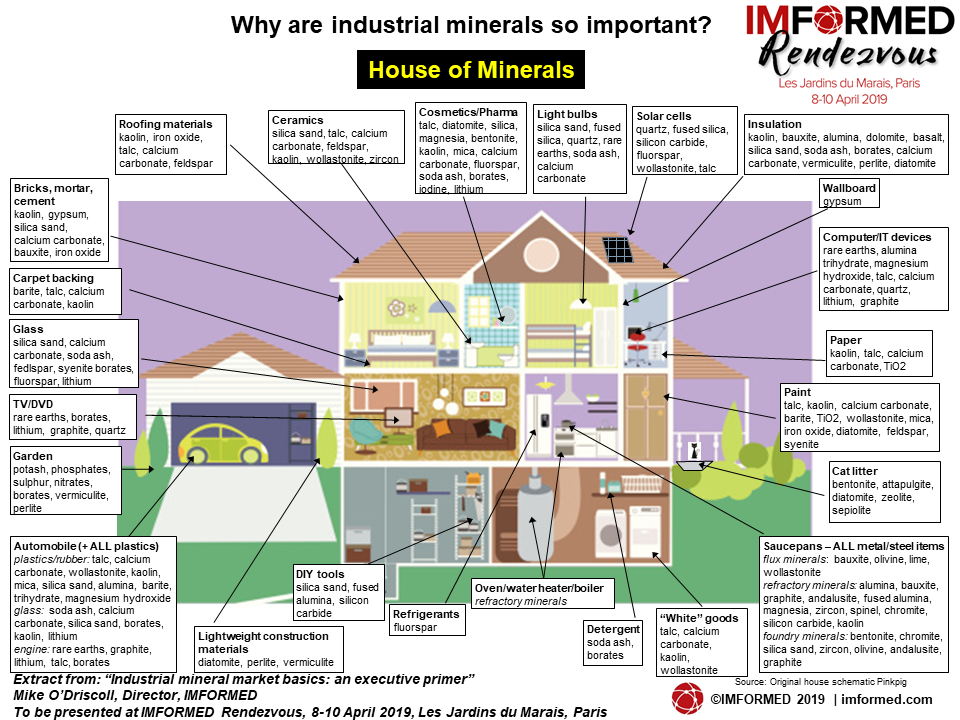 The industry is driven purely by market demand, but this may be of a fragmented nature and hard to easily grasp, with most minerals serving five or more very different markets, some serving many more – each requiring tailor-made mineral specifications to impart desired properties of the end use.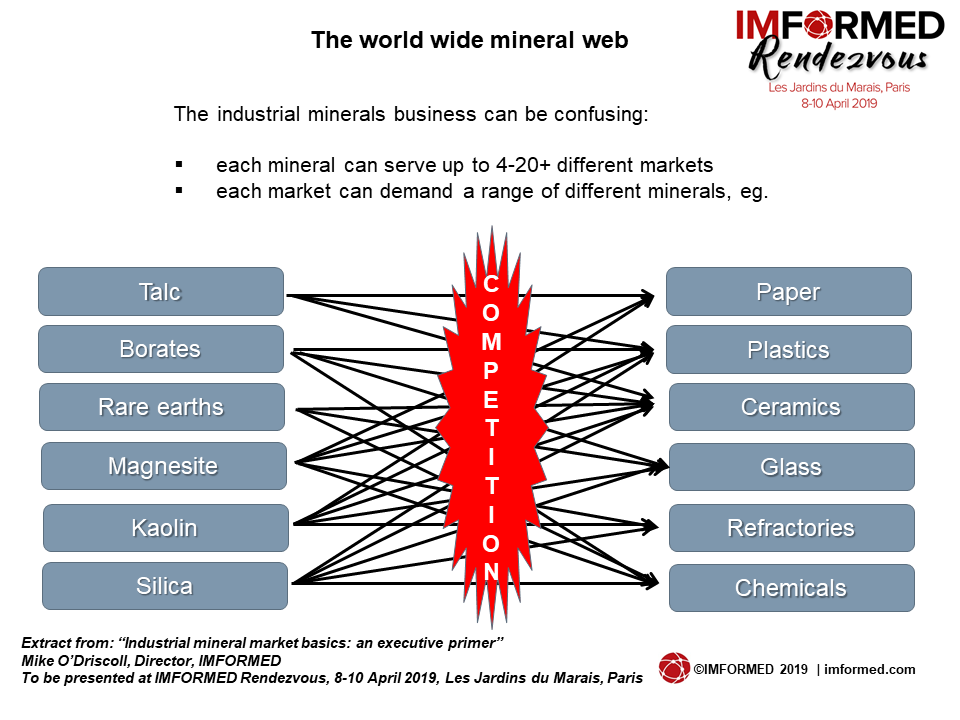 Above all, long term consistency of grade quality and supply availability is imperative to master and deliver for any producer and developer. Keeping abreast of the latest processing innovations and developments is key to grade quality, but its degree of sophistication greatly varies between minerals.
And, generally speaking, being dominated by high volume, low value raw materials, logistics is very much the jugular vein to a successful industrial minerals project/operation – just ask any frac sand developer located >20km from a railhead in Wisconsin. Logistics can account for up to 70% of the delivered cost of an industrial mineral.
Despite this, strangely, it is often the case that logistics can get pushed back as a priority in the due diligence process – a dangerous underestimation of its value.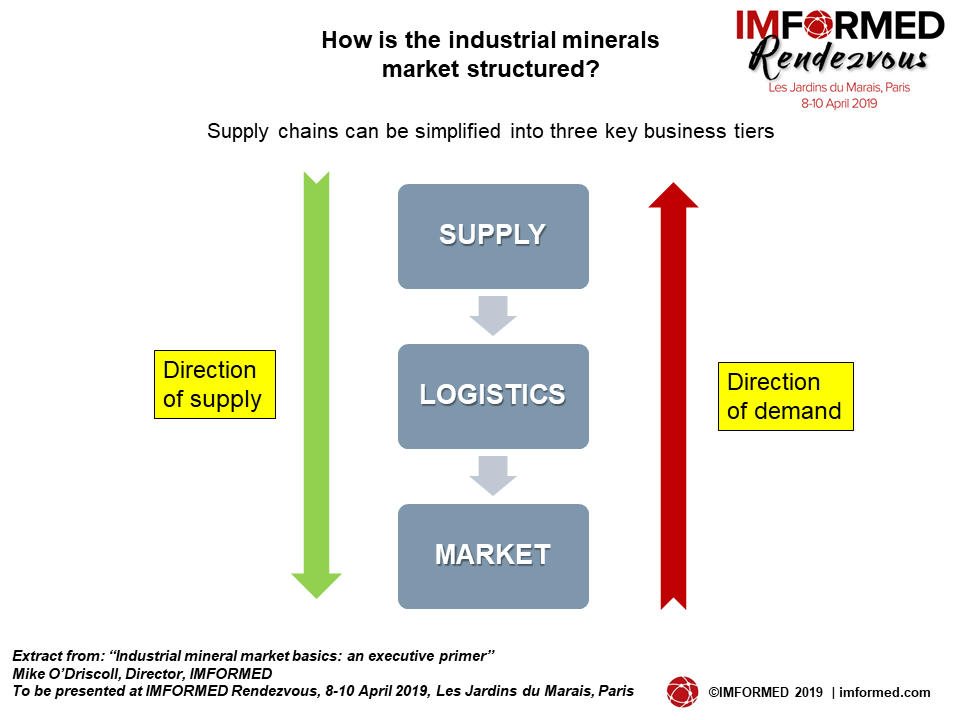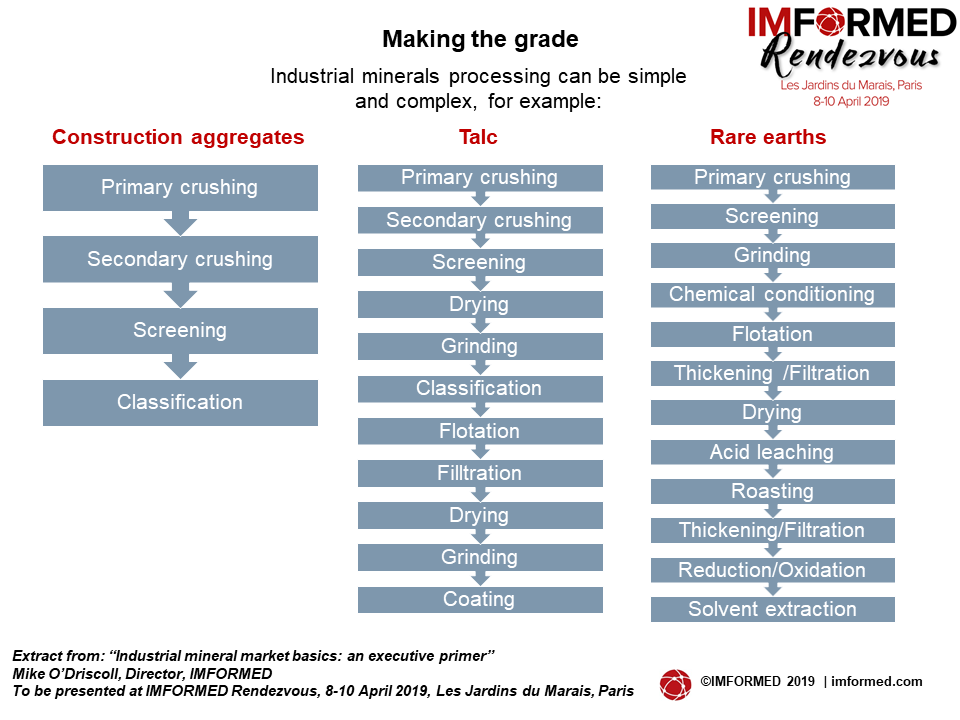 And so to industrial mineral prices – is there such a thing as a price for an industrial mineral? This is a good debate. In fact, with so many influencing factors impacting the mineral price, not least the relationship between buyer and seller, industrial mineral pricing is characteristically opaque – there is little visibility, no exchange, no list prices (bar a few large volume commodity grades in say, fertiliser minerals).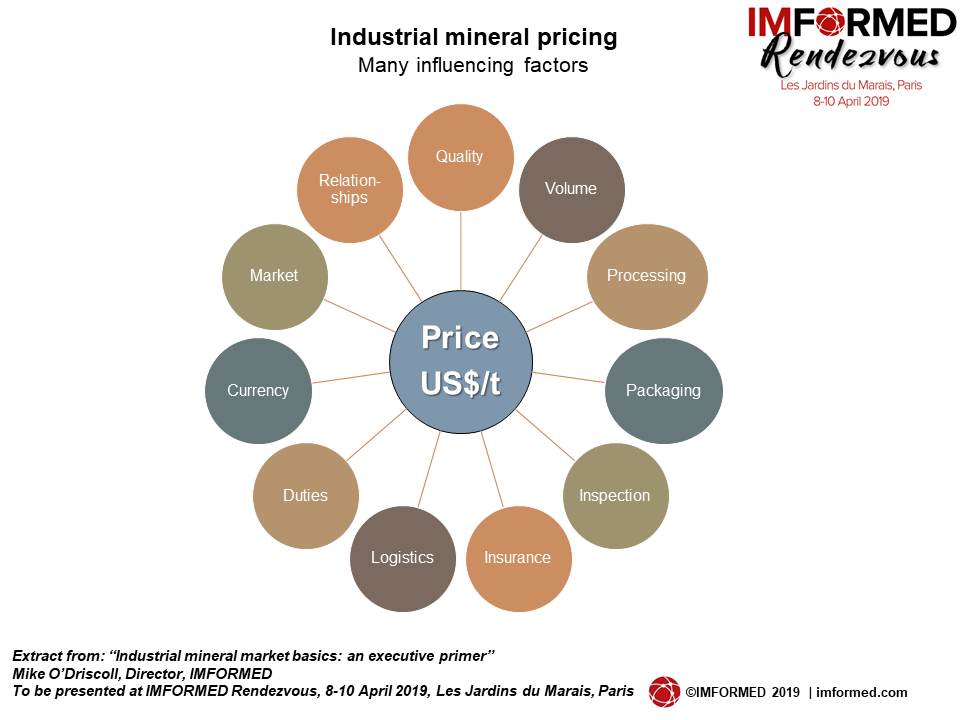 So,
How can we assess the structure of the industrial minerals market? 
What makes it tick?
How can we best evaluate a mineral project/asset?
What do we need to know in order to optimise its logistics?
What is the industry's outlook? Where is the new market demand coming from?
Answers to these questions and more will be discussed and examined at the upcoming conference IMFORMED Rendezvous, Les Jardins du Marais, Paris, 8-10 April 2019.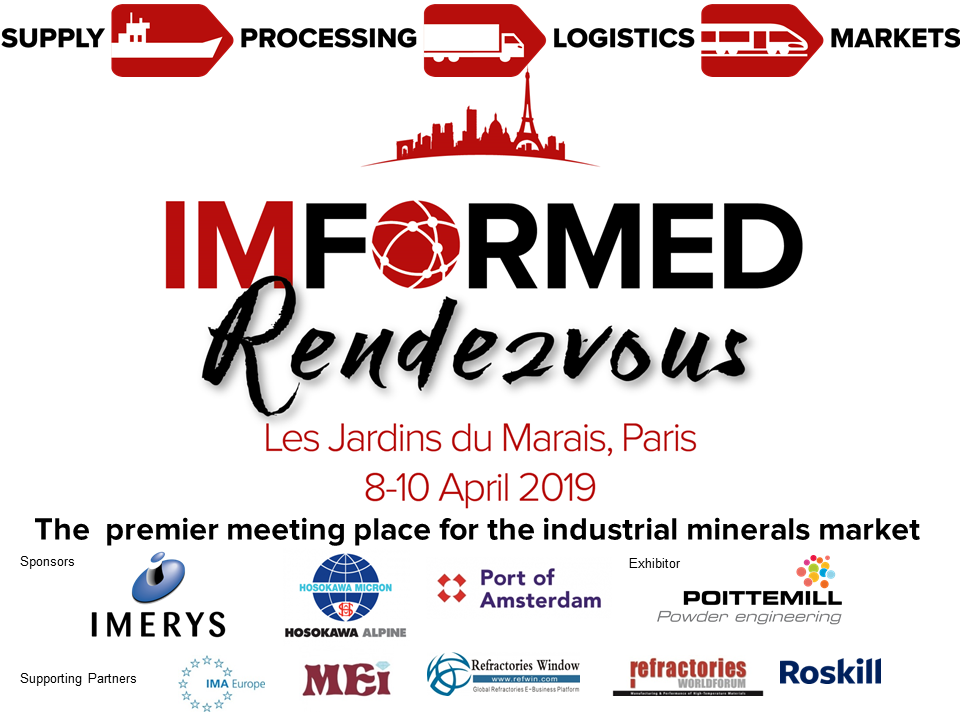 An outstanding programme and invaluable networking opportunities will provide all you need to get a handle on the future and fundamentals of the industrial minerals business, whether an established player or newcomer checking out the market space.
IMFORMED Rendezvous Basics Briefings include:

Industrial mineral market basics: an executive primer
Mike O'Driscoll, Director, IMFORMED, UK
Industrial mineral resource exploration and evaluation
Anton Geldenhuys, Principal Resource Consultant, CSA Global Pty Ltd, South Africa
Reporting industrial mineral exploration results and resources according to according to the JORC Code
Dr Andrew Scogings, Executive Consultant, Snowden, Australia
All you ever need to know about industrial mineral logistics
Clive Kessell, Director, Coastalwise, UK
Common Incoterms mistakes and the risks to a mineral purchase
John Newcaster, Director Southwest Region, The Cumberland Group, USA

Register online

here

,

or, contact Ismene ismene@imformed.com | T: +44 (0)7905 771 494
Trending in the market today
Right now there is much excitement in the industry with challenges and opportunities favouring both established players and newcomers looking to enter the industrial minerals space.
• Critical and strategic minerals are evolving for meeting demand from the next generation market applications
• The ongoing Chinese mineral supply squeeze is encouraging development activities in different minerals worldwide (for more see: China's refractory mineral supply – a New World: review & outlook; Refractory mineral supply: Alternative solutions driven by China supply squeeze).
• Processing and logistics innovations and developments continue apace to ensure quality grades are available for customers
• Recycling of industrial minerals is steadily emerging as a sector in its own right and starting to join the mainstream activities in the supply chain
IMFORMED Rendezvous Keynotes include:

Mineral innovations for extreme environments
Chris Parr, S&T Director-Aluminates, High Temperature Materials Technology Cluster Director, Imerys, France
The consumer's viewpoint: taking innovation to 1,200°C and beyond
Gustavo Franco, Chief Sales Officer, RHI Magnesita, Austria
Trends, challenges, and issues for the industry
Catherine Delfaux, President, IMA-Europe & Provençale SA, France
The investment and financing climate in industrial minerals: challenges & opportunities – a private equity perspective
Ryan Bennett, Partner, Senior Advisor, Resource Capital Funds, USA
Critical, strategic and industrial – the minerals leading the next production revolution
Dr Richard Flook, Managing Director, Mosman Resources Ltd, Australia
Industrial mineral processing evolution and trends
Dietmar Alber, Business Development Director, Minerals & Metals Division, Hosokawa Alpine AG, Germany
The evolving role of the industrial minerals trader for tomorrow's markets
Alex Aizpurua, Raw Materials Business Unit Director, Midegasa, Spain
Mineral logistics developments & innovations
Dave Chanet, Commercial Manager, Control Union, Belgium
Corporate changes & challenges
Amid all this, the corporate landscape appears to be undergoing another seismic shift with several large and significant players undergoing transformation, challenges, and merger and acquisition activity:
• Having just integrated calcium aluminate cement leader Kerneos, world industrial minerals leader Imerys, led by 2018-appointed CEO Conrad Keijzer, is undergoing an internal restructure to transform its operations under just two "segments", Performance Minerals and High Temperature Materials & Solutions, grouping five business areas.
• Imerys has also decided to withdraw from the US ceramic proppants business and refocus its graphite business, while facing a double whammy in the USA from asbestos issues affecting its talc and wollastonite businesses.
• Rio Tinto has remaining industrial mineral assets of borates, Ti-minerals, zircon, speciality alumina, and salt, but the Anglo-Australian group also recently underwent reorganisation of its offices and management. Although still headquartered in London, it has shifted its commercial operations to be centred in three regional hubs: Frankfurt, Singapore, and Chicago. Lithium and potash exploration/evaluation is ongoing.
• French glass, abrasives and refractories giant Saint-Gobain, also under revised executive management, is developing a new organisational structure of five reporting units to align the business more closely to its markets, comprising four regional businesses and a global High Performance Solutions unit.
• Saint-Gobain's "Transform and Grow" programme includes several divestments including its well-established global silicon carbide business (2017 sales of €120m, operations in Norway, Belgium, Brazil, Bhutan, and Venezuela; Norton brand) which looks set to be picked up by private equity firm OpenGate Capital.
• More change in the fused minerals sector with the emergence of NICHE Chemical LLC as a new force in speciality fused minerals markets. NICHE recently acquired Imerys Fused Minerals Hull Ltd, UK (electrical grade fused magnesia), and earlier acquired ARC Fused Alumina, La Bâthie, France, the white fused alumina plant formerly of Alteo. NICHE is a division of New Day Aluminum Holdings LLC, itself principally owned by the partners of Florida-based DADA Holdings (which also owns non-met. bauxite and alumina producer Noranda Bauxite & Alumina).
• It seems the RHI Magnesita merger is finally starting to gel, consolidating its Indian operations where strong growth is anticipated, and already it is clear that the group's sights are set on leading Turkish magnesia and refractories producer Kumas, heralding more consolidation in the magnesia market (join the world magnesia community at MagForum 2019, 13-15 May 2019, Bilbao).
• Swedish iron ore major, LKAB, has made recent commitments to industrial minerals and recycling. At the end of 2018, LKAB Minerals acquired Francis Flower, UK, a leader in blast furnace slag processing, and also calcium carbonate and gypsum. In February 2019, LKAB announced a SEK45m. (US$4.8m.) investment in pilot plants as part of a pre-feasibility study in recycling mine waste to yield critical raw materials – including apatite from tailings sand, from which REE can be produced. LKAB Minerals is already well established in refractory recycling in the UK.
• The interest of private equity groups to the industrial minerals space can be quite fickle, although there has been more activity of late, with OpenGate targeting Saint-Gobain's SiC business, and Golden Gate Capital acquiring Active Minerals International (kaolin, attapulgite). The San Francisco PE group's industrial minerals portfolio is expanding, and already hosts US Silica, EP Minerals, and Canada Fluorspar. Meanwhile First Bauxite Corp., funded by Resource Capital Funds, continues to develop its Guyana bauxite deposit for refractories and ceramic proppants (Ryan Bennett, Partner, Senior Advisor, Resource Capital Funds will be speaking on "The investment and financing climate in industrial minerals: challenges & opportunities – a private equity perspective" at the IMFORMED Rendezvous, 8-10 April 2019, Paris).
IMFORMED Rendezvous Mineral Market speakers include:

Fine grinding & classifying: a new concept in mobility & modularity
Jean-Francois Maréchal, Managing Director, Poittemill, France
Survival of the fittest: alumino-silicate minerals & their role in refractories
Phil Edwards, Refractory Market Director, Refractories, Abrasives & Construction, Imerys, France
Glass mineral demand evolution and outlook
Tim Smith, Lead Technologist – Refractories, Raw Materials and Compositions, NSG Pilkington, UK
Battery evolution & supply chain – what does it mean for industrial minerals?
Simon Moores, Managing Director, Benchmark Mineral Intelligence, UK
Calcium carbonate fillers and the outlook for plastics and coatings markets
Samantha Wietlisbach, Principal Analyst Chemicals, IHS Markit, Switzerland
Mineral demand outlook for global paper & packaging markets
Dr Ian Wilson, Consultant, UK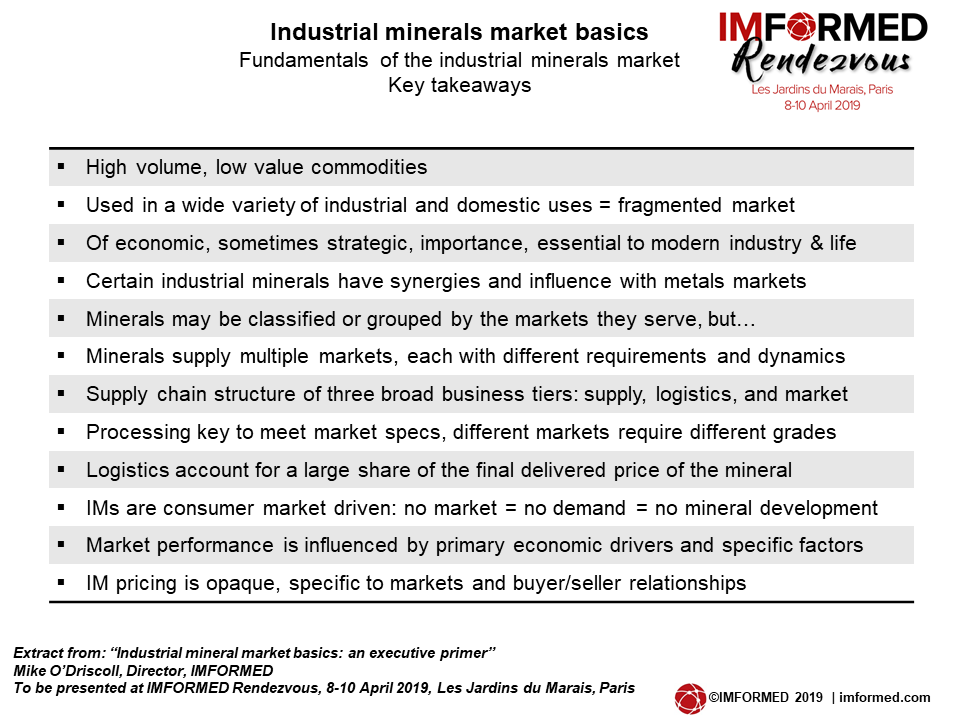 Coming soon: Industrial minerals – what's it all about Part 2: Drivers, factors, keys to success

Register online 

here

,
or, contact Ismene ismene@imformed.com | T: +44 (0)7905 771 494