CIMBAR Performance Minerals Inc. has recently opened a new barite operation in Marietta, Ohio, serving the north-east regional oilfield market.
The new plant's main product is API Drilling Grade Barite with a production capacity of around 125-150,000 tpa and represented an investment of approximately US$5.5m.
According to CIMBAR, the northeastern US oil and gas market has maintained stable activity and is expected to continue at a similar rate over the next few years.
CIMBAR has already increased capacity at its Wellsville, Ohio facility over the last few years, including investments in handling and loadout of US$3.0m. in late 2018 and Q1 2019.
The company has focused on providing efficient supply and safety inventory for all customers in the north-east drilling region of the USA. Growth in that area has continued to move marginally west and south-west of the Wellsville plant.
Albert Wilson, President, CIMBAR said: "To improve our regional position in that market, our decision was to expand with a new location in Marietta, Ohio, to help improve logistics costs and service to our customer base as the activity shifts."
Presentations include:

Global barite market overview
John Newcaster, Principal, IMPACT Minerals LLC, representing The Barytes Association, USA
Barite processing developments in South America
Santiago Carassale, Baroid Grinding Plant Manager, Halliburton, Argentina
Barite supply from Pakistan and Afghanistan
Arhum Qureshi, Managing Director, Anzer Enterprises Pvt Ltd, Pakistan
Mexican barite and oil & gas markets overview
Paloma Ruiz Maté, Director General, CIMBAR Mexico & Latin America, Mexico
Barite as by-product from the polymetallic Palmer Mine Project, Alaska – a potential new, price competitive US source
Darwin Green, Vice President Exploration, Constantine Metal Resources Ltd, USA
Cimbar buys Custom Grinders to pursue flame retardants
Cimbar has also acquired Custom Grinders Inc., based in Chatsworth, Georgia, a global supplier of alumina trihydrate (ATH) and surface modified ATH products.
Production capacity (not disclosed) is to be increased over the next twelve months with target markets being standard fire retardants and smoke suppressants, and a focus on some new evolving markets.
Established in 1976, Custom Grinders has developed unique knowledge of mineral grinding, separation process technology, and micro particle science to provide the highest quality ATH.
Cimbar has competed in the magnesium hydroxide market (also used as a flame retardant) for nearly 20 years. Changes in the flame retardants markets over the last few years, including the move away from halogenated flame retardants (ie. bromine based), led Cimbar to consider entering the market as a newcomer or take the option of an acquisition.
"Custom Grinders has been a stable supplier into the flame retardant market and is a great fit into the Cimbar mineral portfolio. The physical location of Custom Grinders also is a benefit in the regards to administration and sales support through our network. Cimbar is poised to grow that business and introduce an array of new products into the flame retardant market. This was a natural choice in our future growth planning." said Wilson.
Barite capacity expansion in Mexico
CIMBAR has also been very active in Mexico, since announcing its Cimbar Loma Negra joint venture with Minera Loma Negra during IMFORMED's Oilfield Minerals & Markets Forum 2018 in Houston last year (for report see Haiwaii comes to Houston).
Wilson reported: "Cimbar Loma Negra and Cimbar Mexico have and are progressing successfully. We have already doubled the production capacity of the milling operation at Musquiz with plans to triple that capacity by mid-2020."
The current capacity at Musquiz is 250,000 tpa barite with a target capacity of 400,000 tpa. The mining operation has increased production as newer and larger mine equipment has been put into production over the last year.
Cimbar is expanding with additional trucks and trailers in its fleet to meet market demand as well as establishing various stocking points within the Permian basin.
The chemical processing facility is expected to be on line to begin engineering runs by June this year.
"We have very high expectations for the process as a supply of higher grade barite for all markets and regions of the Americas." said Wilson
Paloma Ruiz Maté, Director General, CIMBAR Mexico & Latin America, Mexico, will be presenting 

"Mexican barite and oil & gas markets overview" at
Barite outlook
With some 70-80% of the world's barite production consumed as a weighting agent in the oilfield drilling industry, the performance of the oil and gas exploration market is often used a barometer for barite demand outlook.
While not always an ideal guide, tracking the active rig count gives some indication of barite's main market, as is illustrated in the accompanying chart.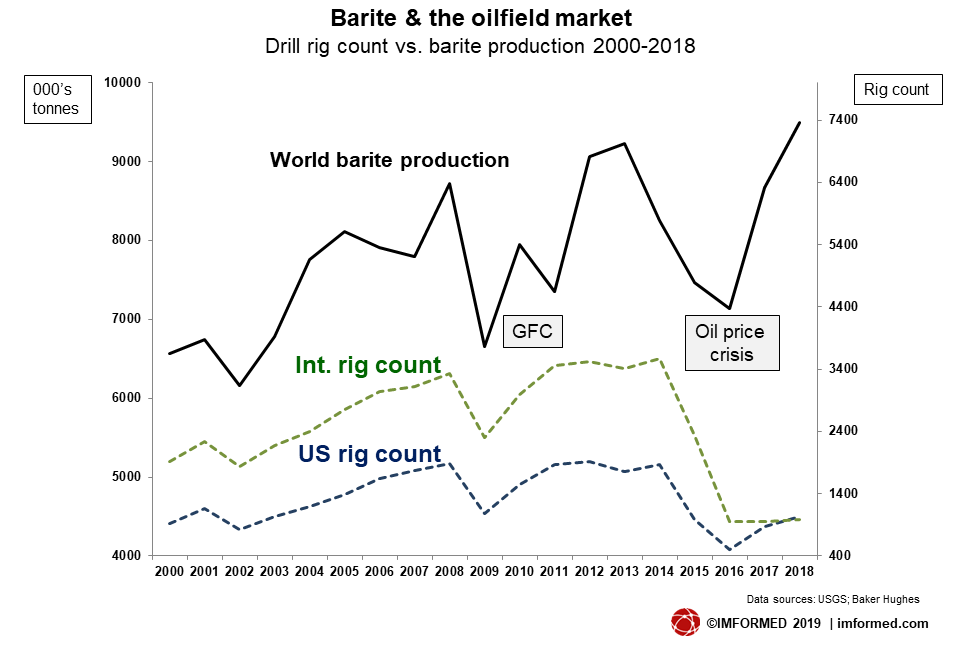 In the USA, some 95% of barite production is used in the oilfield market, whereas in Europe, around 70% of production is consumed in speciality sectors, mainly in filler and chemicals markets.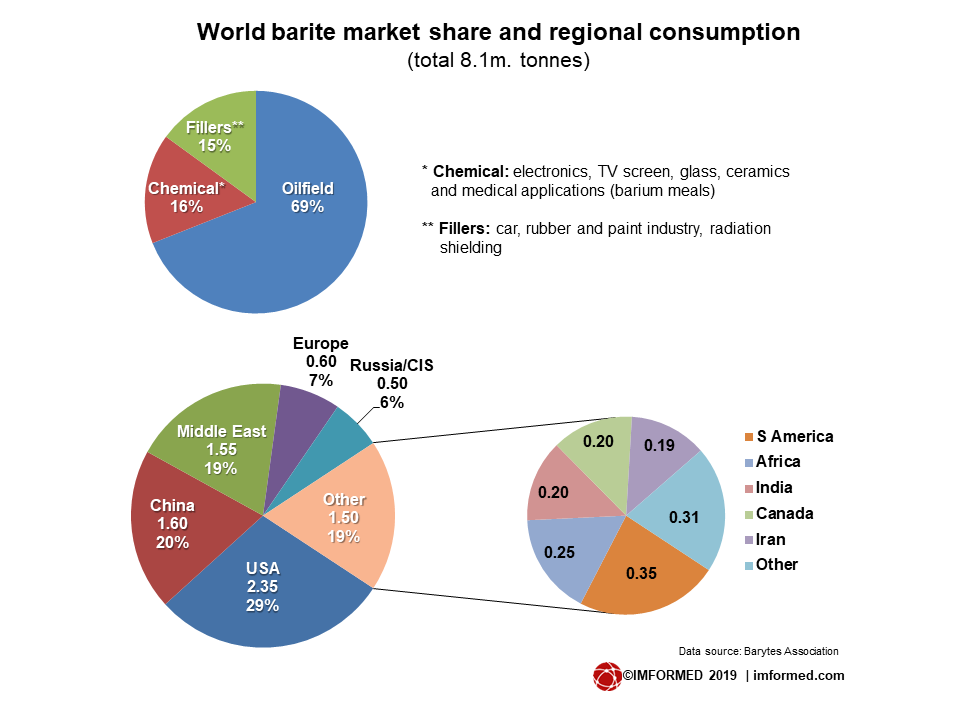 CIMBAR expects the drilling grade barite market to remain fairly stable compared to 2018. Supply of crude ore seems reliable with no expectation of any supply challenges from the various global suppliers.
The industrial barite market is expected to remain flat if not withdraw slightly. "The automotive slowdown and home construction slump will affect the market. Supply of industrial grades does not appear to be an obstacle during 2019 and 2020." commented Wilson.
CIMBAR is well positioned to serve the southwestern US market from its mine in Mexico (see below) and plants in Houston, USA, and Musquiz, Mexico.
"We are capable of supplying crude from Mexico to the US as needed, and could supply all necessary crude ore internally should we have to consider that option." said Wilson.
As can be seen in the chart above, the majority of world barite supply (77%) is sourced from just four countries: mainly China (42%), followed by India, Morocco, and Mexico.
Barite consumers are always on the look-out for alternative and new sources of supply, and some of these in Argentina, Canada, and Pakistan, will be examined and discussed at this year's Oilfield Minerals & Markets Forum 2019, Houston, 10-12 June.
As has been reported previously by IMFORMED (see China's refractory minerals supply), China's ongoing industrial pollution control measures are taking its toll right across the country's mining industry and barite is no exception.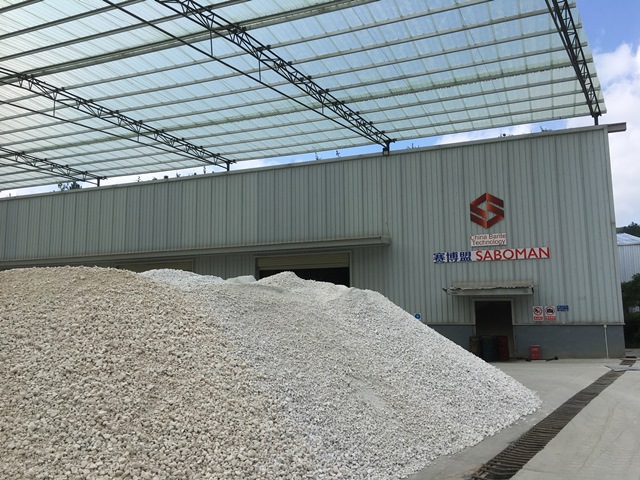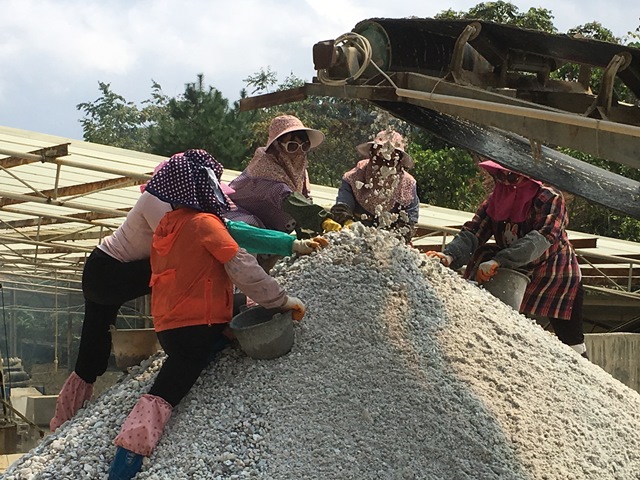 One of China's leading and most modern barite producers, and successfully meeting its environmental regulations, is Guizhou Saboman Import & Export Co. Ltd, based at Guiding, Guizhou, with production capacity of some 1m. tpa lump and 200,000 tpa powder for drilling and pigment markets. IMFORMED was gratefully invited to visit the facility in 2018.
The Chinese barite industry overall remains impacted owing to the environmental regulation tightening. Many of the washing plants and smaller mines are closed.
Fortunately for global buyers of barite, the rising activity in alternative supply from outside China, and not just from the established sources, but also the likes of Laos and Pakistan, the China factor has been less of an impact that might have been anticipated.
"Although the overall production [in China] has been restricted, I have seen no real limitation in supply. This is mostly due to the increase in supply from other countries such as India, Morocco, Mexico and others. Had it not been for the increases from these countries, the restrictions in China would have been felt around the globe." commented Wilson.
Don't miss out, acquire the latest knowledge on the oilfield minerals business and network with the leading players

Contact: Ismene ismene@imformed.com | T: +44 (0)7905 771 494