Challenges & Opportunities
IMFORMED was honoured to be asked to present the Keynote presentation at the General Session of the recent Industrial Minerals Association-North America Virtual Annual Meeting.
Industrial Minerals Association-North America (IMA-NA) is the representative voice of the industrial minerals sector in North America, bringing together the industry's leaders to promote best practices, organising workshops and meetings. IMA-NA Sections represent ball clay, barite, bentonite, borates, calcium carbonate, feldspar, industrial sand, kaolin, mica, soda ash, talc and wollastonite.
IMA-NA, in line with other event organisers (ourselves included), was required to switch its important annual Fall gathering of North America's leading industrial mineral players to an online version (originally to be held in Park City, Utah).
This was successfully achieved resulting in a series of mineral section and committee meetings, general sessions, and awards presentations stretching through 14-24 September 2020.
On 21 September, Mike O'Driscoll, Director, IMFORMED presented "The world of industrial minerals under COVID-19: Challenges & opportunities" providing an overview of the main impact of the pandemic on the industrial mineral supply chain with some thoughts on the outlook for the industry.
Key among the opening comments was how the pandemic had spotlighted the "essentiality" of industrial minerals to manufacturing industry and everyday life, and also the vulnerability of mineral supply chains, not least the overreliance on certain sources, notably China.
The emergence over the last decade or so of the recognition of the "criticality" of certain minerals (and metals) was also highlighted, shown to have come to prominence especially in the last two years, and climaxing this year in a raft of US and EC-led actions (most recently the US President's 30 September "Executive Order on Addressing the Threat to the Domestic Supply Chain from Reliance on Critical Minerals from Foreign Adversaries").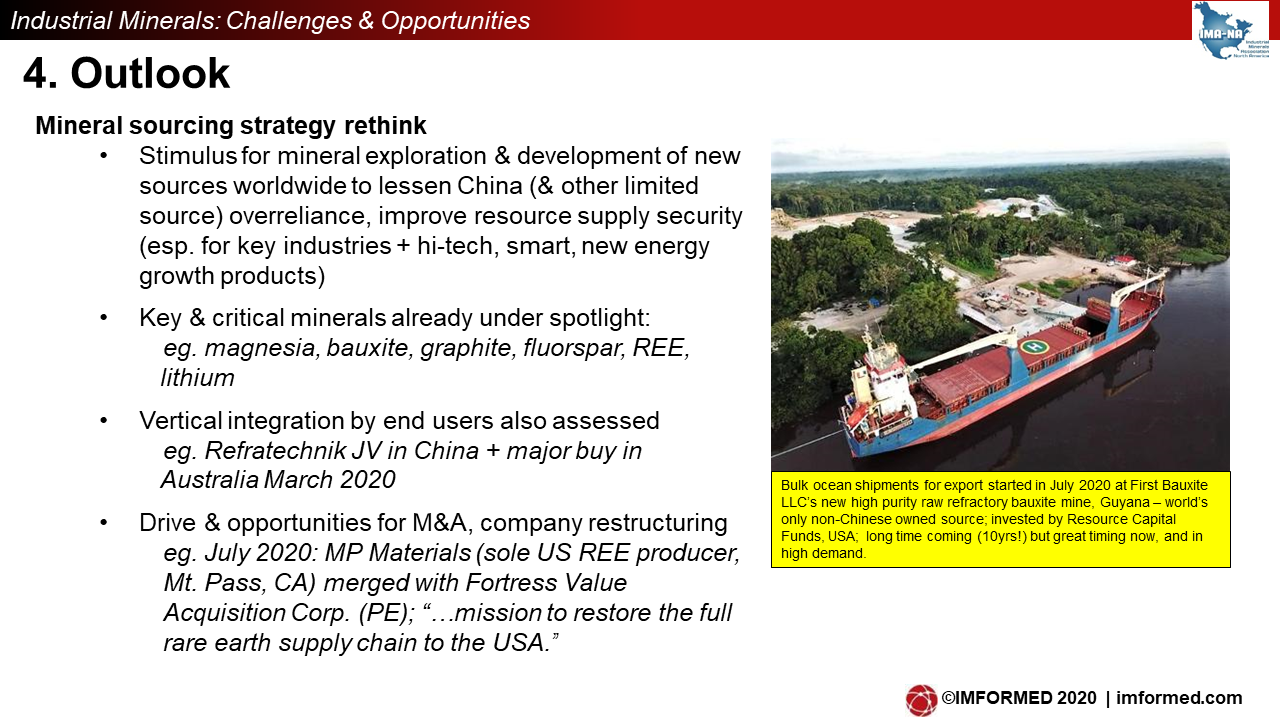 The structure of the industrial minerals industry was reviewed in context of the impact of the pandemic, with a focus on Chinese mineral supply to key world markets.
The impact on consuming markets was demonstrated with a focus on the main economic drivers for the industry and a specific look at the steel and oilfield markets.
The presentation concluded with O'Driscoll's thoughts on the outlook for the market: some general observations on market recovery, corporate readjustment, policy input and drive from governments, environmental factors, education of the "essentiality" of minerals; with more detailed comments on the future for China, rethinking mineral sourcing strategy, and accelerated mineral recycling.
"Thank you, Mike! Was a great talk. Our members really enjoyed hearing from you! Very much appreciate your collaboration with IMA-NA."
Mark G. Ellis, President, Industrial Minerals Association – North America
IMFORMED would like to thank Mark Ellis, President IMA-NA, and Chris Greissing, Exec. VP IMA-NA, for the opportunity to present.
For 2021, IMA-NA has scheduled its Spring Meeting for 20-22 April 2021, Washington, DC, and Fall Meeting for 21-23 September 2020, Park City, UT – details here.