Announcing IMFORMED's Refractory Raw Material World Sources Map®
Primary world sources and production capacity of key refractory raw materials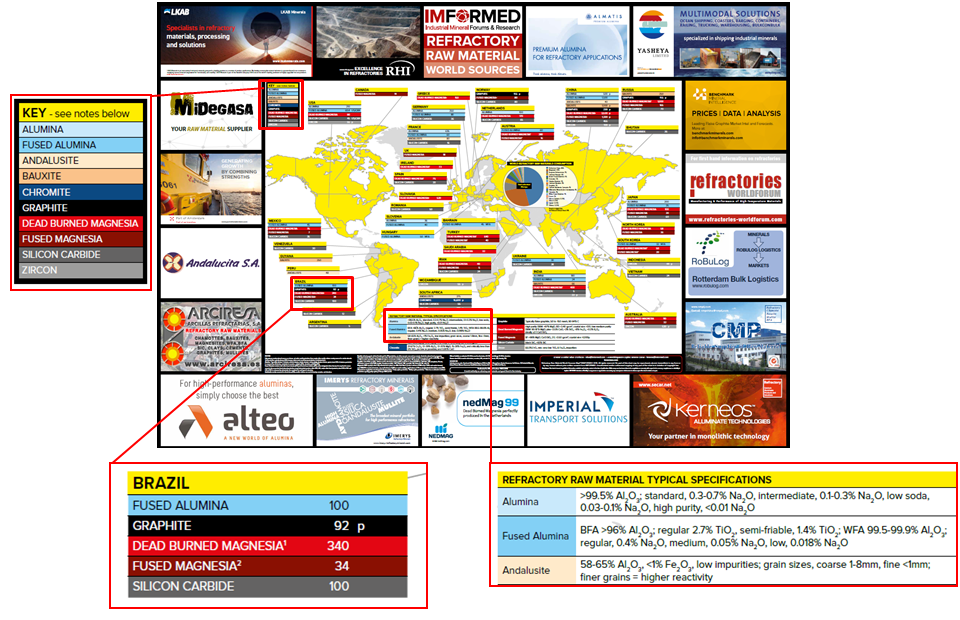 As we know, the physical and chemical properties of industrial minerals make good their application in a wide variety of industrial and domestic uses. Manufacturing of refractory products is one of the most important markets for industrial minerals, with some 35m tonnes of refractory minerals consumed each year.
Around 24 different industrial minerals are required to produce a wide range of refractory shapes and monolithics for primary heat process industries such as steel, non-ferrous metals, cement, glass, ceramics, petrochemicals, and municipal incinerators.
World refractories leader RHI for example, consumes around 800-900,00 tpa of refractory raw materials from external sources, and records that raw material expenditure accounts for 60% of production costs.
But where are the key sources of these important refractory minerals?
Complementing its highly regarded Mineral Market Matrix® Wall Chart, showing at a glance which minerals for which markets, IMFORMED is pleased to announce publication of its new Refractory Raw Material World Sources Map®.
Refractory Raw Material World Sources Map® provides a big picture view of the world's primary sources by country and production capacity for the key refractory minerals of speciality aluminas, fused alumina, andalusite, calcined bauxite, chromite, graphite, dead burned magnesia, fused magnesia, silicon carbide, and zircon.
Additional displayed data includes world refractory raw material consumption by type, refractory mineral typical specifications, refractory mineral summary classification, and refractory mineral supply chain options.
Refractory Raw Material World Sources Map® is an indispensible tool for refractory raw material suppliers, purchasers, traders, distributors, researchers, and all those active in the refractory mineral supply chain.
Otherwise, for copies please contact:
Learn the latest on graphite supply and demand for the refractories market at Graphite Supply Chain 2016, 13-15 November 2016, Newport Beach, programme of expert speakers confirmed including:

Refractories: Global trends and the future for graphite's biggest market
Dr Paschoal Bonadia Neto, Mineral Technology Manager, Mineral Technology Centre, Magnesita Refratários SA, Brazil

The evolving use and applications of graphite in the foundry industry
Richard Clark, Senior Technical Specialist, Morgan Advanced Materials, USA

China: the future for graphite supply and demand
Haibo Mo, Deputy General Manager, Qingdao Hensen Graphite Co., China