The recycling of refractories has been around for at least the last three decades, although it has only been in the last few years that the sector has witnessed increased commercial activity.
The primary driver has been the gathering momentum of a "zero waste" culture across the spectrum of industrial manufacturers, which include refractory users such as steel, non-ferrous metal, cement, and glass plants.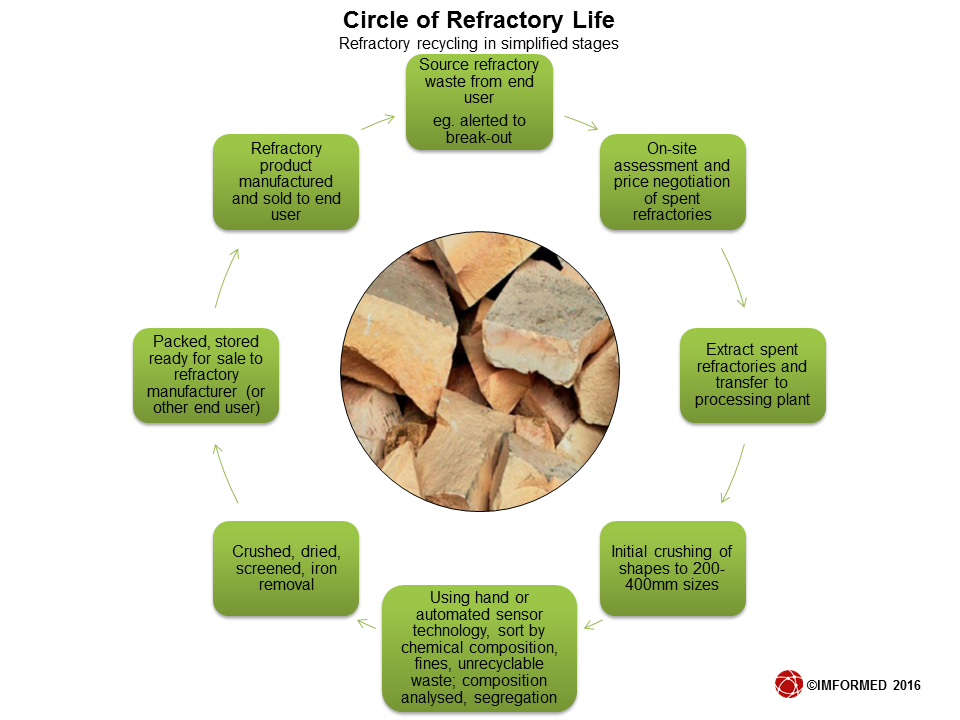 However, this trend not only aims at helping to find a much needed environment-friendly solution for spent refractories, but also in helping to conserve mineral resources, energy consumption, and the overall cost of refractory production, as well as minimising the expense of landfill costs for end users.
The movement has received an additional boost from the development of relevant processing and quality control techniques, such as Laser Induced Breakdown Spectroscopy (LIBS), and in Europe, from the much lauded circular economy promotion driven by the European Commission through a variety of initiatives.
Leading examples of EC initiatives include the Raw Materials Initiative, launched in 2008, with one of its three Pillars being "Resource efficiency and supply of 'secondary raw materials' through recycling".
Allied to this are other EC projects, such as "Moving towards a circular economy"; the EC recently adopted an ambitious new Circular Economy Package which will receive funding of over €650m from the EC's Horizon 2020 project, and €5.5bn from structural funds
Horizon 2020 has been described as the biggest EU Research and Innovation programme ever, with nearly €80 billion of funding available over 2014 to 2020.
The upshot is that waste refractories will be just one of a range of "Secondary Raw Material Resources" – along with steel slag, fly ash, waste water, glass, paper, plasterboard, red mud, for example – from which the recycling of minerals hosted by these industrial wastes are to play a much more significant role in the future of industrial minerals trade.
The era of Secondary Raw Material (SRM) supply is upon us. In response, IMFORMED is organising the ideal platform from which to ascertain the latest trends and developments in SRM supply and markets, including a strong session on refractory recycling: Mineral Recycling Forum 2016, 14-15 March 2016, Rotterdam.

Mineral choice: SRM will be on the purchasers' menu of the future
In spite of declining specific refractory consumption (10-15kg/t steel; 3kg/t non-ferrous metal; 1kg/t cement; 4kg/t glass), around 35m tpa of refractory raw materials are consumed to make refractories worldwide.
That is a lot of mineral deposit exploration, development, mining, processing, and trading by mineral suppliers, and a lot of sourcing, buying, and logistics activity by refractory raw material purchasers.
Research by IMFORMED has shown that refractories ranks 10th out of 26 leading markets for industrial minerals, consuming as many as 24 different industrial minerals (see IMFORMED's Mineral Market Matrix®).
Certain key refractory minerals, such as andalusite, bauxite, fused alumina, graphite, dead burned and fused magnesia, silicon carbide, zircon, have experienced and continue to experience supply chain issues.
These issues include limited development of commercial scale resources, overreliance on leading sources which have local issues impacting supply (China in particular which is responsible for 40-90% of refractory mineral supply to global users), inconsistent quality and supply availability, pricing and logistics issues. Such factors are a nightmare for refractory raw material purchasers.
Refractory mineral purchasers are therefore seeking alternative raw material sources, and fast.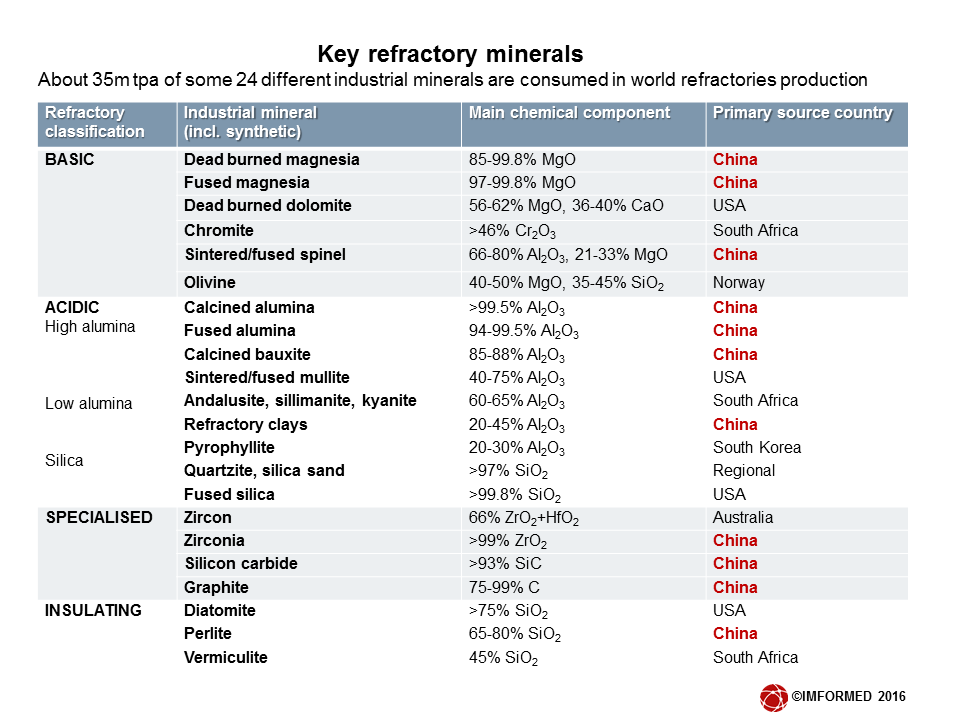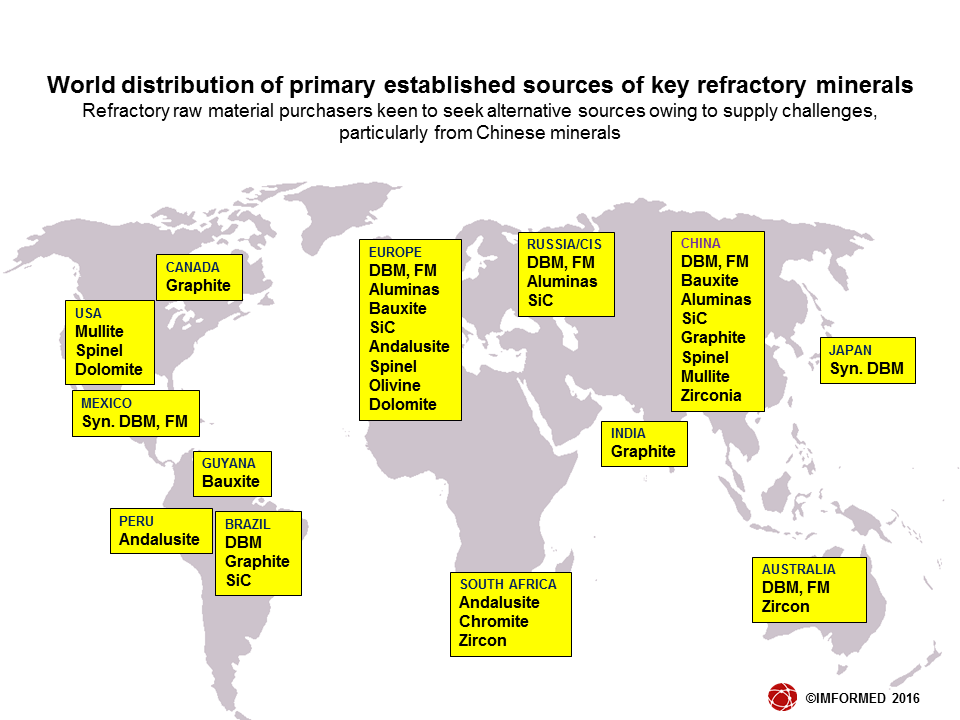 With the rapidly evolving refractories recycling sector, it will soon become the "new normal" for refractory mineral purchasers to be offered a menu of their mineral requirements which will comprise two distinct and competitive refractory mineral sourcing options: Primary and Secondary Raw Materials.
Even allowing for the prevailing downturn in primary raw material prices, in the main, commodity prices have risen over the years.
One of the challenges in the past was that the somewhat more sophisticated processing of spent refractories and other industrial wastes, particularly regarding segregation of waste for example, meant that the final product remained expensive relative to the equivalent primary raw material, and also there were questions over its purity.
While it is true that processing spent refractories demands certain processing and sorting requirements that may not be necessary for mainstream primary mineral processing, it is clear that in recent years these challenges have been increasingly met.
Certain mineral processing companies have now developed a niche in mineral recycling, and in particular, processing refractory minerals from spent refractories.
Such companies include:
DEREF, Italy
Harsco Metals & Minerals Ltd, UK
Horn & Co., Germany
LKAB Minerals, UK, Netherlands
Mineralen Kollée BV, Netherlands
REF Minerals, Latvia
Refra-System Ltd, Hungary
TYMO Engineering GmbH, Germany
Valoref, France
This is expected to be a growing trend with more players emerging in the near future.
However, although the prospect of a sudden influx of wannabe refractory recyclers has raised some concern among the few established players – which up to now have somewhat enjoyed serving this market with little competition – this may not materialise to a high degree owing to the required investment in processing and sorting equipment, and required technical expertise in refractory recycling and refractory SRM application.
That said, it is perhaps an area that will attract processors familiar with refractory mineral processing and supply; for example, Spanish processor Arcillas Refractarias SA (Aciresa) has expressed an interest in developing mineral recycling.
There is also likely to be more attention to recycling refractories by the leading refractory manufacturers and end users, such as steel producers.
At present, it might be surprising to learn that few of the major refractory producers have developed significant research and departments in this field.
RHI AG is an exception, with the use of recycled refractory raw materials as a major part of its future strategy and already using around 200,000 tpa of recycled refractory materials; while Saint-Gobain focuses on refractory recycling through its subsidiary Valoref.
This is surely set to change, and we will see most leading refractory players take a much more active role in recycling refractory raw materials.
Already, steel producers are turning attention to refractory recycling. For example, Italy's Acciai Speciali Terni SpA has teamed up with DEREF to develop a zero waste strategy in recycling refractories and slag.
In 2014, ArcelorMittal started trialling the use of recycled refractory material at various plants, reclaiming for example some 4,000 tonnes of refractory minerals from ladles and slide gates at its Burns Harbor plant.
In conducting this research, ArcelorMittal US acknowledged two major challenges in refractory recycling: "Firstly, the market for this type of recycling is not fully developed. Secondly, the different kinds of refractories have to be carefully segregated in such a way that they can be selectively recovered for recycling. Once different kinds of refractory materials are mixed, they become impossible to recycle."
Presentations on: "Recycling refractories from an end user's viewpoint" by Werner Odreitz, Purchasing Director, Secondary Raw Materials, RHI AG, Austria; and "The Circular Economy concept at a stainless steel plant: a secondary raw material source of minerals" by Deref & Acciai Speciali Terni, Italy, at Mineral Recycling Forum 2016, 14-15 March 2016, Rotterdam
Refractory recycling sector
It could be argued that the modern era of recycling refractories has only just begun.
In his UNITECR 2015 presentation, Melvyn Bradley , Technical Director, LKAB Minerals Ltd, UK, acknowledged that despite LKAB's involvement in the refractory recycling market for many years (formerly as Minelco Minerals with Richmond Refractories): "Customer feedback has highlighted the need to improve the quality of the recycled refractory material, meaning investment in more advanced processing equipment and further development work on the use of reclaim material in the finished product."
In general, refractory SRM now appear to be more widely accepted in the refractories industry than previously. Europe is ahead of the pack globally, although Asia and North America are starting to pick up the baton.
Precise figures for refractory SRM, or refractory "recyclate" are hard to ascertain, and published figures vary.
Bradley estimated the European refractory SRM market at 230,100 tonnes, with Germany the leader at 38.5%, followed by Turkey and Italy (see chart).
In her UNITECR 2015 presentation, Jessica Roberts, Senior Analyst, Roskill Information Services, used the European Refractories Producers Federation (PRE) estimate of 20% of refractories recycled as refractory SRM to show a "theoretical recyclate yield" of 770,000 tonnes for the EU in 2014.
Roberts underlined: "In reality, the recyclate is aggregates of refractories each with different challenges", and provided an alternative estimate of 600,000 tonnes for EU refractory SRM in 2014.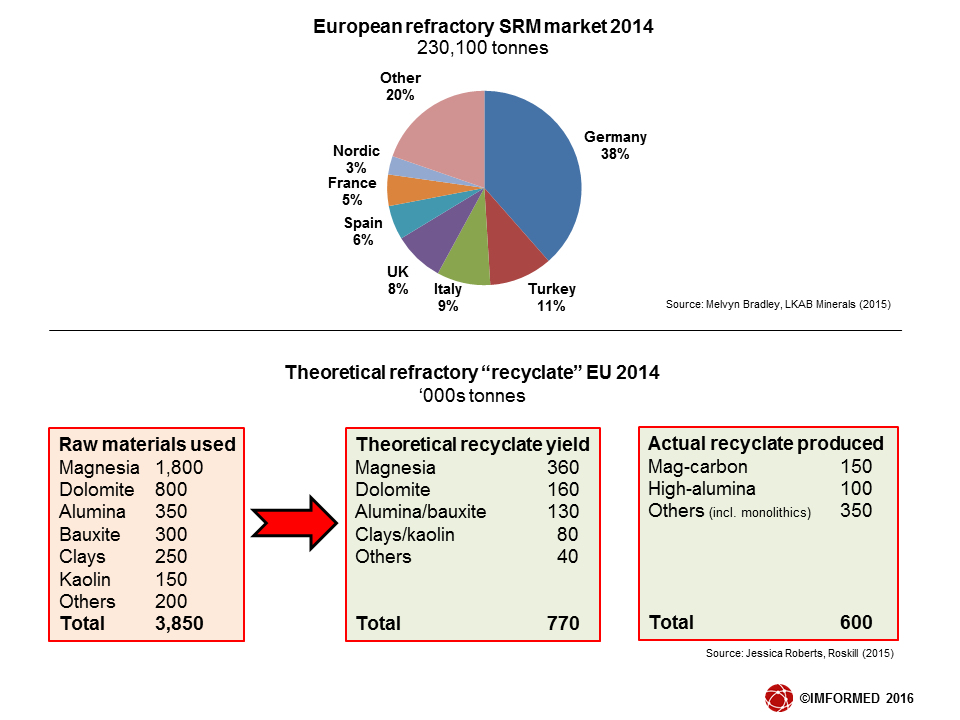 Where refractory SRM is likely to find a major market is in refractory products that have less stringent performance requirements, but where price remains a significant factor.
Typical waste refractories that can be recycled include firebrick, mid-alumina brick, bauxite brick, alumina-carbon, alumina-magnesia, and magnesia-carbon bricks.
While the use of recycled aggregate in mag-carbon bricks is now common practise, according to Bradley, the level of any free metals remaining from any anti-oxidant additions is key to preventing quality issues with new bricks.
Presentations on: "Minerals recovery from secondary raw materials" by Nenad Tenasic, Managing Director, Horn GmbH & Co. KG, Germany; "Recycling of spent refractories" by Melvyn Bradley, Technical Director, LKAB Minerals Ltd, UK; "Laser-Induced Breakdown Spectroscopy (LIBS) in recycling of refractory material outbreak" by Dr Christian Bohling, Chief Executive Officer, Secopta GmbH, Germany at Mineral Recycling Forum 2016, 14-15 March 2016, Rotterdam
Typical applications for alumino-silicate SRM include medium range castables and precast shapes; recycled alumina-mag and mag-carbon can be used for tundish spray and furnace gunning repair products.
Other potential uses of refractory SRM include alumina-silicate SRM as a bauxite replacement in secondary ladle treatment, and mag-carbon SRM used as a slag conditioner in EAF.
In addition to providing SRM for refractory manufacture, spent refractories can become raw materials for powder coating applications, metallurgical additives, slag conditioners, and feedstock for cement.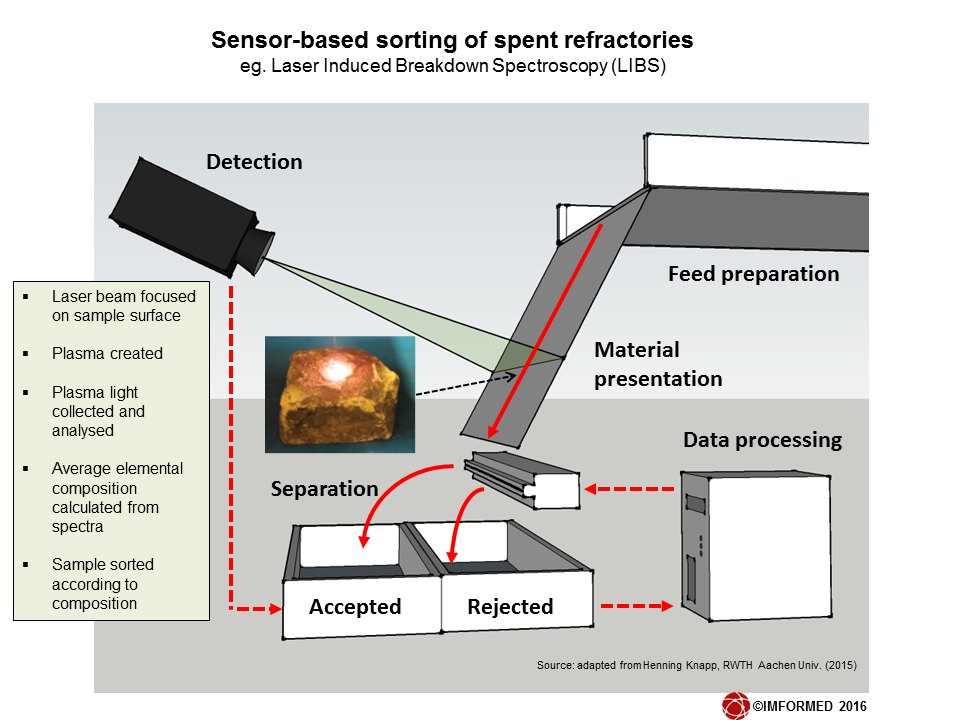 Refractory recycling outlook
There is no doubt that refractory recycling is going to see an increase in attention and activity.
Owing to the potential large volumes of refractories for recycling, and the fact that end users and refractory manufacturers are unlikely to invest in their own recycling plants, it is projected that a larger number of refractory recycling processors will enter the market in the near future.
Chief among the trends and developments of this growing sector will be the evolution of a new supply chain of refractory SRM which will usher in new players whose roles will include waste refractory sourcing, recycling, processing/sorting equipment supply, logistics, marketing, and purchasing.
Key trends to monitor:
More and improved automation systems, particularly in refractory waste sorting; development of mobile sorting systems
Research in refractory additives, such as microsilica, to improve the performance of products based on refractory SRM
Development of pelletisation of refractory SRM fines for use in other applications, such as slag conditioning
Development of new refractory formulations to enhance/ease their successful recyclability
Increasing establishment of long term strategic alliances and partnerships between sources of spent refractories (end users), refractory recyclers, and refractory manufacturers, in both sourcing waste refractories and buying refractory SRM
Education of refractory end users (eg. steel producers) to positively engage in and recognise the benefits of refractory recycling, including reasonable prices for the of sale refractory waste
Clarification and universal (eg. EU) establishment of clear legislation, regulations, and licences regarding handling, processing, and trade in refractory waste and refractory SRM
Contact: Ismene Clarke +44 (0)7905 771 494 | ismene@imformed.com