Seen & Heard at MagForum 2022 Noordwijk
Last year the magnesia industry brushed off the pandemic blues by gathering for a glorious few days at Noordwijk on the Dutch coast to attend IMFORMED's MagForum 2022, 7-9 June 2022.
And what a few days it was! Outstanding networking after so many Zoom meetings, and an excellent variety of presentations providing an abundance of information – these are reviewed below.
Stand-out memories include the wonderful Beach House reception sponsored by RHI Magnesita and the beautiful sunset Welcome Reception and fabulous Field Trip to Veendam each hosted by Nedmag.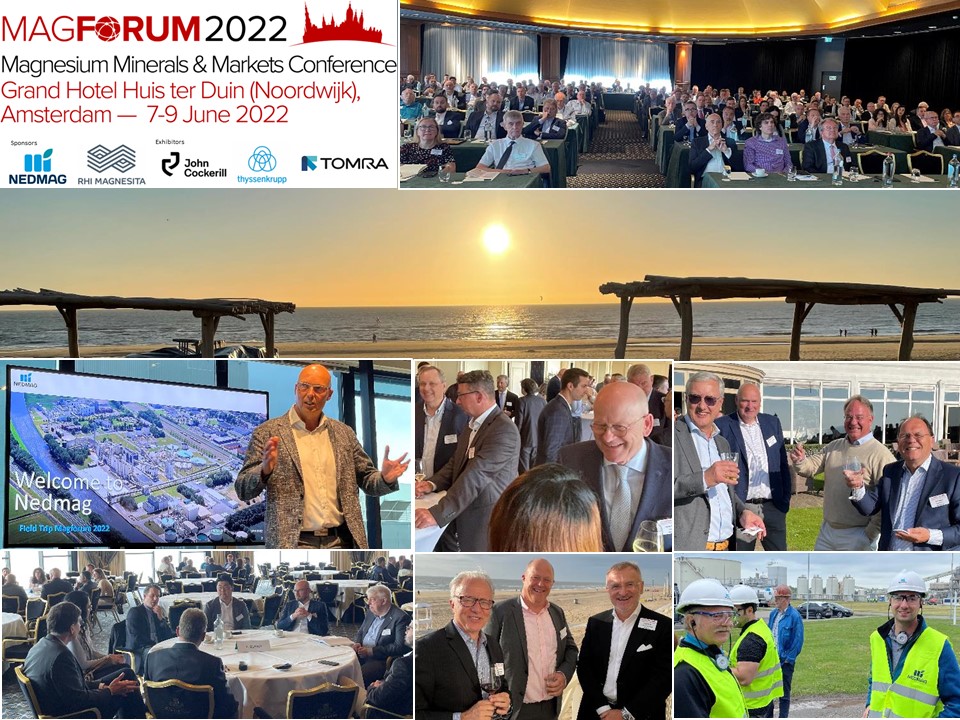 In catching up on the magnesia market during the conference, what especially stood out was the significant amount of work initiated by magnesia producers and traders during the pandemic lockdown period in order to align themselves in a better position to face the market's challenges coming out of the pandemic.
Leading developments included addressing energy transition, decarbonising, strategic sourcing, emerging prospects, alternative sources, increased recycling, mine development, product and market demand and diversification – certainly, a period of mindset change on several fronts.
Just how the industry has succeeded in these moves since last June, and indeed has further transformed and reacted to market pressures, will be foremost on the agenda for this year's event: MagForum 2023, Baveno, Lake Maggiore (near Milan), 30 May-1 June 2023 – Call for Papers | Early Bird Rates – Book Now! Full Details Here.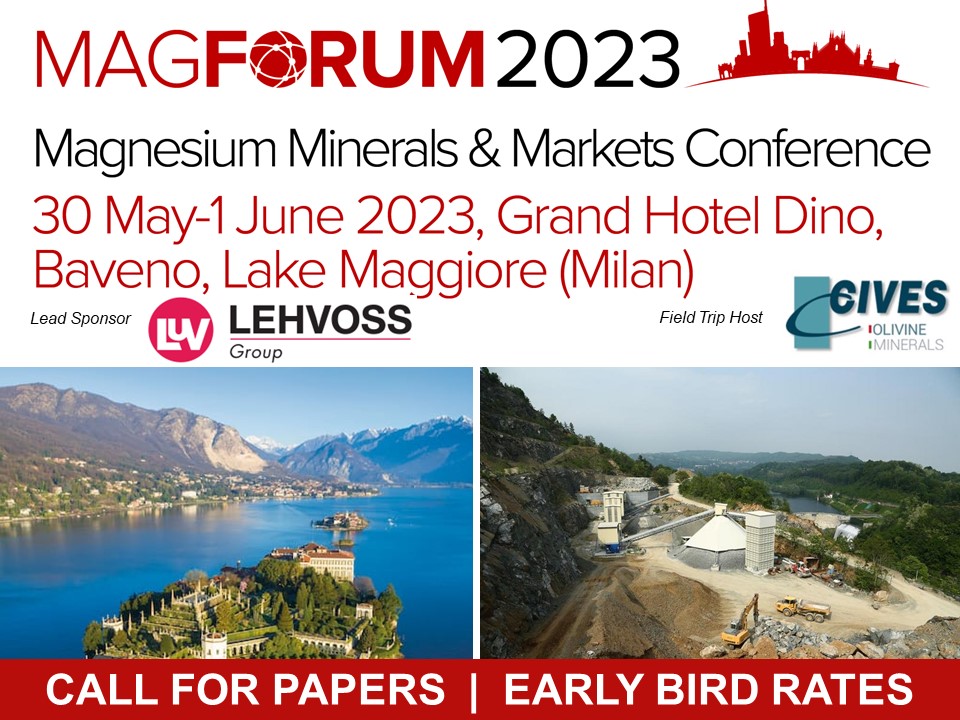 FIELD TRIP to leading olivine producer

Nuova Cives Srl

, Vidracco Tuesday 30 May
FINALE LUNCH ON THE LAKE at Ristorante Italia on Isola Pescatori (Fishermen's Island)
What our delegates said about MagForum 2022…

Very well organised and very useful programme, provides all necessary information, Roundtables were informative
Mike Clark, Research Engineer, HarbisonWalker International, USA

We had a great time at MagForum 2022, meeting important customers and suppliers from the industry in Amsterdam.
Niklas Lüdemann, Head of Region Europe, Possehl Erzkontor GmbH & Co. KG, Germany

Very good location; the Roundtables had interesting discussions, this format should be kept.
Hans-Juergen Klischat, Director R&D, Refratechnik Cement GmbH, Germany

Congratulations for a very well-organised event. Great pleasure seeing you all.
Dimitris Kalogeropoulos, Manager Corporate Strategy, Grecian Magnesita SA, Greece

What a great event in Noordwijk! Thanks Mike and Ismene for this wonderful organisation.
Juergen Mannshardt, Senior Advisor Magnesia, Lehmann&VossCo, Germany

Thanks for arranging a great conference. Was a great experience.
Nitin Apte, Process & Engineering Technology Lead, Kisuma Americas Inc., USA
MagForum 2022 presentations review
Nedmag: Energy transition has to be a top priority
Bert Jan Bruning, Managing Director,

Nedmag

, the Netherlands
In his warm Welcome Address, Bruning urged the magnesia industry to focus on energy transition amid wider sustainability objectives, and went on to outline some of the relevant developments at Nedmag, which delegates saw first hand during the Field Trip to Veendam following the conference.
Bruning summarised Nedmag's sustainability ambitions in terms of:
Short-term ambitions: Sustainable energy consumption; 2018 – 2021 decreasing natural gas consumption by using biogas, and working on CO₂ emission reduction; development of environmental applications (product development).
Long/mid-term ambitions: zero dependency on fossil fuels in 2035; investigating sustainable alternatives: solar energy, wind energy and hydrogen.
"Energy transition is not a technical issue. Your whole organisation has to focus on it. Working together with partners is key. From the outside to inside." said Bruning.

Magnesia on the move
Mike O'Driscoll, Director, IMFORMED, UK
To set the scene O'Driscoll wrapped up the magnesia market by covering a spotlight on basics, a supply situation round-up, the advent of more recycling, followed by some thoughts on the market outlook.
Certainly, there was considerable focus on the ramifications of the pandemic and ongoing issues surrounding Chinese magnesia supply. But since the last live MagForum in Bilbao 2019, while there had been a period of unprecedented challenge and disruption, the industry had also been very busy corporately and strategically.
The key highlights were summarised:
End-game for easy, low cost Chinese mineral supply?
Many magnesia traders/consumers should be evaluating, or re-evaluating, & co-operating, with alternative sources to China elsewhere in the world; vertical integration
Perhaps more support from governments now recognising "criticality" and "essentiality" of minerals and supply chains
At same time, taking a serious view on using and developing (more) use of recycled refractory material…
…with suppliers and users co-operating on technical and investment aspects
Decarbonisation in mine and plant operations
Impact of changing fuel sources in steel, cement, glassmaking, eg. hydrogen, more EAF
Ongoing logistics challenges through to 2023
Changing times require a new approach to magnesia sourcing & trading
Andreas Pabst, Managing Director,

Cofermin

, & Sally Wulf, Marketing Manager,

IMagine

, Germany
In keeping with the theme of change, Cofermin introduced its new magnesia trading arm IMagine, calling for a new approach to magnesia sourcing and trading.
Launched in July 2021, IMagine handles a wide range of magnesia compounds globally and makes use of the Cofermin Group network active in 36 countries.
Changing times mean a changing market mindset. Attention needs to be paid to climate change and CO2 reduction; a shift towards renewable energy concepts; while sustainability is becoming a precondition.
While key tasks now include multiple source strategy, increased flexibility in product specification, and a focus on security of supply chains, these are supported with the traditional values of reliability, honesty, and availability of product.
An example of this new approach was highlighted with recent work conducted between IMagine and EcoMag of Western Australia, developing extraction of high purity magnesium from concentrated brines generated by sea salt production.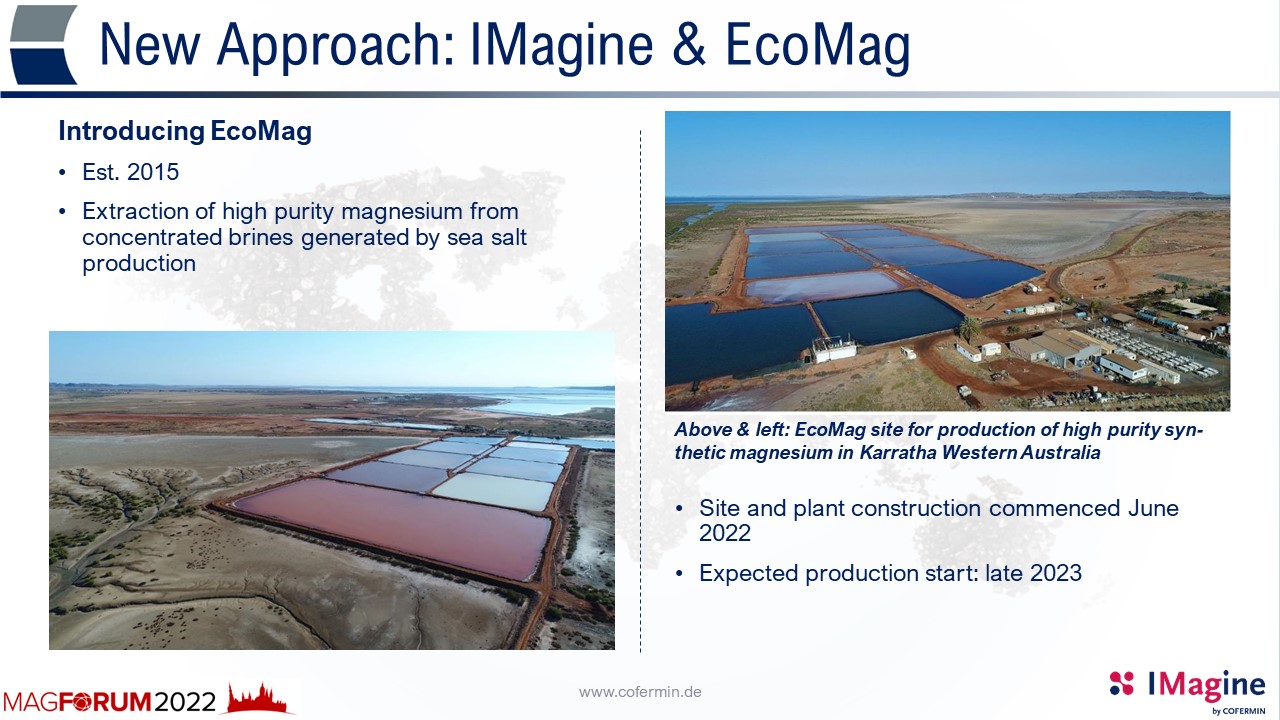 Sustainability above and below ground: development of dunite & the Evia magnesite mine
Pantelis Vetoulas, Commercial Manager & Dr. George Bourmas, Operations Manager,

Grecian Magnesite

, Greece
Like many companies during the pandemic, Grecian Magnesite had been very active, and in their case this included development of a new "green" mine and a dunite-based product range.
Bourmas took the audience through the development of the Koutzi "green" underground mine in northern Evia Island, Greece, utilising battery-driven vehicles, a dust suppression system, and a CO2-free environment. Active since December 2021, ROM magnesite ore is transported from Koutzi to GM's Yerakini mining and processing complex in northern Greece for further treatment.
Vetoulas described the latest sustainability projects by GM, highlighting a €15m investment programme focusing on mining/production efficiencies, green transition, research and innovation and digital transformation.
This included the Dunite Project, initiated through the MagWasteVal Program (2018-2021, co-funded by the EU), coordinated by Grecian Magnesite in co-operation with the Aristotle University of Thessaloniki and potential end-users.
GM co-extracts 1m tpa of dunite, the host rock of the Yerakini deposit, and is aiming to valorise 75% of this volume by 2027.
As well as reducing waste, the project diversifies GMs' product portfolio, with dunite market applications in slag conditioning in blast furnaces, EBT filler, refractory bricks and mortars, foundry sand, sandblasting, mineral wool, fertilisers, and CO2 sequestration.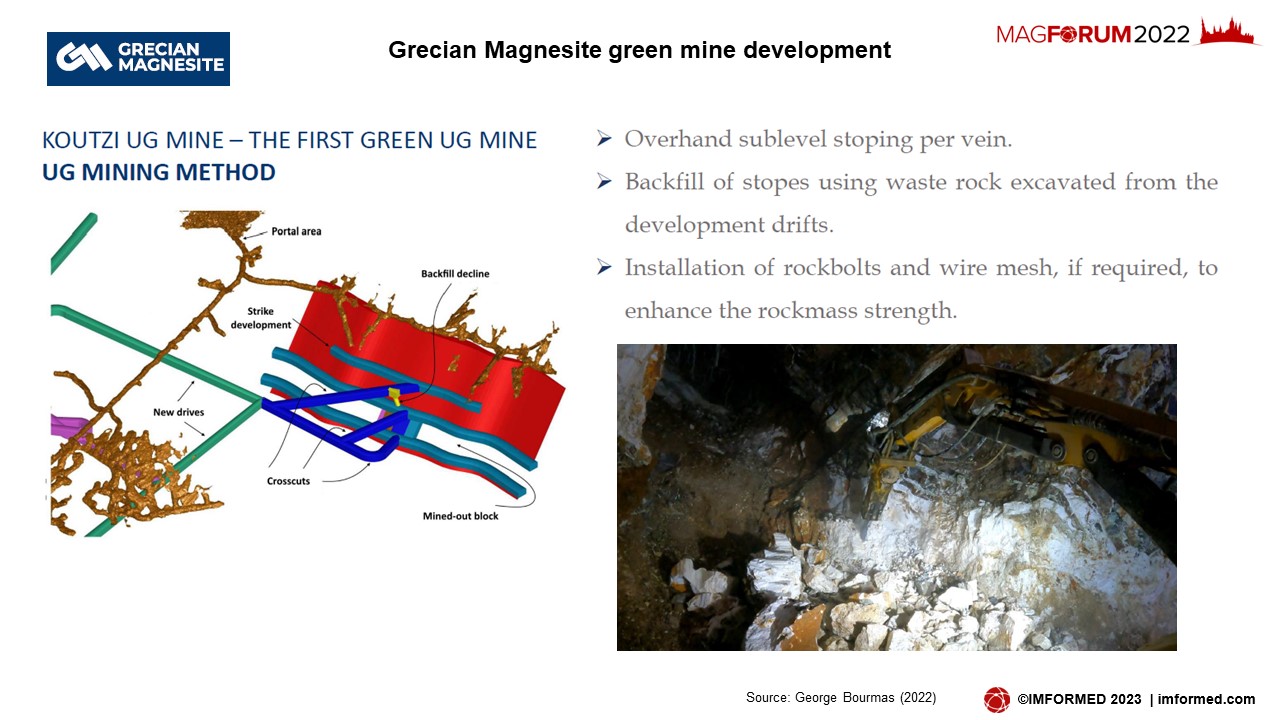 Sustainable magnesia production for non-refractory markets
Dr. Franz X. Spachtholz, President & CEO,

Baymag Inc.

, Canada
Using examples from recent work undertaken by Baymag, Spachtholz explained how the sustainability of the magnesia industry can be improved by taking small but meaningful actions across the supply chain.
This includes development of sustainable market applications such as low CO2 footprint construction materials utilising CO2 emissions and magnesite mine waste.
An example is magnesia cement development, in co-operation with a local technology partner, offering benefits of less specific net CO2 emissions than ordinary Portland cement; reduction in waste; less energy to heat/cool; and safer with a 1 hour fire rating standard with zero flame spread; and no volatile organic compounds, and mould and bacteria resistant.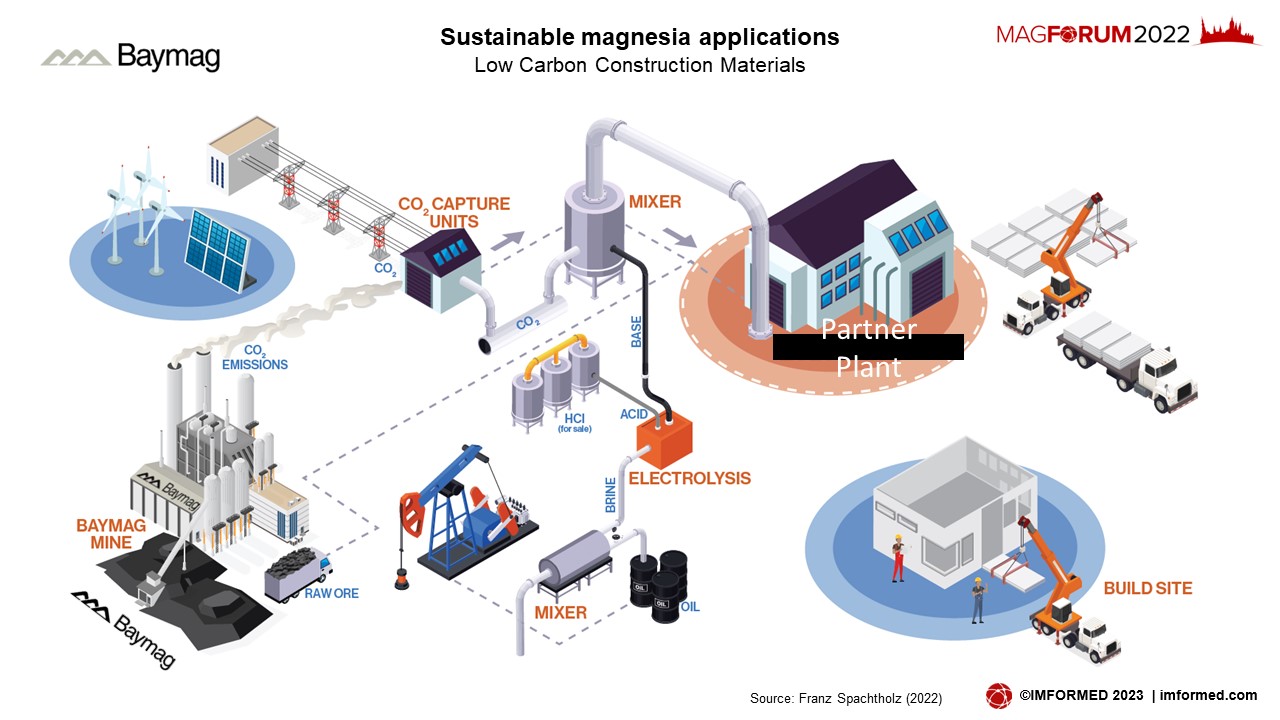 Exploration for alternative magnesia sources
Dr Ian Wilson, Ian Wilson Consultancy, UK
Wilson introduced the conference to some lesser known but emerging magnesite projects around the world.
These included in Australia: Magneto Minerals, Northern Territory; Frontera Future Metals, Queensland; and Calix Ltd, South Australia; in Turkey: Turkmag, Eskişehir; Intersac/Pomeks, Kütahya and Erzincan; and in North Korea, the Taehung Youth Hero Mine, South Pyongan.
In Turkey, Turkmag, following a restart in July 2016, has since mined 1,400,000 tonnes raw ore and produced 320,000 tonnes of sintered magnesite – this is a yield of 22.8%.
The company has six magnesite mines, the new Deve Korusu mine started in 2021 with high grade magnesite production. Total dead burned magnesia output in 2021 was 75,000 tonnes.
Alternative feedstock raw materials for magnesia are always sought after, particularly at present. Two Canadian projects targeting serpentine as source rock were presented at MagForum 2022.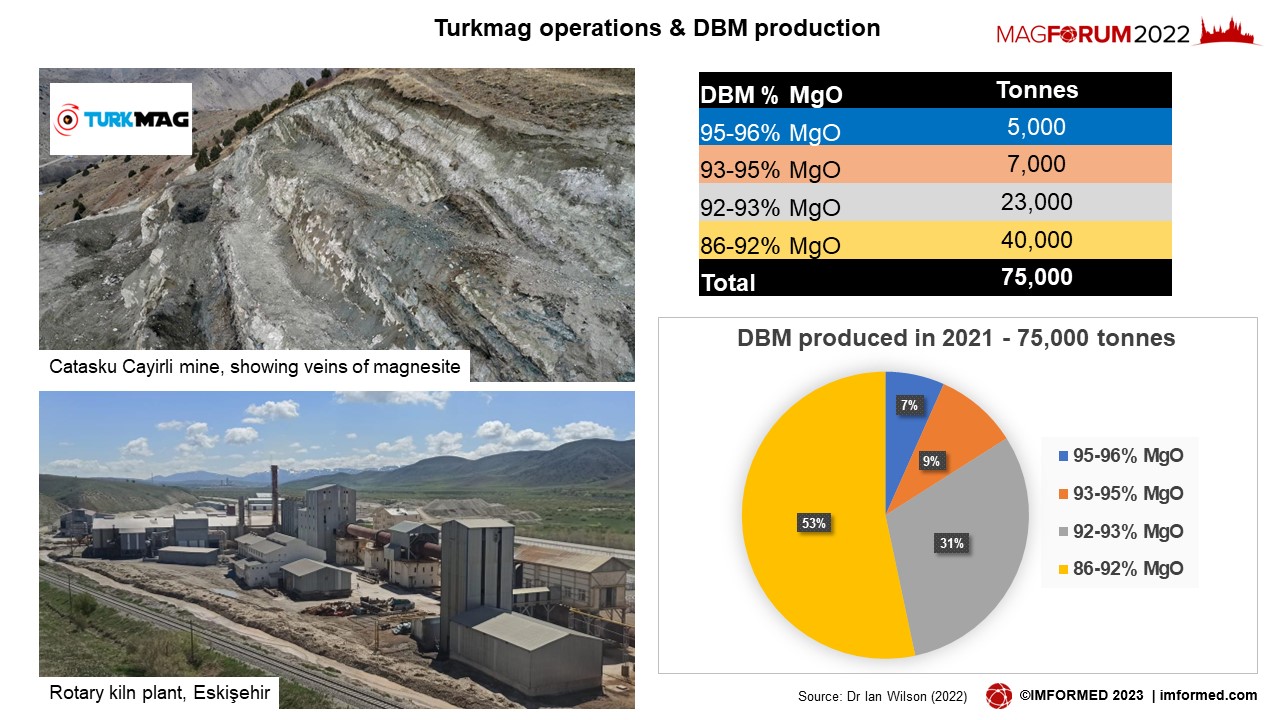 ECO2 Magnesia: high purity (99%+) and low carbon footprint MgO from serpentinite
Paul Boudreault, Business Dev. & Maxime Couillard, Director Engineering,

ECO2 Magnesia

, Canada
Boudreault introduced the ECO2 Project, explaining the implementation of ECO2 technology in Quebec, Canada, with a Phase 1 planned production of 20,000 tpa of magnesium oxide, a future plant located at the former Carey Mine, along with tailings decontamination, site restoration, and CO2 reduction.
ECO2 has secured some 30m tonnes of magnesium-rich stockpiled tailings (serpentinite) at the former Carey Mine, at Tring-Jonction, near Quebec city.
The project envisages a "global potential production" of 5m tonnes of MgO, with an annual production of 40,000 tonnes of magnesium carbonates processed into 20,000 tpa of high purity magnesia (99+% MgO) through stages of pre-treatment, carbonation, and calcination.
Much work has already been completed, and a demo plant is in operation to provide large test samples for customers.
"2022 will keep us busy with permitting and detailed engineering. In 2023, we plan to initiate equipment procurement and construction. Construction will continue into 2024, and commissioning is expected towards the end of that year. Finally, we plan to reach full-capacity in 2025." said Boudreault.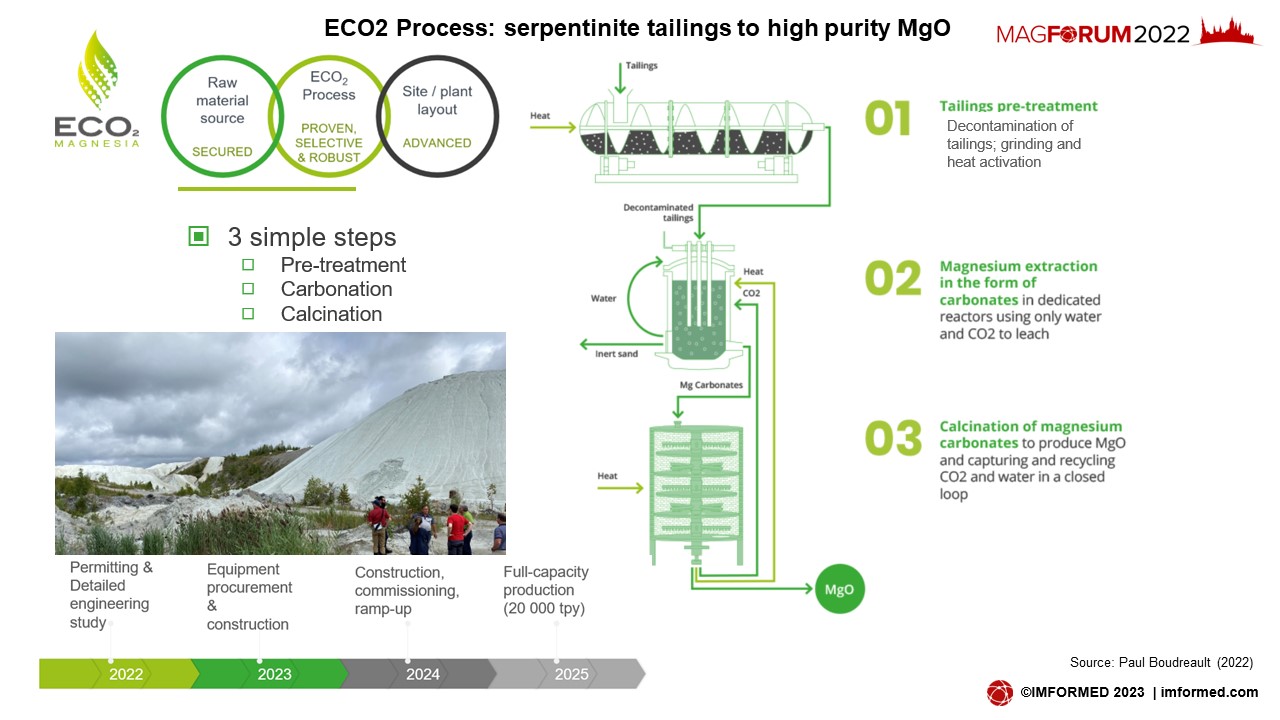 CO2 neutral high purity MgO from Record Ridge Serpentine
Dr Fouad Kamaleddine, Technical Advisor,

West High Yield Resources Ltd

, Canada
West High Yield Resources Ltd is at the early stages of developing the Record Ridge Serpentine deposit near Rossland, British Columbia, Canada, which hosts a resource of 43m tonnes ore at 24.6% Mg (43% MgO ).
The ultimate aim is start an open pit mine, initially producing around 300,000 tpa crude ore, and plant, employing HCl leaching and MgCl2 purification, to produce high purity >99% MgO/Mg(OH)2 products, and valuable by-products of silica, iron, and nickel.
Following two stages of lab testing, WHY has now engaged Kingston Process Metallurgy, with support from Tenova/KON Chemical Solutions, to conduct a PFS for the development of the semi-commercial demonstration plant (350 kg/hr MgO), and to produce detailed design and economic evaluation of the demo and commercial plants.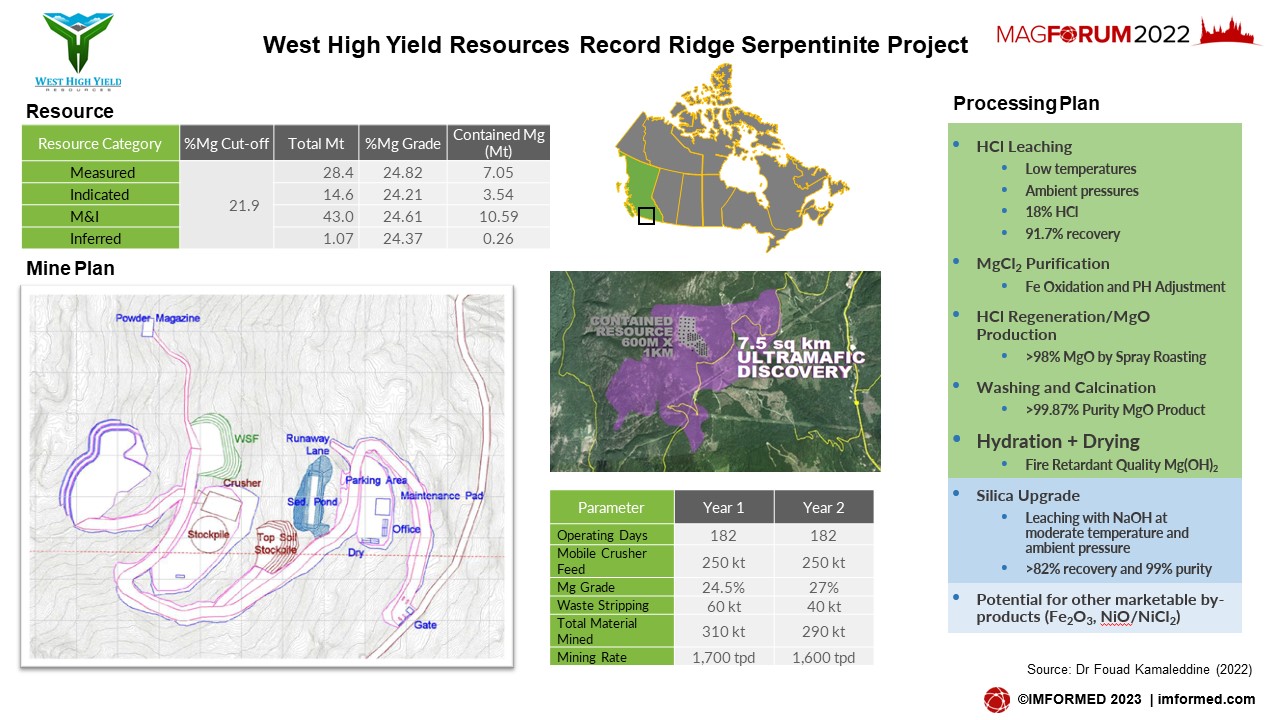 Look under the hood: refractory design drives raw material requirements
Glenn McIntyre, Director – Material Technology, HarbisonWalker International, USA
McIntyre started his talk with an entertaining comparison of the iconic Dutch soccer team of the 1970s on the subject of "disruptive innovation", before delving into the key factors and issues of qualifying magnesia raw material for refractory customers.
Attention was drawn to the all-too frequent drawn out period of evaluation – "How could it take so long? Are research institutions and technology centres black holes?"
With the mantra that refractory design drives raw material requirements, McIntyre proceeded to explain why it takes time to fully evaluate new or alternative refractory raw materials by taking "a look under the hood".
The traditional approach in selection procedure was described, followed by comment on its more recent evolution towards measuring/optimising "value proposition" for lining performance, reducing supply chain risk, and diversifying raw material supply versus vertical integration.
For the future, McIntyre considered there was strong support for disruptive innovation in refractory customer vessel design and operation, leading to perhaps significant changes in materials required.
"For major changes to occur in refractories and raw materials, we need disruptive innovation around the high temperature testing methods for those properties that will predict lining performance.
"This will result in the 'technical commoditisation' of raw materials currently considered 'unique', including magnesias – changing the marketplace dynamics forever." said McIntyre.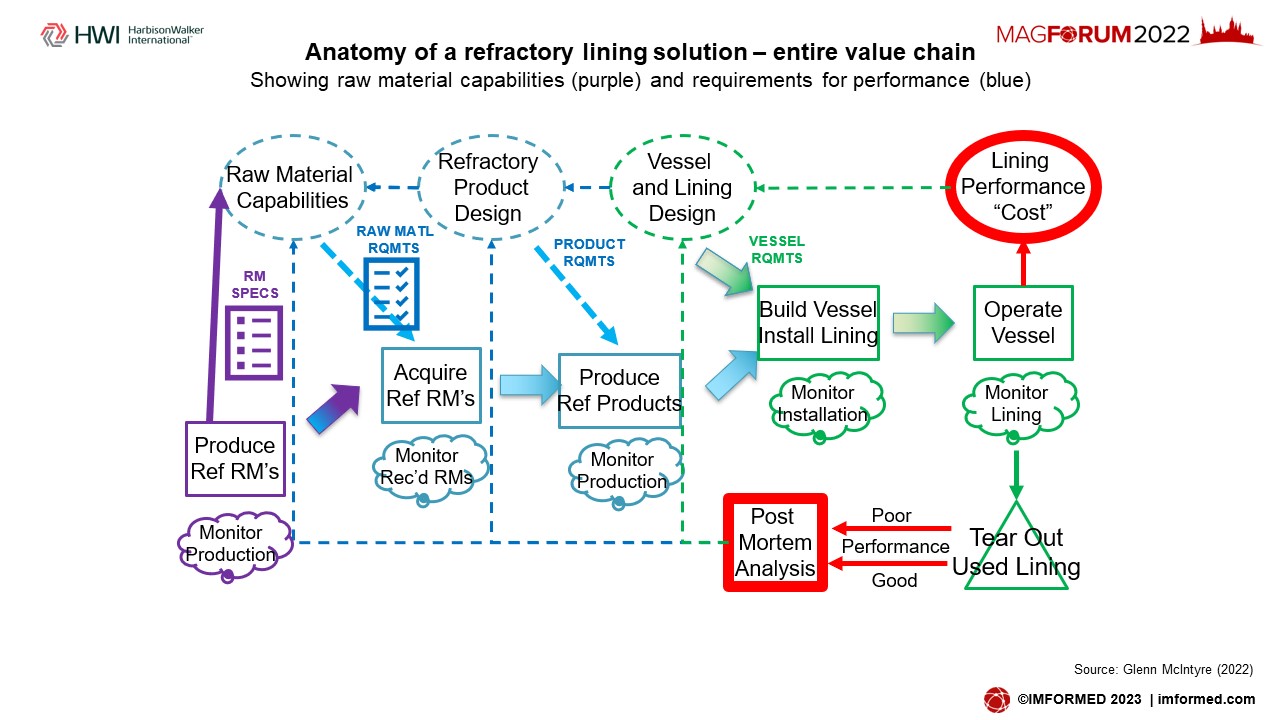 Steel market outlook
James King, Consultant, UK
The steel industry is a major consumer of refractories, and therefore of magnesia. King's presentation considered the outlook for the steel market and the steel industry, covering short-term trends – the outlook for production, prices, and profitability; the long-term outlook for production to 2050 – processes, location of production; requirements for materials; and the importance of refractories as a cost factor for steel producers.
Takeaways included:
Most future growth in crude steel production will come from countries other than China and the major western industrial countries.
Electric steel will grow faster than oxygen steel and will be the only viable process in the smaller developing countries without a market large enough to support integrated steelmaking.
Refractories remain a minor cost for a steel producer. When profit margins are only a few dollars per tonne, every dollar counts, so there will be continued interest in reducing the consumption of refractories and using cheaper materials. This will probably be offset by greater emphasis on product quality and the potential to permit production of higher grade, more profitable, steels.
Magnesium chemicals review & outlook
Samantha Wietlisbach, Director Minerals Research & Analysis,

S&P Global Commodity Insights

, Switzerland
As usual Wietlisbach provided the conference with her customary excellent and comprehensive review of the magnesium chemicals market, focusing on an overview of magnesium chemical resources, magnesium oxide markets, magnesium hydroxide markets, and the level of upstream integration in synthetic and natural producers.
Market outlook highlights included transformer steel growth of 2% (AAGR) and elastomers market growth of 4-5% for magnesium oxide; mineral flame retardant growth of 3.8% with more replacement of halogenated FRs, for magnesium hydroxide; and regarding upstream integration in MgO and MDH, it was found that while many synthetic producers back-integrated, there was less integration from natural mineral based suppliers.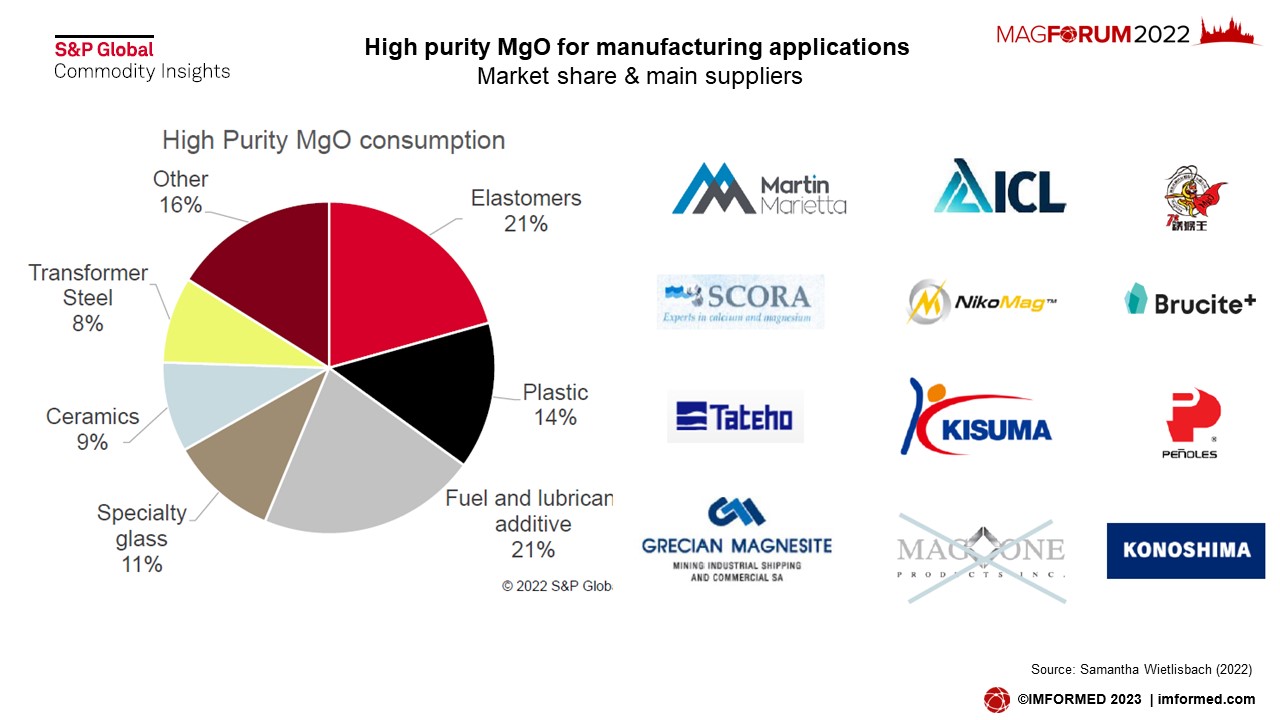 Dolomite Franchi Spa: Mining the quality since 1919
Mirko Grassi, Marketing & Application Manager,

Dolomite Franchi SpA

, Italy
Dolomite has taken the spotlight recently as certain producers have taken to upgrading and boosting their capacities, perhaps sensing an increase in demand for the MgO-containing mineral partly owing to magnesia supply inconsistencies.
With a pedigree in supply stretching back to 1919, Grassi outlined the history and evolution of refractory dolomite producer Dolomite Franchi, Italy. The production of dolomite based products evolved along with the Italian steel industry, which developed in earnest in the 1950s.
In 2017, the company became part of INTOCAST AG, which acquired the plants in Marone (Italy) for the production of tempered bricks and mixes, and in Lugones (Spain) for the production of fired dolomite bricks.
Grassi explained about refractory dolomite raw material, underlining the high purity dolomite deposit of its Calarusso quarry, before describing the process route and product portfolio (88 different shapes, 30 different mixes).
"We consider ourselves a strategic supplier in the EU, we have our own mine located less than 1 mile from our production site, this is an advantage also in terms of the carbon footprint." said Grassi.
Production for 2022 was forecast for 79,000 tonnes of shaped and 51,000 tonnes of unshaped.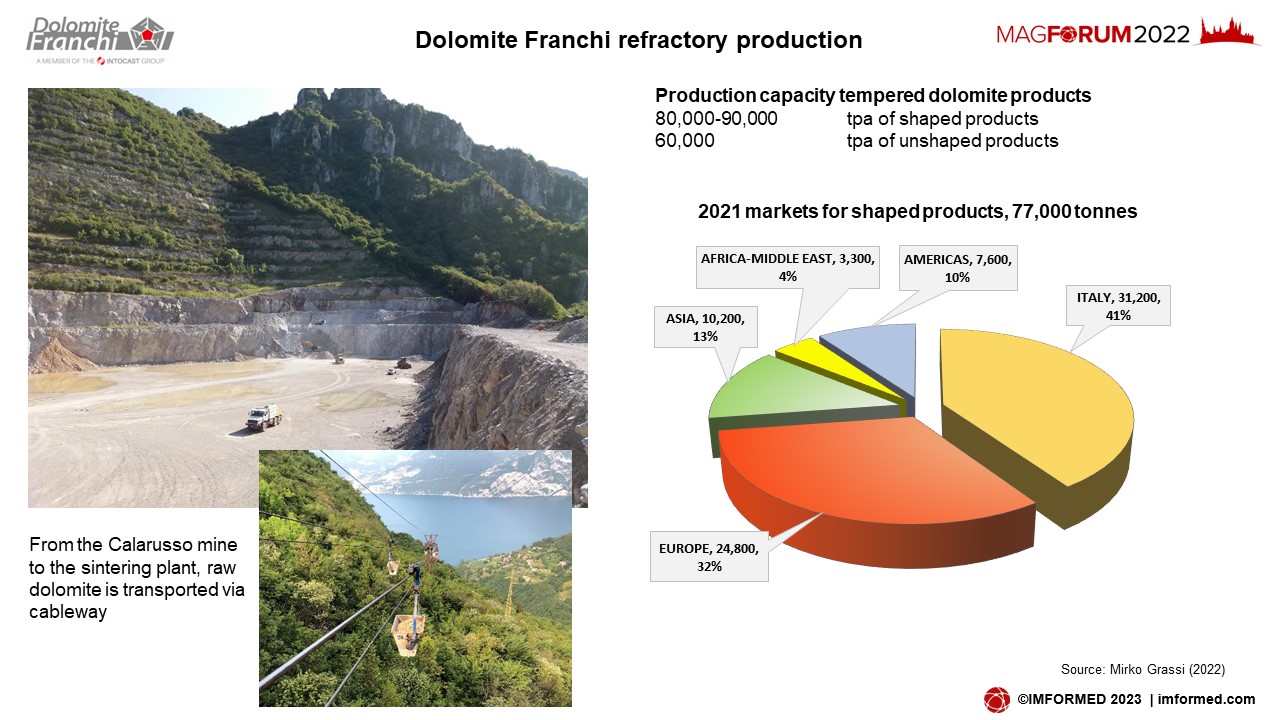 Decarbonisation & renewable energy technology for industrial minerals
Phil Hodgson, Managing Director & CEO,

Calix Ltd

, Australia
The terms "decarbonisation" and "energy transition" are now on every manufacturing company's agenda, but how to go about the tasking remains the challenge.
Hodgson underlined how Environment/Social/Governance (ESG) has become the "New Business Reality", and outlined how Calix Ltd has evolved its technology to meet ESG solutions with multiple mineral processing applications, including for magnesite, limestone, manganese, spodumene, iron ore, and alumina clay.
Central to Calix's technology development has been "a new way to heat stuff up" as Hodgson put it, ie. fine grinding minerals then "flash" heating them in an externally heated reactor in a very short time, at up to 950°C. As trapped gases in the minerals "bubble out" of the particles, they create highly porous honeycomb-like structures in the particles.
Calix technology allows for the direct separation of CO2, so, claimed as "the industrial kiln of the future", it can be used for CO2 reduction in traditionally CO2 intensive industries, such as calcining magnesite and limestone, and in cement production.
In addition to CO2 mitigation, the new burning technology allows pursuit of new applications for the minerals.
Calix has been active in a project for RHI Magnesita in Brumado, Brazil, successfully completing large scale industrial trials using the Brumado magnesite flotation concentrate in the Calix CFC in Australia. CCM was produced appropriate for integration into the existing downstream sintering process.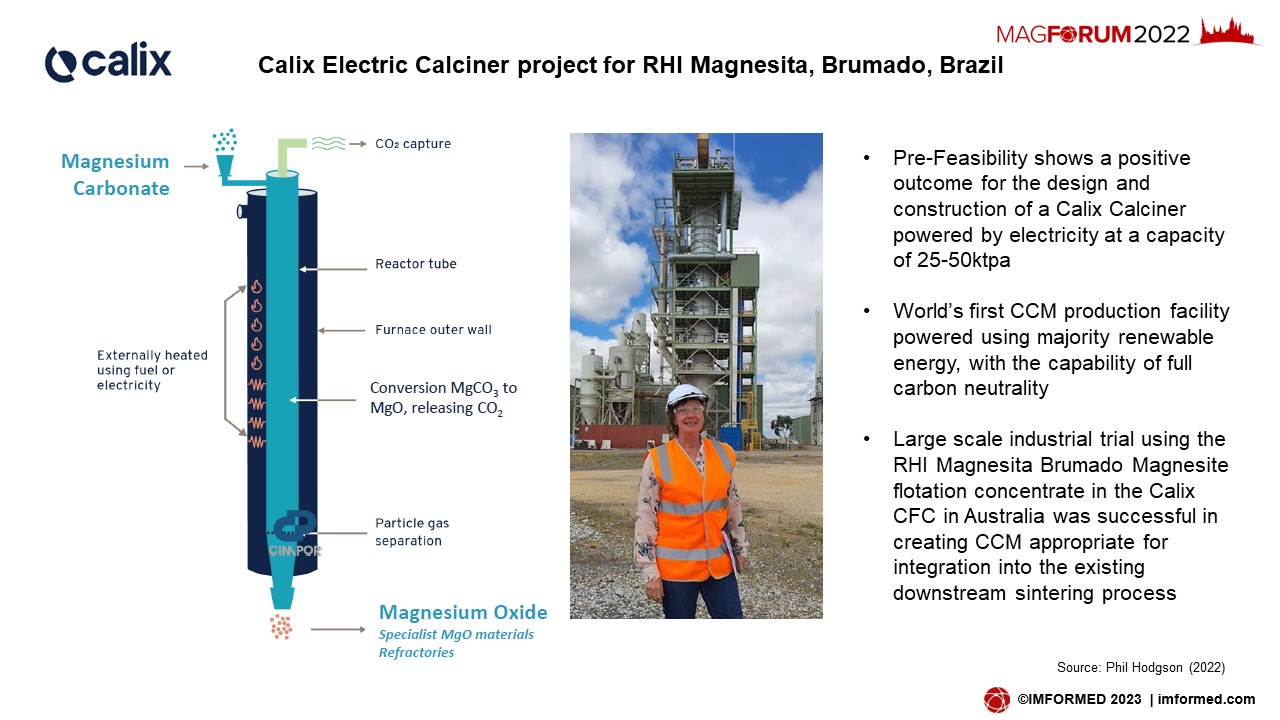 Digital solutions for remote management of magnesite ore sorting
Carolina Vargas, Area Sales Engineer Europe, MENA, India,

TOMRA Mining,

Germany
Vargas outlined the processing route for magnesite and set out to evaluate how TOMRA's SBS sorting systems could be of benefit to the magnesite industry. A combination of both colour sorting and XRT sorting was explained to gain the best benefits.
A central cabinet brings the sorters online and opens an information gateway to a tightly secured platform. Here the TOMRA insight software stores and processes the data coming in from the sorters. All data is visualised in a monitoring and reporting system which you can access through your standard web browser.
"We believe digital solutions are part of the future of mining, where our sorters generate data of high value for our customers and we want our customers to connect to these possibilities." said Vargas.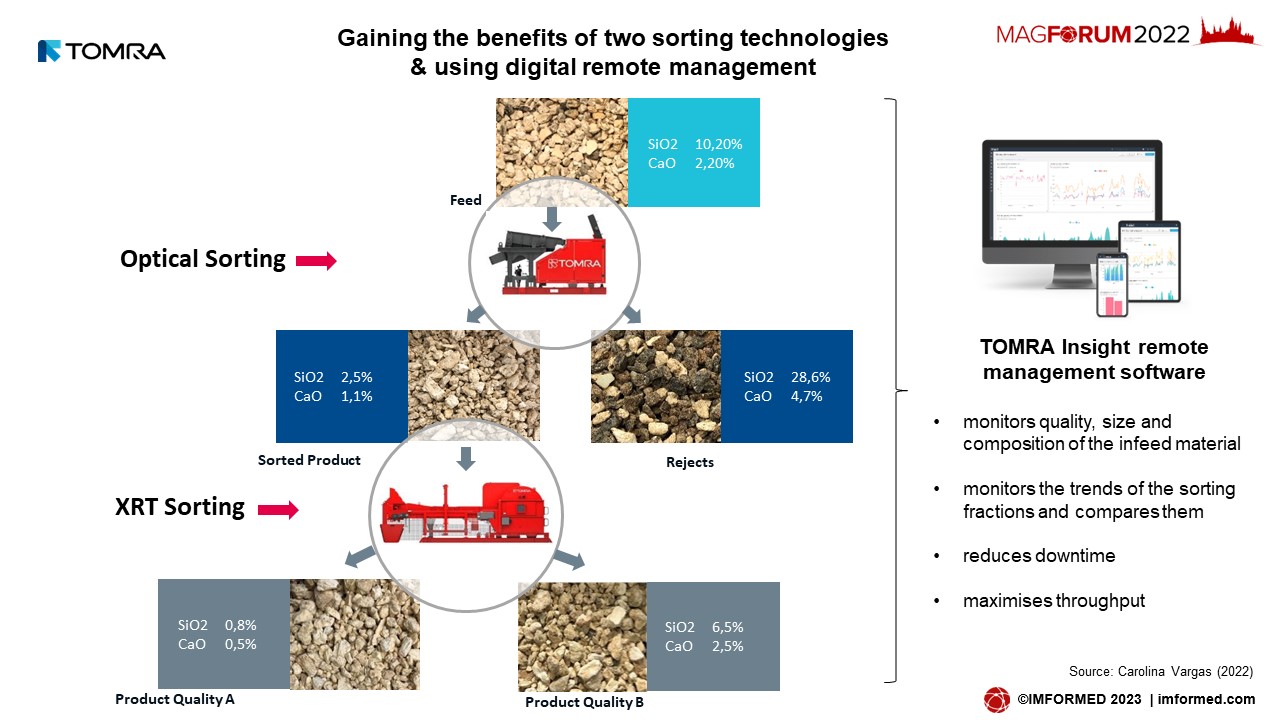 Opportunities for use of MgO in magnesium metal production
Aaron Palumbo, Partner,

Garrison Minerals

, USA
In a first for this conference, magnesium metal was discussed as diversification for magnesia manufacturers.
Palumbo introduced Garrison Minerals, well-established as a US-based supplier of magnesia and magnesium hydroxide for non-refractory speciality market applications, but also very active in innovation and strategic collaboration for magnesium metal, nickel, cobalt, and other critical materials, as well as the industrial magnesia grades.
The presentation focused on Mg metal production, and its potential advantages to a magnesia producer, market timing, state of the art, and development work at Garrison Minerals.
As well as highlighting the market uses and geographic supply imbalance of Mg metal, Palumbo compared the different process routes.
Garrison Minerals has spent >7 years in collaborative work on carbothermal and aluminothermal
processing pathways to Mg metal production, with Big Blue Technologies, University of Colorado Boulder, and Protocast Inc.
A new aluminothermal system was in construction at Garrison Minerals in mid-2022, a 5kg/hr Mg metal pilot plant for feasibility studies, and expected on stream in Q1 2023.
Palumbo concluded that reasons to pursue Mg metal production included constrained supply, especially geographically; high market prices and a strong demand for light-weighting; and domain expertise, MgO is well-suited to thermal Mg metal production.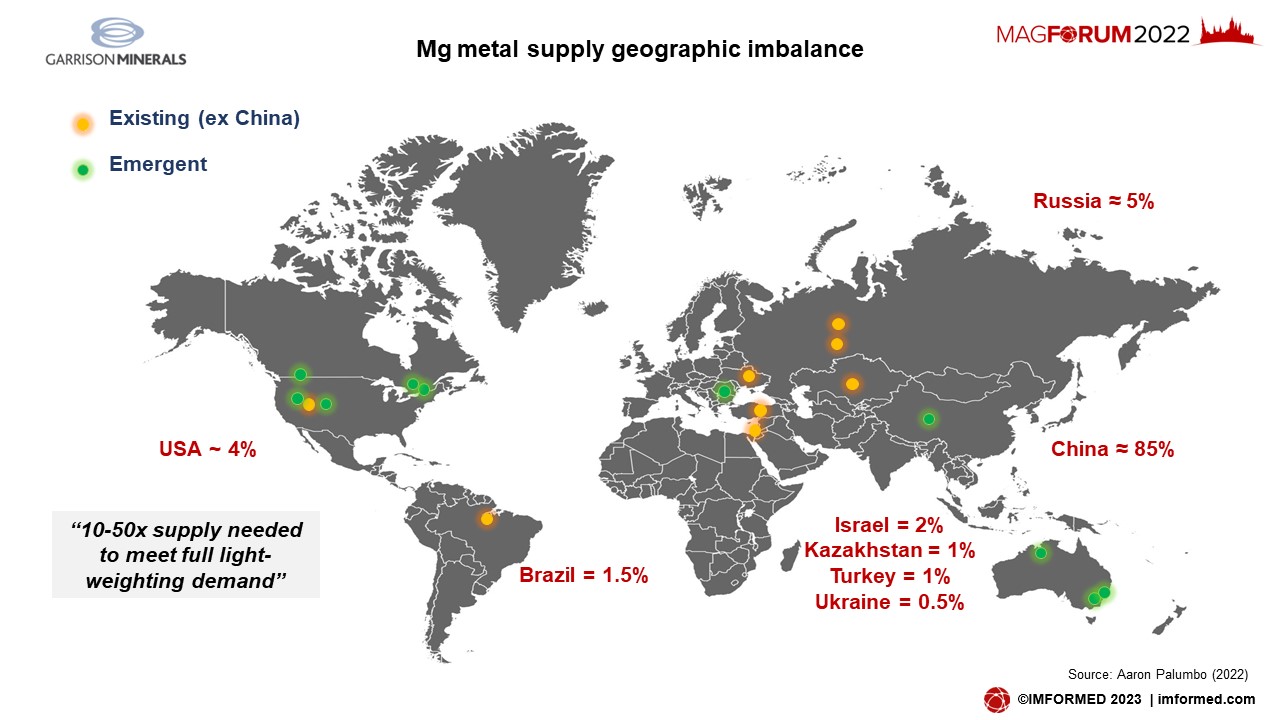 Thanks & hope to see you at MagForum 2023 on Lake Maggiore, Italy!
We are indebted to the support and participation of all our sponsors, partners, speakers, and delegates for making MagForum 2022 such a success, and ensuring a fruitful and most enjoyable time was had by all.
We very much look forward to meeting you again and repeating the experience, but this time with an Italian flavour!
Please join us at MagForum 2023, Grand Hotel Dino, Baveno, Lake Maggiore (near Milan), 30 May-1 June 2023, including Field Trip to Nuova Cives on the Tuesday 30 May. Book now for Early Bird Rates & Call for Papers! Full details here.
Registration, Sponsor & Exhibit enquiries: Ismene Clarke T: +44 (0)7905 771 494 ismene@imformed.com
Presentation & programme enquiries: Mike O'Driscoll T: +44 (0)7985 986255 mike@imformed.com
Missed attending the Forum? A full PDF set of presentations available for purchase.

Please contact Ismene Clarke T: +44 (0)7905 771 494 ismene@imformed.com
---
ANNOUNCING