Ceramic clay supply cut off | Tile producers' stocks running out | Graphite expansion on hold
As the Russia-Ukraine war tragically passes its 50th day, with still no end in sight, industrial mineral supply chains and markets continue facing widespread disruption and uncertainty.
Since the war started on 24 February 2022, many industrial mineral companies we have talked to had very quickly set about the first priority of ensuring the safety of staff within the conflict area and in wider Ukraine (and Russia) in general. Naturally, our thoughts and hopes for peace are with everyone caught up in this war.
Title image Taking stock: VESCO is Ukraine's largest ceramic ball clay producer, which under normal circumstances has some 900,000 tonnes of clay grades available; VESCO sold 2.4m tonnes of clay in 2020, exporting about 84% to 18 countries. The largest consumers were ceramic tile manufacturers in Spain, accounting for >26%; this market sector, dependent on these white-firing clays, is now urgently assessing alternative options Courtesy VESCO
The ramifications of the conflict have impacted several important industrial mineral markets. The country hosts a range of important industrial mineral resources and has long been an important consumer of minerals for its refractories, steel, glass, cement and ceramics manufacturing.
The stand-out minerals which are produced and exported in volume are kaolin (particularly the important ceramic ball clays of the Donbas region), the titanium minerals ilmenite and rutile, and zircon – one of Europe's few sources of these minerals.
There is also note-worthy production of fused alumina, silicon carbide (centred in Zaporizhzhia), graphite (Zavallya), and kyanite (by-product of titanium-mineral mining at Vilnohirsk) – these minerals are of great interest to the refractories market, and for graphite, also the emerging lithium-ion battery market, though their export volumes have been at small to moderate scale.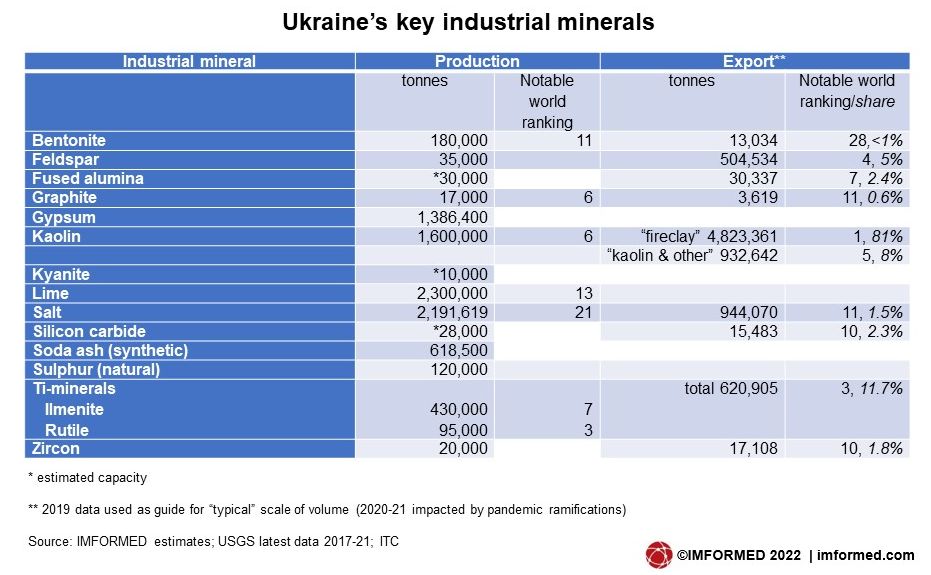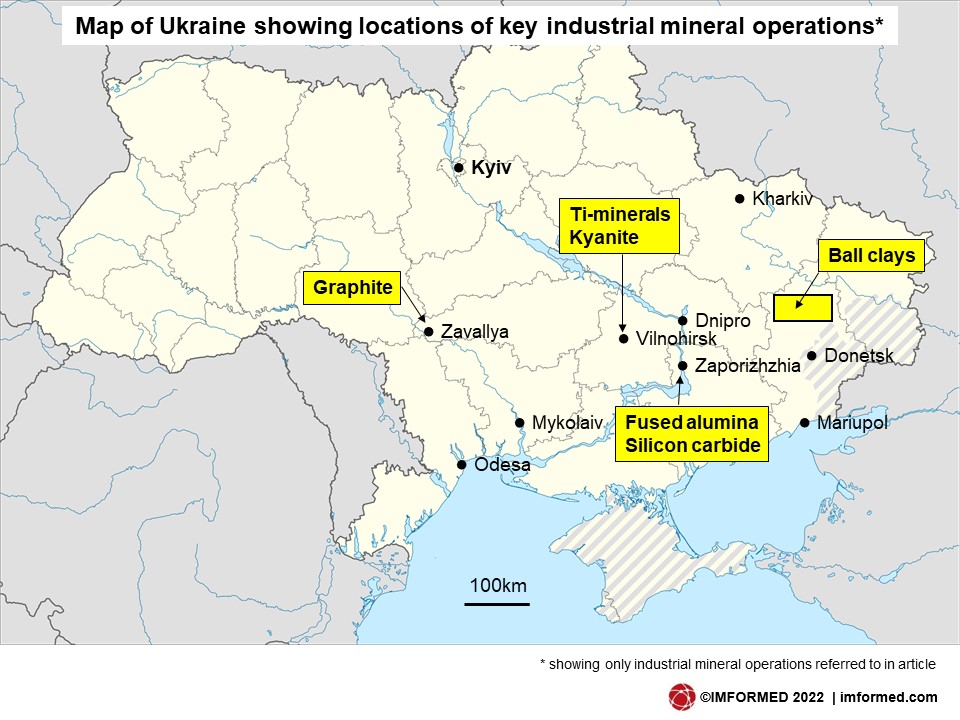 Ceramic tile clay supply for Europe cut off
Of all the minerals produced in Ukraine, it is the ceramic clay supply sector which is perhaps going to have the most severe impact on European consumers.
Ukraine is one of the world's leading suppliers of high quality ceramic clays, also called ball clays. The majority of deposits are concentrated in the Donbas region, near Donetsk, eastern Ukraine, with some single deposits also in other Ukrainian regions such as Zaporizhzhia and Kirovograd.
There are in total around 40 recognised refractory and ball clay deposits in Ukraine amounting to over 600m tonnes in resources, with about 20 deposits of kaolinite clays, possessing 360m tonnes of resources under exploitation according to Galos (2010).
Ball clays for the production of porcelain tiles in Poland Dr Krzysztof Galos (2010) Gospodarka Surowcami Mineralnymi 26(4):21-43; Ph.D. Eng., Mineral and Energy Economy Research Institute of the Polish Academy of Sciences, Kraków, Poland; AGH University of Science and Technology, Kraków, Poland
Ball clays from the Donetsk region are highly suitable for porcelain tile production as they exhibit high plasticity, high whiteness, and low water absorption after firing.
The leading domestic producer is VESCO Group, part of UMG Investments, which sold 2.4m tonnes of clay in 2020. VESCO exported about 84% to markets in 18 countries. The largest consumers were ceramic tile manufacturers in Spain, accounting for over 26% of all sales.
Some of Europe's leading ceramic mineral supply groups have established operating subsidiaries in the Ukrainian clay sector, such as Sibelco, Imerys, AKW.
Well-established Sibelco subsidiary Donbas Clays PJSC, for example, produces 1.3m tpa high quality plastic clays from three mines at Mertsalovo for the ceramics industry. In 2020, Sibelco expanded its Ukrainian clay portfolio with the acquisition of producers Euromineral LLC and Kurdyumovsky Plant PrJSC, located in the Donetsk region.
Although USGS data indicates kaolin production in Ukraine to be 1.6m tonnes, the country's ball clay production has been reported at levels of 4m tpa.
Indeed, export data shows that almost 5m tonnes of ball clay (termed "fireclay" in trade data, so may also contain some refractory clay) was exported by Ukraine in 2019, ranking as the world no.1 accounting for 81% of all such exports.
The main export destinations, mostly through the port of Mariupol, but also via Olbia and Mykolaiv ports, can be seen to be the all-important ceramic tile producing centres of Spain and Italy, and also Poland and Turkey.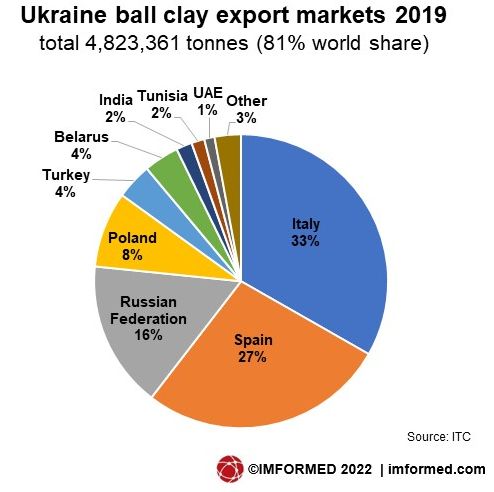 Thus ceramic tile manufacturers in these countries will certainly be concerned about future supplies of quality ball clays.
In Spain for example, in recent years the ceramic tile sector has undergone a transition from production mostly based on red bodies, with a high percentage use of domestic clays, to production mostly based on white bodies, significantly depending on imported white-firing ball clays mainly from Ukraine (70% of requirements), and also feldspar from Turkey.
The industrial cluster in the province of Castellón accounts for around 94% of Spain's total ceramic tile production, home to 80% of the companies operating in the sector.
Spanish white-fired tile production has now increased from 15% to >70% in 2021. And with recently increased demand for ceramic tiles, domestic clay consumption increased by 24% in 2021, while imported clay consumption grew by 34% (see charts).
According to a recent article by Francisco Javier García Ten, Head of Ceramic Materials & Technologies, Institute of Ceramic Technology, Spain, some of the Ukrainian ports, such as Olbia and Mykolaiv, were bombed by the Russian army on 7 March, and the last shipment of ball clay, 40,000 tonnes, was discharged at Castellón on 8 March (see The crisis in the supply of clays for the ceramic sector: how this situation is generated and the difficulties of implementing alternatives; 15 March 2022).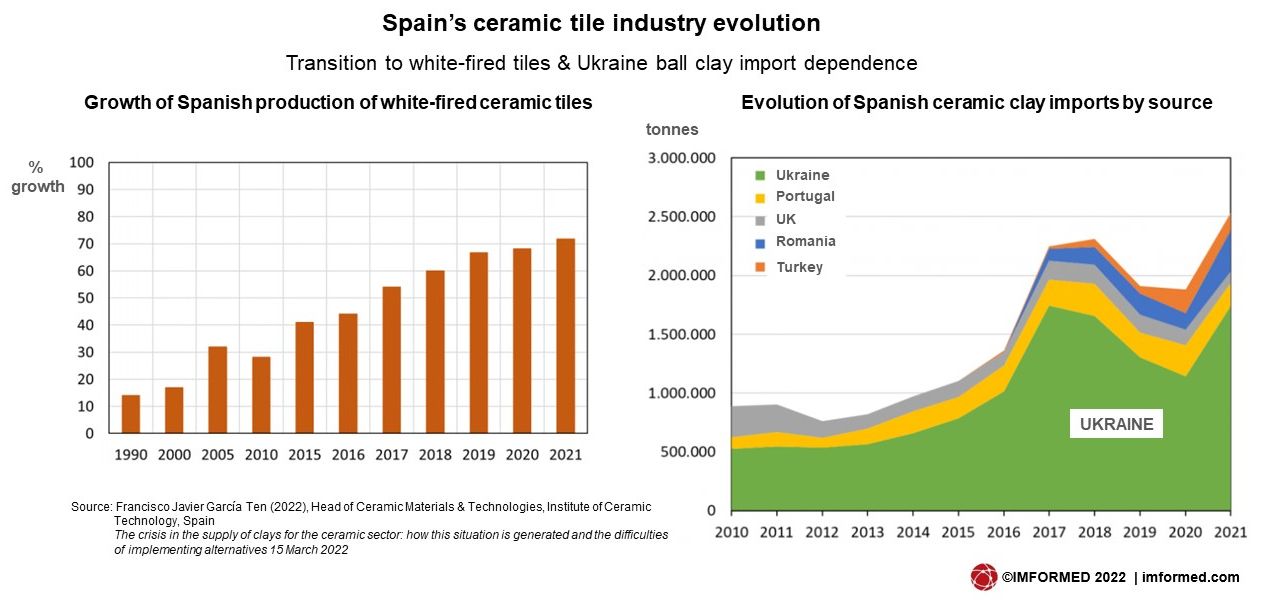 With about just three months' worth of Ukrainian clay in stock, suspecting the worst outcome, Spanish ceramic manufacturers are attempting to modify formulations to reduce dependency on Ukrainian ball clay.
But this is extremely challenging given the special qualities of the Ukrainian material now established in plant production, quality and logistical issues with alternative sources, and a lack of planning to use domestic resources.
Guzman Minerals, the Valencia-based global suppler of raw materials for ceramic, glass, refractory and coatings, has described the situation as an "earthquake" for the tile sector: "With the current stock levels, it can be foreseen that the market will need about 1m tonnes to maintain planned production levels."
Brendan Clifford, Co-CEO, Mota Ceramic Solutions, Portugal, said: "The world is 'scrambling' to find alternatives to fill the 4m tonne hole left in the market! I suspect this market disruption will result in a major reformulation of tile body formulation and the question remains will 'red' become the new 'white'?"
The Stephan Schmidt Gruppe, Germany, supplies the Italian tile industry with 500,000 tpa of clay. In March, Stephan Schmidt, CEO, urged its rail logistics provider, DB Cargo AG, to increase the circulation of trains and the number of wagons, and at short notice.
"The reserves of Ukrainian clay located in the port of Ravenna, Italy, are still sufficient for about two months. After that, 1.5m tonnes of raw materials for the tile industry in Italy will be missing per year! Tens of thousands of jobs are at stake. Because: without raw material – no production. And without functioning logistics – no raw material." said Stephan Schmidt.
On ceramics markets, Brendan Clifford, Co-CEO, Mota Ceramic Solutions, Portugal will be presenting

"Ceramic raw materials & markets: challenges & outlook"

On logistics, Hugo du Mez, Strategy & Analysis Advisor, Port of Rotterdam, Netherlands will be speaking on

"Mineral logistics: Dry bulk shipping challenges, trends & outlook"

Also speaking:
Trends in demand for mineral pigments & fillers in paints & coatings
Stefan Schlag, Director Inorganic Chemicals & Minerals, S&P Global Commodity Insights, Switzerland
Investment & development of industrial mineral projects in Sub-Saharan Africa
Rudolph de Bruin, Founding Partner, AMED Funds, South Africa
Incubex Minerals & development of an upgraded wollastonite source: NamWoll
Johan de Bruin, Director, Incubex Minerals Ltd, South Africa
Graphite upgrade suspended
There are very few producers of graphite in Europe, and those that are operational are relatively small scale. Unsurprisingly, with the evolution of lithium ion battery technology and production, there is much interest in developing graphite sources in the region.
Ukraine is one of the few graphite producers in Europe, and Zavalievsky Graphite has been a producer of natural graphite from the Zavalievsky deposit (Kirovohrad region, central Ukraine) since 1934.
The graphite mine and processing facilities are located adjacent to the town of Zavallya, approximately 280km south of Kyiv and 230km north of the main port of Odessa.
Production capacity has been reported of up to 30,000 tpa graphite, although 17,000 tonnes was reported as produced in 2021. The company manufactures >25 major grades of graphite with a carbon content of 85% to 99.5% and a size of 10 to 200 microns, as well as colloidal graphite preparations, and lubricants and coolants based on graphite.
In 2021, Australian graphite producer/developer and gold explorer Volt Resources Ltd acquired a 70% controlling interest in Zavalievsky Graphite and has plans to expand graphite production in Europe and develop downstream processing facilities for battery anode material (BAM) and other high-value graphite products.
Volt Resources' estimate of tonnage of graphite mineralisation for the south-eastern area of the Zavalievsky Graphite Project in Ukraine totals 22.913m tonnes at a grade of 6.8% carbon.
Although the area has seen no military action, following the Russian invasion, graphite mining and processing operations at Zavallya were suspended while all staff were relocated from Kyiv to Lviv and the surrounding areas near the Polish border in western Ukraine.
On battery mineral outlook Robert Colbourn, Publisher, Benchmark Mineral Intelligence, UK will be speaking on

"COP26 & The Great EV Raw Material Disconnect"

Also covered will be the all-important topics of energy and decarbonisation for the industrial minerals business:
The energy crisis and industrial minerals: climate policy and case studies
Vasili Nicoletopoulos, Owner, Natural Resources PC, Greece
Decarbonisation & renewable energy technology for industrial minerals production
Phil Hodgson, CEO, Calix Ltd, Australia
Transition challenges & pathways for industrial minerals in the energy-intensive industry ecosystem: EU policy initiatives
Vincent Basuyau, Policy Officer, Energy Intensive Industries & Raw Materials, European Commission, Belgium
Sustainable mining & development of industrial minerals for a decarbonised economy
Darren Wilson, CEO, LKAB Industrial Minerals, UK
Sustainable development as a global supplier of industrial minerals
Leah Wilson, VP Sustainability, Imerys, France
The role of geoscience data in meeting industrial minerals ESG targets
James Edwards, Senior Project Geologist, Seequent, UK