Fluorspar market upturn projected for 2018 | US HFC ban showdown
British Fluorspar's rejuvenation of the Milldam Mine in Derbyshire, UK is one of several industrial mineral developments which have galvanised a perceived revival of UK mining opportunities in recent years.
UK developments in evaluating and mining fluorspar, barite, salt, gypsum, potash, polyhalite, and lithium were highlighted at the recent IOM3 conference "Current Developments in the UK Mining Industry", held 4-5 October in London.
Milldam mine is situated in the Peak District National Park and was established in 1951. Operations ceased in 2010 and then restarted in 2013, following British Fluorspar's acquisition of the mine and Cavendish Mill in 2012.
In his presentation, Peter Robinson, Chairman, British Fluorspar Ltd, explained how strict planning regulations permitted a maximum of only 150,000 tpa of run of mine ore to be produced at Milldam (ideally, mining rates of around 250,000 tpa would be preferred).
World fluorspar exploration, production, and demand trends to be discussed at

includes exclusive visit to Mexichem's mine and plant
British Fluorspar, which is owned by leading fluorochemicals manufacturer Fluorsid SpA, Italy, has developed the mine into a modern trackless underground mining operation using a sub-level open stoping system with an underground decline from the surface to mine the narrow vein sub-vertical orebody.
Robinson reported that the operation was coming to the end of its modernisation of equipment phase after a period of dewatering. The resource hosts fluorspar, but also lead and barite mineralisation, and is planned to be mined for 20 years.
Key to the success of Milldam has been the switch from open pit mining to mostly underground operations, clearly reducing its environmental footprint on the surface. Up to 2010, >90% of operations were open pit; by 2016 this had been reduced to a mere 15%.
"There is a future for underground mining in the UK and in Europe. We have to make underground mining in the UK more efficient, that is the future. The challenge is to remain self-sufficient in this highly regulated environment." said Robinson.
Robinson acknowledged the recently published European Commission (EC) reassessment of its List of Critical Raw Materials (CRM), in which fluorspar is again listed as a CRM.
According to the EC, the EU has an overall import reliance of 70% for its fluorspar requirements. While China accounts for some 64% of world fluorspar supply, Mexico is the EU's main source of fluorspar, accounting for 27% of demand (China accounts for 17%).
Interestingly, the 2017 EC CRM Review included barite for the first time, with an EU import reliance of 80% (China, 44%, India, 18%). British Fluorspar produces around 10,000 tpa barite, as well as 65,000 tpa processed fluorspar.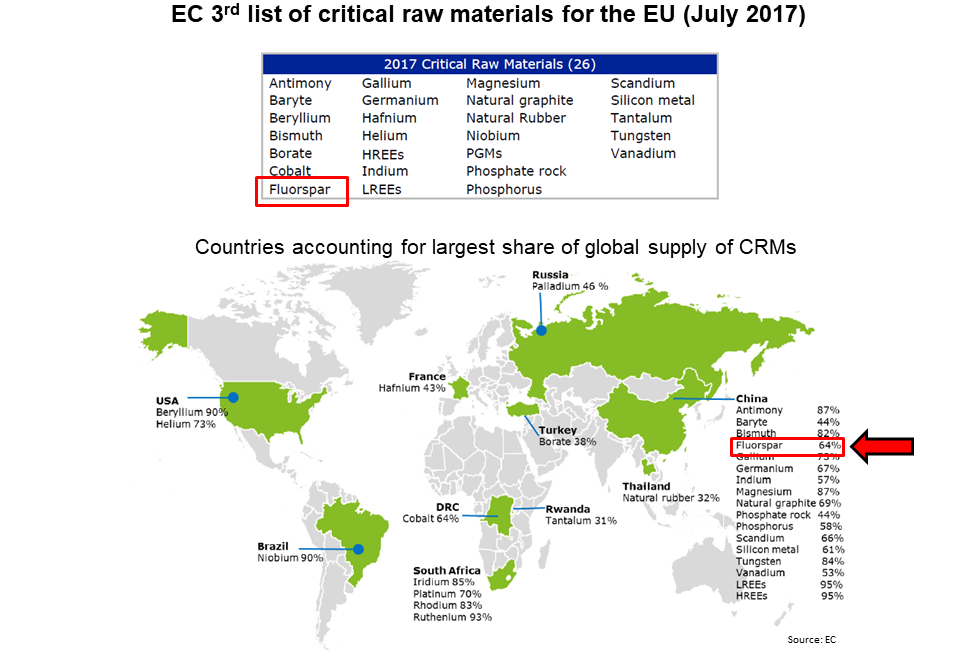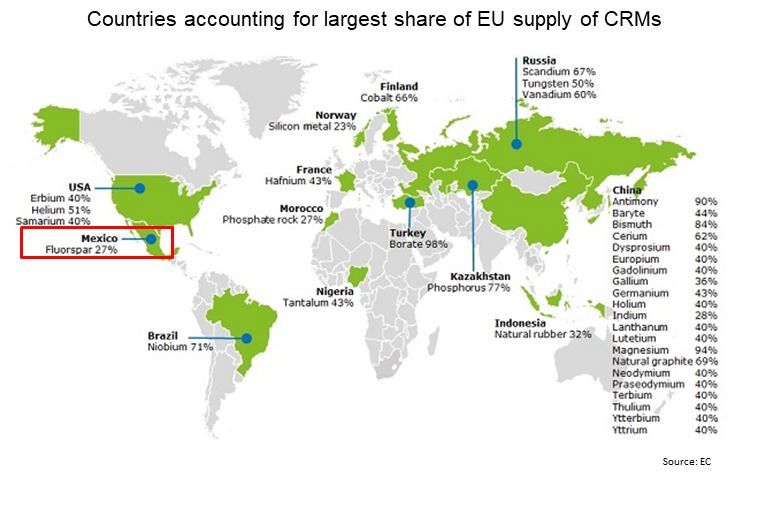 Market upturn projected
Further to IMFORMED's earlier report on fluorspar developments in South Africa (see Newsfile: Fluorspar renaissance rallies in South Africa), SepFluor Ltd appears to be progressing well, if a little ahead of schedule, with its Nokeng project with the plant expected to be completed by August 2018, with final handover expected by February 2019 (180,000 tpa acidspar, 30,000 tpa metspar).
In a recent interview with South Africa's Mining Weekly, SepFluor CEO Rob Wagner considered that the fluorspar market has survived the bottoming out of prices from mid- to end-2016 and that 2017 was representing an upturn.
Robinson of British Fluorspar concurred to IMFORMED with this view, although Wagner went on to forecast "…a rising market over the next five to eight years."
Certainly, prices have recovered during the year, hitting four-year highs and rising towards $400/t acidspar FOB China in September. According to Roskill Information Services, "The price of fluorspar generally is on a long-term upward trend." Roskill's take on the influence of China on the world fluorspar market will be presented at Fluorine Forum 2017.
Rising domestic demand from China's fluorochemicals market has impacted supply for exports, although it must be noted that all mining and processing of Chinese minerals are being squeezed by antipollution inspections and the dynamite ban (see Newsfile: China minerals supply squeeze: hangover to 2018 likely).
According to research by SepFluor, there will be a shortfall of fluorspar of 600,000-800,000 tonnes in global markets by 2026.
The banks funding the Nokeng project have apparently insisted on a key condition in that they have required the company to sell forward 40% of its expected production during the first three years of operation in order to get the scheduled debt funding.
To meet this challenge SepFluor agreed to sell the 40% forward fixed at current prices at the time (around $240-$260/t) with the view, somewhat vindicated at least at present, that prices are expected to rise over the next three years. Rob Wagner will be presenting on SepFluor's plans at Fluorine Forum 2017.
Mexichem: Leading the fluorspar industry today and tomorrow
Andrés Múgica Jiménez de la Cuesta, President, Fluor Business Group, Mexichem, Mexico

Global fluorine production and supply trends
Michele McRae, Fluorspar & Barite Specialist, US Geological Survey, USA

The shaky supply-demand balance of acidspar: facts and fortune telling
Oliver Rhode, Managing Director, XENOPS Chemicals GmbH & Co. KG, Germany

Fluorspar to 2018 and beyond
Gerry Clarke, Consultant, & Peter Huxtable, Consultant, UK

The evolving influence of China on the world fluorspar market
Kerry Satterthwaite, Division Manager, Industrial Minerals & Carbon & Chemicals, Roskill Information Services Ltd, UK

Doornhoek: One of the world's largest fluorspar deposits?
Allan Saad, CaF2 SA Fluorite Pty Ltd, South Africa

SepFluor's Nokeng Mine
Rob Wagner, Chief Executive Officer, SepFluor Ltd, South Africa

Downstream fluorochemical industry development activities and progress in South Africa
Chris Potgieter, Director, BFluor Chemicals (Pty) Ltd, South Africa
HFC ban showdown in the USA
The US fluorochemical market's temperature rose a few degrees in August when the District of Columbia Court of Appeals ruled that the US Environmental Protection Agency (EPA) cannot require companies to replace HFCs with low-GWP (Global Warming Potential) substances under the SNAP (Significant New Alternatives Policy) program.
The two plaintiffs in the case were manufacturers of HFCs: Mexichem Fluor, Mexico and Arkema SA, France.
Through an earlier ruling, the EPA was attempting to ban the chemicals R404a, R134a, R407C and R410A from use in new products from January 2021. In response to this, US fluorochemical producers, including Honeywell and Chemours, spent a reported US$1bn researching and developing technologies to produce new alternative hydrofluoroolefin (HFO) products.
Perhaps unsurprisingly, Chemours and Honeywell are appealing against the US Court of Appeals verdict.
The ruling by the district court means that SNAP's HFC program is incompatible with the Clean Air Act in the current manner that it is being pursued.
The EPA may also try to legislate the ban through several other statutory authorities that are similar to the Clean Air Act, such as the Toxic Substances Control Act, to phase down HFC use instead.
This will be remain a hot debate since an estimated 1.4m tpa of fluorspar is consumed worldwide in the manufacture of fluorocarbons for applications such as refrigeration and air conditioning.
Some HFC replacements containing fluorine are being evaluated and used, but there are also non-fluorine replacement materials that clearly threaten this significant fluorspar market. Ray Will, IHS Markit, will be examining and discussing the latest in the threat of non-fluorochemical refrigerants at Fluorine Forum 2017.
Recent advances and trends in fluorine-based chemicals manufacturing
Olivier Ruffiner, Business Manager Fluorine, Buss ChemTech AG, Switzerland

Cost pressures in acid-grade fluorspar & downstream industries
Ashok Shinh, Ashok Shinh Consulting Ltd, UK

Sulphuric acid a key factor in fluorochemical production: a global outlook
Fiona Boyd, Director, Acuity Commodities, USA

Shipping fluorspar and the dry bulk market outlook
Aernaut Meijer, Director North America Dept., Spliethoff Transport BV, the Netherlands

Upgrading fluorspar material using optical, near infrared and laser sensor-based sorting
Harold Cline, North American Area Sales Manager, Tomra Sorting Solutions, USA

Separation technology solutions for the fluorspar industry
Michael Schuback, Equipment Sales Director Mining Market, Steinert US, USA

Global steel supply and demand outlook
Justine Coyne, Asst. Editor, Steel Markets, S&P Global Platts, USA

Adoption of non-fluorochemical refrigerants: a reset of expectations for the future?
Ray Will, IHS Markit Ltd, Director Chemical Consulting, Specialty and Inorganic Chemicals, USA

Fluorspar use and demand as a welding flux
David Fedor, Global Consumable Chemicals Mgr & R&D, Lincoln Electric Co., USA

Fluorspar application in the cement market
Cementos Fortaleza, Mexico

Don't miss out! Register now!
Contact Ismene